Finally!
LittleBits
(set of electronics for beginners) finally got internet access. Extensive collection of magnetic modules enriched welcome transmitter CloudBit. If someone does not know, LittleBits - it's something like LEGO for adults. LittleBits is a set of modular blocks of electronic components from the category of "do it yourself».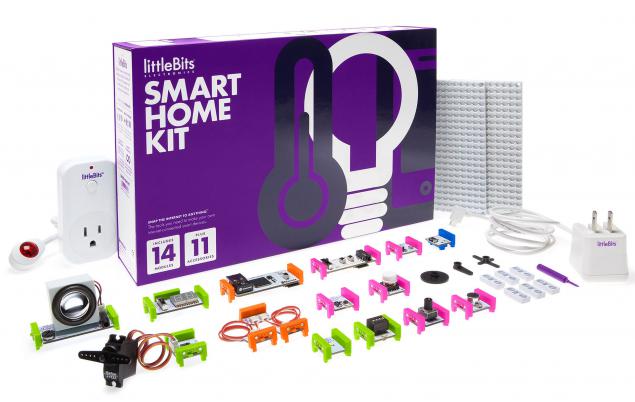 Sets LittleBits include mass miniature modules: all kinds of buttons, servos, speakers, dimmers, switches, diodes and adapters, gathering in the circuit without soldering. To connect the modules using conventional magnets, allowing a few minutes to create a wide variety of gadgets - from the original toys to very sophisticated robots working on the Arduino. However, the latter will require user programming skills.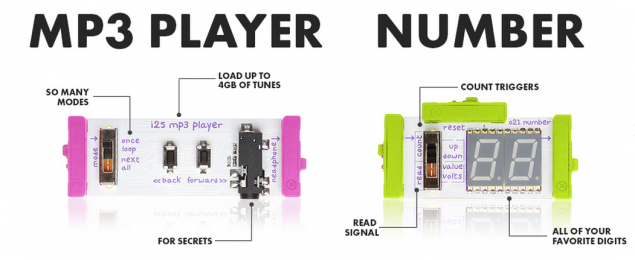 The new set of Smart Home Kit users will find fresh six modules, including the AC adapter, mp3 player, light sensor, temperature sensor, a miniature LCD display and wireless network module that supports the protocol Wi-Fi 802.11. By design, this set can be used not only for fascinating experiments in the field of electronics, but also as a partial replacement newfangled systems of "smart home".
Of course, a professional "smart electronics" such as Nest and Sonos, «Beats" compete early. But the idea is to provide the user an extremely flexible tool for automating their living space causes a rush of enthusiasm.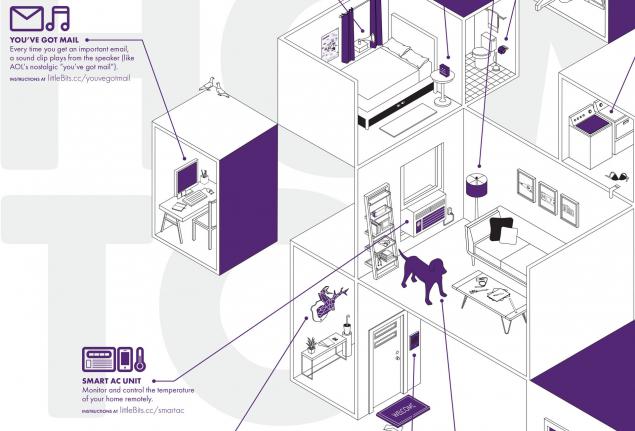 With a relatively low cost (the announced price is only $ 249), one set of SmartHome Kit can replace hundreds of special electronic devices, such as a remote control for home appliances or cunning alarm responsive to a barking dog. Availability of internet module makes it possible to designer almost limitless, providing the user with access to dozens of different mobile applications and allowing you to manage your modular gadgets via tablet or smartphone.
For example, users suffering from amnesia can build in a few minutes of magnetic modules useful "guardian of the refrigerator." The device will respond to the increase in temperature in the refrigerator and automatically send sms-message to the number owner, warning that he forgot to shut the door again.
Generally, Boom LittleBits - a real "chest with fairy tales" which possibilities are limited only by the imagination of the user. Executive director of the project Eyach Bdeyr believes that modular kits have a significant advantage over traditional gadgets, as they allow the user to define the functionality of the device of the future, but do not impose it ready-made solutions. On the other hand, LittleBits can be useful by the developers of electronic gadgets, as they provide a flexible platform for a variety of experiments, and can save a lot of money and time at the design stage.
Read about LittleBits detailsadd possible on
Edurobotics
.
Where to buy
The original designer LittleBits sold on the official website
. Can be purchased as a set of different assembly (KITS), and individual modules (BITS).
In Chinese online stores you can buy analogues LittleBits. These constructors Chinese manufacturers are marked as "compatible c LittleBits". For example, at
Aliexpress
there are plenty of analogues.
Analogs
In Littlebits this year appeared domestic analogue. The project is called "microparts", but while on the creation account in
instagrame
and
Vkontakte group
guys did not pass. Interview with osnovetelem project can be read
здесь
.
In Madrobots.ru we sell kits
Matryoshka and Electronics for beginners
company Amperka. With this we see that the module designers, compatible with Arduino gets bigger.
They will be devoted to a separate article.
Lyricist: Andrew Gasilin
On the basis of: Wired.com
Нравится Do you like the idea of ​​sets Littlebits?
yes, a great thing, I want to buy
yes, an excellent thing, already open sale in Madrobots!
interesting product, but prices bite even on the official website
interesting product, but I will only buy in China td >
No, there are a lot more interesting designers
thought long and I do not know what to say Only registered users can vote in polls. Sign , please. 774 people voted. Excused 118 people.

Source: habrahabr.ru/company/madrobots/blog/243877/