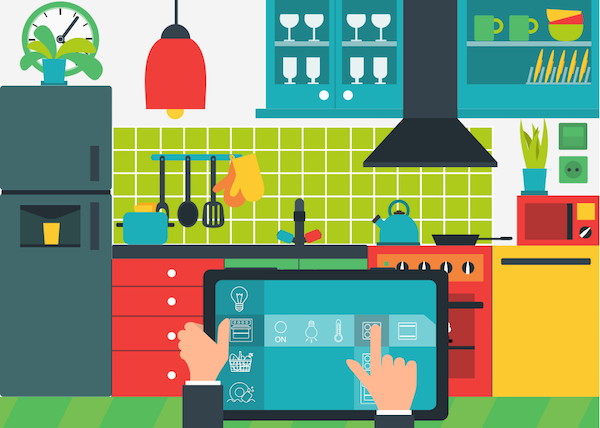 The concept of "smart home" appeared for a long time, 20 years ago. But in those days, the Internet was uncomfortable dialapnoy exotic, and the idea that your refrigerator will order products online, seemed a bad joke. However, the water wears away the stone and over the years manufacturers have started timidly to produce a different technique, which can be integrated in a smart home. Over time, the West was formed primarily utilitarian attitude to the idea of ​​a smart home. Mysterious Russian soul is, on the contrary, imagines smart home like in the song "inject robots, not people."
Of course, both viewpoints are correct, but with a caveat: It depends on the situation. Someone important, it is important to save on energy consumption of many appliances and lighting. Someone wants to stuff his home alarms, sensors and security cameras. And someone is thrilled by the thought that he would get out of bed in the morning, turn on relaxing music and soft light, and the kitchen will be waiting for fresh coffee.
The development of the Internet of things and breathed new life into the idea of ​​a smart home. Why be limited to household appliances, if you can be networked anything? The main thing - to come up with justification. However, in this area there are interesting and useful products that we do not mind to equip their apartments and houses.
Smart mattress cover Luna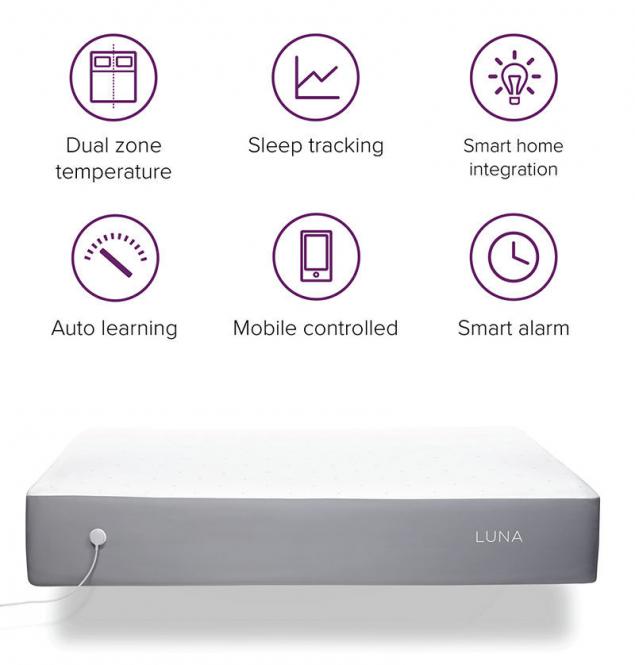 Wonderful kraudfandingovy
project
. Monitor their health, eating right and working out, we often do not pay enough attention to almost a third of his life - the period of sleep. We did not observe mode, sleep too little, put the alarm clock to wake up in the middle phase of a long sleep. Needless to say, that of all that sleep quality suffers dramatically, and with it the collapse, and our attempts to get healthier. To help solve this problem may be a smart mattress cover Luna.
It is divided into two zones, each of which you can set your temperature: it nice not to go cold and uncomfortable bed, spending time on the warm and soothing nerves. But this is not just a remote-controlled heating pad mattresses records during sleep parameters such as the rate of your breathing and heart rate, determine the phases of sleep. All this information is sent to the mobile application and smart home management center (in the form in this role acts
thermostat Nest
). Having determined that you are in REM sleep, you can be play music for a soft awakening, the light is turned on, etc. - What you yourself have enough imagination and finances. By the way, the same thing can be said about falling asleep: to determine by Luna, you snoozing without hind legs, smart home can turn off all the lights, the TV, lock the door, turn off the floor heating and other, and other.
Flic: wireless smart key for all
In fact, it is transferred from the computer into the real world ideas shortcuts. We are surrounded by more and more devices and instruments, each with its own user interface, features, Settings, whims and zamorochkami. We spend every day a lot of time and effort to conducting all this motley band. Bored, and occasionally smooching. Perfect interface - this is when you push a button, and everything else makes itself. This idea underlies the
project Flic
.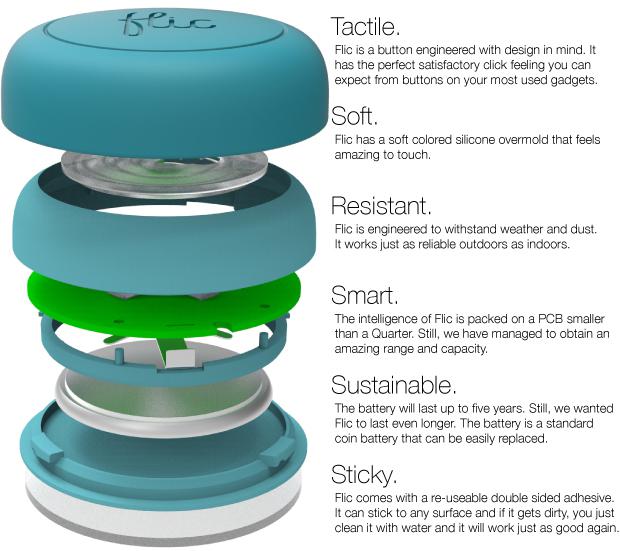 It's just a button on a sticky basis, which can be programmed to control everything: light, music, alarm clock, timer, camera smartphone, navigation, etc. You simply are asking for a specific kind of macro keys, which she initiates via Bluetooth. You can set different actions to a single press on the double, and on hold. Get a better idea of ​​the shot can be humorous videos from the authors of the project:
Smart Home Alarm Scout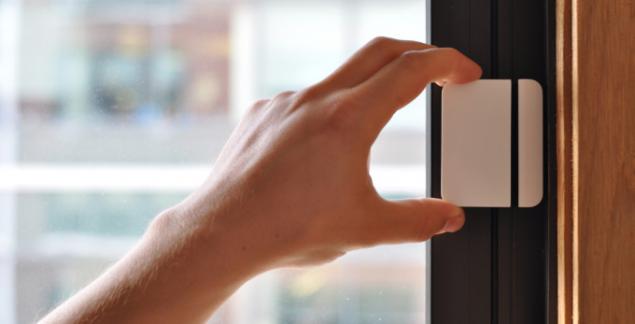 Just need to make a reservation: without Internet service
IFTTT
is just a good home wireless alarm system, consisting of
line
devices for different tasks. Such systems on the market small car and truck. But in conjunction with IFTTT Scout opportunities become much wider.
Briefly about IFTTT (If This, Then That): is amazingly simple intermediary service that helps you create any sequence of your applications and devices connected to the Internet. These sequences, macros, in IFTTT called "recipes» (recipe). For example, you can configure the automatic fill in your Dropbox-account of all the photos on Facebook, which celebrated your face. Or receive a notice on your phone if the forecast promises rain tomorrow. Or make your smart lamp blinks every time you someone writes on Twitter. In general, a huge field for rampant imagination.
With regard to the signaling Scout, in conjunction with IFTTT (there is already a
channel
for recipes with this system) can be realized without thinking such scenarios:
Display a notification on your computer monitor (via the service Pushbullet , for example), when the apartment / house open window or door (equipped with sensors Scout).
You can even record the time of opening the door, sending data to Google Docs.
If you're using fitness bracelet, when his transfer to the sleep mode can be automatically cock home alarm.
You can set the wireless button (hello, Flic) automatic arming the alarm or activate the siren, if someone suspicious penetrated to your site or rubs in the entrance. ul >
Open Sesame!


Lovely idea , the ability to make "smart" the most common door lock. This is not the only such development, but perhaps the best combination of features and capabilities. Firstly, it does not require installation - just attach the top of the castle of "smart" module. With the free app you can now open the lock from the outside without any keys: pressing both in the application and in a predetermined sequence of knocking (both on the door and on to the smartphone). The lock can be included in the information network of your home with the included Wi-Fi-module inserted in the socket nearby. The app also allows you to configure different access rights to different people, and all logged lock opening. Security is provided by encryption with 256-bit key. Damn handy gadget, a word. It remains embedded in the door like a mechanical lock.



Canary observer


When was the last time you embraced worry, everything is okay at home? Is not there a fire, is not whether the thieves got in without any troubles have done children and animals, what does the wife in your absence? And you hurry home, painting terrible pictures in the imagination of a flooded apartment or a fire. All diseases of the nerves, take care of them. This will help to Canary, a device that allows a remote location to watch. As with many other IP-based cameras, "canary" is equipped with a microphone and can "see" at night. But the possibilities do not end it: a device capable of detecting the movement has built-in thermometer, hygrometer, air condition sensor and includes a remote siren. At any time, you can remotely view images from the camera, keep the video, get the data from the sensors. Canary can also send notification of an emergency. A good option for the role of a personal home caretaker / watchman.

// player.vimeo.com/video/70747659 video>

DIY


If you want to make your home intelligent exactly as you want, up to the last point, the best solution may be a set of self-automation. For example, Smart Home Kit (very tricky name, right?) From littleBits. A good option for those who are making the first steps in this direction, or just want to understand for yourself what kind of a whim such smart home. The set includes 14 modules, including temperature sensors, mp3-player and module cloudBit , allowing you to connect to third-party network devices.

* * *

Building a system of smart home - some fun, it has plenty to choose from. There is something to break and head, and his hands make. The range of devices and components is constantly expanding, becoming more diverse and more interesting, not only for geeks, but also for ordinary people who do not want to take up a soldering iron, multimeter and learn programming. And that's great - variety of possibilities and allows you to move progress to lie on the sofa, lazily driving your smart home.

Source: geektimes.ru/company/mailru/blog/252464/