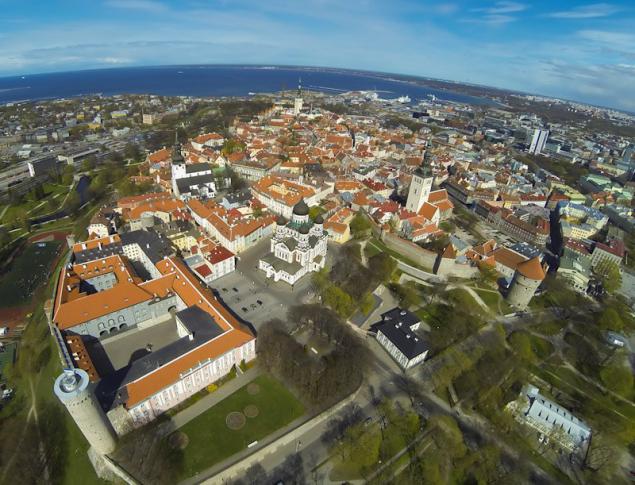 [View of the old town with altitude quadrocopters]
About me: He worked in the St. Petersburg Polytechnic University. Taught computer networks, mainly within network academy Cisco, have the status CCNA R & S, CCNA Security, CCNP R & S, is also an Instructor Trainer'om for the respective courses.
Background
He taught at the Polytech I liked: the absence of a strict timetable, the absence of direct superiors, excellent salary, plus a huge opportunity for freelancers, so that the change of place of work, I was not even thinking.
Preparing for change of residence began about a year. Although you say "training", leaving my wife and I did not plan, but keep spare cash in rubles, even in deposits, was somehow not on itself. It was therefore decided to invest free money in real estate. At the St. Petersburg real estate funds categorically not enough. You could look in the direction of Russian regional centers, but communicate with it somehow did not want to. In the next more or less large cities were still Tallinn and Helsinki, Helsinki, but we have not liked too boring there, everything is expensive and it is not clear, but the capital of Estonia has made a very good impression. Quick analysis of prices for apartments in the internet, and the decision is made to invest in real estate in the area of ​​the EU! A little more than a million rubles (euro then worth less than 43r.) We were able to buy a studio in a Stalin-era building, 500 meters from the beach and a 40-minute walk from the old town.
Since my wife was not a hard work schedule from 10 to 19, a part-time last year we were in Tallinn to St. Petersburg went to work and, in general, this situation is quite suited us.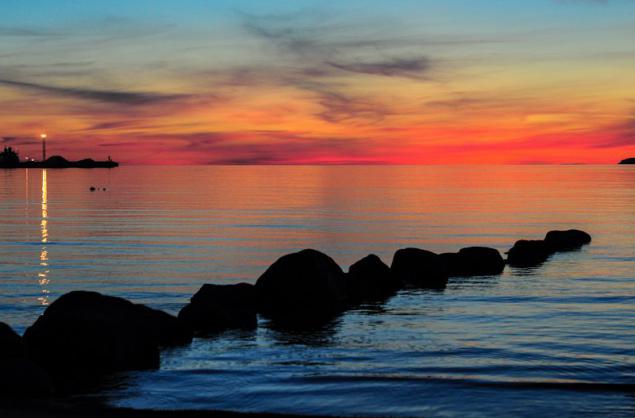 [Sunset from our beach]
Almost immediately, I posted a summary in Estonian job search sites, but not with the purpose to find something, and see what will offer, explore the market, so to speak. And ... for the year no calls or letters, only automatic delivery of collections jobs, perhaps appropriate to me.
How it all began
In mid-May this year, I stumbled upon a position of the University, they needed an instructor academy Cisco, text vacancy has been posted and the picture only in Estonian, although most of the proposals is published at least 2 languages. That is, either by keyword or in the automatic selection it was not found. Not a word about wages or working conditions, only the requirements for the candidate, which I fit perfectly. Well, send the resume. Almost immediately, I wrote a letter with a question, is it normal that a summary in English, I was told that everything is fine.
A few weeks of silence, at this time I am completely caught up in the work Polytech, and somewhere in the middle of June, in the afternoon I received a letter: waiting for you tomorrow at 10 am at the university for full-time interview. 2 minutes to check for bus tickets from St. Petersburg, and I write the answer "I'll see you tomorrow!". Wrap the meeting did not want to, you never know what goes wrong. The same evening, after work, I get on the bus at 4 am to be in Tallinn.
Before the interview I was very excited, as with some of the interviewers, I was already familiar. Here we must digress. When I find myself when traveling far from any known major network academy, I try to arrange a meeting and go away, to share experiences, and just interesting. It was the same here as soon as we bought an apartment a year ago, I went for a visit and met with the chief instructor. We then sat for half a day discussing the problems of teachers, students, the learning process as a whole and separated in a pretty good relationship.
Back to the interview. It was attended by the rector, the same chief instructor, who is also head of the Networking Academy and a teacher, which I had to be replaced. However, the interview it was difficult to call, was more like a conversation for life. As it turned out, they were asked to give advance me a little feedback Cisco Academy Manager for Central Europe and Russia. It so happens that I know him personally and we even met a few months before that time and discussed any problems academies. Needless to say that was a good review. On the same day in the evening I was back in St. Petersburg.
The next day I wrote that I was invited to sign the contract! The bus ride along the same lines and even once was a shame, because the signing of the contract took no more than 10 minutes. In comparison to arrange a teacher at Polytech need to spend almost the whole day in the rush from office to office to collect signatures and seals of the mountain, and the rooms are located in different buildings, and the campus is quite impressive, in addition, nobody canceled the lunch and tea. This was my first encounter with the Estonian bureaucracy in general, I was pleased.
Work in Estonia anyone can, if he has a legal right to stay in the country. Even tourist visa C approach. At first I did not believe it and asked HR to clarify this matter. Police and Border Guard said yes, with such a visa you can work, but not for long, because it does not give the right to live in the country for more than 90 days in a half. In addition, the fact that such work must be registered in the same department.
After signing the contract, it is registered in the Department of Police and Border Guard. It is written that the registration process takes 10 days, but I was all ready on the next day. After the registration of the contract can already start work and apply for a residence permit. The residence permit is two months, but I was ready in 1.5 weeks.
The process of obtaining a residence permit
In Russia, I am afraid of such institutions. It seems to me narrow corridors, crowds, small slits for communicating with employees. Another concern was that with me not want to speak any language other than Estonian, whom I did not know. But how wrong I was. Room for filing more like a bank office, the staff sit around the perimeter of the tables and they just need to sit down. Everyone says at least 3 languages ​​and very friendly.
To obtain the residence permit need to bring a rather large stack of documents, mostly profiles, including filled employer. Full list of documents can be found on the website
police
. No certificates of good conduct, or something like that is not required. The process of collecting and submitting the documents is very simple, but not for all. There are certain categories of people with the simplified requirements: that teachers and professors, circus, military, creative and highly paid profession experts (salary should be more than the national average by a certain factor). All these people are not required to obtain permission from the Estonian Unemployment Insurance Fund. But since the average salary in the country is small, it become a highly skilled, especially in the field of IT, not a problem. Readiness documents residence reported by e-mail.
Because of the efficiency of my residence permit I was ready in July, but I started to work only in August. I thought that everything was so easy because of the fact that the involvement of teachers from other countries is common, but later learned that I was the first foreigner in the past 14 years.
A few words about my impressions
The atmosphere at work h4> The atmosphere of friendliness total. The Polytech was - general severity. There is no such that the teacher above the student. Teacher, rather, helps to learn, not teach directly. And the atmosphere here next special, I was told that it is very much appreciated for this institution, and it has not turned itself such, but it did, though I did not understand how. For example, teachers go to student parties and light was not worse students.


Open door policy h4> To me became a real discovery. There are no turnstiles, checkpoints, anyone can go anywhere. Determine on the spot whether a teacher or rector can be the open door. The door to our office is not closed, even when teachers went on a lecture, for example.
In the first week of my work people just came to meet me, just like that! It was wild because Polytech, for example, after several years of work I did for the majority of colleagues did not know.
Students often come to the teachers just talk about the problems, sometimes not even related to the educational process. Or a student who does not learn from me on any of the courses can come in and ask something, ask for advice or porassprashivat about my subject. The Polytech as we had 2 teaching, both for huge armored doors with magnetic closures. Very often you can see the students, the teacher karaulyaschih near these doors and asks whether teachers pass a wanted man within.




[Hall]


Language h4> I actively teach the Estonian language, but in fact he did not really need here. Lack of knowledge of the state language is not something that is not a problem, it does not give even a nuisance. Most people speak three languages, advertising is duplicated in Russian, almost all sites are available in 3 languages, including government. People are absolutely comfortable with the Russian language. I often have a situation where I begin to speak in Estonian, and the source immediately responds to Russian, rather than Estonian.
In theory, training at universities must be conducted in the official language, but if the stream has at least one exchange student from Finland, for example, the entire course is taught in English. The head of our academy, an American living here for more than 14 years, but the Estonian did not know. Everyone wants to train their English with native speakers of Estonian, and do not speak with him.
Approximately half of colleagues, we agreed to communicate in Russian, with the rest in English, at first I was constantly confused until he remembered. Before the semester there was a meeting of teachers and in the beginning sounded phrase that not all present understand Estonian, so let's have a meeting in English. Communication with students in the same way with someone in Russian, with the rest in English. Lectures in English.
I would like to say a few words about the local Russian language, it's not so in Russia. It seems that somewhere in the 90s and made a cast of the language without changing its use. You can hear such expressions and phrases, which I used as a child, then it is considered cool. At the same time a lot of borrowed words, and people do not always realize it. At first, few seemed strange when I was asked to contact the office Tele2 and make the payment in any office Swedbank'a.




[Example contract of my internet provider]




[Advertising is often duplicated]


The low level of bureaucracy h4> Everything is done quickly, most of the operations can be carried out via the Internet. For example, to obtain a certificate of registration of ownership of real estate in Russia, had to take place at 5 am and spend the whole day in a narrow corridor, and here I am all the documents to the apartment by e-mail came a few weeks after the transaction.
I registered in his apartment through the Internet, designed the benefits for free public transport, too, via the Internet. At work, if you need to sign something, I take off pdf mail, I did sign his ID-card, which is my identity document, and sends back.


Free public transportation h4> Absolutely. And not only buses, trolleybuses, trams, and ferries to the nearest island and trains within the city. Whether this is true only for the residents of the city. The organization of transport is simply gorgeous! Transport goes on schedule, have a website soiduplaan.tallinn.ee , displaying all the buses on the city map in real time, there are schedules, route planner, etc. You can plan your arrival anywhere in the city - +2 minutes. Where can theoretically occur jams have dedicated lanes for public transport. In the city center there are places where public transport is allocated by 2 of 3 bands. Transport and goes as he so often, often, even at rush hour can ride sitting. But in a free lie and cons - are actively transport the homeless, that is not very nice.


Security h4> First, for me it was very unusual to see small children with large backpacks alone on the street or in transport, but now I realize that this is normal. Do not be afraid to walk the streets at night, even on a Friday or after events.


Electric h4> They are here very much! In Estonia, the infrastructure is ready for them. Refills very much, great benefits for owners. The most amazing thing that electric cars can be rented, and it does not need to communicate with people. Paradise sociopath! I have registered on the site, signed a contract ID-card, then just went to the car (parking them scattered throughout the city) and using the phone opened the doors. Hourly pay, the bill comes to e-mails at the end of the month.

Few shortcomings
Life in general, more expensive. Though the products and cheaper (and better), but communal, electronics, furniture, gasoline significantly more expensive. Especially frustrating fee for barely warm battery. In the studio, only for heating can get 100 euros, treshka colleagues is more than 200.

Boring. The town is small, nothing special, epic happens, everyone lives measured, slow life. Of course, full of activities arranged here: concerts, exhibitions, tours, film screenings, but it is calm, peaceful and orderly manner. There is a constant rush, arising out of nowhere problems irritants, some chaos. I never thought that this may not be enough, but the fact remains. A colleague compared the visit to Tallinn with a jump from the tower into the pool, but instead of water you get to jelly.

The level of living is lower. One feels that people do not live lavishly. Many alcoholics, sometimes when you walk down the street feeling like in the 90's hit. A lot of people can meet such public nearly 15 years have not seen in Russia - drunken, stooped, in sweat pants or jogging suits. Many collectors of bottles, and the homeless. Though I can just live in such an area.

Parcels. Duty-free if their value is more than 22 euros. It does not matter what is written on the premise of the need to confirm the fact and amount of the payment through the bank. Everything is more expensive, it is necessary to declare, however, it also will not have to go, and everything can be done via the Internet. It should be noted that the country is small and the market is too small, the fact that in Russia it is possible to find and buy without any problems, there simply may not be sold or sold, but very expensive.

A trifle, but poletushek on quadrocopters need to get permission from the Department of Civil Aviation (something like that is possible to translate), but again, no need to go anywhere. It is necessary to write them a letter with the time and space flight, they reply letter writing - allowed within a certain height within such a radius.

Conclusion
I read many articles about the change of country of residence, and always wondered how all the same it is difficult, but in my experience, that this can not just be easy, very easy. From my change of residence does not require any large amount of nerves, no time or financial resources.
In the following article I want to compare training systems in Europe and Russia, and to disclose the technical side of the issue. Take a look at the differences in the education systems are not part of the student and from teaching. It is used a lot of interesting technologies in education, but there are things that I really miss.

Source: geektimes.ru/post/240468/