Chapter Tesla Elon Musk has hinted at the imminent announcement of a new electric vehicle with index D. According to some data, the company will introduce a 600-strong vehicle photo which has already appeared on the web. According to another version, the novelty American manufacturer will focus not on the power, and the automatic control.
Alleged photos of the new generation Tesla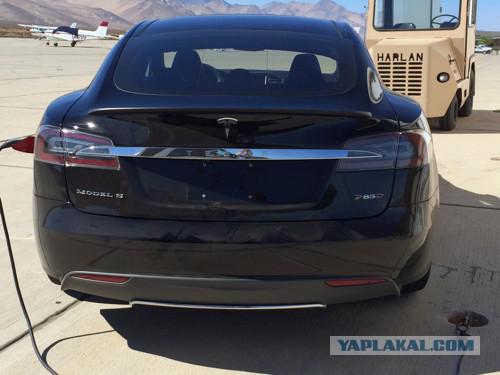 California manufacturer of premium electric cars Tesla Motors is preparing to introduce a new car. Its features can be unmanned technology management.
On his page on the social network Twitter head of Tesla Elon Musk (Elon Musk) published a graphic that contains an allusion to the announcement of an electric vehicle with an index of D in next Thursday, October 9, 2014 Top manager did not explain the teaser, but added that the company will show «something else».
Later in forum Tesla Motors Club photograph appeared versions Tesla Model S, which has the additional designation P85D. The current US manufacturer of electric vehicles have the index P85.
According to a source publication TechCrunch, next week will show Tesla elektrosedan wheel drive and two engines. It is about the configuration of Dual-Motor AWD, borrowed from the crossover Model X, sales will begin in 2015
Updated powerplant Model S will be able to develop 600 hp and the car accelerates to the maximum of 250 km / h. Currently flagship chetyrehdverki Tesla boasts motor power in 416 hp and the maximum speed of 210 km / h. With an increase in the cost of electric vehicle specifications will reach $ 100-150 thousand., Commentators suggest tehnobloga.
The media like to observe that the main theme of the event Tesla, scheduled for October 9, will be not Dual-Motor AWD, a system facilitating driving Driver Assistance. It can enter electronic aids that can keep the car in a given band, recognize the signs and adjust the speed based on this information.
The emerging autopilot Elon Musk said in an interview CNN Money. According to him, in 2015, his company is able to offer a car capable of about 90% of the time driving on the highway, without human intervention, focusing on the road by a plurality of cameras, laser radar and ultrasonic sensors.
Musk said that Tesla is a Silicon Valley, and it imposes an additional burden of responsibility. In this regard, the company should be among the leaders in the development of technologies, including those associated with autonomous driving, added the head. Earlier Elon Musk promised to provide the autopilot to 2016
Read more:
www.cnews.ru/news/top/index.shtml?2014/10/03/587733