EU-funded consortium is developing a special Braille display for reading electronic books. The developers believe that their product will be able to help the visually impaired and blind in the first fully gain access to such capabilities as reading e-books.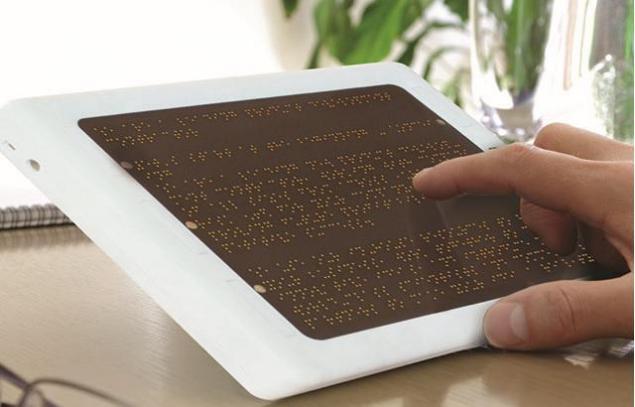 Device
Anagraphs
, which can be connected to any e-book, or a PC, uses resistive touch screen for creating Braille dots forming and text with wax.
Compared with the existing e-forming technology Braille when used box with holes and special retractable pins, this development is not only easier, but also cheaper to produce.
«available devices has been a top priority since the beginning of the development Anagraphs» i> - says Peter Fowell, project manager of Anagraphs Pera Technology - company serving the project coordinator of the consortium.

«means forming Braille relying on technology pins, before this is, in fact, a scale model of digital technology in Braille. In addition, these devices are very expensive to produce. Our goal is to reduce the cost of the device due to the use of wax in the course of formation of font and allow reading the greatest possible number of people. Anagraphs project gives us the opportunity, because it has a lower cost compared with existing devices, the formation of the text, using the principle of creating a single line of Braille in their work. & Quot; i>

The device uses the so-called thermo-hydraulic micro-reaction in combination with software developed by Pera Technology, which allows you to display up to 6000 pixels on the Braille display. When using a screen resistive heating occurs, which extends the paraffin waxes, translating them from liquid to solid.

Team Anagraphs with the participation of researchers from the Fraunhofer Institute of Photonic Circuits (Germany), as well as private companies «CK Productions »,« Innora », and« Hobart Lasers »believe that blind and visually impaired, finally, will have access to the treasures of world literature because of one small portable device, allows you to replace a huge library.

«In an era when technology and consumer irrevocably intertwined in our daily life, the ability to read e-books provides another tool for understanding the world around us» i> - Peter explained. «Considering how far advanced consumer technologies in such a short period of time, it is vital to all - regardless of their physical abilities, equally able to use the achievements of scientific developments in this field». I>

Anagraphs project received funding in the amount of £ 1.23m in the framework of the EU program and currently is in the final stages of development.

Source: habrahabr.ru/post/228269/