Improvised explosive devices, or IEDs, has long been the main weapon of insurgents in Iraq and now in Afghanistan.
For the removal of these devices resort to military elite group of specialists.
In the Oscar-winning film "The Hurt Locker" is about one such group of sappers in Baghdad.
Critics argue that the film is not realistic that the military are represented in it adventurers,
and military actions shown are not entirely accurate. Collected here are photos of these sappers from Iraq and Afghanistan,
and these explosive devices with which they work.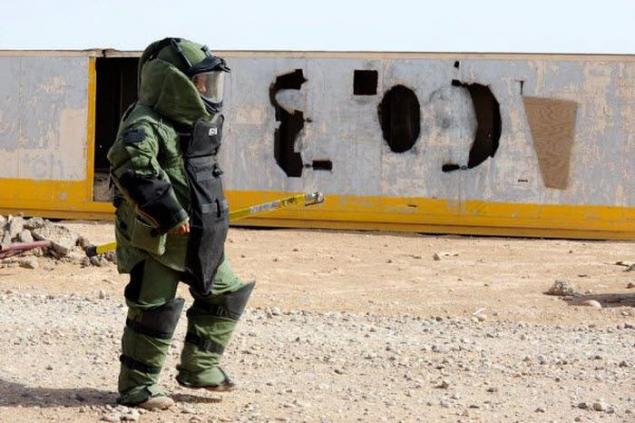 The photo of the Iraqi military engineer company in a special suit during a demonstration exercise October 6, 2009. (Staff Sgt. Luke P. Thelen / Dvids Images)
In the midst of the war in Iraq in 2006 and 2007. IEDs caused 60% of deaths of American soldiers. While public attention was not focused on military operations in Afghanistan. But those days are long gone. After 81 cases of explosion or identifying IEDs in Afghanistan in 2003, increased tension in the country; In 2007, an explosion occurred in 2718 (2,293 of them fatal), and in 2009 - already 7228 bombings (6037 of them fatal). By 2009, IEDs accounted for 75% of the total number of US military deaths. In response, the US Army launched a large-scale fighting. In the photo: a team of sappers sends robot bomb disposal in October 2005 in Baghdad. (John Moore / Getty Images)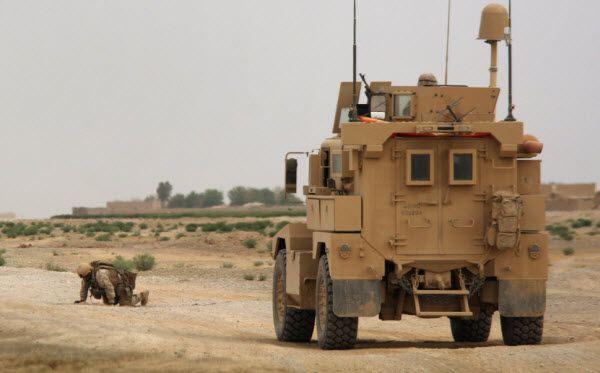 The US Army has spent billions of dollars on training engineering units for the purchase of demining robots and armored personnel carriers, the similarity of the 24-ton combat engineering vehicles «Buffalo Mine Protected». These armored vehicles (military no longer use «Humvee», as shown in the movie "The Hurt Locker") is designed to detect mines or stretch marks, and there are one million dollars each. These massive vehicles - an easy target; although sapper - a dangerous job, many experts do not die during the direct work with IEDs, and while traveling in such vehicles. Photo: Marine neutralize IEDs March 21, 2009 on the road near Bakwa, Afghanistan. (John Moore / Getty Images)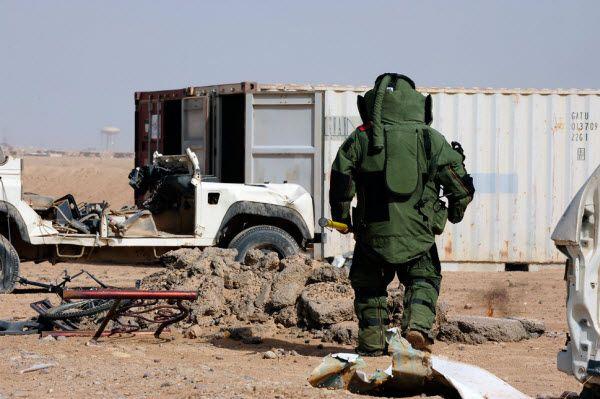 In Afghanistan mission goes on search and destroy the enemy called "Paladin": the mission sapper teams combing the Afghan road in search of explosive devices set the pressure and tripwire. This work is so dangerous that it goes some volunteers. Only in Afghanistan was launched 15 kontroperatsy bomb disposal and collection of materials from the explosion site. Unlike the movie "The Hurt Locker", the team of sappers rarely work in groups of three single person. Usually they are part of the escort. Photo: Iraqi soldier in a special protective suit approaches the site of the explosion during a demonstration exercise in Iraq in October 2009. (Staff Sgt. Luke P. Thelen / Dvids Images)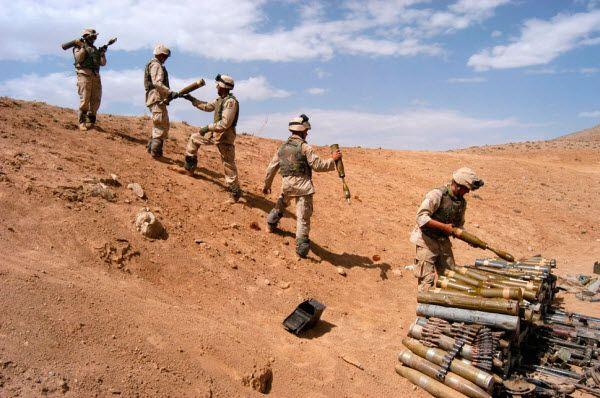 About 50% of explosive devices are activated before they are found and neutralized. During typical operation scenario "after the explosion," one person begins to approach the site of the explosion to check for additional charges in range (usually about 25 meters). Once the area is considered safe in its territory starts the whole team - it collects soil samples, trying to determine the device type and method of detonation. They hope to find traces that indicate a specific group of militants. It's kind of a game of cat and mouse, which involves and engineers, and "craftsmen", manufactured and installed explosive devices. The photo, taken in August 2004, in the province of Zabul engineers folded in a pile of ammunition for destruction by detonation. (Teun Voeten / Panos Pictures)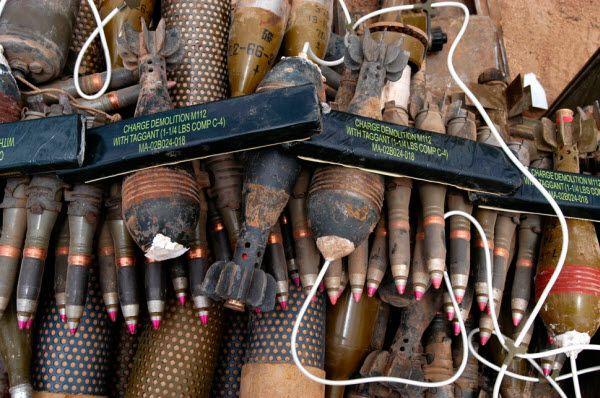 Mortar rounds, shells and missiles, prepared to destruction by undermining in Zabul province in 2004. Militants constantly adjust their tactics under the action of the Allied armies. For example, last year only in Afghanistan IEDs have become much more powerful. In 2008, about 40% of charges weighed more than 11 kg. In 2009, this figure had risen to 75% longer, and the largest land mines have weighed about 100 kg. Those who install the APC also become more cautious: they have to use several different types of fuses in one explosive device, and install additional IEDs to attack deminers studying the explosion of the main charge. (Teun Voeten / Panos Pictures)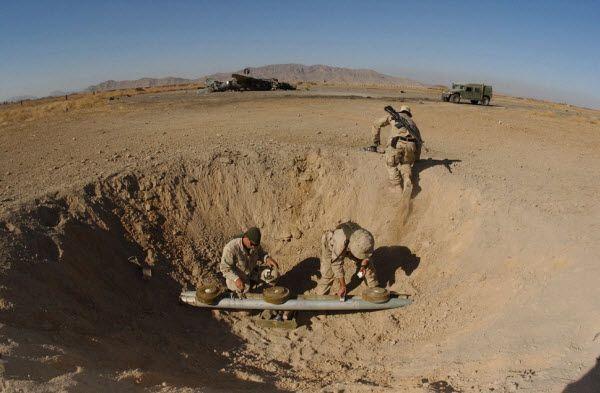 Bomb disposal method, demonstrated many times in the movie "The Hurt Locker" (but not so often used in reality), suggests that a sapper in a special outfit manually neutralize explosive device. In fact, the team is doing this only if 100% sure of the type of fuse, or to place charges on roadsides, where they can be installed IEDs. Of course, it is always dangerous, hence the title of the film: if you get too close, you can be in the "storm". In the photo: the engineers are ready to destroy by undermining rockets and anti-tank mines, abandoned by al-Qaeda in the province of Kandahar in December 2001. (U.S. Navy / Johnny Bivera / Getty Images)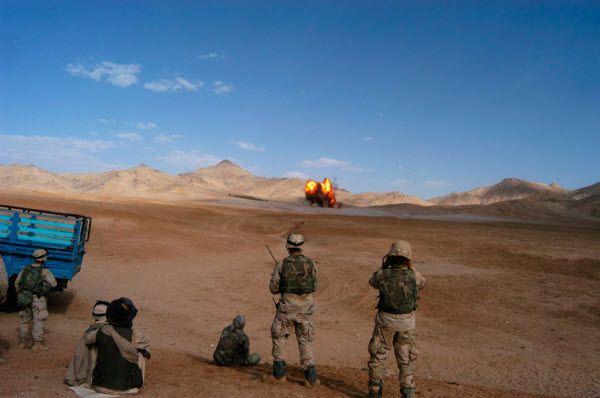 The destruction of ammunition by blasting in Zabul province in 2004. The number of deaths as a result of being blown up by IEDs has increased, and it is not surprising that the demand for specialists in their neutralization is high. Private contractors hire them at a high price. However, the stress of constant work in hot spots can not stand each. Specialists bomb disposal are annual training, and unlike cinematic sappers in "The Hurt Locker" focused solely on bomb disposal rather than knocking out the door and a firefight with insurgents. (Teun Voeten / Panos Pictures)
Pit on the road, where the Marines dug anti-tank mine left by the Taliban. The picture was taken March 21, 2009 near Bakwa, Afghanistan. That in "The Hurt Locker" pictured right, is the fact that these guys - the real heroes, every day risking their lives for the sake of ungrateful case. According to the memorial fund of engineers during the conflicts in Iraq and Afghanistan killed about 64 experts in bomb disposal. (John Moore / Getty Images)