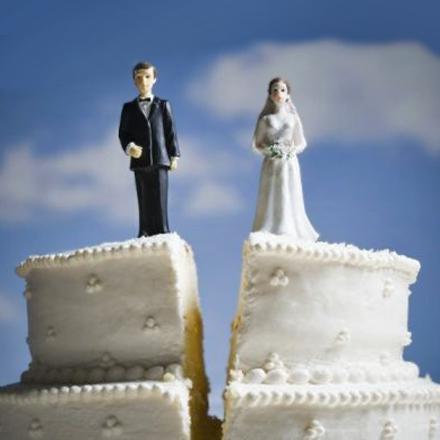 State Duma deputies swept the fashion for divorce. Judging by the declaration of income for the people's representatives in 2013, craving for bachelor life spanned at least a dozen family wound deputies. Now, left without a spouse, they have to live and raise young children on one salary.
At least ten previously married Duma deputies did not specify in their declarations for 2013 information on income and property of the spouses. They are unlikely to suddenly become widowers. Rather, the past year has been so unhappy family life for the people's representatives, that some have decided to issue a divorce.
However, many stories with undeclared wealth MPs suggest that most of these divorces could be fiction. It is worth noting that some MPs have already tried dubious scheme last year. Then Duma apparatus confirmed that seven deputies decided to become bachelors almost before the submission of the declaration. Among them were those who traditionally tops the list "of the Duma of the rich." From the paper did not have to suffer just LDPR leader Vladimir Zhirinovsky - he said that his wife is in a church marriage.
Example, apparently, was contagious, and by a strange coincidence in the number of newly minted bachelor's Deputies were the ones in the State Duma called "walking money bags." However, now the financial situation of breeders not to be envied - many of them after the divorce remained in the hands of minor children, which, together with the Pope huddled in an apartment-malometrazhke live on his parliamentary salary and go shopping on foot.
Although MPs are known to pay recently raised - now the average annual income of the people's choice of three million rubles. Needless to say that such earnings do not even dreamed of most ordinary Russians.
Judging by the declaration, without a spouse has become much poorer one of the traditional leaders of parliamentary ratings millionaires, United Russia Nikolai Fighters, also known as the former co-owner of Lebedyansky cannery. In 2012, he earned more than 970 million rubles, and his wife - nearly 200 million rubles, besides her numerous parameters were considered different property. Over the past year Fighters declare more modest incomes - about 570 million rubles. Despite this, he was able to close the "troika" of the richest State Duma deputies.
Another wealthy MP - United Russia from the Voronezh region Sergey Chizhov, also does not have in its declaration information about the income of the spouse. Official site of the parliamentarian is silent about his family situation, there is only that he has two children. Nevertheless, the wife Chizhov appeared in the declaration of the deputy for the year 2012, then it has expanded the family coffers by more than 47 million rubles. The new declaration stated only last year's earnings of MP - 7, 5 million rubles.
A few million less steel to earn money without their wives and other deputies of the State Duma, was suddenly bachelors. So, the family budget "SR" Sergey Doronin declined from 10 million rubles in 2012 to about 2, 5 million rubles in 2013, and his fellow faction Alexander Romanovich without his wife became poorer by nearly 5 million rubles, not counting houses, land and several apartments. Wife of United Russia Sergei Factories earned in 2012 about 7 million rubles, followed by the number of real estate. Now the deputy lives solely on his salary, it owns a tiny apartment in the 38 square meters, however, he prefers to go to the "Lexus". Without his wife lived for the past year on one salary as United Russia Vasily Shestakov. Meanwhile, his wife, according to the Declaration of 2012, earned nearly 9 million rubles, it was also the winner of eight suburban areas, two apartments and expensive fleet.
The absence of a spouse had no effect, according to the declarations, only the income of several deputies - Magomed Hajiyev, Dmitry Nosov and Eugene Rulkova. Not formally dependent on the earnings of his wife and United Russia Viktor Zvagel'skii, who lived for many years on one salary, was able to save on the "Jaguar».
In total, the estimated "Rosbalt" correspondent on Okhotny sit idle for about 70 deputies, including the female.
However, most of the MPs do not hesitate to point out in the declarations of their rich husbands. Often, they are owners of large tracts of land, elegant fleet of foreign real estate and even yurts. So, the wife of "SR" Irincheev Matkhanova yurt has an area of ​​1064 square meters, and the wife of United Russia Alexander Bogomazov owns pigsty, hangar, potato and three artesian wells.
It was on his lifemate parliamentarians prefer to write as apartments and houses abroad. For example, the wife of United Russia Anatoly Elected have a house with land in Montenegro, the wife of "SR" Valery Hartung - Flat in Switzerland. House and Lots in Spain belong to the wife of United Russia Andrei Makarov apartment in Latvia recorded on a spouse oppositionist Ilya Ponomarev. The apartment is in the United States have at their disposal the spouses of United Russia Vladislav Reznik and his wife Alexandra colleagues fraction Remezkova a shelter in Austria.
Elena Zemskova
Your text to link ...