Pennsylvania State Police began searching the hills around Jonestown, after reports about the disappearance of the three activists for animal rights. Activists were gone after protest bikers wear leather clothes on a large rally of local motorcyclists.
Two activists of the staff lunchroom found in dumpsters.
One was tied to a tree with duct tape.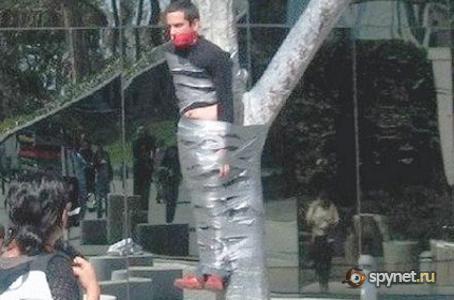 The organizer said that the charter throw balls with fake blood in adult women, dressed in furs, they decided to protest directly to the rally of motorcyclists club, hoping to show them as the animal rights groups are outraged pointless using leather for clothing and motor-accessories.
According to witnesses, the activists arrived at the bike rally on a vintage Volkswagen Van «in 1960 and started throwing balls bikers with colored water, simulating blood, and shout," You're a killer, "passing by. Immediately uproar.
"They Nassau me! & Quot; - Says one of the activists. "They grabbed me and said that I look like a Frenchman called me LaTrene and tied me to a tree with tape so that you can piss on me all day!»
"I ... I was trying to show their indignation in serious biker leather vest, and he did not even pay attention to it. I called him a murderer, and he said that I could not prove anything. Then he made me go with him on a motorcycle all day and would not let me because his girlfriend was out of town, and I, he said, almost a woman »
The activists said that they were forced to eat hot dogs and hamburgers. Those who resisted were felled, and some bikers' perdeli their heads ».
The police did not give any comment occurring, no arrests were made, but the investigation is conducted. Organizer bike rally also expressed "bewilderment».
"This is ridiculous," said a senior member of the organizing committee of the biker. "We had a party and these people came and started to behave very rough. They rushed us stuff, we called him and tried to spoil our holiday. And what do we do? We invited them to a party! What could be friendlier? The fact that we are members of the motorcycle club does not mean that we do not welcome the holidays ordinary people. I think it does not give reason to say bad things about us, especially after we have done everything possible to make them feel welcome. "