Researches conducted blogger _zabey_:
I am sure many of you know who is Sergey Prokudin-Gorsky, but I still remind you. Prokudin-Gorsky is a pioneer of color photography in Russia. For 10 years, he has traveled much of the Empire on behalf of Nicholas II, has set the goal to capture his day Russia in color photography. For color images, he did the same three frames with different filters, and then use the projector to receive color pictures. This will be interesting - will find the whole biography and the history of the fate of his collection on Wikipedia. Unfortunately, some of the images (as they are stored in the library of the US Congress) would bind to the wrong place, and some even have not been established. However, when the case took enthusiasts were closed, many white spots. Thus, it became clear that the pictures Tver not 2-3 as previously thought, and a little more.
Yesterday I walked with soap and photographed the same places of Tver, who in 1910 photographed Prokudin-Gorsky. Under the cut - a selection of photos of Tver with a difference of 100 years.
The most famous picture, which everyone knew the Old Bridge: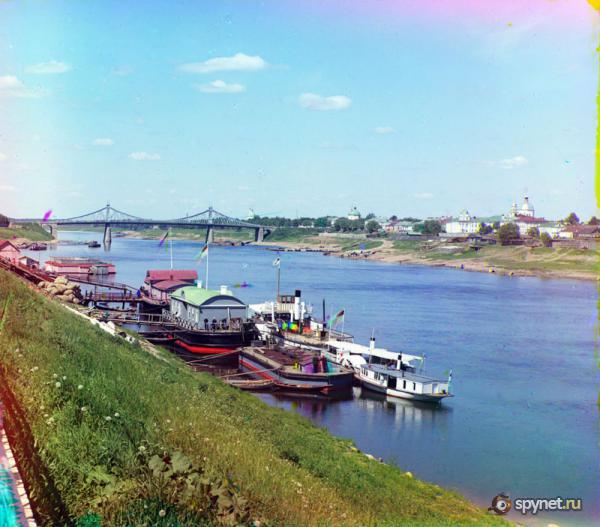 Now it looks like this. Volga has become much wider, this is due to the advent of dams and reservoirs. In fact, here in this place is still worth a marina and pleasure boats moor. But it usually happens in the summer.
2010: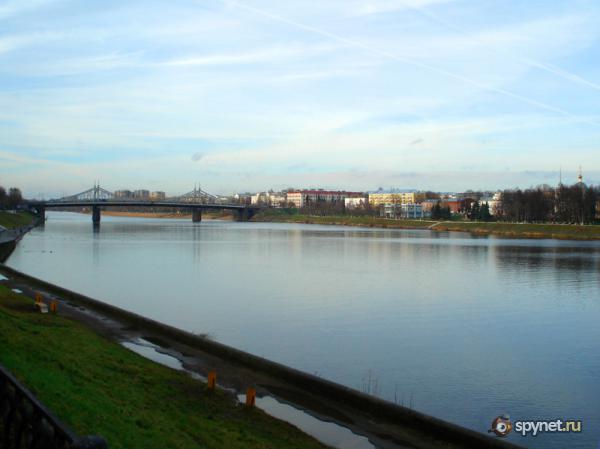 Mouth Tvertsa and Volga, 1910.
In the center - Catherine Church. It is noteworthy that preserved shestiokonny small house on the right)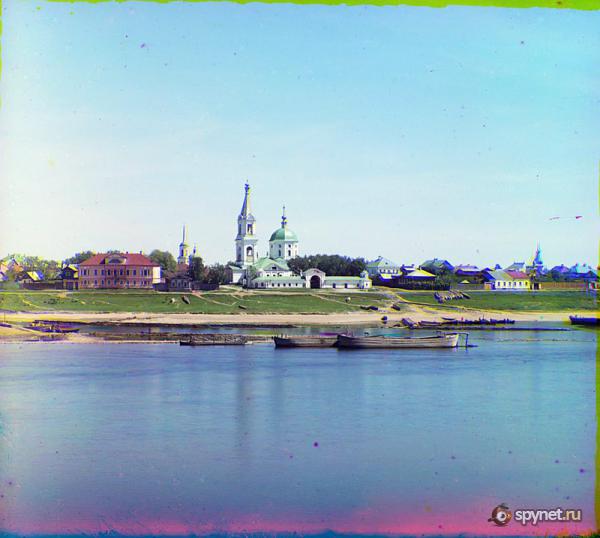 The same view 2010: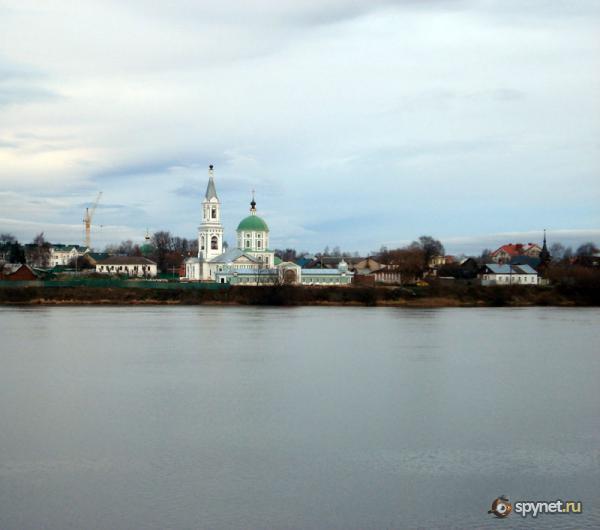 Now it is the embankment of Nikitin. In drafting the first line of houses participated Kazakov and Rossi, the then novice, little-known architects.
1910: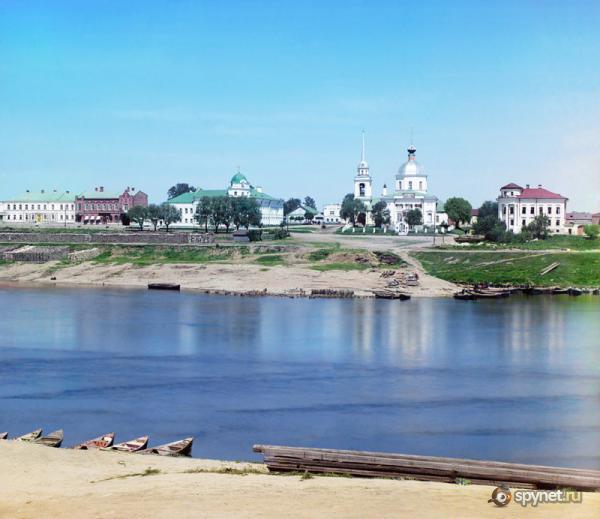 2010 remained almost all the buildings that were in the frame on the other side. True Art School (red brick building) blocks the Anchor restaurant. But the second line of buildings (church) not survived. Now there are high-rise residential buildings. Before the Church of the Ascension on the waterfront is a monument to the Tver merchant Athanasius Nikitin. Incidentally compare dome of the church in this and the previous photo - it was restored recently and before the dome and bell tower were one the height.
Coming from the mouth of the Old Bridge Tvertsa (then of course he was called simply The Bridge) Prokudin-Gorsky turned around and took a picture of the river. 1910: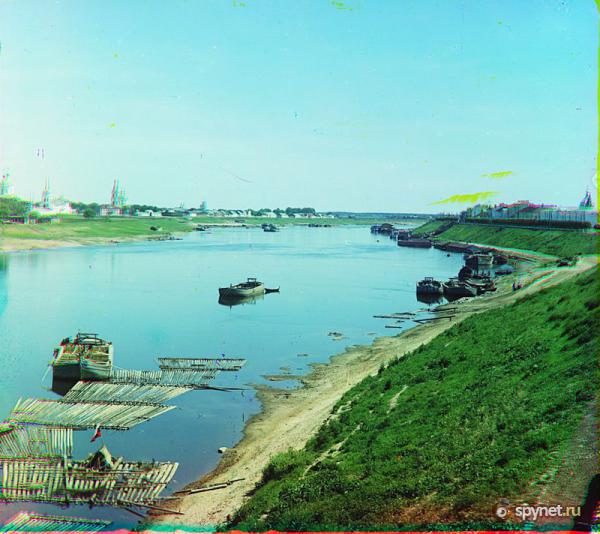 2010: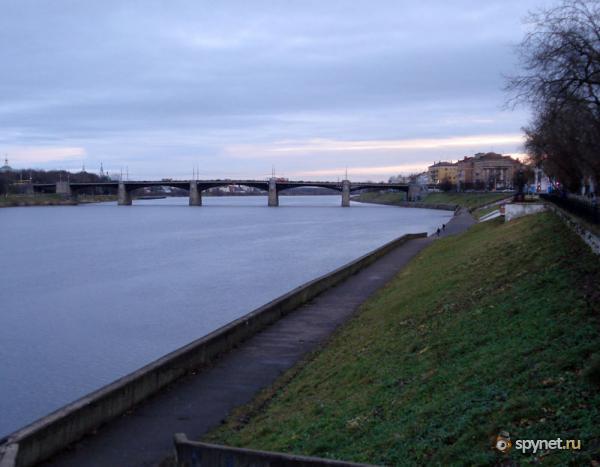 Then Sergey climbed the bridge and took a picture against the current. Then it was the end of the city, within walking wooden buildings, most likely all sorts of suburban villages. For a long time it could not identify the picture and figured largely due to the two pipes in the distance. Two tubes - it Upper Volga Railway Materials Factory, now - Tver Carriage Works, incidentally the only one in Russia where they make cars for long-distance trains.
1910:
Pipes seems to be rebuilt, for some reason I could not find a position on the bridge to the pipe factory in line with their position. The right bank of the picture now occupies the city beach. 2010: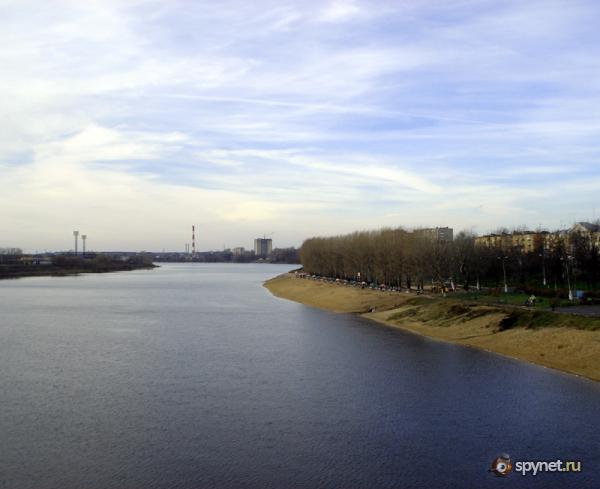 By the way, and at the Carriage Works too much that survived from that time. Ten years ago, there was an open house, and I saw with my own eyes some machine or press in working condition with the engraving "1896". By the way again on the top picture Prokudin-Gorsky. Colored figures of people - this is an artifact occurred due to the fact that while the pictures of me moving objects plate shifted and fell to only one of the three frames. Some thought of to do this GIF:

And another picture, which was the most difficult for Recognition. In the catalog it was listed as "St. Nicholas Church, the village of Knots, 60 km. from Tver »: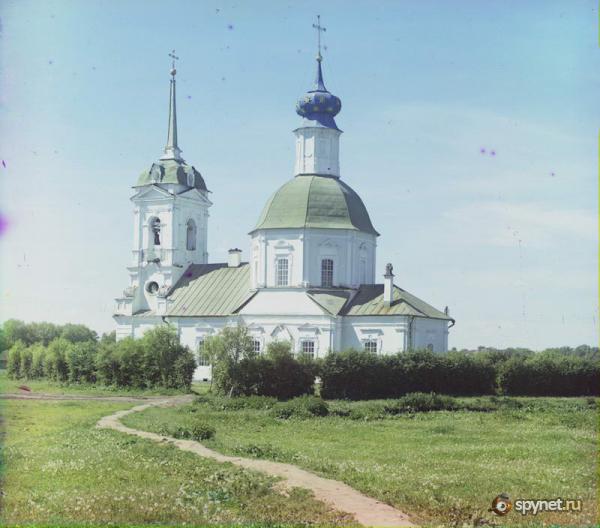 And another picture, which was the most difficult for Recognition. In the catalog it was listed as "St. Nicholas Church, the village of Knots, 60 km. from Tver »: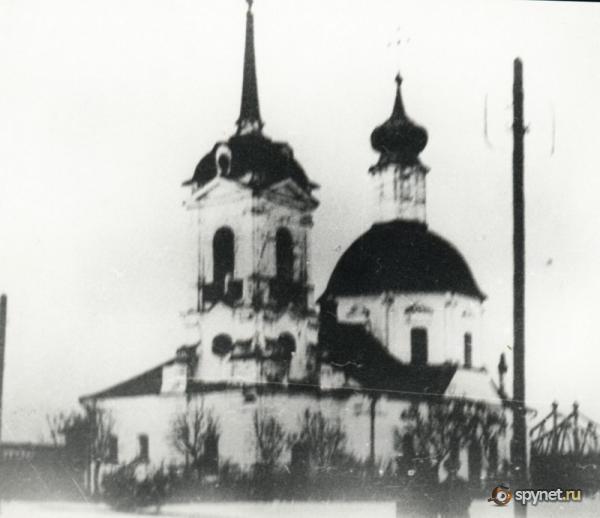 They came to the conclusion that it is the church "St. Nicholas in the skits." In the right corner of the image is visible piece of the old bridge. The church was located at the mouth of the river Tmaka, 200 meters from the High School number 6. In the 20s almost all the space occupied stadium "Chemist" and the church was on his backyard. In the 30s, the bell tower was demolished, and in the 1954th - the church as a whole. In its place was built the administrative building of the stadium, and now it looks like this place: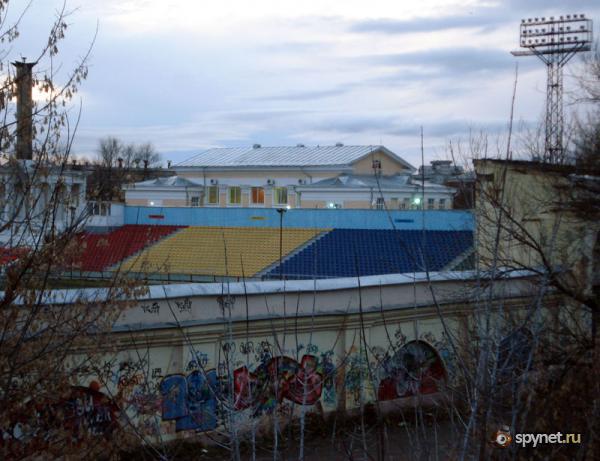 That seems to be all :)
I could not find a pair just for this shot in 1910: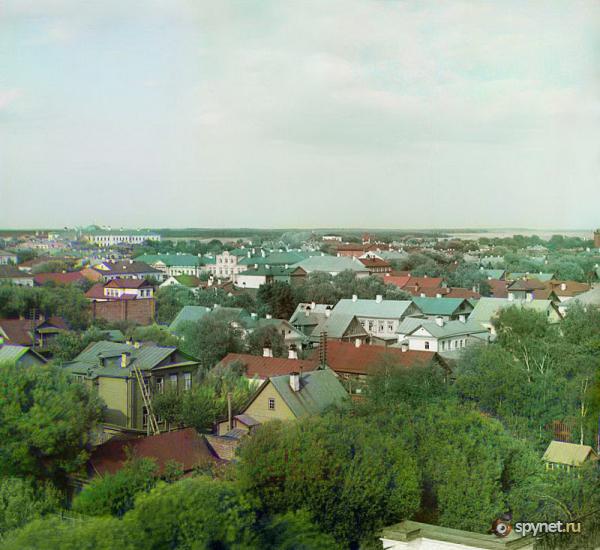 To repeat it - you need to climb on the roof Zemsky female teachers' school after Maksimovic (now - the Rector and the Faculty of History of the Tver State University on the street. Zhelyabov d.33), but I am not so arrogant :(