Let us remember what "rare" things in the Soviet Union were collecting a lot of us;) :) Nostalgia Huge selection of photos of those times. Be sure to look at and remember.
Stamps.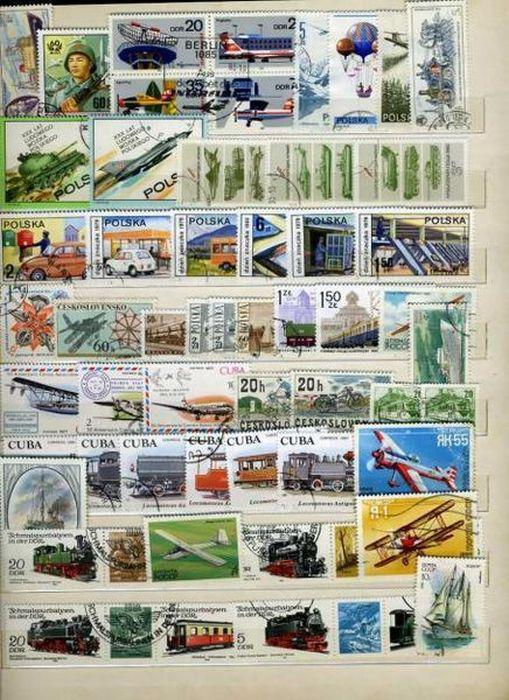 Stamps are not collected just lazy, surely someone left with a collection of albums.
Soviet, Polish, Cuban ...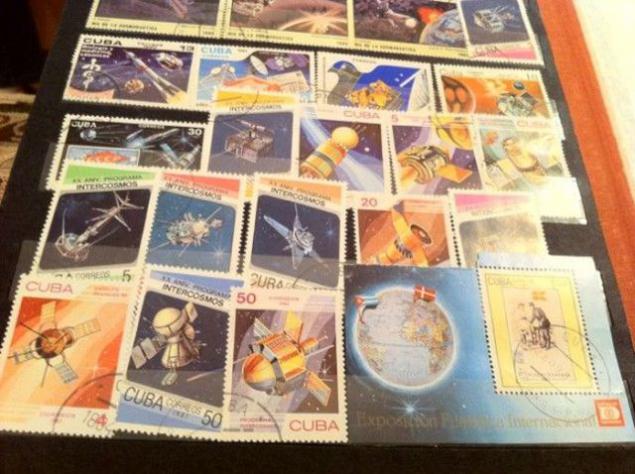 Moreover, CUBA always and always read as "SIVA" and I had no idea what it is.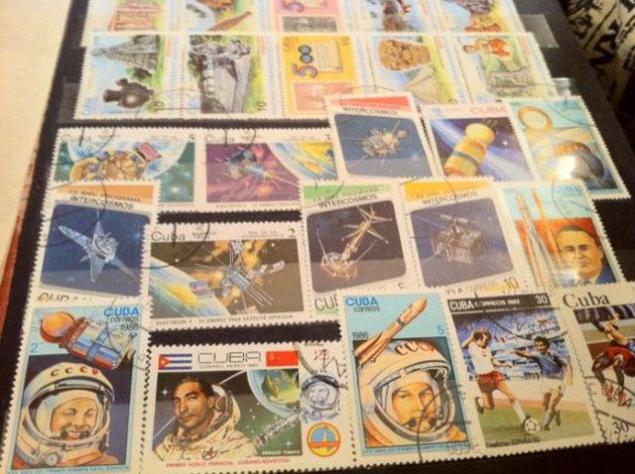 Here's a little album and I was: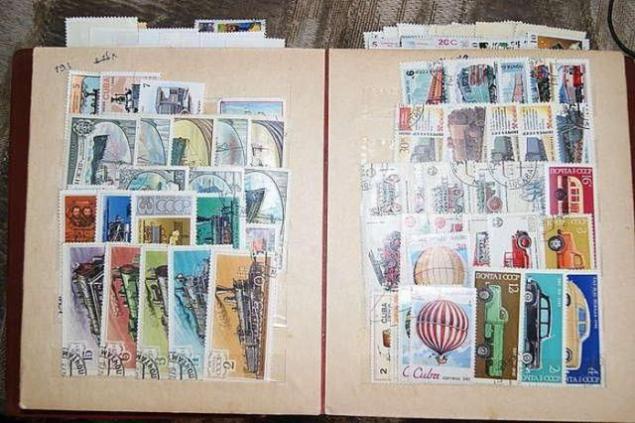 Foreign brands were valued above all. They were beautiful and unusual - with non-Russian letters: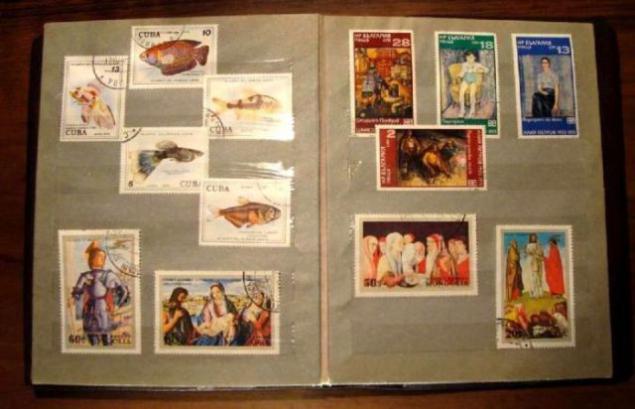 But the most valuable - is triangular and calcium oxide, ie, without a stamp.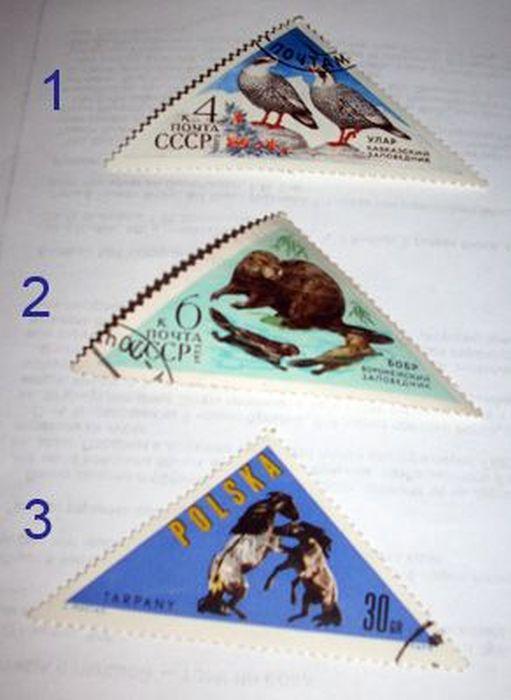 One of my favorite episodes was here this: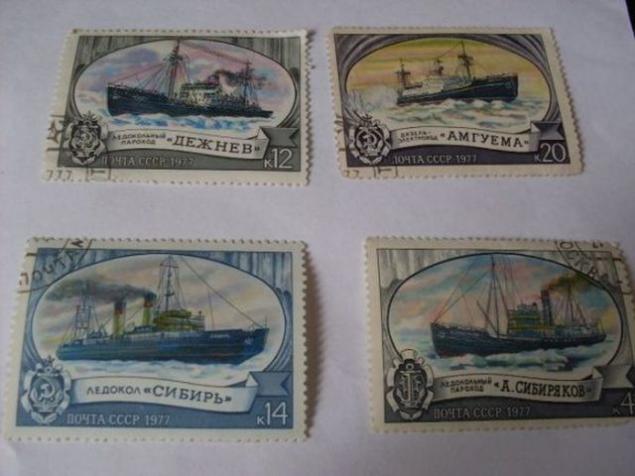 A most-most - here this: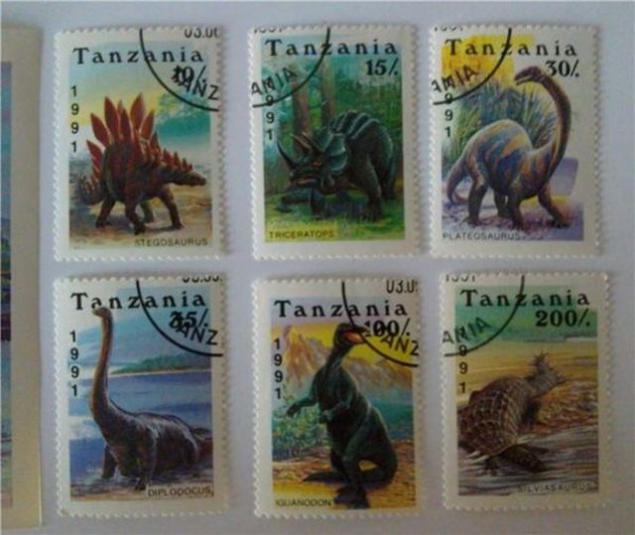 BADGES
Not to say that I have been saving the icons passionately, but at least we were full of them -
in a box with buttons on the carpet, on the pennant on the chest, under the sofa, toys ...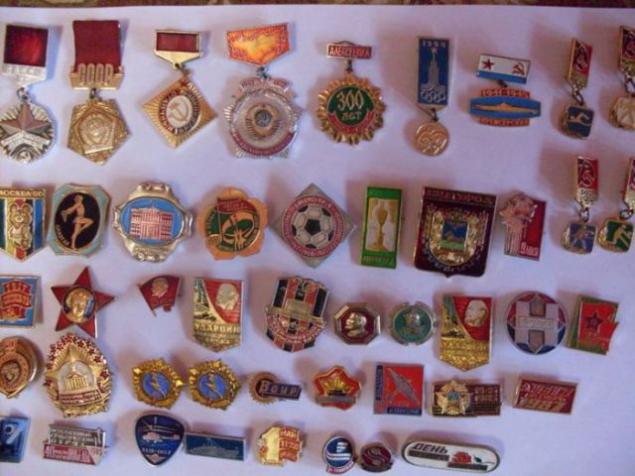 Among my friends icons are not particularly valued, so their favorite icon could easily elicit a present.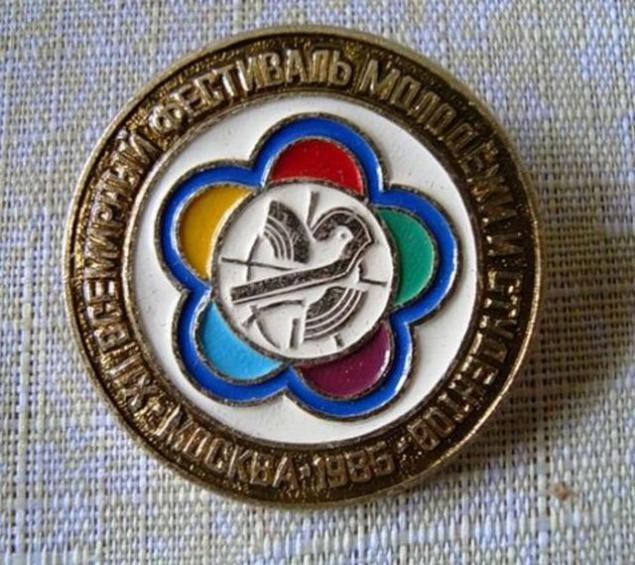 In the USSR loved icons. Loved them to do, give love on any occasion, liked to buy.
Parents at work constantly received some badges. That honorable combatants, over sots.sorevnovanie,
then for participation in the exhibition ... The motivation system was very primitive and cheap. Distinguished - get a badge and be proud of.
And proud of it. We work not for money but for the idea. And the icon.
Therefore, the icon was not to say that much - there were so many. Different. And even funny: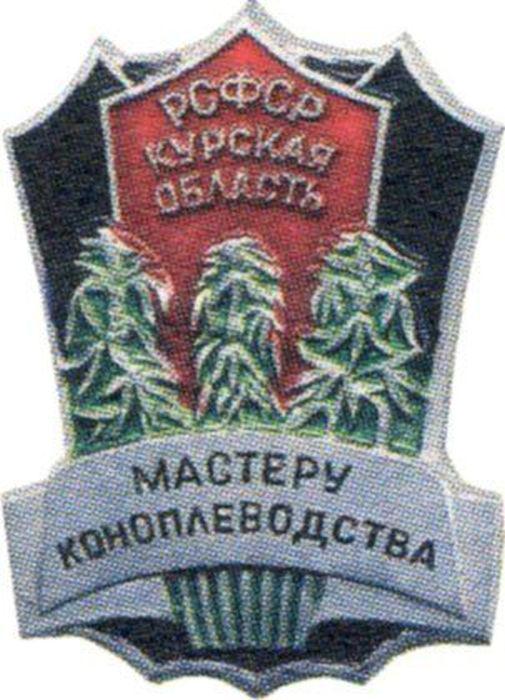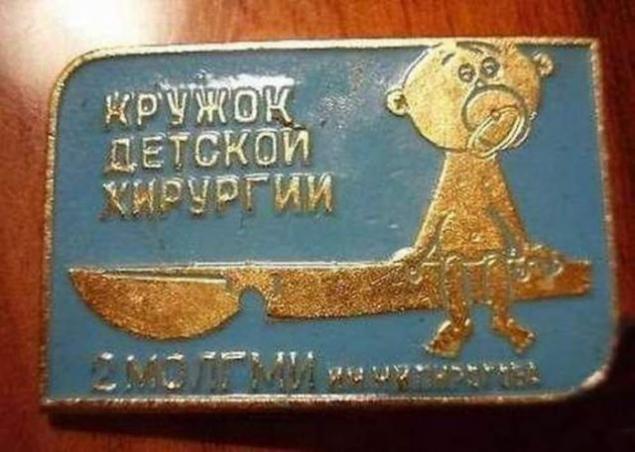 And even such ...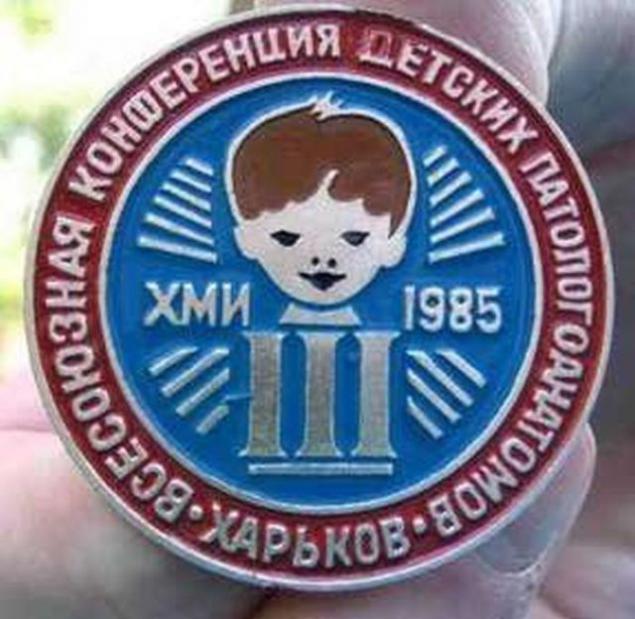 With the advent of the Soviet nineties aluminum badges stamped lost their relevance.
We received a new cartoon, which replaced the wolf, hedgehog, rabbits and other heroes.
Our portfolios chest and stuck Disney characters: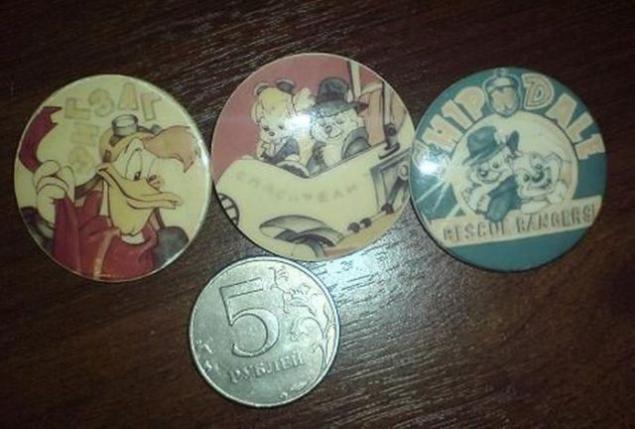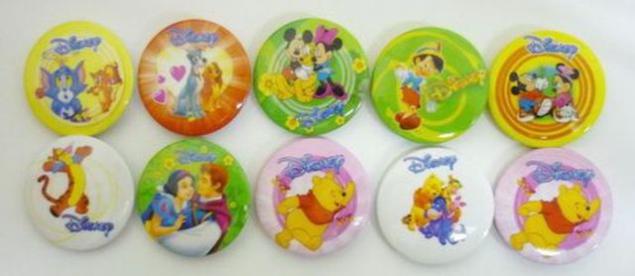 We grew up together with us "grew and matured" icons: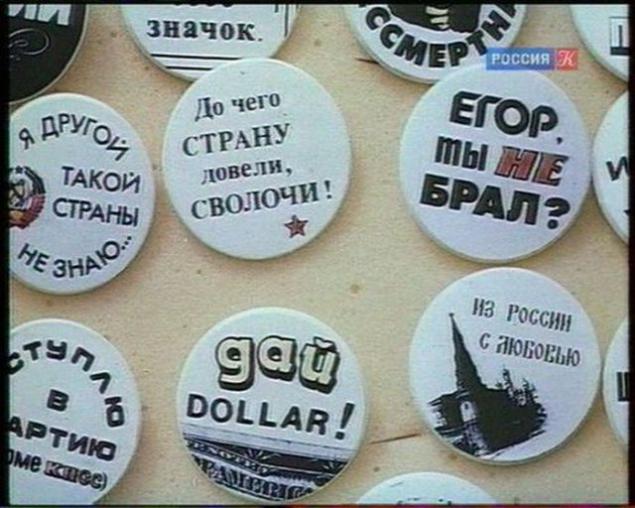 "I bought a badge ...". What a profound thought ...
COINS
As brands, foreign or antique coins were each.
I do not believe, if you say that you did not have GDRovskih pfennig, Bulgarian or Polish stotinkas pennies.
Coins in the socialist countries there were a lot of people - who once served, someone resting, someone just had.
And they carried the coins, which quickly dispersed by hand.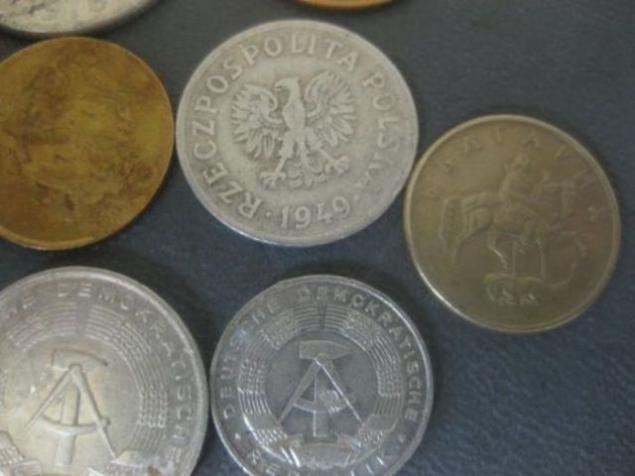 And who, having found among the data mom bread coins pre-reform "threefold" or "penny" Do not delay it in his cherished piggy bank?
These coins 30-50s's somehow different from the post-reform. Curls, a different number of bands on the arms, the other letters, font ...
Remember the legendary film "money-changers" - it is just about these coins :)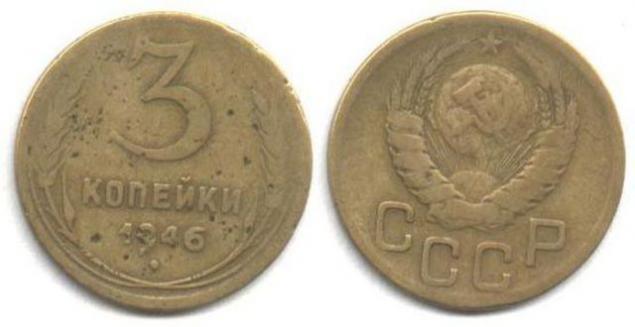 Coins changed on stamps, badges and back. And coins played "snip", but of moves, earning his ice cream,
cigarettes, chewing gum and sosachki. His collection of coins I have for some reason, buried in the ground, having read pirated novels ...
And now I regret - there were so cool ...
Souvenirs
Well, the girls it will probably be not so interesting, but boys ... :)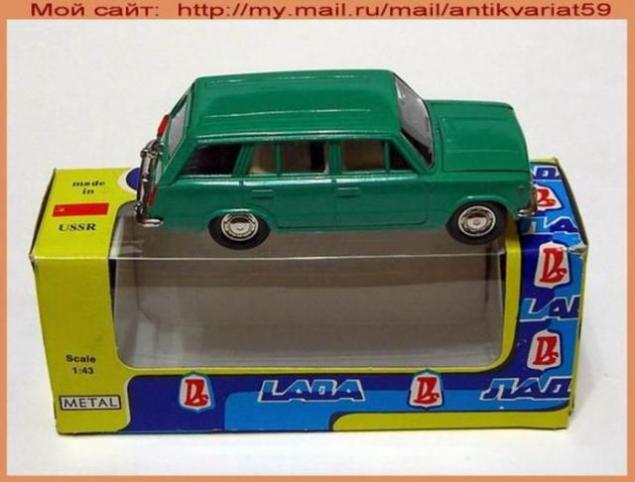 How do you feel on the type of these machines? :) Same as I?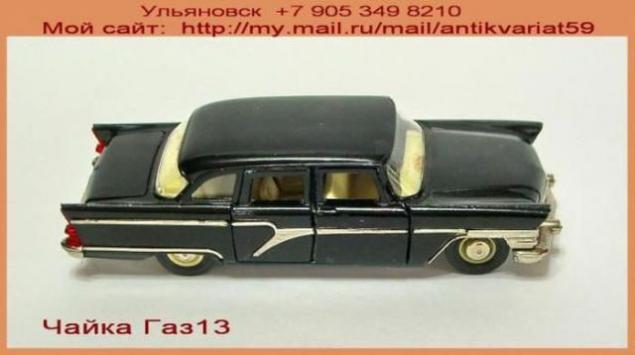 And this is?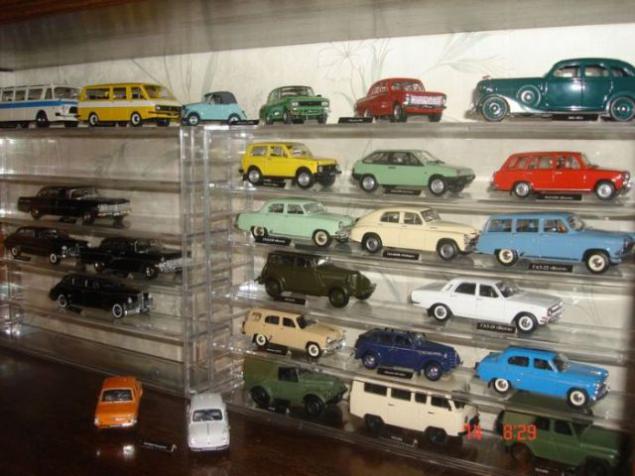 Drool flowed? Yeah, it's notable collection. I did not have half of it. But they were the most precious,
I've had. In the literal and figurative sense of the word. They cost a lot. For example, "Volga GAZ-2402 Aeroflot»
I was bought for 10 rubles: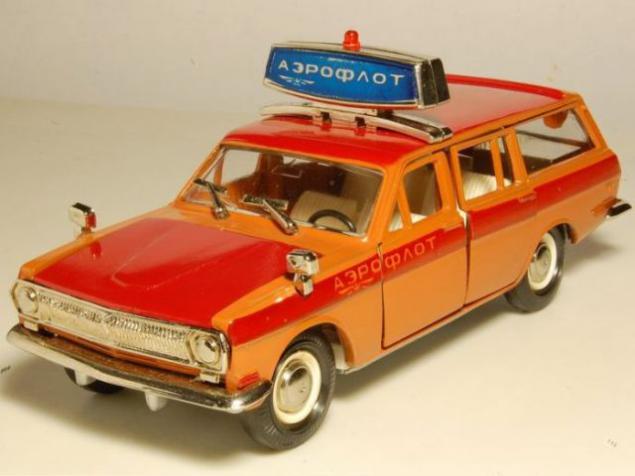 And "Field" was also not cheap: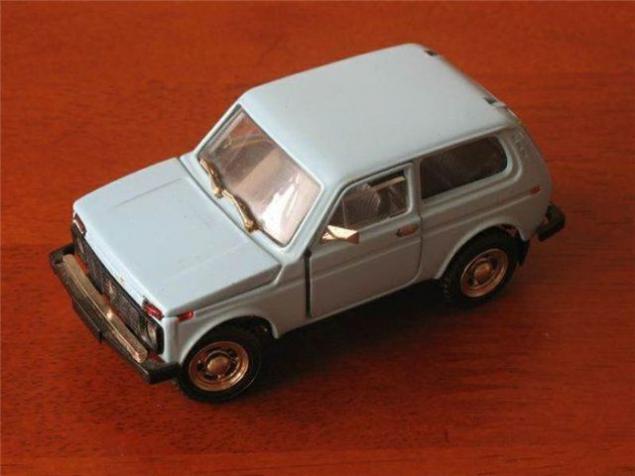 POSTCARDS
And now the girls can come back again to us - remember its countless treasures :)
I do not know whether you are sending to their relatives and friends greeting card by mail? In my opinion,
today's young people may not have to understand how and why this is, if there are services Yandex, Mail, and other :)
But we appreciated each postcard that showed in my mailbox before March 8, Feb. 23,
May 1 Happy Birthday and Happy New Year. Each card has its own way unique. Warm words, "Hello,
my dear "in the beginning," whole "at the end ... A piece of heat, the heart and soul ...
They were beautiful.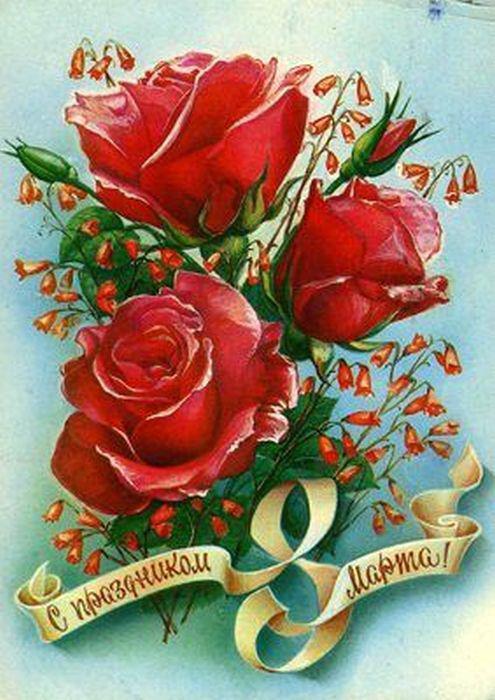 Good.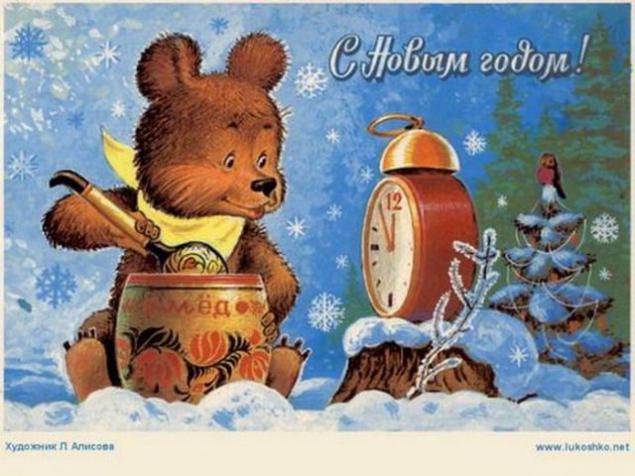 Funny.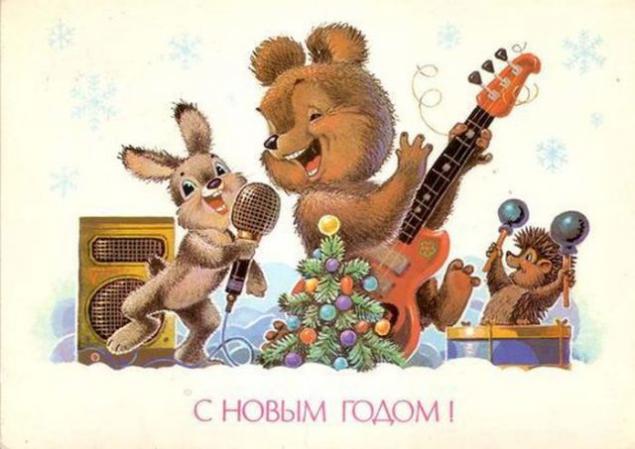 Funny.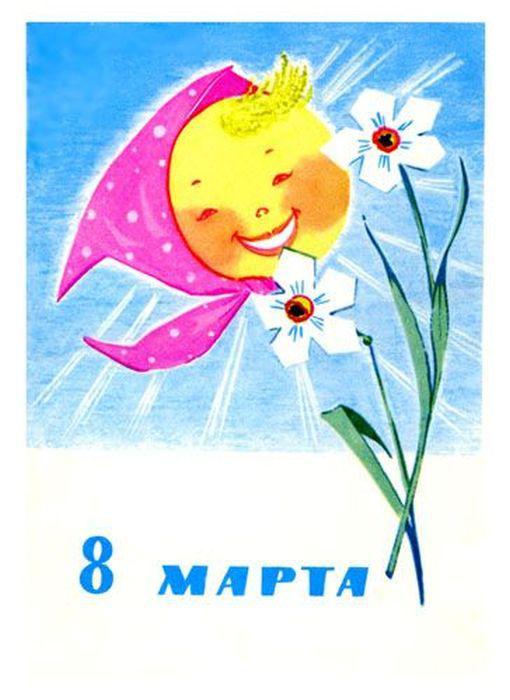 Serious.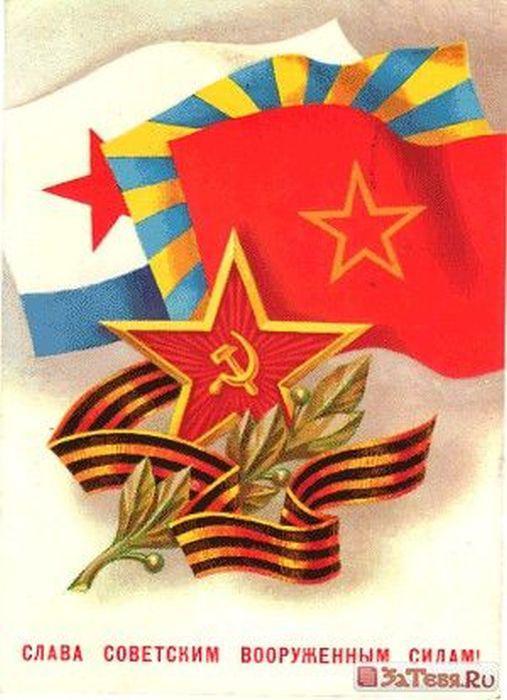 And in general, there were many. So much that we hoarded them.
Calendars
We did not have calendars in your iPhone, computer and phone. Therefore, birthdays mom, dad, sister,
brother, boyfriend, girlfriend, dolls and their last, we pointed pen in paper calendar cards.
They also had quite a lot to start picking them up.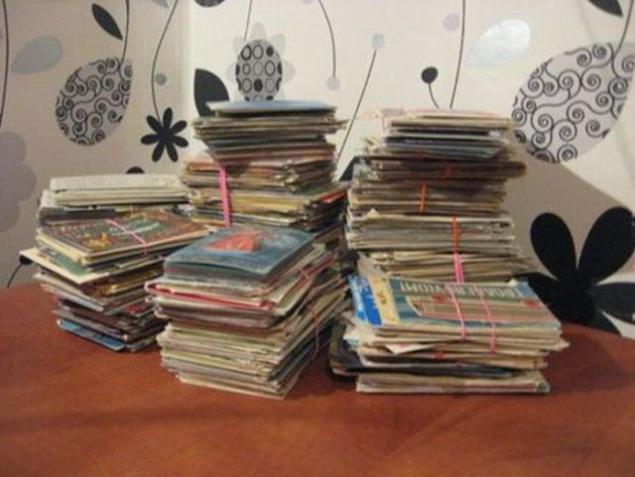 Calendars, as well as badges, issued on any occasion. They were cartoon characters: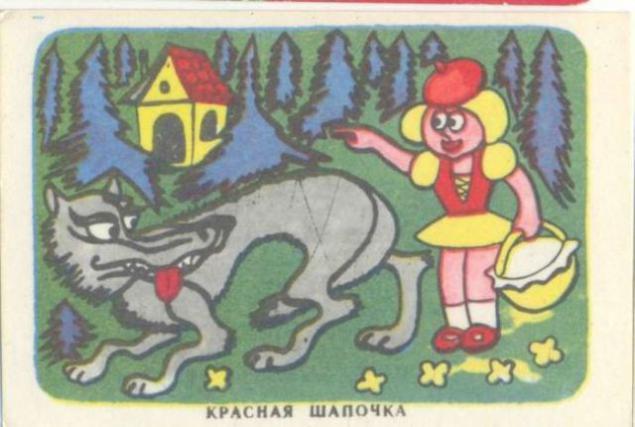 And nyashnye seals, dogs: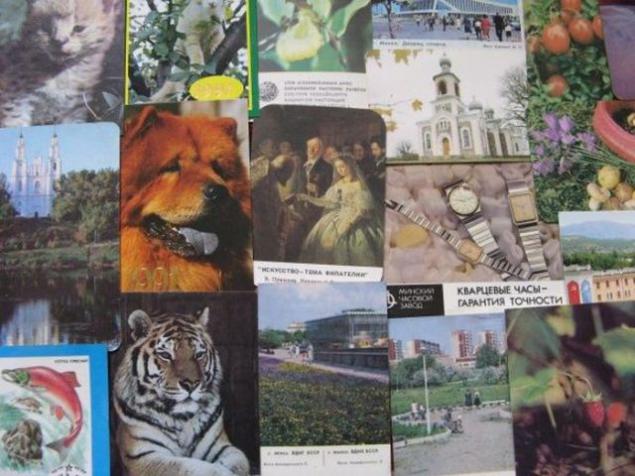 And public service announcements, such as "Matches to children - not a toy." Or, "In case of fire - call 01».
There were views of cities:
And the other Misc ...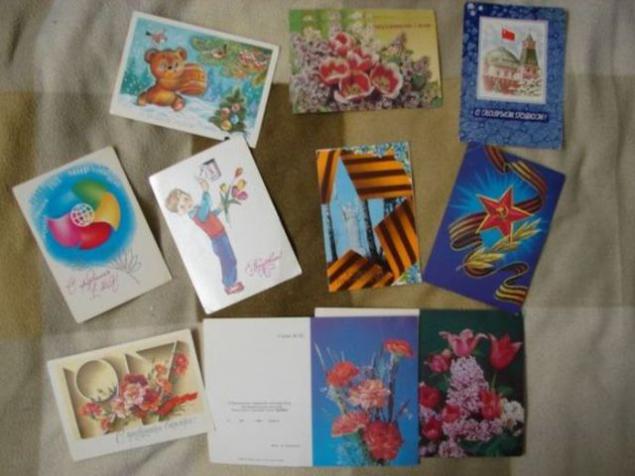 But the coolest - it's stereo ...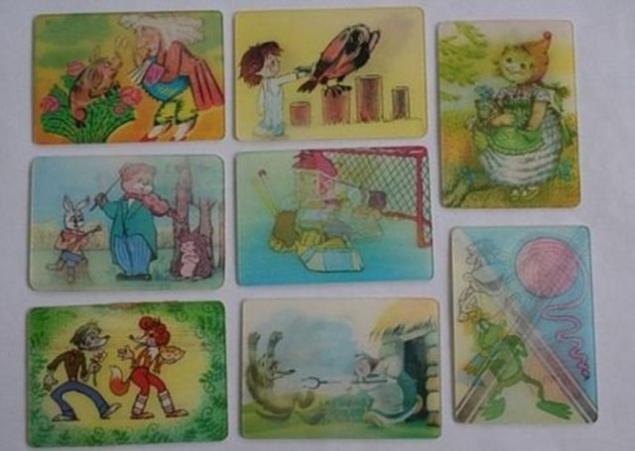 We called them "iridescent". Povernesh one angle - one scene from another - the second. As the mini-comics.
Stickers perevodilki
Another popular hobby was collecting and pasting, wherever possible pictures, which were called "perevodilki»: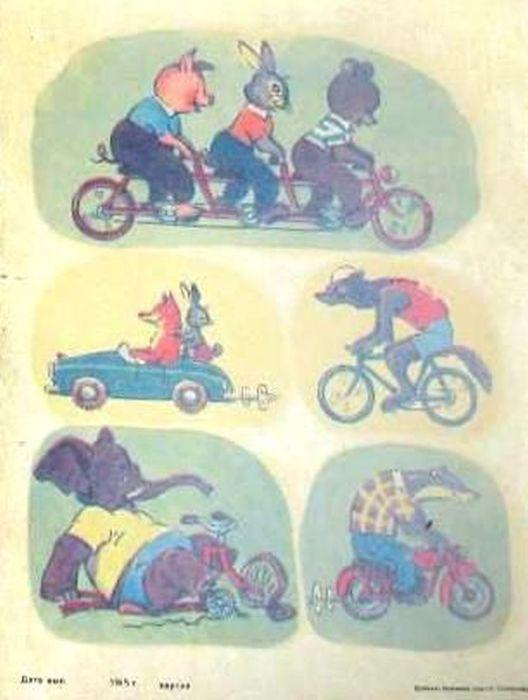 The technology of their gluing was not easy and required skill: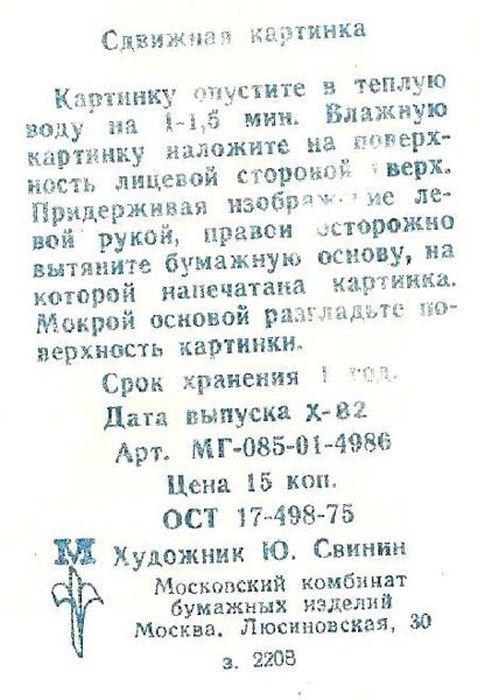 I often "zaparyval" part of the picture, because the film was extremely thin and delicate.
But this did not clouded the joy of beholding the new pictures ...
... On the wall of the kitchen ...
... On the bedside table in prihozhke ...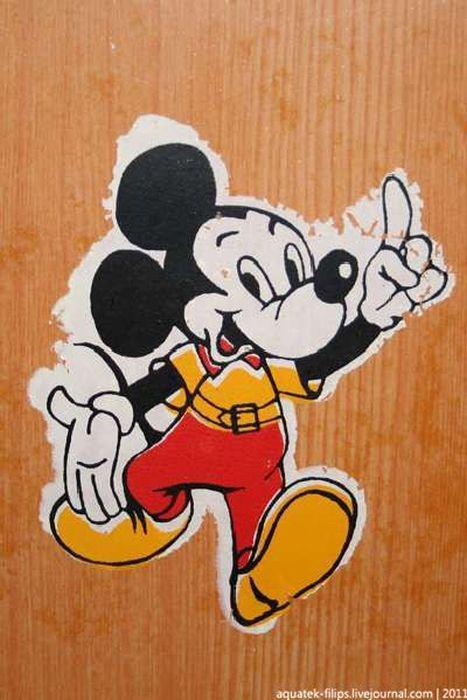 ... On the tiles in the bathroom ...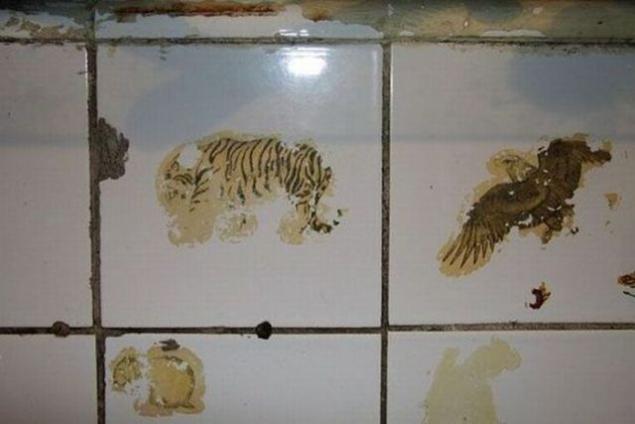 ... In the breadbox ...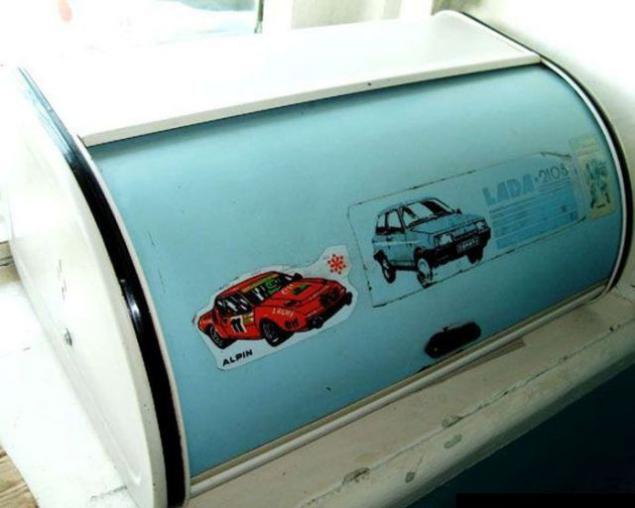 Very popular were perevodilki with faces of different tetenek: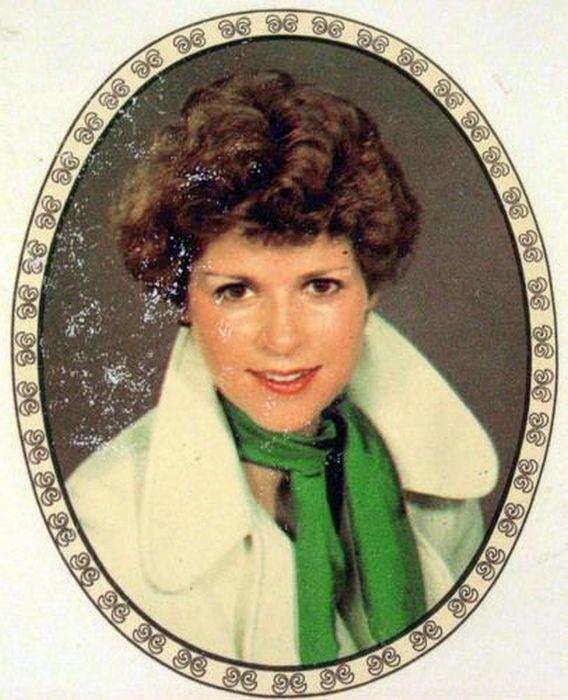 Girls pasted them on the cover of his diary :)
And I like the cartoon characters. First Soviet: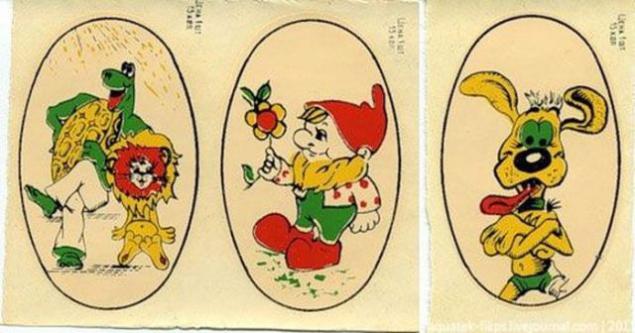 Then Disney: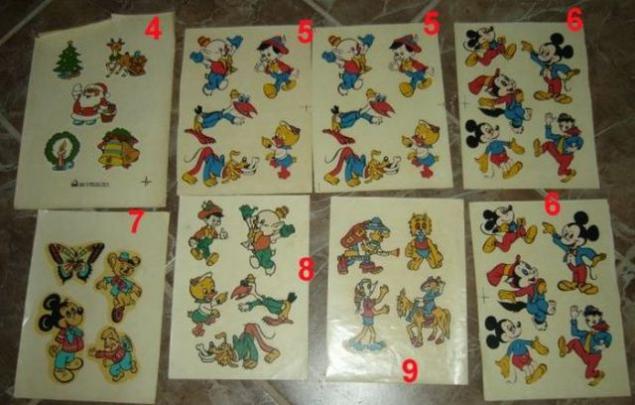 Labels and color matches
And I'm saving up Matchbox labels. And they do not even have to take your -
collection of small pictures in the USSR was quite "legal» -
in "Sayuzdruk" easily could buy naborchik labels.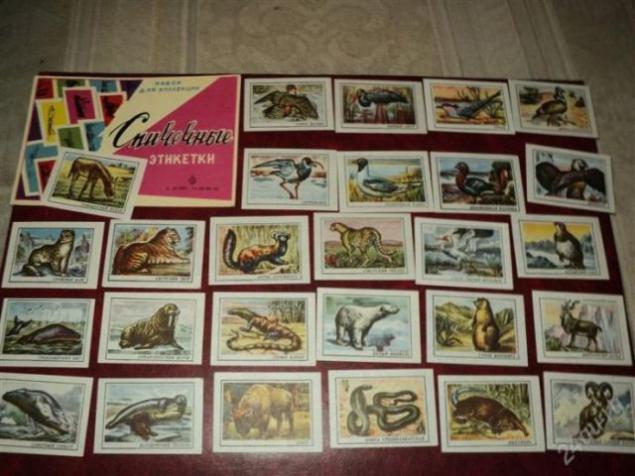 Of course, sets quickly bored and it was not "sports»,
so the stripping of labels from boxes was more interesting way of accumulation.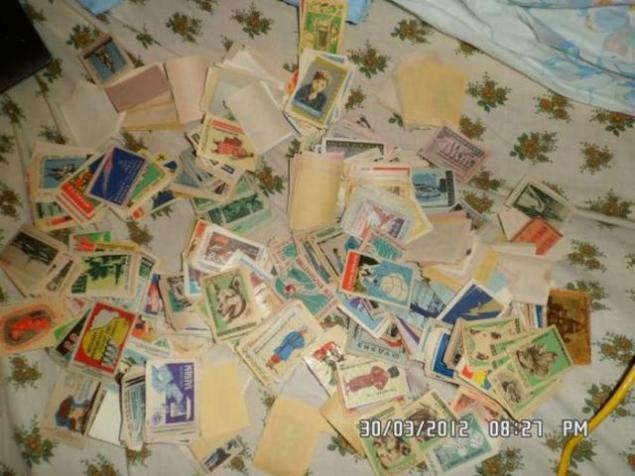 And I like to collect color matches. They were a rarity, because in addition to brown, we almost did not see the other.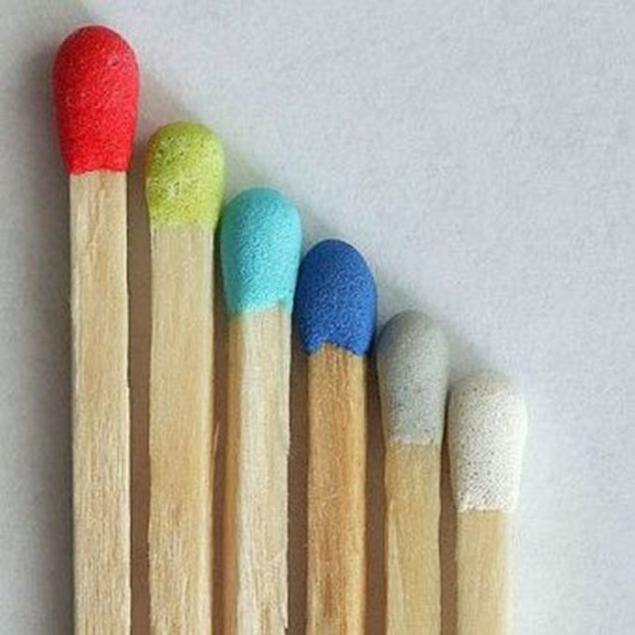 Bottle Caps
They were always the standard - dirty gold. Whether it is beer or lemonade - tin,
and under it rezinochka white, which makes them the photo, tightly clutching the picture in the newspaper.
Therefore, rarely hits the streets were colored cork weight in gold.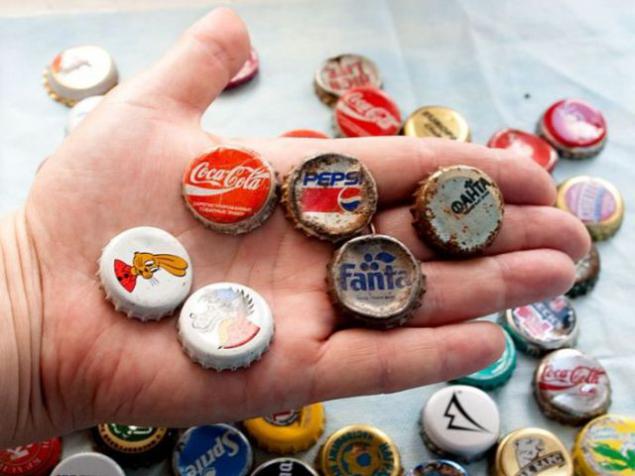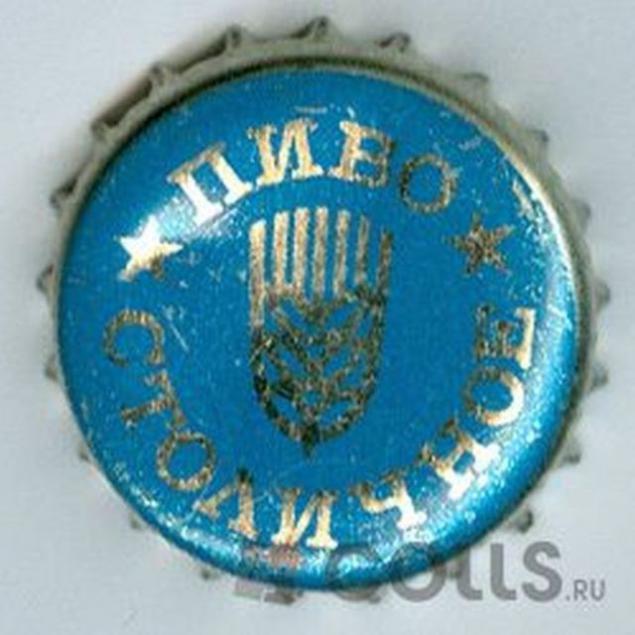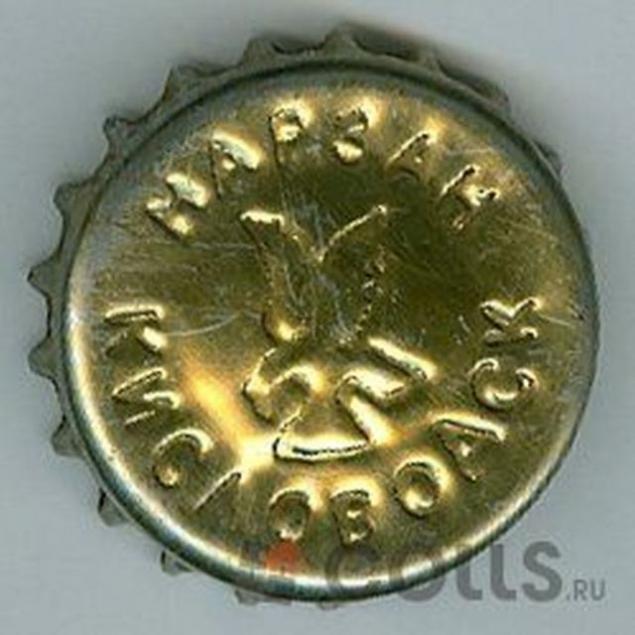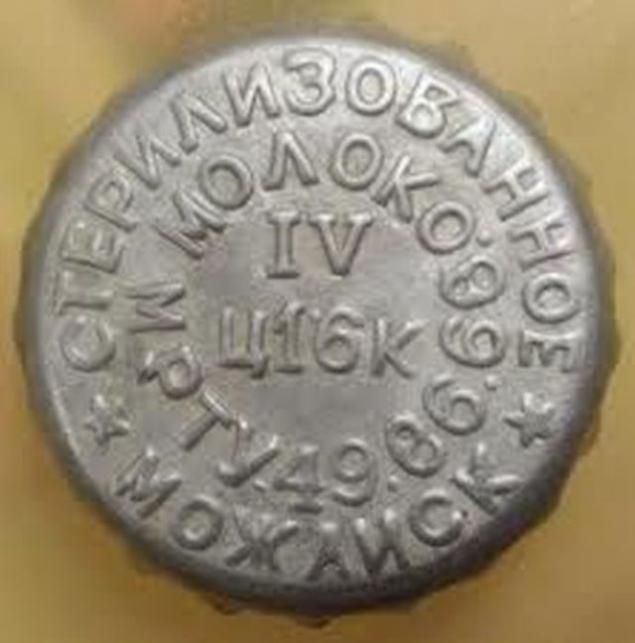 Cigarette packs
You feel closer to the master? :) Let's talk about packages: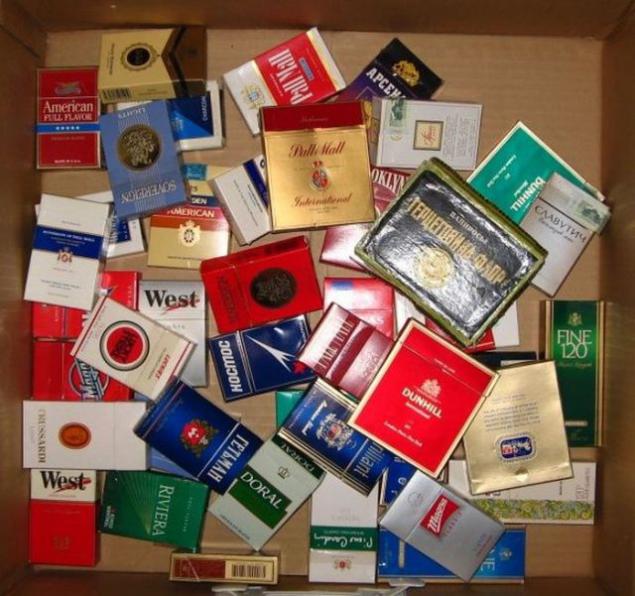 Sank in the chest? The names of the 90 "PellMell", "Magna", "Sovereign", "Fine 120," "Lucky Strike", "Sea» :)
Who how many started to smoke, I confess :) - to 13. In the same year, and dropped. Forever.
My first bought the cigarettes were "Rodopi" ("Smoking girls, Rodopi, so tits do not grow on zh.pe»,
"Smoking, boys, Palmali, that something was not dropped"). And before that, ashamed to admit,
collected cigarette butts, crumbled remnants in a newspaper and resins under the balcony. For happiness to find menthol ...
Damn, let kolites - You do? Or are we the only ones were rogue? 8-0 is a shame even to remember ...
But there is a fairly steep pachechku - those few who were: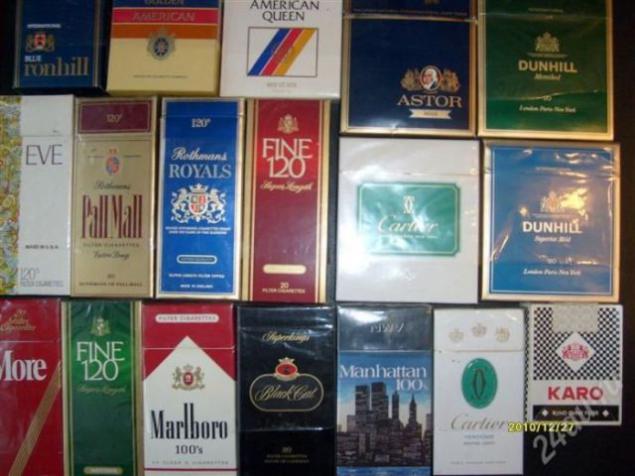 By the way, somewhere in the collection zanykal polpachki Camel. I specifically its canned:
I put gel in and soldered polyethylene. Somehow there was a confidence,
that by the time a cigarette is only stronger and more valuable ... Check whether that? ..
JAR!
Jars! Jars!
This "wall" could truly be jealous!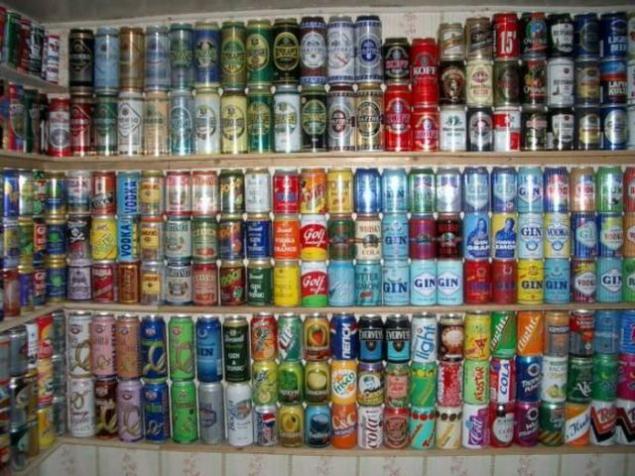 But among my friends, no one so much was not. It was something like this: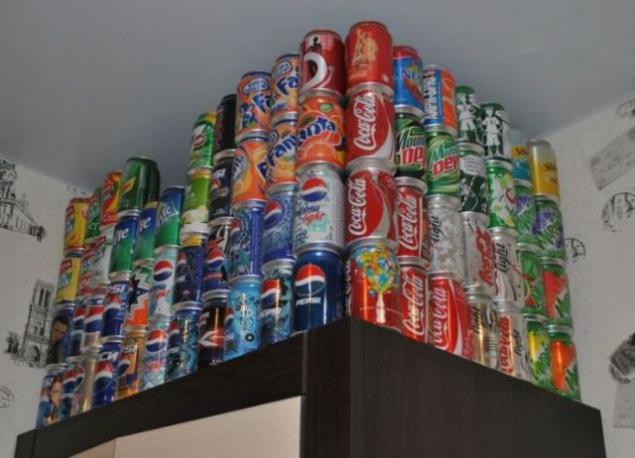 Jars are always given the highest place of honor in the room. A such, the red corner.
To all the friends coming immediately saw the collection.
Many bottles picked up on the street. They took even heavily battered and flattened - all easily rectified by,
Give only time and a pencil. On rare crumpled jar was not a pity to spend and evening -
She straightened valued less. Jars were divided on the form: "house", "straight", "long" (0, 5).
"House" - it is the most common and usual form. "Direct" were rare -
They had no narrowing at the top and the bottom (flat cylinder).
Candy wrappers and wrappers
Girls often collected wrappers from chocolates. At first these: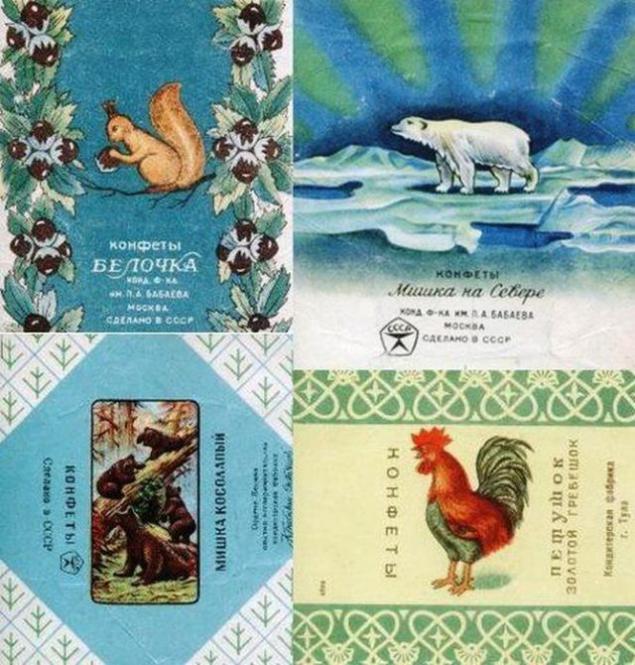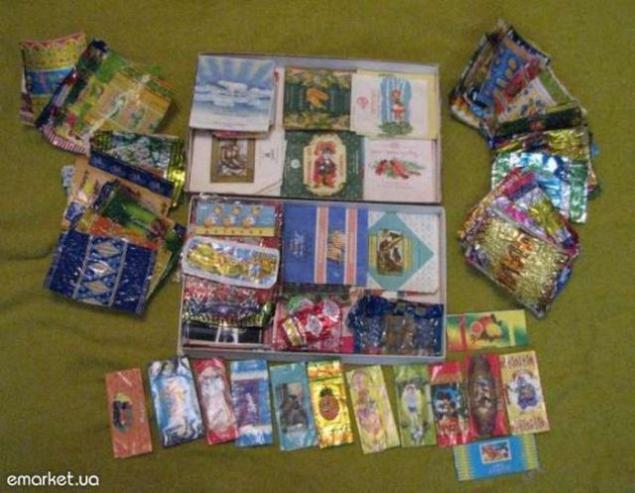 From colorful zolotinok made "sekretiki" in the land, that we boys proudly destroyed like mine.
And even girlish tears have not touched ...
Friends, and who remembers the famous chocolate bars "Holiday Boniface" ???
I've been looking for any information about these bars. Producing Do it now. Can anyone have their photos?
They were heavenly delight! They took them only from Moscow, gave the house strictly portions :)
I remember: in white, tender nougat, wafer thin fruit and thick-thick layer of chocolate.
And beautiful wrapper with different scenes from the movie: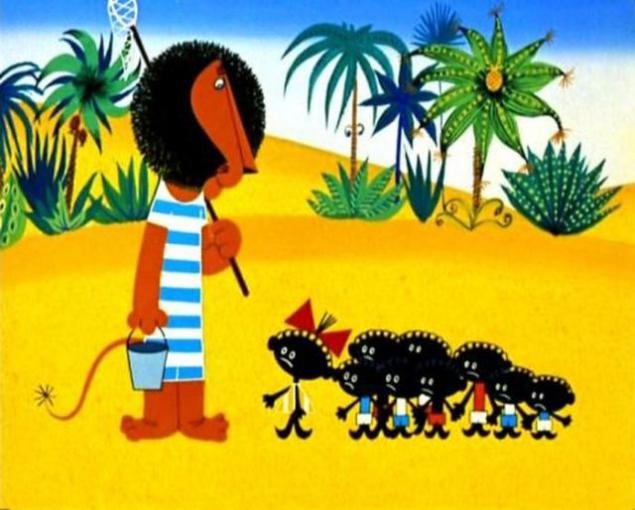 Muscovites, maybe one lying around? - Scan, please!
In the 90s, when the invasion of Mars, Snickers, Stimorol, I myself began to gather bright,
plastic packaging of chocolates and cookies. Remembering than regaled: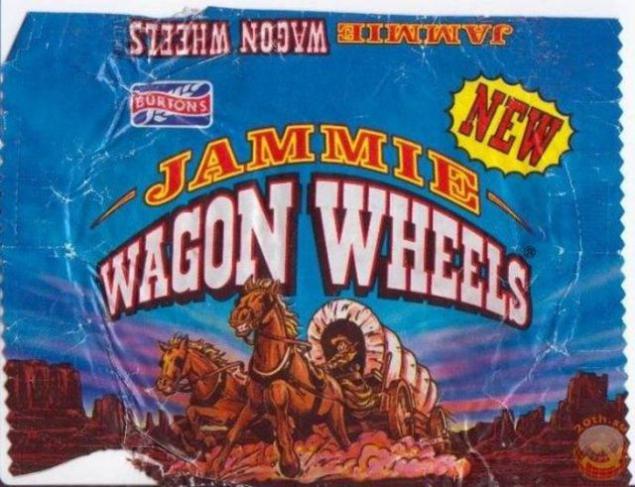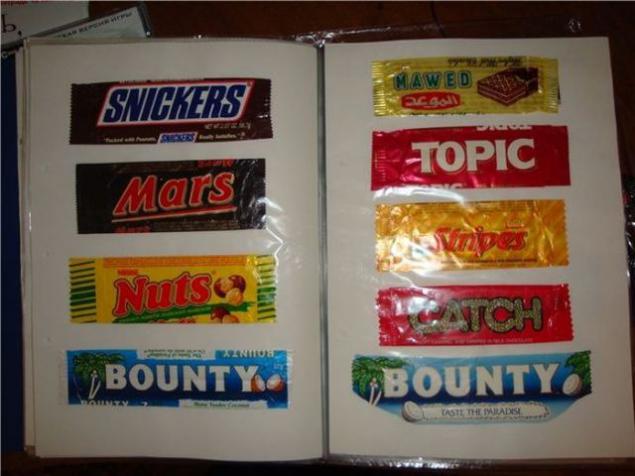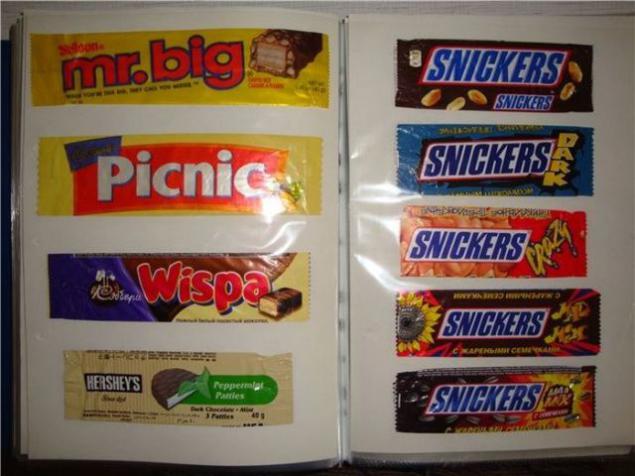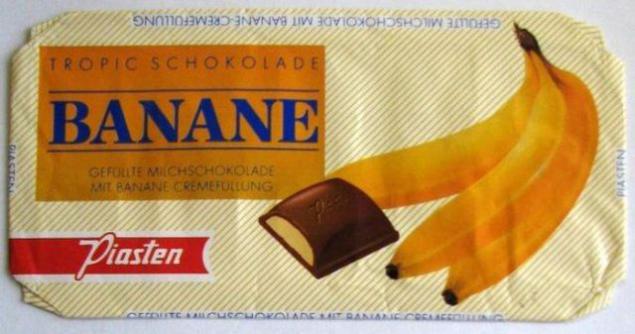 Well, the magic chest "Milky Way," with elements of «LEGO». Remember? :)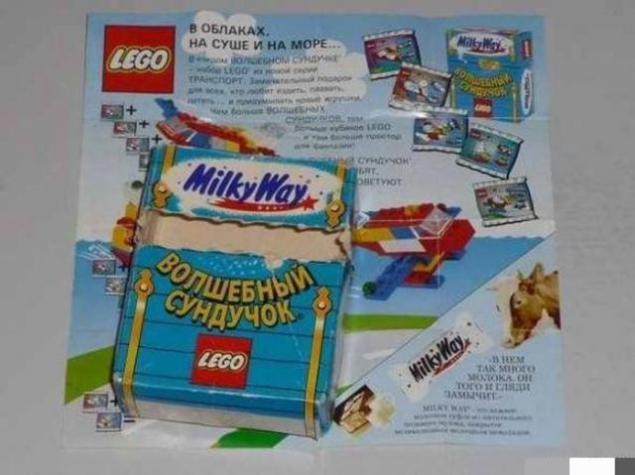 PHOTOS rolling and karatekas
I'll start with this photos, found in Ineta: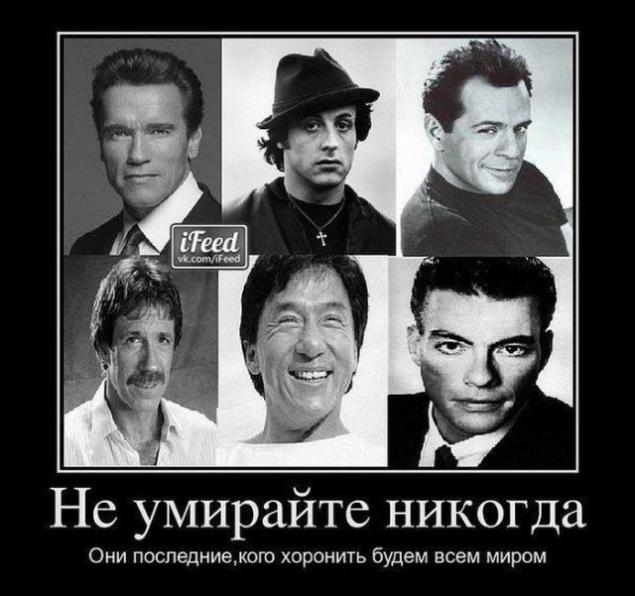 Yes, in fact?
They are our idols. For them we were willing to pay hard-earned money in video salons. Their photos have always been with us.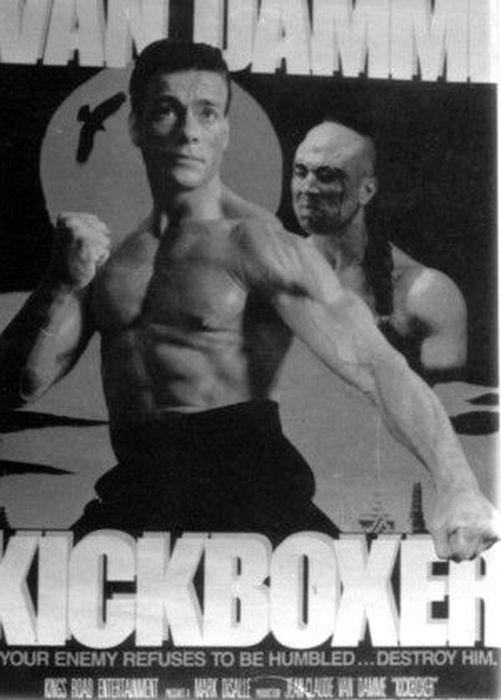 Remember, as practiced double blow on the wooden sculptures in the yard? They imitated.
Section kickboxing and martial arts have grown like mushrooms - demand creates supply.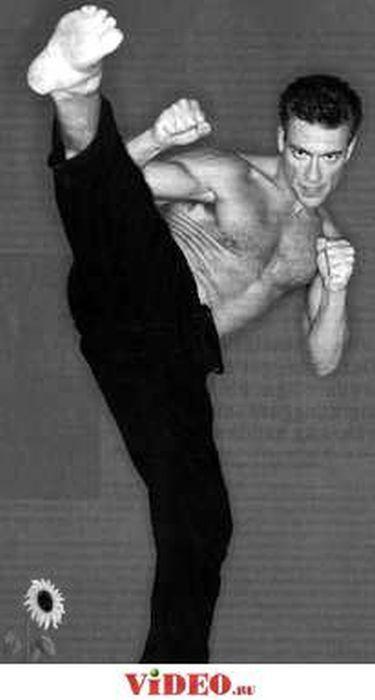 Favorite Bruce Lee never smiled with photos - he always had raspolosovat belly and cheeks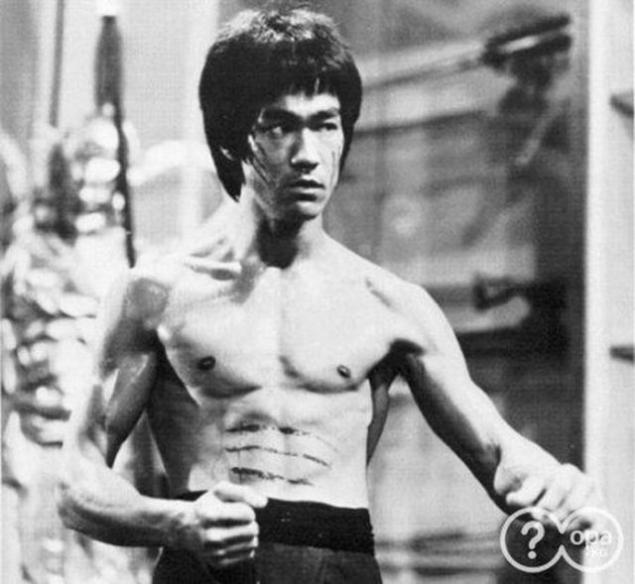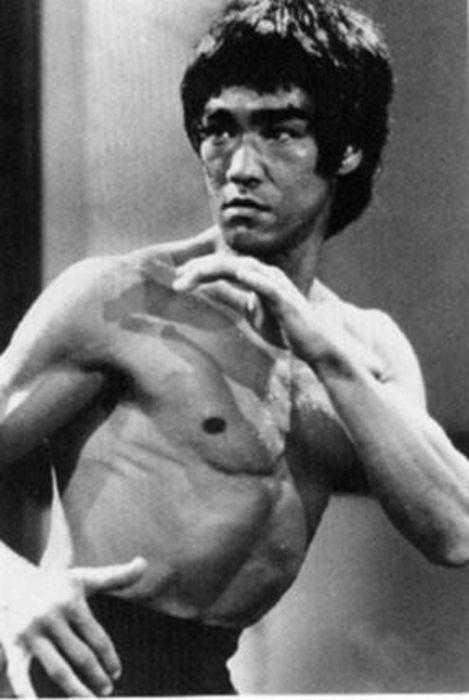 Rockers were simply overwhelmed. There was a reason: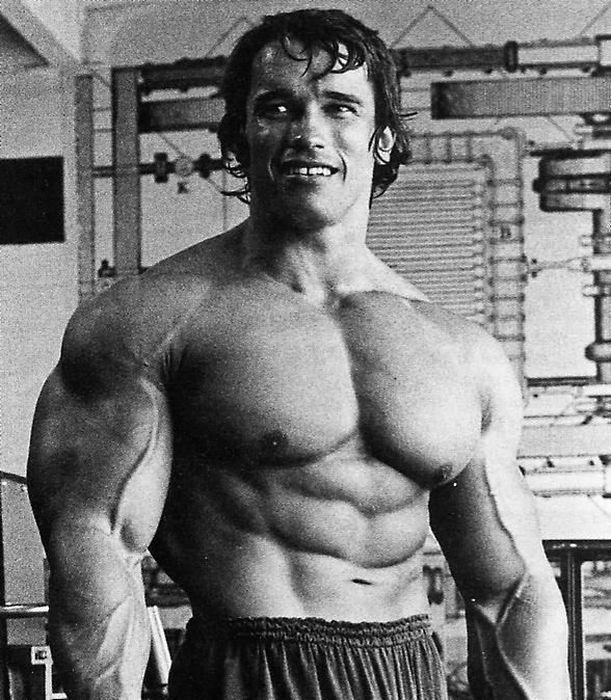 "Conan the Barbarian", "Red Sonja" - the cult films of the 90s.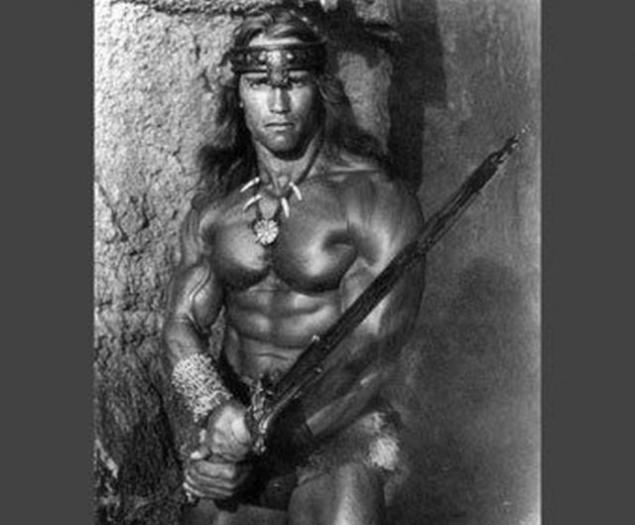 Not smiling with photos and "Rambo»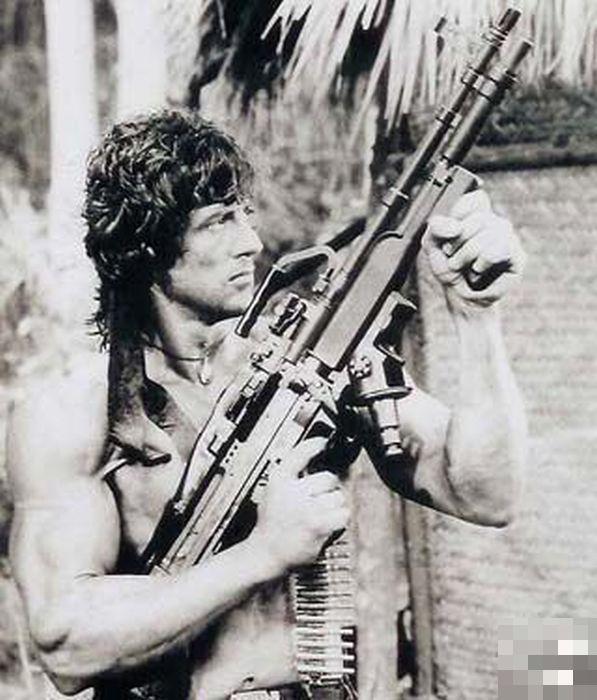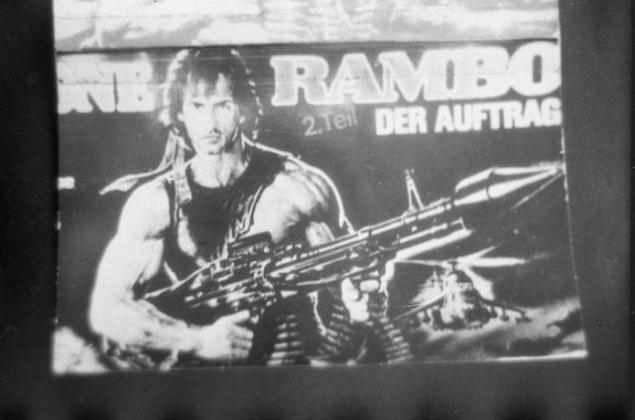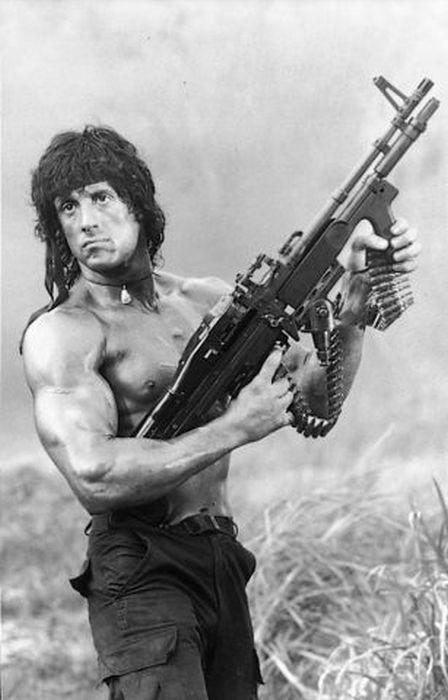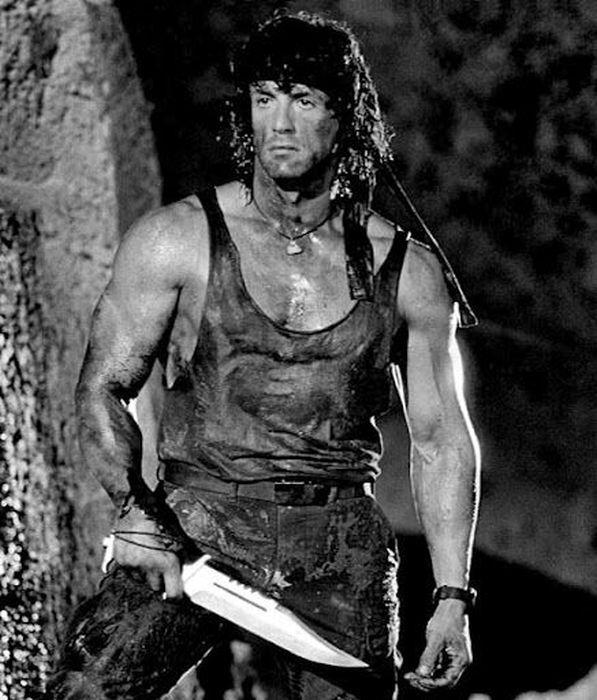 Photos perefotografirovat, sell, buy, change. Besides them, the move was successful and drawings with pictures: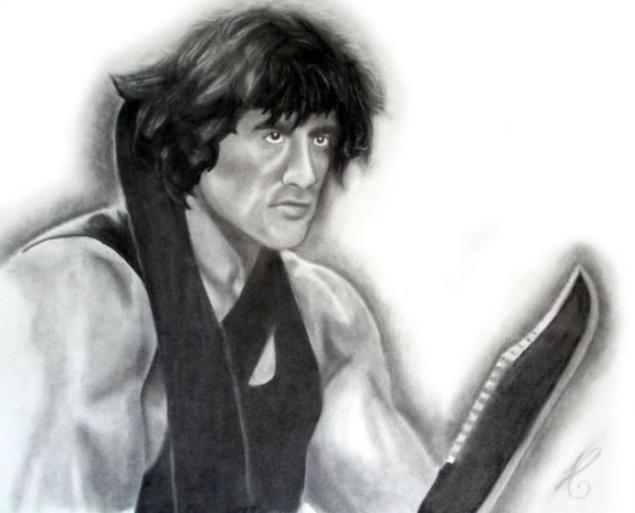 They were our idols. Strong, honest and fair.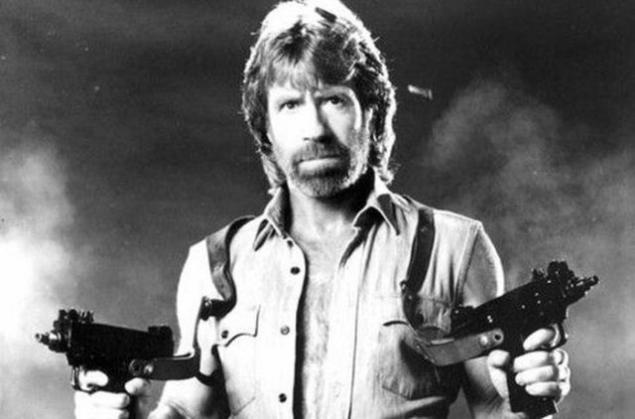 Not now - some motherfuckers out of "House-2» ...
My older brother and sister too, "were driven" by the pictures. As such: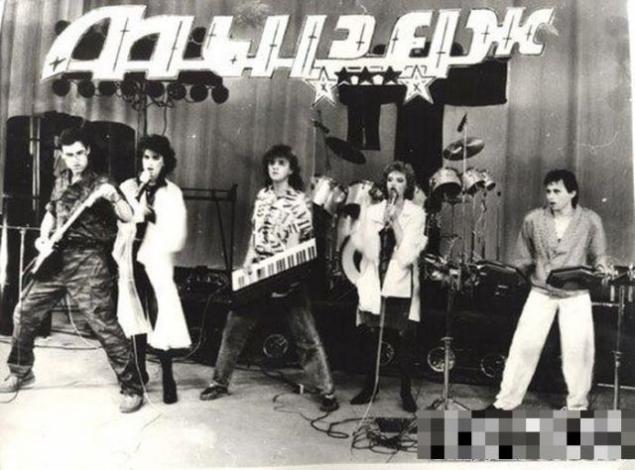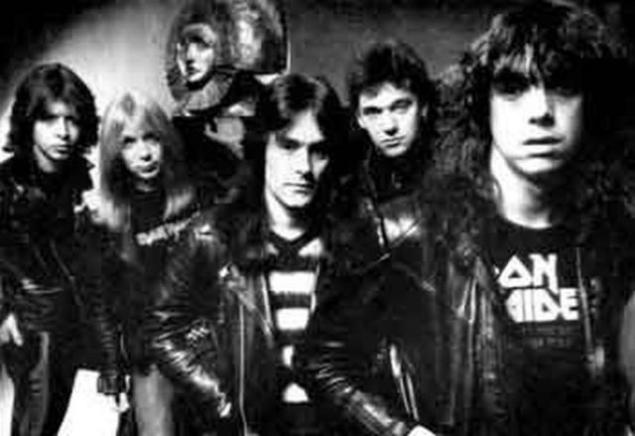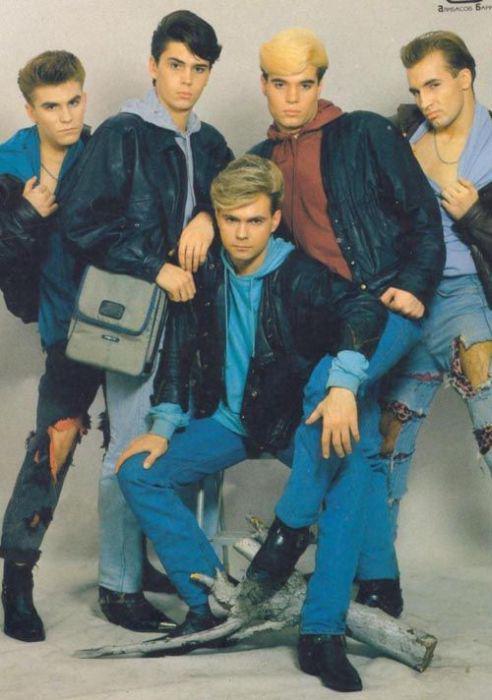 But this has long hung in our home:
There was also some aunt in leopёrdovyh pants - someone terribly popular in the 70s-80s.
FIGURES OF CHEESE
Yes, I have collected and :)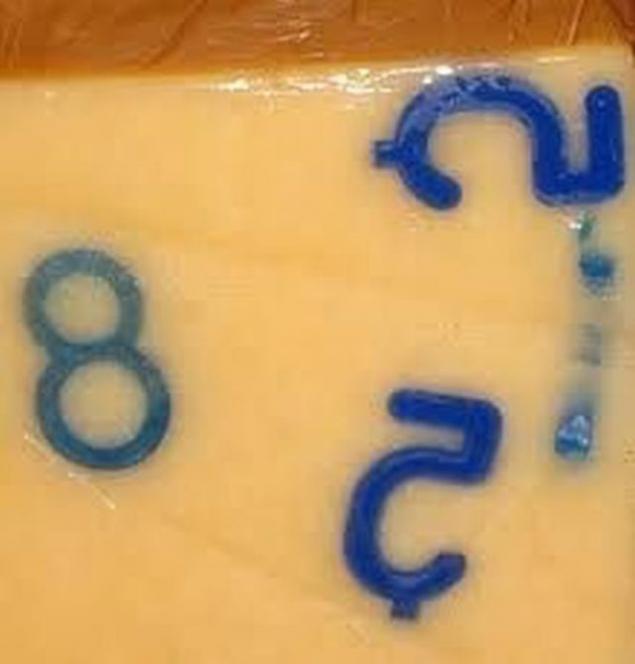 Kinder Surprise
No comment: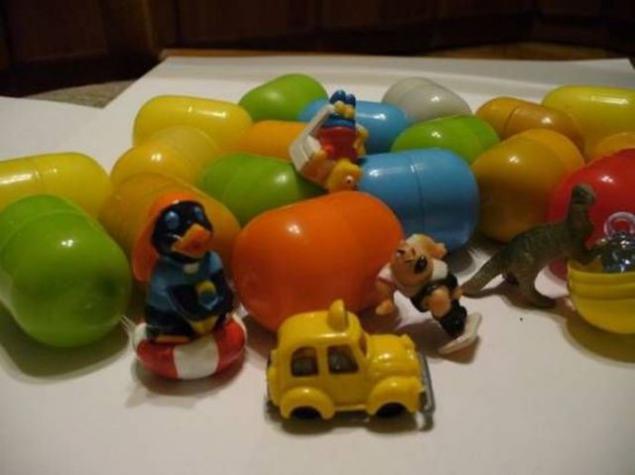 Hoarded everything.
Well, here we come to the final section of the collection. Perhaps the gathering of ...
It was of a mass epidemic. Boys, girls. Well, just about everything.
INSERTS
Among Soviet gum course there was no such diversity, which appeared with the advent of the 90s.
However, they were. I think no one's not difficult to recall rotfrontovskie "coffee aroma", "Mint", "orange", "Strawberry»: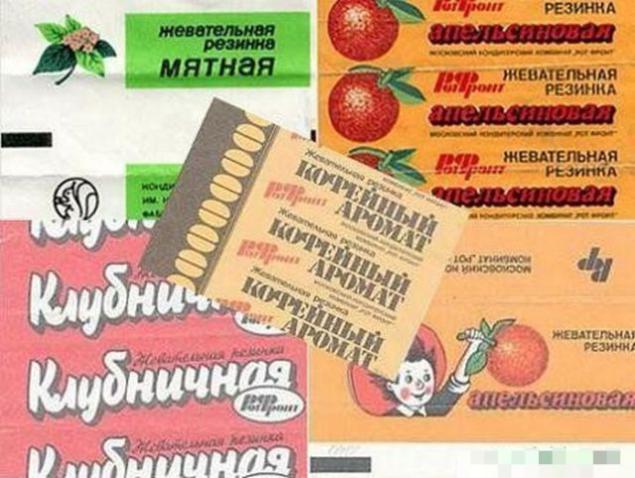 Soviet gum wrappers were boring and did not represent the collection of interest. Another thing, «Pedro»: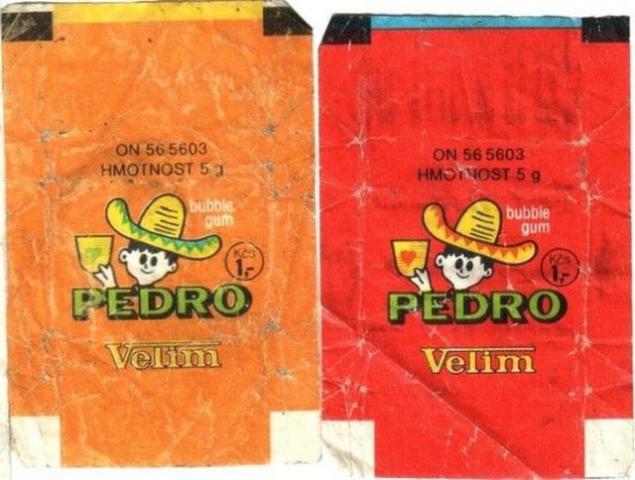 Buy or win it could be in the visiting amusement parks. Inserts there usually was not.
Yes, we did not know anything about them yet. They will come later, in the 90s. Among "of foreign" gum,
being brought friends from abroad were distributed such:
"Lelik and Bolek»: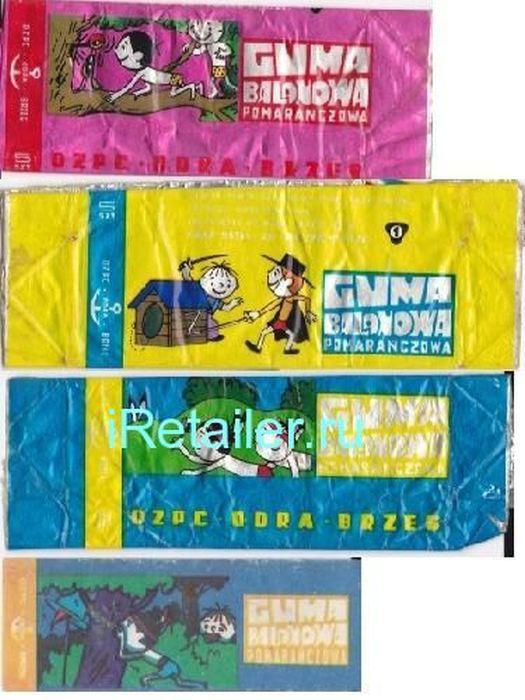 This Polish cud. The same package with five plates, however, more interesting pictures.
We called them "smeshinkami." They talked about the adventures of the heroes of the then popular Polish cartoon of the same name.
My older brother had a lot of these, and friends - was not. Apparently, this gum was prevalent in the '70s and early' 80s.
I liked these horrible stories. Brother always jokingly called me Lelik-Bolek, so I thought that I was depicted in the pictures :)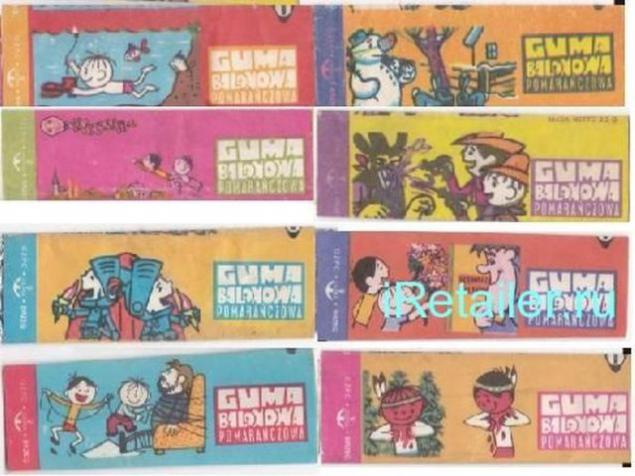 Another brother had been in the collection here are wrappers: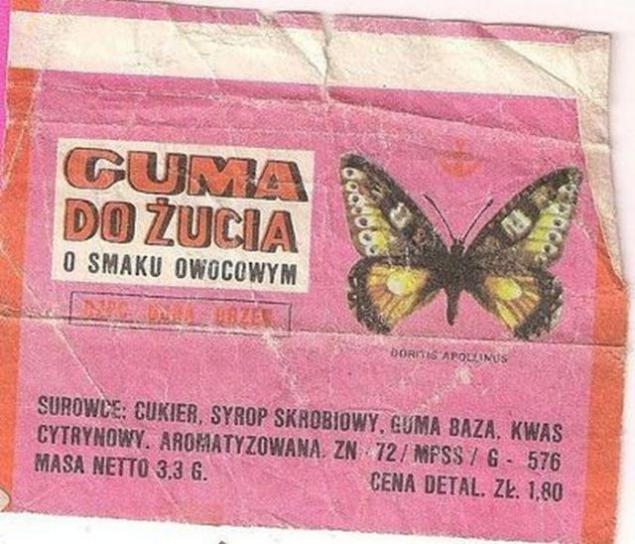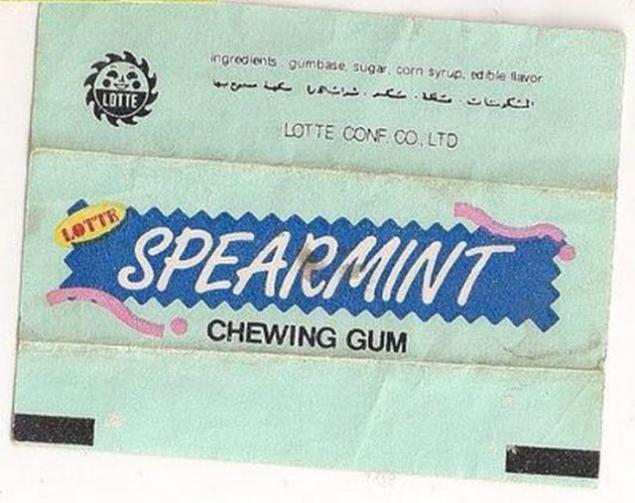 And, of course, "Tutti-Frutti»!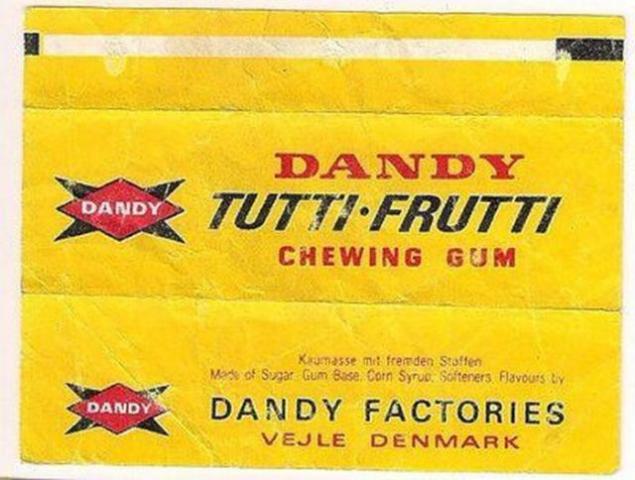 None of the gum and chewing. I could only smell the inherited legacy :)
And then I did not even know what awaits me in 5-7 years ...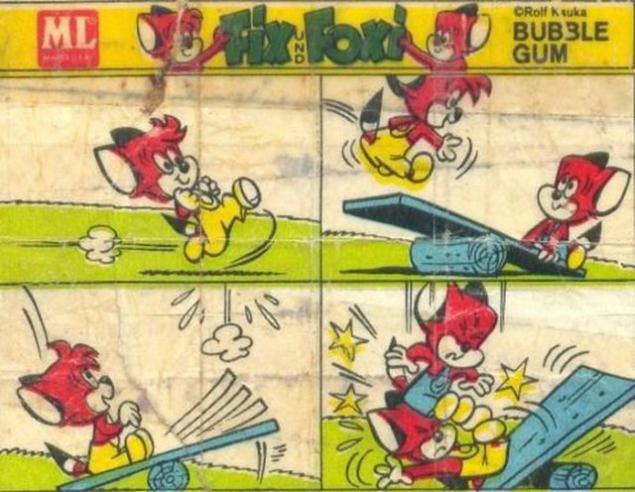 However, I've never seen it on sale here. Again wrap battered from those who traveled to the GDR.
By the way, I do not remember at what time to sell is such Georgian Armenian gum: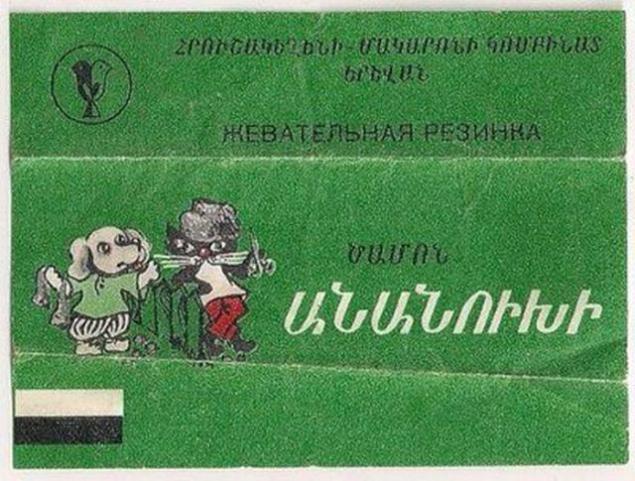 It showed the heroes of the Soviet cartoon about the cat-furrier.
But who needed it, such as we have already learned from the gum ... Inserts!
Here I will take a little bit myself and I will not describe each one separately.
The web is full of resources where you can find a complete description of all the gum with inserts,
download scans complete collections, etc. I do not set goals. I passed on the surface.
To begin with, I remember the excitement in the yard, when someone said that our shop began selling the new gum.
It was a sensational effect. All at once ran to the store and hours standing near the counter, looking at this miracle ...
The next day I asked to borrow money from my mother and ran to the sacred place ...
As a result, my first chosen gum was ... golimy "Bublgum»:
Then was bought «Donald»: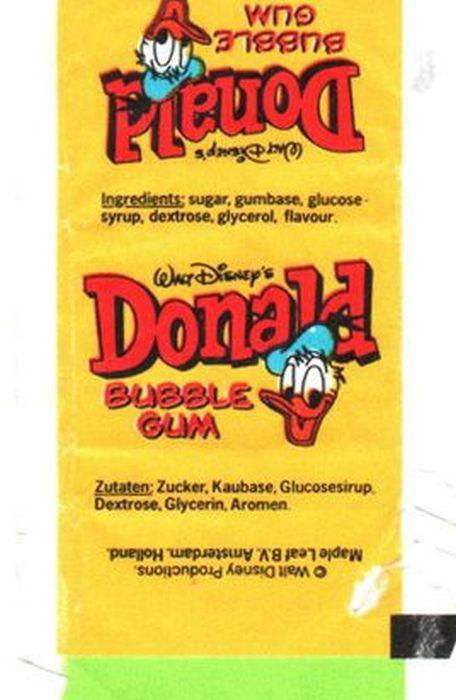 His ear is very appreciated. After the «Turbo», essno :)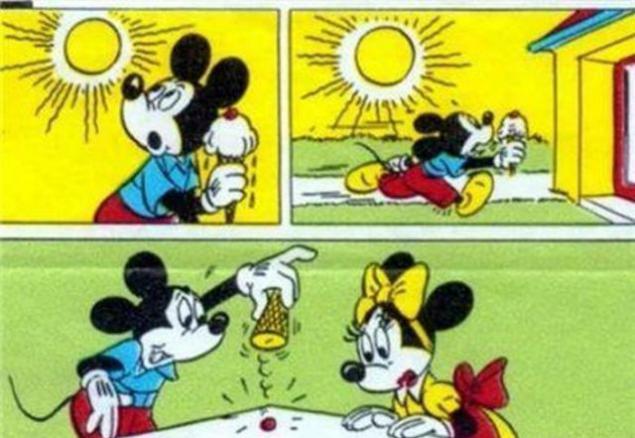 They also are called "smeshinok" or "cartoon».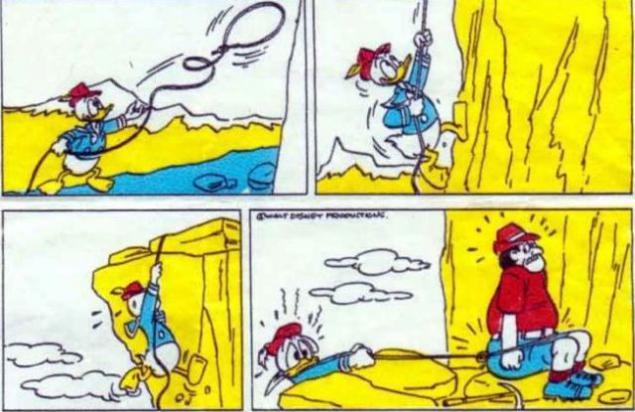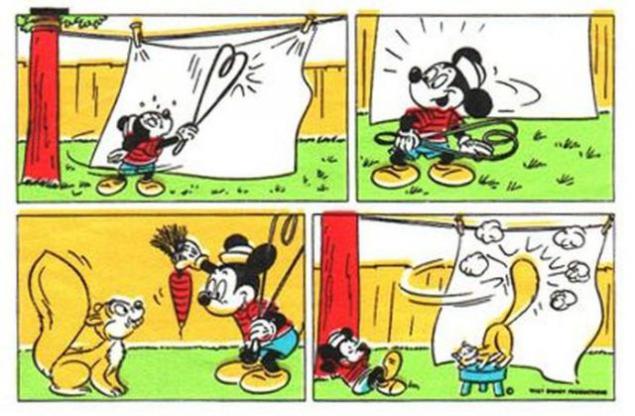 I have accumulated a stack of "Donald." Part - to win friends, a part - purchased, and some - vyproshena at the entrance to the store.
How to play - everyone remembers that? Reset inserts placed face-down pile and slapped his palm so,
that from the turbulent flow liners flew up. Those who lay face up, pick up party games.
There were other "Donald" - giant: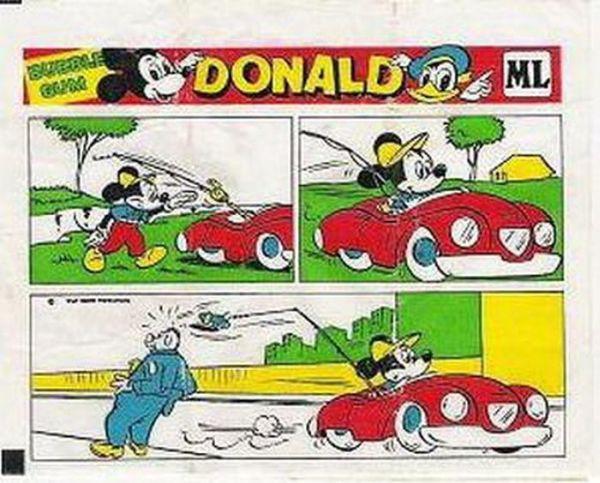 This inserts the German chewing gum, which we did not sell. There have been extremely rare and expensive awesome appreciated!
As a rule, they were already pretty tacky since passed from hand to hand as a relic.
Another "top" gum - «Final90, 92 ...»: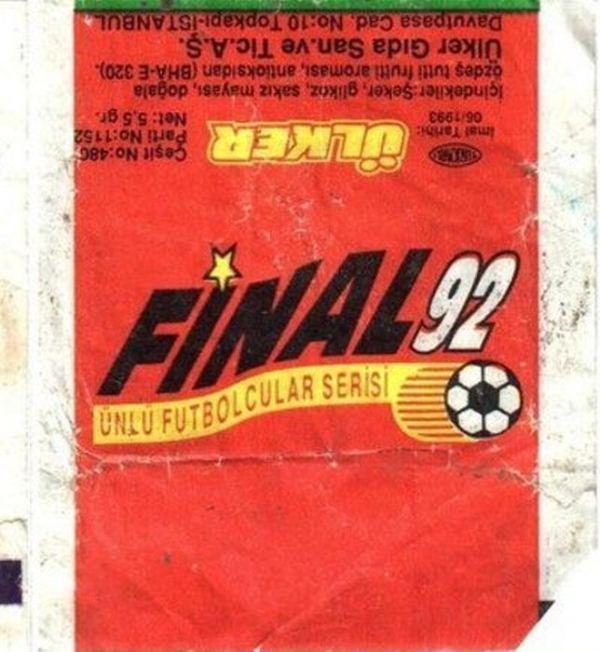 Turkey, on the inserts - the players and the teams: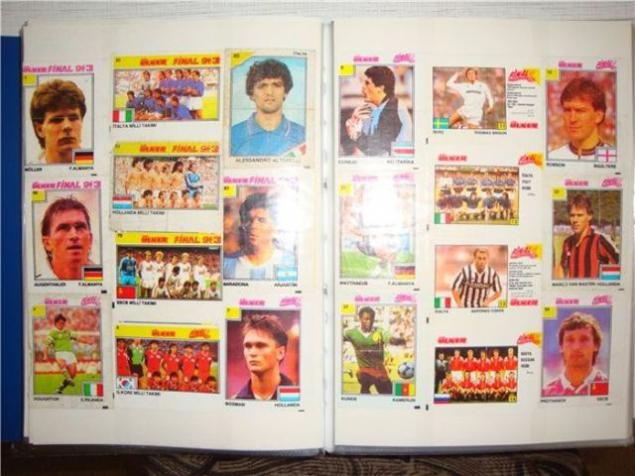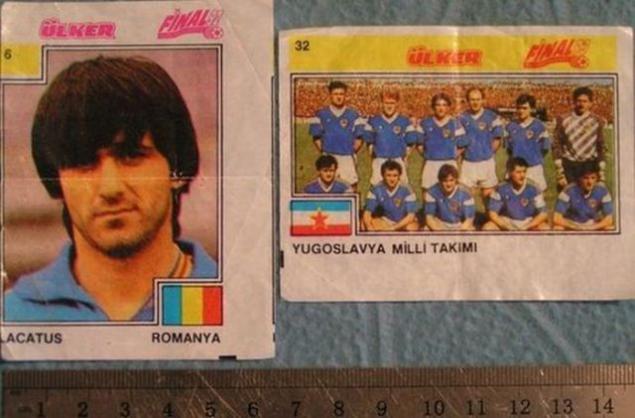 Large, bright inserts.
Her counterpart - apricot «CinCin»: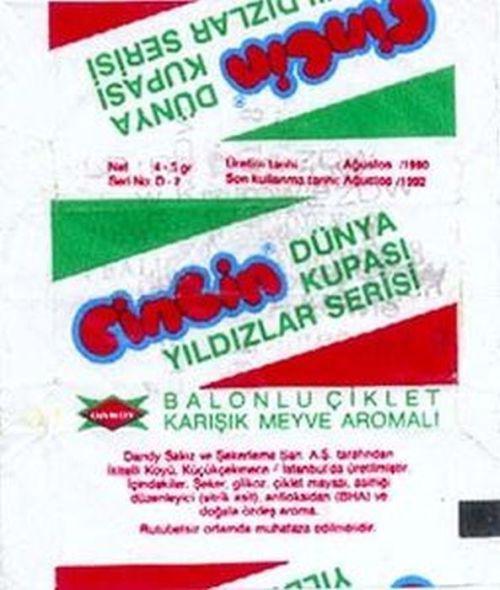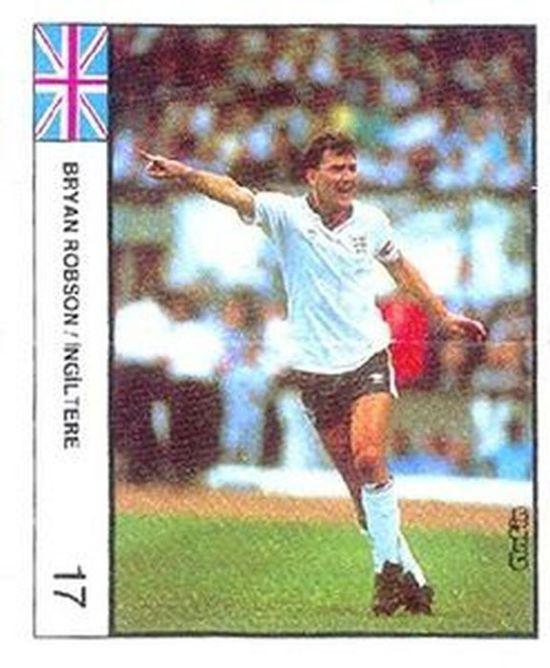 On its inserts were mostly scenes from the game.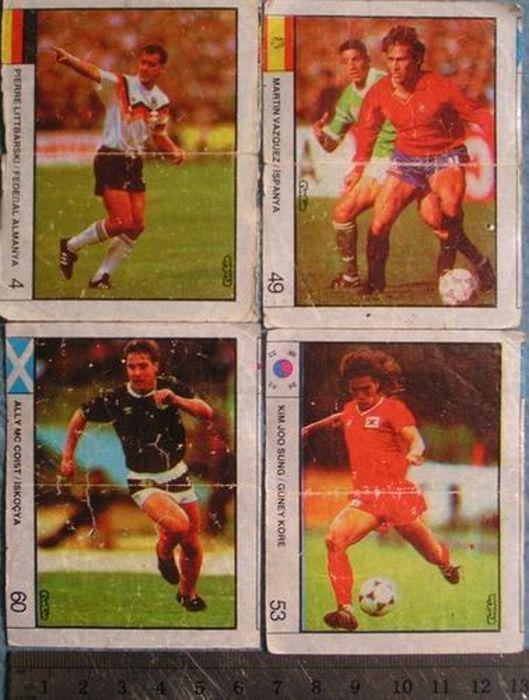 Inserts were numbered - it facilitated their identification when collecting.
«BomBibom» - chewing gum with inserts of automotive topics. Perhaps my favorite, after the «Turbo»: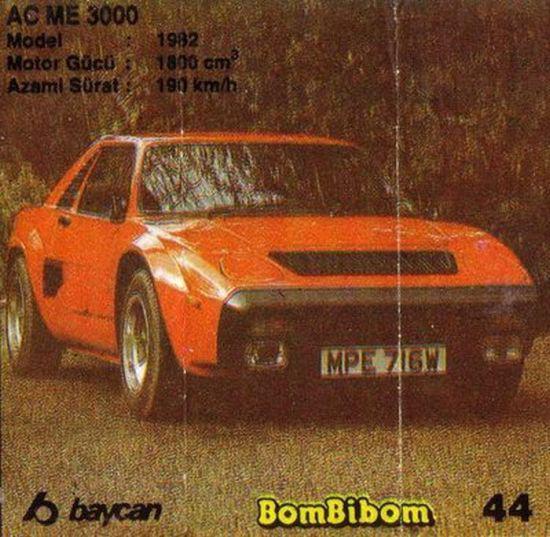 And it was not hard to assemble a complete collection, in contrast to the «Turbo».
"Bombibom" produced in different periods in different forms and with different types of inserts. I know of at least 4: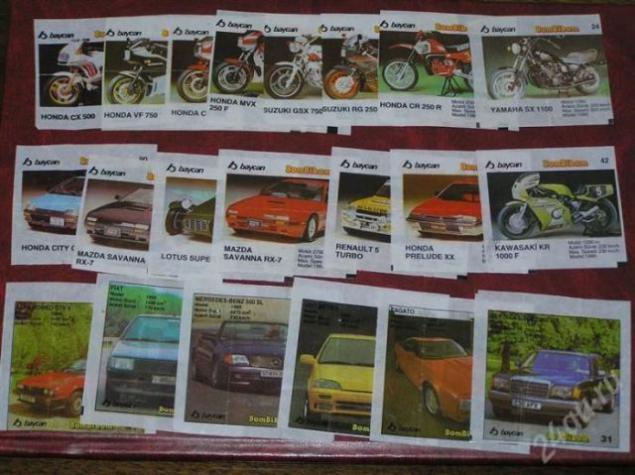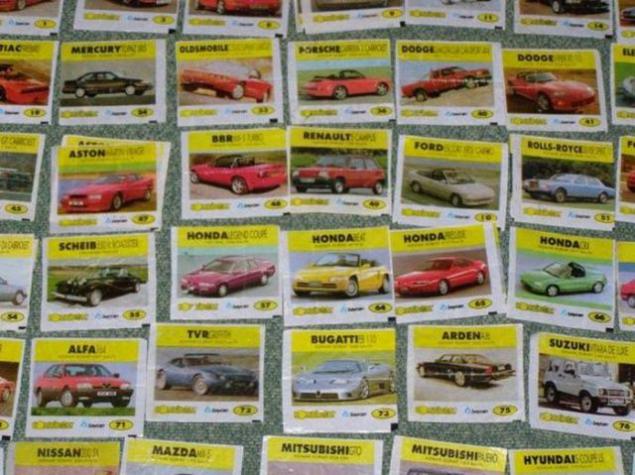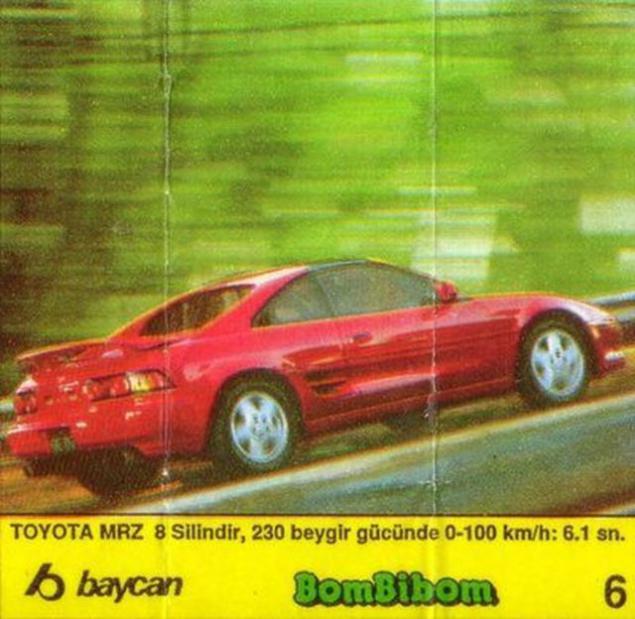 But the first series was the coolest! Yellow melon flavored chewing gum, square, large liners,
the characteristics of the real cars. He collected all.
«TURBO» - the king gum: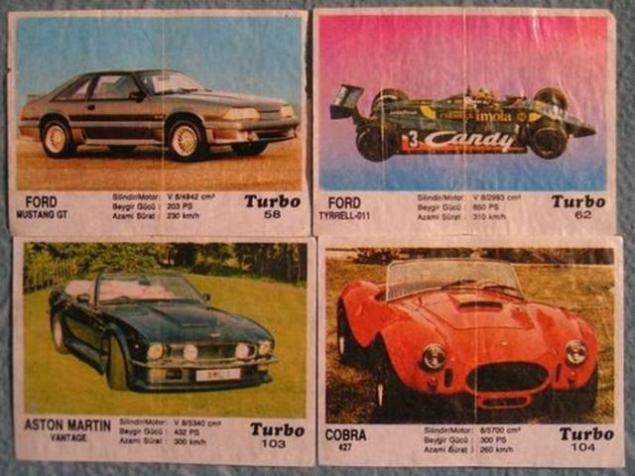 Peach taste, combined with major liners, some of which still get one figure ...
Did you know that the first 50 numbers in general we did not exist? :) And we are chasing them, searched,
inventing stories that have seen them in order somehow ... :)
Personally, that's my collection started with this: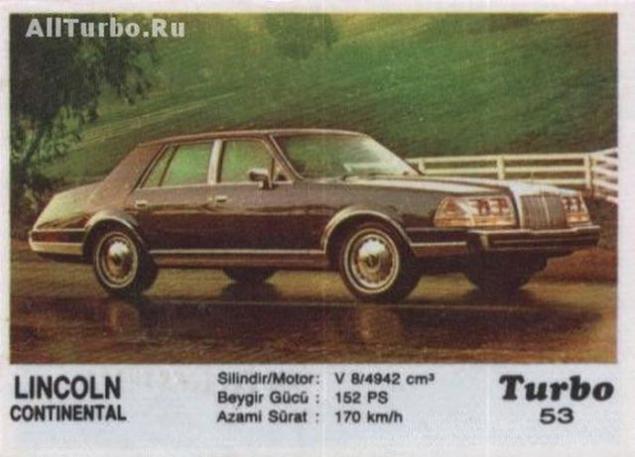 Traded on a handful of foreign coins ... tacky, but still smelled.
A series with a 1-50 looked like this: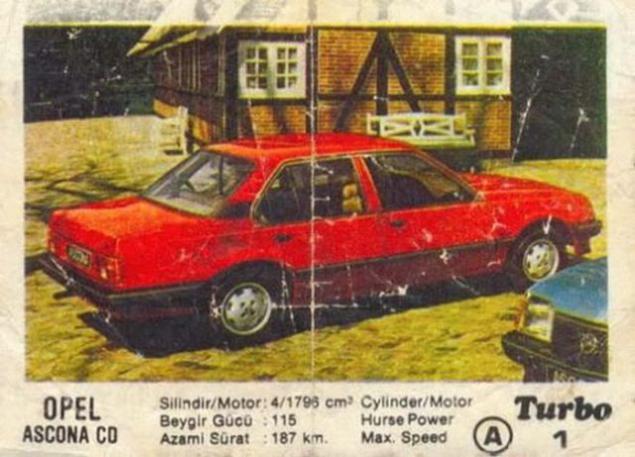 Such wheelbarrows we have not seen on the streets ... remember what I did the first thing that greeted parked car?
Approaches to the driver's glass and looked at the speedometer - "how much it shakes?" :) Eyes climbed on his forehead from the numbers "200", "240".
This is after our "Volga" and "Lada" with their "120", "140».
Gum "Turbo" has survived everything - it inserts the series followed one another ... At some point I just stopped picking them up - so many of them bred ...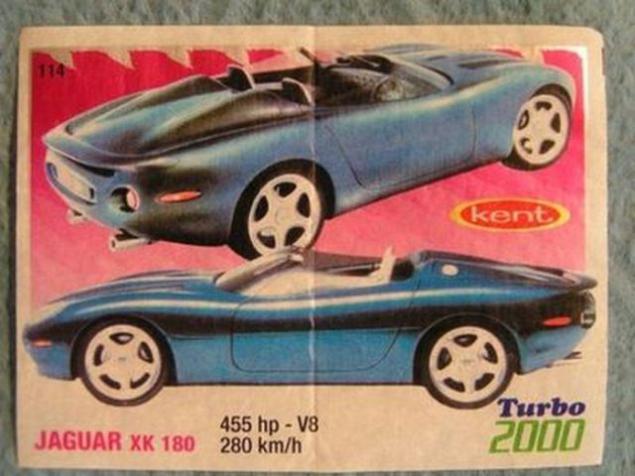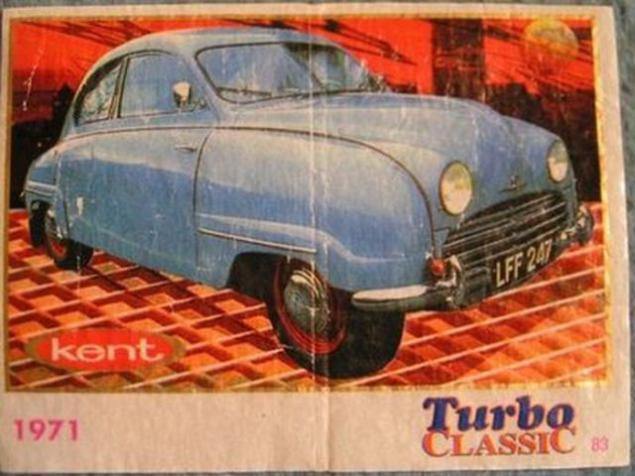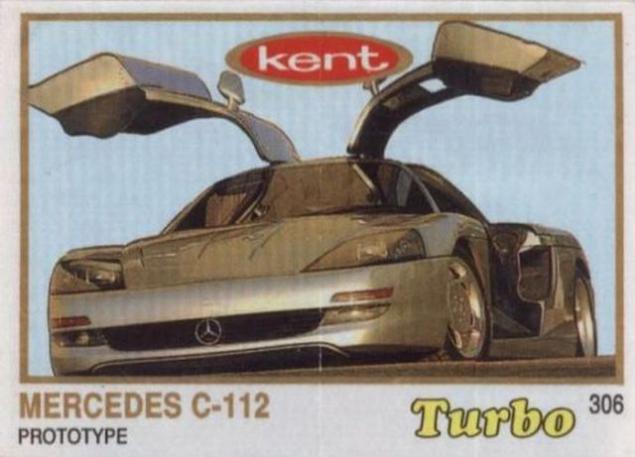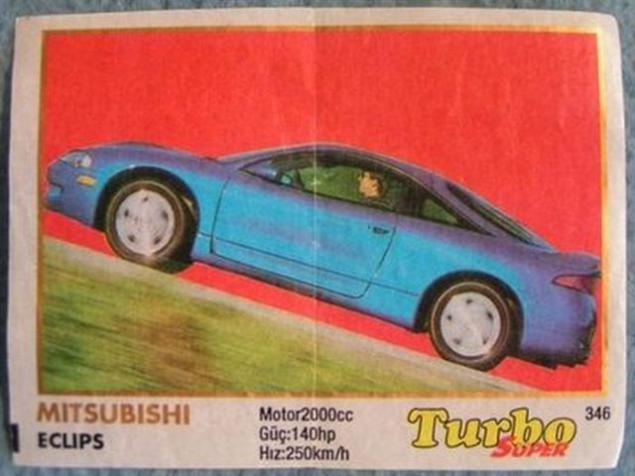 Gum «Laser» had inserts with military equipment. According to him, we studied the technical equipment of foreign armies.
According to him, I learned the order of the velocity of tanks, missiles, planes, helicopters and warships.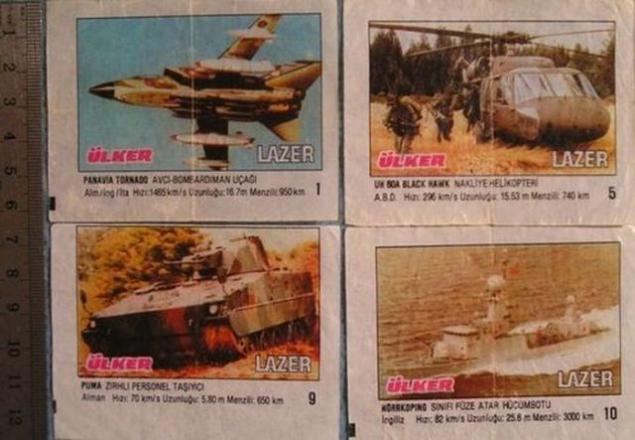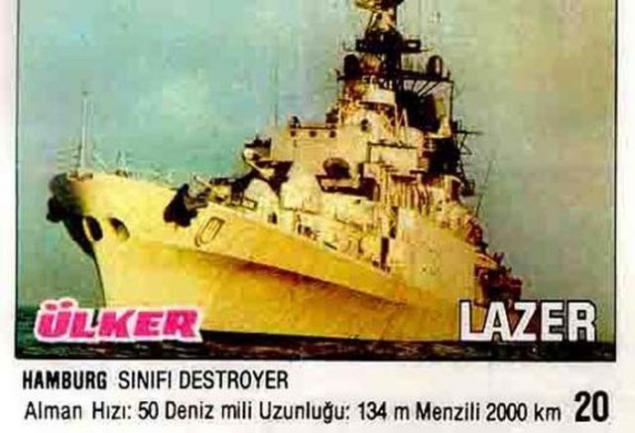 The same Turkish company «KENT», which produced «Turbo», and did so: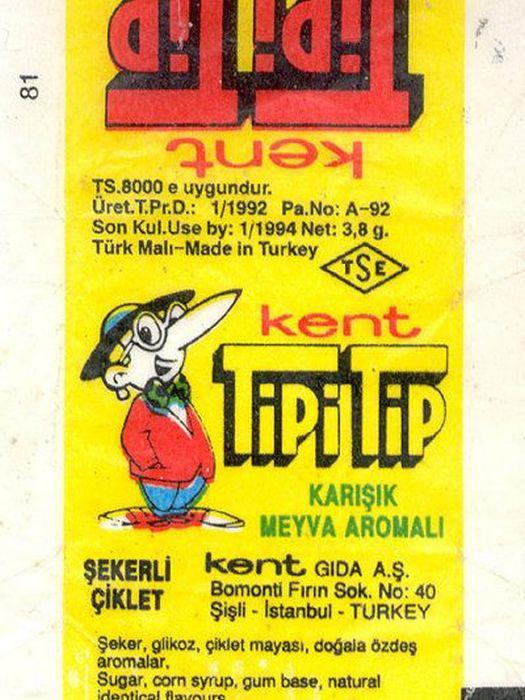 Those comics, like «Donald», only about silly hat nosed chuvachka:
With incomprehensible sayings in the Turkish language.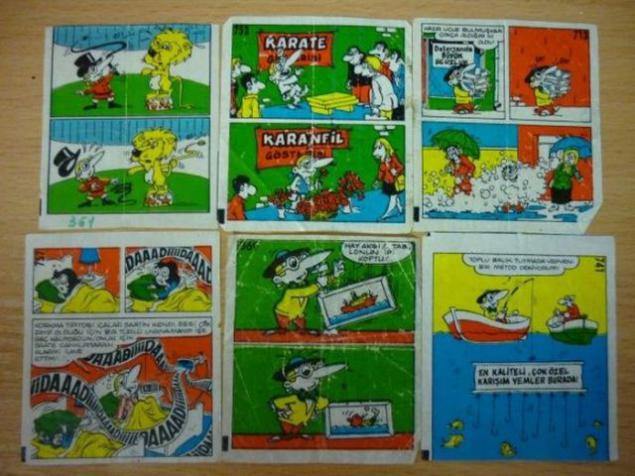 But to understand the meaning of it was not difficult.
Another gum with a liner about debiloida: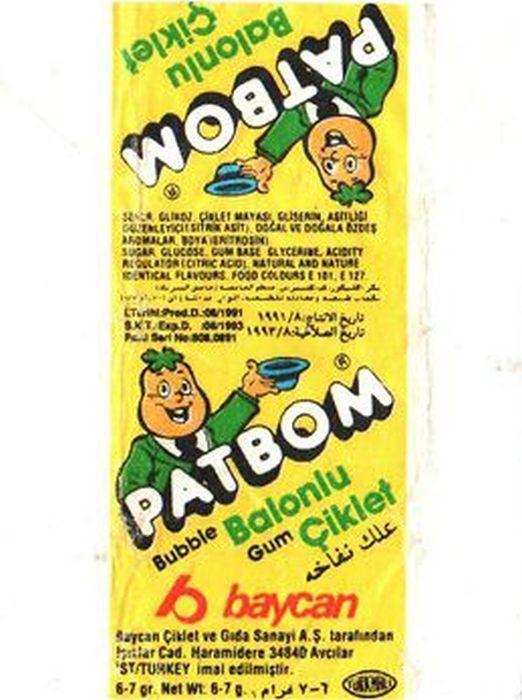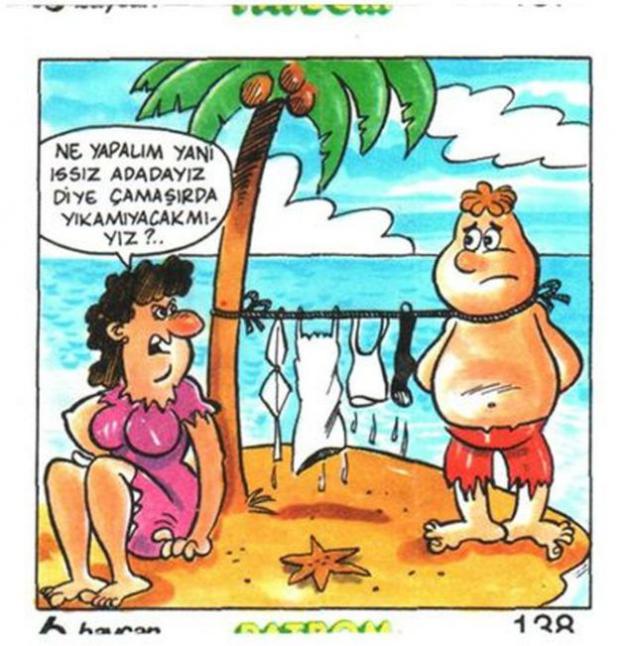 Well, the legendary «Love is ...», and still sells: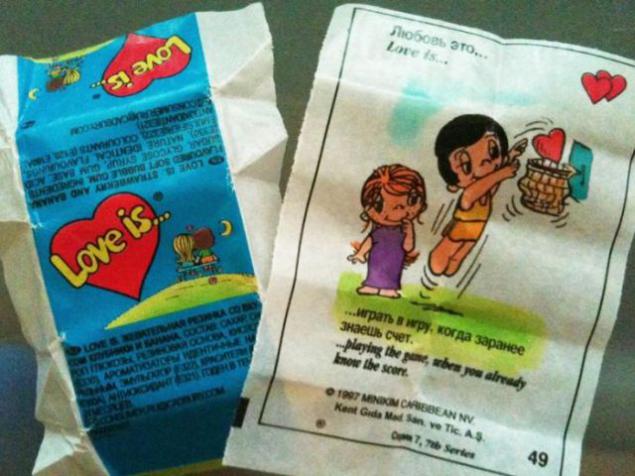 Ironically, they gathered not only girls, but boys ... and apparently learned to treat each other :)
Translation was sometimes blunt, though.
There was also a lot of other "junk" inserts from gum Pakistani and Chinese origin: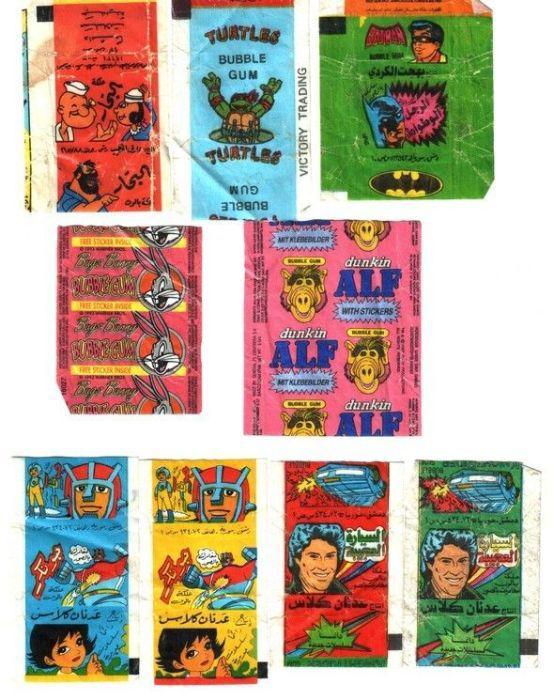 There were shells from gum «Cola», which manifested itself with a pencil picture.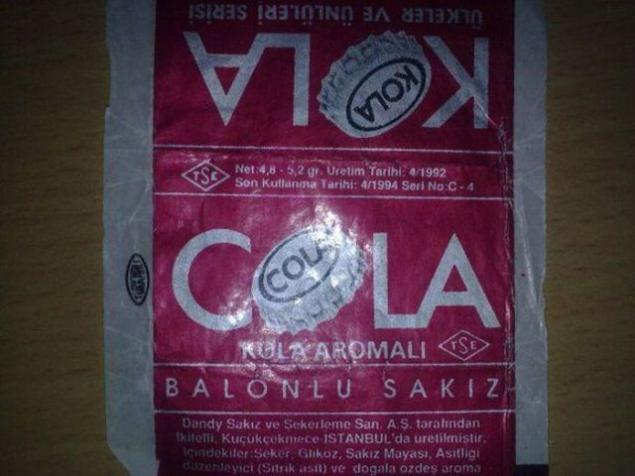 Cool gum "Guinness World Records»: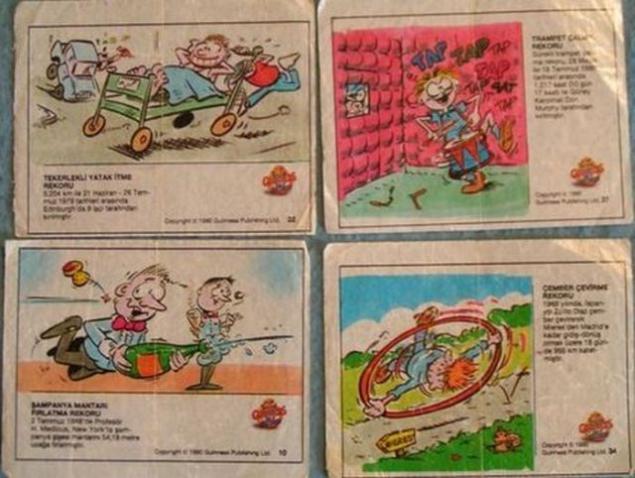 But this I do not particularly like - the heroic epic of the Asian nation, a pancake: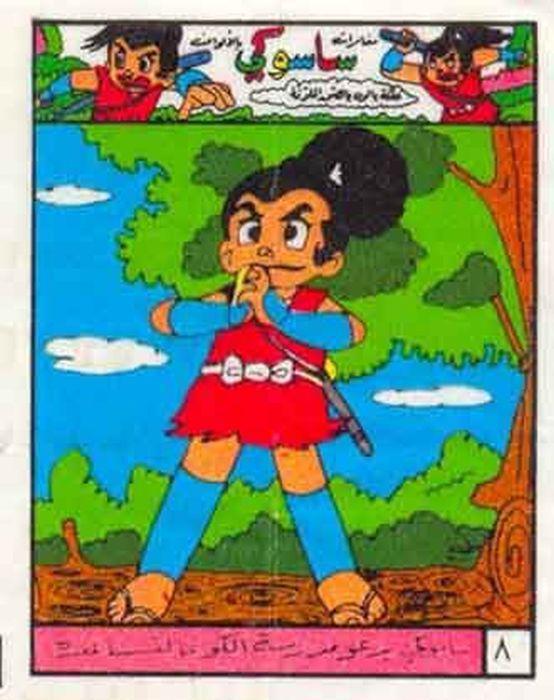 Gum with a liner-lottery and prediction: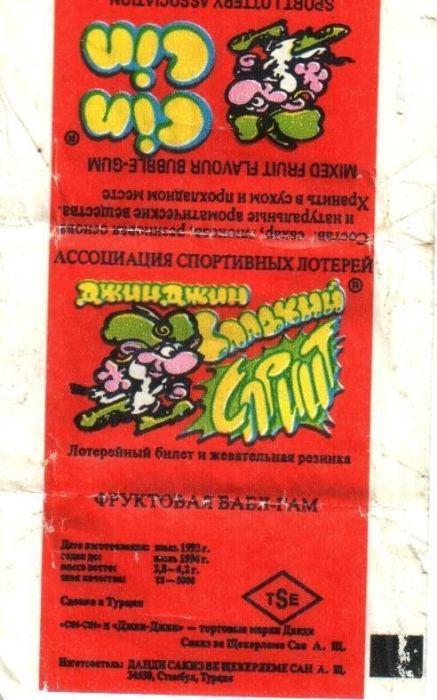 You can even be won - I won 25 rubles, the cost of chewing gum. Bought also lost :)
Gum "Teenage Mutant Ninja Turtles" with inserts Card: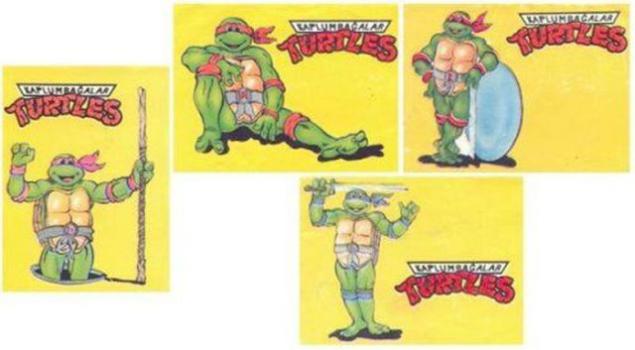 The liner tattoo: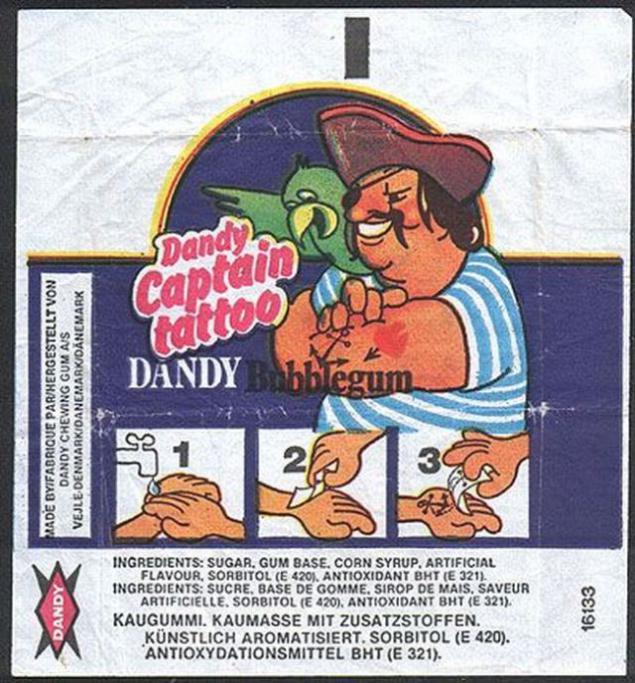 And gum-oblomayki in which there was no liner: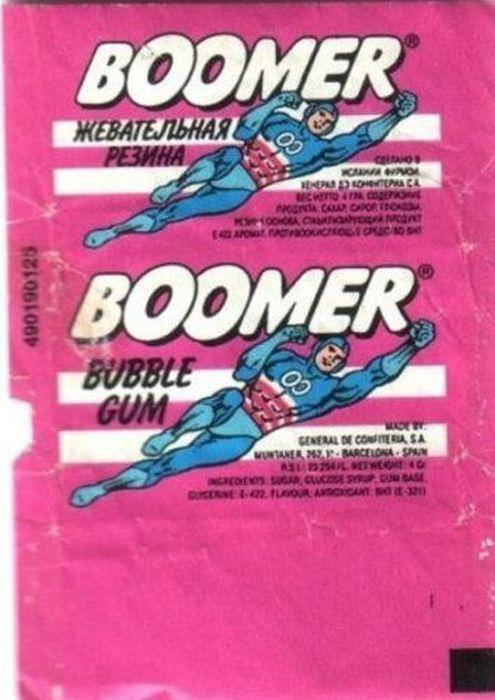 This one was just super!
Then the first "Terminator" was only shown in our cinema on the big screen :)