New York photographer Anna Skladmann created a series of controversial works of the children of new Russian called «Little Adults».
Recently, some of her photos were published, but without providing the names of "models".
According Skladman, are children who have grown up in a nondescript for a European luxury, and consider it their typical environment.
Lisa on the dining table in his estate. Lisa loves to ride among the stained-glass windows and huge windows on a skateboard and play with household servants football.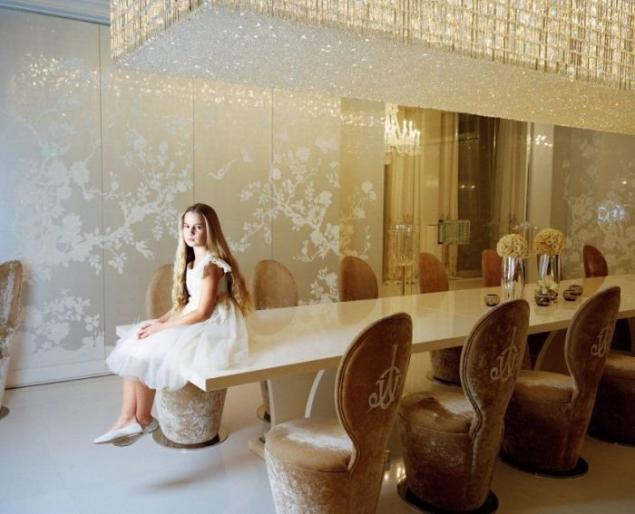 Vadim, 9 years old. Picture taken on the balcony of his parents owned a penthouse in Moscow in 2009.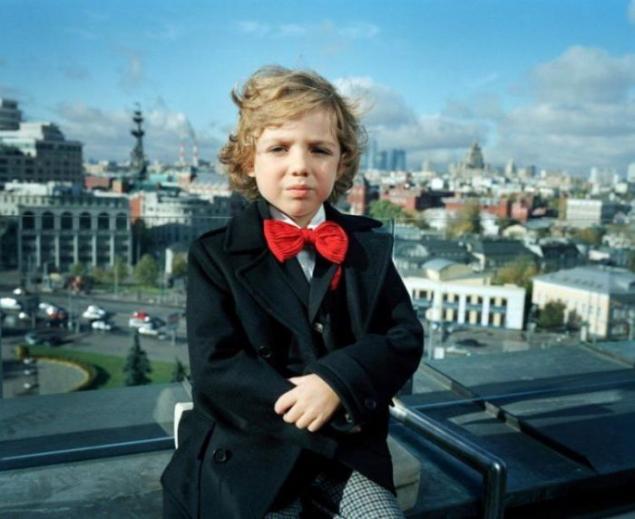 Roman indoor tattoo parlor. This shop likes to go by his mother, adoring interesting tattoos.
Jacob, 10 years. His passion - the weapon, and his father collects machines and other "iron". According to Skladman, gun in his hand, the boy was real.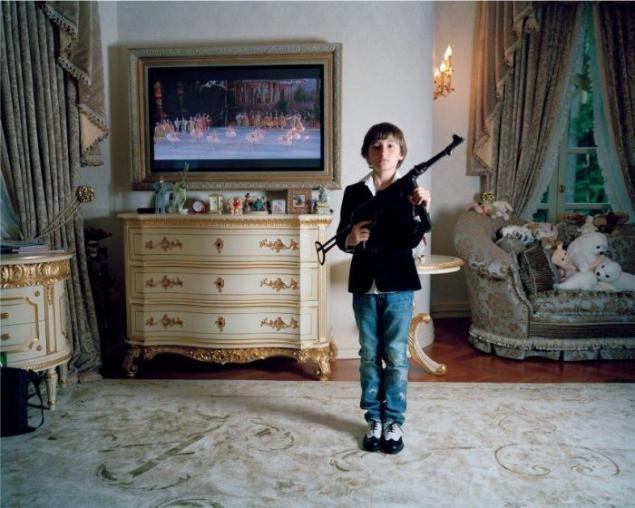 Nikita and Alina at the Embassy of Italy in 2009.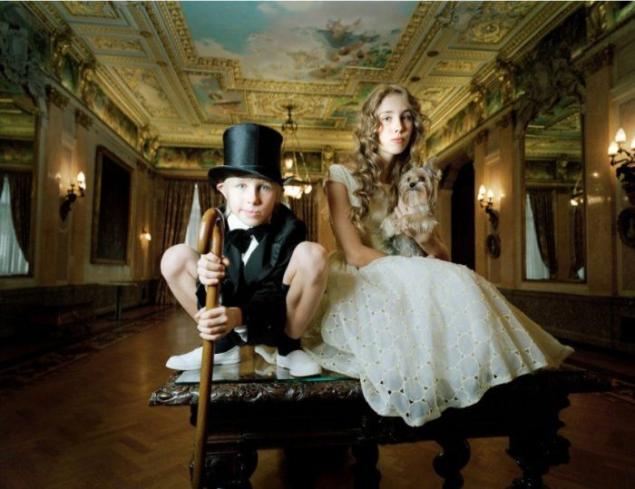 Anton dressed as a hussar.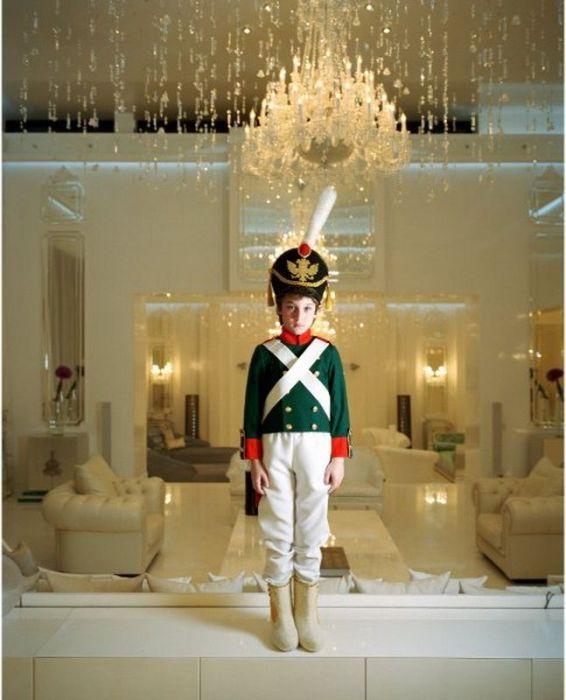 Vova boy on stage opera house belonging to his father.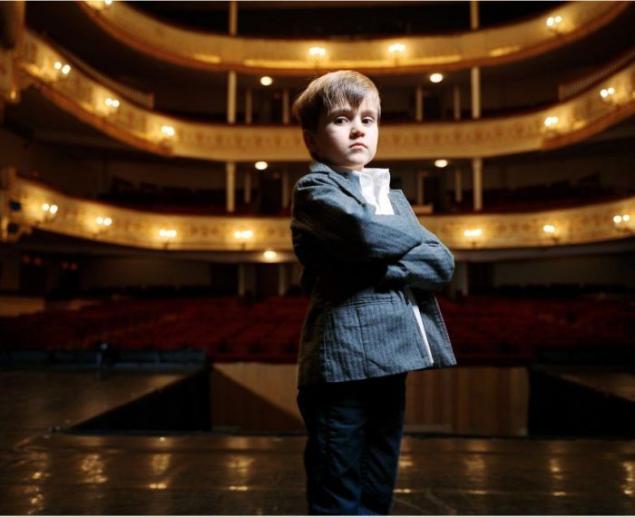 Girl Arina in the garage of his father, gathered an impressive collection of vintage cars. Ideal Arina - actress Catherine Deneuve.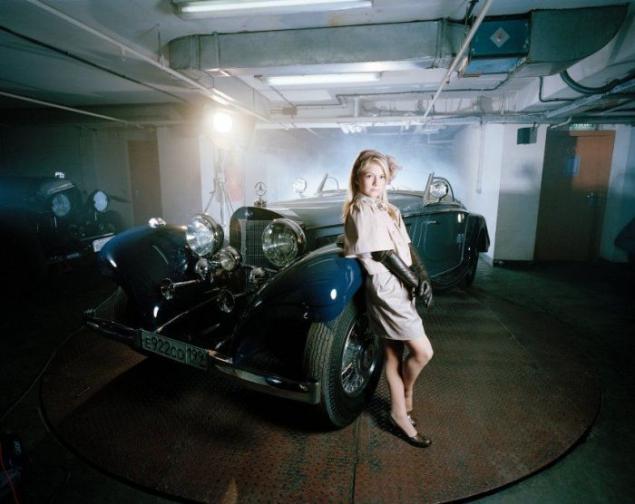 Publication Spiegel interviewed Anna Skladman, we give it in full:
- You photographed the children of the Russian elite. These photos show the middle of the childhood of wealth and luxury. How did you manage to get a ticket to the world, which usually do not allow unnecessary witnesses?
- Two years ago, I met a girl. Her name is Nastya and then she was 8 years old. She became my muse, and in fact the key to go in this world. She called me and I took a photo of her in a tea garden in the English park her parents, Moroccan bath her parents. Later I met with her brother and her friends.
- How to respond to this girl's parents?
- When I started the project "Young adults - big kids", I was young and inexperienced. I then looked in their eyes, rather, not a professional photographer, as a student, so treated me tolerated. The only important condition was non-disclosure of the names of the children I photographed.
- You photographed children in the midst of luxury. This dramatization?
- Photos, of course, fictional, but they are made in the children's natural environment. Prior to the session, I did a short interview with them to understand - what they dream about what they want and so on. Vladimir, for example, told me that he wanted to be an archaeologist, I showed him photos of a museum, but half an hour later, he wanted to become Spider-Man. In the end, I took a photo of him on stage opera.
- How many children of Russian oligarchs managed to photograph you?
- I wonder why the German journalists ask it about oligarchs. In fact, I took pictures of the children not only the super-rich parents, but also children of the elite. Among them are successful restaurateurs, actors, representatives of the Moscow intelligentsia. Their children - this is the first generation of Russians, who was born in Russia in full, absolute abundance.
- Why do none of the children in your project does not laugh and not smile? You photographed the children without childhood?
- I would not begin to speak. However, they live in their own, closed little world. They, of course, leave it periodically to, say, go to the ballet school. But otherwise they live as they want, parents who want to meet all the needs of the child, based on its own, Soviet views. They honestly want to give them the best. They have a personal tutor, they are engaged in tennis and swimming. Their whole life planned out and clearly structured. This causes them to prematurely become adults.
- And how is it manifested?
- For example, a 9-year-old Ian speaks excellent in English. When I photographed her, her parents were not home, but she had everything organized and gave necessary instructions of their educator. In general, it seems that she absolutely knows what he wants. That is why was such a picture.
- Many children accompanied you for years. Somehow changed during this time the atmosphere in the Moscow elite?
- Their world is changing every year, they are literally looking themselves. Fashion changes every day, depending on what influences penetrate to Moscow. Children begin to travel more, parents are looking to the West with the growing attention. Many children also began to study the French language and many are going to learn from the West to boarding.
- You had the feeling that the children are going to have to do the same thing as their parents? That is, following in their footsteps?
- No, they are too small. Now they have the main task - to get good grades, as well as all other children.
via Source