Gold has always been, is and will remain a subject of high material value and object of desire by-it has increased in price by 135%. Only in the past year. Last sharp increase in gold prices coincided with the annual reduction in its production all over the world - by as much as 8% from 2001. In the history of mankind in the mines it was produced only 161,000 tons of gold. Thus, more than half of this amount were in the last 50 years. This Pictures of the we suggest you look at pictures of people who are looking for, extract, find, buy and sell gold.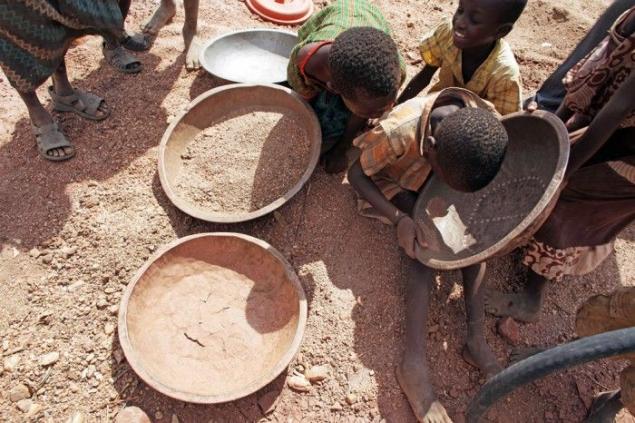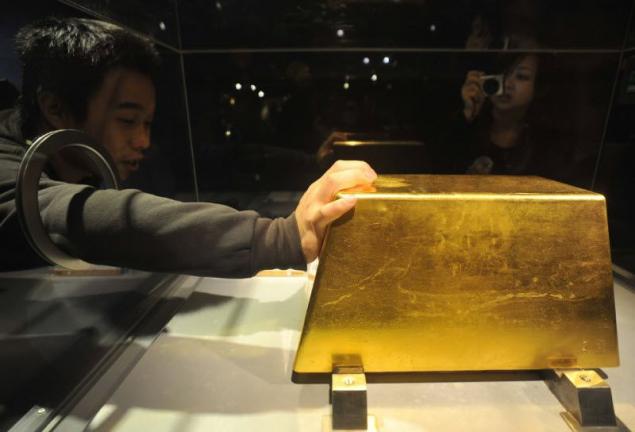 1. As for the visitor of the largest gold bullion in the world, weighing 220 kg (a value greater than 7, $ 8 million) in the Museum of gold in Dzhinguashi Ruifange, Taipei, December 2, 2009.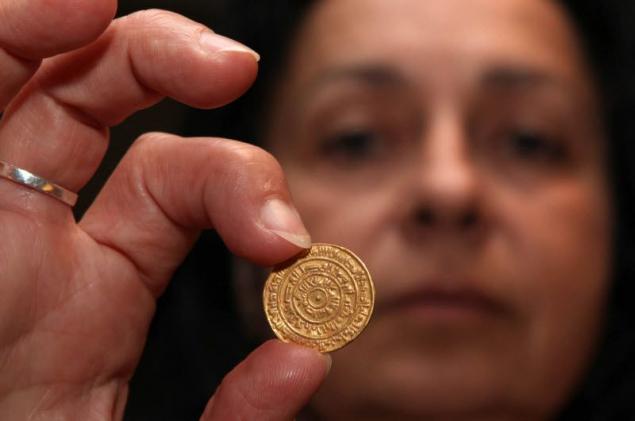 2. November 11, 2009. Hava Katz -nachalnik Treasure Department of the Israeli Organization of ancient archaeological finds - holds a 1000-year-old gold coin, which was minted in Egypt, as suggested, in 1095 AD, on display in the archaeological center of Davidson. The coin was brought to Jerusalem, Muslim pilgrims.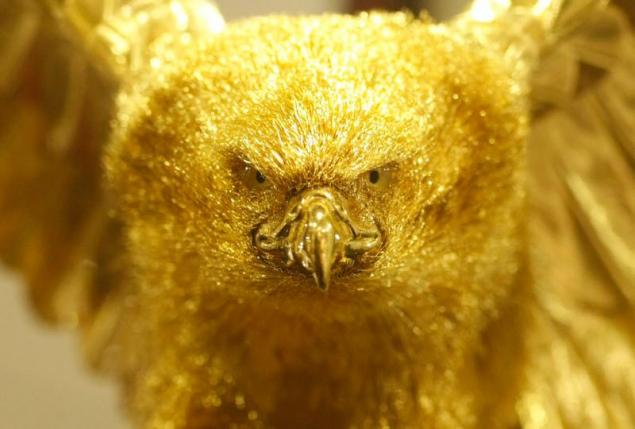 3. Made of gold statue of a bird of prey exhibition of gold and silver in the department «Ginza Tanaka» in Tokyo October 23, 2009.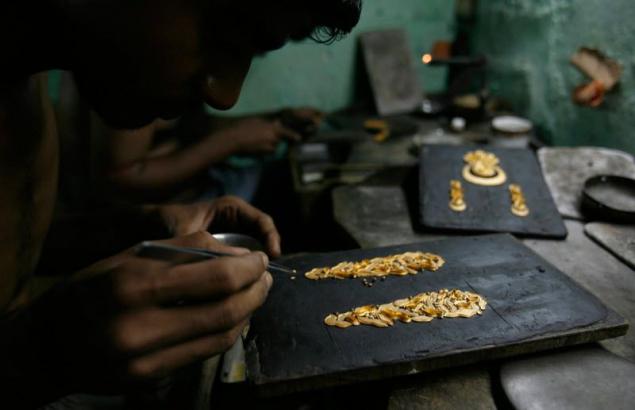 4. Craftsman manufactures gold jewelry at the factory for the production of jewelry in the city of Calcutta in eastern India, November 13, 2009.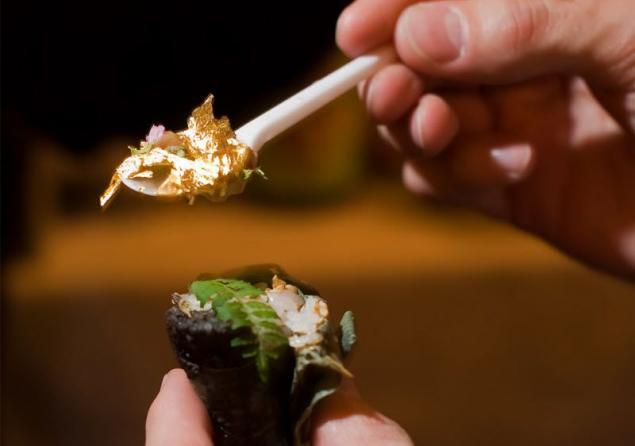 5. November 14, 2009. A man holding a spoon with gold leaf, which he is going to have a snack of sushi at the award ceremony of the restaurant "Seven Samurai Sushi", which won in the category "Best Sushi Bar" at the Olympic venue in London. Gold leaf was one of the ingredients in a restaurant menu, winner of last year «Mitsunori Kusakabe».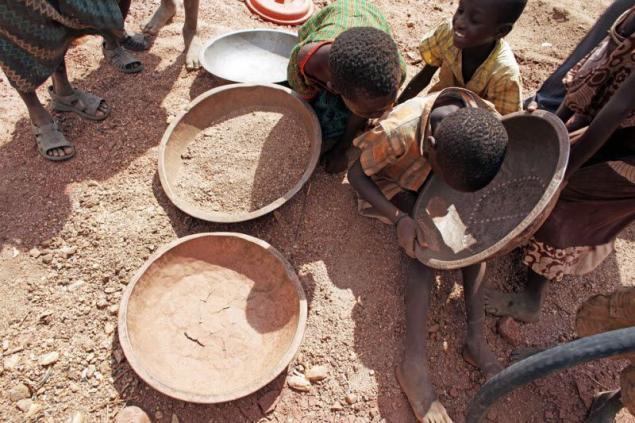 6. Children from poor areas of Turkana, the pellet was washed with gold. This helps their families to survive and to buy essential goods at a flea market children's products. The photo was taken Nov. 9, 2009 near Lodwar, Kenya.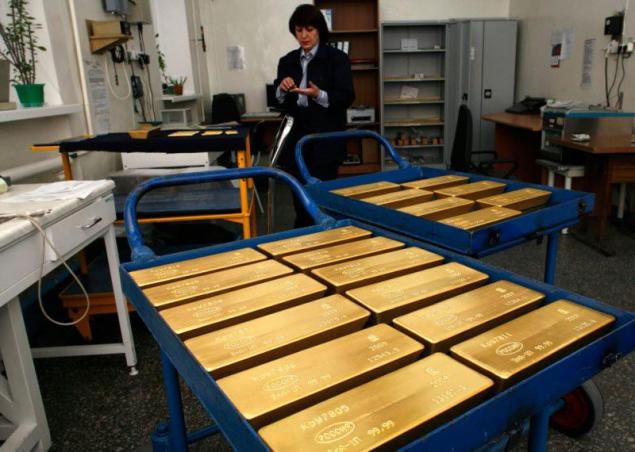 7. November 16, 2009. Trolleys lying in their gold bullion in the room to perform the final weighing and packing factory "Krastsvetmet" in Krasnoyarsk.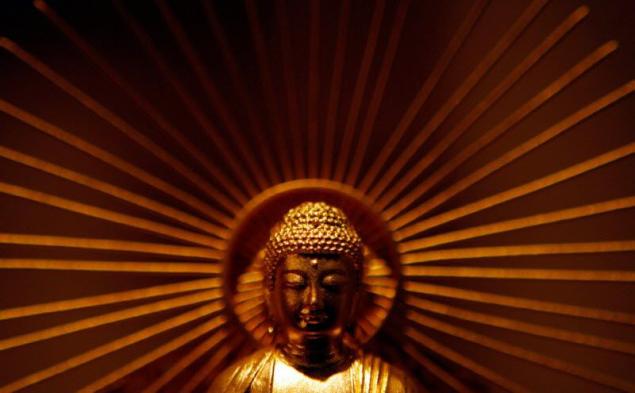 8. Made of solid gold Buddha statue in the shop «Ginza Tanaka» in Tokyo November 26, 2009.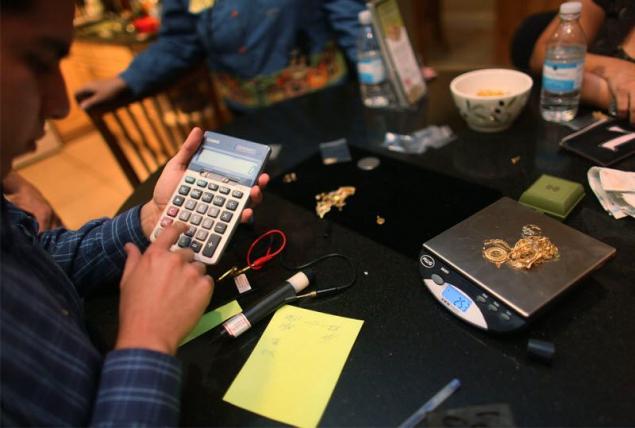 9. 30 October 2009. Pedro Linares using a calculator calculates how much the company «Fast Cash Gold Parties», of which he is an employee, pay for gold jewelry in the balance in Hialea, Florida. Since the price of gold continues to remain high the company is trying to organize the action, that people were profitable to sell gold, which they ceased to be necessary.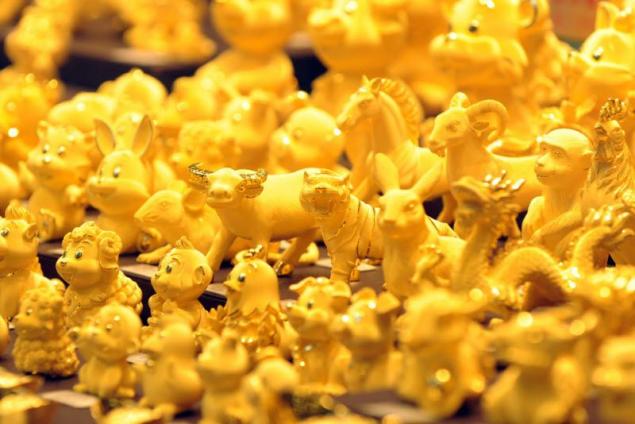 10. November 17, 2009. Figures of gold in a shop window in Hong Kong.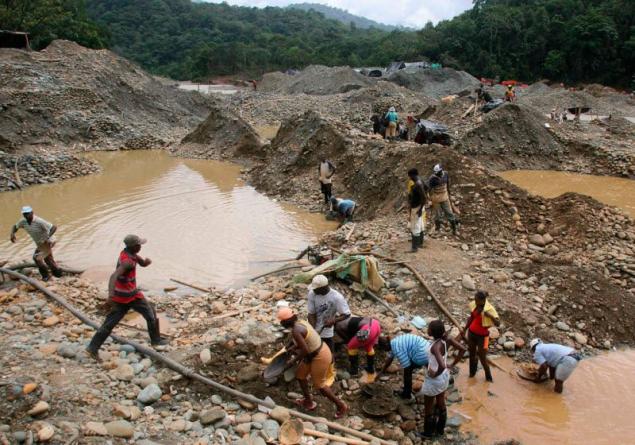 11. November 17, 2009. Colombian gold miners are searching the precious metal in the river Dagan, province of Zaragoza, Cauca, Colombia. About eight thousand miners illegally mined gold in the river Dagua, to feed their families.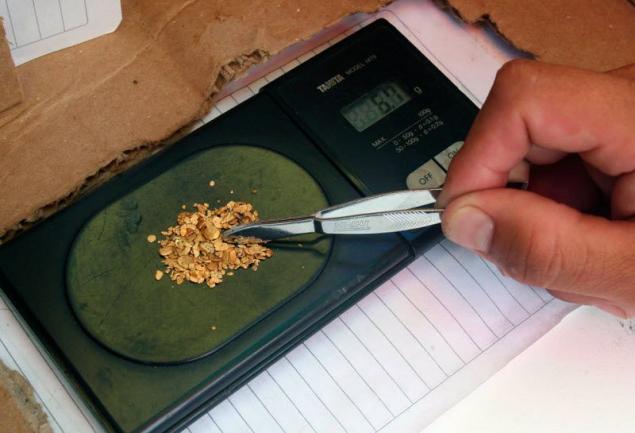 12. Trader gold weighs it on scales in Cauca, Colombia, November 17, 2009.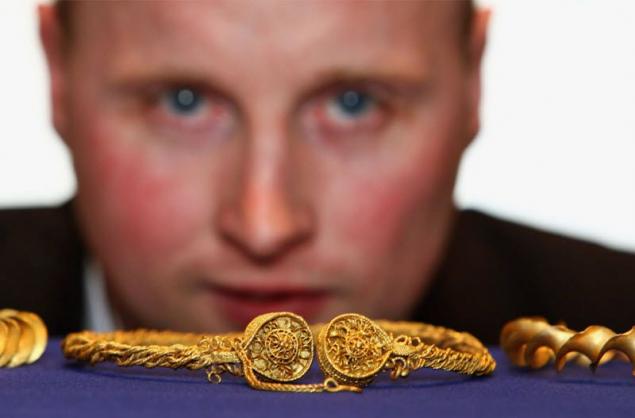 13. Gold Miner, an amateur David Booth with their findings, belonging to the Iron Age November 4, 2009 in Edinburgh. Booth had found gold celtic necklaces in the territory of private property in Stirlingshire, these objects are about to 300-100 BC At the moment, bracelets under the protection of the Union of hunters. According to the laws of Scotland, all found archaeological objects become government property.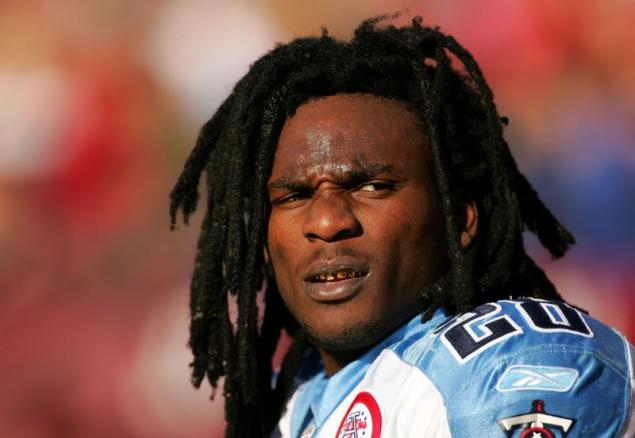 14. Football player with gold teeth Chris Johnson from the team «Tennessee Titans» on the bench during a match with his team «San Francisco 49ers», which takes place in the park Kendelstik in San Francisco, November 8, 2009.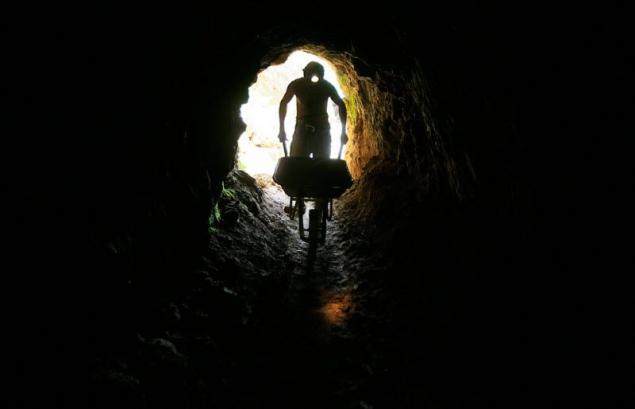 15. On 9 December 2009. Gold Miner carries a wheelbarrow for the stones, which will be later sent for recycling in a mine in Abangarese north of San Jose, Costa Rica. Costa Rica is going to legalize 600 informal miners working in small mines that produce gold in abandoned mines, using dangerous and environmentally harmful methods.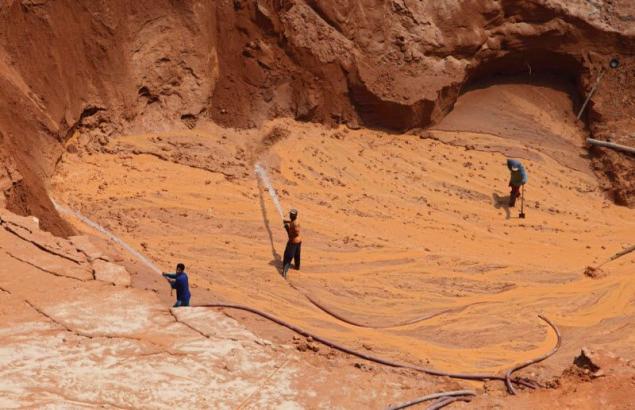 16. People who work in the illegal quarry, located in a national park not far from New Progremmo in the northern state of Pará in Brazil September 15, 2009.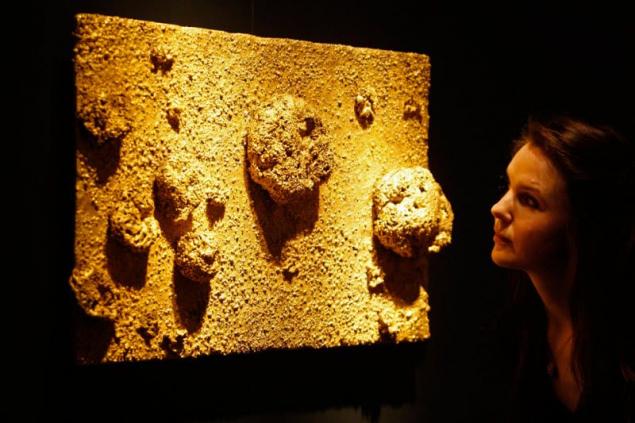 17. On 20 January 2010, London. An employee of the auction «Christie's» looks at the work of Yves Klein "Relief Sponge". Golden sponge will be on February 11 put up for auction in the section "Post-War and Contemporary Art". It is expected that the product will be sold for an amount estimated between 5 and 7 - to 8 million euros.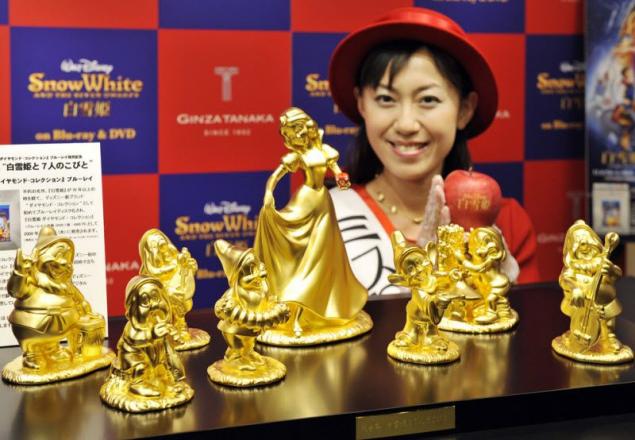 18. On 4 November 2009, Tokyo. The model demonstrates figurines Disney characters cartoon "Snow White and the Seven Dwarfs" made of pure gold with a total value of 30 million yen (300,000 dollars), which made the company «Tanaka Kikinzoku Jewelry». Figurines were made specifically for the promotion Blu-ray discs with cartoons Disney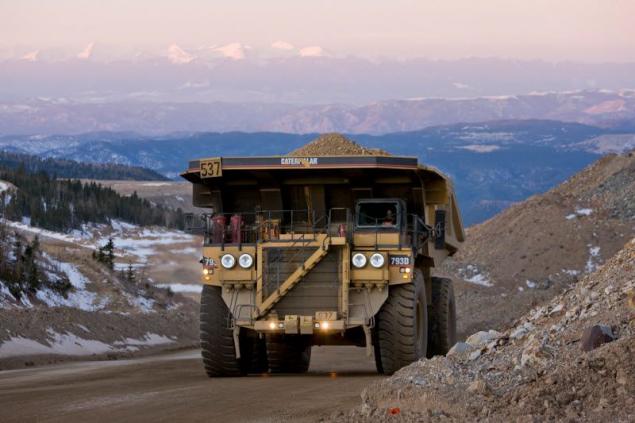 19. November 5, 2009. Truck company «Caterpillar Inc.» on the way to the gold-mining enterprise «AngloGold Ashanti Ltd. Cripple Creek & Victor »in Victor / Cripple Creek, Colorado. «AngloGold Ashanti Ltd.» - a company which is the largest gold producer in Africa - bought the company «Golden Cycle Gold Corp.» in January 2008 to take full control of this gold deposit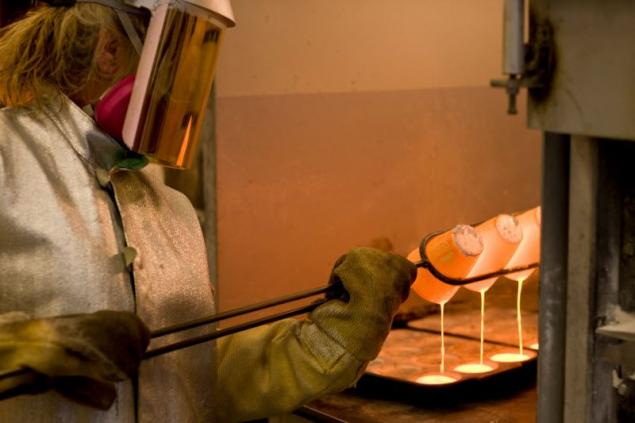 20. November 5, 2009. In the gold mining enterprise «AngloGold Ashanti Ltd. Cripple Creek & Victor »Colorado Sharon Brumley pours molten samples into molds, to calculate the total amount of gold.
21. November 5, 2009. The mechanism for extracting coal absorbs gold from a solution of sodium cyanide at the company «AngloGold Ashanti Ltd. Cripple Creek & Victor »Colorado.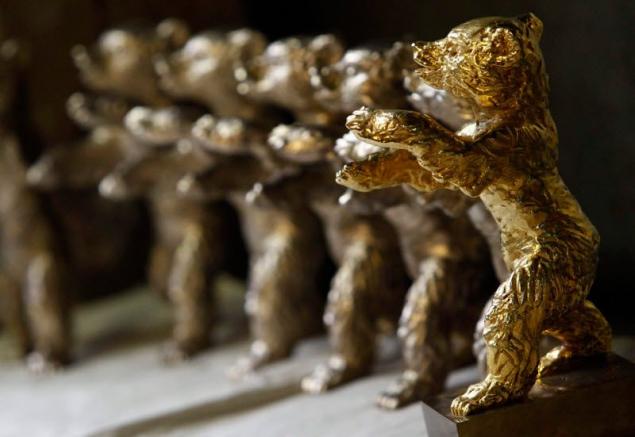 22. Gold-plated statuettes of the Berlin bear before the International Film Festival «Berlinale» at a factory in Berlin on January 20, 2010.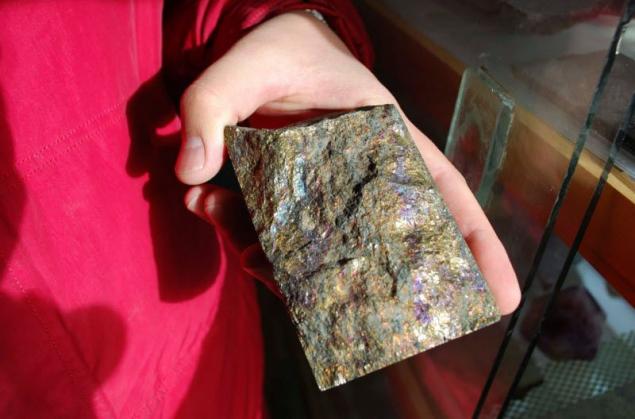 23. Work demonstrates a sample of rock that contains some amount of copper and gold mine visitors Oyu Tolgoi, located in the village Khanbogd Province Umnugobi, Mongolia, November 7, 2009. Mongolia is trying to develop its mineral deposits, so that the country out of the crisis and improve living standards.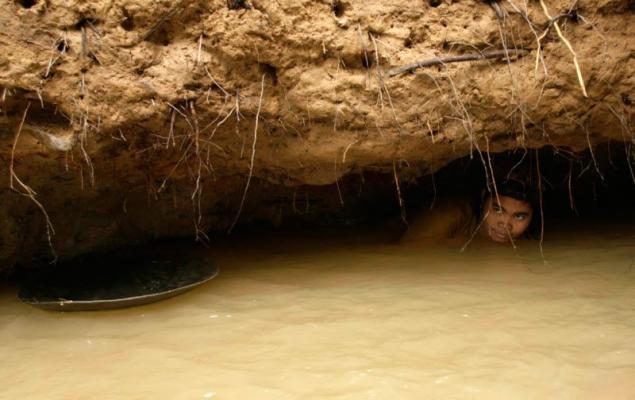 24. A woman in a cave under the river bank, where she went to collect dirt, which may be gold. Photo taken November 2, 2009 in the district of Pidie, Aceh province, Indonesia. Residents of the area engaged in traditional gold digging and gold mining can find about 1, 5-2 grams of gold a day and get over it 275,000 rupees ($ 28).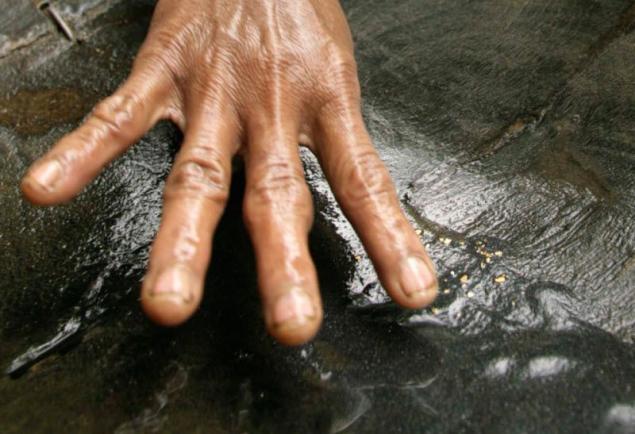 25. A villager engaged in washing gold dust from sand from the bottom of the river in the district of Pidie, Aceh, Indonesia, November 2, 2009.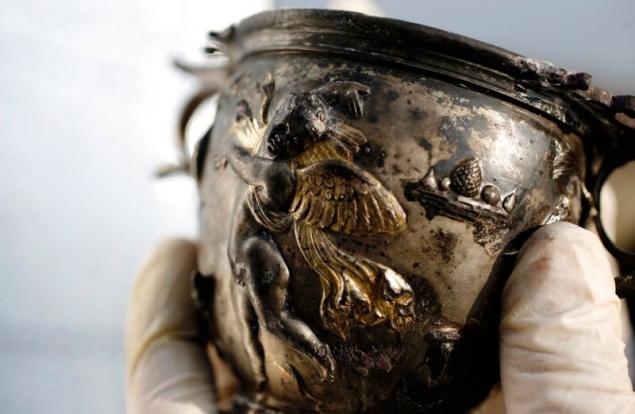 26. Bulgarian archaeologist Veselin Ignatov shows a gilded silver cup, which depicts the Greek god of love Eros. Cup was found on Nov. 17, 2009 in the Thracian mound, near the village of Karanovo, Bulgaria. The team of archaeologists led by Ignatov, found the chariot, two silver cups, gold rings and jewelry, as well as clay and glass objects, dating from the first century AD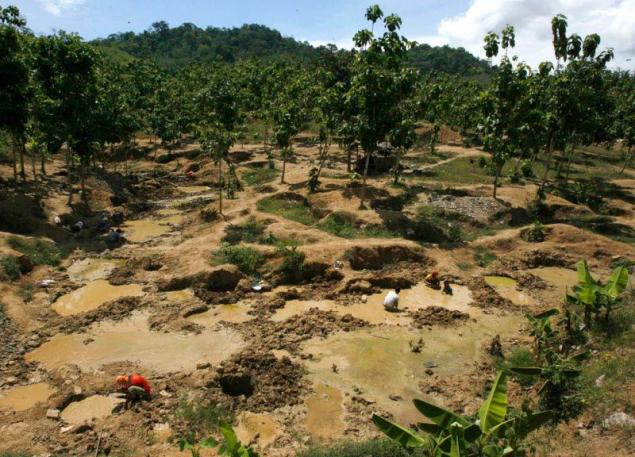 27. November 21, 2009. Illegal gold miners looking for gold in the mountains Tumpang in Banuvangi Pete, East Java, Indonesia. Located mine here from June 2009, and the locals have already started to go to the protests, as the waste from the mine pollutes the environment.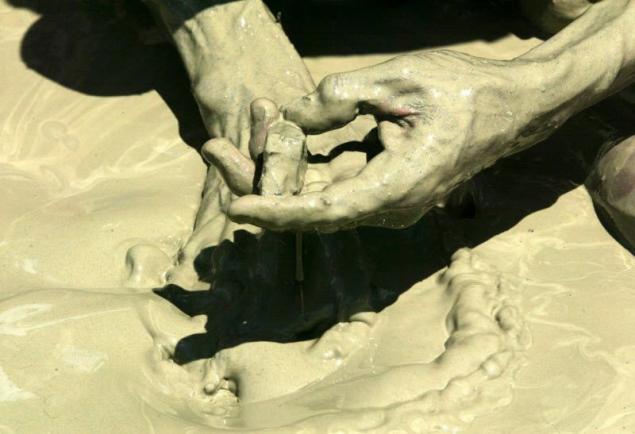 28. November 21, 2009. Illegal gold digger washes sand and silt, hoping to find gold in the mountains Tumpang in Banuvangi Pete, East Java, Indonesia.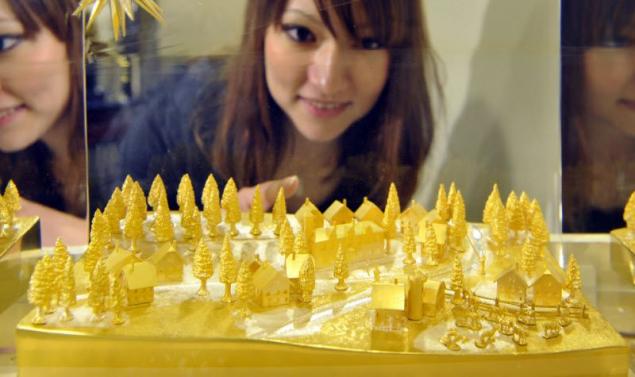 29. October 23, 2009. Japanese woman admires a gold model, which is called "shoot to star in" and demonstrated at the exhibition of gold and silver in Tokyo. The height of this luxury item is 30 centimeters, it is made of 15 kilograms of pure gold and its value is 130 million yen (1, $ 3 million).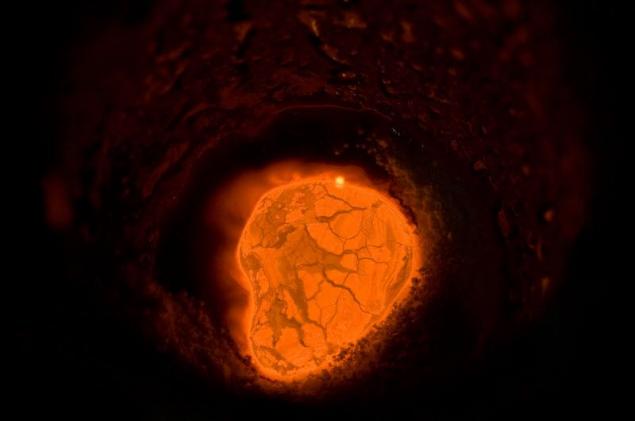 30. January 4, 2010 goda.Rasplavlennoe gold and charge, which are used to remove impurities, burning red flame during melting in induction melting machine at the company «Dvir & Stoler Refining» in New York.
31. Robert Shtoler pours molten gold into a mold at the company «Dvir & Stoler Refining» in New York on 4 January 2010. (Daniel Acker / Bloomberg)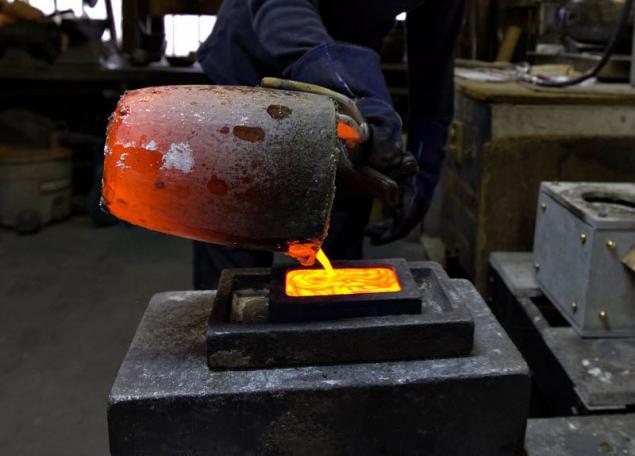 31. Robert Shtoler pours liquid gold into a mold at the company «Dvir & Stoler Refining» in New York on January 4, 2010.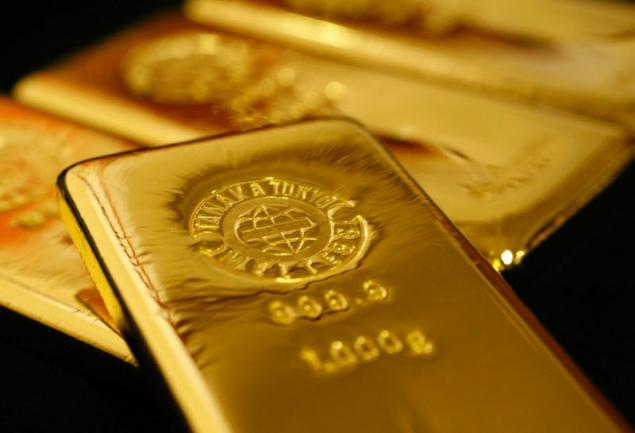 32. October 23, 2009. Gold bars are in the store «Ginza Tanaka» in Tokyo.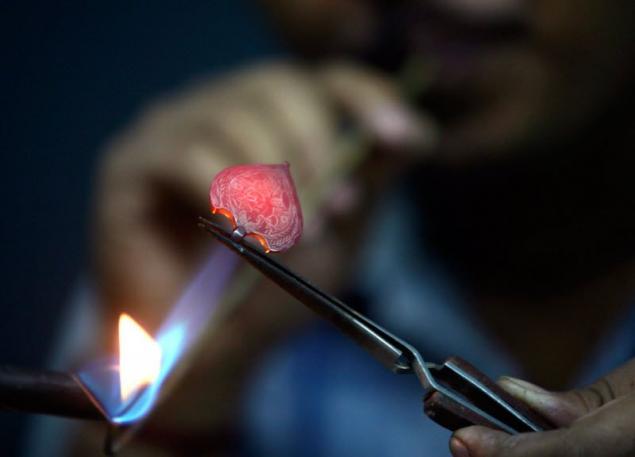 33. Blacksmith working on a gold jewelry in the workshop in Shandigare, India, 23 November 2009.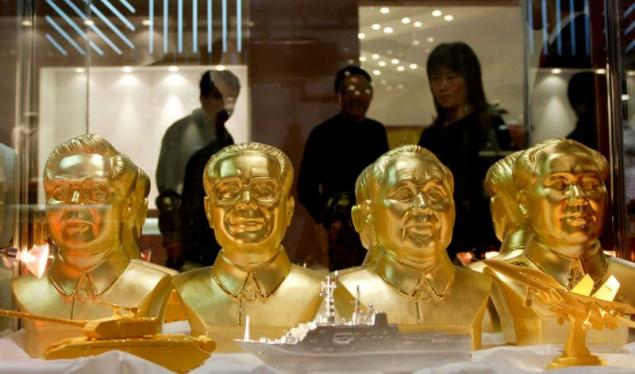 34. Made of gold busts of (left to right) Chinese leaders: President Hu Jintao, former president Jiang Zemin, the late patriarch Deng Xiaoping and Mao Zedong. Busts are shown at the exhibition of gold in Beijing November 8, 2009.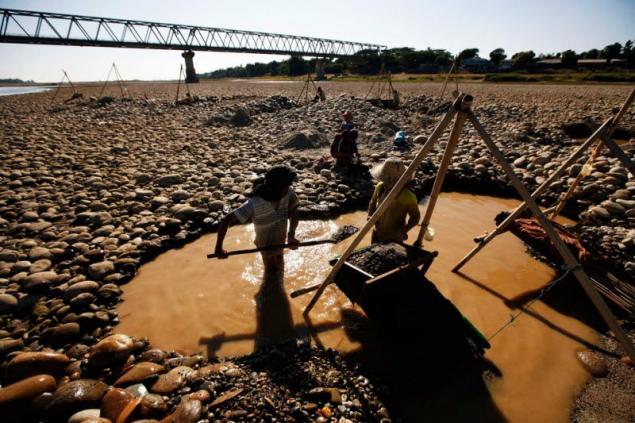 35. On 7 January 2010. Villagers were washed gold from the river near the bridge Irramaddi Bahalminhtin Miitkiyna the city, northern Myanmar.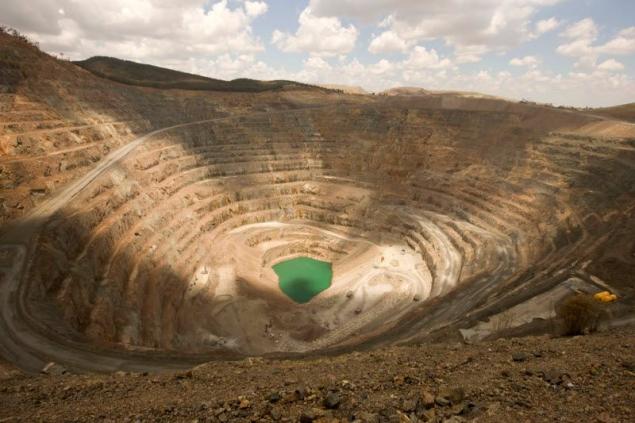 36. On 8 January 2010. General view of the open pit, which extends mining gold and copper in Orange County in Australia .. The company's management has signed a new lease agreement and received a new, modern equipment.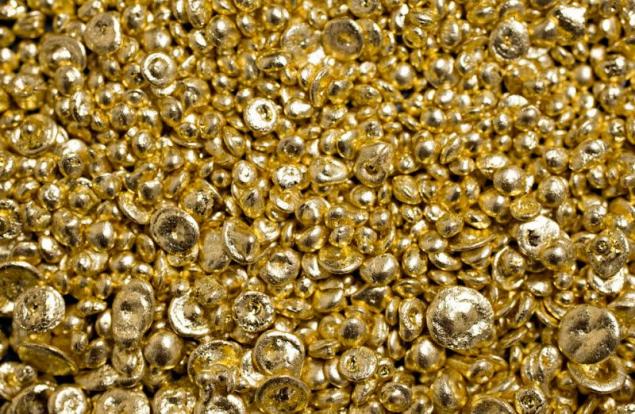 37. January 4, 2010. Pure gold at the company «Dvir & Stoler Refining» in New York.
via source