Home decoration for New year and Christmas — a pleasant and joyful tradition. And one of the signs of the approaching holidays — Christmas wreath. His story is quite long — I think we to this interesting topic will come back. And today, as the time until the new year celebrations is not so much, let's talk about the practical side of the question: how to make a Christmas wreath with their hands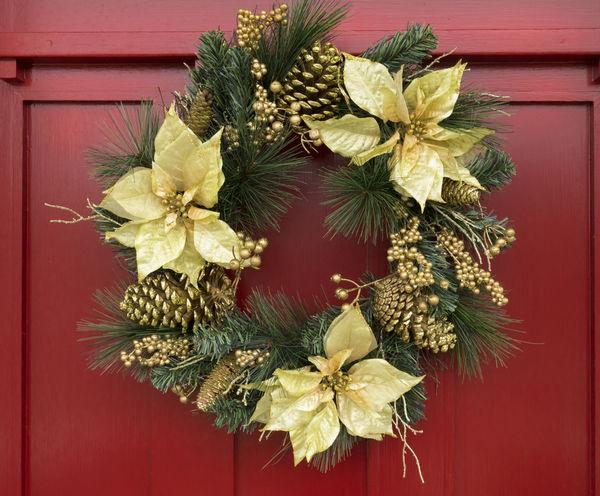 Moreover, it is not difficult, and the material can be what is at hand. And if it is difficult to stay on one idea, let's do some different decorations for the home, to give as a gift to friends...
One of the simplest options:
needles and beads
, silver and gold — nothing else, and looks great. So it doesn't look monotonous, it is better to take different balls — Matt and shiny and a little more. They can be purchased from the set, and you can dig in house inventory and from disparate Christmas toys to collect stylish decoration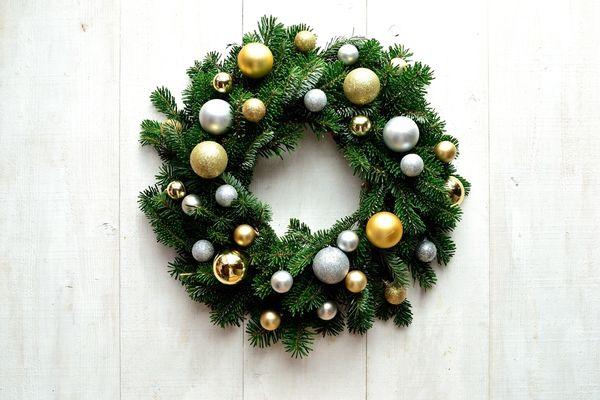 Here perhaps I should digress. Because ideas are ideas, but as soon as we make an attempt any of them to implement, so the question immediately arises: what is the bonding among themselves? Need a base on which then, in accordance with the creative concept we will collect the wreath. So we have to see the master class, which is described in detail and shows
how you can make a blank for future decoration
. As many as 3 ways — there are plenty to choose from
There are other versions of the basics — cardboard, Styrofoam, straw. About them — a little further, but for now let us return to the ideas...
Color creates the mood. Silvery, blue —
"cold" colors is the best fit the winter mood
. So why not use them in Christmas decor? For this wreath will fit sprigs of blue spruce, but better — the artificial needles of the suitable shades. To complement the design, preparativ needles "snow" spray-spray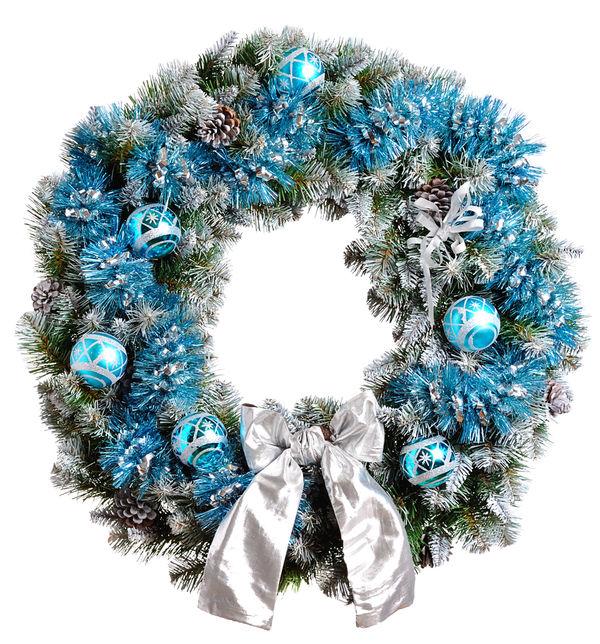 If the suitable pine sprigs is not found, you can replace them with silver tinsel. Or
use natural materials
, covering them with a suitable paint and sequins and adding Christmas decorations — how in the following video
You want something more "warm", Sunny? Mix the paint! A graceful
mix of green and silver branches decorated with pine cones and gold toy
looks noble and refined. However, to implement this idea for all its outward simplicity — will be more difficult.It is important that Golden patterns do not compete with the original invoice, two-tone pine bases, and the song overall was not too colorful and chaotic. The search for harmonious combinations — a task for an artist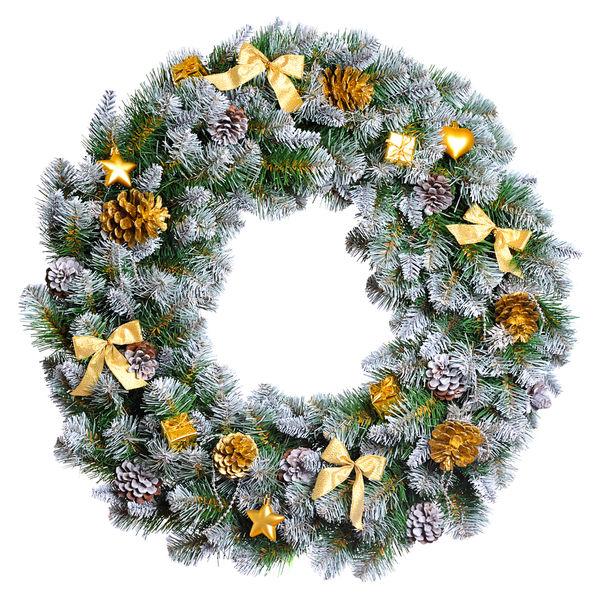 In General, a good idea —
the combination of different textures and shades of green
. Look how fresh and interesting amid the pine needles look the leaves, and Golden twigs of thuja among silvery-green spruce needles enliven the composition. But of course, it would be incomplete without bright red berries accent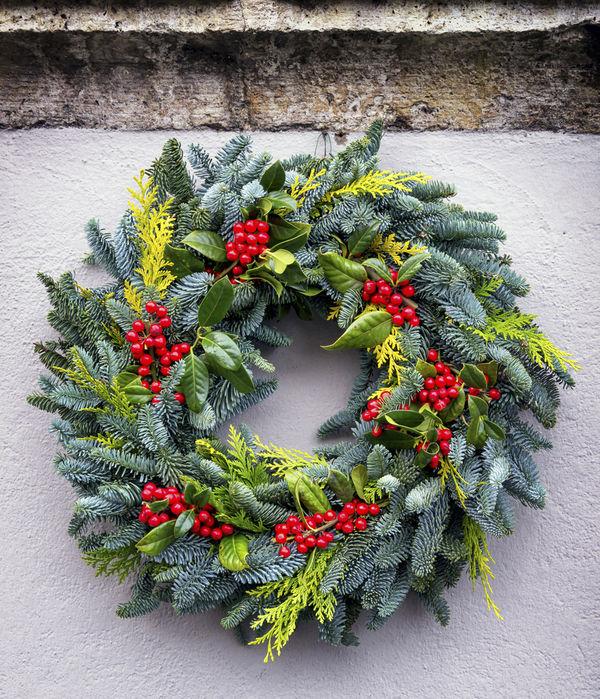 Often found in holiday arrangements and
poinsettias
— one of the traditional Christmas plants.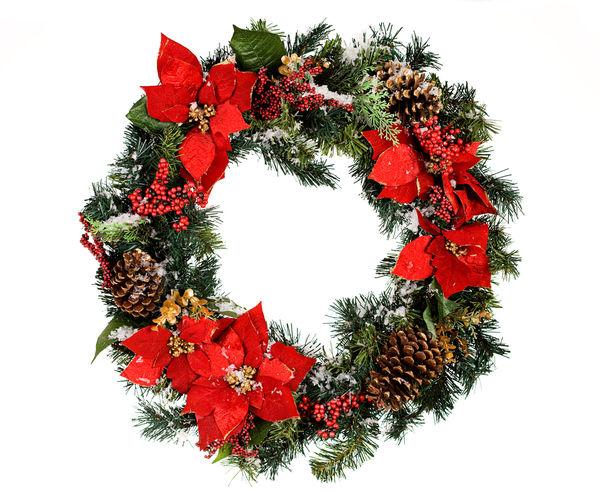 Christmas
wreath does not necessarily have to be coniferous
. Using flexible branches of trees and shrubs (mostly willow), straw, twigs of evergreen plants and the like are made easy to create an original decoration for home or garden. A "gold" or "silver" paint, which is applied on woven basis and individual elements, completely transforms the source material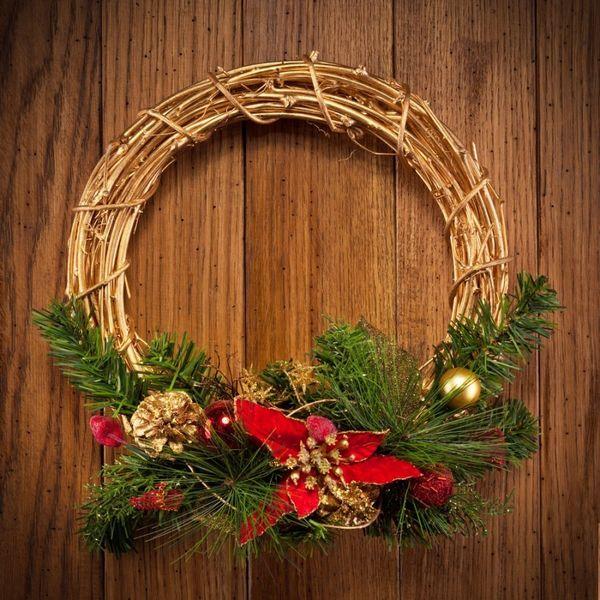 To understand how to implement a similar idea, watch the following short video. Even very inexperienced skilled workers able to make a beautiful Christmas wreath
from natural materials
you'll find in the country. And the time it will take a bit (which is also important in the Christmas eve hustle and bustle, you see) 
Looks unusual
wreath of fir cones
. If you wish, you can Supplement the arrangement with berries, a chic bow or other decorative elements. Part of the cones can be painted using paint in spray cans, or to add artificial "snow", but in the original version of the wreath turns out pretty interesting. However, cones require a lot, but if near your house there is a forest of problems with the material to DIY will not occur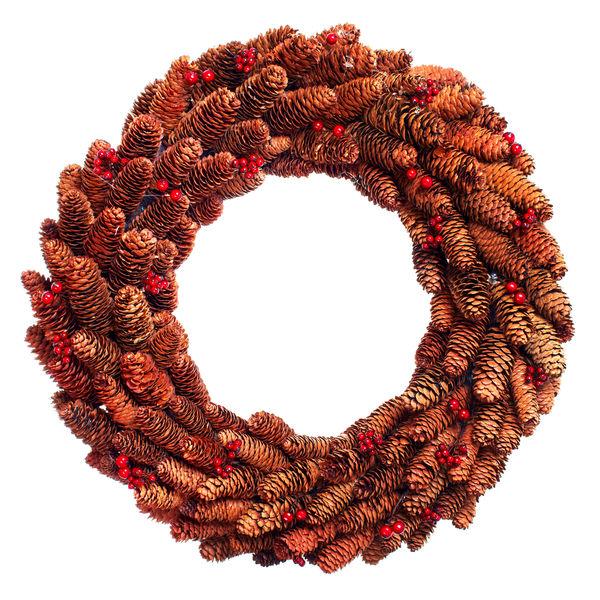 Blotches of
bright scarlet berries
(for example, in our environment — or Rowan viburnum, wild rose, or hawthorn) enliven a low-key composition of "natural" shades. But note: if you plan to hang this wreath on the front door of their house or decorate their gates, to make an element of garden decor, birds, guests can significantly change your initial plan))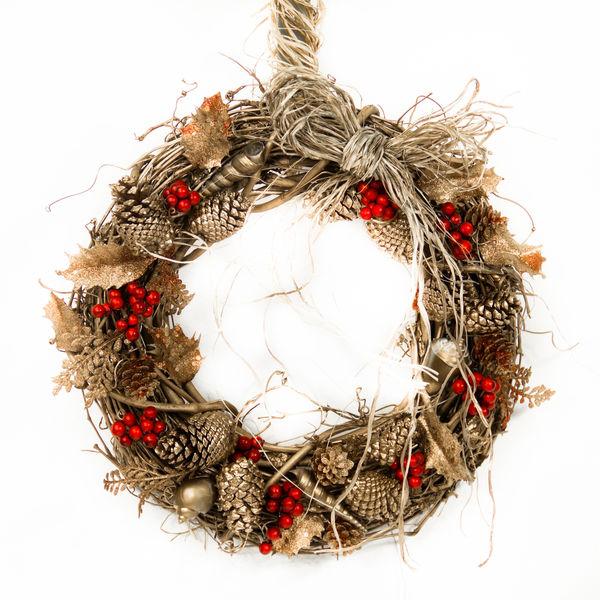 But this bright wreath
of berries is the main element
. Traditionally a Christmas decoration using Holly (aka Holly), but we have this complicated. Juicy Kalina at home will quickly lose appeal, and the Rowan-trees in many gardens poultry already ate, so that for the realization of such ideas will have to do an imitation of the berry bunches, which you can of
red beads of different sizes
.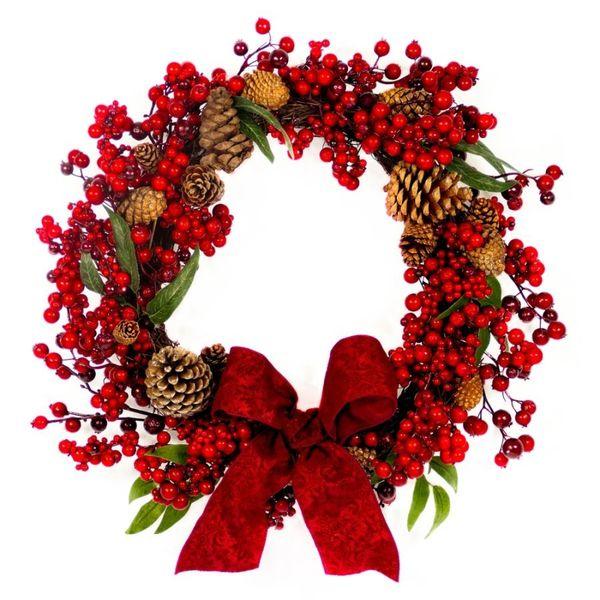 In the end, you can remove all the "extra" and leave
only the branches with berries (or their imitation)
. Let's see how original looks like this wreath is a bit "disheveled", asymmetrical, but surprisingly attractive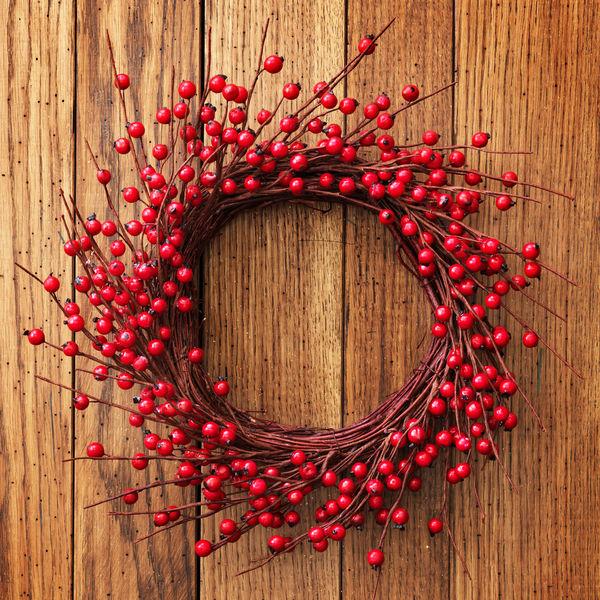 Christmas balls are usually considered as a complement to the decor — but you can look at them differently! How do you like the idea
of a Christmas wreath made from balls alone
? Matte and shiny, different sizes, different shades of red (and if you want something blue or green, gold or silver) — together they make an unusual, but very elegant decoration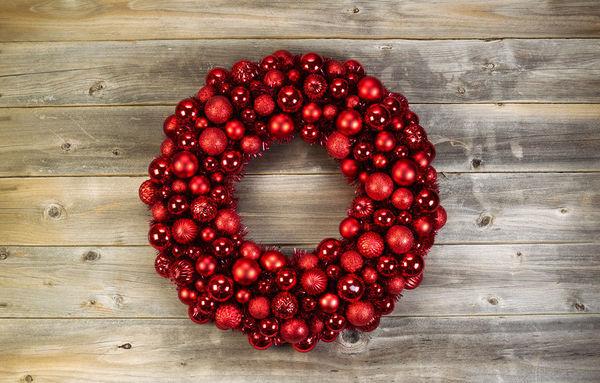 Plain wreath if you feel boring,
make it colorful, colorful
. This idea is perfect for decorating a child's room. Only in this case, choose unbreakable bowls, the baby didn't get hurt, even if the holiday wreath fall accidentally (parents know: these "accidents" is a common phenomenon, when the house is a bright-eyed tot))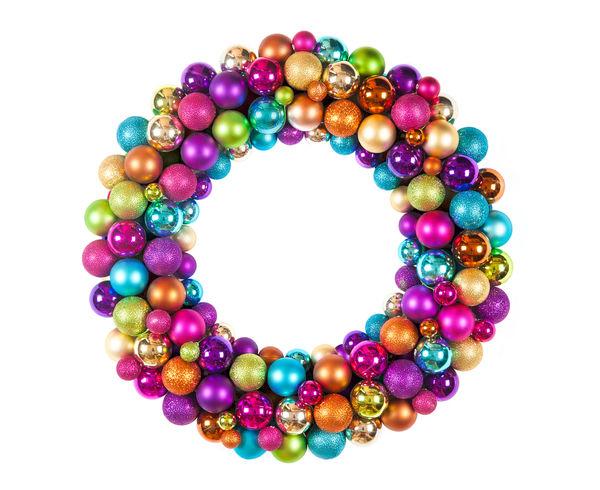 How to make a practical and safe option -
a wreath with the balls of sisal
, shown in detail and described in the next master class
In fact,
Christmas wreath you can make from almost anything
. Any natural materials, dried flowers, scattered beads and various jewelry, tinsel and Christmas decorations — all this and much more easy to turn in an unusual decoration, we need only to show imagination.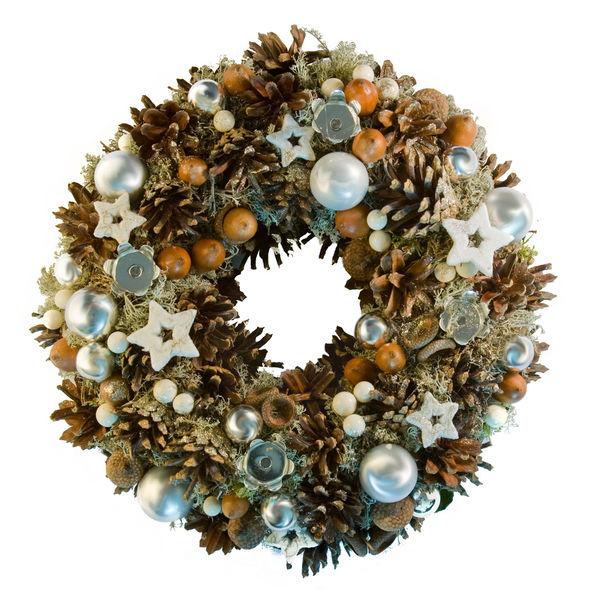 If the natural materials at hand were not, and the window frost, and all paths with snow, try to make festive
wreaths from Christmas tinsel, Christmas balls and satin ribbons
. As the basis of a suitable cardboard (from an ordinary box, for example) or foam. Looking detailed master-class, presented in the following video, with the task to handle even a schoolboy
But the
idea for quilters-knitters
: pick up trim bright fabric or skeins of yarn, large beautiful buttons, fancy tapes, tapes — all excellent materials for creativity. How to build how to make a Christmas ornament — let will prompt your imagination. For example, it may look like this: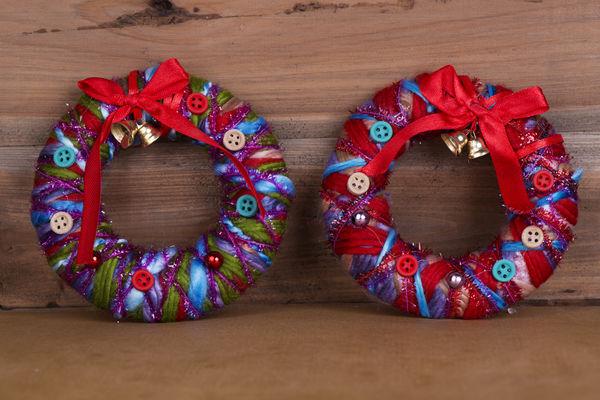 Fans
of minimalism
will appreciate this idea — this wreath is simple, concise, yet looks elegant and touching. The whole "salt" — in the bizarre intertwining of rods, which effectively by itself, without any additions. But again, if desired, and to develop the idea: for example, to "elevate" the material by means of paint...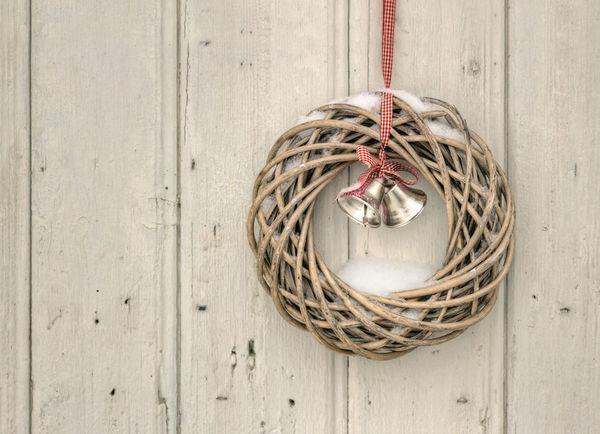 Great holiday option — a wreath which bears
an electric garland
. It will be especially effective if you use it in outdoor decorations: hang on door, wall, house, gate, winter decorate gazebo in the garden and so on.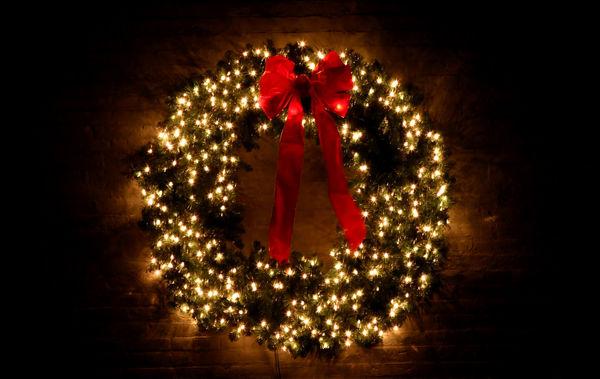 Reflected in the shiny balls and tinsel, lights, garlands create an extraordinary, fairy-tale mood. Just remember: place this decoration is necessary there
where it is possible to securely connect the garland to the mains
. Better to think in advance about how to hide the cord running to the outlet, so as not to ruin the Christmas magic of such "household stuff" :))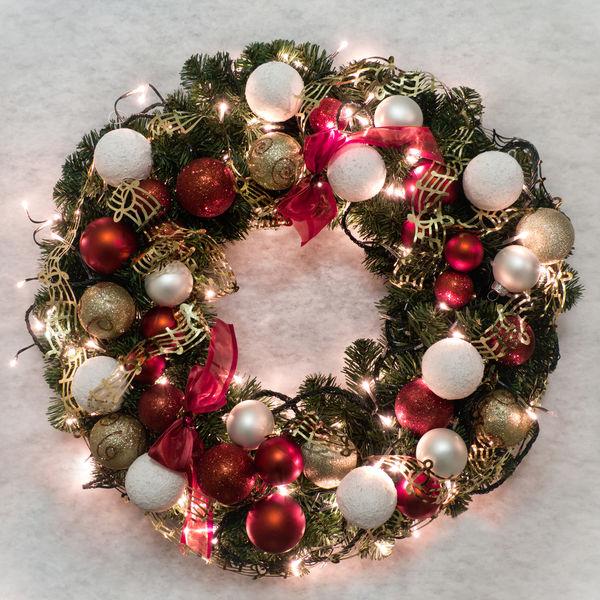 And it's worth noting that not all lights are suitable for outdoor use. This is a safety issue, so do not neglect such "trifles".
Finally, it is possible to weave pine needles cinnamon sticks, stars of anise, a small Mandarin and other
fragrant fruits, spices or even flowers
— will be not only beautiful but also fragrant Christmas decoration. Smells easily be enhanced if you use suitable essential oils. Just do not overdo it, to get anyone of the guests had a headache from fragrance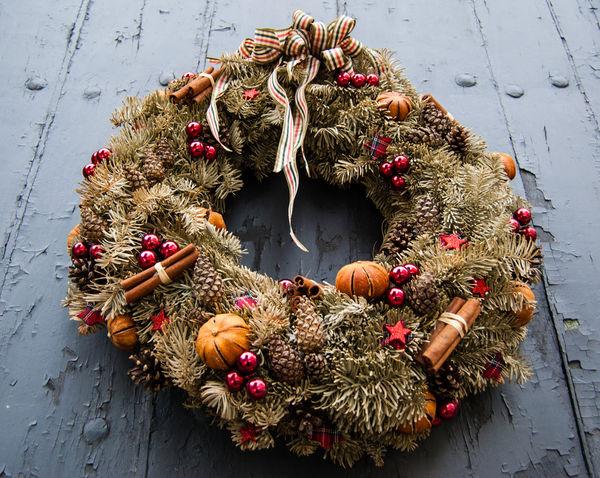 You probably already have seen: the number of ideas is endless, and the
beautiful Christmas wreath you can make with your own hands from any material at hand
. If the creative process you are already fascinated, and want to make as many different decorations for your home and as gifts to friends, watch the following video and get inspired by vivid examples
Well, now that Christmas wreath is ready (and maybe not even one!), we need to find him a suitable place. Traditional variant —
to hang a decoration on front door or above it
. You can Supplement it with small Christmas trees on both sides of the porch, with garlands of pine branches or compositions, in style and design similar to the wreath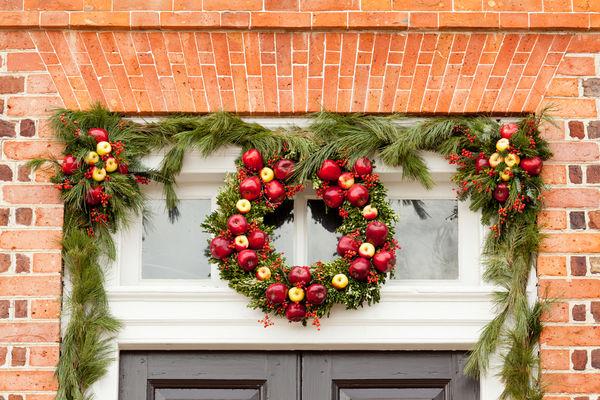 If it is too easy for you, and usually, place a wreath, embellished with colorful lights,
in the gable under the roof
. This "identification sign" guests will easily find your welcoming home in the new year's eve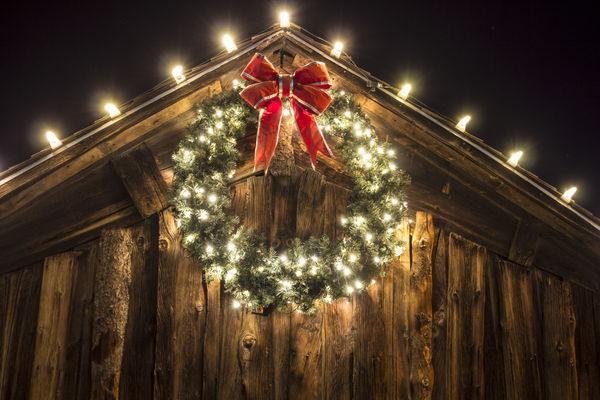 It is possible and
on a fence or a barn wall
to hang a simple bright decoration — here's a simple and affordable way to create a festive mood for themselves and their neighbors. And feathered guests can please, to use when creating a wreath the right treats: cones with seeds, berries, rose hips and so on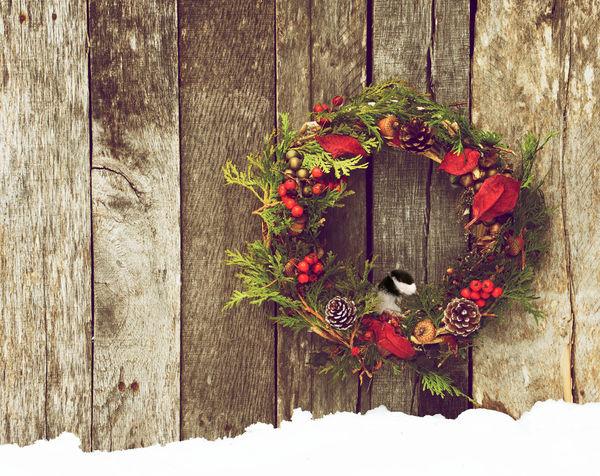 In the house, the wreath will become a good
complement to other Christmas decorations
— snowflakes, garlands or Christmas stockings hanging in anticipation of gifts from Santa Claus))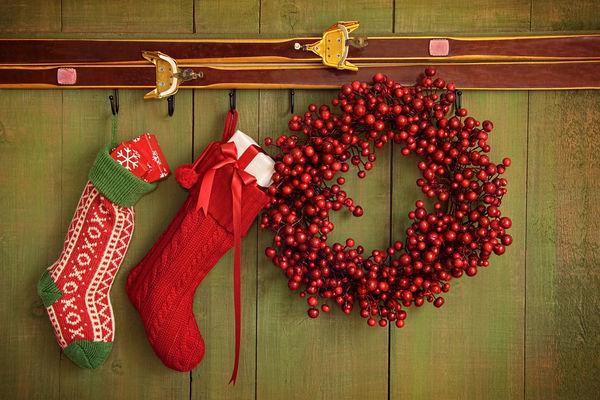 By the way, note how in this case inscribed to the interior, made part of the decor
of an ordinary ski
. Someone modestly hiding them in the attic or closet — can, it turns out, make them part of the festive decoration of the garden! You look, and on a ski trip in the holidays rather going :))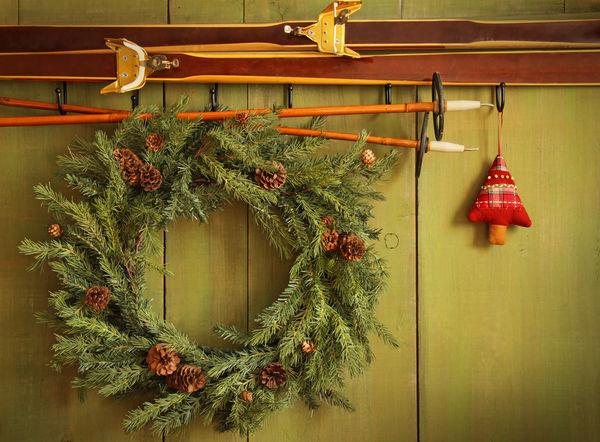 The wreath can serve as
a beautiful candle holder
. Just do not forget about fire safety: candles must be securely mounted so that they are in any case not fallen, and decor elements to place away from the fire. And of course, it is not necessary to wait for the candle to burn out completely — too great a risk that the resinous twigs will break out from the encroaching flames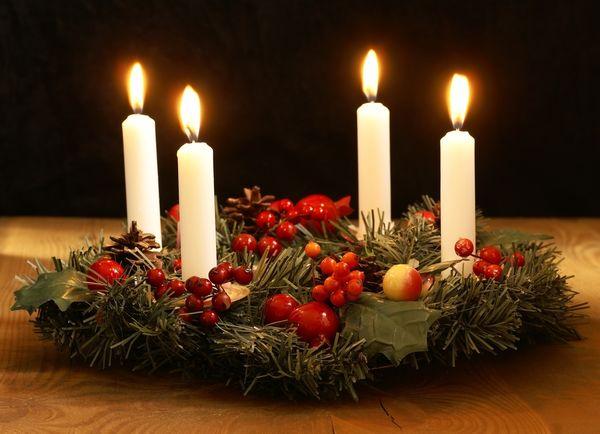 By the way that, say, begins once
the story of the Christmas wreath
invented by the Lutheran Johann Hinrich Viernam. His wreath was decorated with candles (24 small red and 4 large white) and helped the pupils Wichern count down the days to Christmas: one red candle is lit each day of advent (in advent), adding Sunday one white. Over time from the initial variant left only 4 big candles (in Catholic tradition — not white, and color: 1 pink and 3 purple), one for each Sunday of advent. But to us this beautiful tradition came and were just element of festive decoration of the house.
And even a wreath can be a
special gift
and even
a Declaration of love
. Why not? New year and Christmas is the perfect time for romance and happiness. And if you don't have enough words to talk about their feelings, try to Express them in the festive decor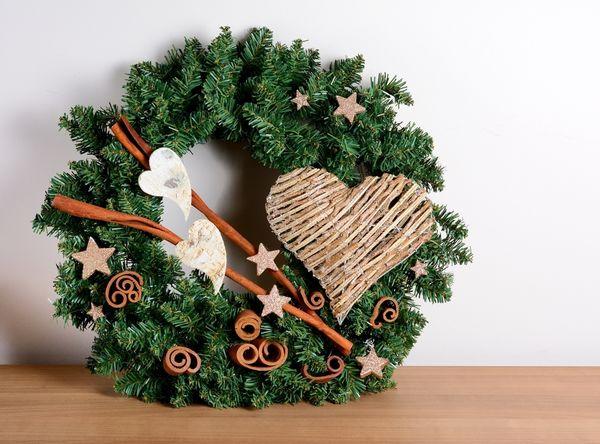 Source: www.7dach.ru