USSR and Canada from the Soviet era arrange between themselves the true sports slaughter. However, this year the Olympic Games in Sochi, the Russian team lost to Team Finland with the score 3: 1. I suggest you remember how the meeting held between the teams of the USSR and Canada.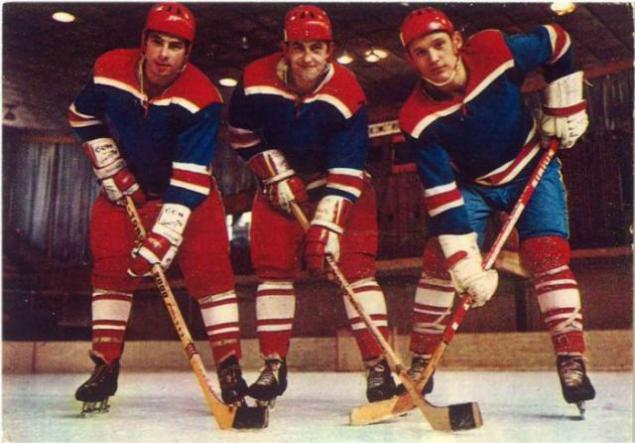 And for us this is a good occasion to remember the times of great hockey fights when losing to the Finns could not dream in a nightmare ...
Summit Series USSR-Canada significance was completely comparable to Gagarin's flight into space.
It was not just a sporting event, but a confrontation of systems, the world capital against the vanguard of the socialist system. Yes, it looks so look!
To understand this difference, just look at the photos. This bully bully - the great Bobby Clarke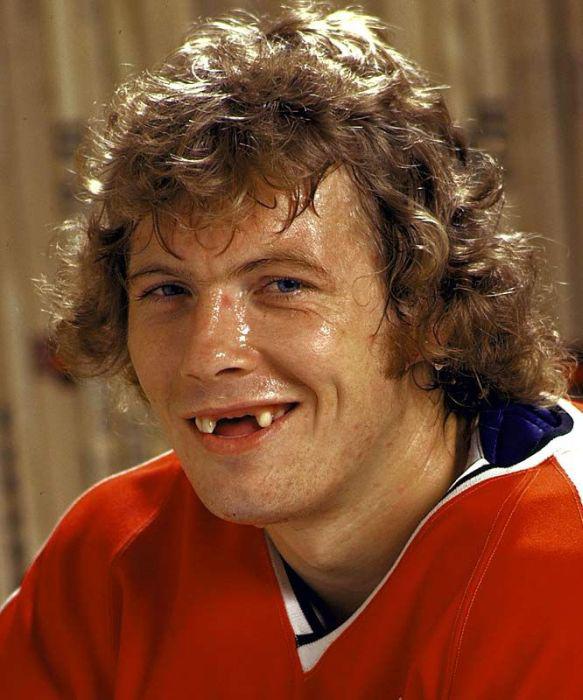 And this is also a star, but the Soviet hockey in the same period, Vladimir Shadrin. Not enough Komsomol badge))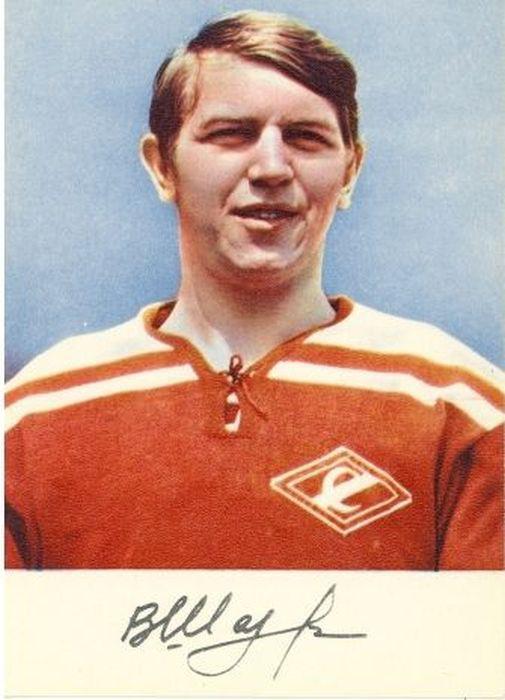 In this totally epic Super Series has its own prehistory.
We all know that Canadians - the ancestors of hockey, and of course they reigned unchallenged in the sport. But in the 50s very loudly declared themselves Czech and Soviet squads. They beat the Canadians in the world championships and the Olympics!
That's just the Canadians were there not the best ... In a word, there was that same situation, a lion against a tiger)), and they were afraid of each other. In Canada, the legendary virtuoso command of the game Soviet artists, the Soviet Union spoke of the irresistible force pressure from Canadians.
They were afraid of each other, by mutual agreement decided to play a trial game, which no one should know. This game took place in 1966 in the city of Kalinin (Tver), this game is not conducted stories about her are not mentioned in the national press.
Of course, our outwitted Canadians. Was invited to a professional team, "Sherbrooke Beavers", which arrived at the game without feeling dirty trick, with the intention to put in place these upstarts. Upstarts were not born yesterday, but was unable to catch it. Anatoly Tarasov specially picked team of professional boxers. There was one condition - to be able to stand on skates))
He remembers himself Anatoly Tarasov:
- We had to make a match - that Canadians have long remembered. The judge was ours, he was told - not whistle! Fouls now will not. Must not be. And I've had seven of these men, besides my last week of training were very cruel. It was necessary to wean Canadians to raise a fist at us!
- It was an amazing sight - two minutes later all my they sit on top of the - one of the ears, who bludgeons, and so on. And suddenly - a police-soldiers cordon was breached. And the people ran. It could be unpleasant. I gave the order - we released Canadians. Their playing coach Roy lies near the board, then the medics came - was taken.
Much later in his book Tarasov writes:
"It was not a good match, and many players are often fought. It was dirty hockey. But we were forced to carry out this experiment, Canadians are not caught us by surprise. Prior to a future meeting, we will insist that matches those held in the framework of the rules - in the end, the rules do not allow professionals to organize on the slaughter and fights. It says only that the power struggle is allowed all over the field. By this power struggle, we are ready. But just in case, we decided to meet Canadians and play this rough, terrible hockey. The experiment we were satisfied ... We feel that we can play in different hockey, including in the most brutal, and for the victory of our athletes are capable of self-sacrifice ».
All this is important to know that to understand the atmosphere in which was a preparation for the Summit Series-72 ...
By the way, Mikhail Suslov was opposed, and only a volitional decision Brezhnev sparked the green light this great series.
I will not describe in detail these games, hockey fans and everything is well remembered, I just suggest to all to plunge into that quite incredible atmosphere, which lived in the September 72nd world!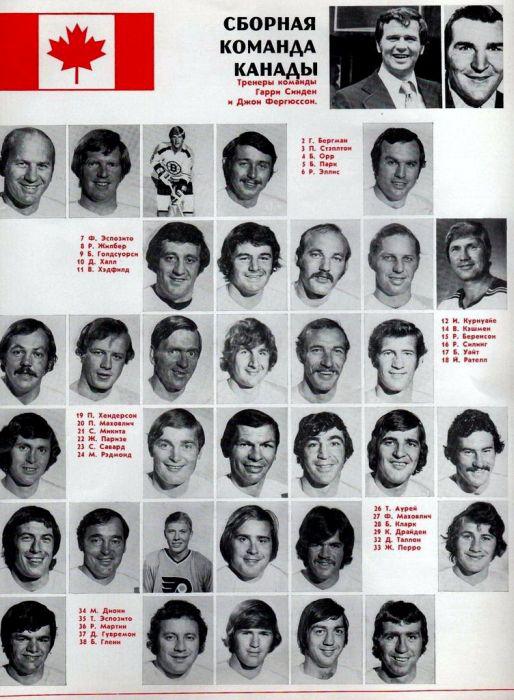 At that time it was probably the strongest team except Bobby Hull and Gordie Howe, who then went to the rival league WHA ...
In the USSR, these guys were the best ...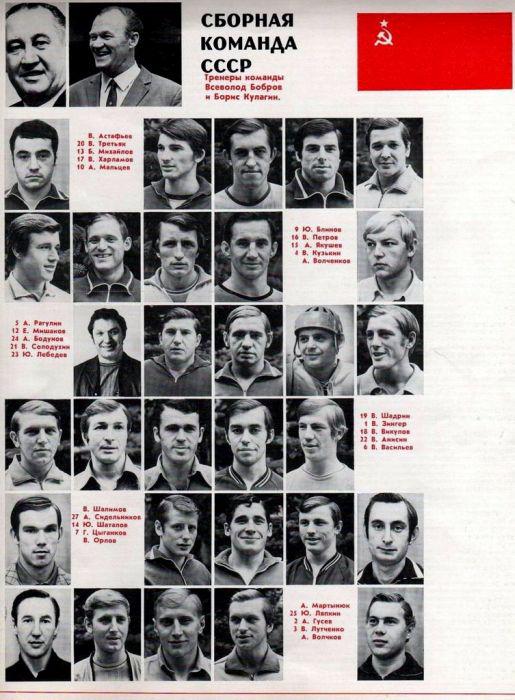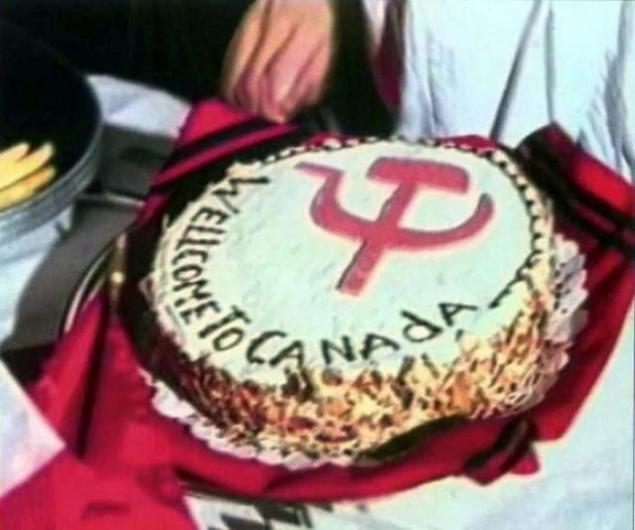 Playing the game, but what was it luck here so go and buy branded wheels! I say without irony, for me as a person "in the subject" it was a dream, and 15 years later, after '72 ...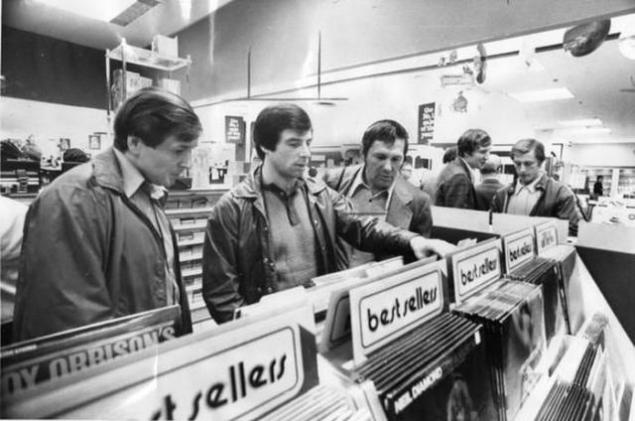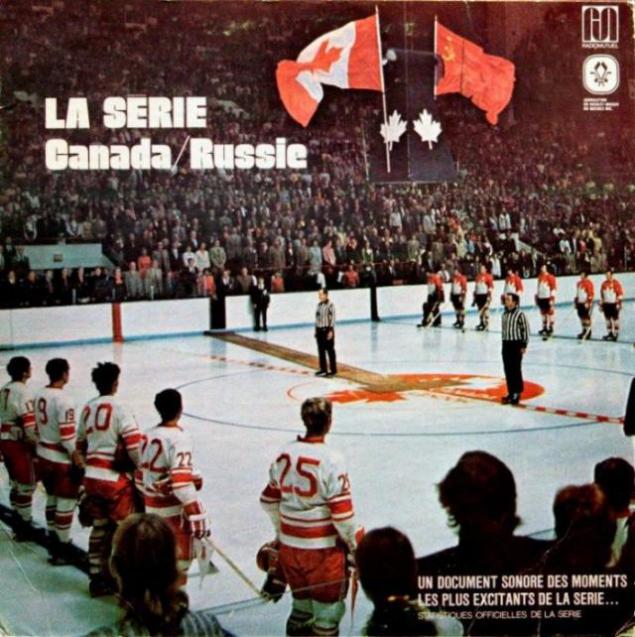 Jean Savard puts Vyacheslav Anissina cowboy hat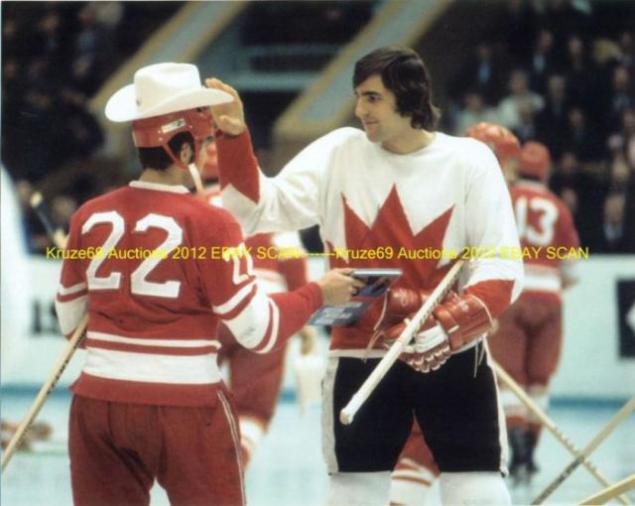 Canadians gave our dolls ...))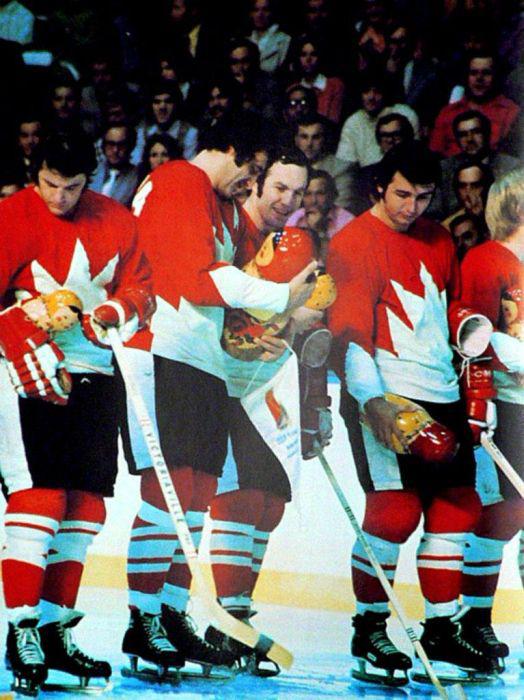 For the first game of the series watched by several million people in Europe, more than twenty-five million Canadians and Americans, and about twenty million viewers in the Soviet Union watched the game at home.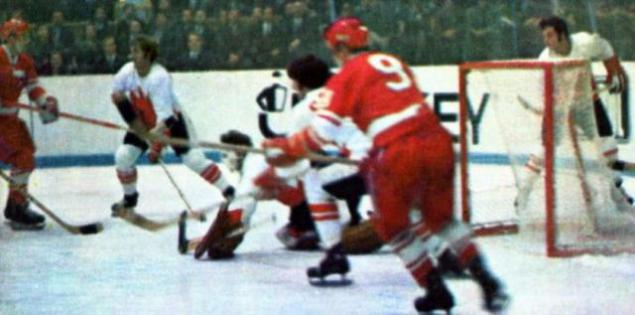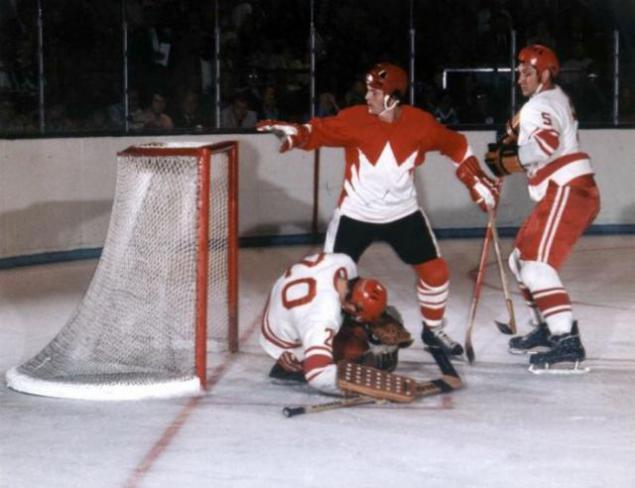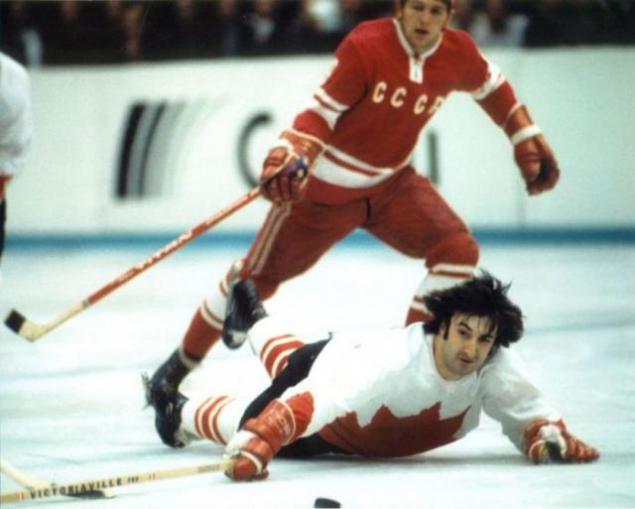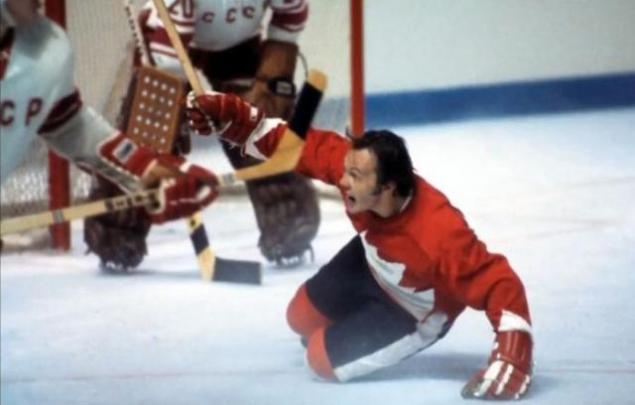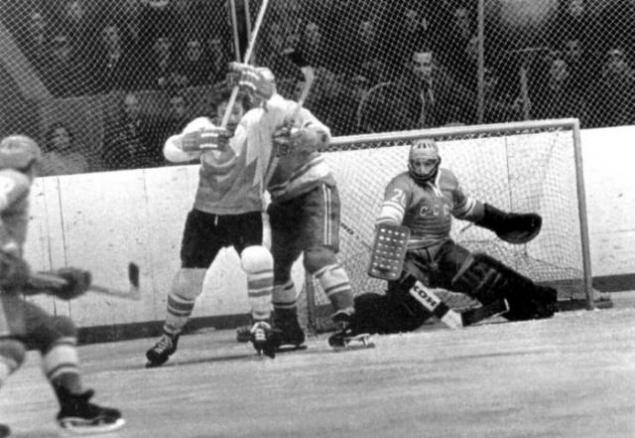 The first game we won with a score of 7: 3, and for many Canadians it was a shock.
A famous Canadian sports journalist vowed to eat his article where he promised a dry Canadians win in the series, if he is not right. Well, that word had to keep))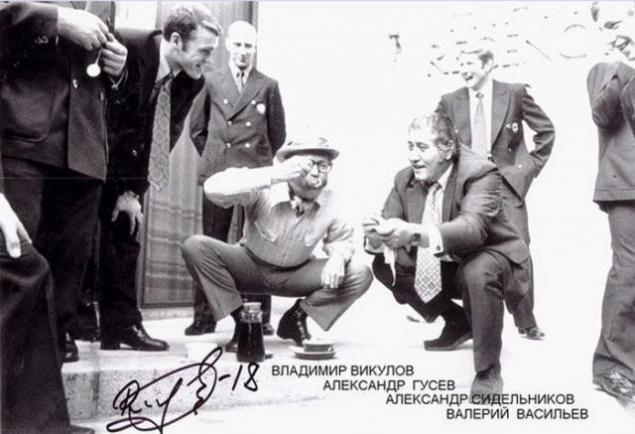 It is an epic confrontation between two warriors, as two of the world as a Relight Chelubey Alexander Ragulin and Phil Esposito!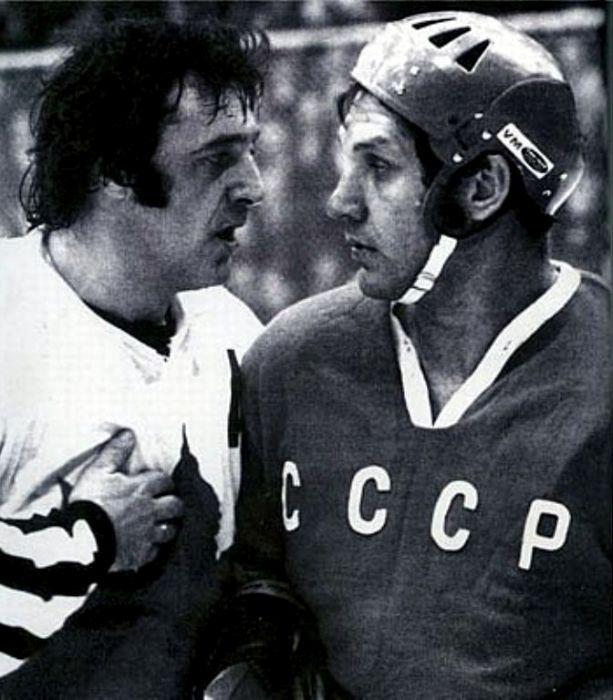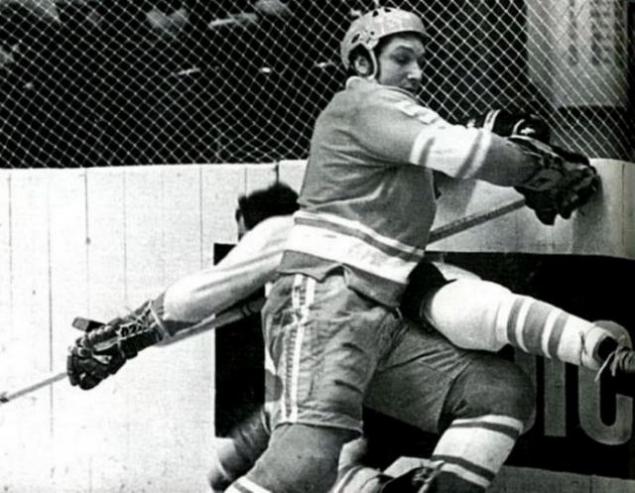 Great battered Kharlamov ...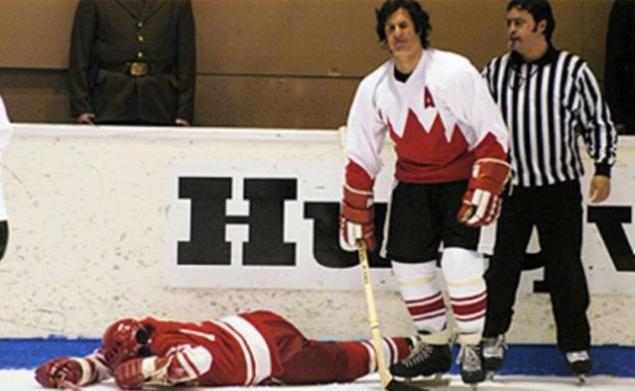 And Maltsev ...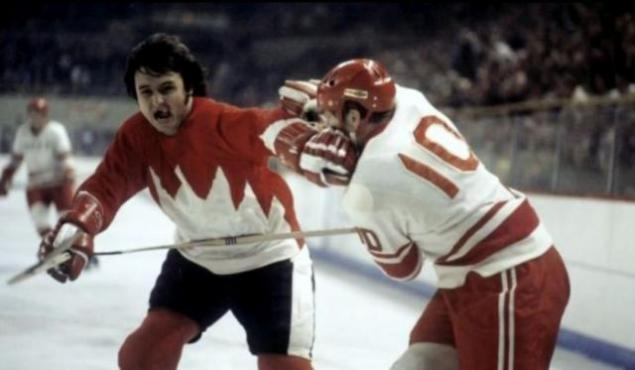 Canadians - children overall. Pete Mahovlich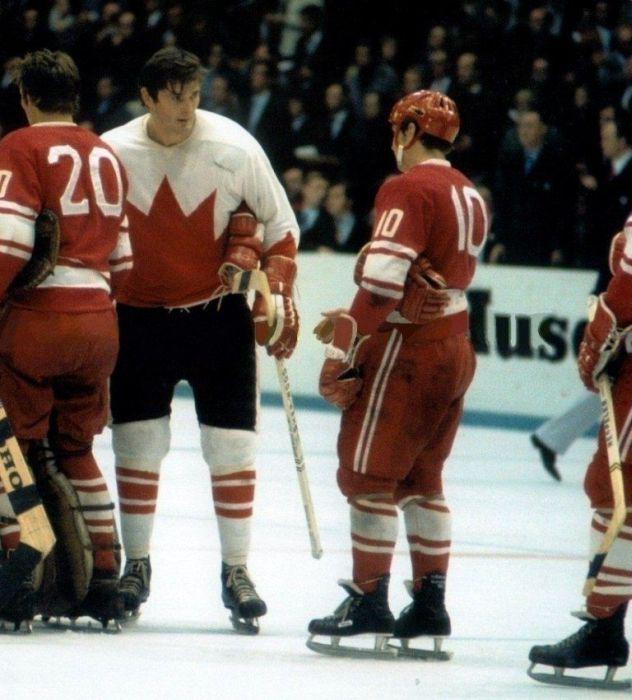 Yakushev, Mishakov again Yakushev ...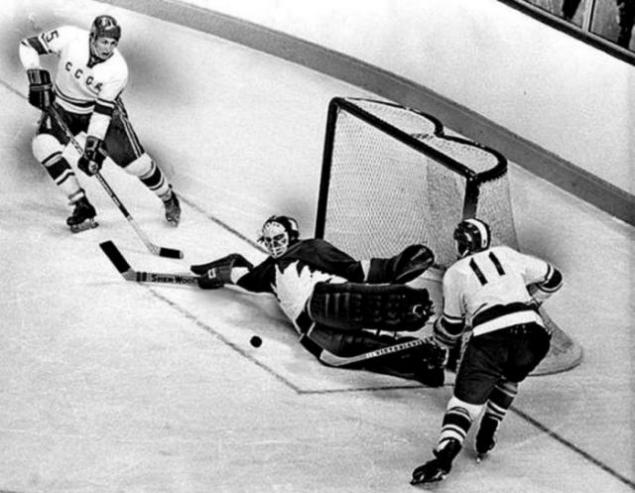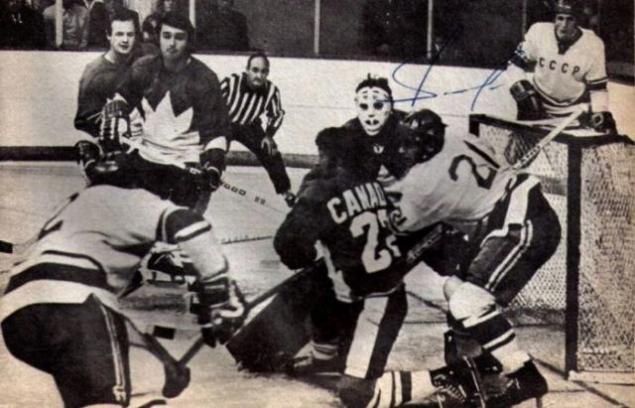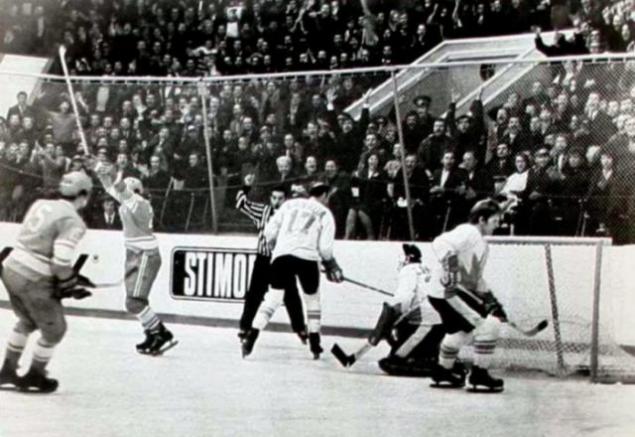 Vasiliev and Ron Ellis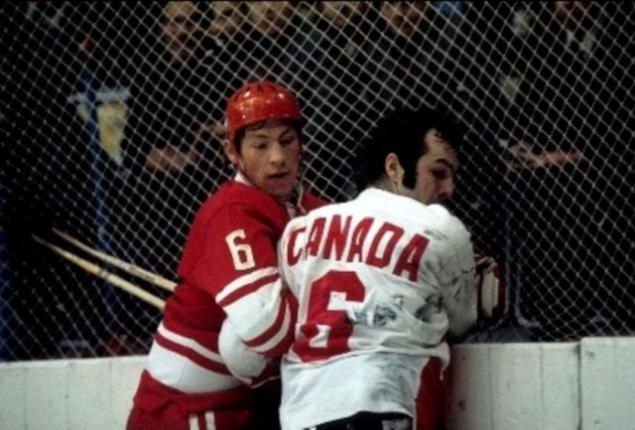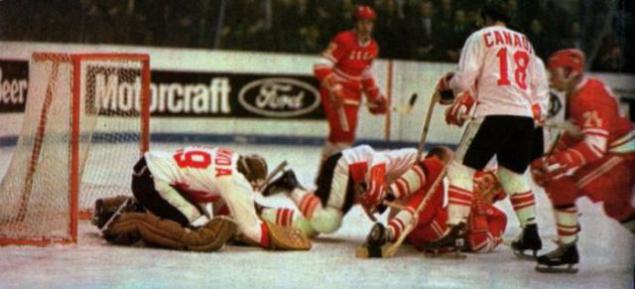 Bobby Clarke and Valery Kharlamov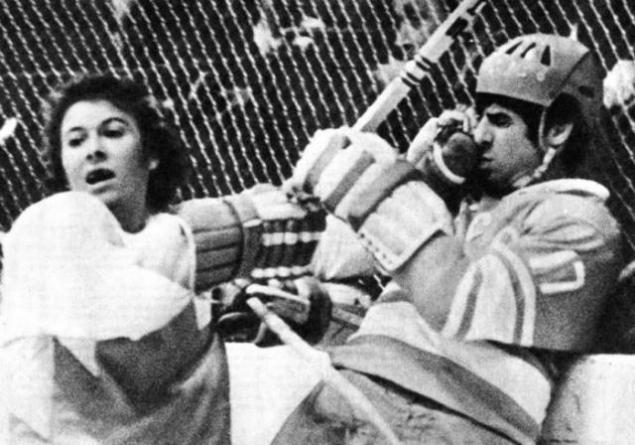 By the way, the Swiss company Omega released a special series of watches ...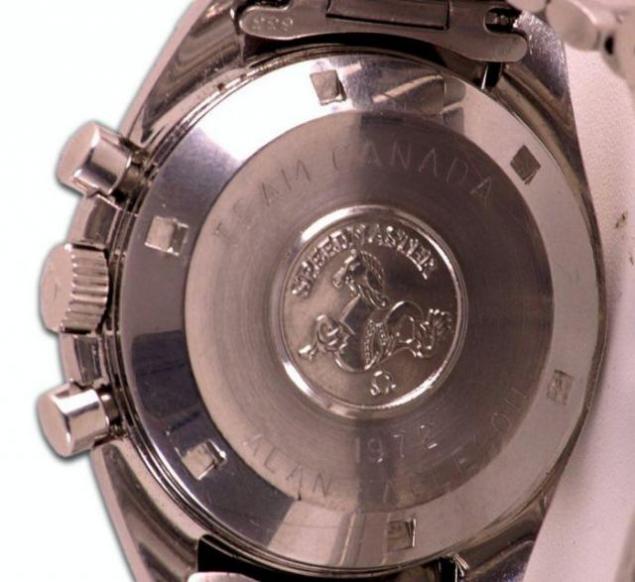 Valery Kharlamov broke his collarbone, but he was respected by Canadians. And on his hand so that's Omega))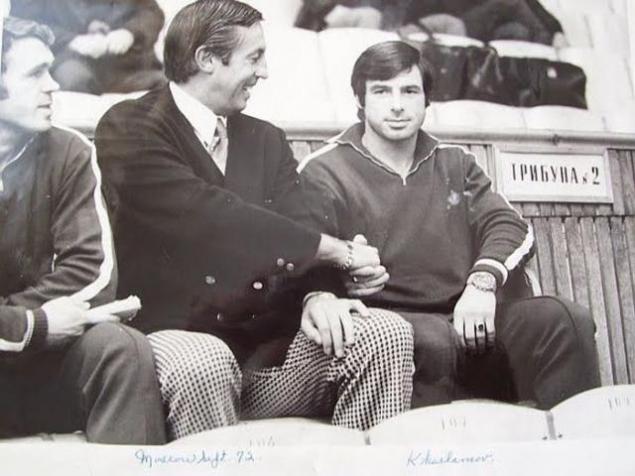 Tickets were not to get ...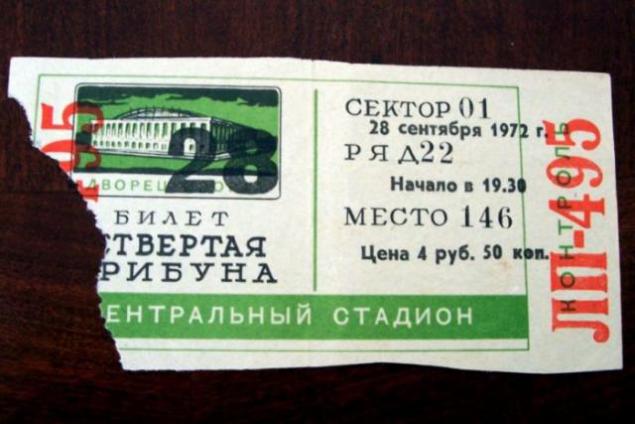 Before the start of the fifth bout, during the announcement of the players, Phil Esposito slipped and fell right on the ass. However, the Canadian kept his head and got up on one knee, he gave a nod to the fans, earning the most applause. Tretiak then on this occasion recalled: "If I, or anyone else of my team-mates down here so we would not find a place of shame. We would never have done so, as Phil Esposito, - as an artist, with such elegance ».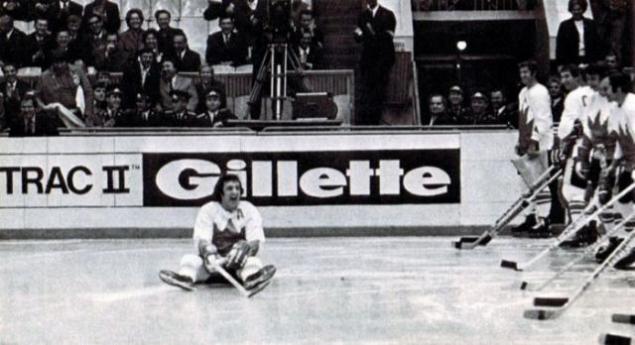 The game was not amused ...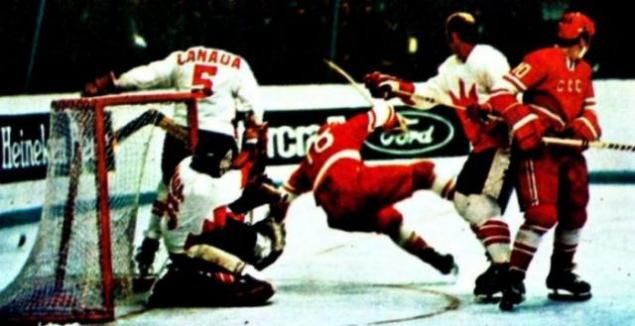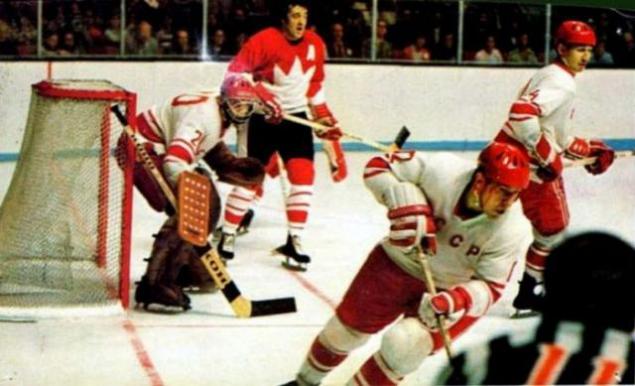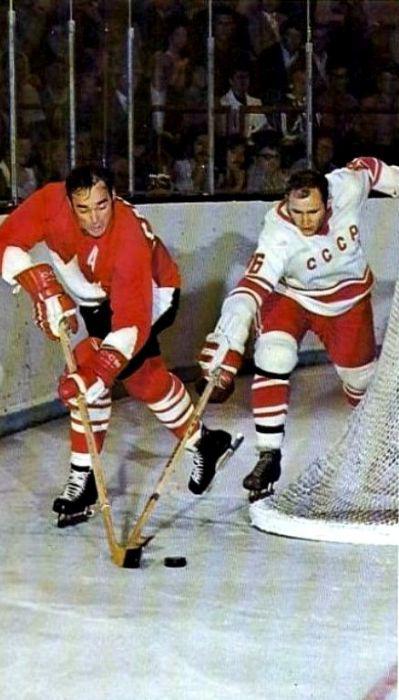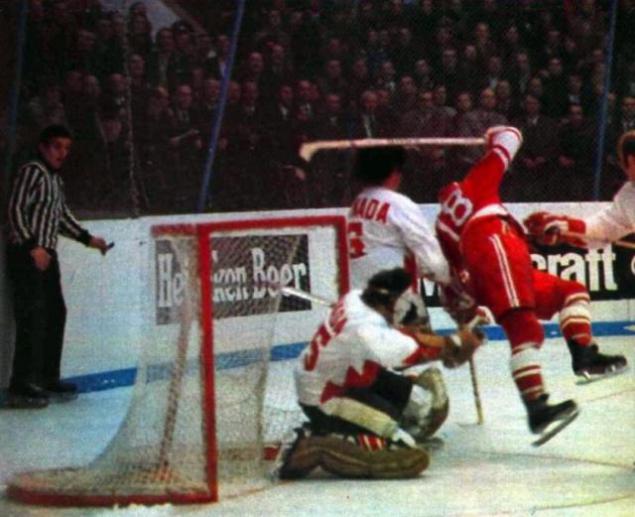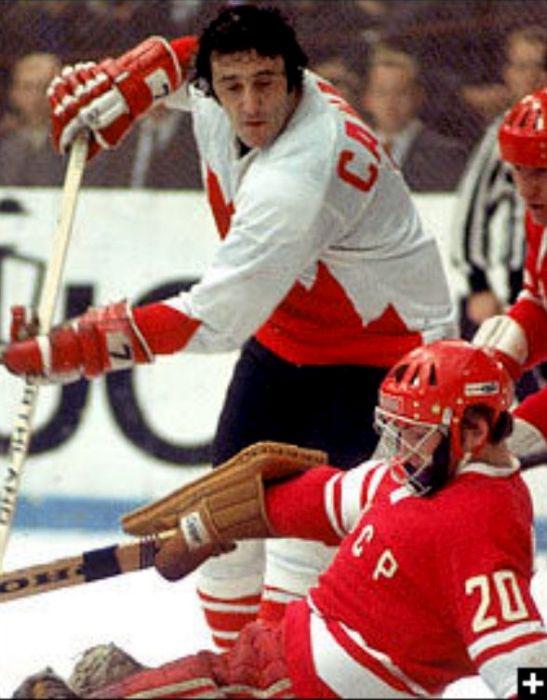 A series won the Canadians, they won 4 games, our 3 and one game ended in a tie score.
But it was not so important. Much more important is that it was a real game - a great hockey.