Nokia Corporation, as a sign of gratitude to all fans of the brand, has decided to resume production of the legendary devices Nokia 3310, having improved its performance in line with current realities and demands of users.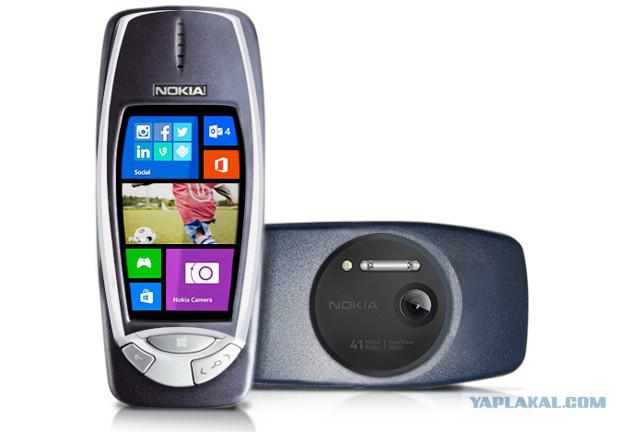 The official blog of the company reported that in the near future, thanks to the efforts of a group of enthusiasts, will be released the reincarnation of the immortal tube Nokia 3310. The body, which size and weight of a fully corresponds to the original (113h48h22 mm, 133 g), will be added to all the components of the modern user 2-core processor with a frequency of 1, 5 GHz, 2 GB of RAM and 32 GB of internal storage expandable by using memory cards microSD. In addition, the experts had managed to fit in a compact body modules 3G (in the second half of this year is expected to release the device with network support LTE), Wi-Fi (802.11 a / b / g / n), Bluetooth 4.0, and most importantly, 41- megapixel camera module PureView.
On the characteristics of the camera should tell more detail. Consisting of six lens module is equipped with autofocus, Xenon flash and is built on components Zeiss. Image sensor feedback flare has a diagonal of 1/1, 5 inches, the aperture ratio of f / 2, 2, the focal length of 26 mm, the sensitivity of ISO 100-3200. Video recording is performed at 30 frames per second at a resolution of 1920x1080 pixels.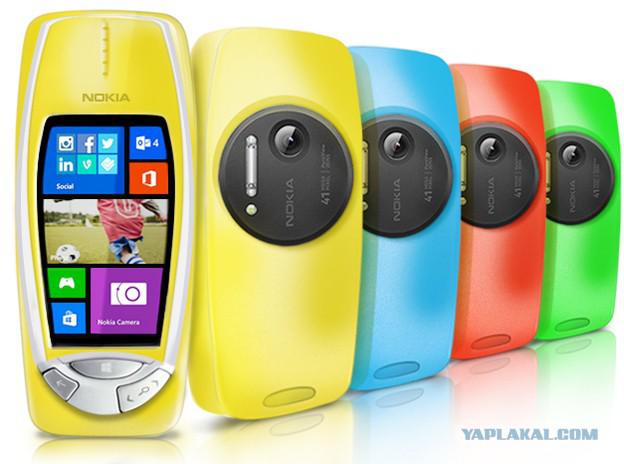 Other specifications as will satisfy all fans of good old Nokii. The device is equipped with a 3-inch touchscreen with a resolution of 1280x768 pixels, made by technology ClearDiamond, which is covered by glass Corning Gorilla Glass 3, has the function of auto-brightness technology to improve the ability to read in bright sunlight, and refresh rate of 60 Hz and a color of 24 bits at 16 million displayable colors. Because the sensors are present: a light sensor, accelerometer, proximity sensor, barometer, gyroscope and a magnetometer. Physical keys presented the volume rocker, camera button, click Power / Lock, Microsoft Home and navigation buttons. Connecting to networks of mobile operators is carried out by means of a MicroSIM, also present connectors micro-USB for charging and connecting to a PC, and a standard 3, 5-mm jack for headphones.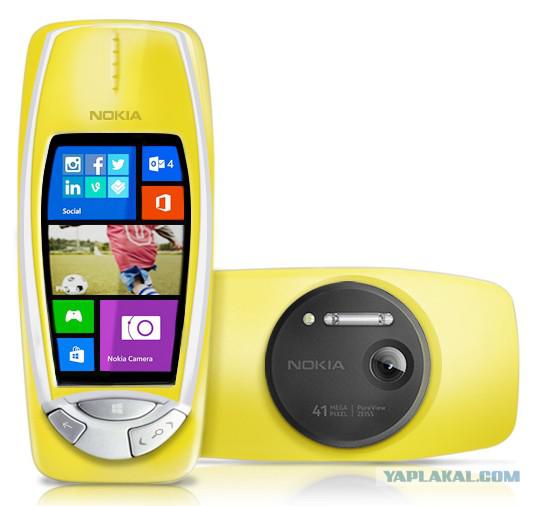 With regard to the program filling, there is available a special modification of the user platform of Windows 8 with the ability to switch to the classic mode, known to all users of the original Nokia 3310. Out of the box the user is also available package MS Office, services Xbox Games, Outlook and OneDrive with the possibility of free storage in the cloud 7 GB of data. Members with experience offers modern versions of hits Snake II, Pairs II, Space Impact and Bantumi, as well as a currency converter and original monophonic ringtones.
Head of Nokia Imaging Technology Juha Alakaru (Juha Alakarhu) said: "I am very pleased that we have managed to combine modern features with traditional technology PureView quality phones Nokia. I think now more people will appreciate the endurance and indestructibility Handset Nokia 3310 and enjoy the image quality the camera PureView ».
He commented on the output device and the head of the initiative group of Gage Norman (Norman Gage): «The last 5 years we have struggled to listen to us, and implement our dream. And now the day has come. Personally, I would like to keep the classic five-line monochrome display, six-level volume control and original templates of the messages, but nothing. So too bad happened »...
Source: