Have you ever saved the life of a man? No? You think heroics and save others can only be in war or in time of natural disasters? Not at all! Among us there are people who in their holiday rather than stay at home, go to the forest and look for "poteryashek" - children and the elderly, lost in the woods. Can you imagine what it is for a young child to spend the night in the woods?
It all started in September last year, when the Orekhovo-lost little Lisa Fomkina with his aunt. Lisa while looking only relatives, and then the request for assistance has been published on the forum ferret lovers. And immediately spread on the internet. Lisa came to seek volunteers - strangers to each other people who were looking for a few days in a row. But I did not have time to save the child. After this tragedy, the volunteers decided to join the detachment and name it in honor of the dead girl, "Liza Alert", by analogy with the American search engine children "Amber Alert".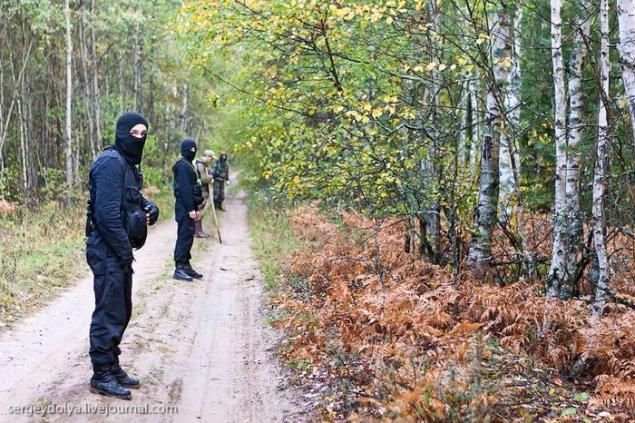 Troop Lisa Alert focuses on missing children, but when there is no active search for the child, the squad participated in the search for the missing in the forests of the elderly. If children law enforcement agencies and emergency service still somehow looking for the old people often have to rely only on volunteers.
This Sunday I took part in such searches. We were looking for Zhukov Lyudmila Petrovna, born in 1939, which is up to 2 days before went into the woods for mushrooms and never came back ...
It was Sunday, and the majority of the volunteers came here during the night from previous searches. Saturday was particularly successful - found just two: Shubbochevu Akhmatova 79 years, lost the day before in a forest near Borovsk, and Jalal oglu Allahverdiyev Yunus, born in 1932, has fallen into a well in the forest Vladimir region. Both live.
The camp began to wake up with the first rays of the sun:
After a morning coffee all the volunteers rewrote - recorded their names and phone numbers - and divided into search groups, called "Foxes." Fox each assigned a unique number, for example, I was first in the "Fox 7", and then moved to the "Lisu12»: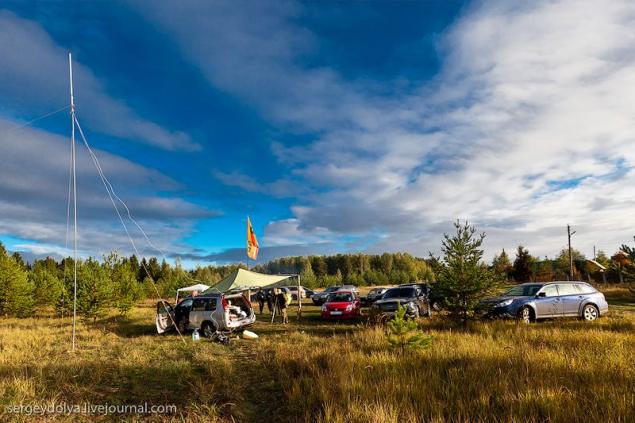 The guys from the initiative group have estimated the possible search area and filled in terms of search engines GPS-receivers. A possible area is determined based on the testimony of relatives, friends and witnesses. Unfortunately, this time it was not known virtually nothing, except that she had gone into the woods in a khaki jacket with a hood and rubber boots.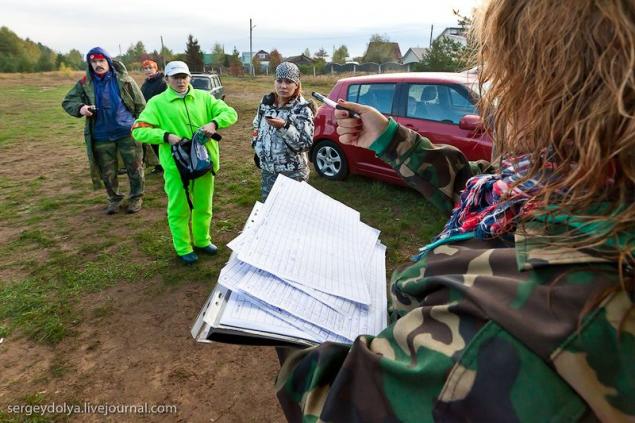 It has not been any clear entry point into the woods or the forest itself. Relatives said that she could go to a different part of the forest, but outlined where she went normally. Based on this and determined location in the search:
All map divided into squares and each "Fox" was given its mission: