I'll tell you about the tsunami in Hawaiian or then say "Aloha-Tsunami»
Map of. Maui, taken from here
At about 2:30 am Saturday have called me and told our boss that there was an earthquake in Chile and the tsunami is here - the local authorities declared a "red" alert, and at 6:00 am to begin the evacuation, and will howl sirens. He just telephoned all our (I was called by the first), who live close to the ocean and has recommended to include telly / radio / and no ... There's really talking about "red" alarm tsunami and advised all of the coastal areas to prepare for evacuation «mauka» (Hawaii has only two directions: «maka'i» - to the ocean and «mauka» - in the mountains ... North, South, East, West do not exist).
The tsunami was expected at 11:37 ± tail, with 6i to 10 all the inhabitants had to leave the places that are in the risk zone. And at 10:00 all the roads are closed. The alarm will be "active" in the best case, 14: 00 ...
After a call the boss and watching tele / and-net I called Steve (I had rented ohana - the entire first floor of his house) and "delighted" news ... He called me back a few minutes later and said that he and his wife, Susan, and and I'm going to leave the house about 6i am (to large traffic jams when the siren wake of tourists - we are now the peak season). Steve said that he would go on the track - to load the necessary things, and dog cages with cats (he also gave me a cell where I was before leaving stuffed Smokey) and we Susan - on the Mustang ... Since I had to work at 14:00 (my institution is in Pukalani near Makawao, it Apkantri, at an altitude of 800m above sea level on the slopes of the volcano), we decided to go there and wait near the institute - there is a huge parking. I also agreed with Susan, we'll go with it on my car there and back she comes back with Steve (in the back) ... They started packing documents, and "emergency food", etc. that is necessary according to the rules in this situation, and I get water to all containers packed documents and some important things, threw them in the car and had fallen to sleep until 4:30, because before that I had the day shift and the night immediately after the previous night I slept 4 hours, and to call the boss - 2 hours ...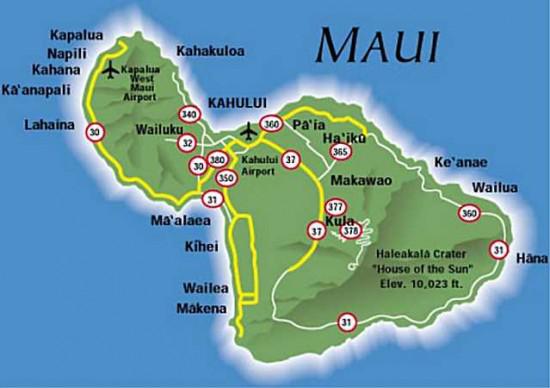 Before the departure of the stomach zapihnuv coffee and bun and poltentse Smokey and sleeping in a cage, I phoned Russian friends who live in Kihee and warned that a few minutes later the sirens howl and start the evacuation and that they are not scared. As it turned out from all "our" 2nd only knew of tsunami (by the way for about 3 nights almost all the inhabitants of the island already knew and were preparing - "coconut wireless" worked).
At 6:00 all over the island sirens and then to the tsunami they howled in all localities every 30 minutes.
Even though we left at 6 am, but on the roads already full of cars. Ogromennye queue already lined up all dressing. But the atmosphere like on the road: at the traffic lights was talking people (all the windows were open), joking, making fun ... every 10 minutes on the radio instructions what to do. Transfer interrupted by an unpleasant signal, and a male voice announced that "this is not training monthly alarm, and it's real" (my free translation), then "supplied" the people's instructions ... From the "traffic light" conversations, we learned that 3 am in stores crowds of people were buying water, spam (this canned meat), rice, toilet paper ... and a case of beer. Already in the morning to 5 and in many supermarkets Kihei finished beer (although the water, and everything else is still there) On the sixth floor, in all stores Kihei and Kahului began to give not more than 2 boxes of beer in his hands.
On the way to the Institute for myself, I made a little discovery: it turns out, some cats, especially Smokey, in car cradles! This zasonya woke up and started myauchit uncharacteristic of her voice ... We Susan had in conversation instead of punctuation to use the word Smokey, then the cat perestavalya myauchit, but stuck out her tongue like a dog, and squeaked ... When we arrived at the parking lot, I was wearing a cat leash and a little " even walk "it in the grass. Smokey moved such zigzags, and it was stormy so that anyone would be envious of a drunkard.
Then we drove Susan to buy breakfast in Kullu my lubimuyu cafe (it holds a Japanese family, and there are very tasty cooked). On the way to see long queues of cars outside petrol stations. We were lucky, we got to the cafe early enough to order, and while our food gotovilast walked across the street to the shop - there prepare delicious urine and banana bread ... It turned out that about incontinence have to forget - in the shop was full of people, long queues . And almost all the people standing in a queue with a beer, chips or crackers, water ... after 30 minutes in the cafe nabilvs crowd of people, and when we picked up the finished food packaging (my friend, the daughter of the owner cafes, working there as a cashier and accountant) said that they had to call all of their other relative for help - so many people come ... By the way, running on to say, today I met Yuko, sister Tara because she told me that yesterday they were in a coffee shop one day earn more money than the entire season
When we came back, it is time for Steve-fed arranged in the back of a truck "Menagerie" and equipped picnic area. By this time the park was already packed with cars and people settled in "the camp." Everywhere people were held back, who put up a tent or tents, blankets rastilayutsya someone who put chairs, some even brought a small sofas, covered with meadows and picnics - then I realized why so rowing beer ...
In these photos: view toward «maka'i» from our picnic spots
1 - general, the right green roof - it's Astronomy Institute, where I work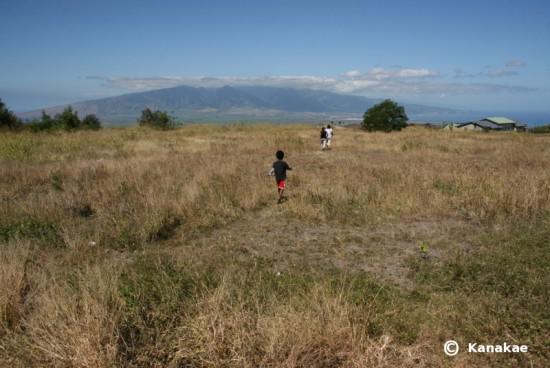 2 - view of the "top" in the Kihei (dark and light stripes on the ocean) and the Gulf of Ma "scarlet (beachfront" corner "of the light stripe)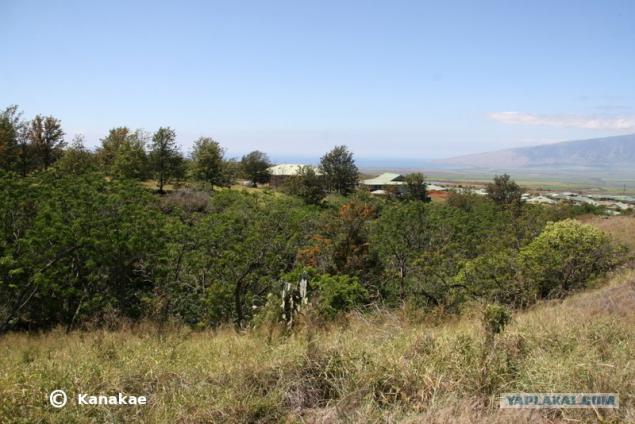 3 - kind and the northern coast of the island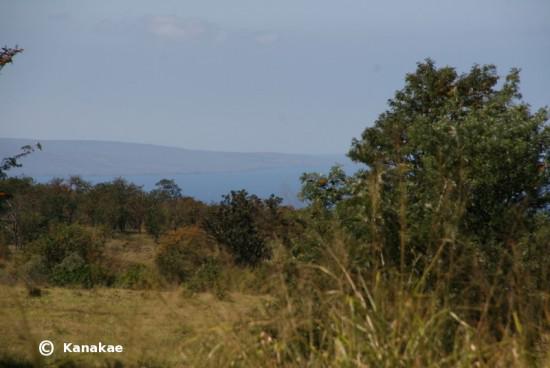 4 - view of the bay and the port of Kahului piece. Where the "Line" red roofs - this airport.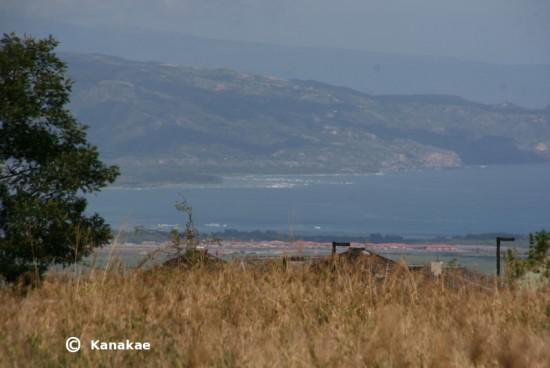 To the surprise of all and all reigned raslablennoe, praznichnoe mood, even after the machine has been turned on the radio, where blogged the latest news ... As Susan said that it looks like the July 4 fireworks only is not enough.
We also had a picnic turned out that Steve also took beer + fried rice with vegetables / turkey, tempura, loco-moco, beef with teriyaki sauce (it's from the cafe). Since we were not able to buy sweets, I hit the road to my office - I have there a stash of blue chips potato and taro; sweet coconut and chocolate ... So we have a feast was a success!
Here and waited for the tsunami - piknikuya communicating with dugimi people and looking through binoculars in the Bay Kahului, which had hit a "wall of water" ... The only thing that did not happen, it is for the I-no go to sites with webcams who look for Beach - all channels were overloaded.
On the following photo - we waited a tsunami.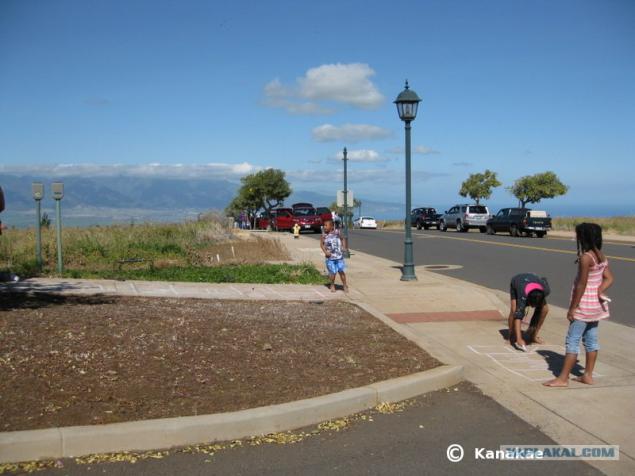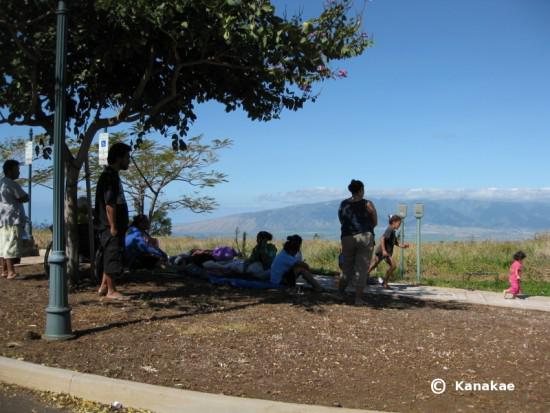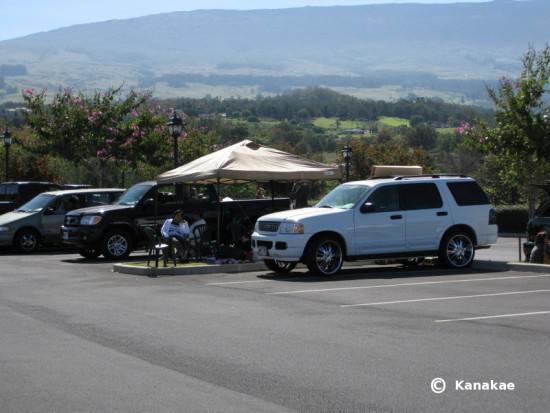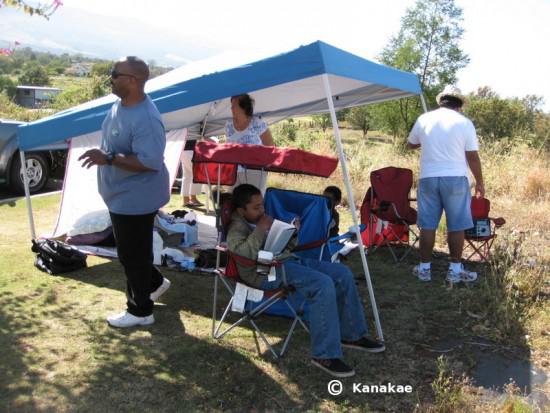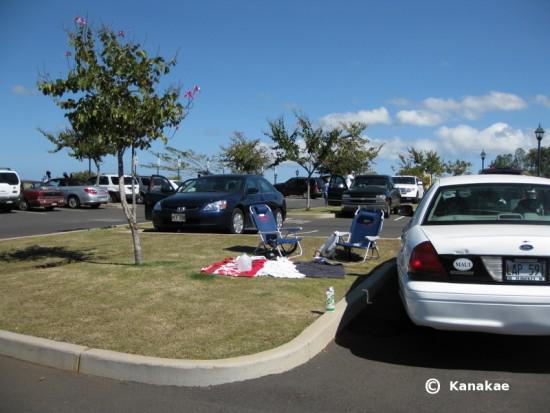 We were lucky on the way to Havana tsunami greatly weakened, and instead of the expected 6i meter "wave" came a demo version 1metr maximal recorded on Maui. We have not even looked at from Pukalani.
Then I went to work, and an hour later I called Steve and said that the radio announced that began otkrvat all the coastal road with Susan and they go home.
I also want to add that it is very well everything is organized. Every first Monday of the month at 11:45 am testing here tsunami-siren and radio at the time the tsunami is the message, but begins with the words that it was a drill, schools need to practice evacuation ...
In the 20th century to Hawaii hit by the devastating tsunami, sometimes even stronger than for example in Indonesia. But in all cases except one (then killed 14 people in Hilo, tourists who saw that the water receded and opened rushed to the reef corals) no one was killed, although there have been severe damage.
Here, found this information:
DESTRUCTIVE TSUNAMIS ON RECORD
Major recorded destructive tsunamis since 1900 in Maui County:
• Aug. 17, 1906: 8.4 earthquake off Chile. No deaths, but the Maalaea wharf was damaged and McGregor Landing wharf washed away.
• Feb. 23, 1923: 8.3 quake off East Kamchatka. No deaths, but heavy damage in Kahului and east end of the island.
• April 1, 1946: 8.6 quake off Umiak Islands in the Aleutians. Fourteen deaths reported, 156 homes damaged, 77 demolished; total damage of $ 959, 230.
• Nov. 4, 1952: 8.2 quake off Kamchatka. No deaths, $ 361, 496 in damage.
• March 9, 1957: 8.3 quake off Aleutian Islands. No deaths. Homes and streets were swamped.
• May 23, 1960: 9.5 quake off Chile. No deaths, $ 1.27 million in damage.
• May 27, 1964: 9.2 quake in Prince William Sound off Alaska. No deaths, Kahului Shopping Center flooded; $ 52, 590 in damage.
Read more about what is happening on Maui in the "day of the tsunami," can be read in the local newspaper "News of Maui" is a link to the article:
www.mauinews.com/page/content.detai...069.html?nav=10
www.mauinews.com/page/content.detai...070.html?nav=10
www.mauinews.com/page/content.detai...071.html?nav=10
www.mauinews.com/page/content.detai...073.html?nav=10
www.mauinews.com/page/content.detai...074.html?nav=10
And pictures: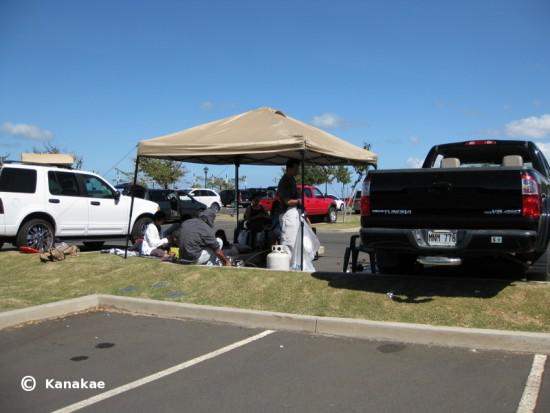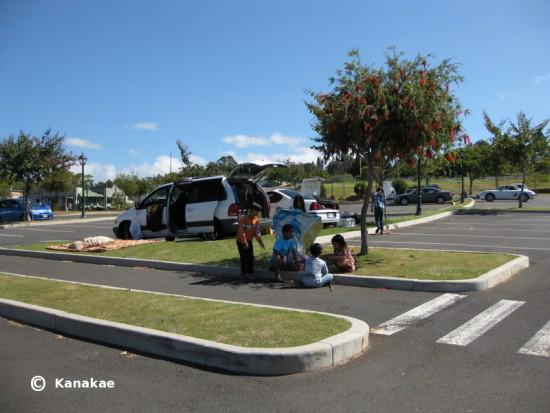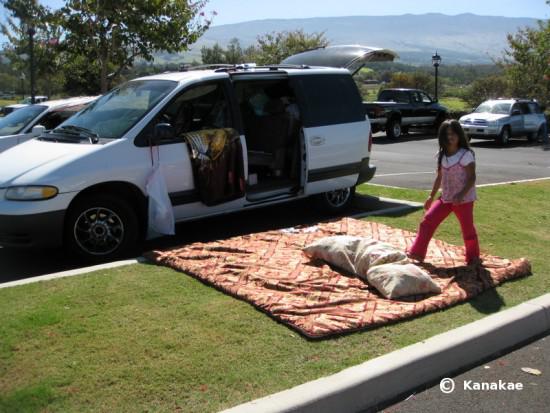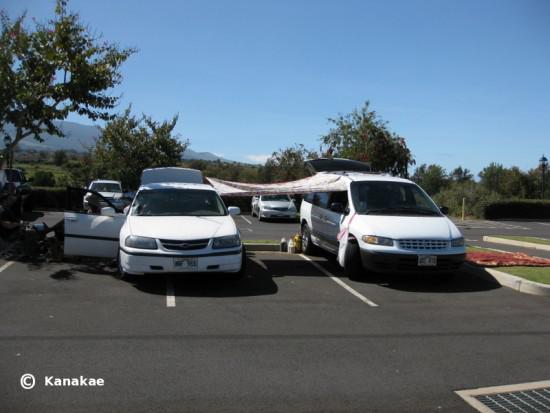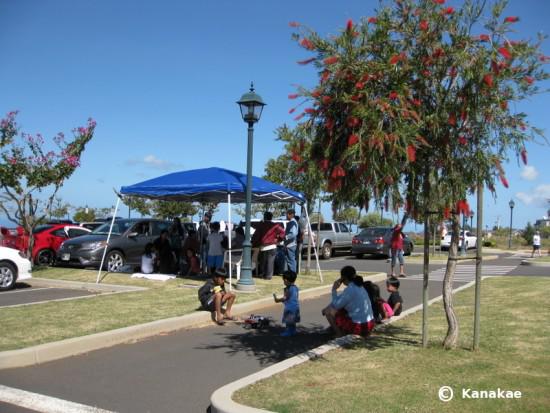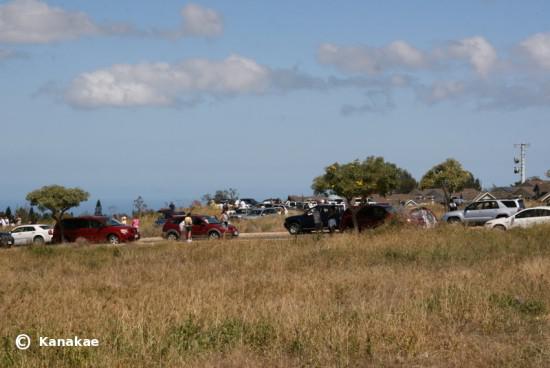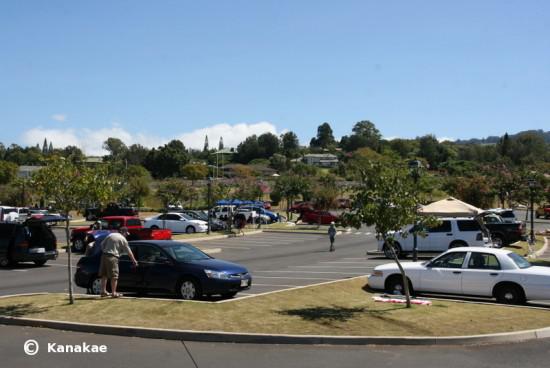 Source: