It turns out that in Moscow there is a diesel submarine, open to the public (of which we have heard in the April post Jus'a).
A detailed photo report on the visit of the submarine by blogger Frantsuzova Denis.
In 2006, the year in the Northern Tushino on the banks of the Khimki reservoir was opened museum, located in this diesel-electric submarine with hull number B-396 641-B of the project, he served from 1981 in the battle of the Northern Fleet.
The boat was built in 1980 at the plant "Red Sormovo" in Nizhny Novgorod.
Its surface displacement - 2770 tons, underwater - 3,600 tons.
Length - 90, 2 m, width - 8, 6 m, draft of 5, 7 m.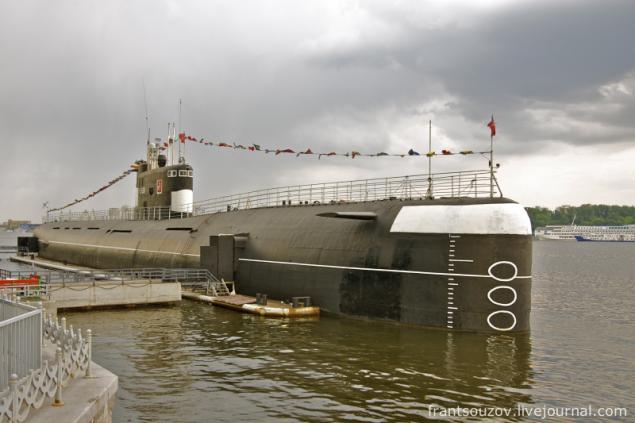 During duty committed war patrol boat in the Mediterranean Sea, and patrolled by Soviet and Russian borders in the Barents and Norwegian Seas, was repeatedly named the best ship of the Northern Fleet.
After her write-off in 1998 from the Navy the ship was bought by the Moscow authorities, together with the escort ship "Friendly» №754 as exhibits of the future museum of the history of the domestic fleet and shipbuilding in Moscow.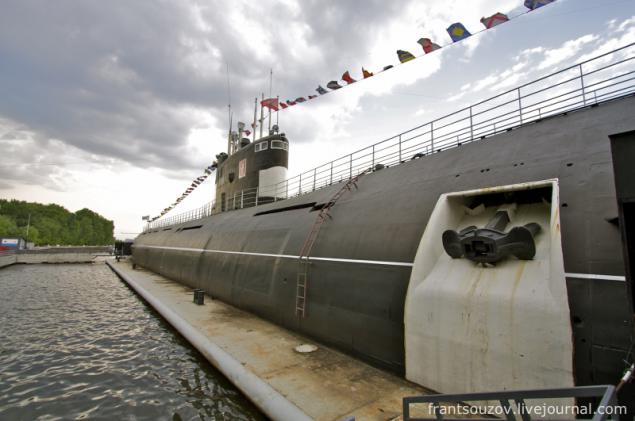 We go inside. The interior of the submarine, much has changed. The biggest discrepancy between the reality - openings in the bulkheads between the compartments of the boat so that visitors can easily walk to the museum.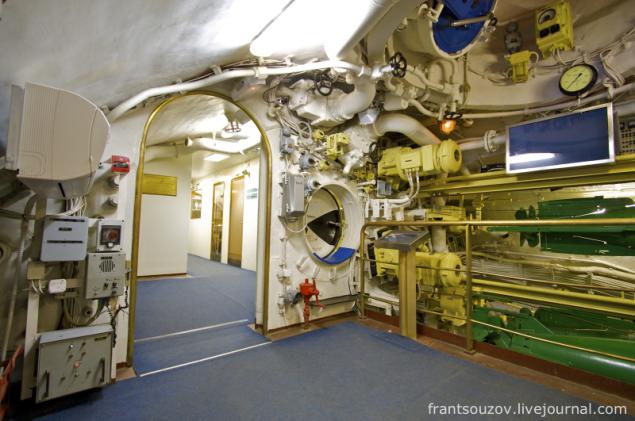 Armed with bow and stood 6 4 stern torpedo tubes caliber of 533 meters. Ammunition was 22 torpedoes or 44 mines.
Additionally, you can place a 12 torpedoes (or 24 mines) in the second compartment, at the expense of habitability.
The crew was 78 people, including 17 officers. Each member of the crew, in contrast to many other projects submarines had their own bed.
With the help of special winches for guiding the torpedo launcher was placed in the unit, and then the rear hatch closed and compressed air under high pressure torpedo that weighs several hundred kilograms, in a split second pushed out. Then it runs its engine, and she suggests the goal.
As a tour guide told us, before the site where we stand, it was not, but instead housed the ammunition, as well as personnel Sleeps - sailors literally "slept on torpedoes."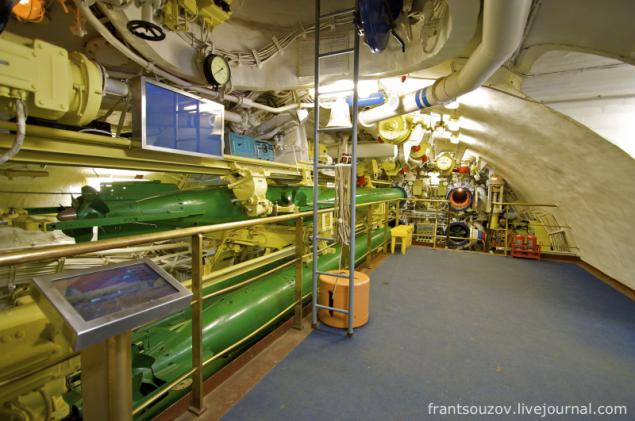 The diameter of the torpedo - exactly 533 millimeters.
Dad told us how they trained to leave the boat through the torpedo tubes (required for emergencies). In a special wetsuit, designed for greater depth of the dive, you climb into the machine, the rear hatch is closed, the camera apparatus is pumped seawater (to equalize the pressure) and then swim out. And the machine can be easily stuck (wetsuit something rather big, it is in the photo below right). In general, people with claustrophobia do not belong here.