Long enough to rent an apartment in Moscow, and for a long time thinking about the mortgage. But even with the post-crisis rate of 15% and a term of 20 years, I can not afford it.
But today, when Dmitry Anatolyevich unveiled their income, let's count, he will give you a mortgage?
Take a standard two-bedroom apartment in a new CAO (normal, not luxury house!). On the basis of cian, prices start at 30 million rubles. Suppose our Dmitry Anatolyevich is not fussy about the number of floors and the view from the window and asked the cheapest mortgage on an apartment under 15% for 20 years.
Below is a screenshot of the three posts will calculate mortgage calculator.
Loan terms:
The scheme of payments: annuity payments.
Loan amount: 30000000.00
Term loan: 240 months. Interest rate: 15.00%.
It turns out - interest on the loan amount to 64 million rubles, and the final price of 94 million rubles apartments.
Monthly payment will be 395 thousand rubles. Ie Dmitry Anatolyevich for the year will have to give 4740000 rubles that we know much less than its revenue. The result - in the mortgage will be denied.
And to this day I have offended the government, about the mortgage interest. And now I think that really offended me, even if the first person country - the president, will not give mortgages to 20 years. That anyone should be insulting! You try - try, all for the sake of the country and even in your mortgage for 20 years will be denied! screen 1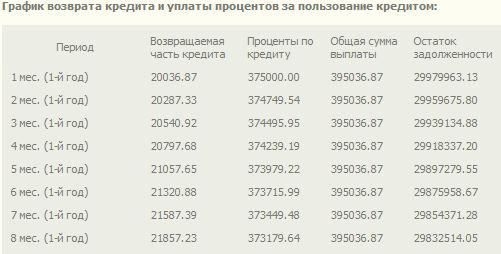 2 screen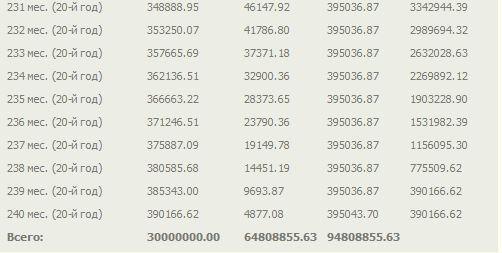 That's all I wanted to say.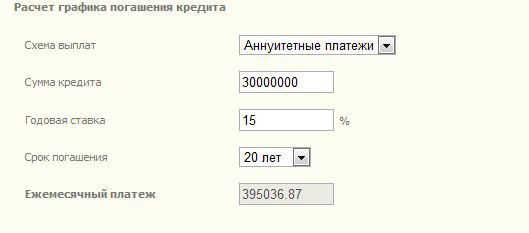 Source: