so we usually say the couple with their advantages and disadvantages ... live separately ... But it's not about us ...
We have an adult cat Nathan, 6 years old ...
Cat is very kind, but, in principle, how to say that the owners of cats and other animals of their kind ...
Our only is particularly cowardly, afraid of rustling package to firecrackers in the yard ... in case of danger (he thinks) is hiding in the closet from what is allergic to furniture in view of sitting in the closet floor for days ... allergies and wayward attitude to feeding ... He eats only the presence of the owners and if you stand over the soul ... or you may starve ... Because of his castrated Aibolit veterinarian doctor was registered diet for eunuchs who observe ...
My wife is in a group of pet care VKontakte
not for the sake of bragging ... added in the caring hands of two adult cats who have found a permanent home as a puppy to adult vymahal naughty dog ​​...
looking at impressively and lack of interest in our games kote, we decided to get his girlfriend, a friend how to get the main condition for it to be off the street that would be at least one big heart in a small cat shell could be saved from the jaws of vagrancy and uselessness ...
Time passed ... and the kitten so on our way and do not fall ... a few times took to the streets of the floor adult, adult cats but they have not expressed a particular desire to live in the equipped apartment ... someone yelled, and requests back on the street, someone just mocking Coward our Cat put pressure on him mentally and physically (lupasili just how much in vain) in the end if possible tried to escape into the hallway, the entrance ...
one day calling his wife and happily reported that she had found, but rather found a cat, tri-color (well, we all know that the tricolor, the bulk of cats), a little to look at 3-months ... decided to take it, but rather to seize that would not run away ...
since it was found in the yard of Tiffany's, there is tender-hearted neighbor who lure stray cats and dogs ... and that's how our kitten joined the band to a whole adult cats ...
came home with a new occupant ... happily released him to meet with his master ...
and what we see now again ... the owner Nathan tricolor seeing the miracle comes from the known to him and to us a scenario that is again going to get allergens in the closet ...
Of course we were upset ... I think he will take it as a little sister ... will wash it and play with it ... but it was not there ...
Nathan refused to enter into a friendly relationship with a special steel which is already mushrooming Marusia ...
thinking and reading forums kotovedov came to the conclusion that time heals friendly and will wait for the mutual interest and friendship with each side whiskers ...
have already completed a half weeks ... and Nafanja has not changed its attitude to its new dweller ... Maroussia, in turn, behaved quite relaxed, walked into the tray in the toilet, raising suspicions that it was once the home ... I ate everything, settled by ...
the second week of the situation we have already begun to frighten such drooping Nathan, we have never seen ... almost did not eat, do not sharpened claws and just sat in the closet all the time, only occasionally coming out to see our treacherous eyes .. ((
with bitterness and tears have decided to advertise the beautiful kitten who is looking for his second, third, fifth house ...
describing the situation of waiting that someone will respond and show an interest in Maroussi ...
just a couple of words of support and calls from candidates for the hosts, who have not staged because it just does not inspire confidence ...
Up to a third have already decided that we are here and found her shelter ... like the woman was adequate ... but my wife just started bawling and refused to give her referring to incomprehensible and inexplicable, just do not give them ... and that's it !!!
eventually after a while it became clear why do not they put those three ...
Photos appeared in Maroussi komment.s request to call it a different name written titles ... plus everything ... to see the claws whether the bundle (since one of the signs of similarity in its kitty) and refinement of the place where they found her ...
because it was written by a man on the other end of town, it raised doubts on both sides of what could be his Maroussia ...
for reliability decided in the details of her capture and send photographs to the specified address ...
and ... a miracle !!! Pussycat OWNERS FOUND !!! ITS NOT A NEW PEVYH and uniqueness !!!
photo and described the habits she was 3 weeks ago lost their cat ...
the story is that their house (private sector) is a service, it seems, and to get close to his car children customer service stations or just got into the car itself (well, very interesting) and went to the city center ... where apparently finding foreign passengers decided it KOTOpultirovat ((
I sow writing the story for those who have lost their pets!
look, yes ...
obryaschite
ps. and tomorrow we're going to hand Marusyu Maçka new owners of the old !!!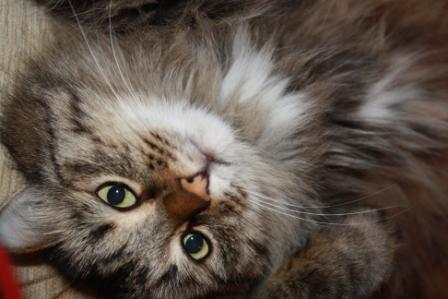 MARUSYA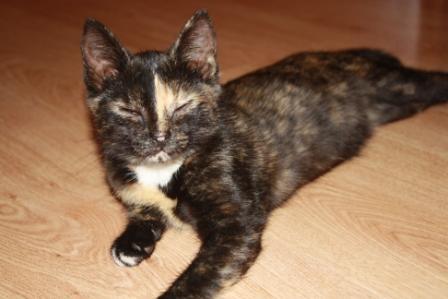 Maroussia in the house Nathan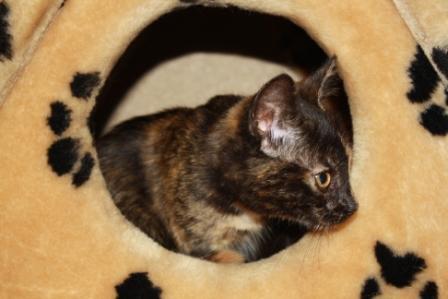 Nathan and Maroussia ... trying to befriend them ((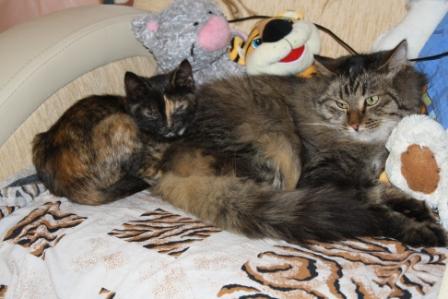 Source: