In Petrozavodsk, two local residents were arrested after trying to extinguish the eternal flame, the press service of the Ministry of Interior of the Republic of Karelia.
The young men, one of whom is a student noticed at the memorial on Lenin Square in Petrozavodsk at about four o'clock the morning of 3 August 2011. When he saw the police car, they fled. Once it became clear that young people put out the flame of eternal fire, they began their search.
Hooligans were detained after a few minutes after the incident on Lenin Square. As it became known, each of them 23 years old. Being intoxicated young people decide how they explained, "for fun" beer extinguish the eternal flame.
With respect to detainees prosecuted for the second part of Article 244 of the Criminal Code ("abuse of dead bodies and burial places"). Work Eternal fire has been restored.
Tape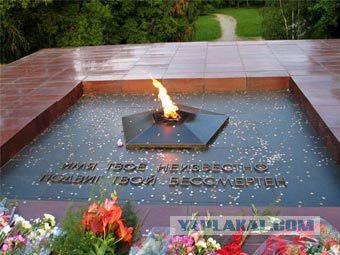 Source: