Will mnogabukaf and photos, so please do not break. I will inform you about the end.
Good time of day, dear YaPovtsy. This is my first post on Yap, so please do not scold. Photos will be different, Wh and black and white with artistic effects. I love photography. That's it for this and do not be surprised.
Further, only on.
In South Korea, we did not come for the first time, so that it had the idea of ​​it. Popular tourist spots have been passed in the last time, as well as hotels with restaurants - the main habitat of tourists. At this time, we lived in a typical Korean apartment, in a typical Korean new building, in a typical Korean residential quarter, with quite typical Koreans. No romance in the form of unpredictable national problems and the sacraments of the Korean soul was not, we did not expect something like that. Morning jostling in the toilet, the fight for the coffee maker and the carve-up of the last piece of meat was international and understandable without translation. Approximation to the student, our life together has been quite cheerful and friendly. But this is so, digression.
Vladivostok we boarded the ferry, the next in the South Korean city of Donghae, from which to Seoul we had to get on the bus. Photos from the ferry and bus show will not, and will begin immediately with Seoul, from the station, close to where we lived.
I must say that I have always been impressive subway, because is unusual for me to transport. So I took some shots fshoke photos on the first day, and then calmed down. Look.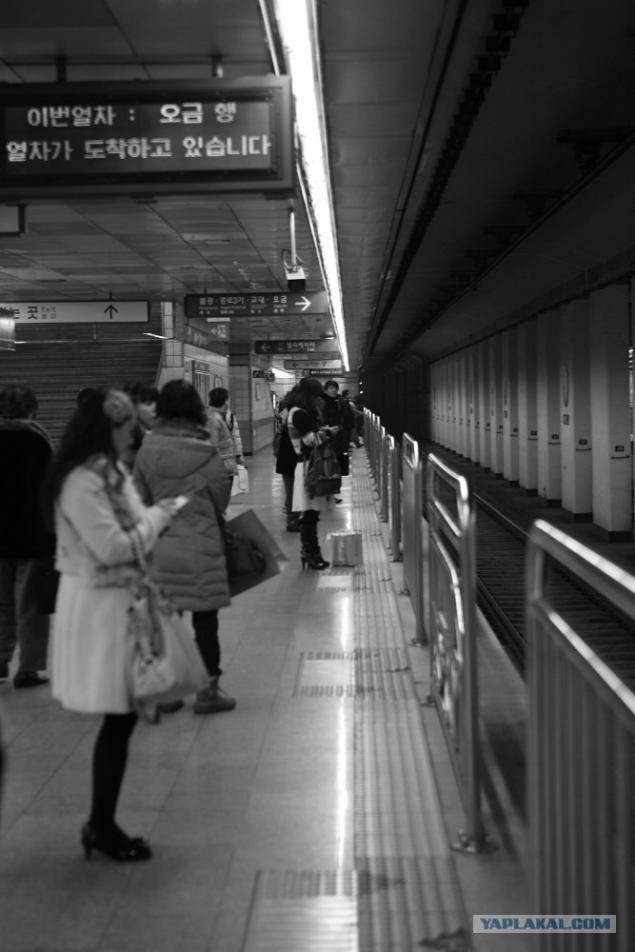 Arriving by train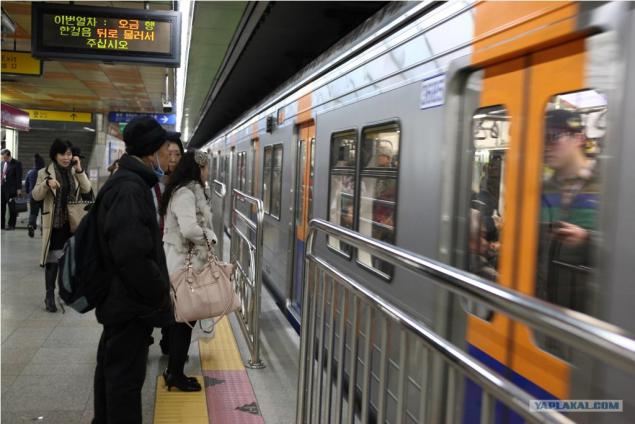 Something social
In general, it is interesting that almost all the subway or read or play their phones. As cars have Wi-Fi, I do not know whether free, but the fact. Smartphones and tablets from the local population is at a premium.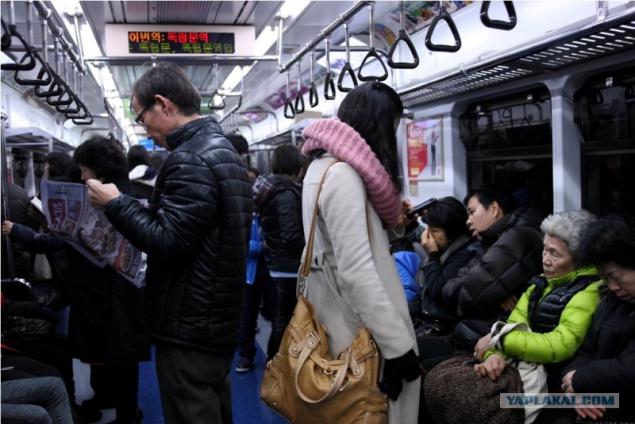 Some sleep.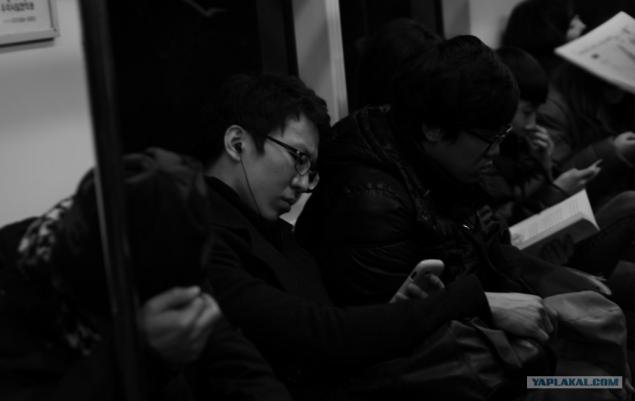 Some just listen to music.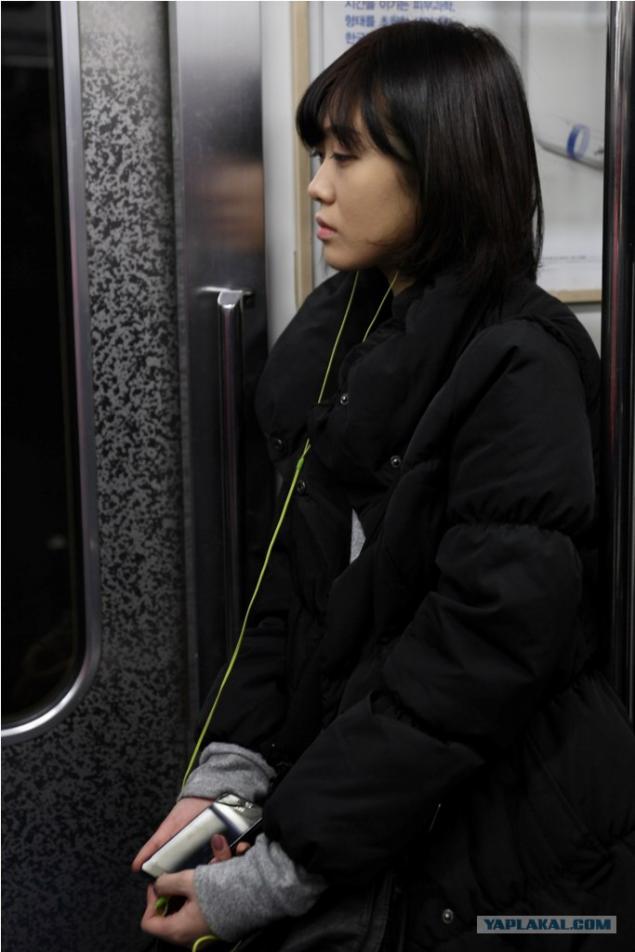 People are always a lot. This is not surprising. Seoul - big city.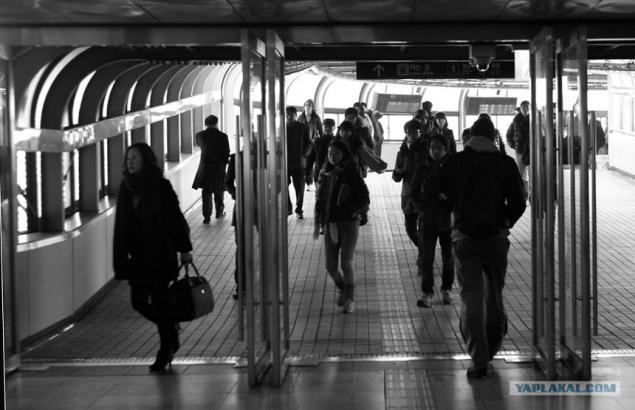 That's such an interesting station we caught one of the transplants. This part of the design. The roof and walls covered translucent plastic.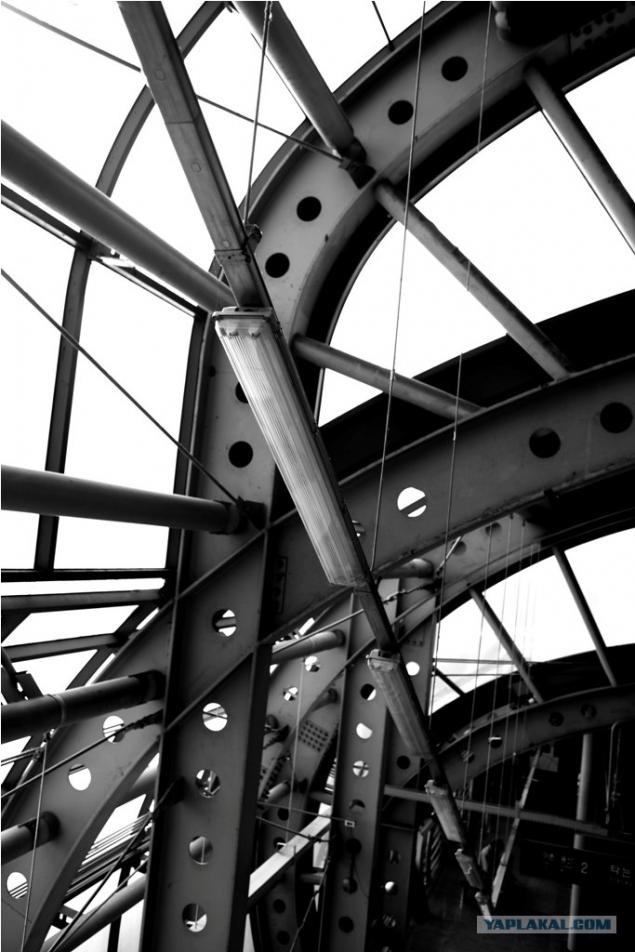 Schoolgirls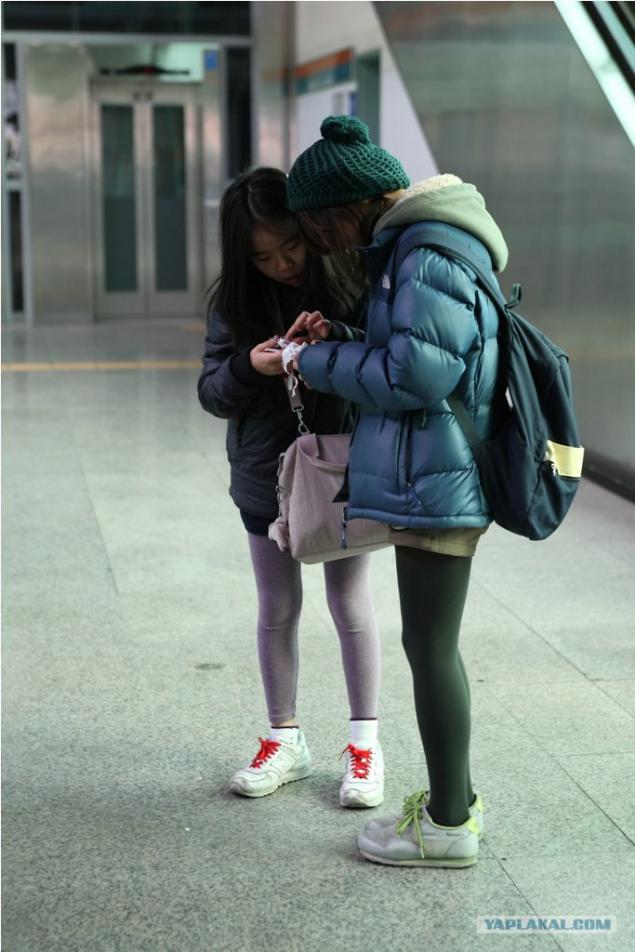 Waiting for the train.
By the way, the train from Seoul subway walk less than Moscow. Sometimes you have to wait 10-15 minutes and.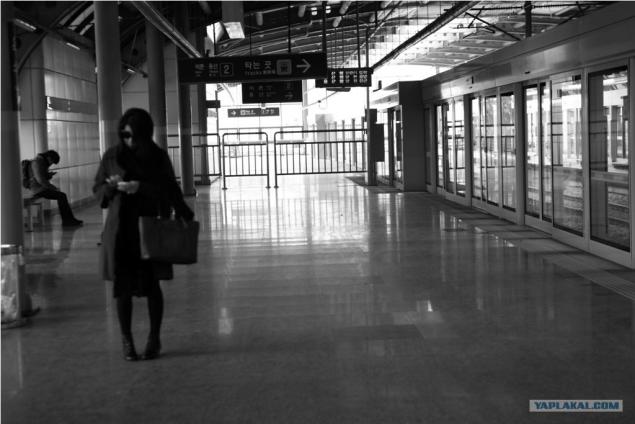 Well, this is quite familiar. Aunts and uncles go through the cars and offer to buy any crap from universal caps, scarves (pictured) to superglue.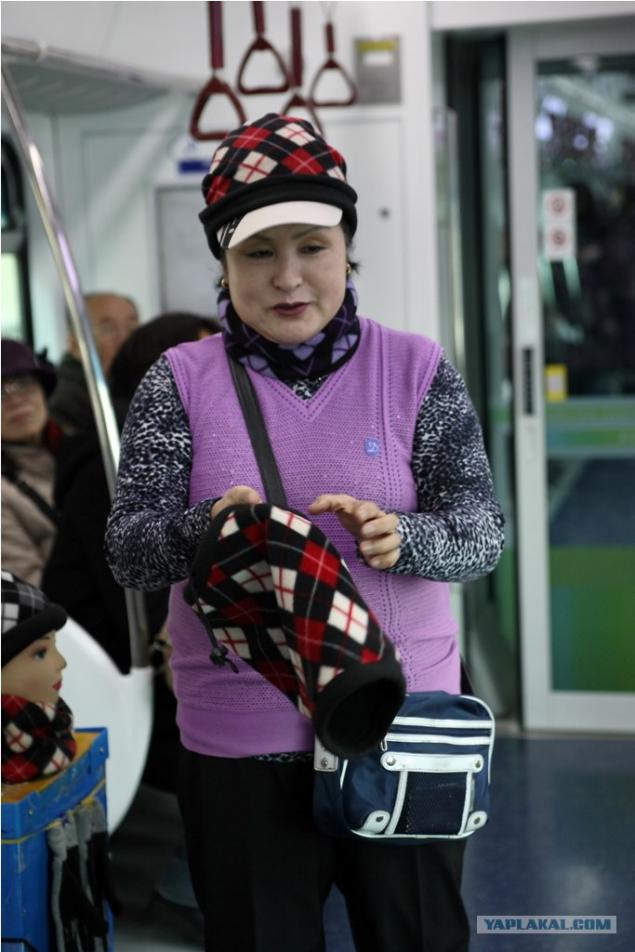 When you exit the station is rarely sit grandmother are selling some roots and vegetables.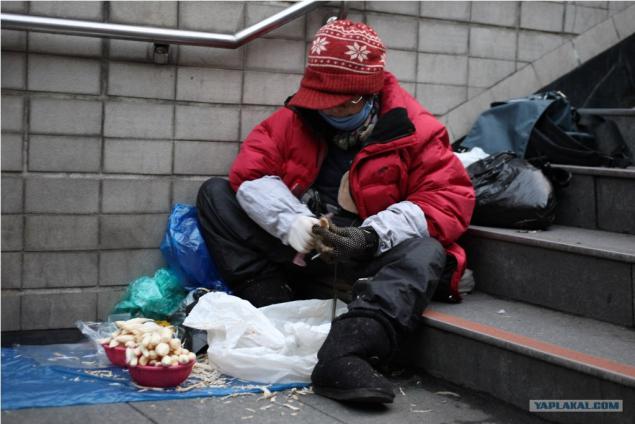 The first point of our trip turned out to be the market Damdemun. The goal is simple - buy belongings and walk.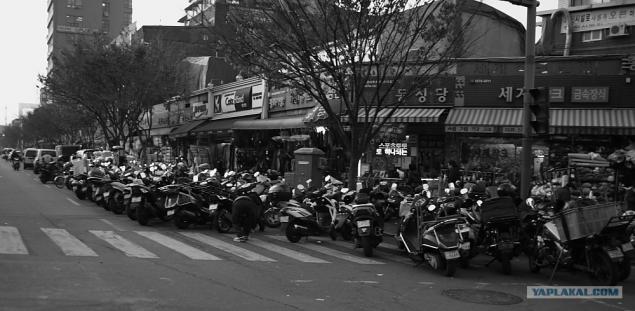 Outdoor catering business is quite common and popular. We also tried. In our taste is not very good, but with hunger and this can eat. Especially the price is very modest - 1.5 - 3,000 won (equivalent to one thousand won to one US dollar)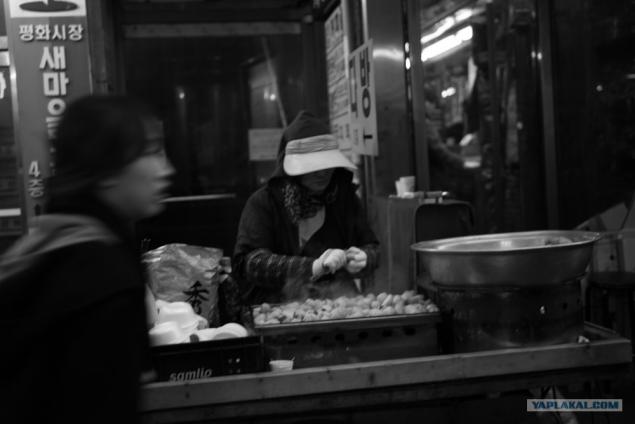 Same.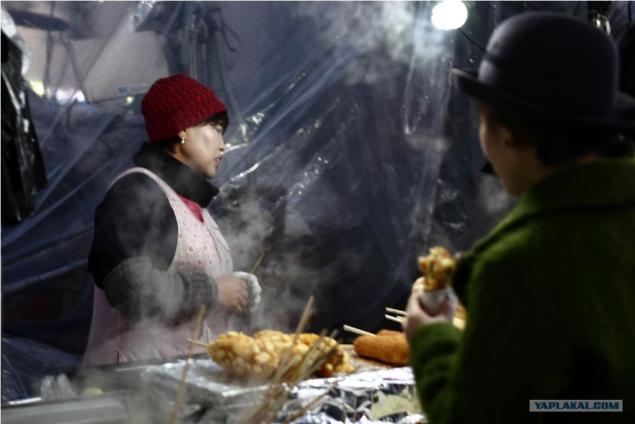 Walk one of the most popular shopping center in Seoul surprised not weak. Korean girls have a peculiar taste for clothes.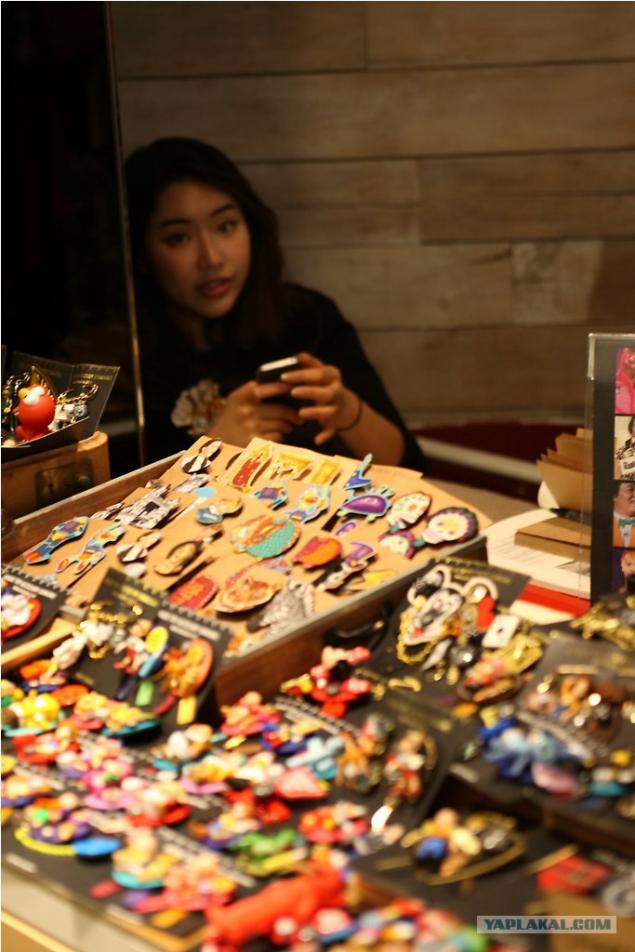 This mannequin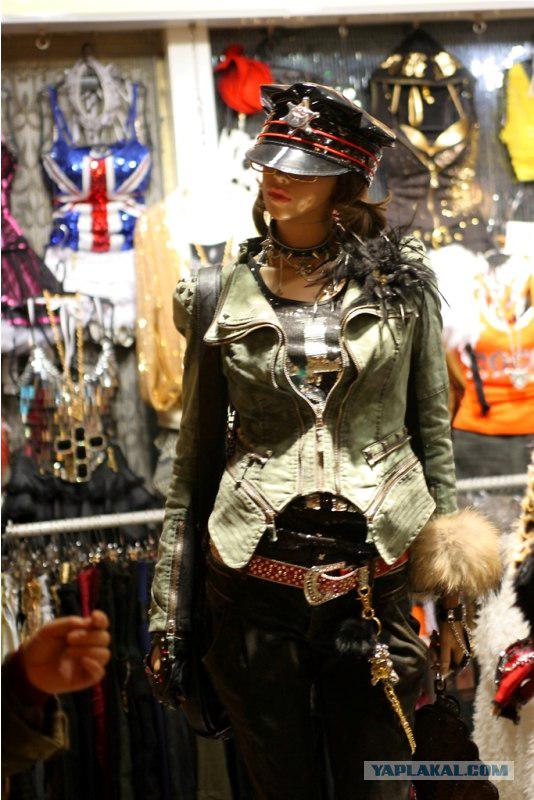 Find Photographer)))))))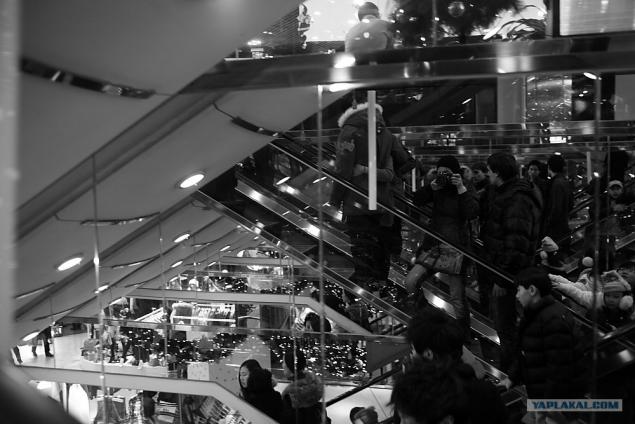 We returned from there after dark rather tired and slightly facilitated the their wallets. Stormy trade only warmed up - after 10 pm the peak.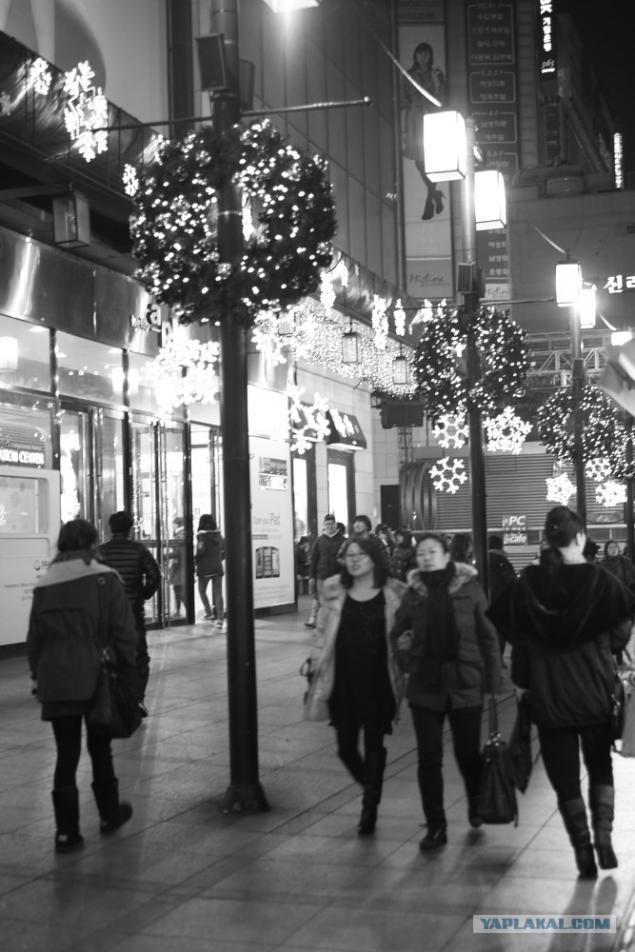 The next day we just walked around the center, they even do not remember why. And since I do not remember that particular purpose and was not.
Came upon some palace where it was at this time there was a change of guard.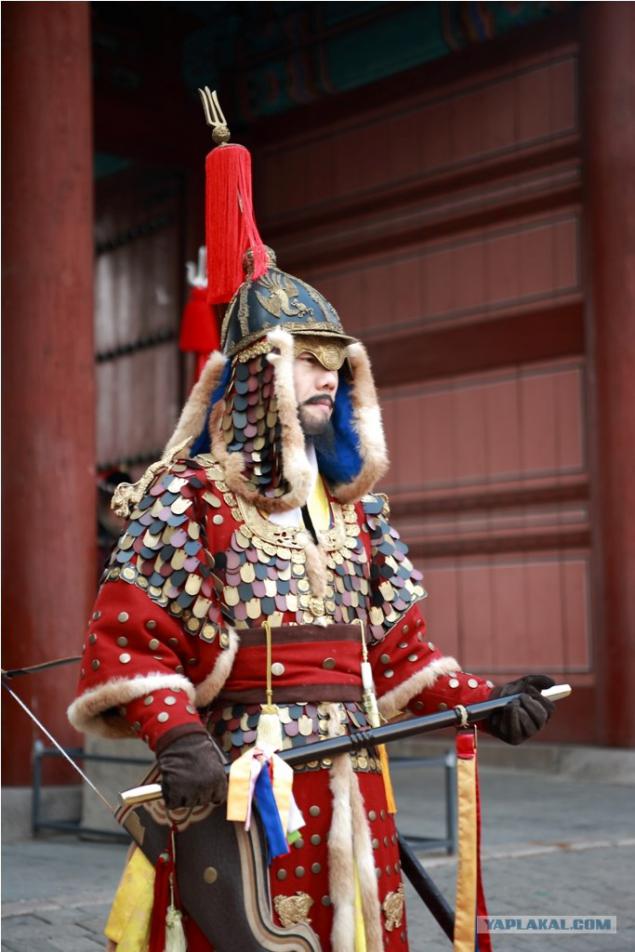 Colorful uncle yelled and pounded heels that looked quite impressive.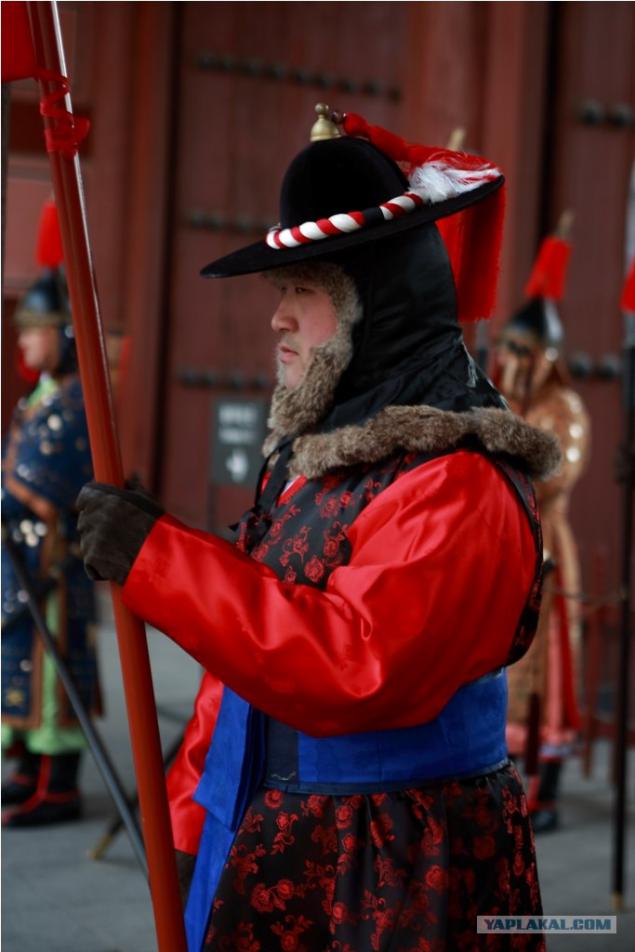 They.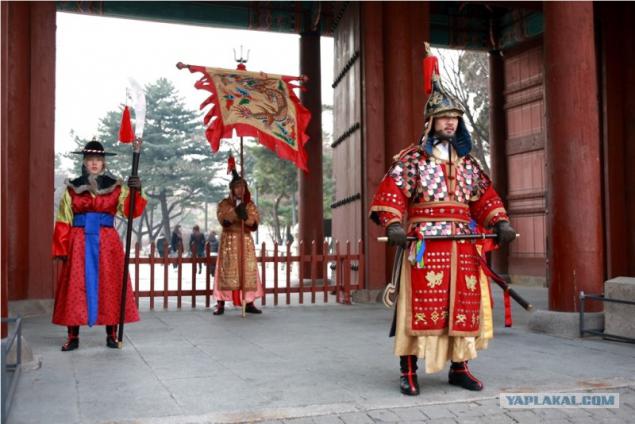 And quite by chance came upon a financial center. No one stopped, we went inside and I took a few shots.
Here is a large installation of violins (I have no idea what they are called in fact) is in the central hall of the center. Judging by plate work was done by some supposedly well-known artist.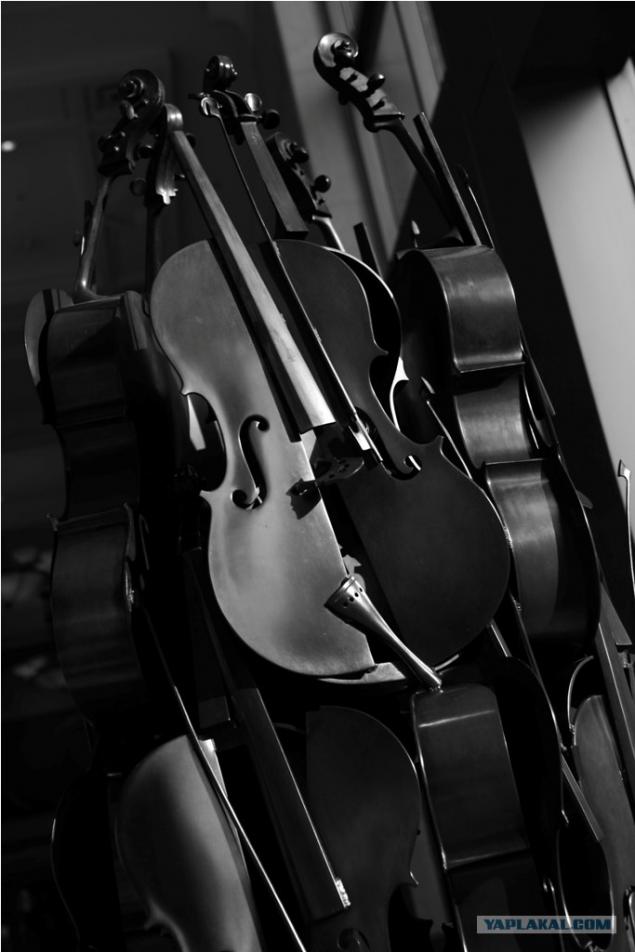 Girl administrator.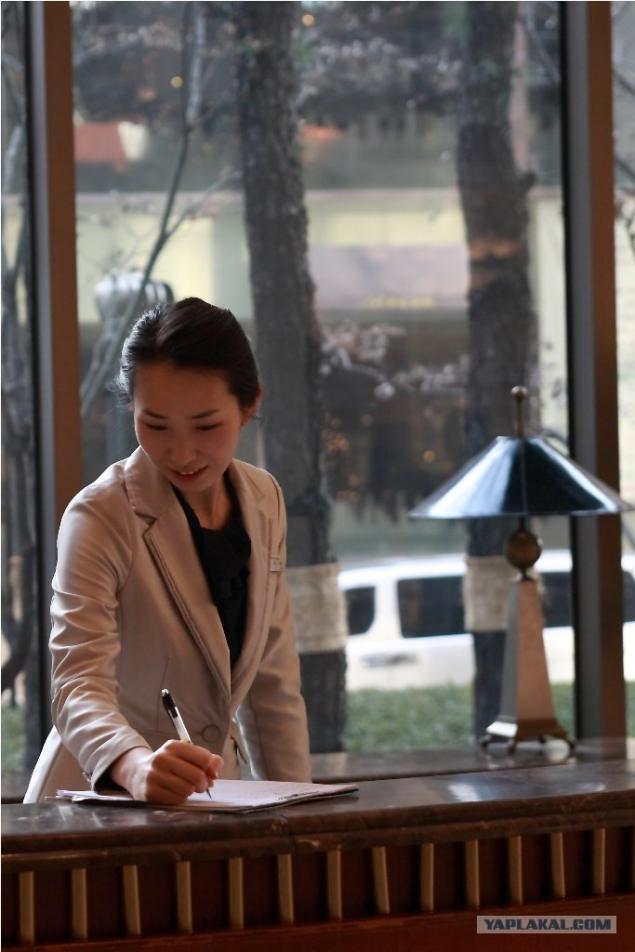 Central Hall.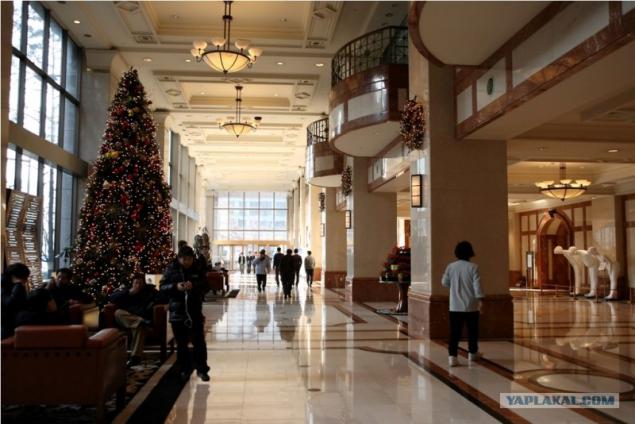 Back to the dark back to the subway.
When the internal doors are open wagons, it is seen as the train meanders snake in the tunnel.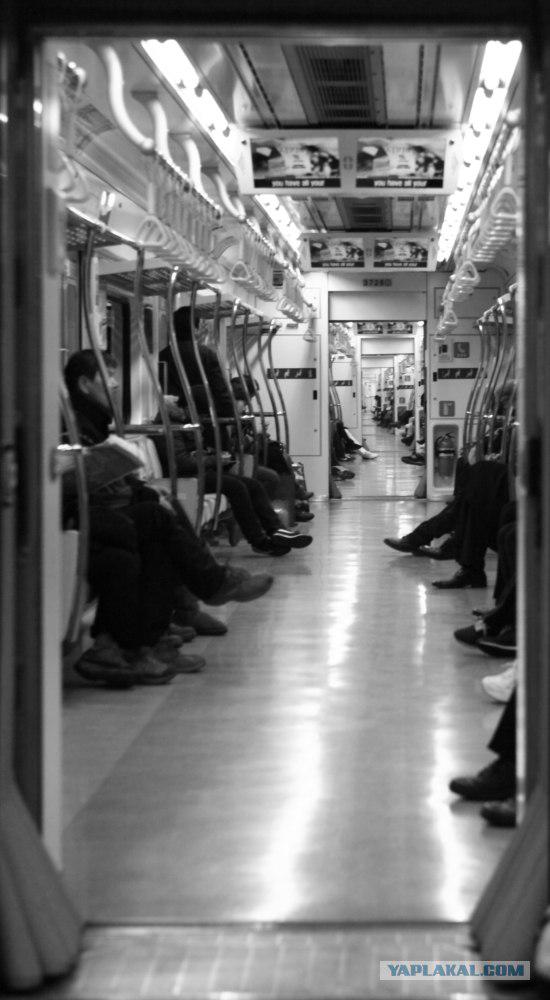 Bicycles spending the night at our station.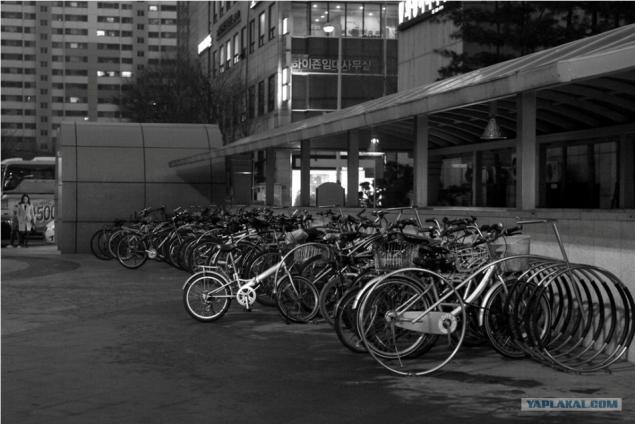 Next was the New Year, so I'll skip that part. Too intimate this business
The first of January, just waking up, we were pulled our Korean friends on ancestral land. Ie on their graves. 5 imperial tombs have been merged into a park where Korean family fun walks. Pine trees, clean air and silence very attracted to him.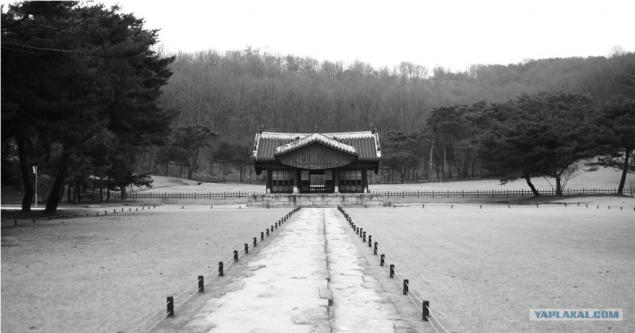 Tell the whole story will not, because simply do not remember. But the place is definitely nice.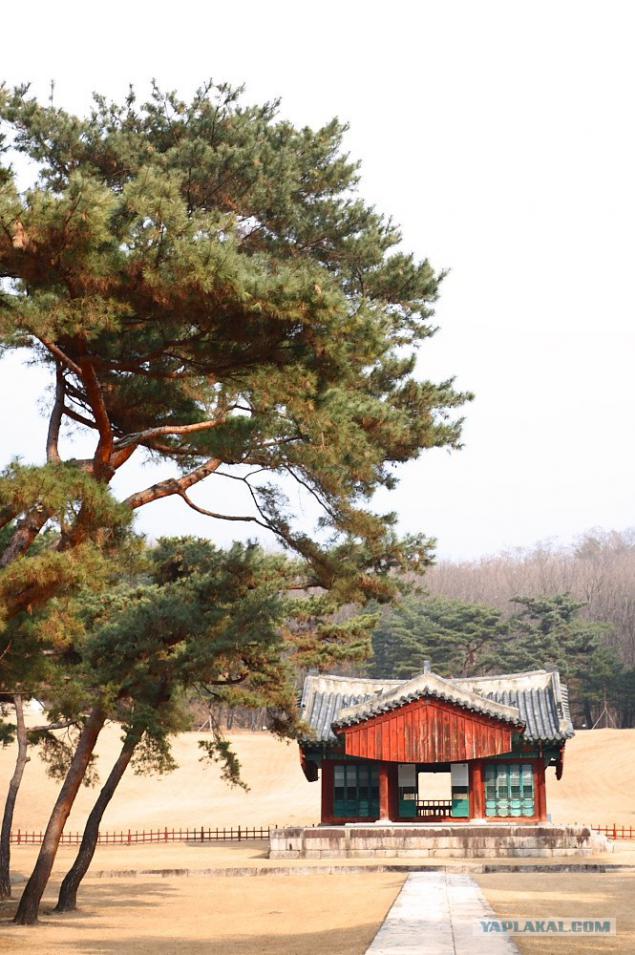 Very interesting forest.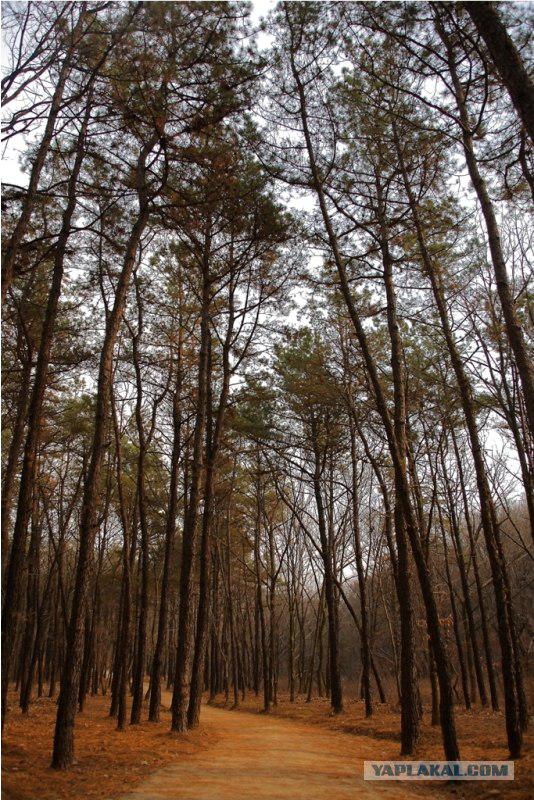 At the entrance to the park there is such an aunt and sells fried cockroaches. This is certainly not the cockroaches and moths, but the smell of it is awesome. For which he was nicknamed us cockroach.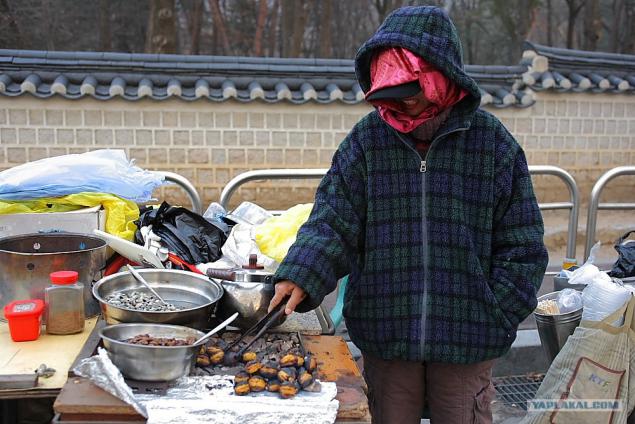 Near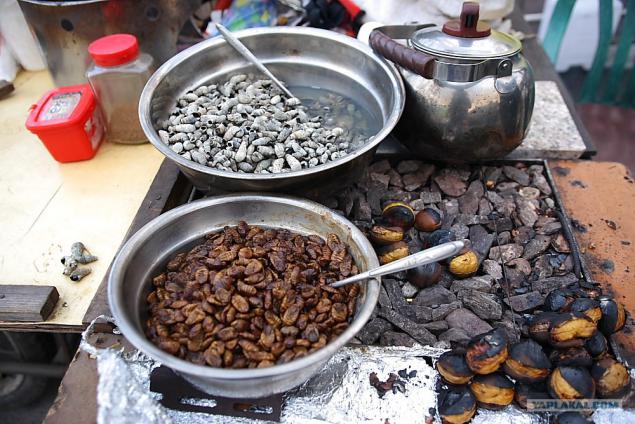 After the park, we visited the tiny Buddhist monastery. Very cozy and empty. We met no one, no one behind us did not attend. In general, complete confidence.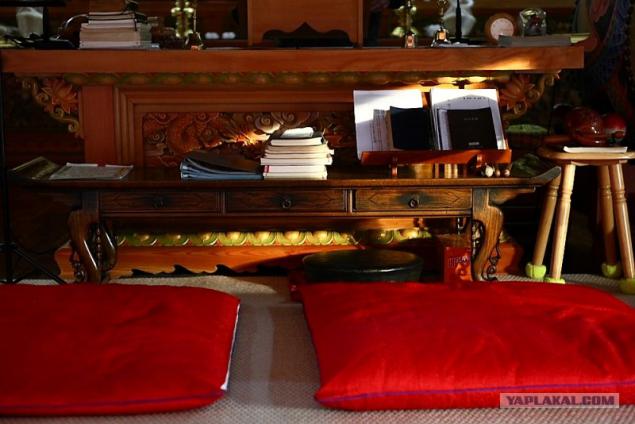 Many small Buddhas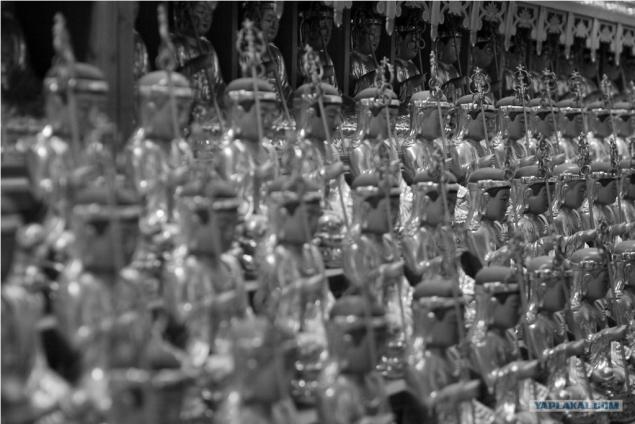 The general plan of the hall
At the entrance to the monastery lived here such absolutely compunctionate and very affectionate dog. Had only come close as I was to lick this beast. Just lovely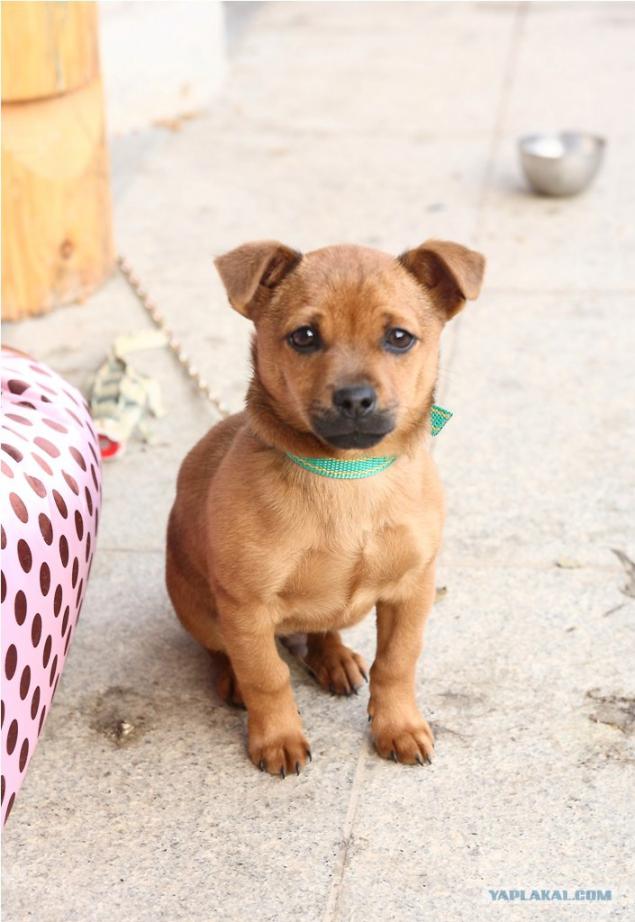 The next day we went for a walk in the American Quarter - Itaewon. Foreigners, especially Americans there a dime a dozen. Even a little scary was. But no we are not attacked, and reduce attention to our white skin was a pleasant.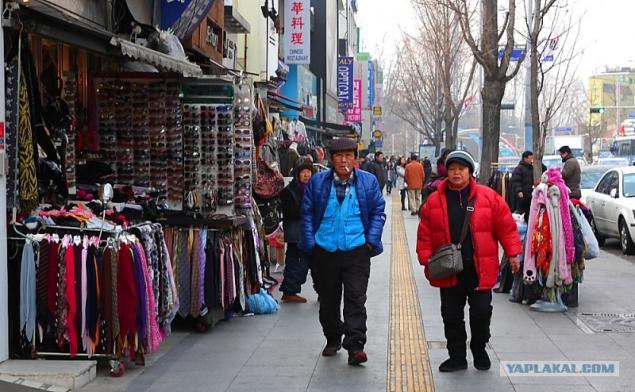 The area is large and old. Lost there a breeze.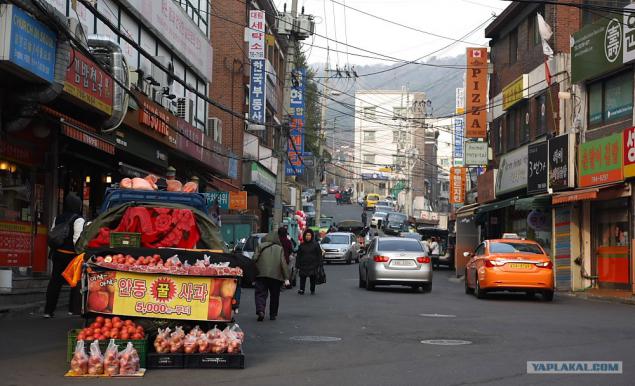 Narrow streets, old houses and entangled wires. Technology to here is not yet reached.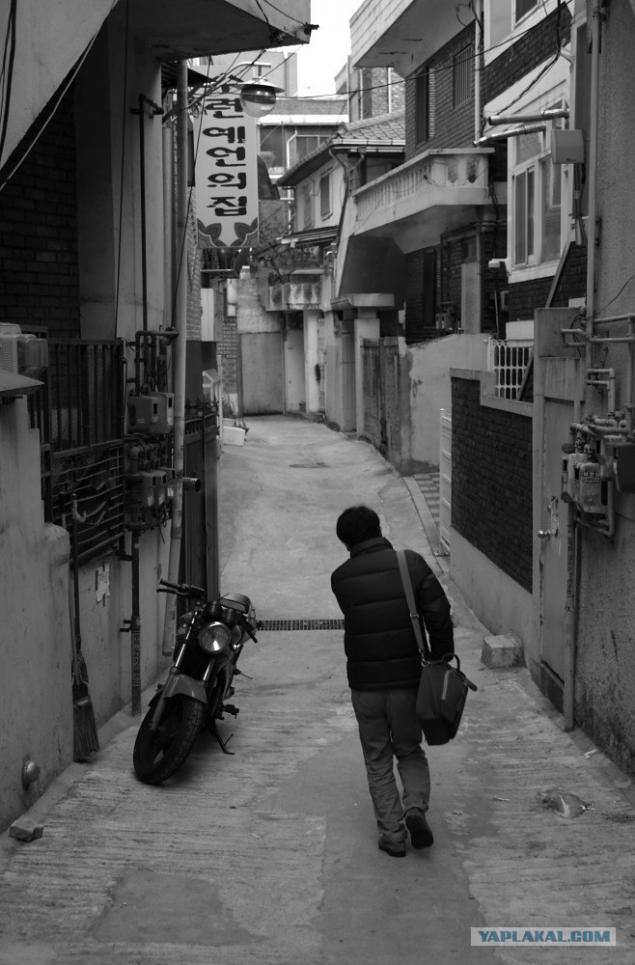 Location is very colorful and interesting. But at night I would not dare to walk there.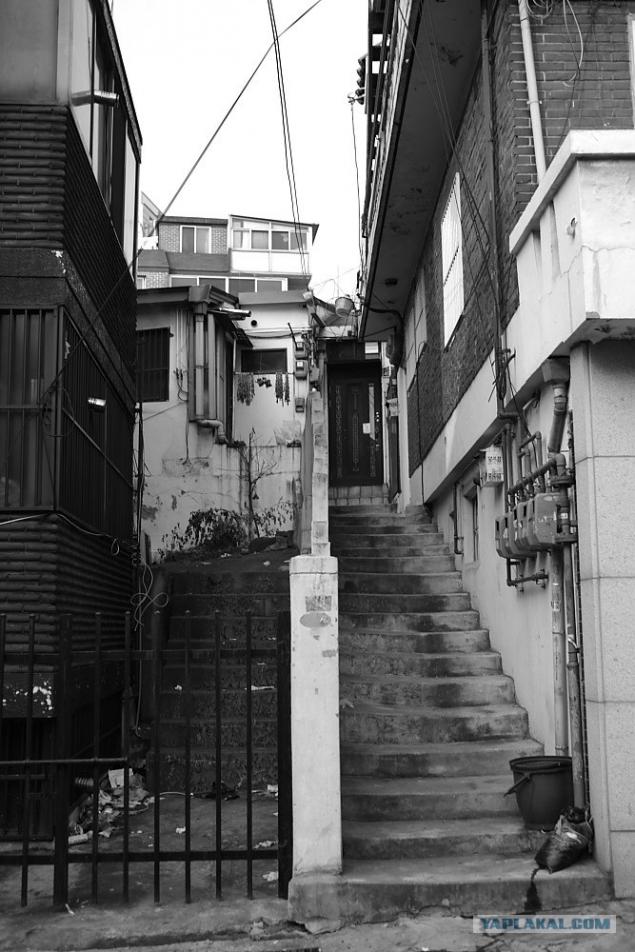 Oh yeah ... The goal of our campaign was the Seoul Tower. Along the way, I did not take off. Well, could not simple. Few photos. Quite a bit.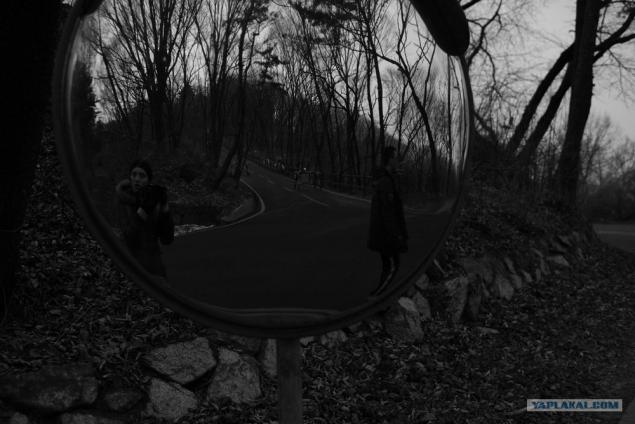 Is there a place where lovers hang locks. I do not understand why this is, but that's because ...
Posted in [mergetime] 1336127997 [/ mergetime]
That's probably Interrupt. Then there will be mnogabukaf.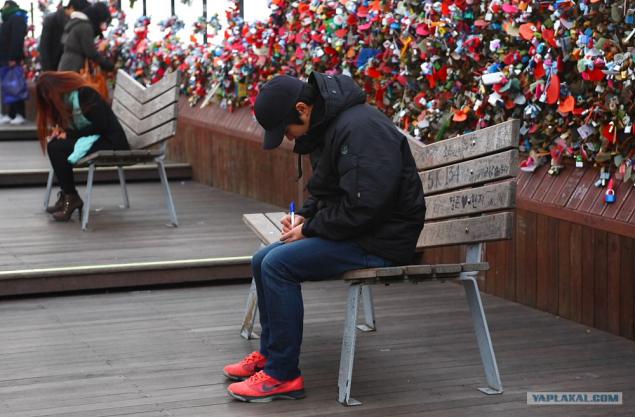 Source: