Expand the topic of food in the city, where there is food all the peoples of the world - seriously.
Consider low cost options who love visiting tourists.
It is interesting to compare how much it is worth to eat in New York, moving our money.
Author dropped in for lunch at a cheap sushi bar / Chinese restaurant and began rigorous study ...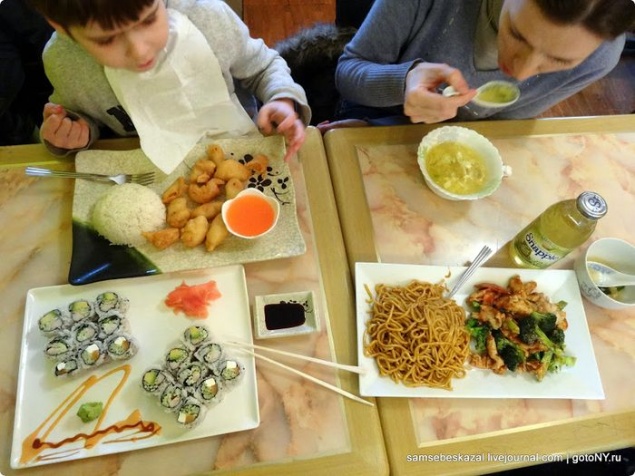 Author: We were with the whole family. I took that in Russian is called a business lunch and a lunch here Speshal. For $ 7.95 there are three types of sushi to choose from, plus miso soup or salad. Fish for some reason I do not like sushi, and the only way a fish dish that I eat.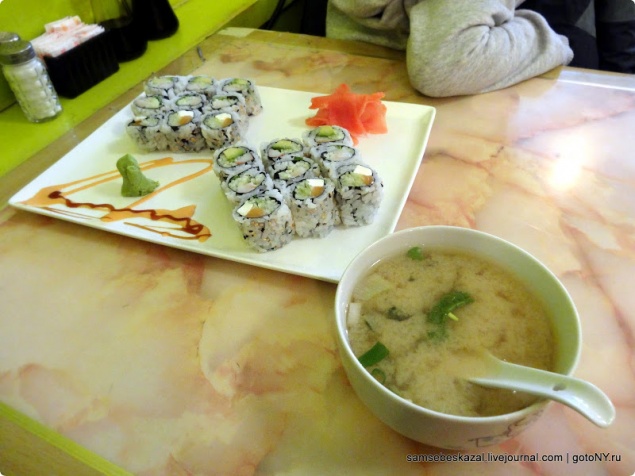 Other options lunches. They are served Monday through Friday from 11 to 16 hours. Lunches are in most restaurants.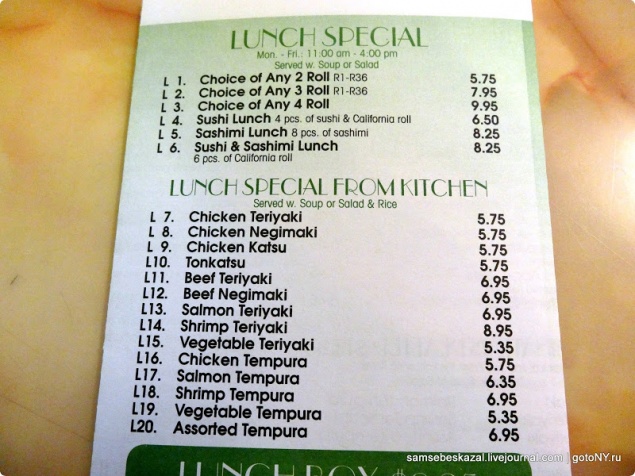 Child ordered the chicken in sweet and sour sauce.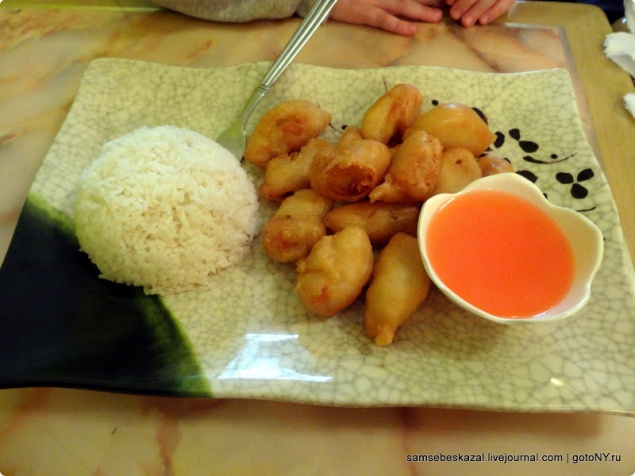 Wife soup with dumplings and chicken with broccoli and lo mein noodles. Noodles has cost an extra dollar. All meals served complimentary green tea.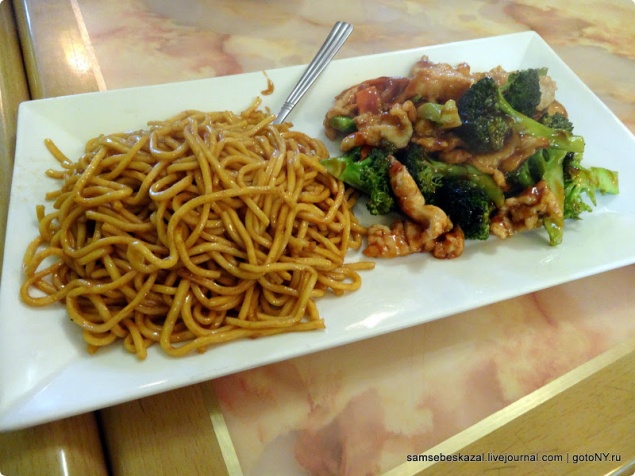 It is a cheap restaurant, which keep Chinese. Sushi their so-so, like in restaurants EurAsia network in St. Petersburg, but the Chinese food very much. Although the Chinese there is one name. Food has long adapted to American tastes, and the kitchen is officially called the US-China. The authentic Chinese restaurants is not served. In fact, it's quite tasty, and, in any case, much better burgers with fries. I have upon arrival in New York is always the first thing I want to eat it a meal. Living in St. Petersburg, I could not find anything even remotely similar. On the local Chinese cuisine it is worth looking in more detail, but it does go to the street Chinese restaurant, of which thousands in New York and buy food to take away. If the topic of food you will find interesting, I will do so.
The restaurant menu with prices for the study. One side. The prices here are among the lowest in the city. Rolls are just $ 2. In Manhattan in the public institution, they will already cost $ 3-5. But also very dependent on the location. Living in Brooklyn on prices very favorably with the life in Manhattan. And it's not just restaurants. This Brooklyn expensive neighboring New Jersey.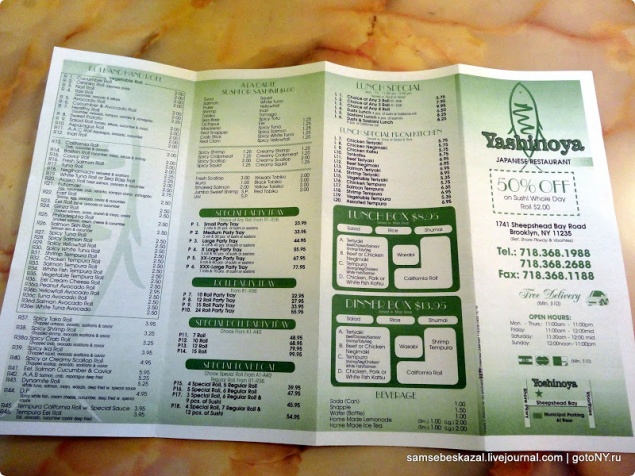 Other side. And it's only Japanese cuisine. There's still the same in terms of Chinese dishes. In the local restaurant industry competition is such that the range of the menu may cause a real stupor at the visitor, there will be so much of everything. This can still be asked to prepare something not on the menu. The kitchen will be necessary products, the chef is likely to do without question.
The restaurant is so small that it does not even have toilets. All trade is focused mainly on the takeaway. Recording through the window from the street.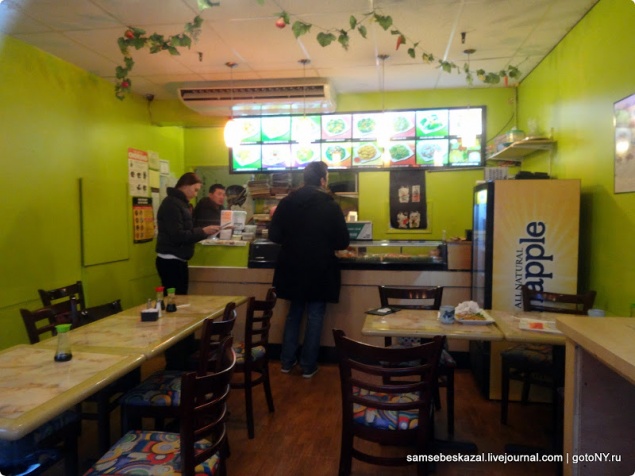 All the food you will bring home without any problems, if it is within range. I once ordered a sushi restaurant located 4 kilometers. It is well with the New York building density and the number of establishments. But at that moment I did not know the phone located near the restaurant. They brought no problems.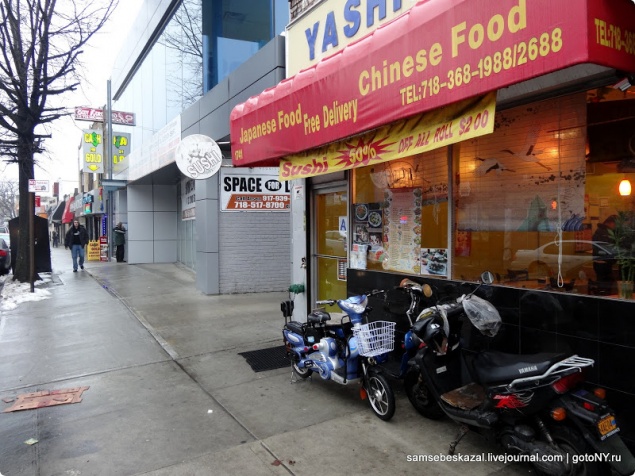 Well, the most interesting - check. Food for three cost us $ 25.15 in, and we could not finish it all and brought part of the home. Cheaper only McDonald's or other fast food. That is when you travel two or three times you can lay that on the food it will take at least 25-30 dollars for the reception, unless something more or less decent. Pizza and you can buy for a dollar, but it is, in my view, not the food. A service in New York, decided to leave a 18% tip. They are considered easy - multiply taxes in check by two. Leave accepted, but not required. Tourists from Europe do not. Local also know that an important part of the tip and the main source of income for the waiter, so pay them properly. Tipping is not necessary to pay if you take takeaway.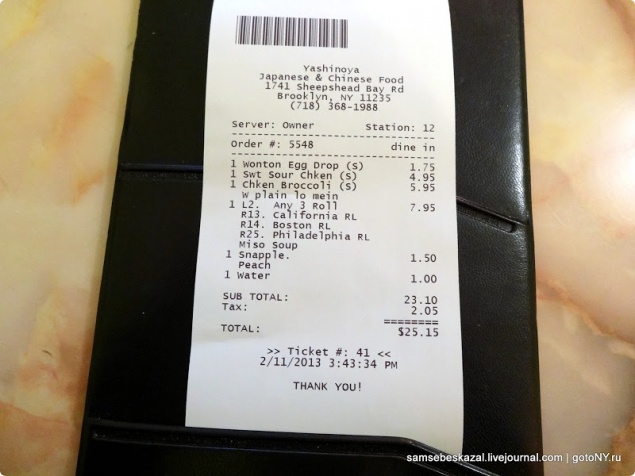 Tell you eat like that and how much is such food for you?
Source: samsebeskazal.livejournal.com