Today, my friends, I will tell you about a new scam, over which chain letters from Zimbabwe will seem easy childish prank.
For some, this method is already known, please do not shout that "accordion" - for it is not yet the accordion: few people know about it.
Background:
My colleague in the department, a girl 27 years old divorcee, has a child.
It is in search of his female happiness.
Desperate to find a normal Russian man began dating sites to look for aliens.
He met in late December with the Frenchman "Russian" origin. He immigrated as a child with his parents to France, so the Russian knows well.
After a short, but hot correspondence - our Frenchman in love and longs to come to Russia to explore the future bride.
After 3 weeks of correspondence sent to Russia a package with gifts and souvenir (phone, e-mail, the address of our "Bride" Frenchy already known). And to guarantee package wrapped reached quickly - it sends by courier!
History:
Yesterday the "bride" asked me a question: how to check who owns the purse Yandex-money.
I regularly read about in an Internet scam, alert and asked her, "Why are you interested in?»
"Why, posting another come from France, express delivery, you have to pay for courier services, and they have only a Yandex-taking.»
Here I have become fun and I ask her site courier service.
TA-yeah:
www.dmlpost.com/
What do we see? Beautiful corporate design. Everything is serious, not undermine.
I began to dig deeper, check domain:
Creation Date: 16-oct-2012
Have fun! More dug, found funny "mirror»:
blackgremlin.sz3.ru/
Black Gremlin, you say? Oh well!
Look further! The site claims to be the presence of php - has all the links leading to pages that contain only text and pictures. NO interactivity, no registration, although the "login / password" is present.
Read contact: phone 1-347-748-1274
For a long time we have the US Postal Service Express started making sites in Russian, to place them in Russia and engaged in the delivery of parcels from France?
Telefonchik punched through search engines - gets one forum, that he:
zvonki.octo.net/number.aspx/13477481274
(THOUGHTFULLY READ !!!)
where people are actively discussing the scam with delivery "parcels».
It would seem - everything sorted out with scams!
But - BUT one thing remains: how did they know the cell phone and e-mail notifications which have come about, it is necessary to get the parcel? Indeed, in an e-mail it was the name of the sender, the recipient's name, the login information to your personal cabinet, and on the site it is possible to come to a personal account of this data.
Really on any mail intercepted parcel Frenchman took advantage of our personal data to intercept the victim?
No friends, all the trite, "Maxim" from France and found that stool pigeon, send us a screenshot from the site where supposedly should go our bride and pay 810 rubles for delivery.
Nehily shemku invented posony! A girl without a deep knowledge of the information field kupilas would be paid for non-existent parcel, if I did not stop it in time!
And I said to her, kind and generous foreigners NEVER!
Girls - love your, RUSSIAN!
All the rays of goodness and wisdom of scams!
P.S. email hosting provider has already written them - I hope, will take action.
skrinshotik "personal little study»: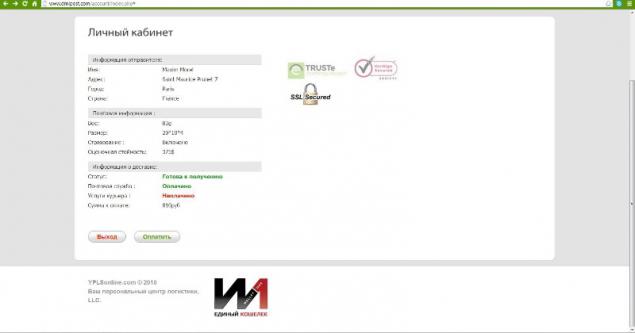 Source: