Reports from hacked mailbox Colonel US intelligence shows that in carrying out the chemical attack in Syria, probably participated Pentagon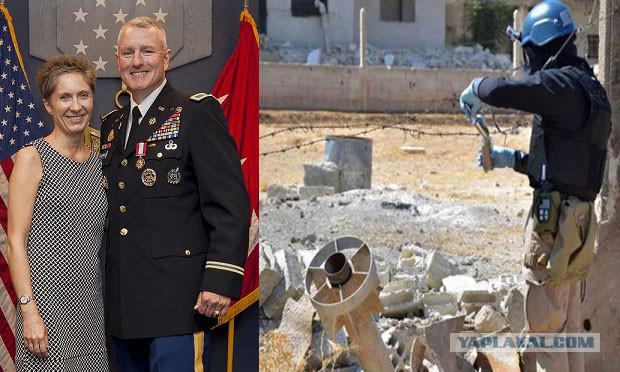 The situation in Syria continues to remain the focus of the world media. Experts predict another US aggression in the name of "human rights." Washington periodically announces its readiness to attack Syria. According to the official version - to punish Assad and the Syrian army for the use of chemical weapons against the civilian population.
Meanwhile, in the press spread new evidence about the involvement of US intelligence to chemical attack in the Damascus suburb. Hackers to access and published the correspondence of US forces Colonel Anthony J.. MacDonald, who holds the position of Chief of the General Staff of Planning and Operations at the Deputy Chief of General Staff of the US Armed Forces on intelligence. This post is about the chemical attack in Syria.
In a letter dated August 22, Colonel Eugene Furst congratulates the success of the operation and refers to an article in the Washington Post about the chemical attack in Syria. From the dialogue of his wife with her friend Anthony becomes clear that video with the children allegedly killed in chemical attack near Damascus, was staged by American intelligence.
Published data indicate that Washington is willing to do anything to achieve their goals in the Middle East. The political and military support to the Syrian opposition has not brought the expected results.
In this situation, the US is ready once again to violate international law and attack Syria without the approval of the UN Security Council. The world does not change - if the policy does not work, it takes carriers!
Screenshots correspondence COl. Mail, received Hacker:
Translations of selected lines:
"As you can see, I am far away from that, but our guys tried properly. I like to catch up with you. I hope to see you soon ».
"By the way, I saw your last success. Good job. Well done »
www.washintonpost.com/world/syrian-activists-accuse-government....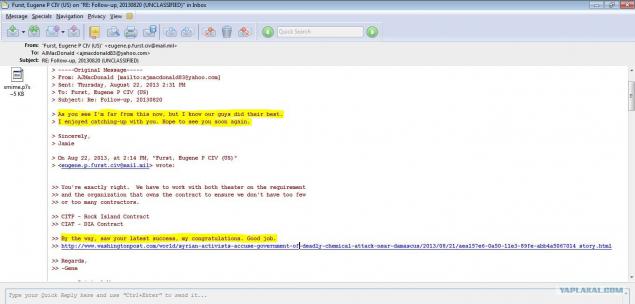 "I keep thinking about those Syrian children. Thank God they are alive. I hope they will be given for it some gift or some money »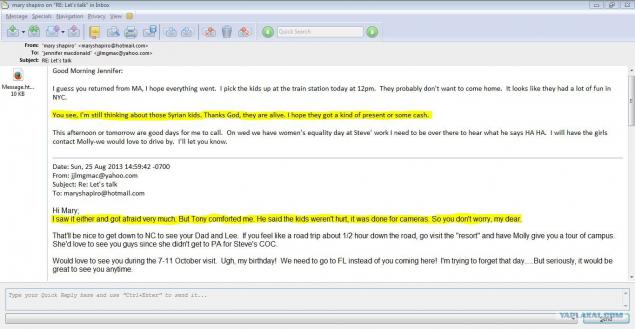 I saw it too, and very scared. But Tony reassured me. He says they do not hurt, it delalaos to capture on camera. So do not worry, dear.
You know, all I can not forget this horrible gas attack in Syria. Have you seen these children? I just cried ... to poison them, they died. When will it end? I see their faces in my dreams. Tony tells you about this?
The hacker also claimed that he was able to penetrate into the mailboxes of many other officers of the Pentagon:
Evans, Anthony O COL USARMY HQDA ASA ALT (US)
Sims, John D COL USARMY HQDA OCPA (US)
Griffith, David M COL USARMY (US)
Bell, Craig A COL USARMY (US)
Parramore, David J (Dave) COL USARMY MEDCOM HQ (US)
Morris, Daniel L COL USARMY (US)
Ellison, Brenda K COL USARMY (US)
Jennings, Wesley J COL USARMY HQDA DCS G-8 (US)
Eberle, Brian K COL USARMY HQDA DCS G-3-5-7 (US)
Bradsher, John M COL USARMY (US)
Fish, Charles A COL USARMY JS J8 (US)
Roquemore, Darlene M COL USAF (US)
Mott, Robert L Jr COL USARMY HQDA OTSG (US)
Parramore, David J (Dave) COL USARMY MEDCOM HQ (US)
Weeks, Colin A LTC USARMY (US)
Reynolds, M Bridget LTC USARMY HQDA DCS G-2 (US)
Grahek, Christopher J LTC USARMY HQDA OTSG (US)
Henderson, Valerie D LTC USARMY HQDA OCPA (US)
The hacker published a statement on pastebin, where he also says he does not have time to read all their correspondence, which may have additional information, and at the end of promises: "I will upload them later correspondence".
NEW INFA: Some media sites asking us to inform about the source of information, so we want to inform you that this news is also published in the Telegraph, but we still do not have any information about the hacker.
Source: perevodik
Source: