Photos state bath "to" I did not do. Common bathroom, the last time a thorough renovation which makes it even when Comrade. Brezhnev. Blue plitochki 15x15 tile, laid-nakos sikos. Cracked and sometimes detached from the masonry plaster, painted in the colors of 4 layers of different colors (brown, blue, white, beige), depending on the tastes of the former owners.
Towel - painted bent iron pipe "dyuymovka." A cast iron bath with the erased places to metal enamel.
First things first parried punch to plaster brick. The output was 10 bags of construction debris.
Invited gas welder. Cropped heated towel rail. Dowar piece of pipe with a "privaryshami" for the new "polotenchika»
Little text + 37 photos.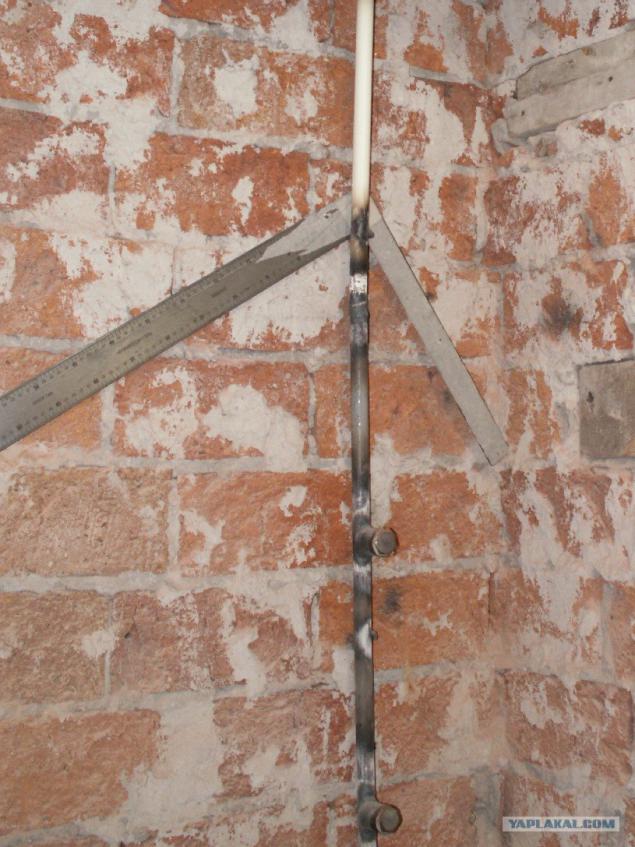 2. Crate ceiling.
Used:
 - The profile of the guide (PN);
 - Ceiling profile Knauf PP 60h27 metal thickness 0, 6 mm.
We have for sale are made from virtually Profile foil. Though they are cheaper, but bjaka incredible;
 - Suspension of direct PP 60h27 1 mm thick;
 - "Crab».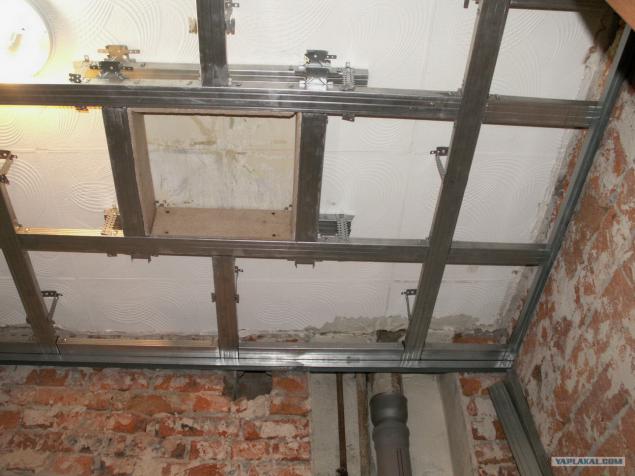 3. lath ceiling (bypass pipe towel warmer)
Crate to the ceiling with screws fasten the guide profile (PI) for the uprights.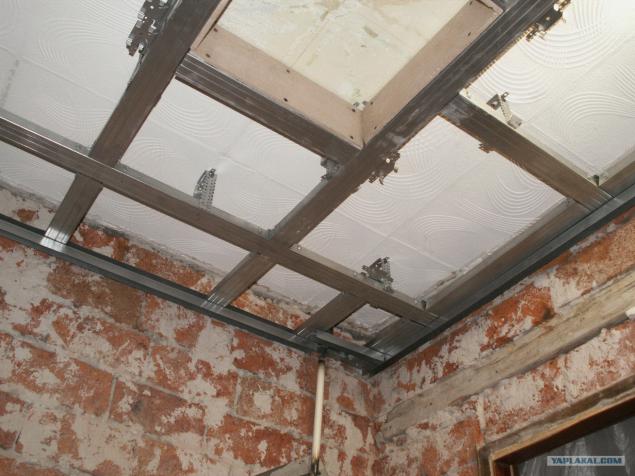 4. Scoop under light sheathe GVLv.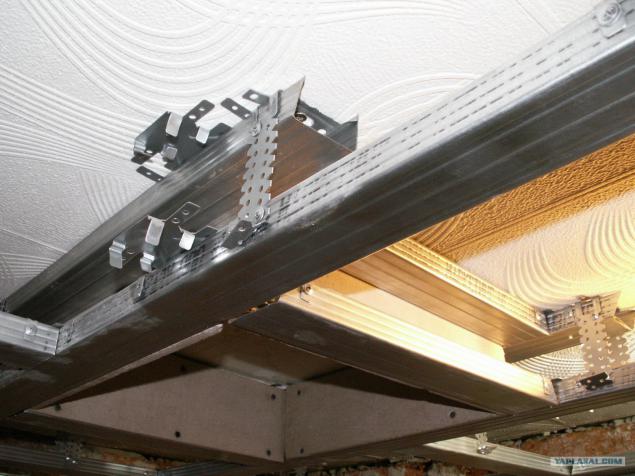 5. Conclusions uprights. This process is described in detail in tyrnete and many Yapovtsam familiar. Therefore, I will not describe it. Just Photo. The material is the same as that for the ceiling crates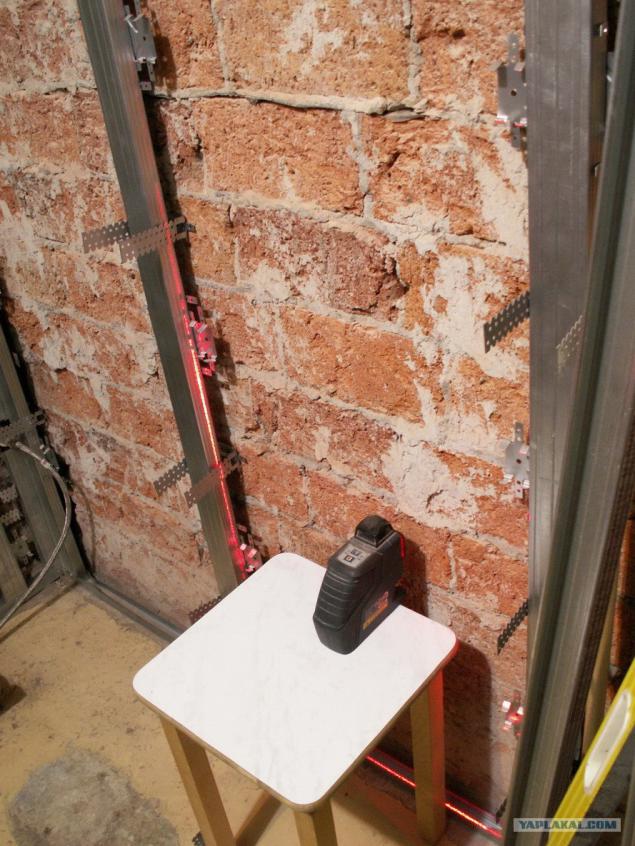 6. For orientation in space denoted by this wall of number 1 (top)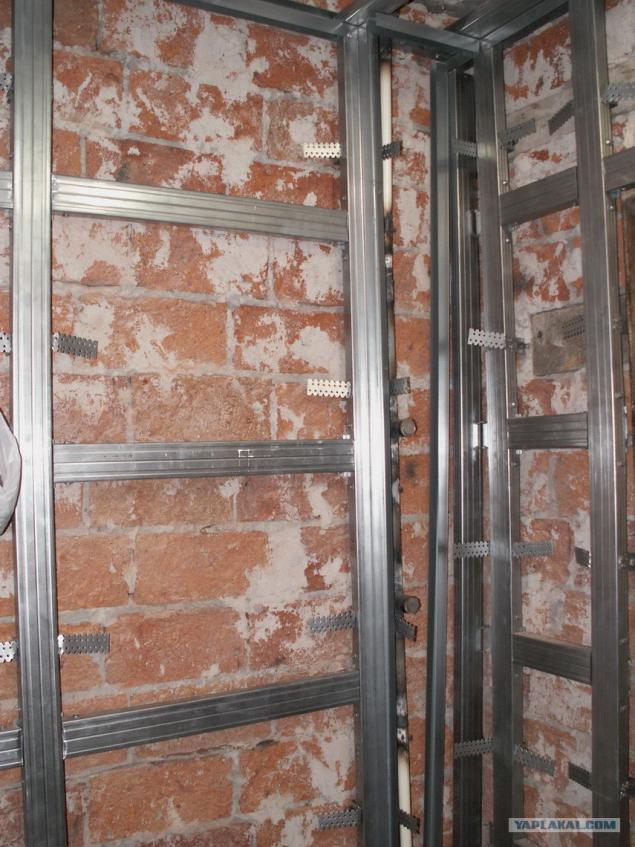 7. Wall №1 (bottom)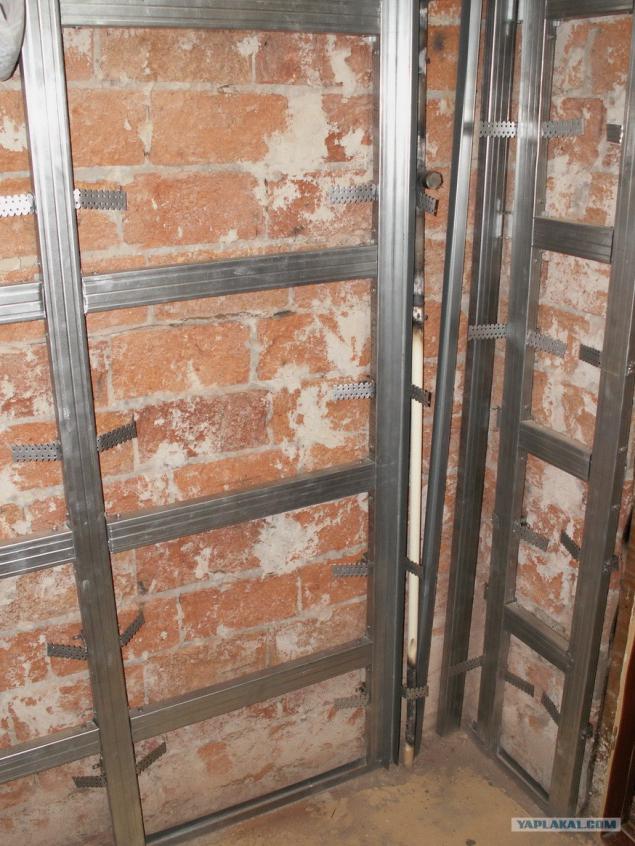 8. Wall №2 (top)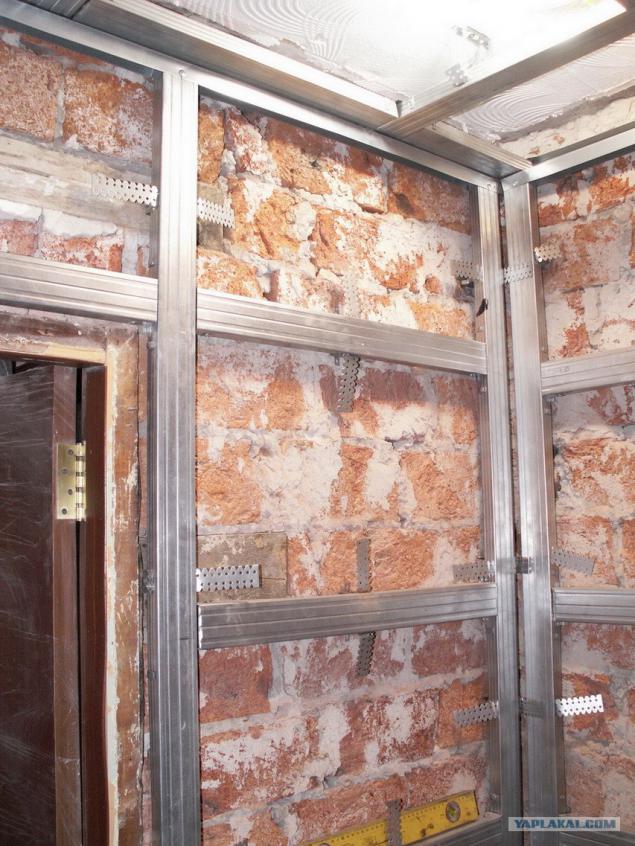 9. Wall №2 (bottom)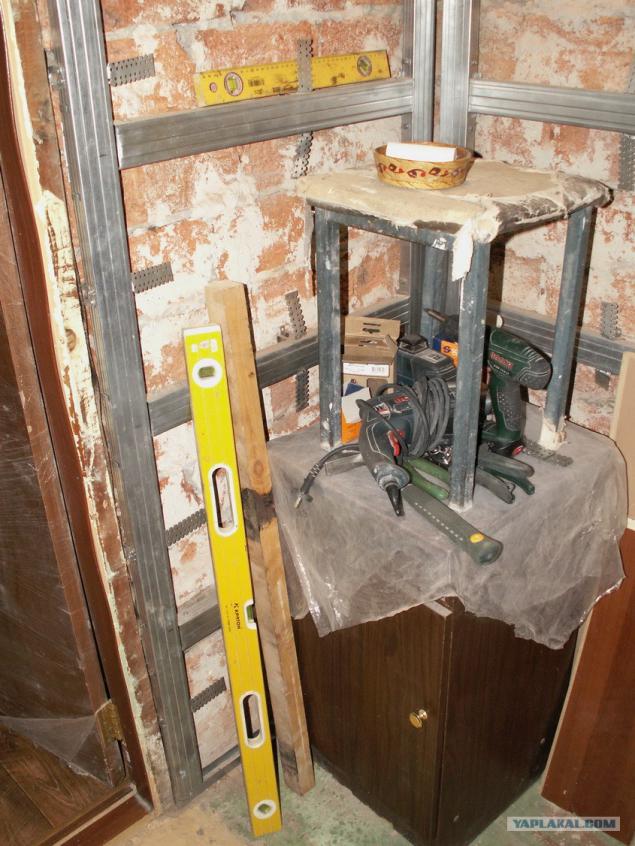 10. Wall №3 (top)
11. Wall №3 (bottom) pipe bred to connect the washing machine.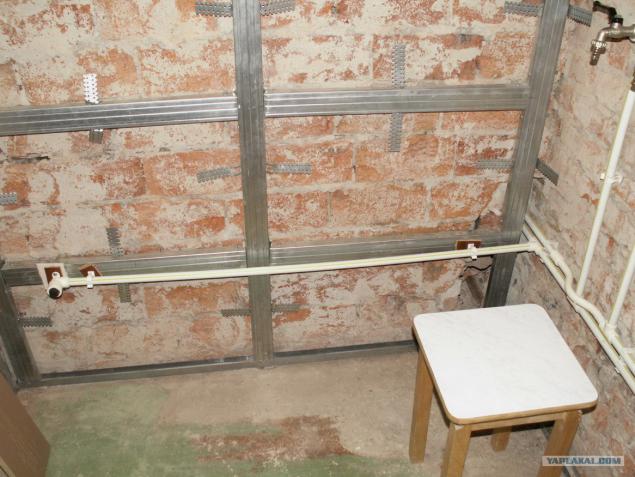 12. Pipes as pipes. He brewed himself a second time in his life. Nothing complicated.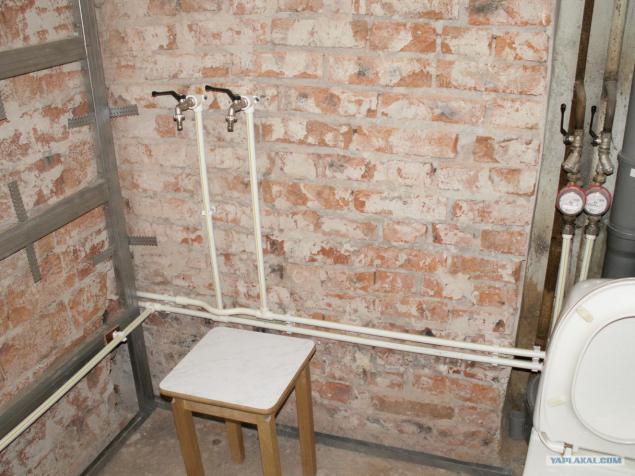 13. These same. The welding process is described in detail polypropylene tubes tyrnete.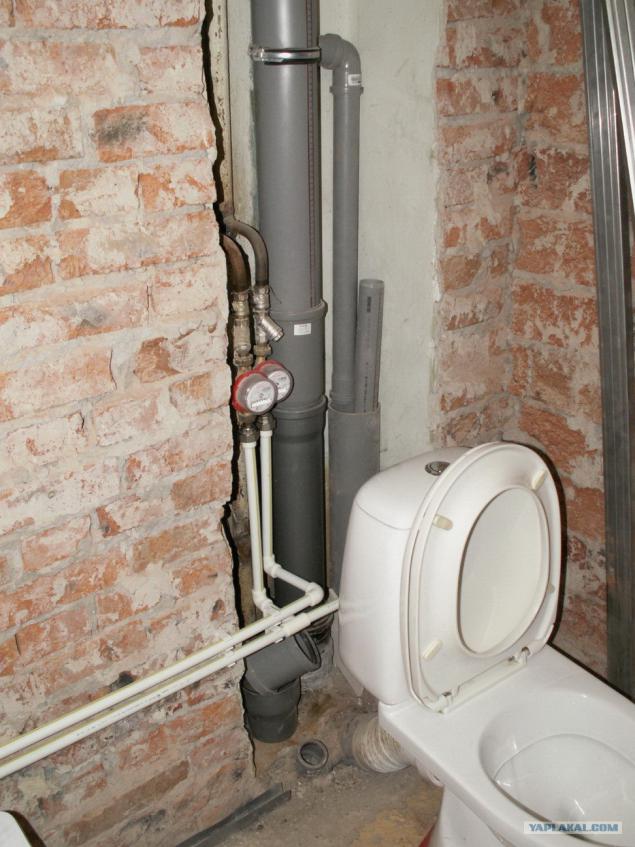 14. Wall №4 (top)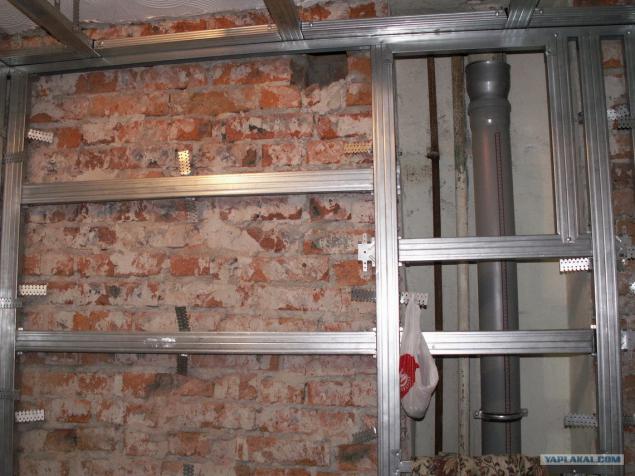 15. Wall №4 (bottom)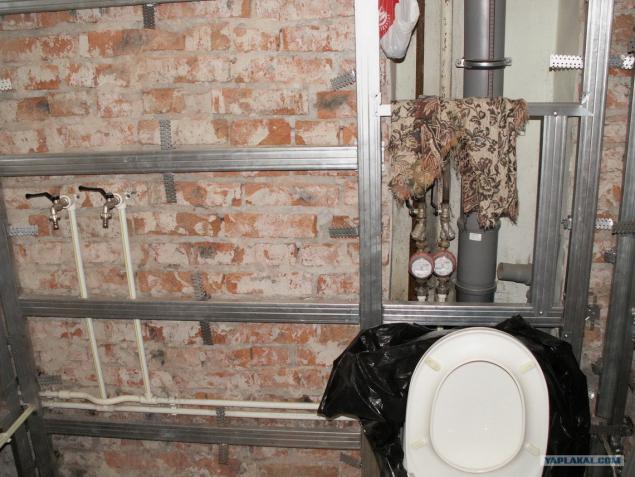 16. If repairs had to take into account that the mother-in-law remained to live in the apartment during the repair. That is supposed to be a minimum of noise and dirt. From this condition and dependent on the choice of material lining the ceiling and walls.
The choice stopped on the Russian laminated PVC panels (reinforced, seamless (at least as they advertise)).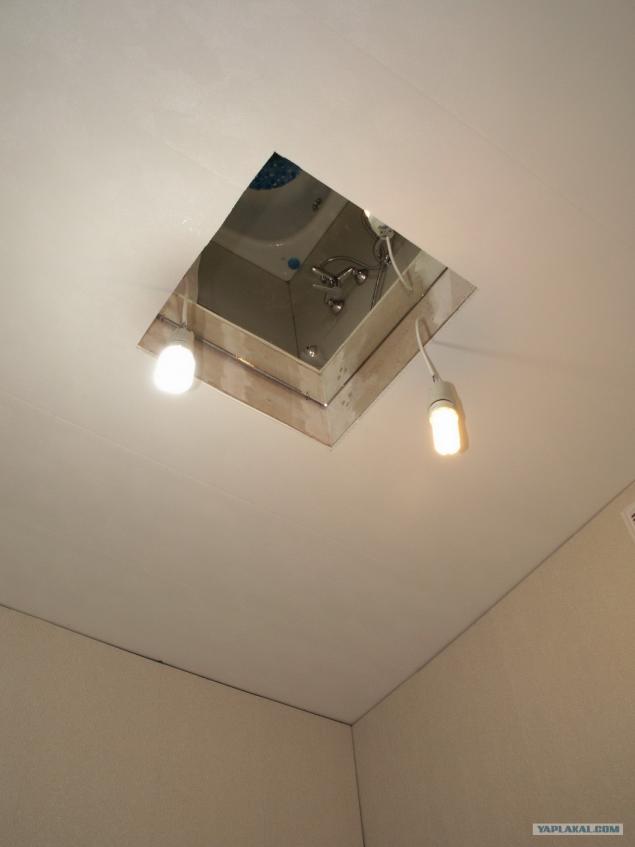 17. The ceiling and lighting in the kit.
18. At the request of Tiffany purchased a bath "sedentary." Due to the small distance between the legs bath did not have the necessary stability. So we had to put it on the additional support (profiles, bolted to the wall with screws).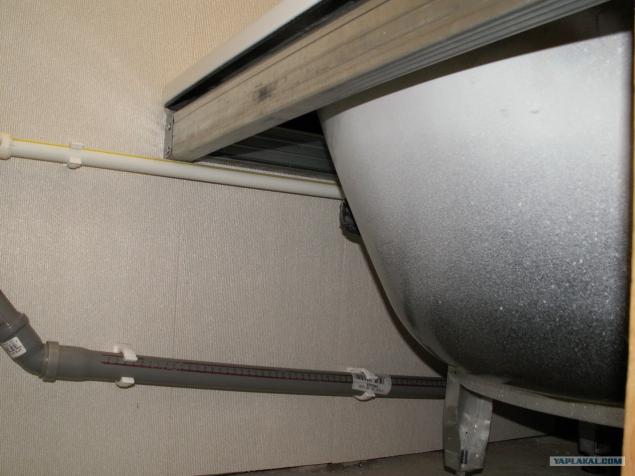 19 ...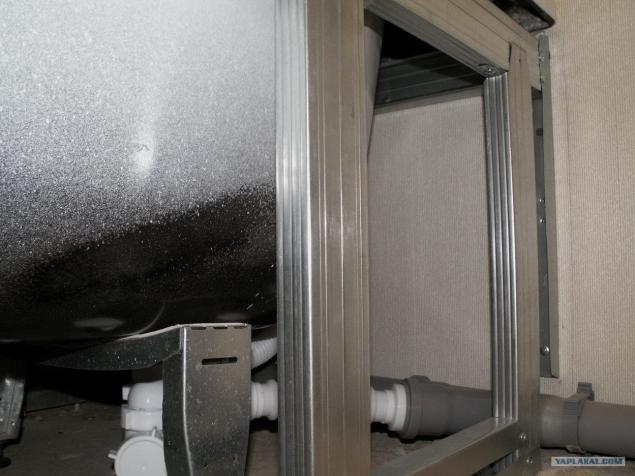 20. General view.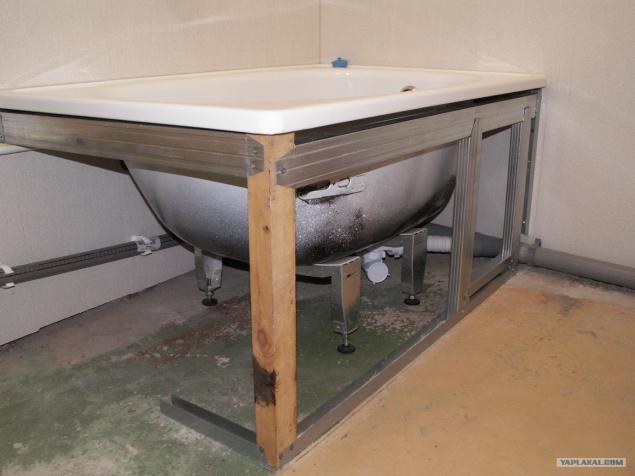 21. Water supply and sewerage system under the washing machine.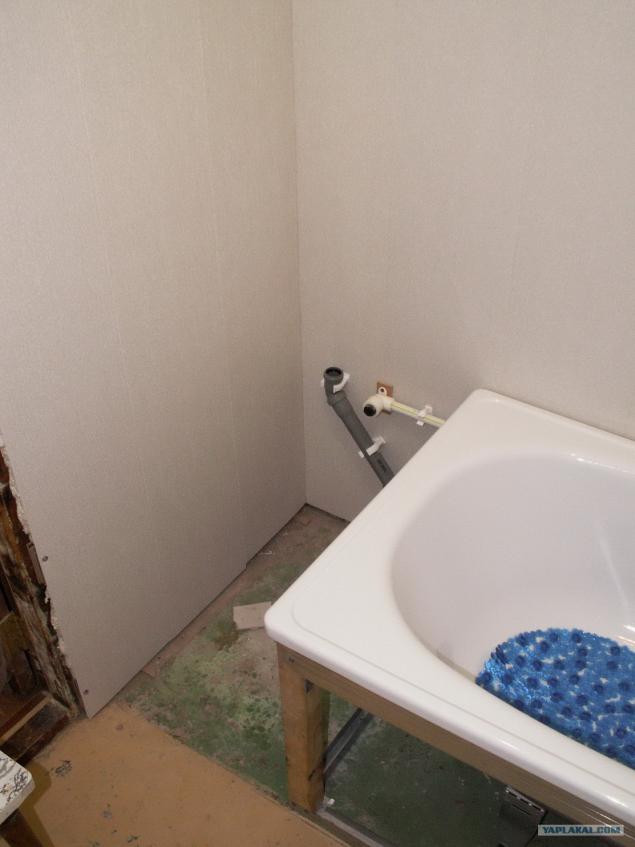 22. sheathes, establish auditing hatch. Sheathe not fully ventilation.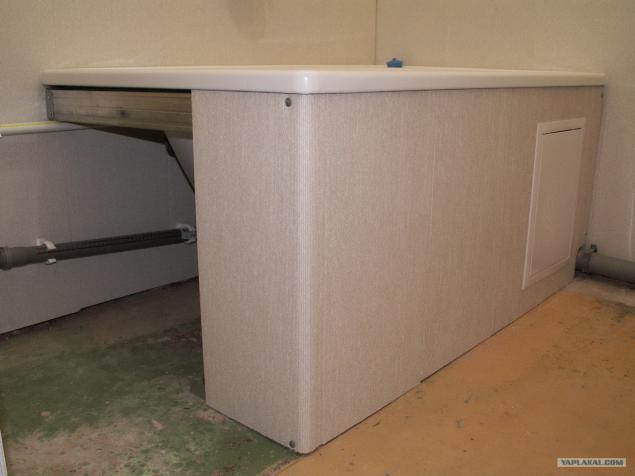 23. Given the above, under the feet of mother-to be a rough, rough surface. Ceramic tiles under these requirements do not fit. Opt for carpet tiles ECOS 50x50 cm., Base 5 mm rubber. In the case of the Gulf of apartments quickly withdrawn, dries quickly, does not get wet. Pasted on the double-sided tape.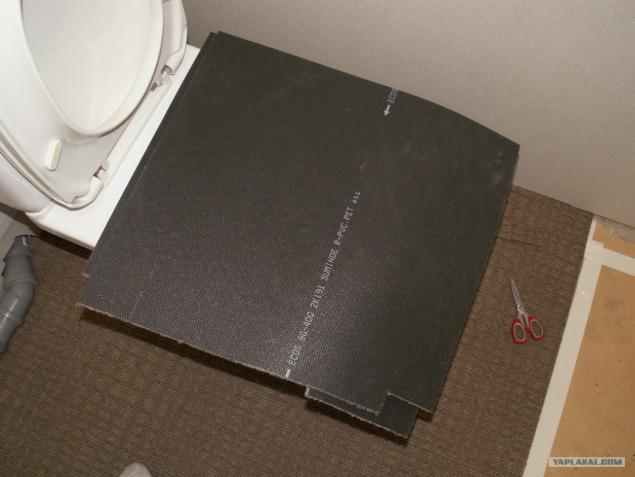 24. The result was this.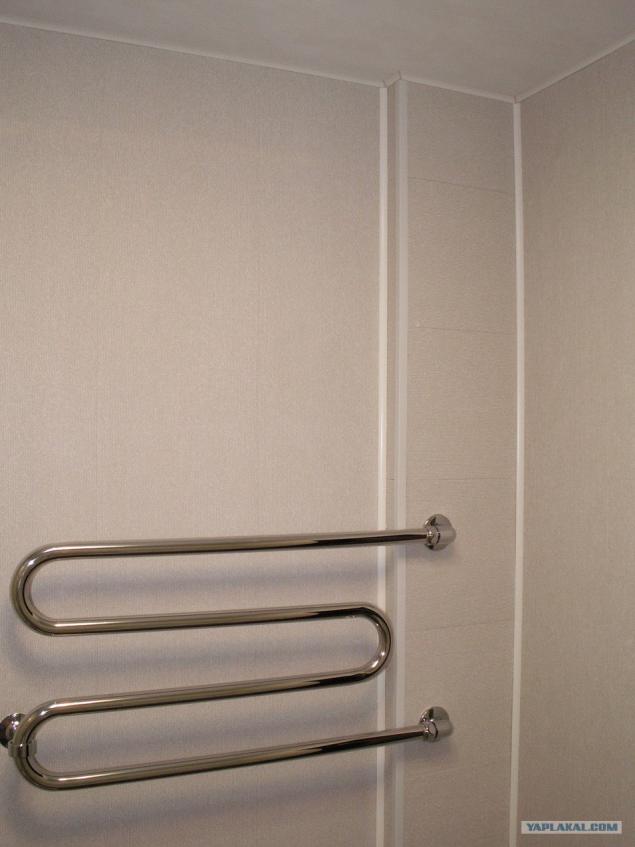 25. ...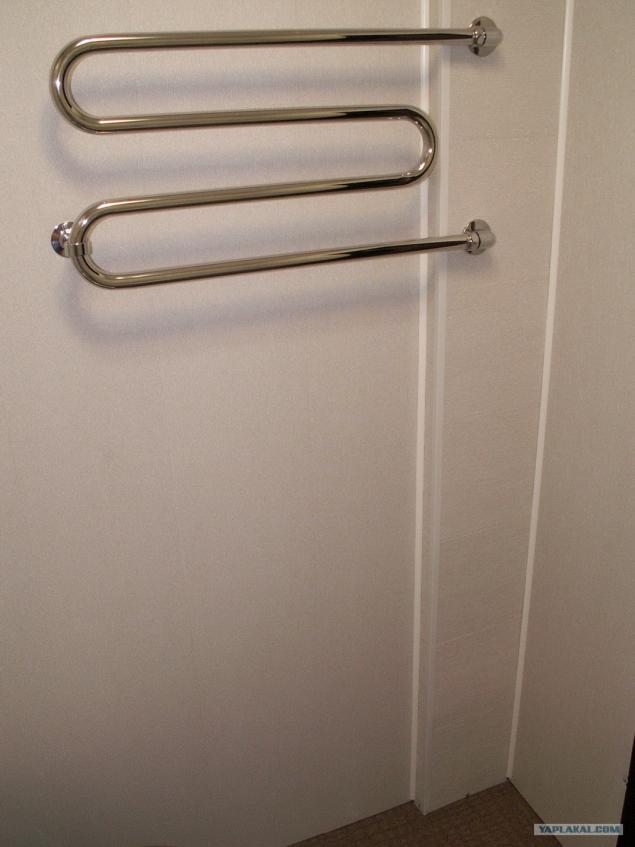 26. Handrails.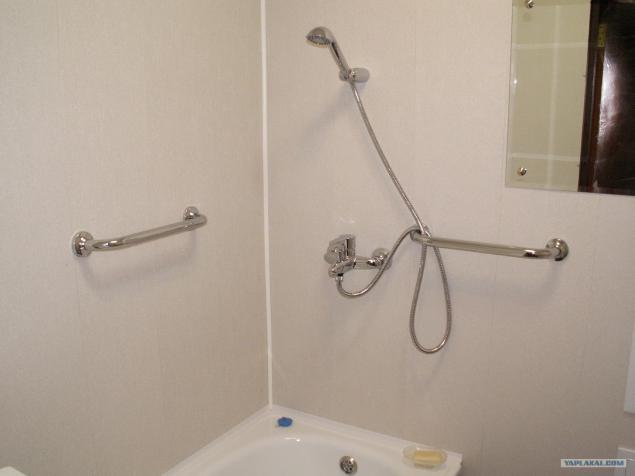 27 ...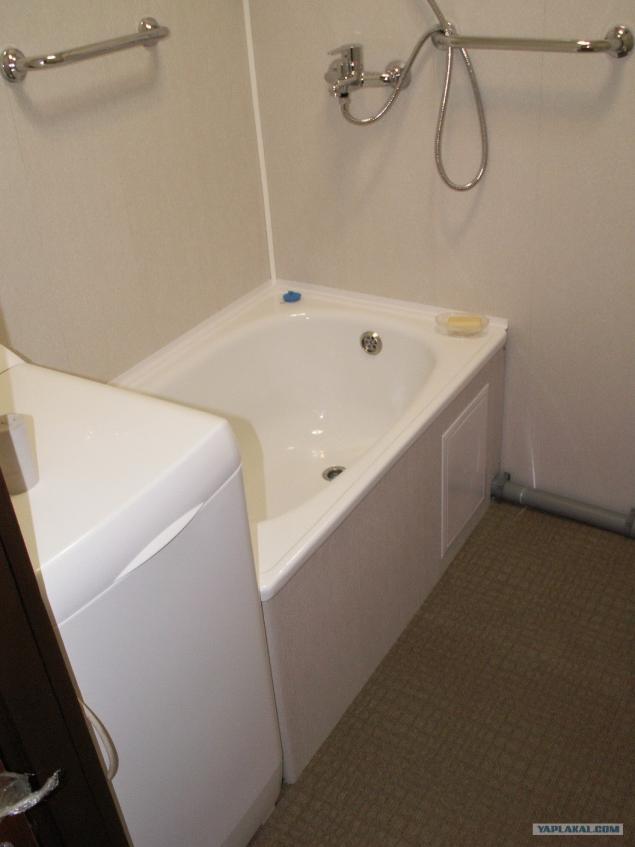 28. Corner at school had not set up. I am looking for the right color.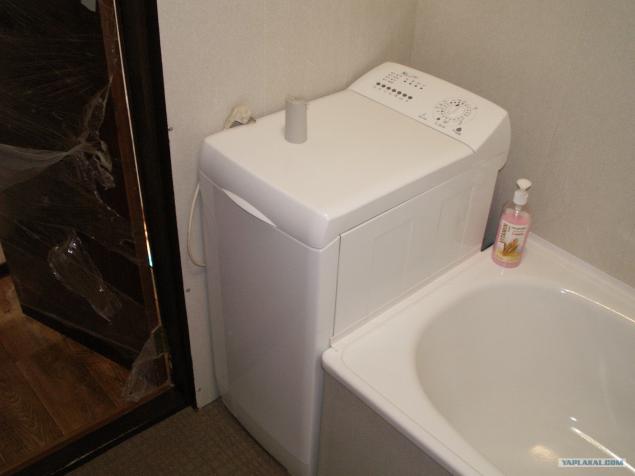 29. It remains to put skirting. Well, it's a bit afterward.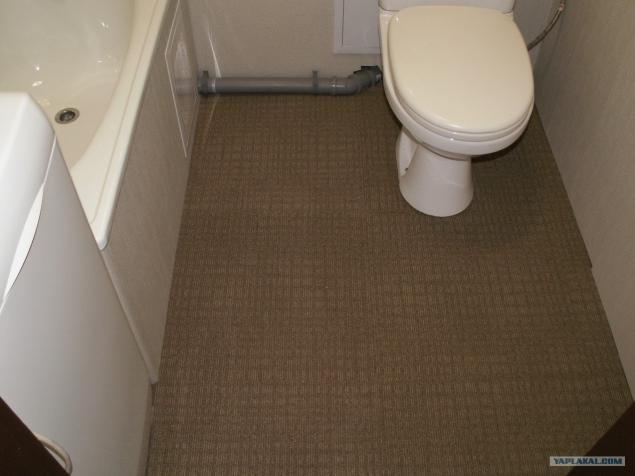 30 ...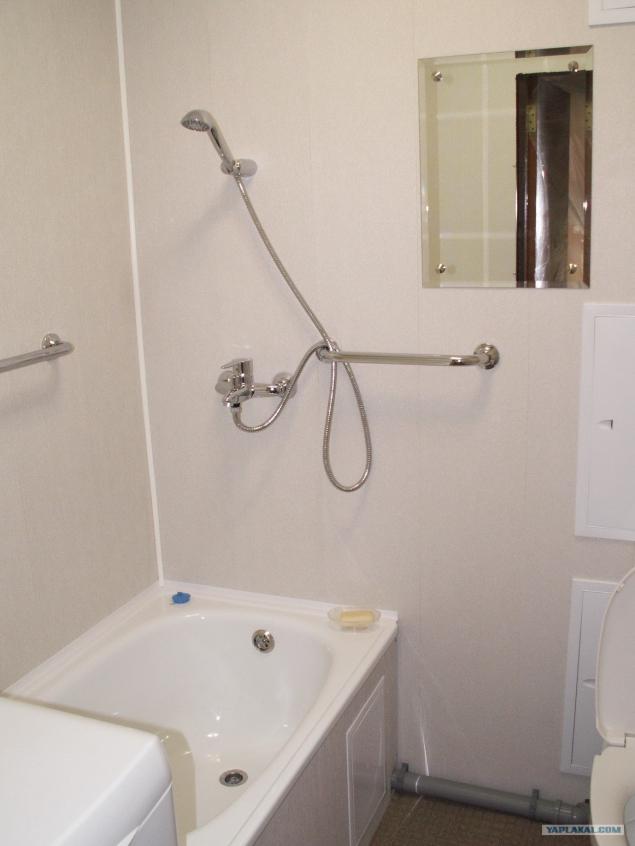 31 ...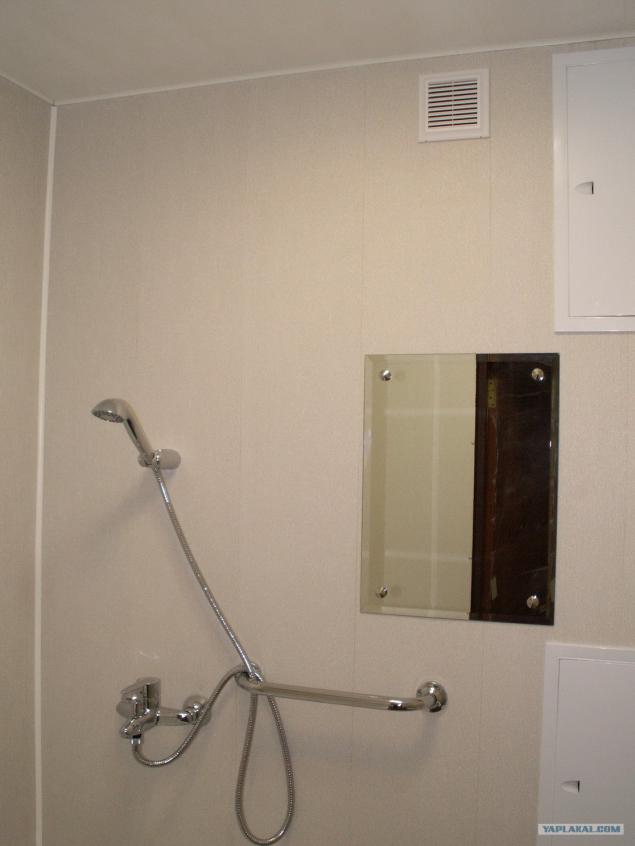 32 ...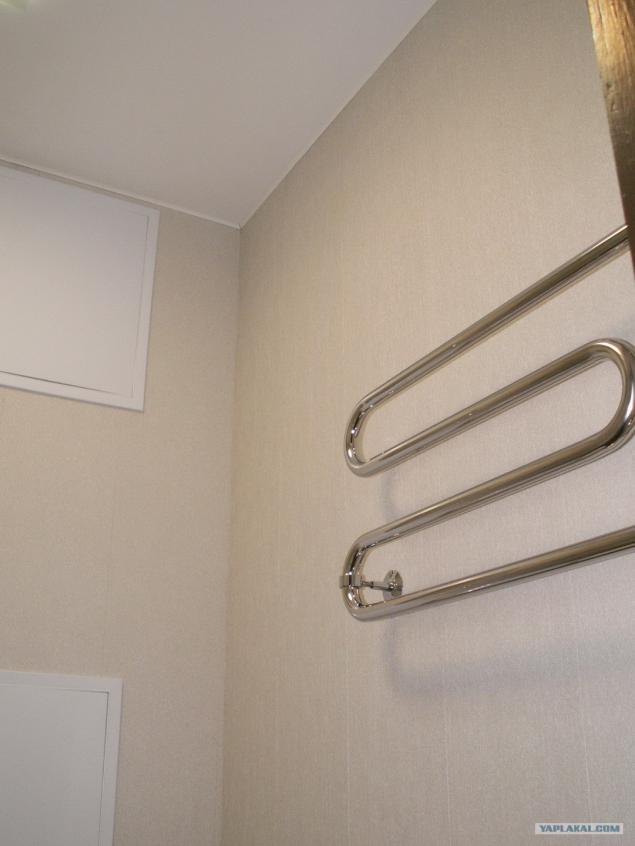 33 ...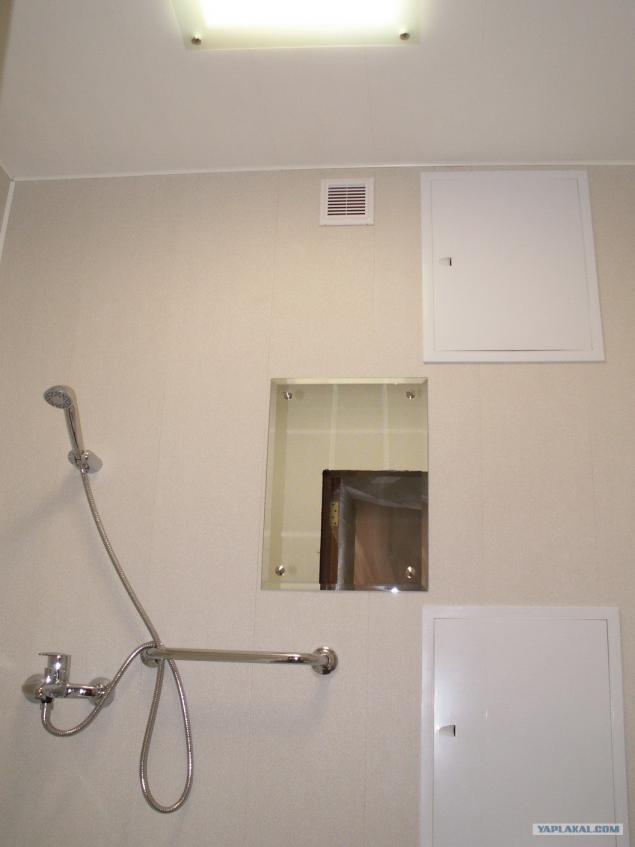 34 ...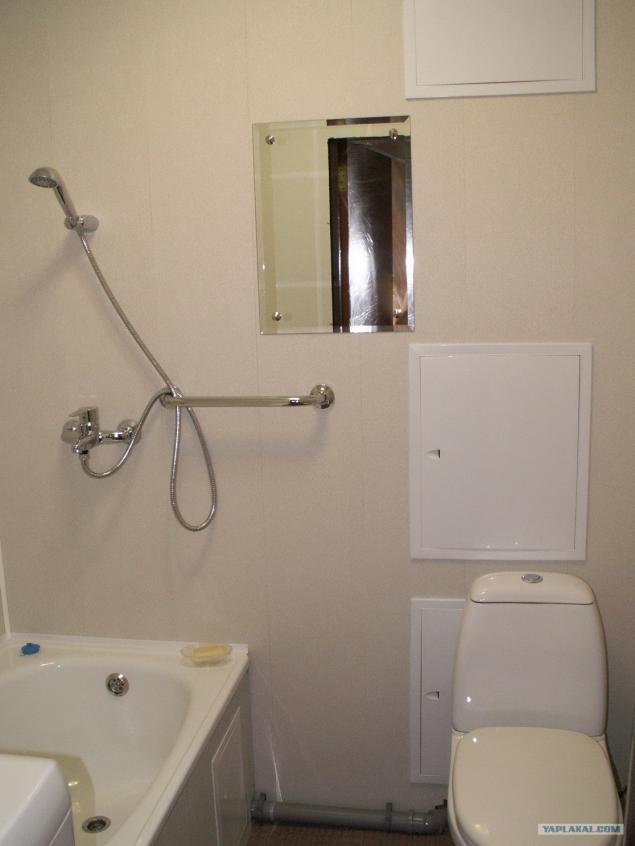 35. When buying an apartment, and there was a wardrobe. It was a pity to throw, but it was not our style. I disassembled and put it in the garage until better times.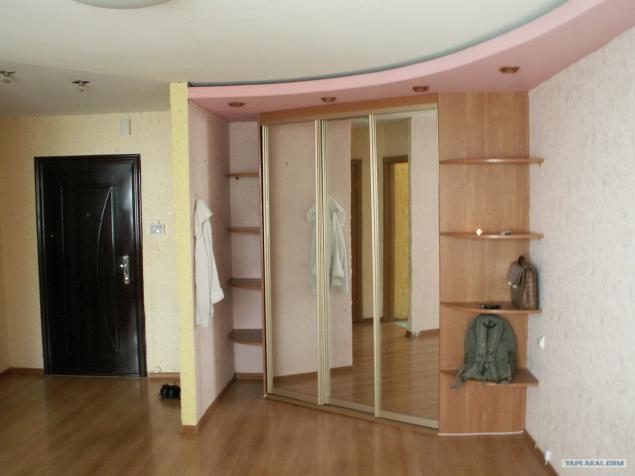 36. decided to try to put in place the old niche in the apartment at Tiffany's. He stood up as if he has always been here. Once the door was left in reserve.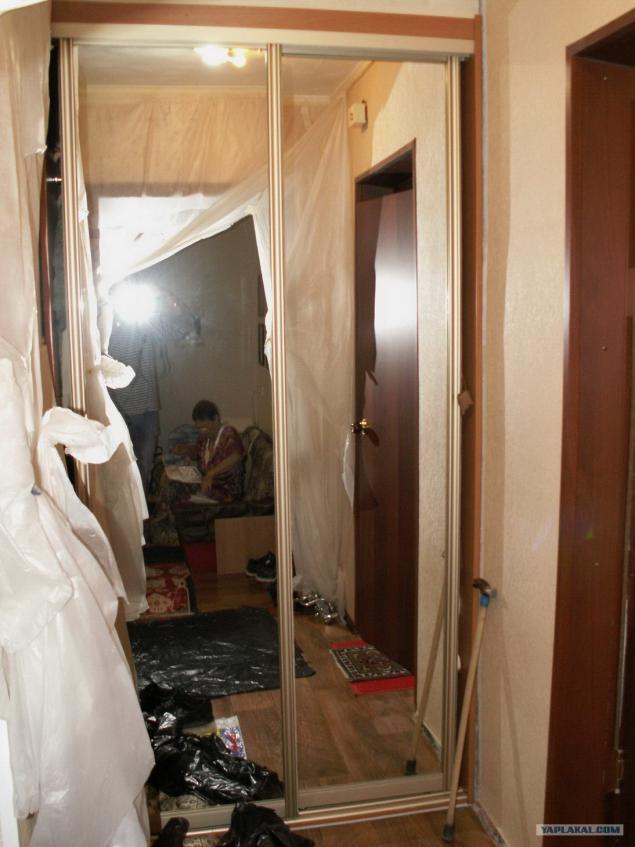 Instead of 37 small photo chaotically lyrical conclusion.
Sunday. Quiet morning. Smoke on the balcony.
"Repair!" Is the word sounded like an explosion 120mm mines close in the night silence of the mountains.
Two cats on the windowsill before noisy elucidate together one long tail and whiskers, pretended to be asleep and did not understand the Russian language, in addition to the words "dog-faced" and "Your Majesty, dinner is served."
Taxi vpolglaza watching cats from your favorite chair, opened his possession "mighty", a soft whining and stunned gaze in my direction: - "What again?»
On wretches strongly acted overhaul of our family nest, which lasted a year and ended in May this year. Cats faded nerves and attacks of sneezing fees from construction dust were long and Guy he tried to control himself, he still struggled during chihov muzzle on the floor. From this dust around him grew even more. Vicious circle. While it is not easy to kick sent to the loggia prodyshatsya the company, working on the sound crazed punch cats.
In the morning I have a delayed reaction, in contrast to our animals, I betrayed himself by showing that not only understands the language of the couple, but also know how to speak it. The idea was generated in the sound:
 - Where?
-I Loved Tiffany! - Cute smile, told me half of my dearest. You promised your mom to make bathroom renovations. I forgot that my mother this year's anniversary?
The second gap. I felt his warmth, and it seemed to me that I hear the whistle of shrapnel and rock dust. Close puts - I thought.
Old woman really needs to hit October 14 to 70 years. Frankly, I was hoping to pay off this celebration some expensive gift, and delay the inevitable for another year.
 - When the attack? - It was a direct hit on the target. The classic "plug." Fusion of mind, beauty and harmful nature. She looked at me, slightly narrowing his left eye, as though continued to seek out target.
And I'm a big guy, with experience of 17 years of family life (including 4 years of joint service in the hot spot), still has not learned how to directly deny his girl in her little princess, like herself, please.
 - Monday - I am humbly replied. For which he was graciously kissed the tip of her nose.
At the finish. Thank you all for your attention.
Source: