Heard, perhaps: "Moscow snickering," "Money thrown" "snobs, they do not care at all, live, cooked in his pot and we heated them." So - it's not. Well, or not quite true.
It turns Moscow and Muscovites us provincials, love and wait. However, if we have what they give.
Muscovites are used to take everything in the supermarket, eat what they are given, they even became a matter of the quality of the price - the more expensive, so they say, better.
"Komsomolskaya Pravda" has decided to break this tradition. We wanted to feed the Moscow fair. From scratch, but we did it.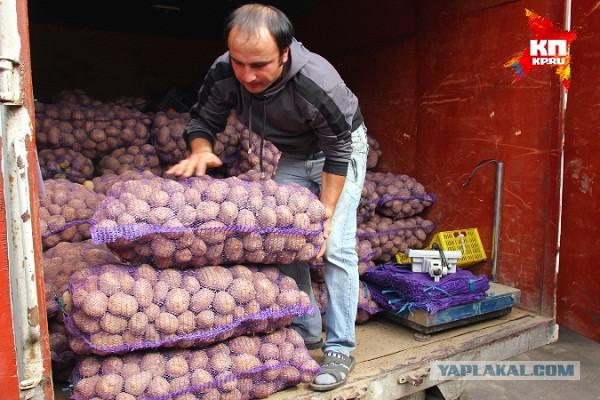 Potato Dad
Kalinin district, Tver region. 20 kilometers from Tver. 200 kilometers from Moscow, Nice town. The farm, 30 hectares of potatoes - patrimony of 33-year-old Denis Murmetchina (planted 90 tons of potatoes, plans to collect 600 tons).
Sports guy professionally engaged in boxing and karate keokushinkay, wife, two children, gray hair. In farming since 1992. First, he helped his father, and after his death in 2002, he headed the business.
Denis Murmetchin risked, and agreed to "Komsomol" experiment
 - I agree! - Denis subscribe to our "Komsomolskaya" adventure: that's so easy to load the car and take a potato in Moscow, to sell and to express themselves. No middlemen and dealers. It would seem - it is easier? But before him, a dozen farmers have refused - they say, and in the Tver region can earn - why go to Moscow? (we offered to drive to the capital of not only potatoes, but "milk" - the farmers were afraid, did not agree, saying - "deal-breaker", "We are there" will warm "," We are here not bad "- Ed.).
They are farmers, are now hard. Really easy. In the past couple of years ago, even though the government subsidies helped, pay 20% of the cost of chemical fertilizers and 40% for diesel fuel. And then - the seams - to survive and live as you want.
 - To join the WTO, it is still not clear soles - sadly dismiss laborers.
In 2010, due to drought, the same potatoes were in short supply. Sold in the field of 35 rubles per kilo. Many went to zero, if not ruined.
In 2011, the farmers decided to make up for the harvest was good, flooded the market, so that people are fed up, and even at 10 rubles per kilo is not bought. Many remained at zero again in the red. Units survived.
In the same Tver region, officially registered two thousand farms now operate on the strength of 400. About 100 of them are engaged in the cultivation of potatoes. Units sell it themselves, without intermediaries. Where? Beside. In the same Moscow is not driven. What for? Workers pay machine boots, solarium, time and uncertainty - that there, in Moscow, will happen? And suddenly there reign dashing 90-s, extortion and racketeering? Do not laugh - many people think so.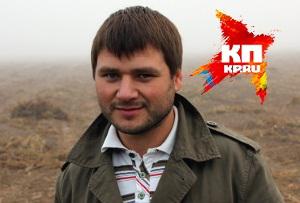 s brought to the capital of four tons of potatoes varieties "Veneto" - German selection, large tubers, clean and beautiful root. Approximately 40 000 tubers weighing 100 to 200 grams. We arrived on the scene just after midday - jostled with potatoes in a traffic jam. The first "Weekend Market" was a lump in my throat - Strogino, street Marshal Katukova possession 8. Here you can get for free - it was, would place a tent (with the machine can not be traded). Administrator throws up his hands:
 - Yes, for God's sake, will find a free tent - stand up, no need to pay, all pay Prefecture, except that there is no space, arrived late.
We are trying to negotiate with the two elderly Muscovites, who, with two baskets of apples at 40 rubles per kilo (I swear, we were shocked - Tver apples and for 20 rubles expensive - turned out to be a good year) firmly staked out the place.
 - No, to stand next to us is not necessary, - the grandfather was picked apples and was adamant. - I'm in the car still has apples, buy wholesale, will give a half thousand, and get up!
Oh, no!
At 13:00 we arrive at the Tallinn street, in the same area Strogino. Here, near the house №7, deployed "regional market." Nizhny Novgorod trade.
 - Stop where you are, from Tver? - A tired man, Vadim, the administrator of the market, made it clear - it is free to rise to the point it will not turn. - 2500 per day, well, once you have arrived at one o'clock, then you 1000 rubles.
We agreed we were given a place, a tent, a tent, "badges" looked suspicious, but as soon as we have said, that they had come for a day, relaxed and waved their hands:
 - Late arrived, good luck! (friendly laughter).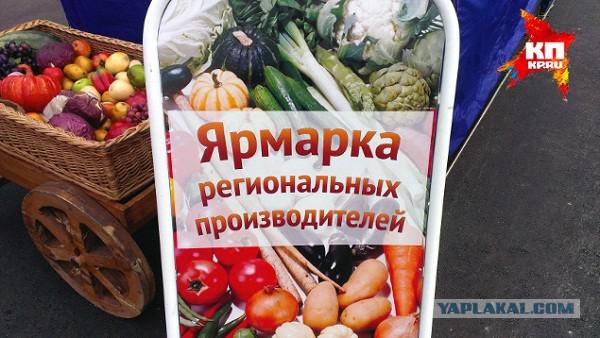 Tireless Love of Tver potatoes
We are saved by love. Lubov Kostrova. 11 years was the head of a rural settlement Slavnovskogo (and from there we brought fries), energetic farmer, who knew how to talk and incredulous Muscovites. The most important thing is not to lie and smile.
 - Potatoes Tver, grown in the sand, take a try, 20 ruble per kilo! Fishnet 30 kilograms in just 500 rubles, 8 pounds - over 160! Can and weight, at least a kilogram!
She was tireless. We with Denis and his assistant Gafur were unable to fill the grid. Love charmed not only Muscovites, but also trading near Nizhny Novgorod - they took several nets for themselves.
The most popular were the grid to 8 pounds and by weight of 5 kilograms.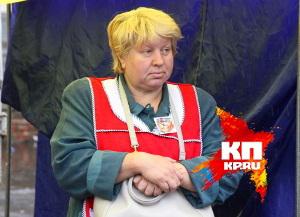 - We have nowhere to store, we do not drag - Muscovites, mostly elderly, gently smiled and took, much as they could.
 - You feed our laziness - smiling happily, they said.
There was a "breakthrough" - the guy that sells skates, took just five nets 30 kilos.
But the result was a penny - up to 7 hours we gain by selling only 13 thousand rubles. And the 60 pounds given to a merchant near Nizhny Novgorod, a native of Azerbaijan, Ali Baba, only 14 rubles per kilo. The road and the driver's salary Gafur paid off wildly tired, but for farmers 13 thousand per day - not a cause for celebration.
 - We sold at a fair price, and our potatoes, even if we judge by appearance, better than the competition - Denis Murmetchin stayed in Moscow for another day - we sold a ton of four, and return home with his potatoes - it how to Tula with his samovar to go. - Trading in Moscow it is possible, all the conditions in principle established.
But it is better to go to the fair weekend, there is even space for free, the Moscow city government pays for everything. You just need to call in advance to the prefecture, to warn that come, to stake out the place. All is well, your experiment was a success. As for me, I plan to continue to trade in Moscow.
The next day, Dennis and Lubov (I left Moscow the night before) sold the same amount - about 13 thousand rubles. Total - 26 thousand in two days. Excluding costs Solarium (3000 rubles), salary Gafur (2000) and the market fee for the place (even 2000) obtained 19 thousand ruble. Not much, but at the same Tver we would have two days to gain by selling 10 million ...
Taken here
Source: