I sit, I mean a beautiful Saturday evening, at the parade, waiting for a taxi to go to a bar with a charmer.
Calls to his comrades: Come out, I'm down, went to the Altai!
A bet!
Well, let's go, we meet-belted. I grab the camera down and go. Barnaul scored in the Navigator (on the world for the German staff Navi end) shows ~ 2000km for a mad dog does not circle!
The road is pretty boring, rain, potholes (or vyibony, as anyone), nothing to describe.
In Novosibe stopped to eat, normal is a youth cafe, opened the menu - was shocked at the prices, we 70r for salads only eatery there, the three of us ate at 600r, freebies, sir!
In view of shitty weather and general fatigue almost fotkal anything like this with Novosib:
Gallery 40 pcs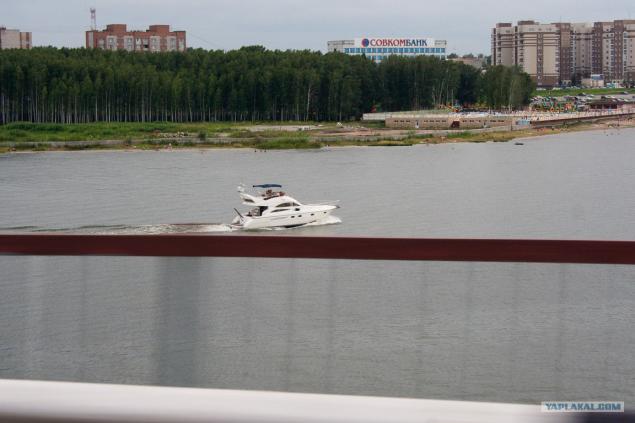 Then again, anything interesting: flying, write, drink coffee and so on.
It's in there somewhere: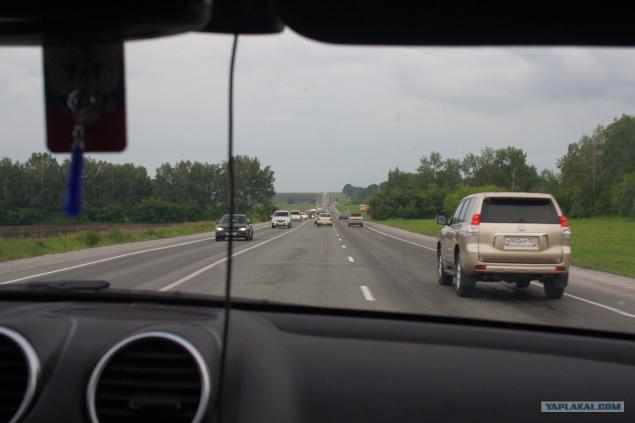 Late in the evening arrived in Biisk, long to decide where to go and what to do, we decided to Belokurikha.
Hours to 10 have already arrived while looking for Hotels, yet here and there, already night.
Gostinka: 2-bed room squares 16-18 is 2800 Quite comfortable, clean and everything is there.
We looked at the restaurant menu, a little surprised at price tags: Vodka from 500 rubles, about as hot.
0.5 stupidly booked for 800r and dumplings, two servings of 15shtuchek, 250r serving. Well, the restaurant is ...
Vodka brought ice (who taught them plyat) and frankly Palen, dumplings - our dogs are not eating. Upset, but has no power to swear not, drink a hundred grams after a shower and sleep.
In the morning the phone rings (and why I chose the bed beside him), invited for breakfast.
Outside the window drizzling rain, tourists stroll along the street in raincoats, they openly skuchno
While awake until assembled, came to 10-45 (11-00 before breakfast), a waitress looks unhappy, like Che, I'll wait for you here what-if? ..
But shit, and so the mood of the weather is not very.
It is necessary to move down to 12 (as this system is called debility, out of my head. So you can call and at 6 am, but 12-00 should move down a bet), time 11-45, to call Reception: Well, you type Th telites there, we still have to get out. Sheep nearly added to its vocabulary, but he restrained himself.
Gathered down, the girl behind the counter on all sides by all polite, but still come, but as you have enjoyed almost defer to your in a hurry.
And I remember it, we should at 200p yesterday, try to think only to "forget" all right now and hear. Small forgot to warn that asked about the change.
She nearly fell to his knees: I'm not on purpose, but you do not think, but I have thoughts pure as a tear baby, continue in this spirit.
But enough negativity, we are in the Altai, went for a walk!
Belokuriha itself is something like our PGT, it's pretty simple, more than adequate price tags in stores, everything is calm in general.
The resort area above, there is all sorts of large and small hotels, resorts itp
There is a small mini-market all kinds of souvenir sellers are very friendly, a lot of talk, suverniry very cheap, small things 50-100r.
We bought there suvernirnuyu card as a result of it, and went, as Navik in the car this place did not know, and phone cards do not have time to skchat as a balance to fall into the wild minus.
But we are not old fart, we are not here to be treated, we go to the mountain.
Come on people's packed path up the hill, we saw the first light of day at a mountain stream: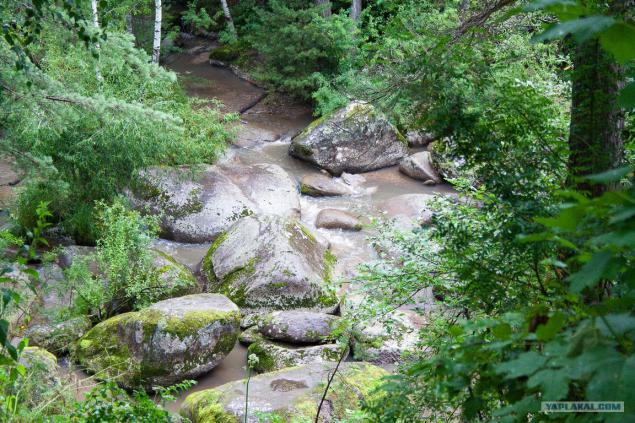 She: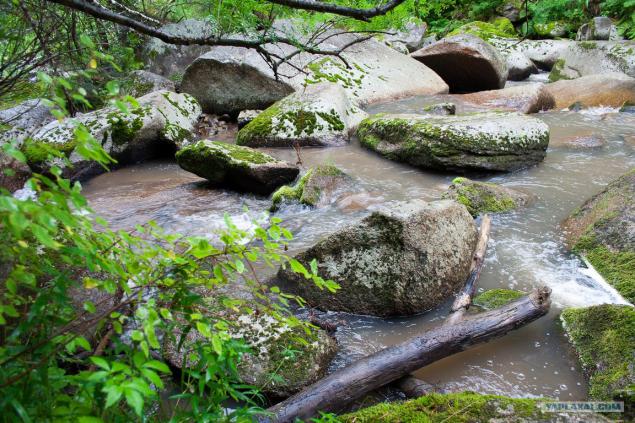 We met a bunch of completely ofigevshih blue (almost on the head is not sitting down) and rather brazen chipmunk: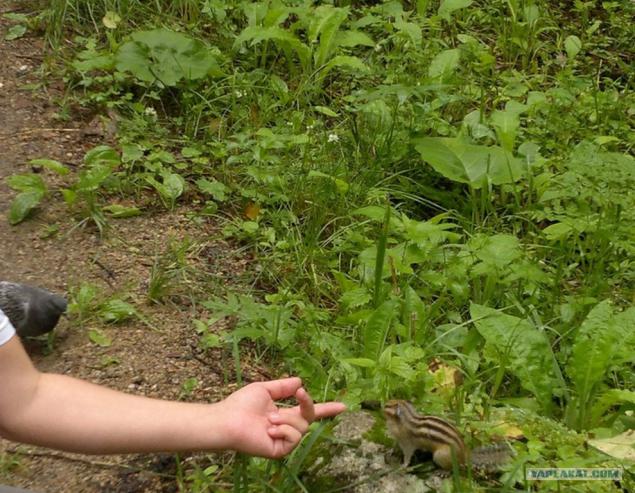 Now the positive:
Air is simply gorgeous, no fatigue, spry and good mood despite the rain.
Nature is wild, very beautiful, really fascinating.
Send a pointer, but after a few kilometers of the path suddenly ended and there were signs that continue to go dangerously.
So down here on such paths: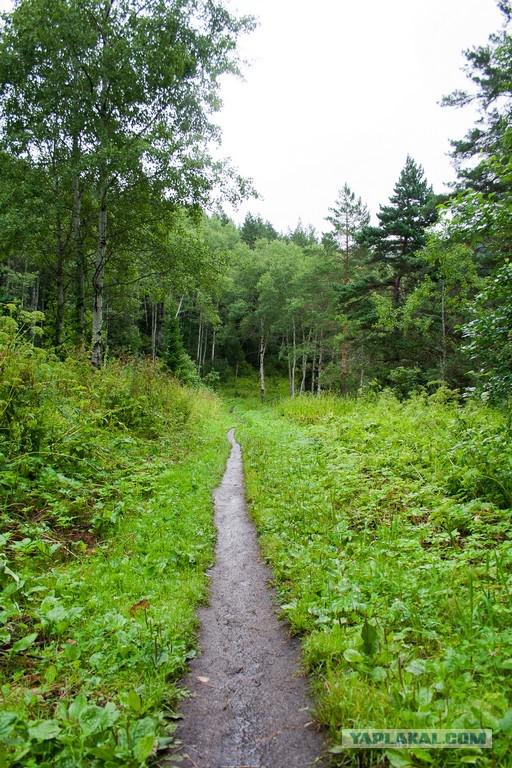 We returned to the car, got in touch with fellow countrymen, as vacationers in the area, decided to meet with them.
Again the road with stops at sfotkatsya-pee: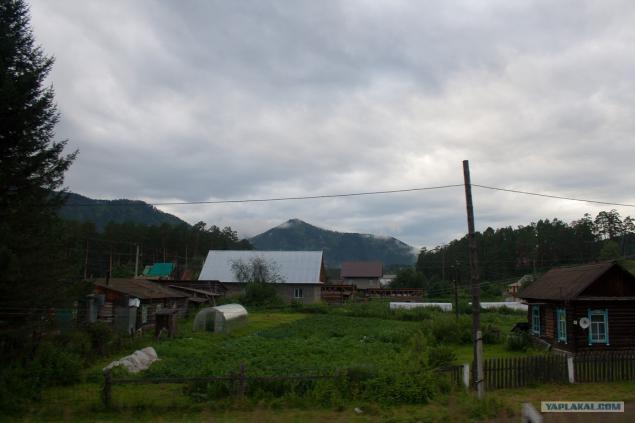 Began mountains, went the beautiful scenery, but the weather + lack of time - not to the photo shoots.
They arrived at the Ust-Sema, met with fellow countrymen.
Those have gone differently with tents.
The point is this: there are camp sites where you pay 500 rubles for entry to the car, where you allocate space for a tent, gazebo, barbecue, firewood, etc. There is a sauna, 700r is like an hour.
The whole thing is located on the bank of the Katun River chic, more about her: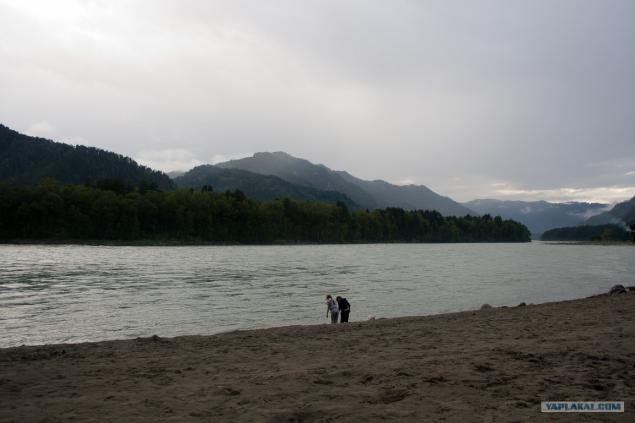 Katun River - the main water artery of the Altai Mountains. The name "Katun" comes from the Altai word "Kadyny" ("Mistress, mistress"), which in turn derives from the ancient word "Katyn" ("River").
Its length is 688 km drainage
© Vicky.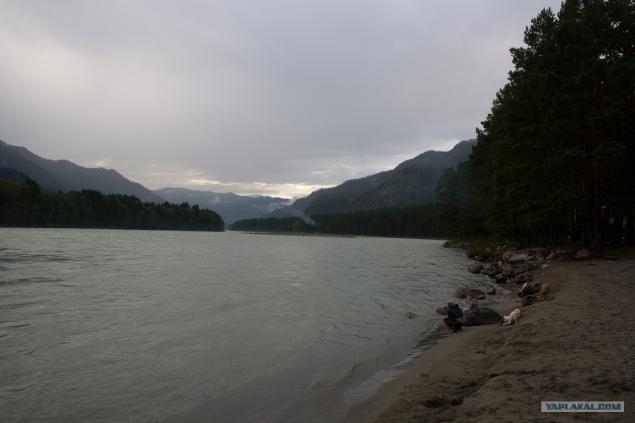 The river is very grand, a matter of respect.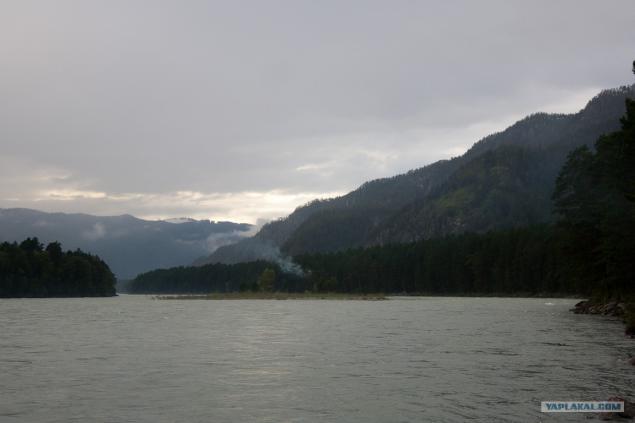 The temperature of the water with the words five tourists, for fast, swimming is strictly forbidden, in general, little chance to swim.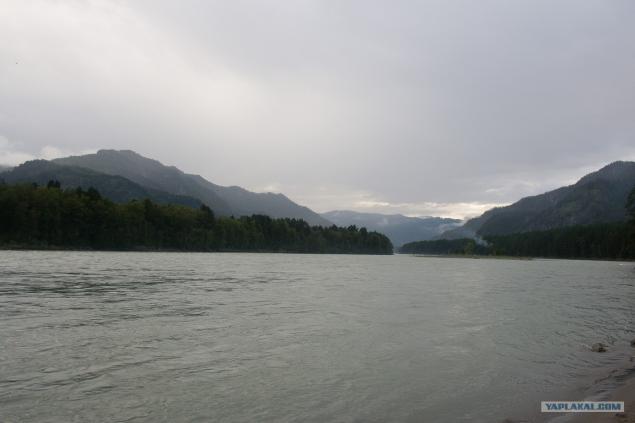 I do not indifferent to the river, this is very disheartening, turquoise water, very nice.
These pictures cloudy, do not convey the beauty.
By the way on the way to the little fellow, we plutanuli and went parallel Chuysk, in the special economic zone "Turquoise Katun».
What's the area I did not understand, but it does not matter, jumped over the bridge and back to the Chu tract.
We met with fellow countrymen, drank, talked, sat by the fire.
Local beer tasted 3 types: one-to-one as we do on every corner.
Do not deceive our huckster, however Altai.
I ate in solitary smoked grayling - gorgeous fish, but expensive, 400r tail.
The morning greeted us with sun and a hint of what the weather is corrected!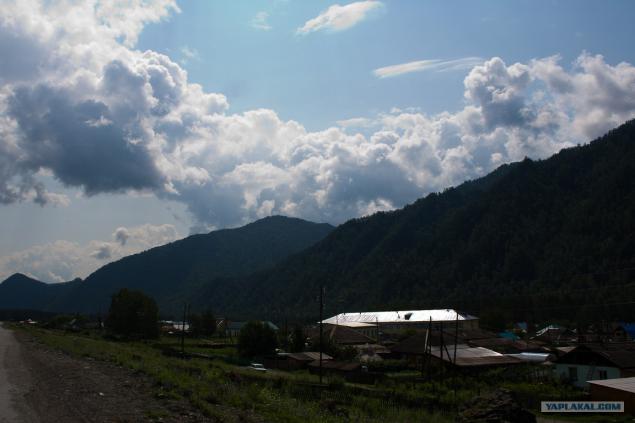 Had breakfast in the cafe roadside, fast, tasty and a lot less than $ 100. per person.
Let's go further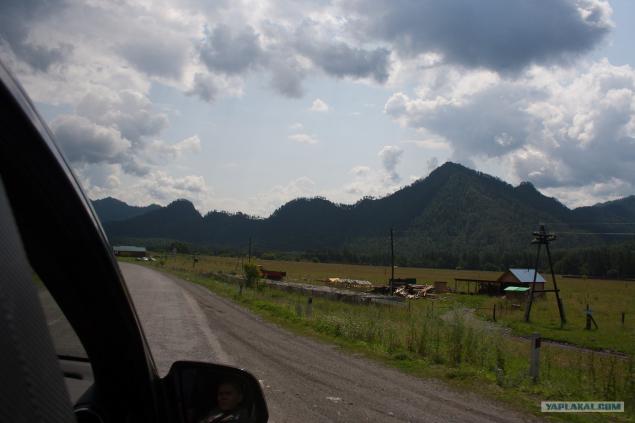 The path goes along the Katun River, you go and enjoy the views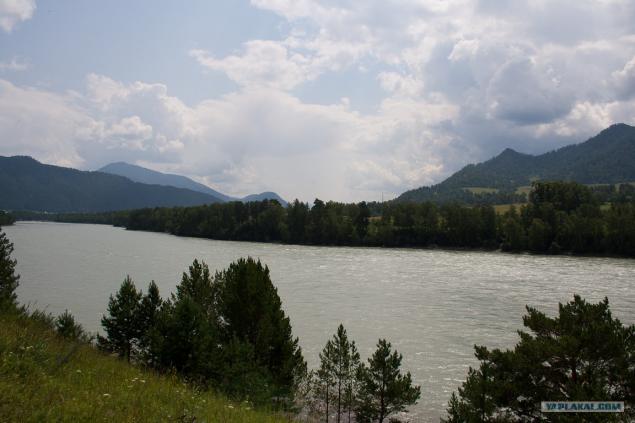 Tourists fused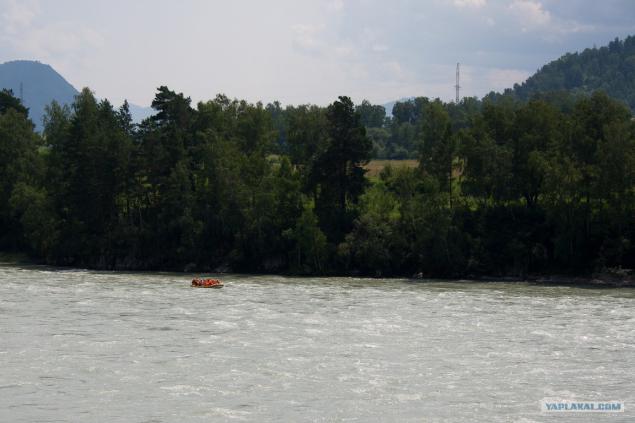 I honestly was not impressed, floating in peace.
While it may seem so from a distance only.
We stopped at the cafe for lunch.
Cafe interesting kakby hangs over the river, a large terrace, sit, eat, look at the river and the mountains.
Skewer about 100R, delicious!
And here is the meat fresh for him runs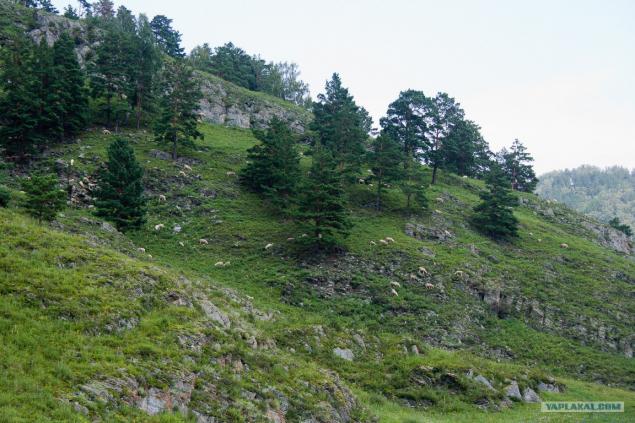 We go further: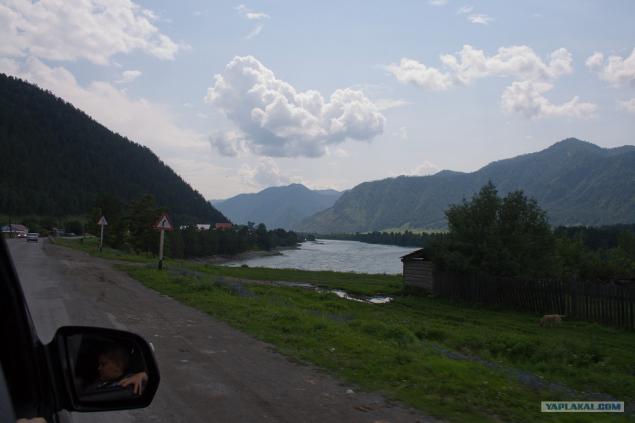 Revered card thought went to the hydroelectric power station.
HPS actions people there is darkness, walking from the parking lot to go so big already.
In addition to the natural places of the market trinkets, organized a theme park.
Because of the unusual: the descent from the mountain on a rope, a catapult, in general, can be extremely fun,
Price-300-400r, in our children's rides Gorsad expensive.
They came to the HPP: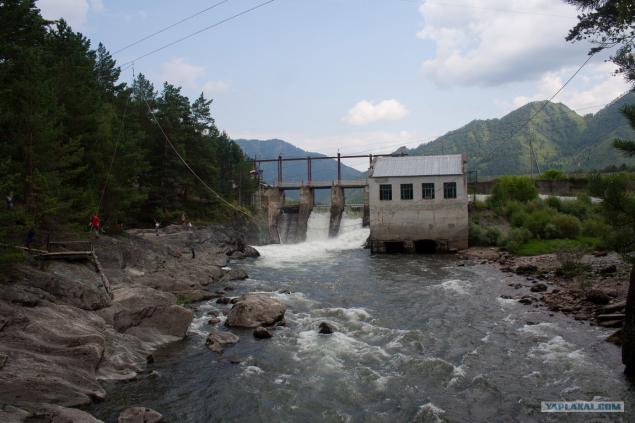 Here on the ropes so you can go down there. Like action movies almost, but not over the streets of the city and over the river. There are higher, there is lower. People screaming.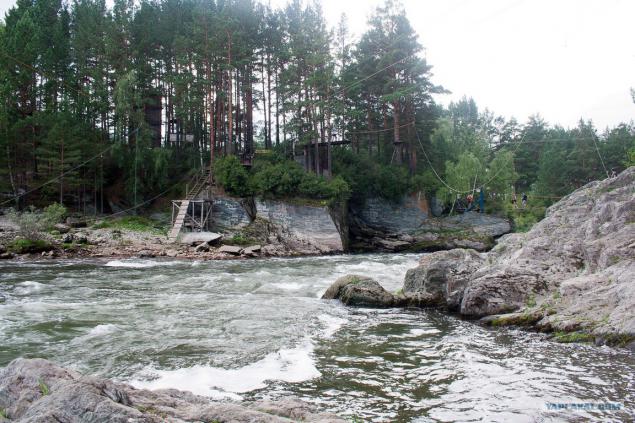 People active in the background fotkat: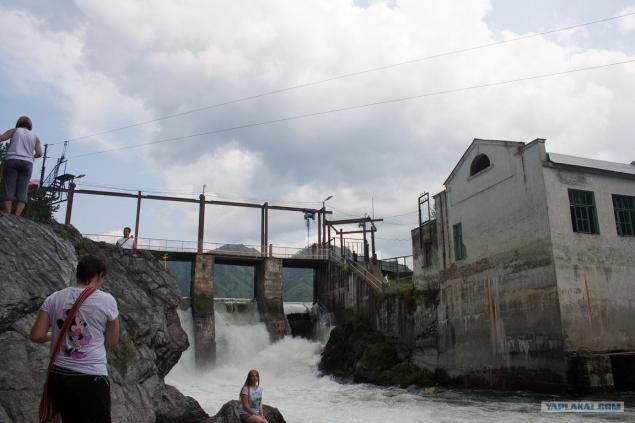 GES is small, but very noisy however: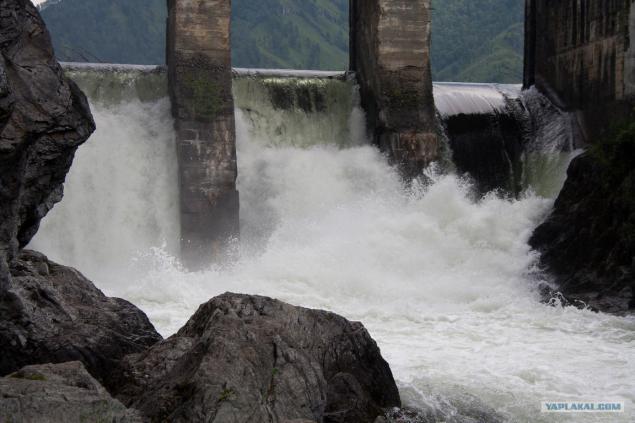 We watched, went on upstairs!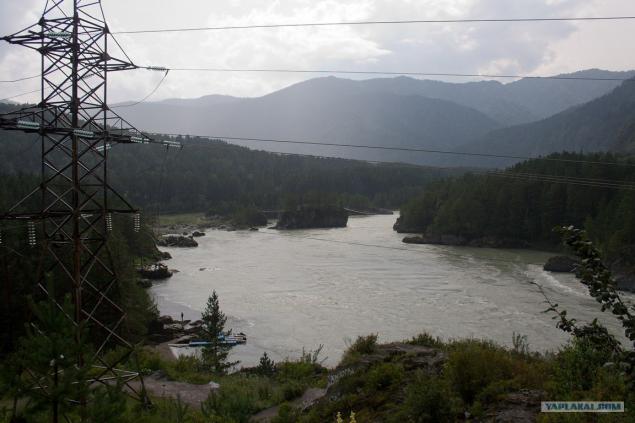 Even higher: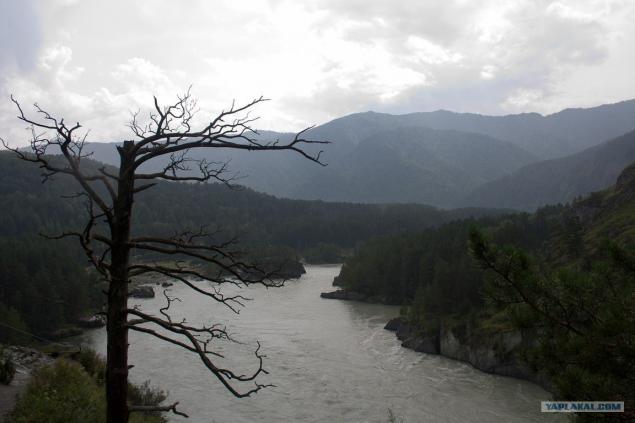 And another: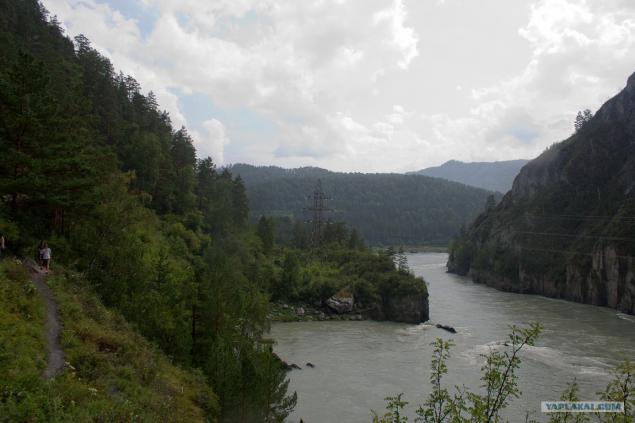 All of a sudden go to the other point of interest, the island of Patmos: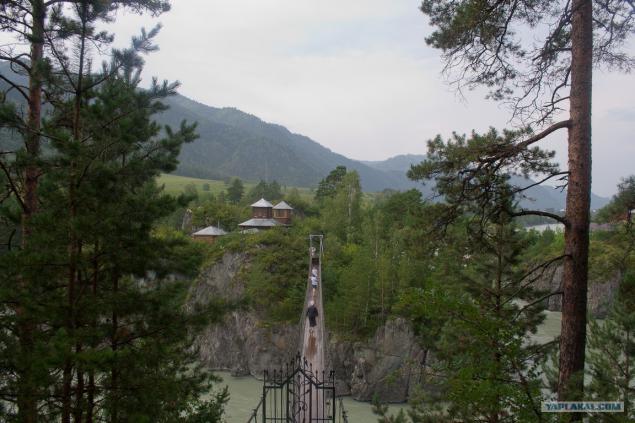 Beautifully: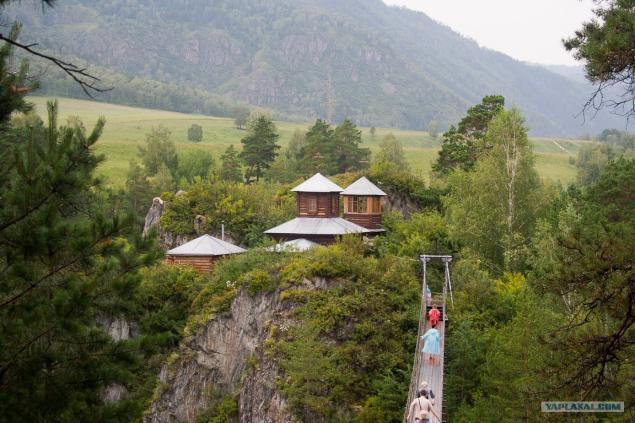 We go back on the "goat track" toward HPP down tourists.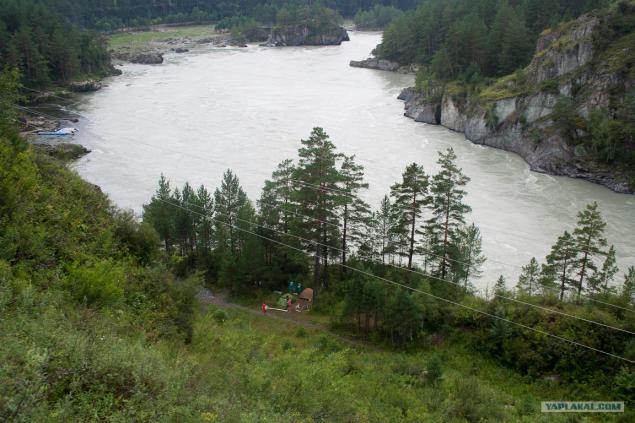 Let's go back in search of accommodation.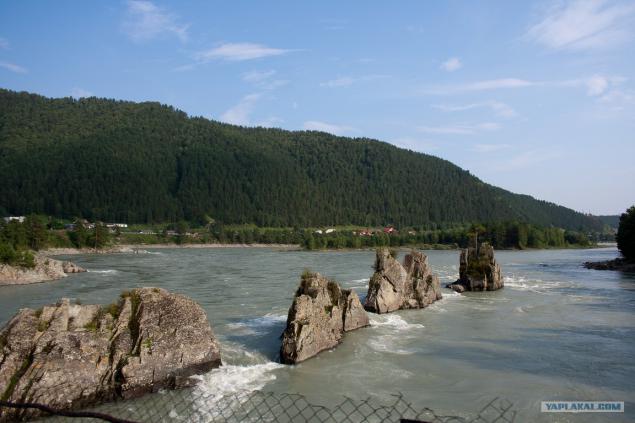 Kata rolled and found a house that's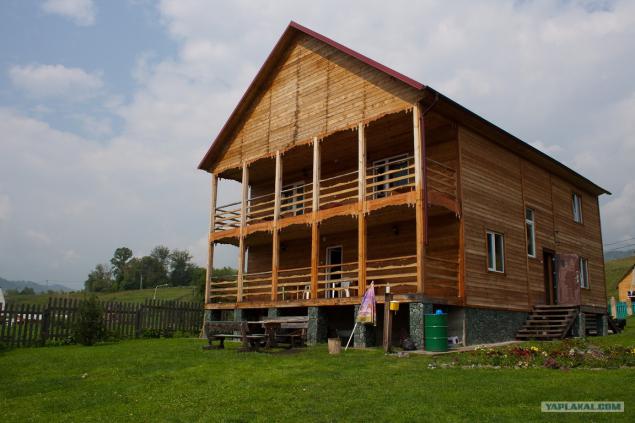 Accommodation 500 rubles per person per night, room 500 rubles per hour: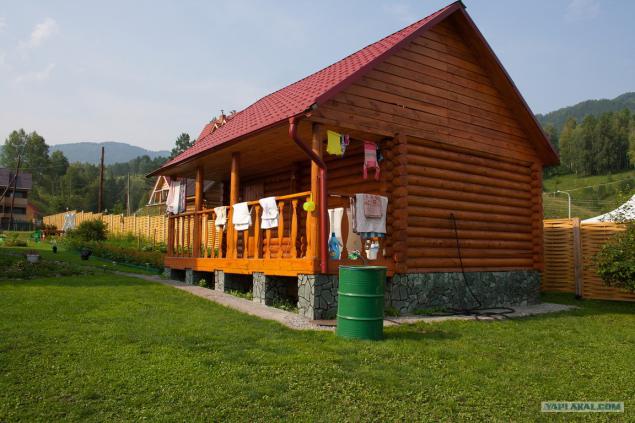 There is a playground and generally quite comfortable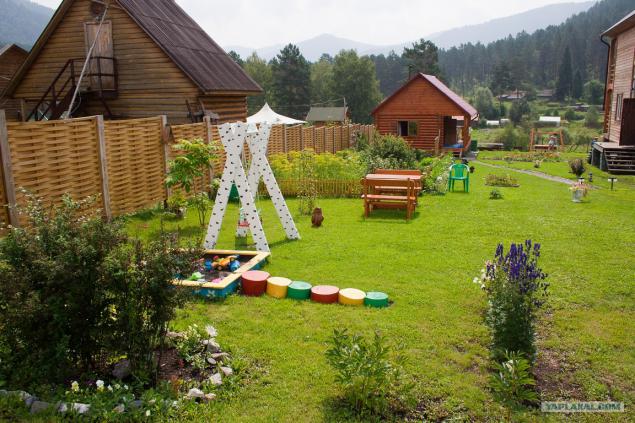 That such views are: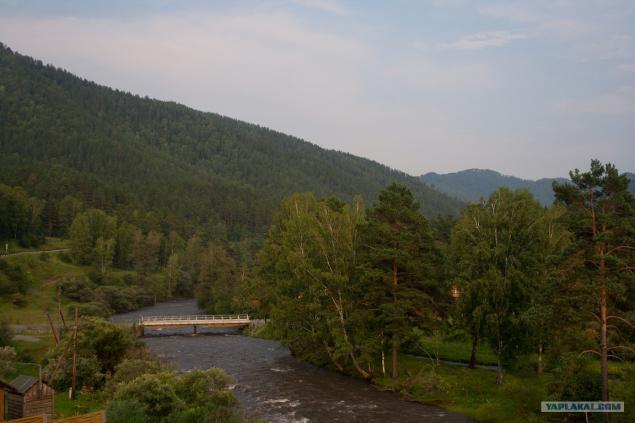 And these: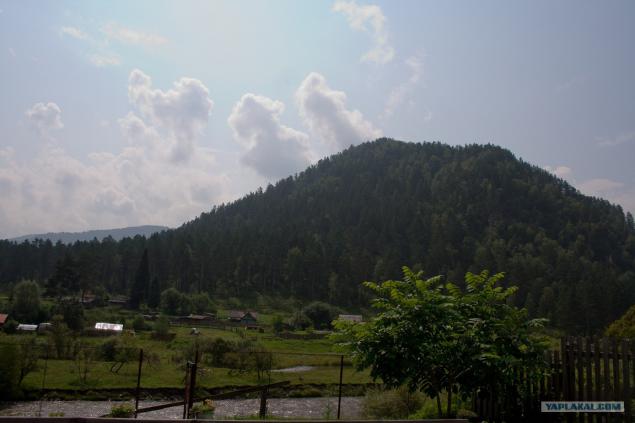 Right behind the fence a small fast flowing river: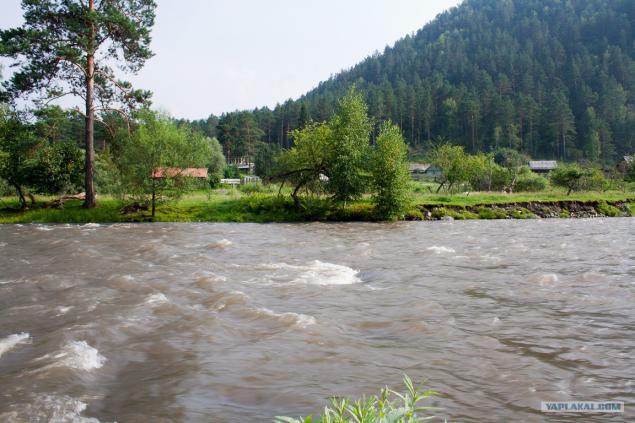 Next to this river is always cool, but worth the climb up the steps and already hot, very convenient!
Zaipashil bow!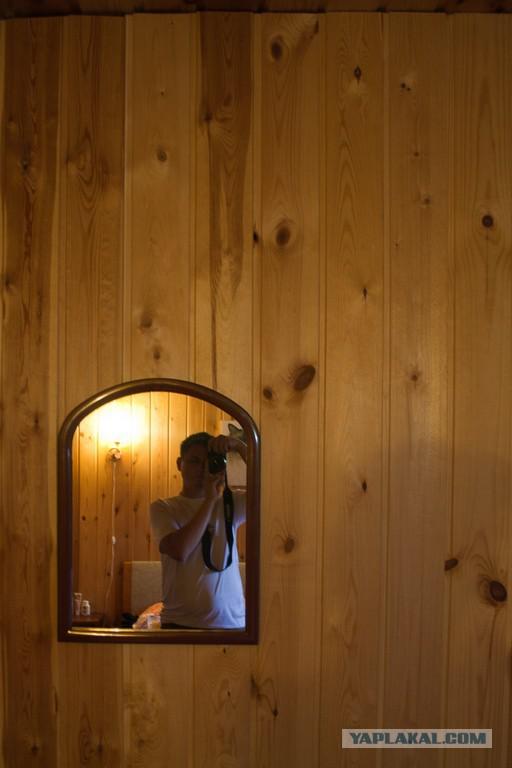 There everything is standard, barbecue, beer and vodka-room, a couple of days in probuhali obschem
Hangover in the morning there, get enough sleep as a baby, you go to the balcony and watch, think about the eternal and generally relax.
Then I unfortunately had to go back home and I left.
A little more photons, not me Made: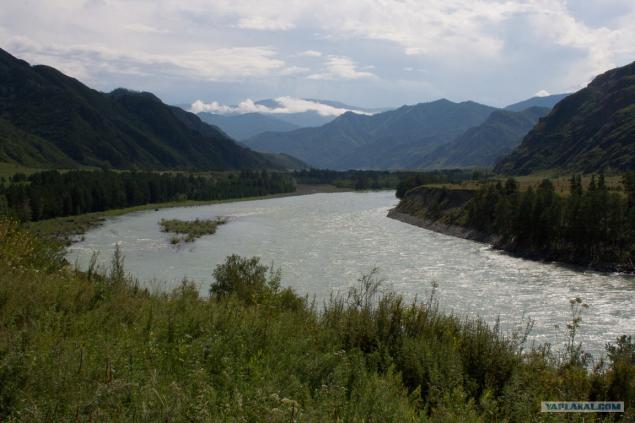 More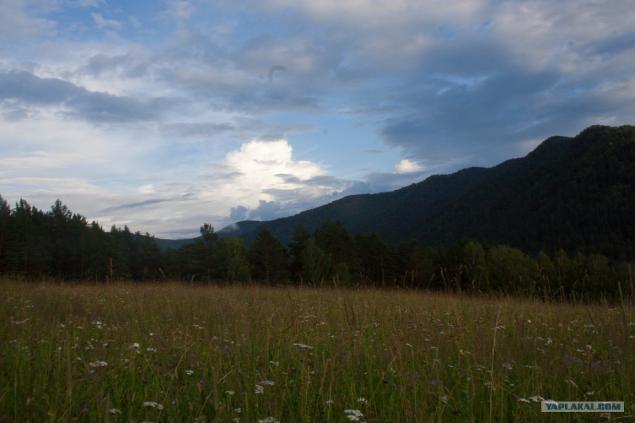 More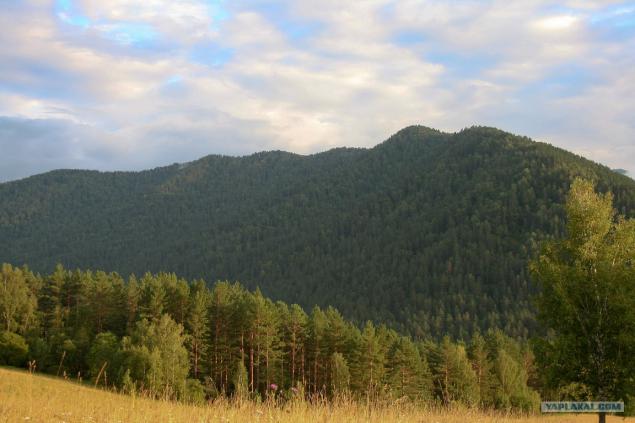 More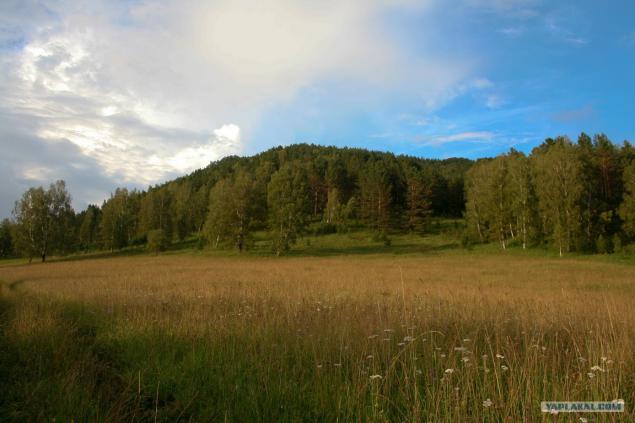 yet)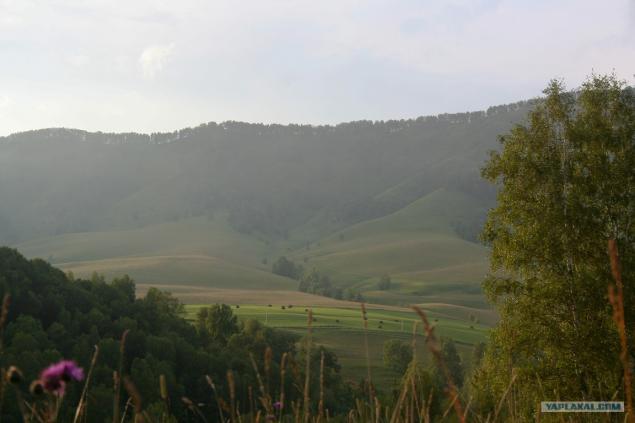 Rolling on the river
Posted in [mergetime] 1376939170 [/ mergetime]
So definitely worth to go!
The place is beautiful, the price tags are adequate, plenty of sights, we stopped just 2 places on the map and they were about 50 to only one direction.
Someone in a car: the roads are good, traffic police - on a thousand square kilometers 1, normal petrol is, if broken, can help.
On the way back you can buy awesome honey and other local nishtyakov.
Kote none sfotkal forgive.
In general, a lot of pictures, but already all night writing, and shall not spread.
All break !!!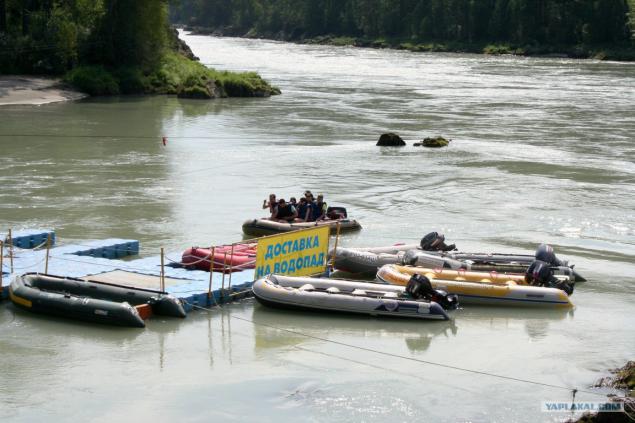 Source: