Almost 29 years ago, came the song that was played then almost all radio and became an absolute classic of the 1980s. We Are The World - the song in 1984, wrote the star of pop music - Michael Jackson and Lionel Ritchie. And though Michael sang the original demo one, in the end, and Jason Ritchie decided to collect this stellar company to perform a song together. People in the studio was a lot, it's all filmed. And the result has justified itself - collected $ 61,800,000 records were sent to the purchase and delivery of medicines, food, medical and humanitarian aid to the starving people in Ethiopia.
Of course, the fate of the list of all the participants in the studio will be long and dreary. But let's at least see how things are artists spevshih major parties in this classic song.
17 photos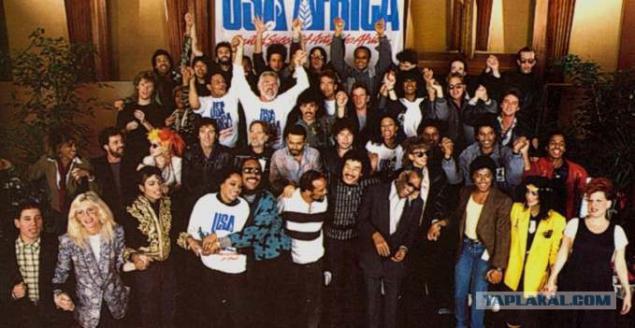 Michael Jackson. There is nothing special and did not write. Given what dizzy and challenging career in the end there was a musician. After We Are The World Jackson blew up the charts album Bad and Thriller, but after the mid-1990s, things went much worse than Michael. Michael Jackson died in the year 2009, a little before the age of 51 years.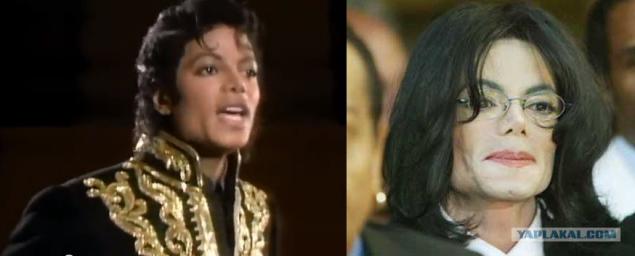 Lionel Ritchie. Legend of the American soul and pop music, we Lionel was not as popular as in the US and Europe. Things Ritchie always gone pretty well. However, the daughter of Nicole now and then surprises, yes, it seems, Lionel used to it. Lionel now 64, and he had many successful tours around the world, and it looks almost younger than during the recording of We Are The World.

Paul Simon. Member of the legendary duo Simon & Garfunkel in 1980 achieved much success in his solo career. In recent years, the duo has repeatedly tried to return to work together, but somehow they have not yet obtained it. Now Simon '72.

Stevie Wonder. Wonder - one of the rare musicians who achieved fame as a child, but became even more popular as an adult (as Michael Jackson, by the way). Wonder now 63 years old, and he continues to support and work on a new album.

Kenny Rogers. Veteran American scene, wild and beloved in the United States, but little known in our country. Sometimes it seems that all of his discography albums called "Platinum collection" or "Greatest hits". Rogers now has 75, and he wrote his memoirs.

Tina Turner. Another star, about which much has been said already. However, it does not release albums already for many years. Although, maybe this is the meaning. Recently, 74-year-old singer received Swiss citizenship.

Billy Joel. As Tina Turner, Joel recently - musical recluse, who for 20 years has not released any new albums. Nevertheless, Billy periodically appears on a hodgepodge of young girls. He is now 64.

Diana Ross. Hooligan and drug * omanka but outstanding singer. 69-year-old Ross continues to tour, and it does so quite successfully - tickets for the summer and autumn concerts were sold out completely.

Willie Nelson. Another grandfather American country and rock, beloved homeland, but little known in our country. Nelson 80, he still gives concerts and is almost a living icon for many American musicians.
Kenny Loggins. Bearded owner of the "good voice", something consonant with the voice of Stevie Wonder, continues to support today. Recently, 65-year-old Loggins voiced himself in the video game Grand Theft Auto V.

Steve Perry. Journey vocalist had a successful solo career in the 1980s and 1990s. Recently, however, Perry had serious problems - cancer. However, the singer coped with the illness and plans to soon return to work.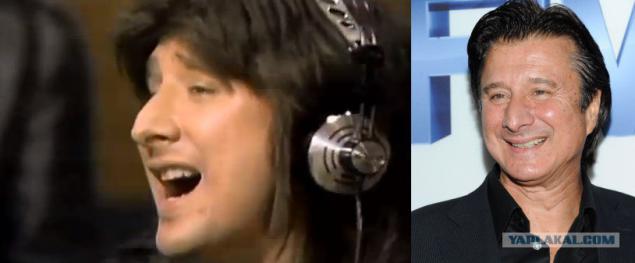 Bruce Springsteen. Another "American icon." About the success of the 64-year-old Bruce and can not speak - and all so clear. In late-2013, it became known that the musician was awarded the special prize of the Hall of Fame Rock and Roll Hall of Fame.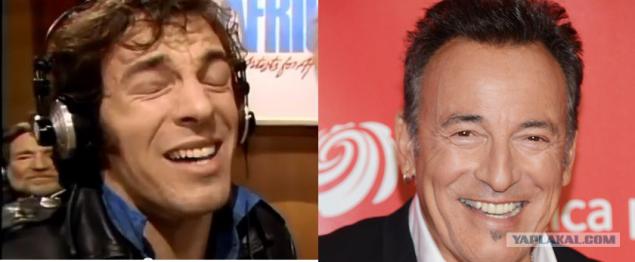 Cyndi Lauper. Popular in the 1980s crazy girl stands to this day and has recently celebrated 30 years of its most iconic album - She's So Unusual. Actively defends the rights of se * sualnyh minorities. 22 years as a happily married to actor David Thornton.

Bob Dylan. Perhaps one of the main stars of the record. Mr. Zimmerman has affected at one time nearly all the key stars of the 1960s - from The Beatles to the Rolling Stones and Led Zeppelin. Dylan now 72, he continues to tour and the arts - painting pictures and making installation of iron.

Ray Charles. Grandfather of the rhythm and blues. Already at the time of recording We Are The World, Charles was an honored veteran of the music, though at that time he was only 54 - the age of the small by today's standards. Charles regularly gave concerts until the very end of his life. Ray Charles was not in 2004, he was 73.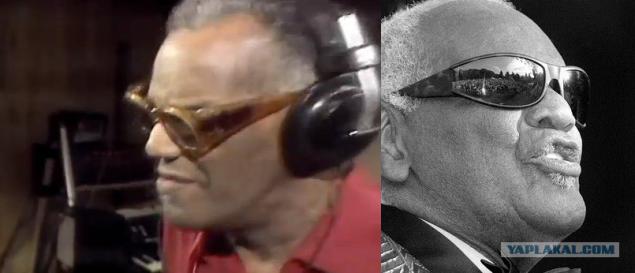 And, in general, the clip itself, to refresh your memory))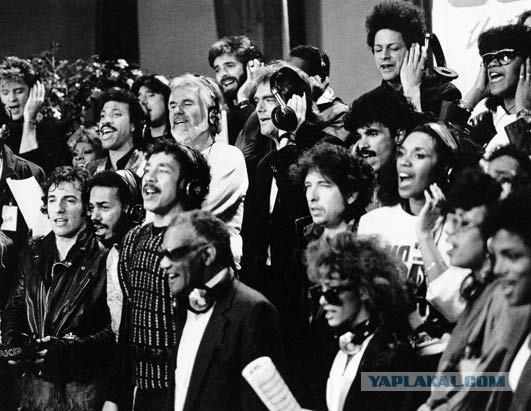 Source: http: //