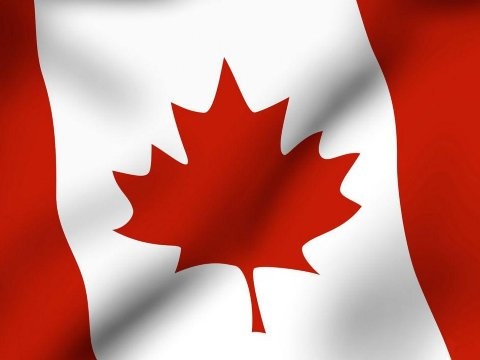 The name of this country comes from the Iroquois Indian language. "Kanata", means "village", "settlement".
The border between Canada and the United States extends to 8,891 km, including 2,475 km border with Alaska. No other pair of states does not have such a long common border.
Canadian motto is saying «A Mari Usque ad Mare», which means "from sea to sea».
Although Nova Scotia in 1625 was granted by the British King Charles the First his own flag, Canada did not have a symbol of independence until 15 February 1965. On this day, the British Parliament passed now known all over the world with the maple leaf flag.
With its 9,976,140 m² of Canada is the second largest country in the world after Russia.
The density of population in Canada is 8, 6 people per square mile - and this ninth country in the world, known for its low population density.
The average life expectancy in Canada is 81 and 16 years old, and it is the eighth in the world. The United States with 78, 14 years old are only 46 place.
East Coast of Canada was inhabited by Vikings, another 1,000 BC. Archaeological evidence of the existence of such settlements have been found on the island of Newfoundland.
Newfoundland was the first part of Canada, explored by Europeans. Ironically, this island was the last area that has become one of the provinces of the country in 1949.
In 1642, a group of religious missionaries from France was inspired by the vision that led to a settlement in the wild forests of Canada. Later, the town has grown into a modern Montreal.
According to a survey conducted in 2001, 42, 6% of Canadians identified themselves as adherents of the Roman Catholic religion, 23, 3% considered themselves Protestants, and 16% said that they are atheists.
Country Canada was formed July 1, 1867, when the British Parliament issued a British North American Act.
Mounted Police was formed in 1873 and consisted of nine people. In 1920 it merged with the Dominion Police and became famous Royal Canadian Mounted Police, which today serves more than 28 thousand people.
Ice hockey is the national sport in Canada. This is where hockey appeared in its present form. Official rules of hockey were first published in the Montreal Gazette in 1877.
Canadian James Naismith invented basketball, to enable students to sports school in Springfield, Massachusetts to engage in sports game indoors in the winter.
The capital of Canada Ottawa, originally called Baytaun in honor of Colonel John Bai, whose headquarters was located in this place during the construction of the canal, which linked the Ottawa River to Lake Ontario.
Canada has the world's longest sea coast line, which is a total of 244,000 kilometers.
The lowest temperature in North America (-63 C) on record was registered in the village in the Yukon Territory Sneg February 3, 1947.
Canada is known for its territory inhabited by moose and grizzly bear, but still lives here and 55 species of insects and about 11 000 species of ticks and spiders.
In Canada, concentrated 9% of all renewable world's fresh water.
Canada's official languages ​​are English and French. In the entire history of this country up to the present time, there were some conflicts between anglophone and francophone population.
Tension between the two major diaspora in Canada peaked in October 1970, when the Front de libération du Québec, a terrorist organization, to arrange explosions in the cities, robbing banks and made a number of other crimes, stole trade representative of the United Kingdom, Richard Cross. The army put an end to the revolutionary mood, and was arrested several hundred suspects in the plot.
Charles Fenerty poet from Halifax. That Nova Scotia was the first to use the wood for paper production. He began experimenting in 1839 and received his first paper from wood pulp in 1841.
Canadians have made many important inventions of mankind, including kerosene, electron microscope, electric organ, insulin, and electric snowmobile.
Canada is a major producer and consumer of cheese. In 1997, 350,000 Canadians tonnes produced, at least 32 kinds of cheeses and eat more than 10 pounds of product per person.
Geleksilend in a shopping center in Edmonton, Alberta, is the world's largest amusement park, located in the room.
The province of Alberta is 50% of the world reserves of natural bitumen, which is used for the production of asphalt.
TV tower in Toronto was the tallest structure in the world, as long as this achievement was not blocked in 2007.
Lake Manitou on Manitoulin Island, located on Lake Huron is the world's largest lake within another lake (107 km²).