From 25,000 corks family in the village Bril'kov posted on his home animal drawings, cartoons and a symbol 2014 World Cup
This cottage in the village Bril'kov Volozhin district is well known in the area. A couple of months Aleshko family home decorated composition of several thousand traffic jams. Material for going everywhere from schools and hospitals to neighbors.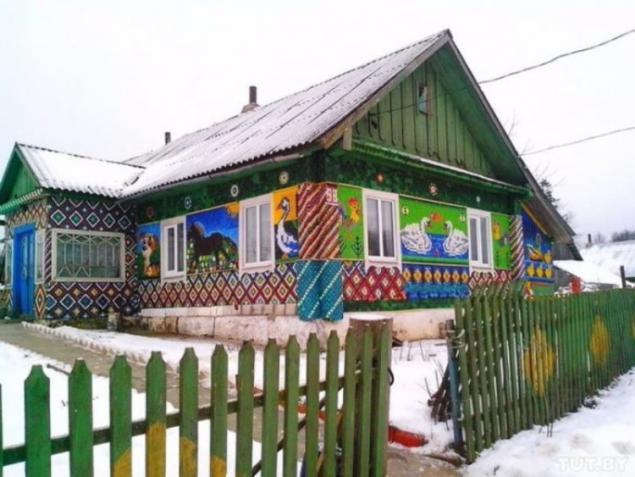 - At the house went 25 thousand million stoppers and nails. Collect wherever possible: and his neighbors, and friends, and my sister brought the hospital. Even at school. Well, we grandson sketching. Children draw well, and myself. As we shall see - moving in a notebook on the cell. And then to lay them on the floor, look, beautiful or ugly looks. If beautiful - knock - says the hostess Elena Aleshko.
The idea of ​​the house of the mirrors appeared in the summer, when the grandson Elijah showed grandparents pictures similar buildings in different countries.
As a result, now all the walls of the house are decorated with paintings of the caps, applications and gradually "creep" on the front of the house and the garage door. So, for example, there was a mosaic Volat - a symbol of the World Hockey Championship, which will be held this spring in Minsk.
 - Volat have already done on the garage - at the home of free space there is. Before this one bison have knocked, but not very nice out. Decided to increase - and better. Grandfather was so interested that arose as soon as the dawn, and the whole day until dark "knocked out". Yes and grandchildren were. However, a woman (myself) to pay them for it. Intriguing, so to speak - laughing companion.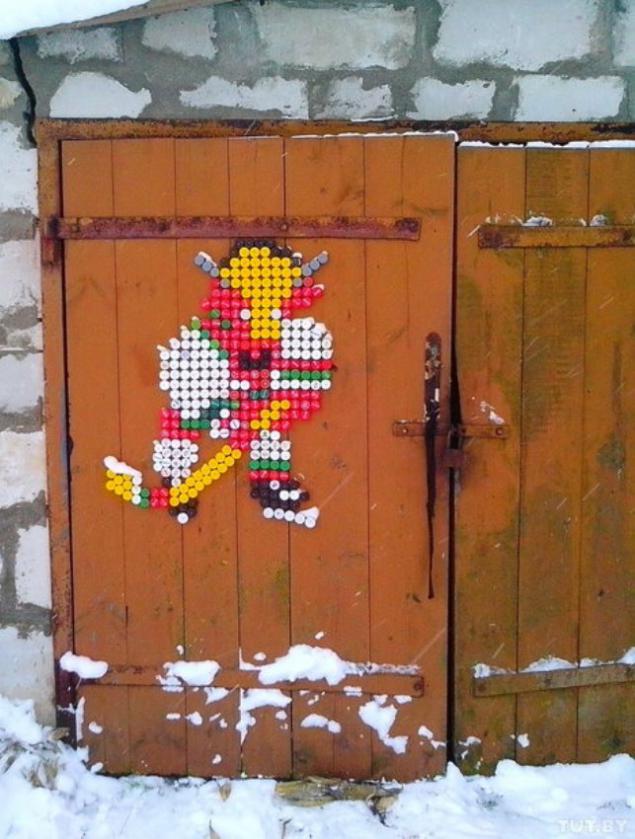 Ideas for pictures spying everywhere, somewhere has got a beautiful picture in the calendar, but something from a magazine for cross stitch. The farm family is not lost and other parts of the bottles - of them make plastic palm trees.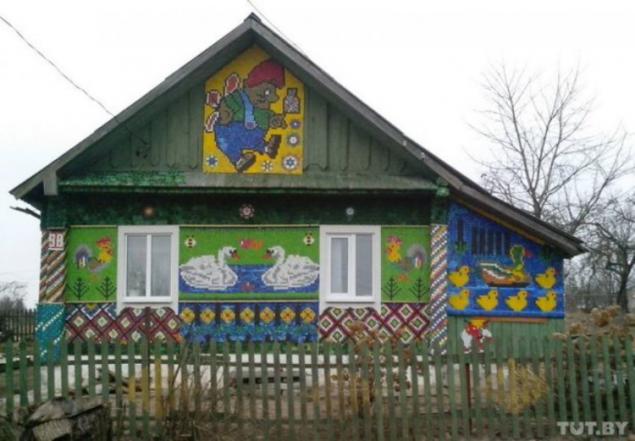 - People to us on a tour almost every day come. It's already after the local newspaper wrote about us. But there were black-and-white photos, so little that you see. Come, say, and you can see? Please! And we can bring you traffic jams? Yes to your health! Still here with his grandson turtle want to do. But something draw-draw until you get ...