Personal Assistant anonymously told why can not often go to the toilet, what to know what it looks like Minister of Economic Development, and what would happen if the chief disappoint.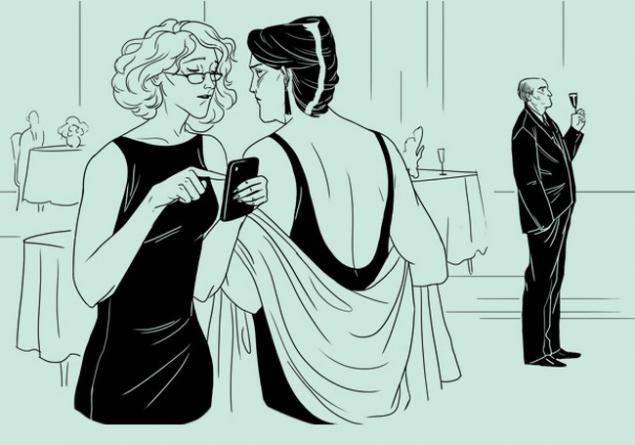 I became a personal assistant accidentally. I have worked in this area, but not very much engaged in private. Only a couple of times, my former boss forgot ties in different locations in Moscow, and we then searched for their driver.
At the interview, I successfully passed the three-hour test on formatting - in English and Russian. And I coped with English better than Russian. Only after that was a personal meeting with the head of the company. In the office came a woman of about forty: expensive dress embroidered with stones, earrings, shoulder-length, evening makeup. She said: "My assistant knows that on the way from London to Moscow, I always take a fruit plate in the plane and on the way from Moscow to London - never. And it is - 0, 001% of the information that you should remember. And I am sitting alone on the couch 2d. If you do not have time to get it, it's your problem. More I have a mother and children. They also fly, and this, too, must follow ».
Last assistant was fired because he left my boss Galina in Yekaterinburg without transfers from the airport. She was beside herself: it is one thing to fly at night in London or New York, the other - in Ekaterinburg and be without a car and without a trusted way, the driver, which is not exactly your bag soprёt five thousand euros.
Business Day
The first working day, 9 am, and I have in the mail for 30 tasks from chef. For example, to transfer 5 million rubles in tax, personally. While I have no data cards and account I do not know how much to pay and how to do it at all. Who to call? Paralegals who work for other top companies, I did not help: "We are busy, we're busy, we have so much to do." Then it was necessary to redeem a bunch of tickets: again no data cards, nothing, nothing to buy, no amount of money, who to call - nothing is clear. But they told me where the fire escape. Only escape by flight.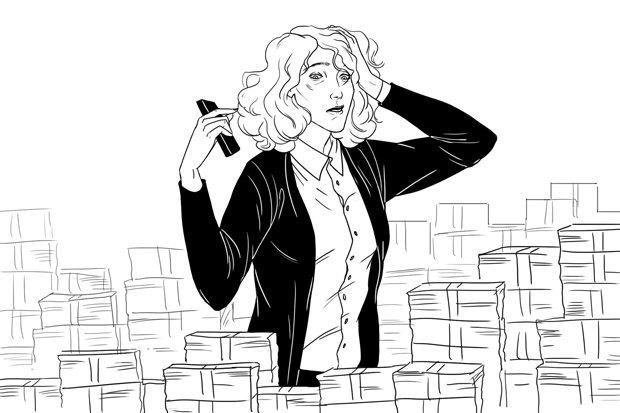 On average, I get the job every three minutes. Boss woke up at 07:45 and sent the first email. The second email - 7:45. The third email - 7:45. Three e-mails per minute. The next email - 7:46. The next email - 8:05. Waited for 14 minutes. One day I had 42 emails to 8am. And they were all from the category - 7:01, 7:02, 7:03, 7:04. If she comes into the office, it's all the whole day on it. Past assistant, she wrote: "Alexander, you are too often go to the toilet, what's the problem?" The most rigid expression, if it is dissatisfied with you, "You have a very poor approach. You disappoint me. " If she wrote - all go and hang. And if you wrote "far from ideal", that is the end. That man realized his mistake, she did not need to say anything bad or send FIG. She just says, "This is terrible».
Responsibilities
Personal Assistant must always be aware of where and what makes it superior. So I now know that Galina sits at home, she had a family dinner. That from one to four - her favorite lunch, and then everything on schedule. If the assistant suddenly does not know what's going on, it's a failure. Galina once called and asked: "Tell me, where I am now?»
If she was going to a meeting, you must provide a default summary of all with whom she will meet. Their positions, marital status, hobbies, interests. For ten minutes, these documents must be in her car. The supervisor can ask at the reception: "How does the Minister of Economic Development Ulyukayev?" I quickly take off her his picture and resume. She looks, and then fit and fluent.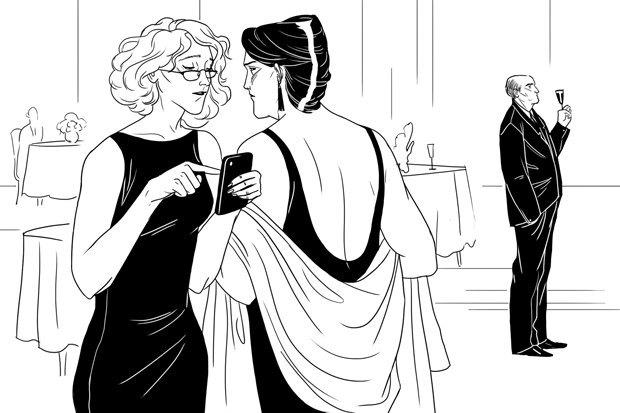 One day she asked me to stop the plane because she was still on the way to the airport, but registration is already closed. I did everything possible, and it allowed to board. It often happens that she jumps on the plane, but the luggage is not jumping (because everything is closed) and flies next flight. And then we find out where her luggage, and have them delivered to the hotel. There are standard tasks. She can call me and ask: "This is a restaurant in London - good or not? Which is better - to take the car or on foot to walk? "Knowing that she had a 12-inch heels, I'm counting the distance: if more than three minutes, it is better to take the car.
On birthdays employees need to be reminded in advance that she, having arrived from a business trip, came to the secretary and said, "Anna, you had a birthday a week ago. Happy birthday to you! "And all the love her for it. Although she had forgotten immediately that her name is Anna, but you reminded her - well done.
Non-standard situations
Personal Assistant can not come to the boss with a problem - only solution. Before the New Year Galina asked me to order from Astrakhan seven cans of black caviar for corporate gifts. Okay, we bought seven cans for 60 thousand rubles. Ten minutes before going to a party, I remind her, "Galina, it's time to go, otherwise you will not drive there, the whole of Moscow worth it." And she told me: "You have ten minutes to find the ice pack and Gift caviar. It should not be at room temperature when I'm gonna give it ».
Had to go ITS drivers who hold a door in the subway and carried ITS Evening Shoes
So I run to the store, looking for fish department and beg sellers crushed ice. Pour it into a beautiful transparent container, put the top banks with caviar, tied with a red ribbon. On New Year's party usually give expensive alcohol, which is no surprise. And here comes my boss, takes out gift bags cans with ice, through which shines caviar, and gives them. We created a furore. Incidentally, I spotted while. On the idea, the search for ice and packaging gifts took eight minutes. It was funny.
Then we had a corporate. Boss wanted to go to a party "Snob" and Forbes Club, because there was a meeting with Chubais. Start time partying same everywhere. I warned Galina that Moscow is in the traffic jams. If she was going to a party in the "snob" and Forbes, will not have time on their own corporate office than seriously hurt their employees. There was only one way out - go to the subway. Galina reluctantly agreed. Left the office in the mink coat with three-quarter sleeves, bags Bottega Veneta. I had to send her driver who was holding the door and carried her evening shoes. Thursday, 18:20, people go to work on the most congested branch - with "Pushkin" to "Kuznetsk bridge" and then on "Lubyanka." She returned to the office exactly one minute before his opening speech.
Vacation chief
The most difficult was the period when the boss goes on vacation to the Maldives. Galina always flies only "Lufthansa", but "Lufthansa" does not fly to the Maldives. I called the company, "You just do not fly there?" - "No, flying Condor Airlines, and we - no." But Galina said firmly: "Condor" - shit, it will fly only "Lufthansa". I offered to fly through another city, and then change. The most convenient option was Dubai. Galina told to book a hotel "Burj Al Arab" to settle and a day later to fly from Dubai to the Maldives. And in the "Burj Al Arab" places no longer there. All rooms are booked, luxury-period. But Galina stubborn, "No, I just want to" Burj Al Arab. '" We jumped higher than his head, but booked this hotel for two nights.
Then the boss decided that she definitely need to go to the roof of "Burj Khalifa" - the tallest building in Dubai. Lead tours there: you pay 123 dollars, you come and see. "It is only necessary to know the exact time of sunrise on December 5. Find out this "- set me the task of Galina. We planned this vacation for three months, but I still managed to correctly calculate the time of sunrise and buy tickets for 05:37.
For seven hours before the flight to the Maldives boss decided to take a piano. "I'm so relaxed," - she said. But that she relaxed, I really have to strain.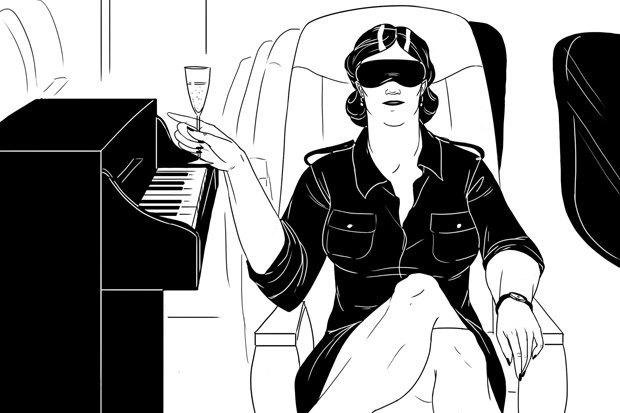 Galina invited to leave the piano in the wardrobe for your onward flight. I told boss that everything depends on whether the airline wants to take on board all its musical instrument. For him, need to buy a separate seat for 24 hours before departure. We did not. I called in Germany, in the head office of "Lufthansa", and said that my boss, an honorary passenger company wants to take on board the piano. I do not understand, "Why?" I said, "Well, to play in the Maldives. It relaxes her. You see, she had already flown 300 times with you and another 500 times flies. She loves you so. It is important that the piano flew with it. " In "Lufthansa" agreed: "Okay, bring to registration. Nothing anyone will say just'll take, deliver, and then will issue ».
But in the end boss changed her mind. Not that "No, thank you." She just did not take the piano with him. At 4 am she landed in Dubai and wrote me a sms: "Thank you, the piano is not handy. And yet we were not on a par with the children. This is certainly not the end of the world, but it would be necessary to take into account ».
Bonuses
I like to work with her boss. When you laid out in full and get back her gratitude, you just want to cry, cry, and another 24 hours to work. Because she is so to say thank you. Besides, it's fun. You do not know what's waiting for you the next day. I understand that one day she can ask me to buy her a ticket to the moon. In a typical letter to the post office: "Listen, buy me, huh?" And I'm going to call NASA and ask, "And you can still fly Galina?" - Because you also think that nothing is impossible.
SOME CENN SEEK "Ferrari" The latest model, the boss from Milan to visit some place. WE somehow all humanity.
Galina I once invited to lunch. I thought for a meal we will again discuss the work. But when I went to the cafeteria, she said: "You are so thin. What's your occupation? Where to go? "I say," Just train home. " And she says: "You know, I also squat in the morning with his daughter 100 times." At these people want to work. Some assistants are looking for "Ferrari" the latest model to be the boss of Milan somewhere reached. And here they are fools, learn booked. We somehow all human. Boss often asks, "Do you even wonder?" And I say, "I'm just an eternal holiday."