Famous American supermodel Christie Brinkley, celebrated on February 2 its 60th anniversary, was the guest of the party in honor of the 50th anniversary special issue of Sports Illustrated.
On the red carpet mother of three children appeared in the orange dress Victoria Beckham worth 1550 euros and shoes Christian Louboutin leather sea snake for 785 euros. Christie was in a good mood and having fun posing for numerous photos.
Christie, who first appeared on the cover of the prestigious publication 35 years ago, the secret of her beauty calls vegan diet and regular visits to a dermatologist. "I feel better than ever!" - Confessed to the model in an interview with People for the week before the 60th anniversary. "Because of what I later gave birth, I feel a great responsibility, I want as long as possible to get close to them," - says Christie about his son, the eldest of whom Alex has 28, the son of Jack - 18, and the youngest daughter of Sailor - only 15.
Brinkley adheres to a vegan diet, eat moderately, but admits that sometimes breaks down and eats a lot of favorite pasta. She denies that do plastic surgery, but does not exclude them in the future and recognizes that regular visits to the procedure, the beautician to help fight wrinkles.
She keeps fit by doing 100 push-ups every day, and exercise on foot makes during brushing. She grew up in California, so her youth was held on the beach, but later it became to avoid direct sunlight and uses sunscreen. However, she likes to tan skin, so it enjoys tanning. Brinkley also stresses the importance of exfoliation of dead skin particles using a scrub once or twice a week. She uses a lot of grains and beans. "I became a vegetarian at the age of 12, then convinced my mom and dad to become vegetarian, and later his brother, too, - says the supermodel. - I try to eat foods as much as possible of different colors every day, so get all the necessary vitamins. For breakfast, she often eats porridge from whole grains with berries for lunch - a green salad and pasta for dinner. Engaged in yoga, pilates, dance, take long walks on the beach.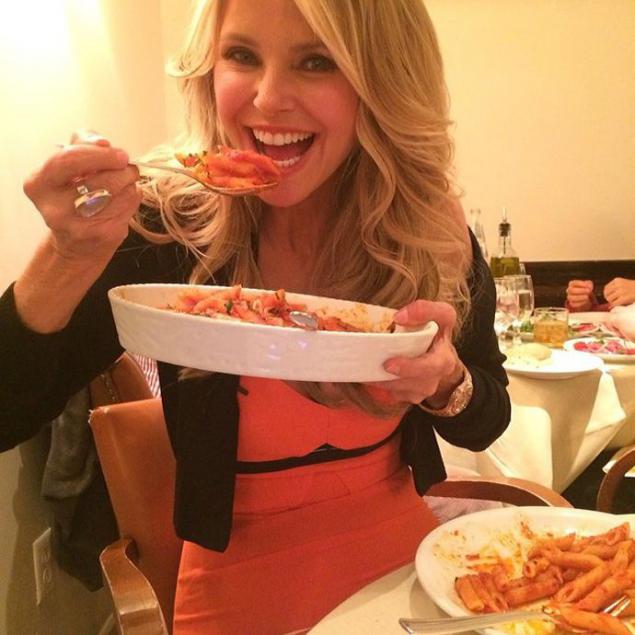 Career Christie began in 1973, when it was noticed by an American photographer in the post office in Paris, where she moved to study art. However, the art of it did not work, and striking blonde began her way to the top of the modeling business. She has more than 500 covers of glossy magazines, she also starred in films and television series, write books, and was a photographer. Christie was married four times and had three children. However, she still looks dazzling, although special secrets Beauty she does not have: "Believe me, I love chocolate ice cream, but not substitutes. If I eat it, the only real milk and cream! ».