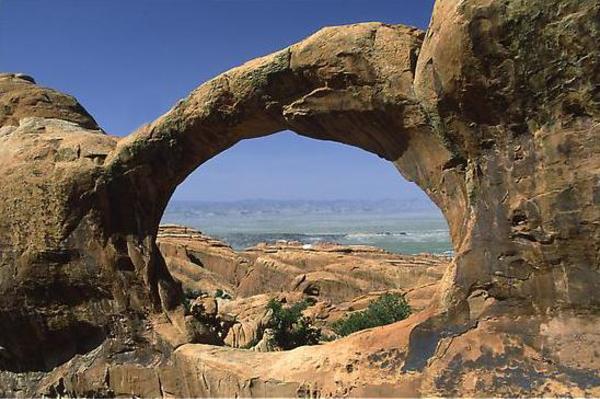 Arches National Park (Arches National Park) is located in the eastern part of Utah, USA, near the city of Moab.
Perched on top of an underground evaporite layer (or layer of rock salt, which is the main reason for the formation of arches) above the Colorado River Park is part of the vast country of canyons. Its total area - 310 square meters. km.
The park is just over 2,000 natural arches formed by millions of years of erosion of rock salt. Erosion washed young rock layers from the surface except for certain residues formation which today can be seen on the surface - for example, an orange-pink sandstone Entrada, which is dominated by arches, or Navajo Sandstone buff kozhi.Samaya highest point of the park - "Elephant Hill" in height 1.723 meters.
In 1775-m Spanish missionaries faced here with the tribes "Ute" and "Paiute," but only in the 1880 Mormon mission was attempted colonization. Around the same time in a nearby river valley ranch there, farmers and miners. On April 12, 1929, the park was declared a US National Monument and 12 November 1971, received the status of Arches National Park.
The fame of the beauty of the rocks surrounding these places has spread beyond the state and the region has become popular among tourists. Nowadays, camping and hiking in these areas is only allowed on the established Tracy Arches National Park. Otherwise, the annual visit to the park more than 700 thousand tourists threatens to destroy the fragile ecosystem of the mountain desert. Since 1970, the park was destroyed by erosion has 43 arches.
The vegetation of the park consists of plants such as lichens, moss, liverwort, juniper, prickly pear cacti in the family, Mormon tea, primrose, sand verbena, and others. The temperature in the summer, from June to September, can go up to 37 degrees Celsius, and in winter often drops below zero.
In Arches better to come in the spring or autumn, when the temperature is ideal for exploring the mountain wilderness. In April and May in the park wild flowers bloom.
Graceful arch (Delicate Arch)
Through the "graceful arch", towering 14 meters, can see the mountains La Salle (La Sal), which are located at a distance of approximately 56 kilometers. For many years this famous monument Arches National Park was given many names: Schoolmarm's Pants (trousers teacher), Old Maid's Bloomers (trousers spinster) and Cowboy Chaps (cowboy nashtanniki).
Balancing stone (Balanced Rock)
The most famous stone pillar in Arches National Park - "Balancing stone", it rises to 40 meters.