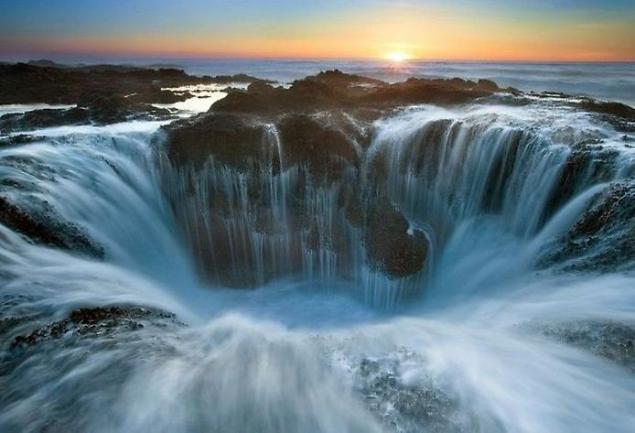 Now we head to the United States on the Oregon coast to Cape Perpetua, which is famous for its spectacular coastal scenery and beautiful forests.
I want to highlight on the Oregon coast one area, covering an area of ​​about 11 square kilometers This place have begun to actively elevate even the 60s, the beauty of this place truly unique!
Amateur leisure on the cape can get acquainted with the 40 kilometers of hiking trails that led through dense forests with an incredible amount of access to the ocean and coastal basins.
The coastline Perpetua are several unique natural attractions, which include «Devil's Churn» - a crack in the coastal rock filled by ocean waves. Sometimes this crack explodes a deafening roar, and it happens as a result of collision of several waves. It's an amazing sight that you can only see here!
However, the most basic of this fabulous gem of the Cape is a natural "fountain", which is called "Well the Torah." It's a miracle during the intensity of the surf and tide turns into a real geyser and fountain, which is actively spewing millions of splashes.
Definitely Devil's Churn and "Well Torah» (Thor's Well) - the key attractions of Cape Perpetua, but it is worth noting that these natural beauty during winter storms and high tides are extremely dangerous and this is sure to remember! By the way, well Torah is also called "Gates of Hell", but it would not really call it an incredibly beautiful natural gift. And the fact that the Cape Perpetua is one of the most beautiful places of the Earth - a fact! If you have or will in the future the opportunity to see this, be sure to use it, you will not regret it!