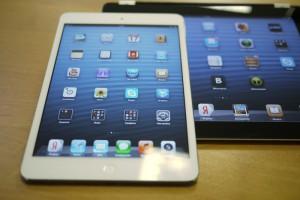 American Apple intends to significantly accelerate the process of updating its popular device lines.  
iPad 5 - a month later, iPhone 6 - summer / vesti.ru
As the site iMore, citing sources familiar with the plans of the manufacturer, the new model of the iPad users will see in April and upgraded smartphone iPhone 5S - in August this year.
Shortened cycle updates Apple devices can be connected with the preparation of a presentation of a new product which, according to unofficial data, the company is developing. In particular, experts are waiting for the appearance of the TV under the brand Apple and computerized hours.
It should be noted that the previous fourth-generation iPad was introduced in October 2012 - after about seven months after the appearance of its predecessor.
If the new model will indeed be shown in April, the period of renovation will be reduced to six months. Before the release of the fourth-generation Apple tablet adhered to the annual update cycle iPad.
In turn, the current model of the iPhone 5 was introduced in September 2012, so if the information is correct iMore between the announcement of the iPhone 5 and iPhone 5S will take about 11 months.