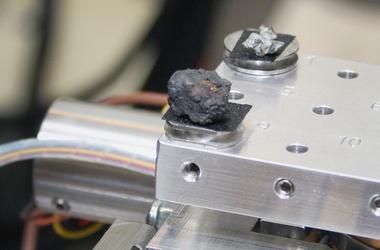 Chelyabinsk authorities announced a competition to design a monument to the fallen meteorite February 15.
In Chelyabinsk will establish a monument meteorite exploded over the territory of the Chelyabinsk region on February 15.
Project commemorating the cosmic body will hoc working group. It organizes competitions among residents of the region for the development projects of the monument and the logo of the meteorite. The best works from the submitted selects jury, chaired by made famous painter, sculptor and architect. Then the option chosen will be exhibited to the vote on the Internet.
Place the monument after the approval of the project will be determined by the city authorities. When it is planned to implement the project, not yet reported.
The fall of the meteorite had already inspired the local confectioners. One company submitted an application for trademark registration pastry called "Urals meteorite", "CHebarkulskij meteorite" and "Mysterious meteorite».
Meteorite exploded over the territory of the Chelyabinsk region at an altitude of 30 to 50 kilometers on February 15. As a result, a series of explosions in the atmosphere (the power of the first of them reaches 300-500 kilotons of TNT equivalent) in a number of houses were shattered windows and damaged other designs. With pieces of debris and other effects of the blast wave hit about a thousand people.