71st award ceremony "Golden Globe" has died down last night in Hollywood. To its credit, the stars have to admit that they successfully passed the tests, which were prepared by the organizers show: winners speech that sounded from the stage at the "Beverly Hilton" were full of confidence and charming emotion, and clothes, decorating the night the red carpet, is mainly responsible trends in fashion and high society is a genuine delight. I will not torment you long expected, and just say - welcome to Hollywood!
The chic dress mermaid silhouette with the company's brilliant finish from Zuhair Murad appeared on the red carpet Kate Beckinsale. We often see such a style outfits the actress, but can hardly be reproached her in uniformity when they look fantastic on it. Dress sits perfectly and shiny embroidery emphasizes the waist and emphasizes the seductive neckline.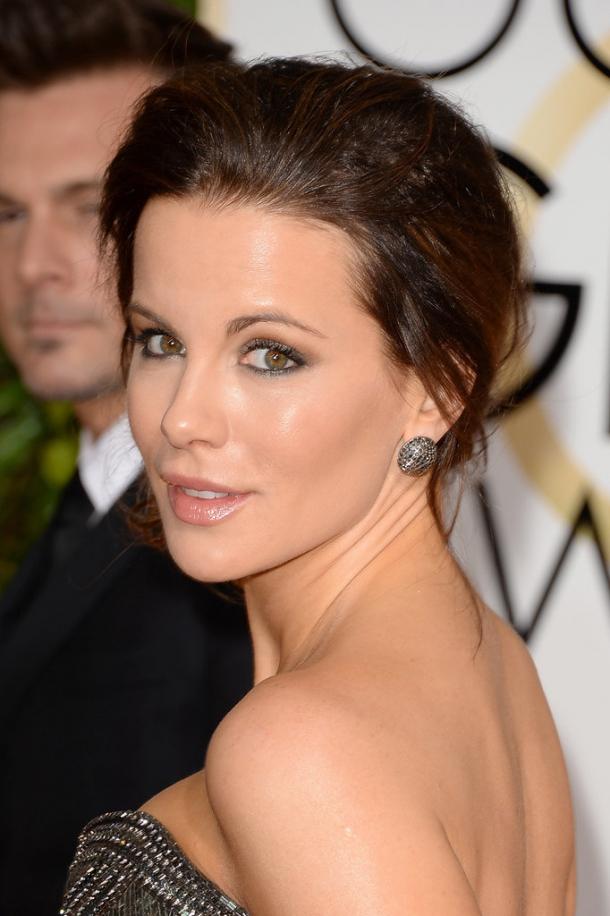 Despite the fact that Lupita Nyong'o not become the winner in the category "Best Actress", we can safely be called a triumph of its output on the red carpet ceremony. Spectacular silk dress with an original Ralph Lauren Cape looked at her solemnly and dramatically and stands out for its elegance and minimalistic on the background along with a rich finish.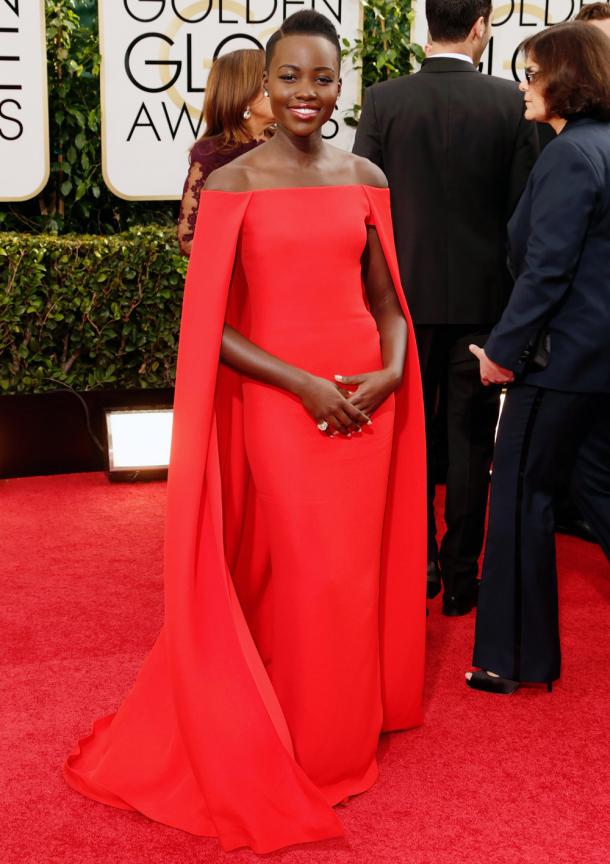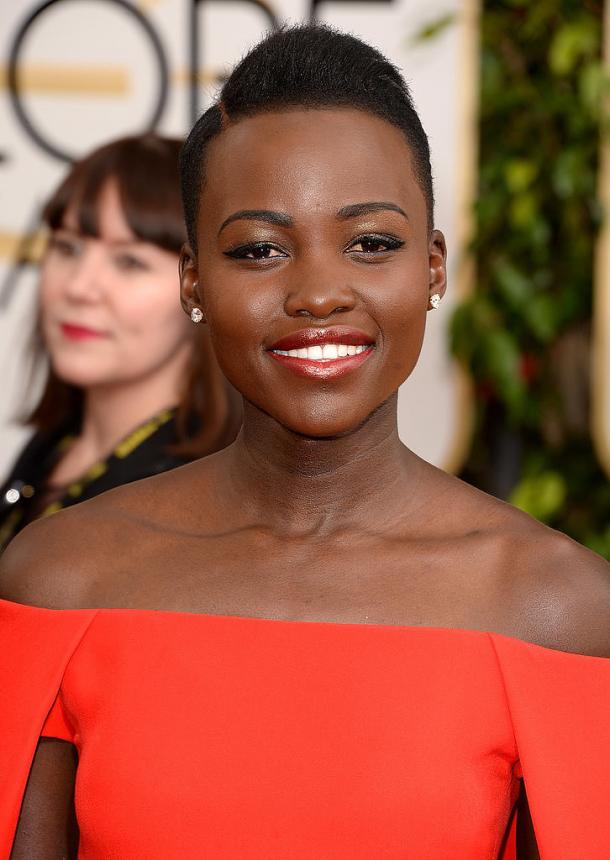 Luxury print, reminiscent of Impressionist paintings, became the main decoration evening dress Kaley Cuoco by Rani Zakhem Couture.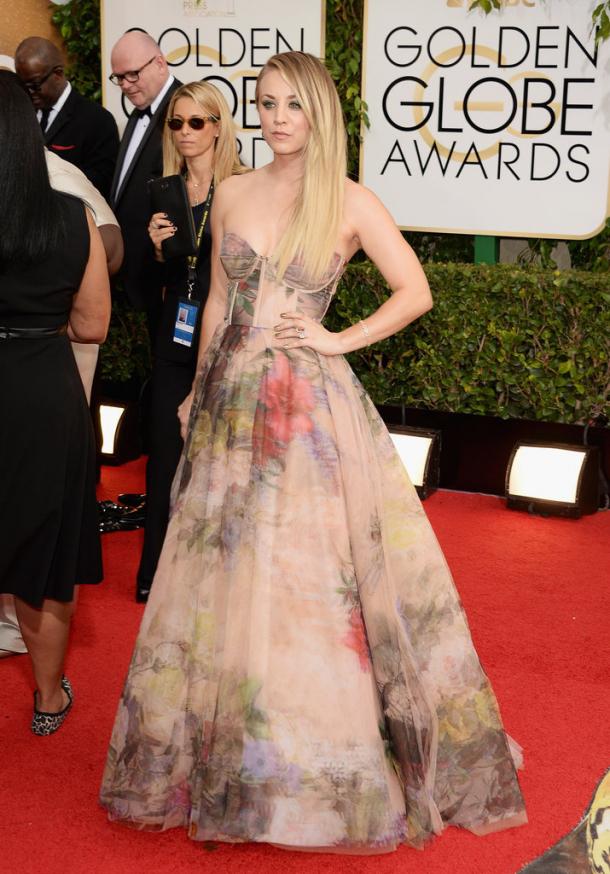 Yesterday's red carpet "Golden Globe" has become a real boom in future mothers, who in spite of the noticeable rounded tummy, could not miss such an important event. Kerry Washington, for example, has chosen to release his elegant image created by the fashion house Balenciaga. Actress was pearly white gown with an unusual piece in the form of the Basques, which emphasizes her stomach, which she jokingly called Kerry "my little accessory».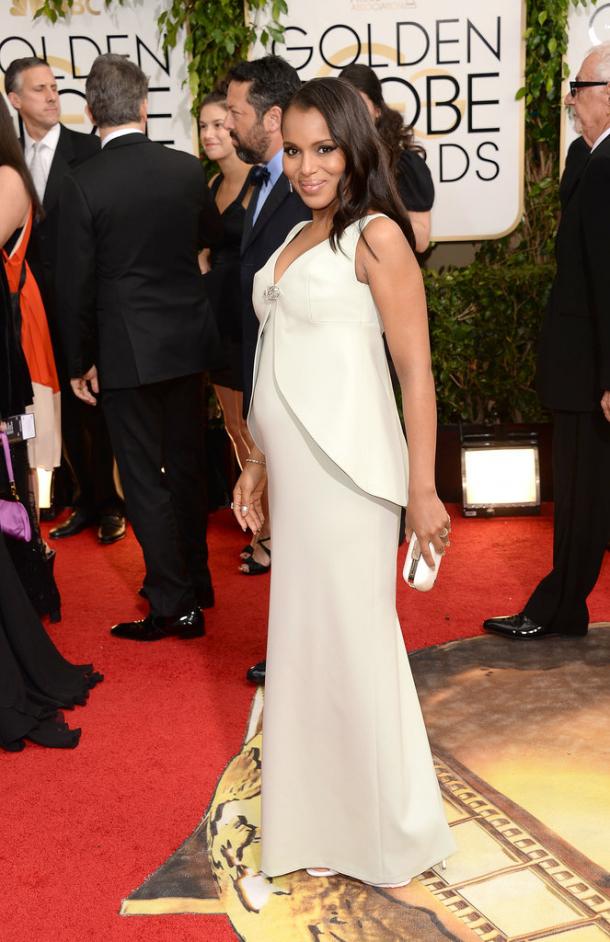 Another girl in the family way - Olivia Wilde - made its choice in favor of emerald dress with an amazing finish, a bit like the skin of a reptile. Handmade outfit was granted actress fashion house Gucci.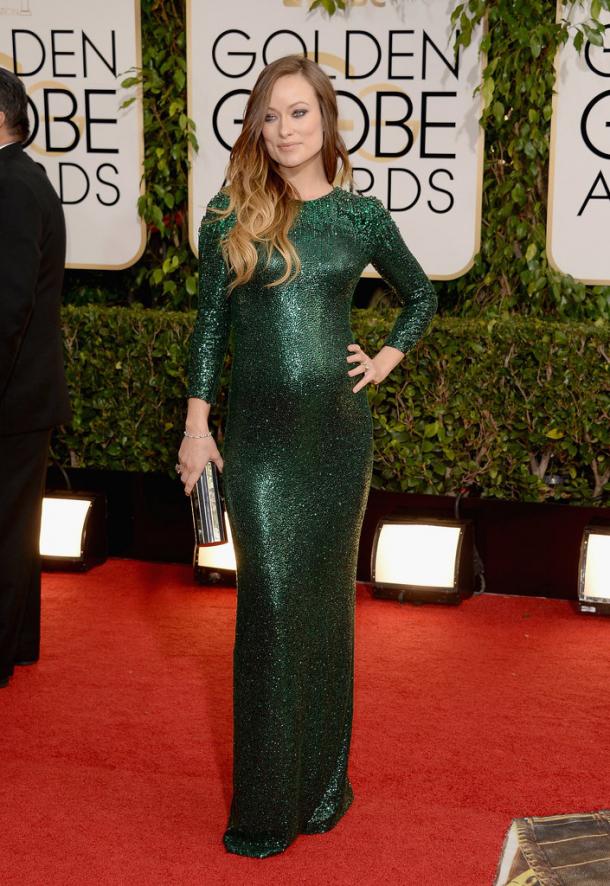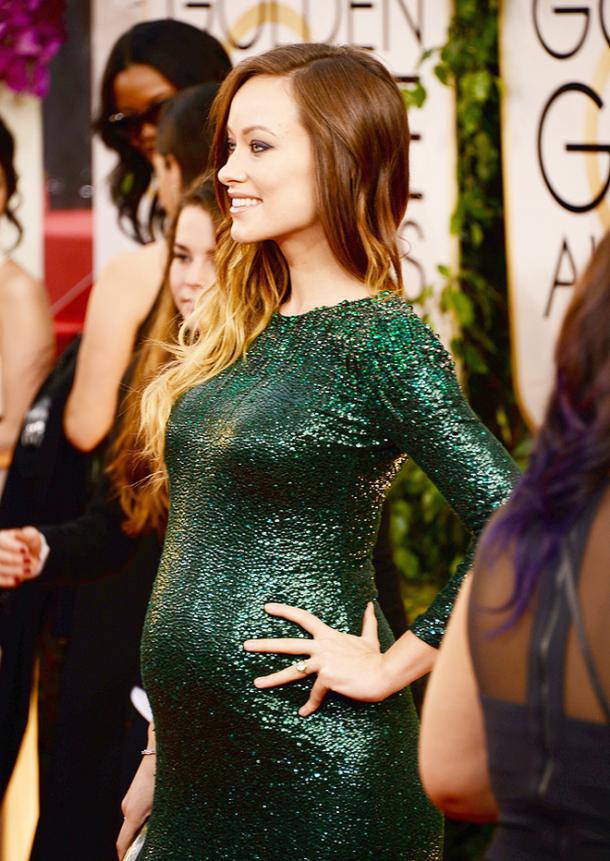 But my absolute favorite in the category "Best way future mom" has become a charming Drew Barrymore's creation of the fashion house Monique Lhuillier, beading and flower applique in pink and coral colors. A beautiful combination of colors on the actress looked just fine.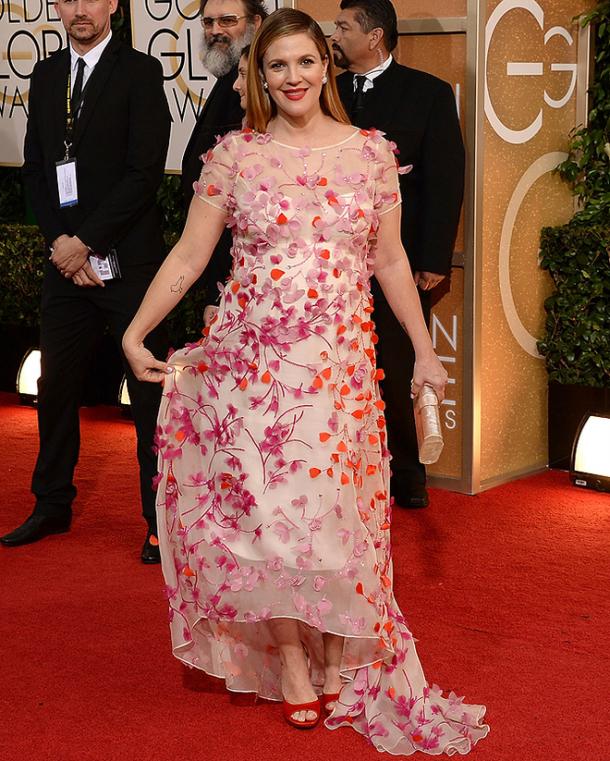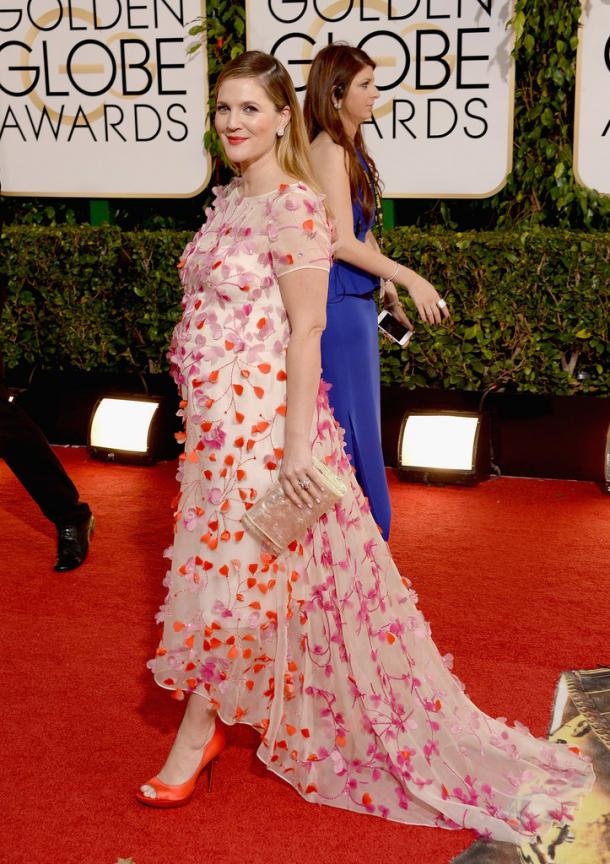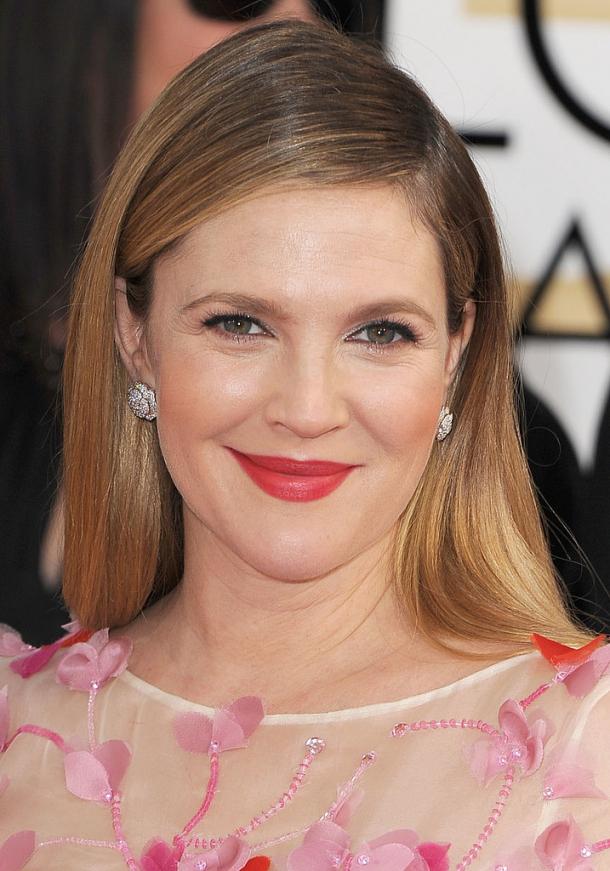 Allison Williams, who often prefers the simple silhouettes of dresses decorated with original, made a bid for a non-standard outfit Alexander McQueen. Perhaps direct dress with black and white striped bodice made of feathers will be enjoyed, not all, but fashion critics have already proclaimed bow Ellison "the most original way pm».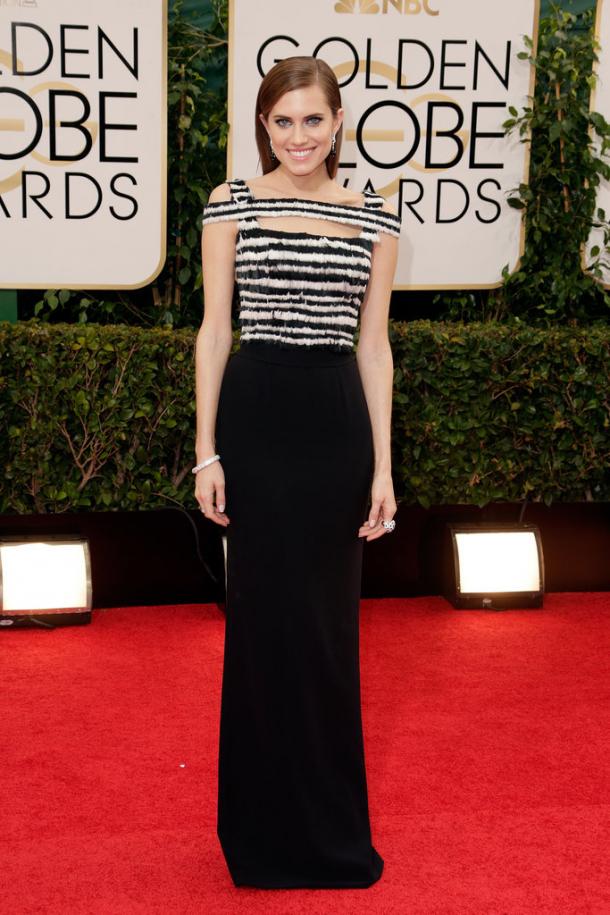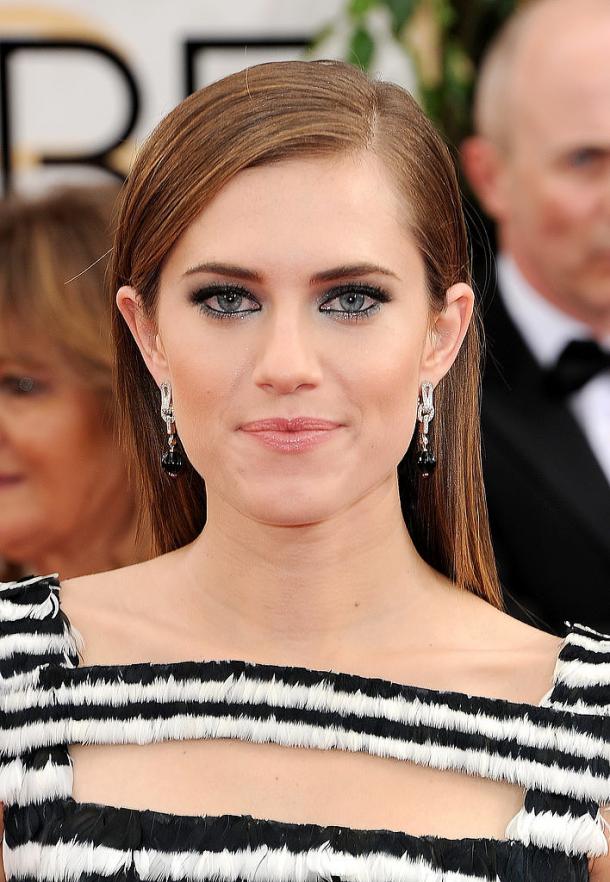 Jenna Dewan, regained her figure after the birth of her daughter last spring, hastened to demonstrate their achievements by a lace dress seductive mermaid silhouette by Roberto Cavalli.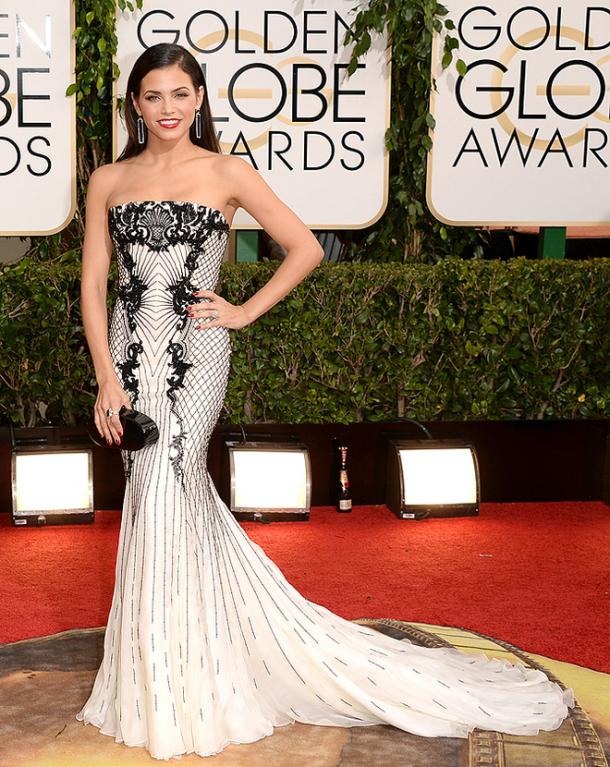 Emma Roberts opted for a dramatic black dress with a spectacular line of cleavage by Lanvin. Black and lack of finish were more than offset by large earrings with turquoise and diamonds, which "made" the whole image.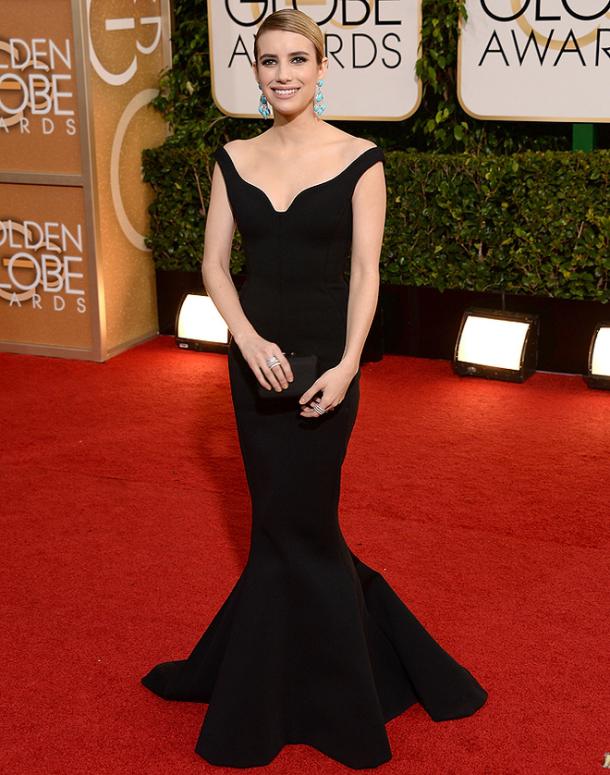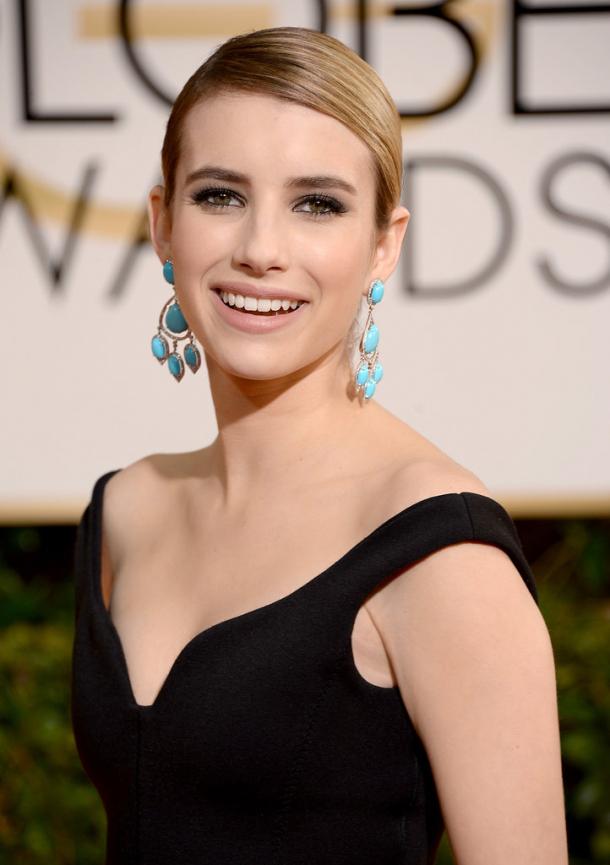 Elegant jewelry with turquoise complemented her outfit and Sofia Vergara. The actress was dramatic fluffy dress with an unusual skirt from Zac Posen, a style that was new to her, because usually we used to see in Sofia sexy tight dresses that emphasize its delicious forms. How do you change this? Or Sofia better get back to proven mermaid silhouette?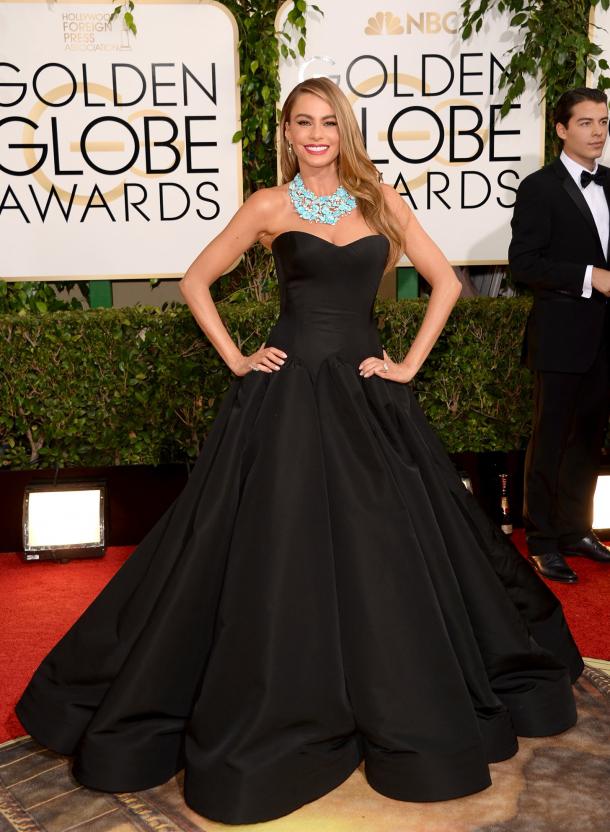 The choice fell on Sandra Bullock gorgeous dress in the style of color-blocking by Prabal Gurung. Style outfits and combination of pink, black and blue colors are very actress, but I was a little confused by the way looks slovenly dress on the red carpet - wrinkled cloth slightly spoils the overall impression of the image.
Adopting the love of men's shirts on the red carpet by his colleague and friend Meryl Streep, Julia Roberts appeared at the ceremony in an unusual ensemble by Dolce & Gabbana. Black dress classic silhouette combined with a white shirt and elegant belt with crystals looks very original, but I would still was glad to see the actress in a beautiful and feminine dress extravagant details. Nevertheless, inspired by images of men's style has long been a hallmark of Julia on the red carpet of the "Golden Globe».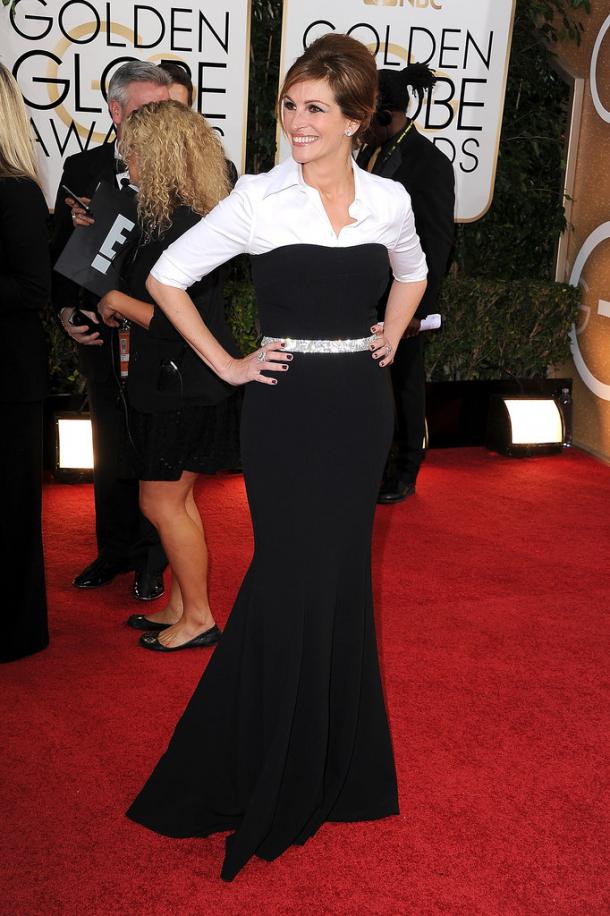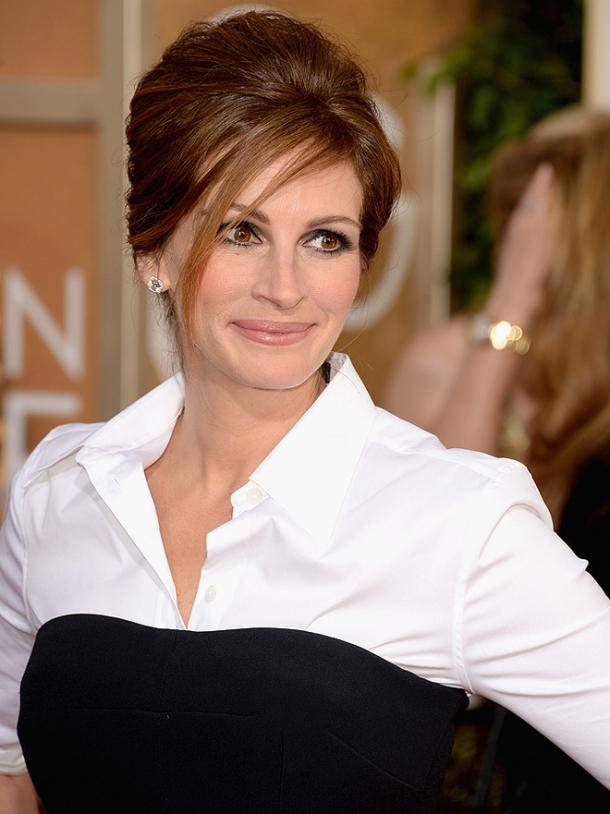 Giambattista Valli Couture outfit is hardly the best, if only because it does not go its owner. The rich finish, which would have looked spectacular in the stately and tall girl looks at miniature hard for Bérénice Bejo, and the abundance of large ornaments already overwhelmed overwrought outfit.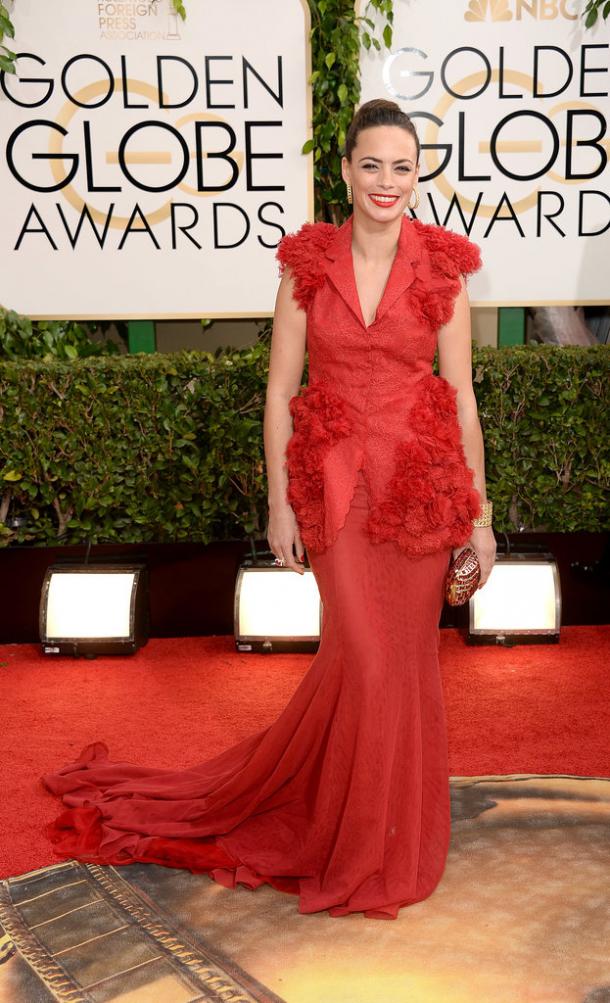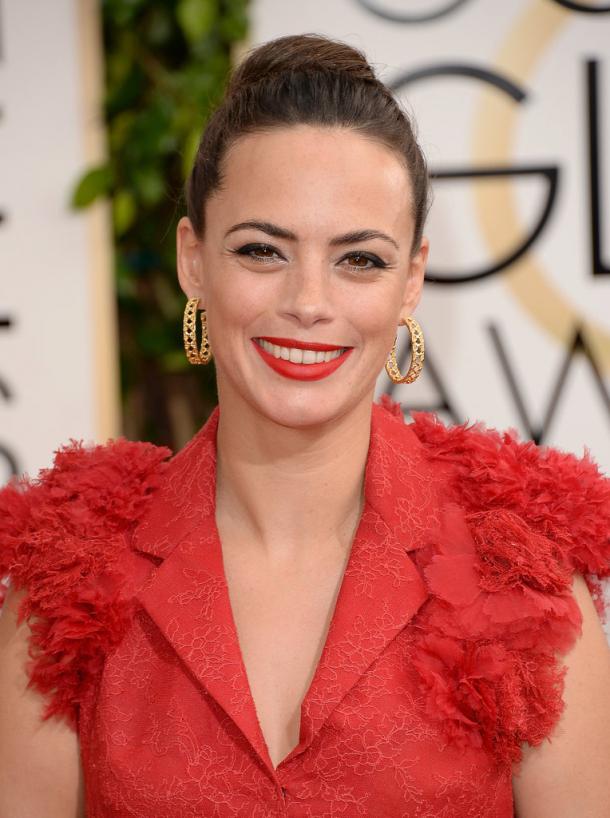 Another dress Dior, another effective way Jennifer Lawrence. I like the contrast, which is built the whole image: a combination of gentle "wedding" chiffon with black ribbons, saturated makeup lips and dramatic jewelry looks impressive and very interesting.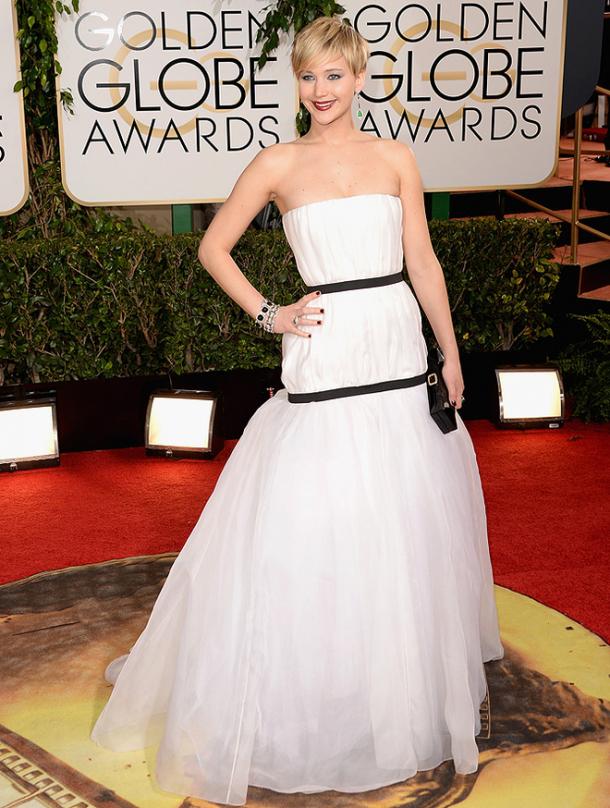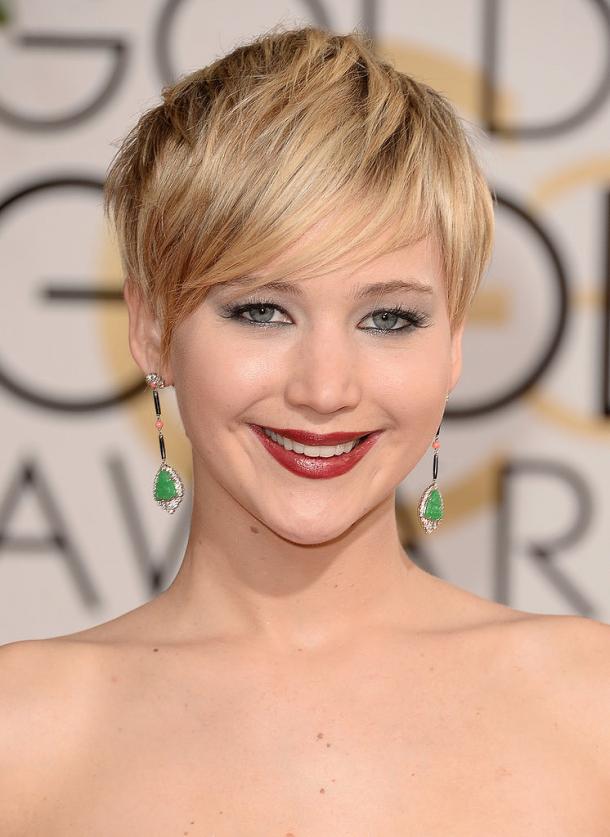 Retro image of Taylor Swift liked not for everyone, but I like the combination of colors of her dress by Carolina Herrera and unusual design skirt and back. The only thing I do not agree with is the choice of red lipstick - raspberry or any other shade of pink would suit better.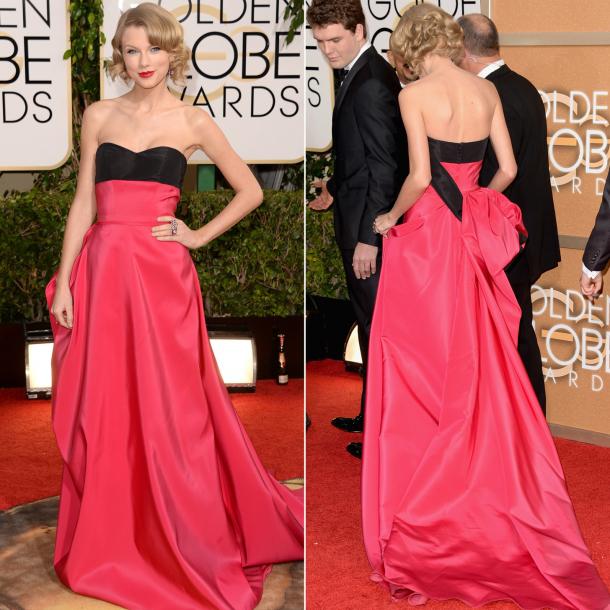 Naomi Watts opted shimmering silvery dress with a spectacular "integrated" necklace by Tom Ford. Attire actress looked just perfect and unusual cuts on the sides of the image added playfulness.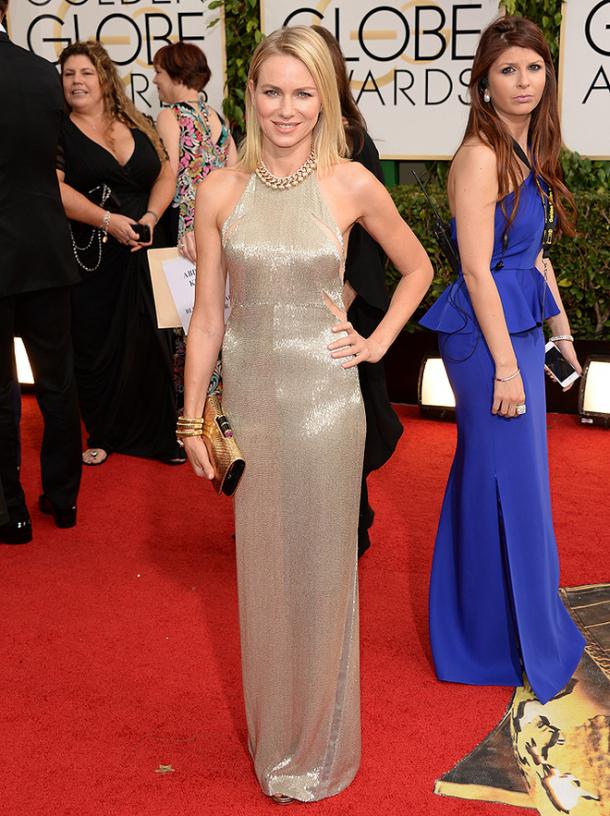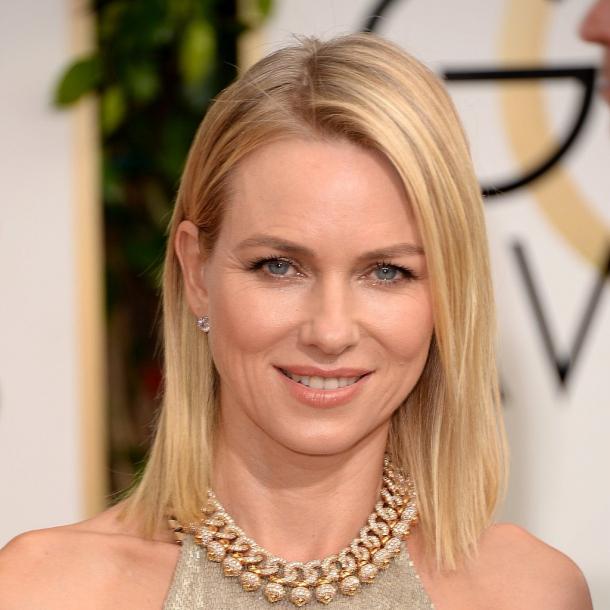 Newly owner of "Golden Globe" Robin Wright also opted for a dress of shimmering metallic fabric with open back and bodice-loop. Aged in a single color image of the actress, though she looked subdued but was not devoid of sexuality.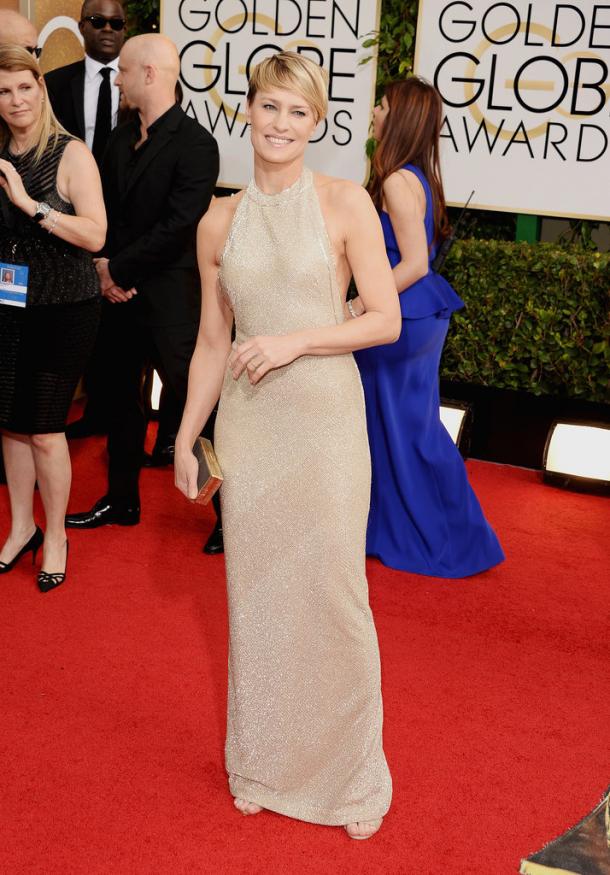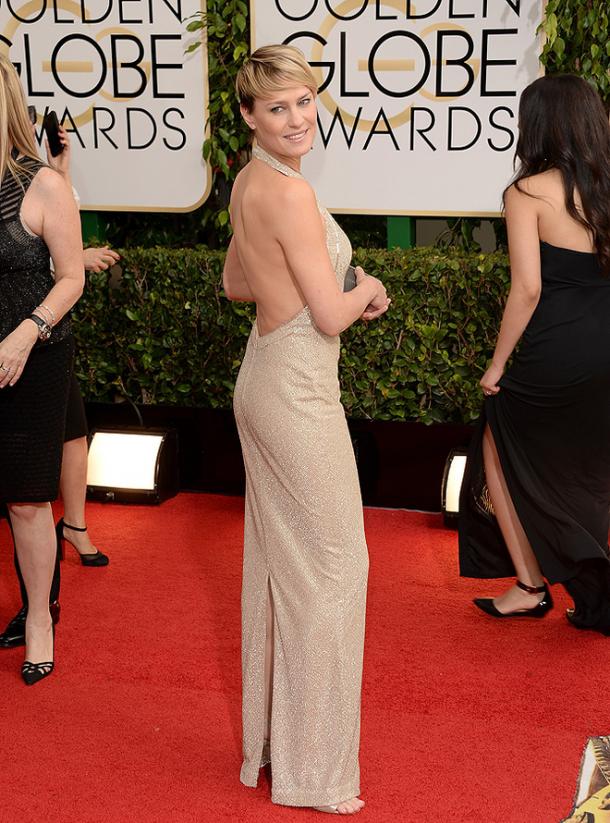 The winner of the last "Golden Globe" Jessica Chastain appeared on the red carpet in a custom-made dress by Givenchy with a spectacular monochrome embroidery. Elegant, beautiful, but the cost of the haircut to work better.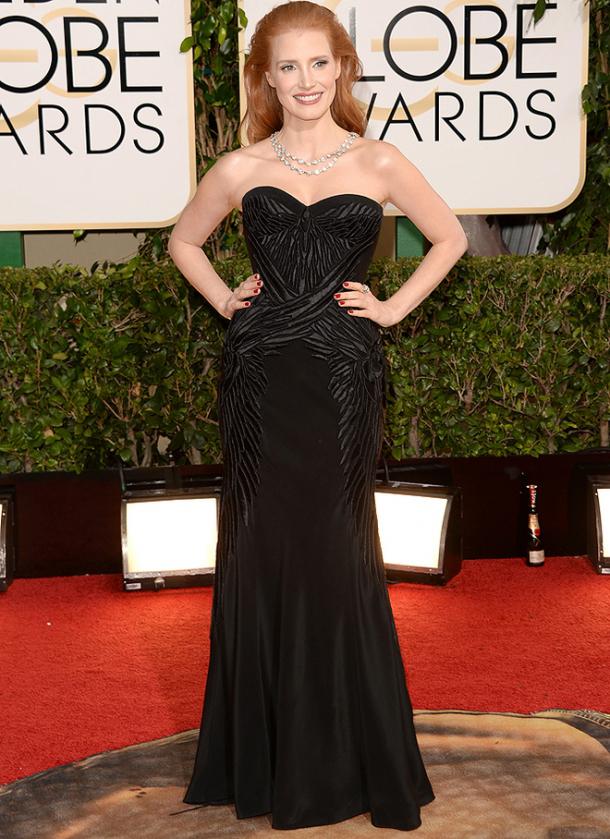 Adèle Exarchopoulos out on the red carpet in a dark blue dress with a magnificent Miu Miu crystal trim on the skirt and bodice unusual design in the style of lingerie. Light adds a provocative image of zest and playfulness, which is very becoming of a young French actress.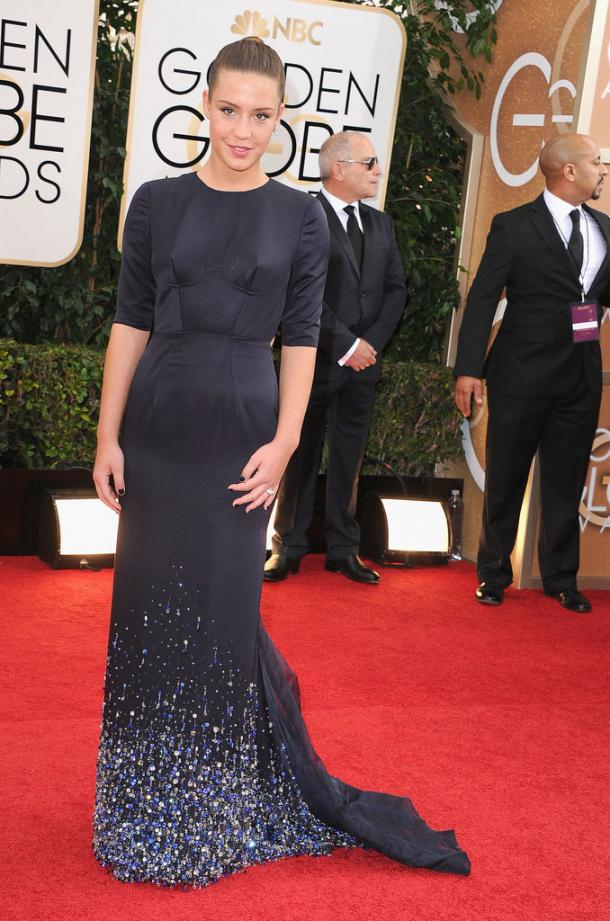 Fantastically beautiful output pleased us Margot Robbie - colleague Leo DiCaprio in the film "The Wolf of Wall Street." The girl was one of a kind dress by Gucci, decorated with large crystals and real (!) Emeralds. The image is perfect from head to toe, and worthy of the highest rating.
Amber Heard in Atelier Versace. Dark blue dress with draped and cut looks uniquely combined with the bulk hair, and as would be sad as it may sound, the old actress. I lack the playfulness and sexuality fatal, typically found in images of Amber.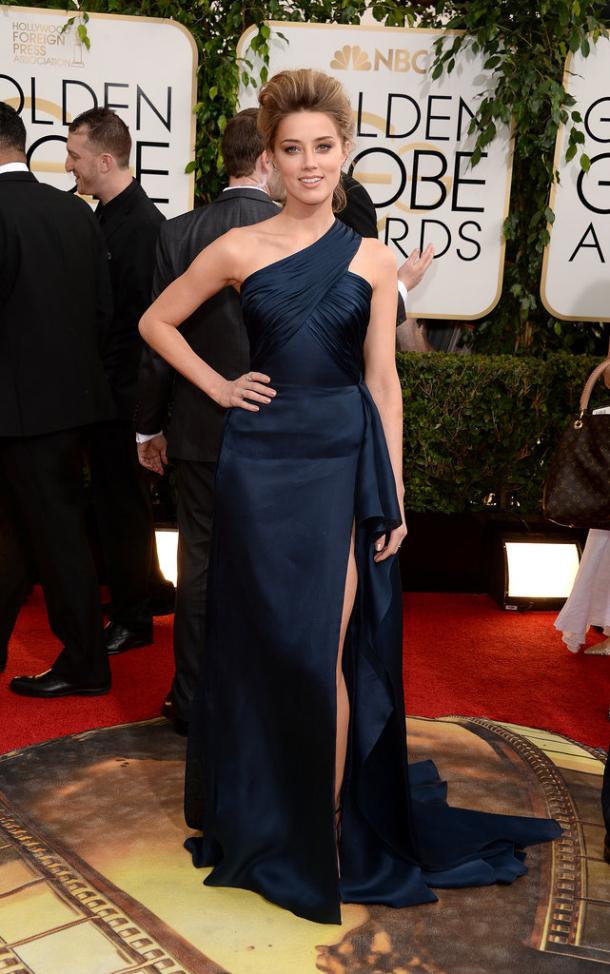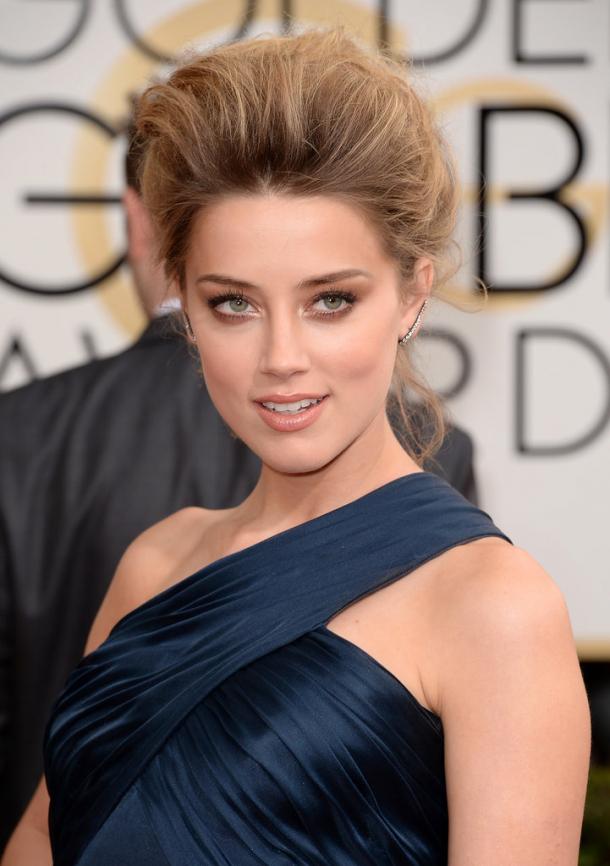 The dress made of black textured fabric, decorated with golden floral print, revealed on the red carpet Julianna Margulies. Thanks neckline dress looks sexy and full skirt gives the image of solemnity and chic. Aged in black and gold colors, jewelry and makeup perfectly complement the outfit.
Amy Poehler, who performed at this year's master of ceremonies duties, walked the red carpet in a dress Stella McCartney. Attire is hardly luxurious, but his restraint and brevity does not prevent him look sexy and original thanks to the silhouette of the figure and unusual design of the bodice.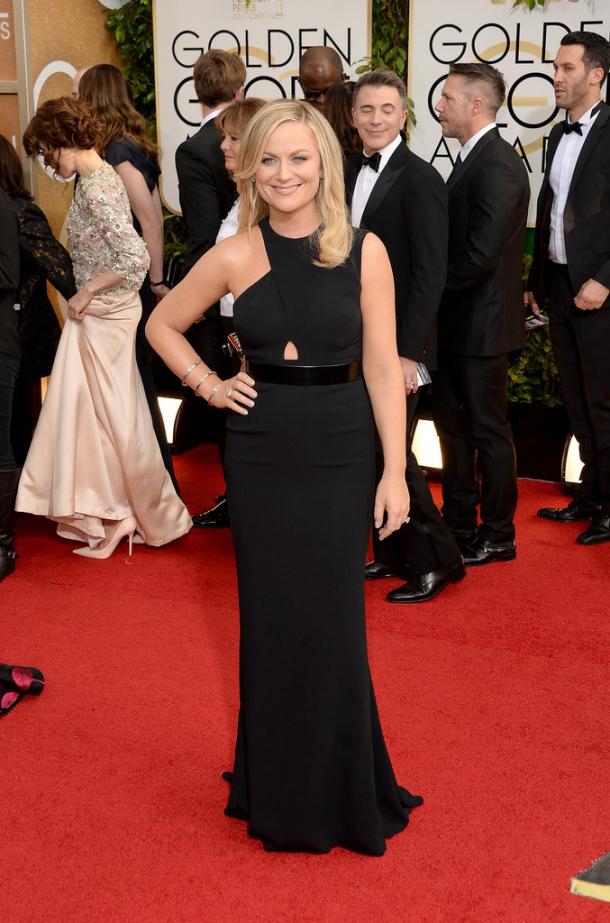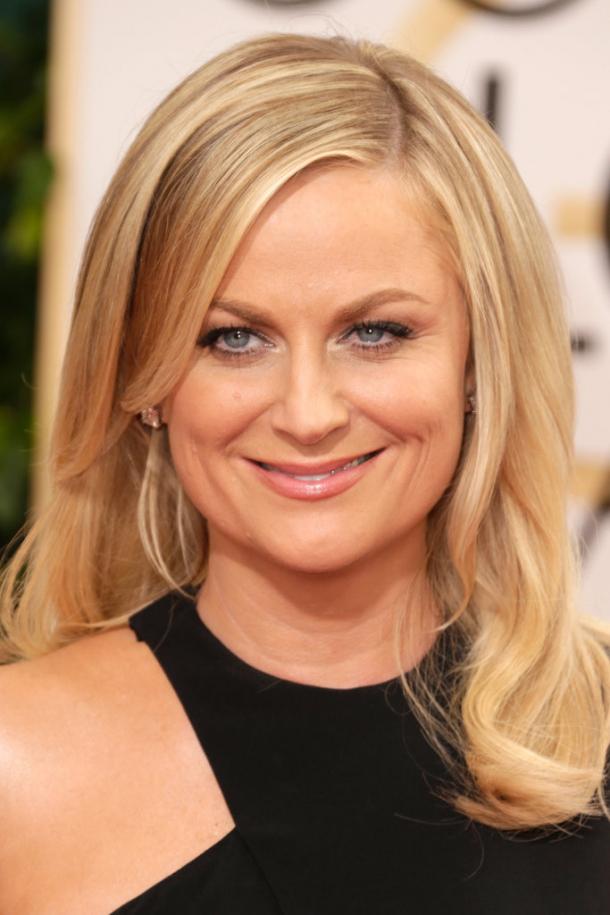 To be continued ...