Construction of the main building of Moscow State University on Lenin (Sparrow) Hills in 1949-1953., Was one of the largest construction projects of the postwar Soviet Union.
The building of Moscow State University was the highest administrative and residential building in Moscow until the "Triumph Palace", and the highest in Europe, built up in 1990, Basler Messerturm in Frankfurt.
Height - 182 m, with a spire - 240 m, number of floors of the central building - 36.
Students of the school of young workers under construction on the background of the main building of Moscow State University (1951)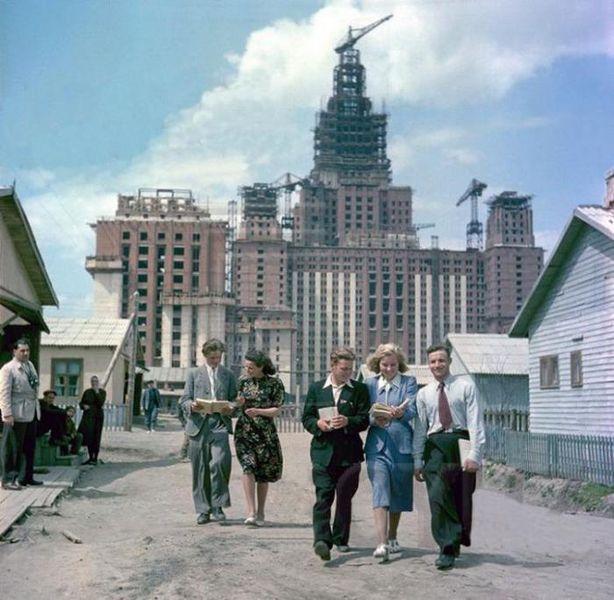 In 1948, employees of the department Party Central Committee, responsible science, received from the Kremlin job: study the issue of the construction of a new building for the MSU. Memoranda they had prepared together with the University Rector - academician AN Nesmeyanov proposing to build a "temple of Soviet science" skyscraper. From the Central Committee of the paper moved to the Moscow authorities. Soon Nesmeyanova and a representative of the "scientific" department of the Central Committee invited the City Party Committee: "Your idea is unrealistic. For high-rise elevators need too much. Therefore, the building must be not higher than the floor 4 ».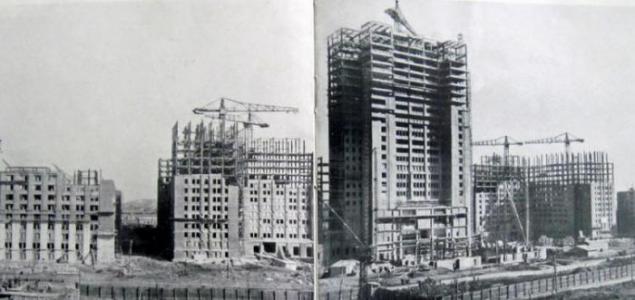 A few days later, Stalin held a special meeting on "university subject" and he announced his decision: to build the Moscow State University building height of not less than 20 floors atop Lenin Hills - to be seen from afar.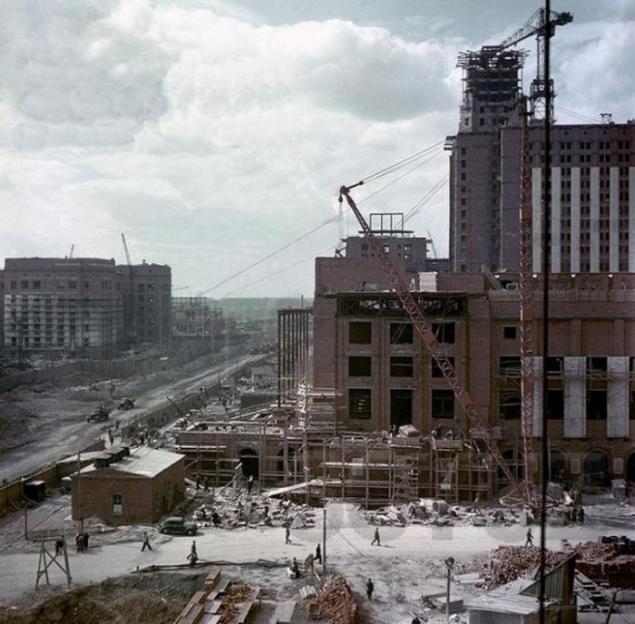 The project of the new building of the University was preparing a well-known Soviet architect Boris lofan who invented the skyscraper Palace of Soviets. However, a few days before the approval "at the top" of all the drawings of the architect of this work was suspended. Creating the largest of Stalin's skyscrapers was commissioned a group of architects led by LV Rudnev.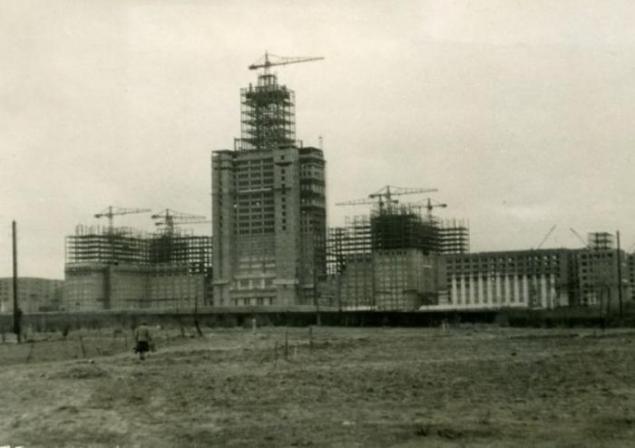 The reason for the sudden replacement of intransigence Iofana believe. He was going to build the main building just above the cliff Lenin Hills. But by the fall of 1948, experts have managed to convince Stalin that such an arrangement is fraught with huge buildings catastrophe: the area is dangerous in terms of landslides, and the new university simply will slide into the river! Stalin agreed with the need to transfer the main building of Moscow State University away from the edge of the Lenin Hills, but Iofana this option does not suit, and he was removed. Rudnev moved the building 800 meters deep into the territory, and the place chosen Iofanom created the observation deck.