New me. Quite serios. Yes. ©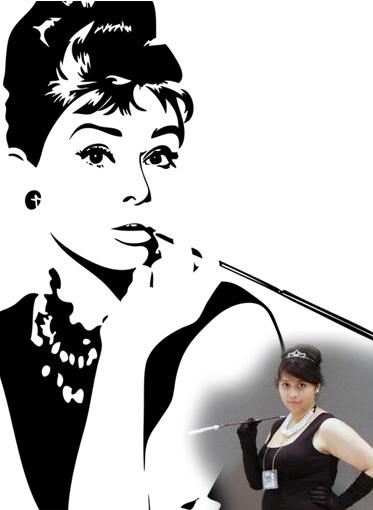 We all love Audrey Hepburn and many of us would like to be like her. Do not deny it is. Many women, at a time when they stare at photos of your favorite actress, a couple of times flashed the thought: ah, here would have me such wonderful deep eyes, so soft black hair and a great smile ... but a smile can not be copied, but you can copy the dress and make-up, right? Few copies of the Hepburn.
Makeup Audrey Hepburn - a slightly updated and relaxed retro make-up in the style of the 50s and 60s. What is a classic retro makeup and how it differs from the make-up Audrey?
Retro makeup - it underscores both the eyes and lips with the pale matte skin. This makeup is quite simple. Base makeup - smooth, matte foundation to tone lighter tone face without the use of rouge. For eye make-up using neutral light and cold, almost imperceptible shadow and black eyeliner, which are drawn using black expressive direction. Painted lips bright red lipstick. That's a big part of his life painted Audrey Hepburn. The only difference between her makeup that Audrey was one of the first stars, which began to focus on one thing. She did focus on eyes and lips painted a neutral lipstick that against the background of other stars her age gave her a more natural look. That's about.
The most famous film Audrey - of course, "Breakfast at Tiffany's."
And who not only repeated her famous image from this film! Madonna (who managed to stay all the stars of the past, which are known), Jennifer Love Hewitt, Natalie Portman (very well happen), Anne Hathaway, Christy Turlington, Sarah Jessica Parker (uzhos-uzhos), Paris Hilton (surprisingly good) ...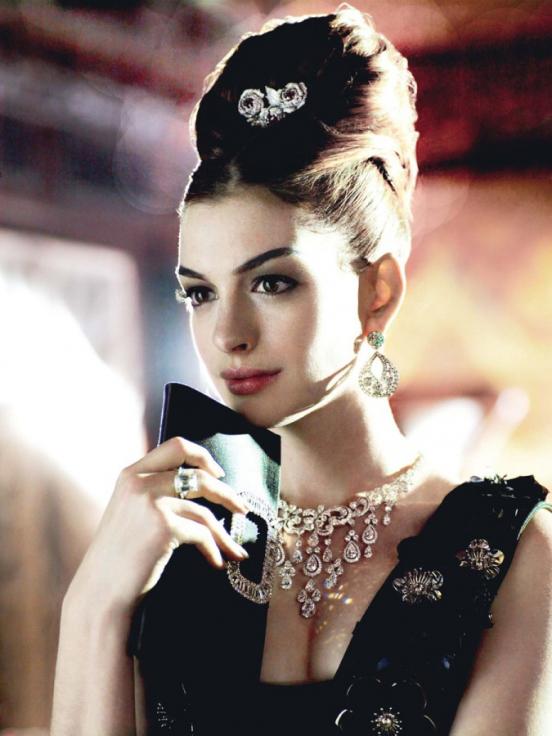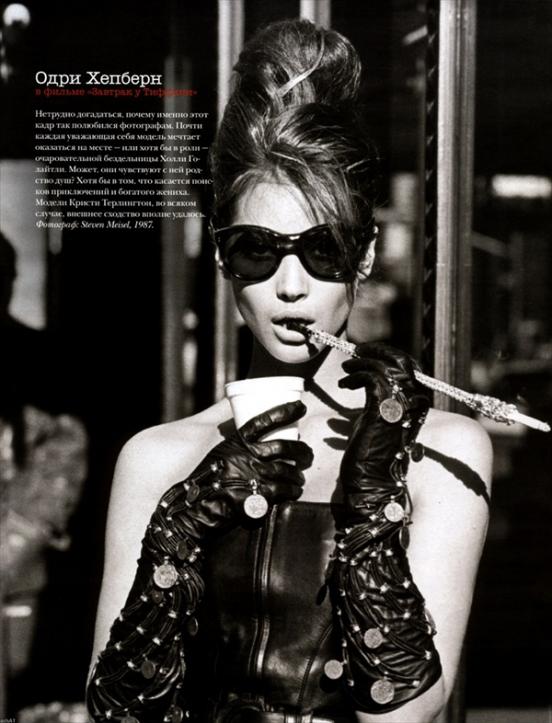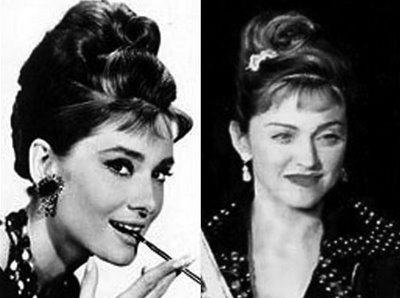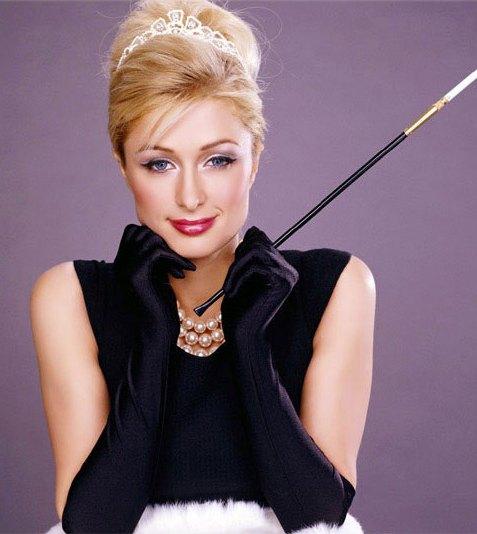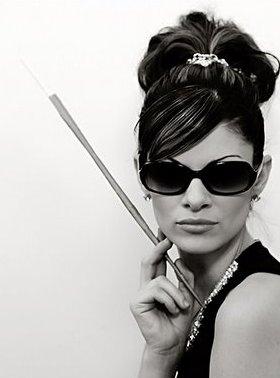 In most cases, you will agree, it looks well. Especially if the image simply repeated and "he did not do anything" ... But sometimes ... One of the images I was shocked and still can not get over it ...
One of the American Blogersha decided a little "update" Audrey Hepburn. It's so charming that I can not quote word for word.
«Audrey Hepburn is pretty much the queen of classic cinema. Can she be revamped? Absolutely. Take a look.
Let's start at the top! Audrey's signature hairstyle was revamped into a modern day messy updo, with the assistance of my favorite hair accessory, the Goody Spin Pin. The Spin Pin is amazing, and does exactly what it advertises: one Spin Pin will replace over a dozen bobby pins, and holds better. I advise getting 4 Spin Pins if your hair is super thick. Bangs were left uncurled and hair was allowed to "do it's thing". I have a tendency to obsess over perfecting things, so leaving the hair messy was new for me. I like how it turned out. Goes to show that having a few hairs out of place will not kill you. It might even look good.
Moving on. Miss Hepburn is doing a pretty serious cat-eye in that photo. Glamazon points notwithstanding, a cat-eye in black is still a bit much for me, especially for the streetwear chic feel I was wanting to create. Instead, I used a palatte of gold, bronze, mauve, and cream, finishing off with a much softer cat-eye in chocolate brown.
I used my favorite tri-color blush, "Autumn Catwalk" by Revlon (which happens to have a cute little crown embossed on it), and got the cheekbones. I love that blush, by the way. It has a nice glow and goes on easy.
Finally, I finished off with a very bright red lipstick. Audrey's lips are actually quite pale in the photo. But since I was looking for Hollywood glamour, and had held off on the black eyeliner, the red lipstick was the perfect finishing touch.
Also-YES, I admit, I did go outside my natural lip line on the top. But I bet you did not know that just looking!
Rather than pulling out a black dress, I found a nice black top with barely there cap sleeves. The high neck is reminiscent of the collar of beads that Audrey is sporting, and is anchored nicely by a seed bead bib necklace that softens an otherwise broad shoulder.
Cigarette holder? I do not think so. The modern equivalent is probably an I-phone, but I do not have one. »
A brief retelling of this great text, "Miss Hepburn in his image, nails, black eyeliner and pale lipstick. But I'll add a bit of modernity in its style and will use my favorite hair accessory, instead of black eyeliner - their favorite shade of bronze, and with pale lipstick - the most vivid, because it is glamorous. And on top of still my favorite natural shine. Instead, I found a dress and necklace topic also put in another way. Cigarette? I do not think. He came to Hay background, but I do not have any. True, the great left? »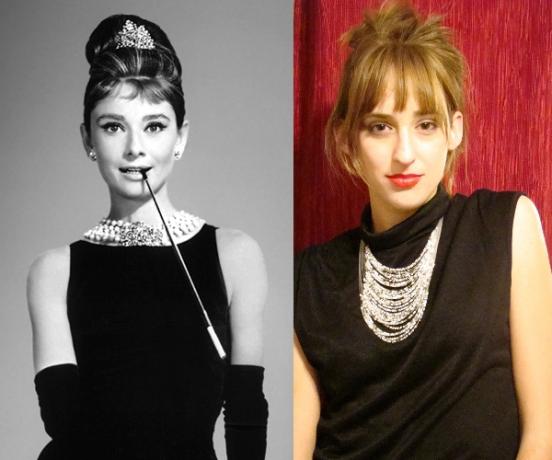 Yes, it left no doubt great. And the desire for renewal - it is certainly good. But maybe sometimes do not have anything better, and leave it at that? And that sometimes is scary.
IMHO.