Who said that the happiness of inevitable retribution
It is absurd to compete with millstones of Destiny?
In vain do we told you from birth, Winged:
We - free people. Nobody slaves.
M.Semenova
Who are the free men? People who live in truth and conscience, full of courage and determination, the people who 'got up from its knees "with her head held high. People who do not live with fear, and the truth and conscience. These people are many, but not enough. They can be glorified or completely unknown, but they are. Today I want to talk about a free man by the name of Ernesto Che Guevara, who in modern times has become a kind of brand. Most people wear T-shirts with the image of Che. He - a symbol of freedom. Freedom - it is fashionable. Most brands choose the theme of "free man" for their advertising campaigns and one involuntarily taken prisoner trends. For example, in the race for the freedom of man becomes the slave. Such is the paradox. But this post is not about the brand, and the Man. So, with the same image of someone we wear shirts?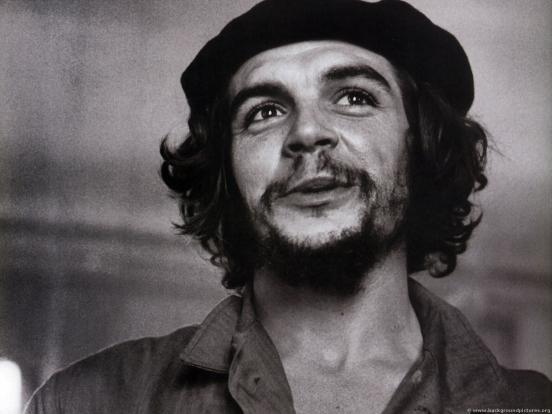 Ernesto was a very sickly child of a noble family, from two years suffered from asthma. For a while he could not attend school because of illness and studied at home. In spite of (or even contrary) to their disease Ernesto was extremely active. He was engaged in such sports that require endurance and strength: rugby and football. He was fond of psychology, literature (read heart and he wrote poems), mathematics, medicine, chess, painting (painted himself), gliding, cycling. Since childhood, could not sit still, I reveled in life, trying to get away from it all I could. He worked as a bookseller, a street photographer, doctor, washing dishes in restaurants, acted as a veterinarian, repairing radios, worked as a loader, a porter, a sailor.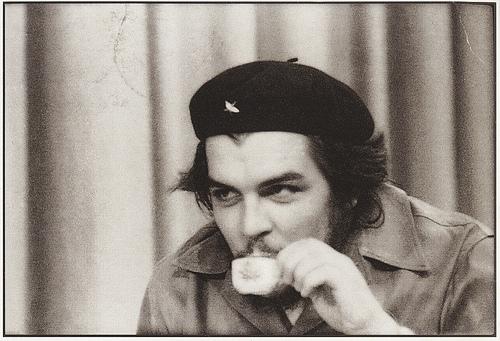 From an early age, Ernesto shows the character: rebellious spirit, brave, fearless, rebellious nature combined with a high level of responsibility and commitment. Extremely passionate, dedicated, fair man. But you do not want to impose their vision as the only right, let the reader form his revolutionary vision offered by a lower number of citations, letters, just interesting facts.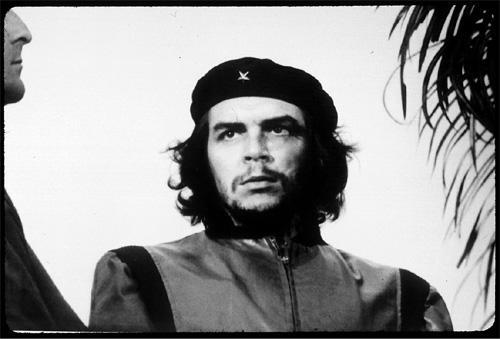 "In fifteen years, people are aware of what is going to give his life; and is not afraid to give it, unless, of course, in his heart there is an ideal for which he is able to self-sacrifice. " Che Guevara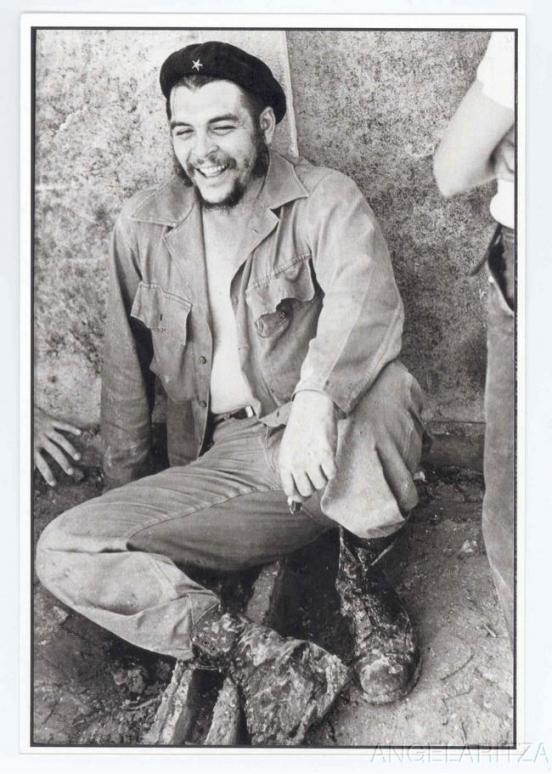 "I confess that I have never felt like a foreigner, neither in Cuba nor in any other country in which I visited; My life was not without adventure. I felt in Guatemala, Guatemalan, Mexican, Mexico, Peru Peruvian today in Cuba I feel Cuban, and of course, I always Argentinian, here and anywhere else - this is my character. " Che Guevara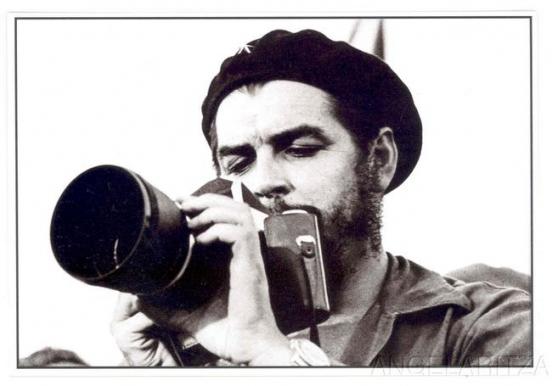 Letter to parents:
"Once again, I feel his heels the ribs Rocinante again, dressed in armor, in the way I shoot.
... Many will call me an adventurer, and that's it. But I have a special kind of adventurer, of that breed that risk their skin in order to prove their case.
Maybe I'm trying to do it the last time. I am not looking for such an end, but it is possible ... And if that happens, take my last hug.
I loved you hard, but do not know how to express his love. I'm too blunt in his actions and I think that sometimes I do not understand. Besides, it was not easy to understand me, but this time - believe me. Thus, the determination of which I have perfected an artist with a passion, force acting frail legs and tired lungs. I will have her.
Remember that sometimes humble condottiere of the XX century ...
I embrace you for your prodigal and incorrigible son Ernesto ».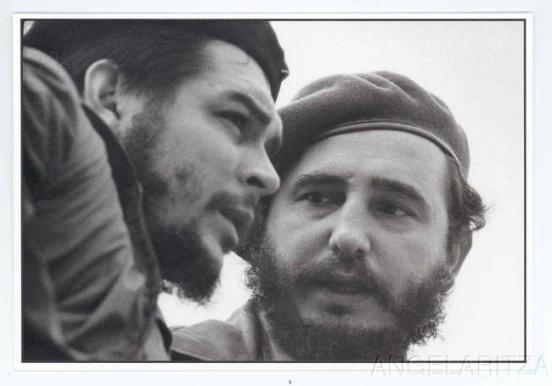 Writing children:
"Dear Ildita, Aleidita, Camilo, Celia and Ernesto! If ever you read this letter, so I will not be among you.
You remember little about me and the kids will not remember anything.
Your father was a man who acted according to their views, and, of course, live in accordance with their beliefs.
Cultivate good revolutionaries. Learn a lot to master the technique that allows to dominate nature. Remember that the most important thing - it is a revolution, and every one of us does not mean anything.
And most importantly, always be able to feel the most profound way any injustice committed by anywhere else in the world. This is a great feature of a revolutionary.
Bye, baby, I hope to still see you.
Pope sends you a great big kiss and hugs you ».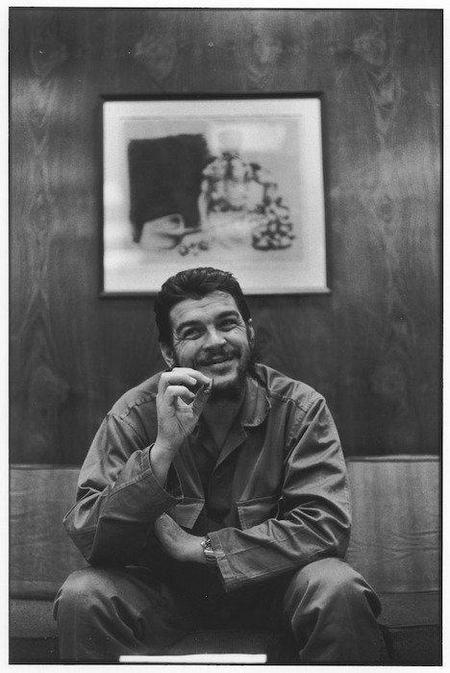 Ernesto Che Guevara shot Bolivian army sergeant, who pulled the short straw in the dispute between the soldiers of the right to honor kill Che. Sergeant was ordered to shoot carefully to simulate death in battle. This was done to avoid accusations that Che was executed without trial.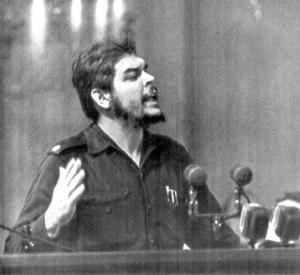 Fidel Castro, gathering supporters, asked them a question: "Is there anyone among you at least one economist?". Hearing instead of the "economist" - "Communist" Che raised his hand first. Then it was too late to retreat.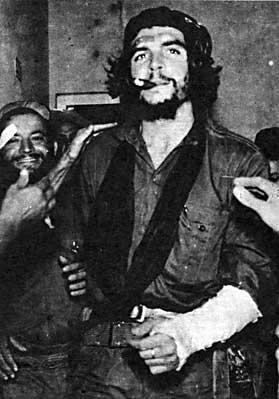 "I am not a liberator. Liberators do not exist. People will free themselves. " Che Guevara