August 28 in Los Angeles was held the awards ceremony MTV Video Music Awards in 2011, and I, as usual, I hasten to present to you the best and, alas, the worst outfits with red carpet of this wonderful event. I myself watched the show on TV and was thoroughly enjoyed it. I do not believe I'm saying this, but Lady Gaga in the image of his alter ego Joe Calderone brutal macho was peerless!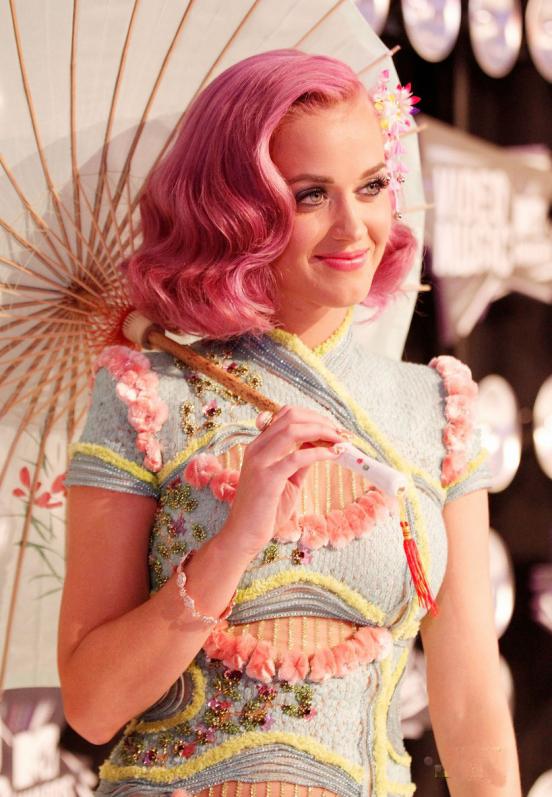 Charming Katy Perry, who won over the award for best video of the year, has changed throughout the ceremony as much as four toilets. On the red carpet singer appeared in extravagant dress pale blue color of the Versace Atelier. On someone else, this outfit would have looked ridiculous, but it fit the image of Katie very organically. And perfectly in harmony with the color of her hair.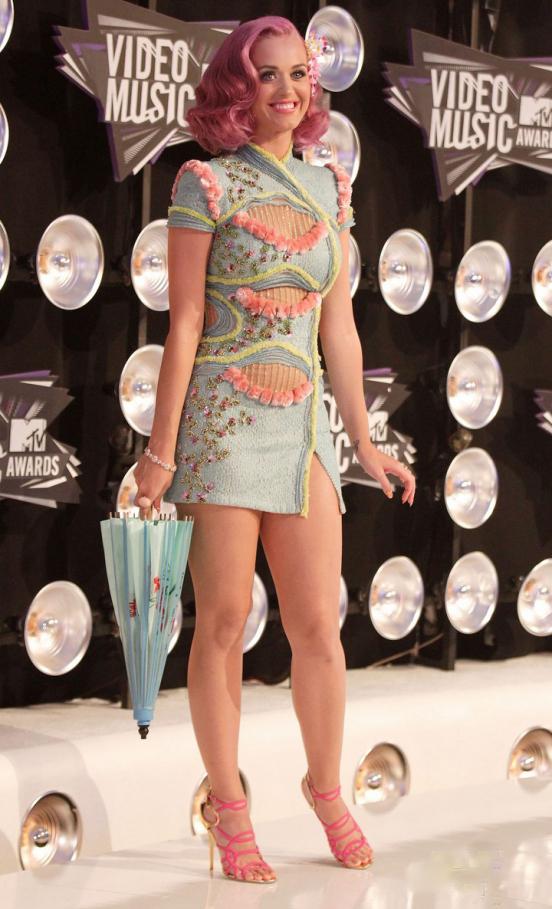 On stage, Perry showed translucent lace dress to the floor design of Tom Ford, whose color again sang in unison with the color of her head of hair!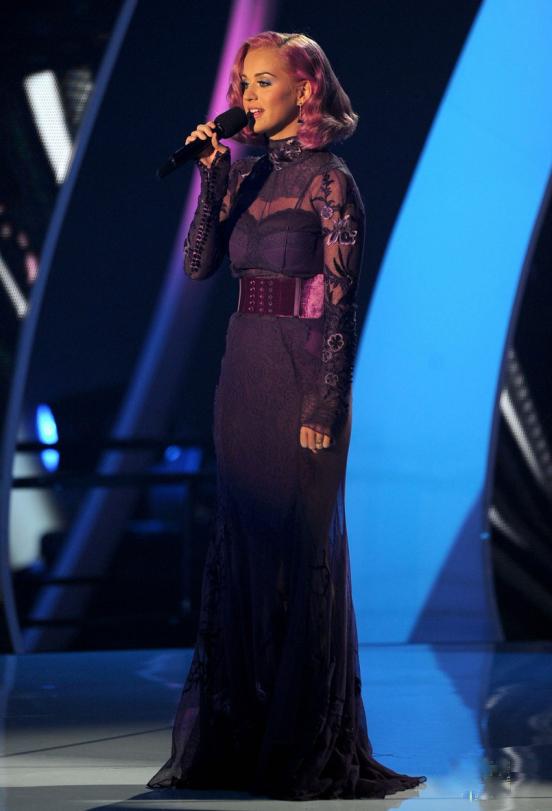 When it came time to pick honestly deserved the award for best music video, Katy Hall blew his original outfit consisting of a jacket and skirt, reminiscent of broken glass, from Dior Couture and fancy hats in the shape of a cube from the "Mad Hatter" Philip Treacy.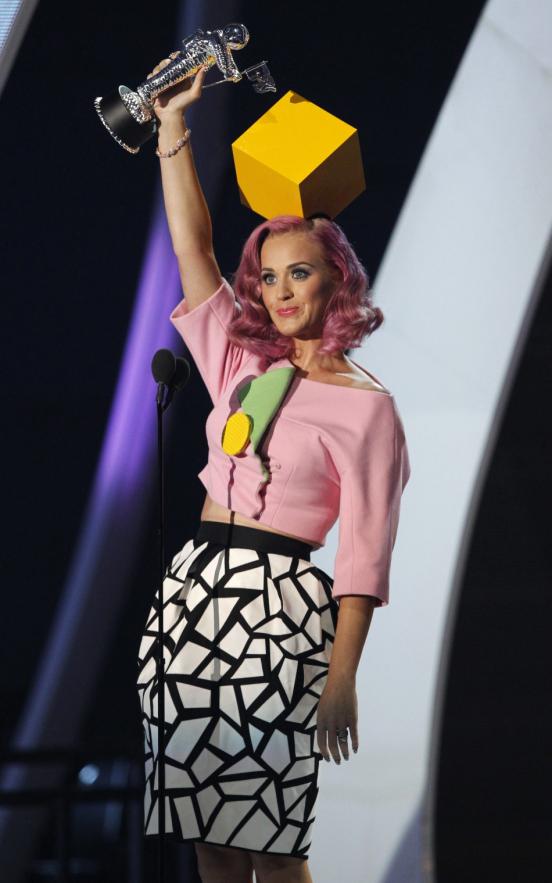 Changing images ended funny dress called "Broken wheels." Again, that Katy Perry such outfits look just perfect!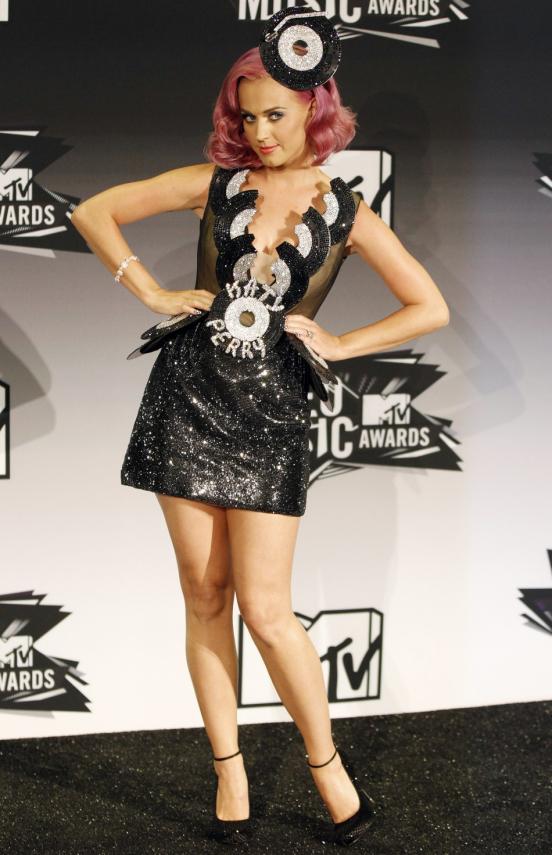 I was very pleasantly surprised Selena Gomez - her dress, though a bit like Elvira, Mistress of the Dark (remember, there was a movie), but looking at the thin figure Selena is very beautiful. Plus, golden shoes, which, as we know, are suitable for the addition of any color.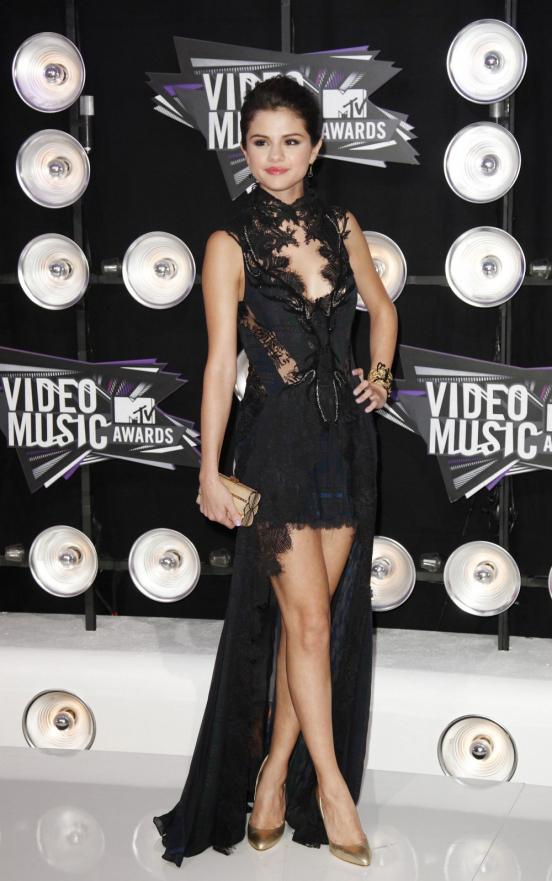 Beyonce became a sensation in the evening, and not just because the singer has performed brilliantly on stage. Beyonce proudly showed her rounded tummy, and a few months later the light will be a small copy of Jay-Z. I am sincerely happy for expectant parents! As for the dress, I was once again convinced that a good color - it's almost the main component of a successful outfit. Beyonce made a bid to deep orange, expanding its jewelry with green stones.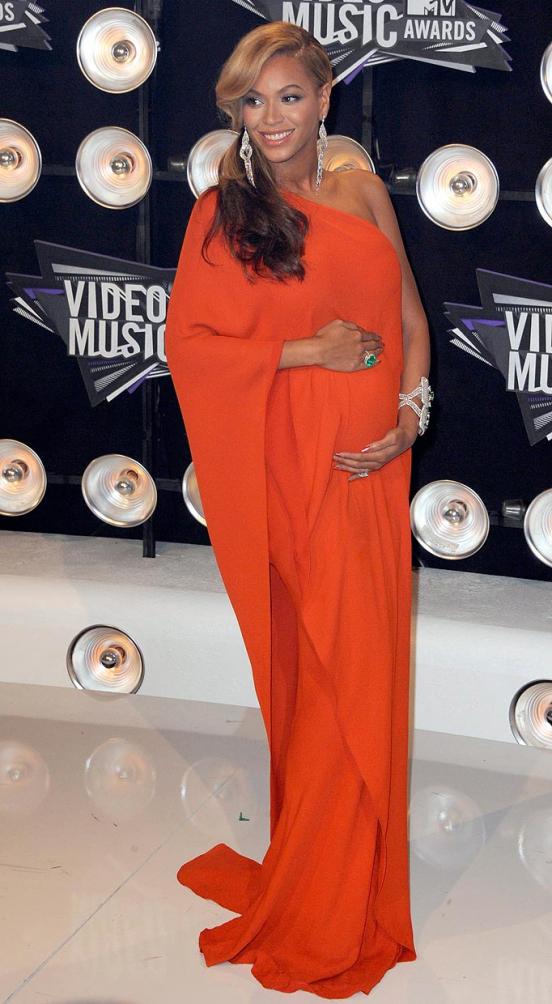 Adele proved that even without a perfect figure, you can look your best, most importantly - to emphasize the waist, and do not overdo it with the length of the dress. And one must have heels that make the silhouette slimmer and sleeker.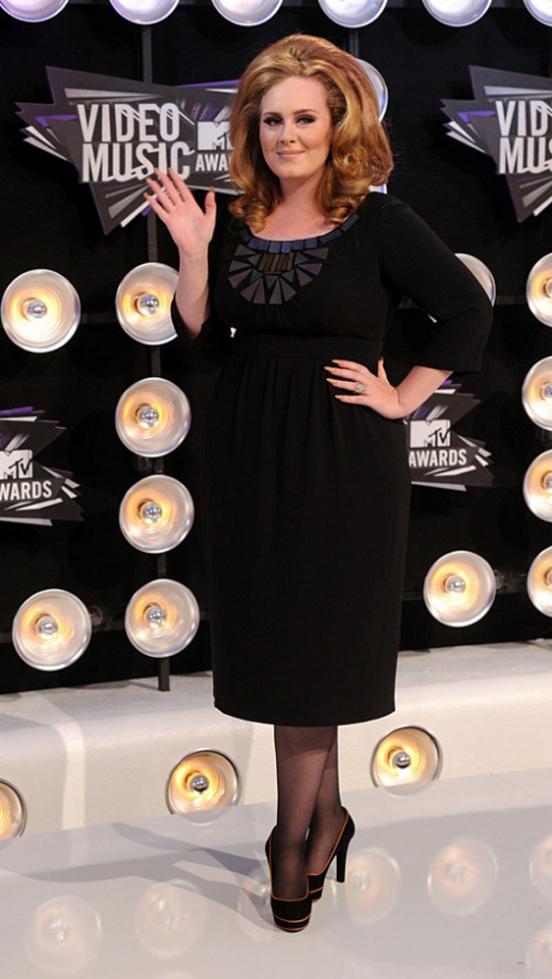 In its 19 years, Demi Lovato has the unique ability to look at 30. I do not know what it is connected, but the image of the actress definitely does not fit with the freshness and youth.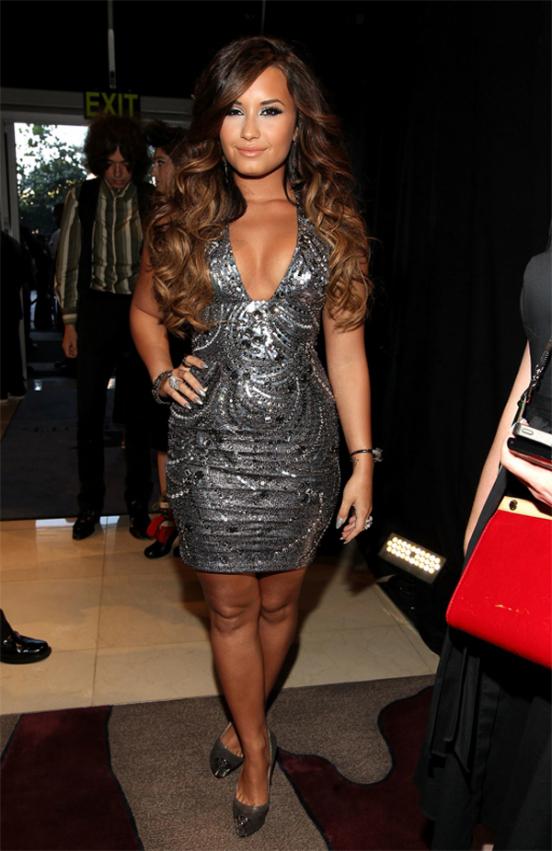 This year's absolute favorite red carpet was black. That's Zoe Saldana donned a black mini-dress Barbara Bui with gold trim. Basically, it looks good - beautiful line neckline, fashionable this season shiny metal, leather inserts, and in addition to all the beautiful long legs.
I am very happy that Britney Spears finally began to look like at the beginning of his career - shiny hair, perfect makeup, a smile on the floor face, with only one "but" - as did many years ago, Britney does not know how to dress . I do not know about you, but to me it is absolutely not like the outfit that something strange sticking out from under the hem, and the strap at the hips ...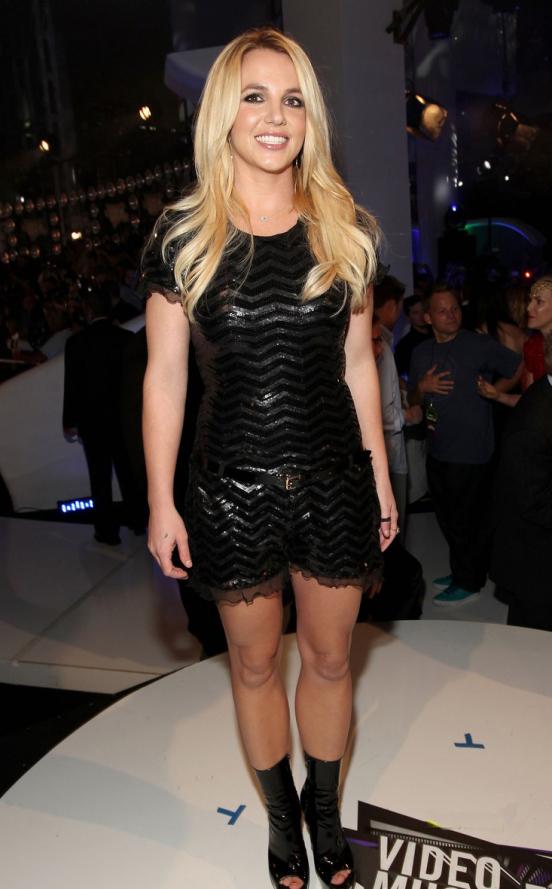 Separate conversation - is participating outfits reality show "The Beach". To be honest, I have no words ... From the number of sparkles on tight dresses simply dazzled, and makeup and tanning (or sun deck?) Generally can be left without comment. But that's nothing when you look at each of them separately ...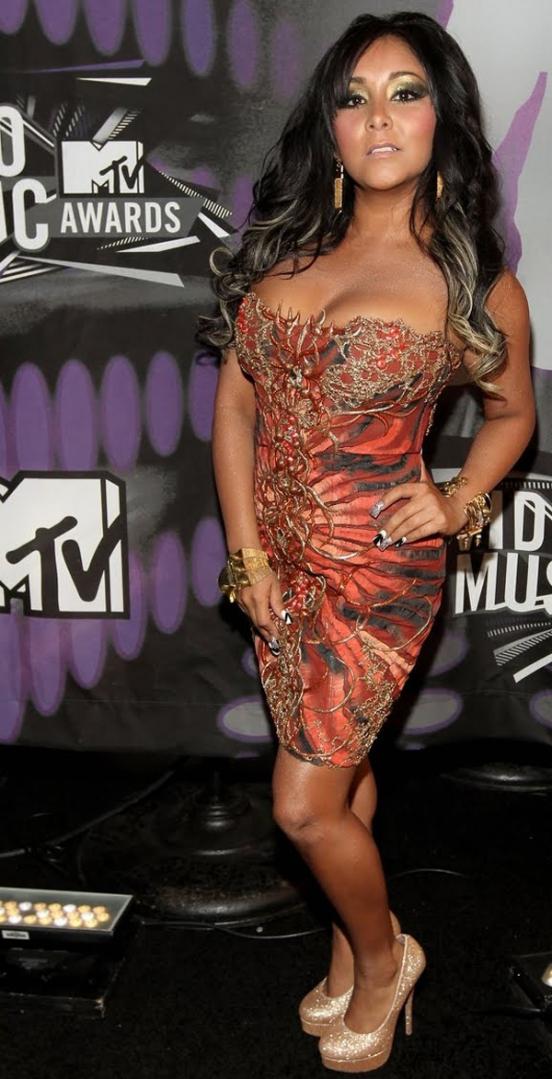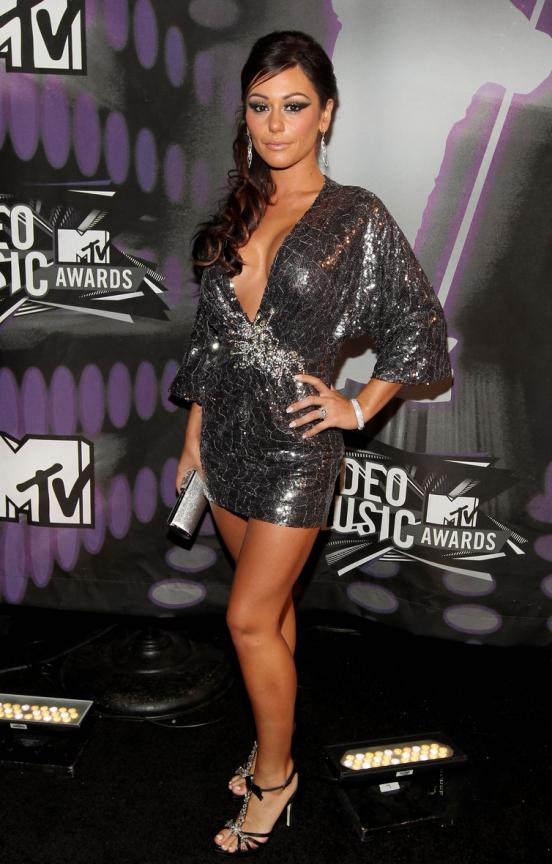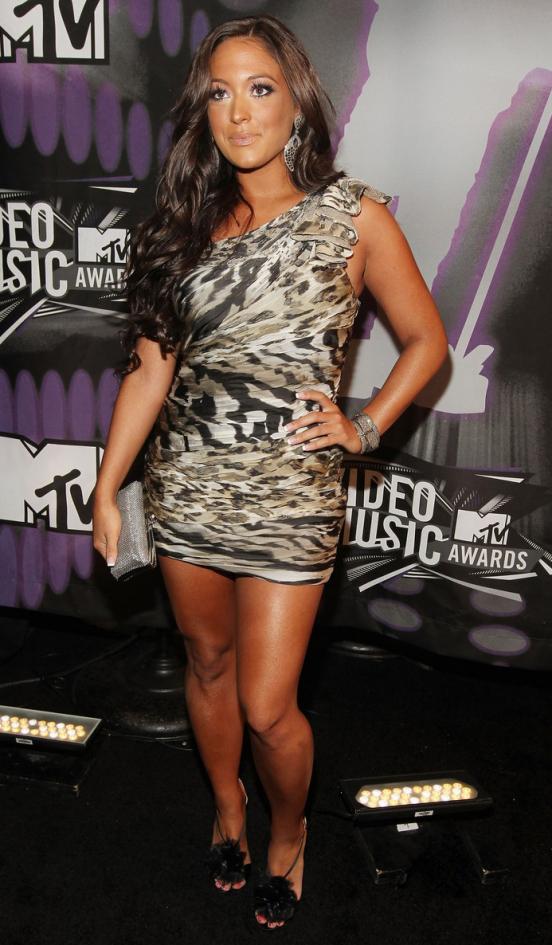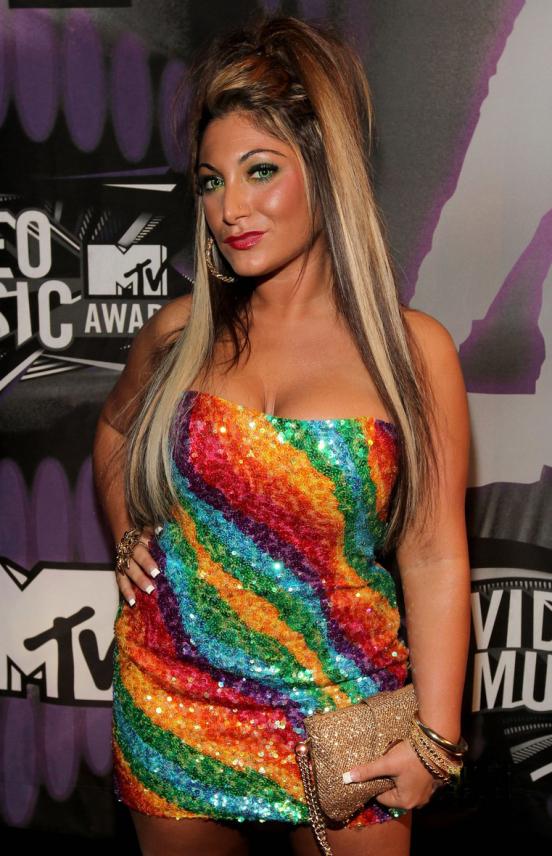 ... But when they get together, I want to gouge out his eyes.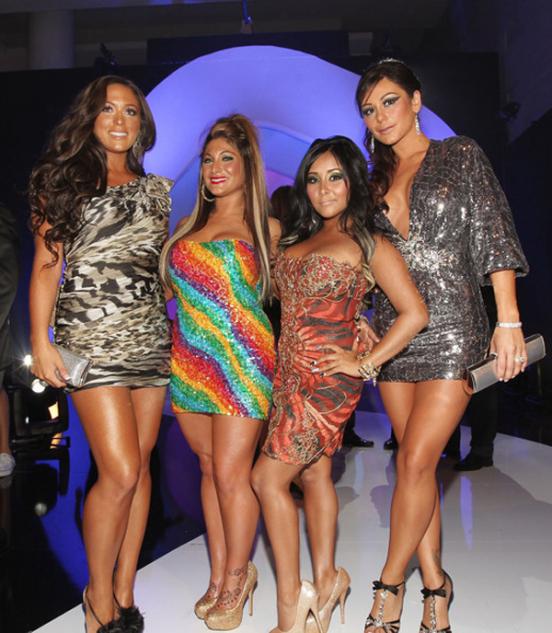 I did not like the image of the singer Jo Jo. The dress did not go somewhere else - it can withstand even with these strange growths on the thighs, but the image as a whole is poor - black hair, black dress, black shoes and black decorations look too well ... black.
Katie Holmes in his repertoire - simply and tastefully. It looks very nice, but I also liked her boots ocher. And I'm glad that Katie finally have grown-increase hair - it looks so much younger, at your present age.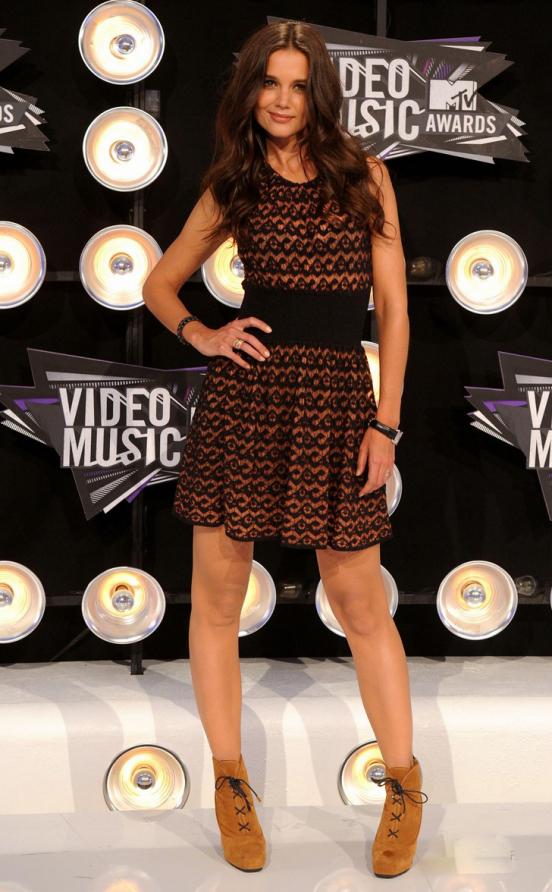 Poor Jesse Jay appeared at the ceremony with plastered leg and crutches on shiny after fell off the stage during a rehearsal of the concert. Maybe that's why she decided to create outfits from his brilliant burst with a touch of burlesque - a corset embroidered with glittering crystals, sequins and leggings in shiny shoes. Too much, but considering the plight of Jesse, I would venture to suggest that she put all this to divert attention from the sore feet.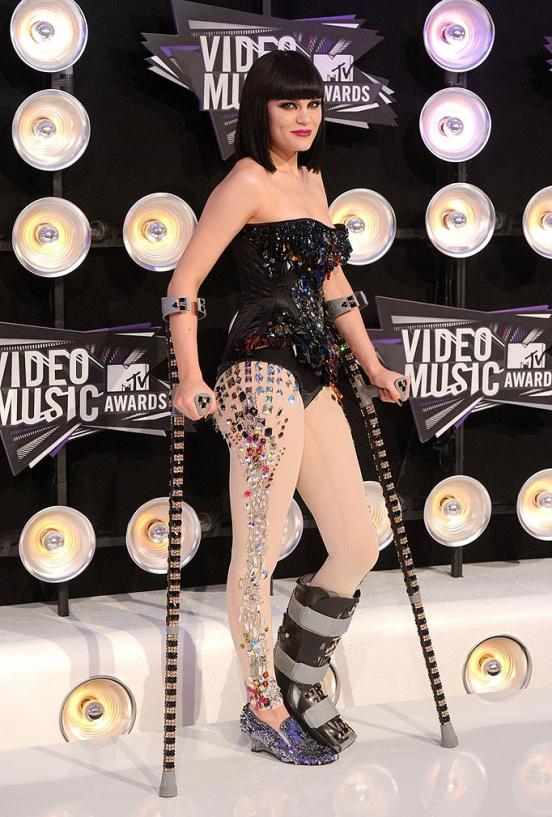 The scales as the heat of grief ... bride Kim Kardashian apparently picked up a dress for her wedding ring. The ring, of course, luxurious - no one argues, but that reminds me of a dress mermaid tail. And even on the back of his neck will not save.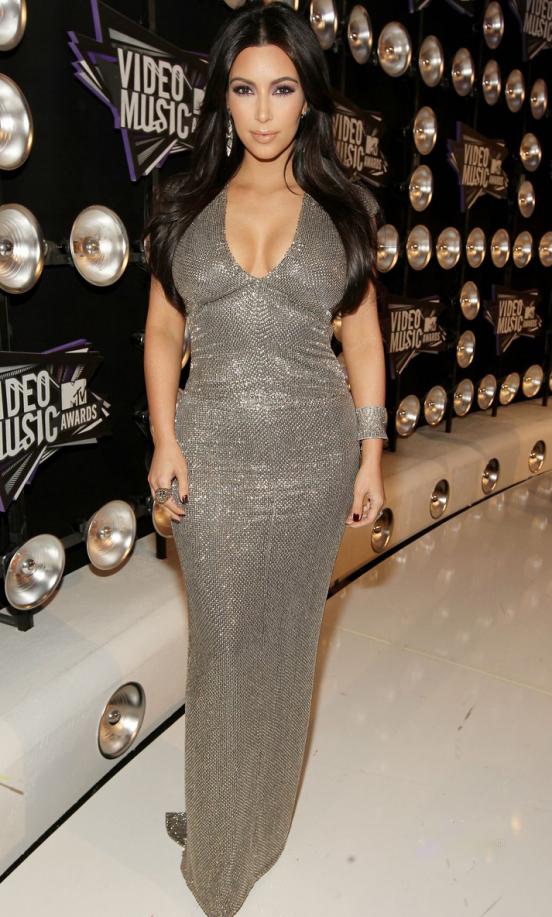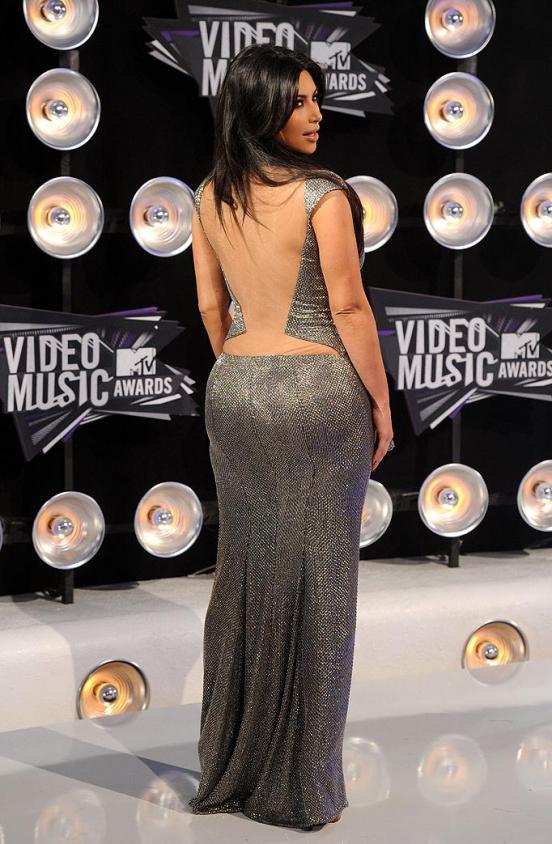 Miley Cyrus has also decided to expose the back, and in the absence of chest on chest, long sleeves and skirts to the floor is a must. The dress looks very original due to the combination of leopard print and floral motifs, only the fabric looks like something abrasion though faded.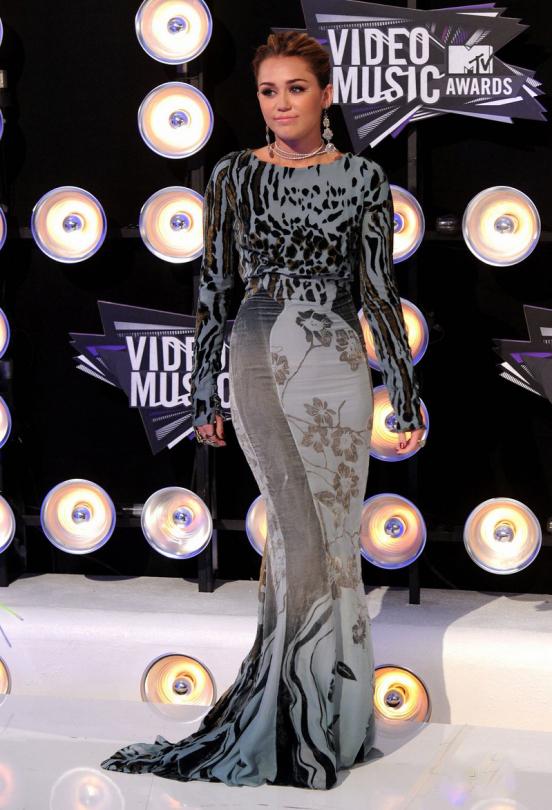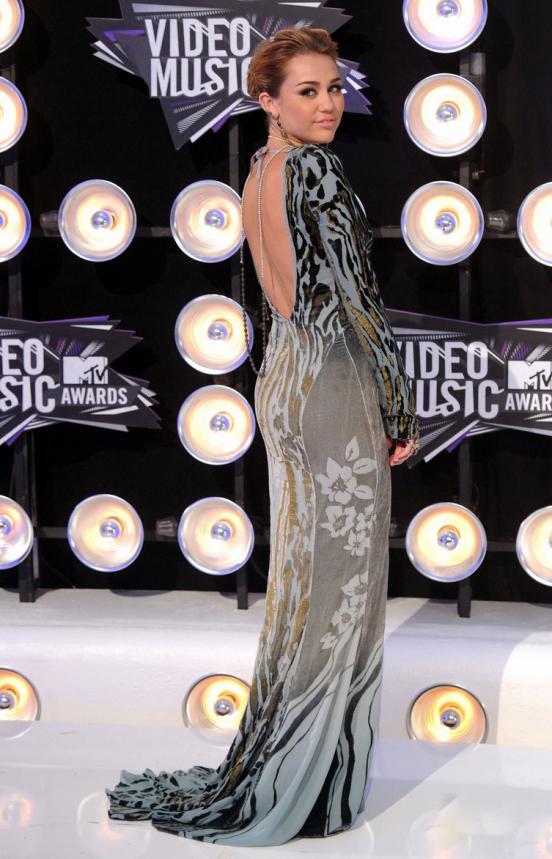 I liked the selection of Kelly Rowland - This dress is and feathers and leather and transparent fabric and sequins, and even riveting, but it does not seem excessive. Even odd! A legged absolutely gorgeous Louboutin.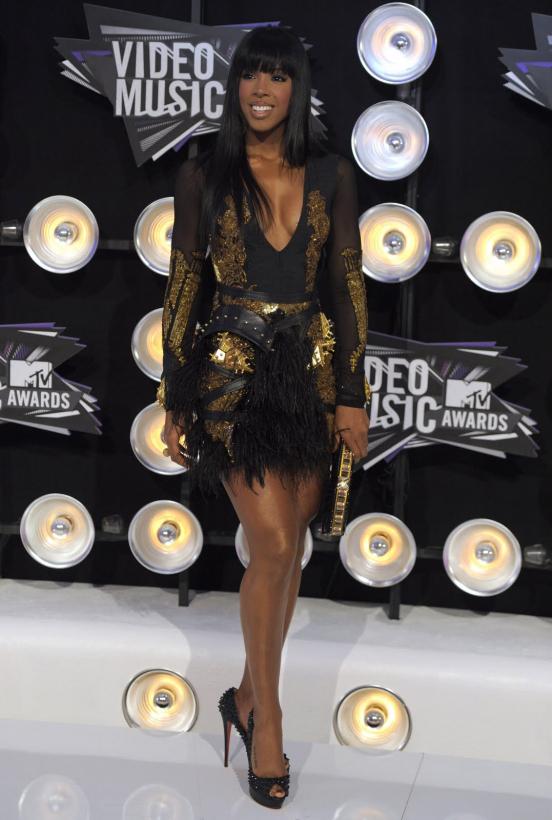 Maria Menounos dresses chosen for its beautiful silhouette, but missed with shaped (some I'm angry today - sorry!). I like this outfit reminds holiday sundress, with only a neck.
I understand that Nicki Minaj is not laurels Lady Gaga and she struggles to look frikovato and extravagant at the same time. To be honest, I'm such experiments do not like and do it for this outfit ?! So Nicky saved from bird flu, or is her home clothes? And with this toy, she apparently asleep.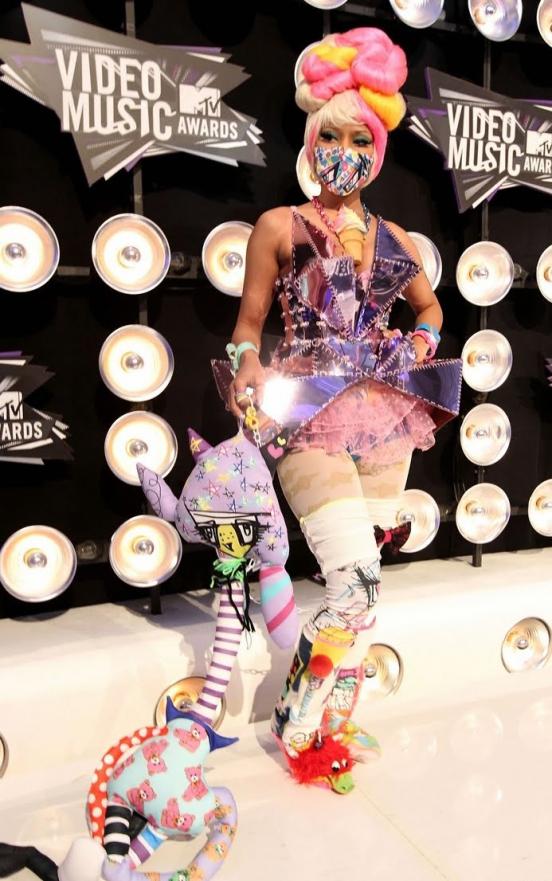 Again blestyashki. They lit and Ukrainian singer Mika Newton (and where it is out there?), Dressed in a golden dress with asymmetrical skirt. I do not like the dress, but shoes - very.
I always liked the shiny cocktail dresses - they have a special charm, but when they walk every second, it becomes boring. Here Victoria Justice glows from head to toe. Skukota!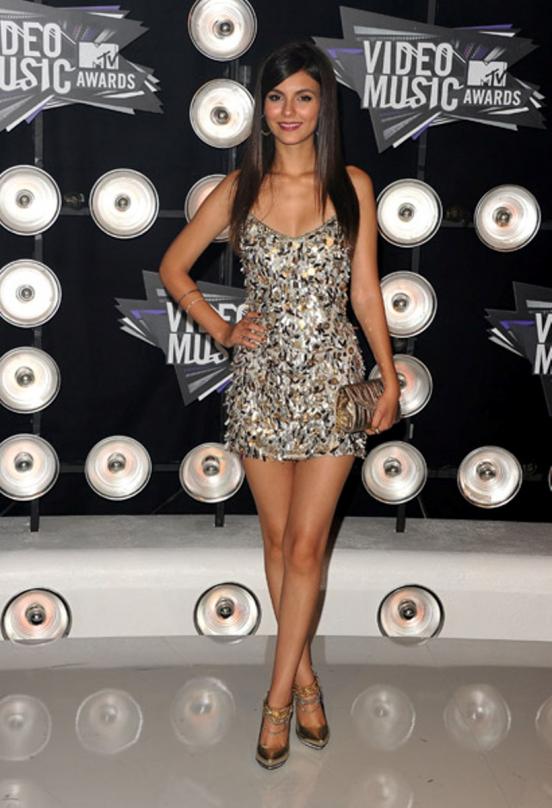 Amber Rose has made a fresh approach to fashion parade VMA 2011 and appeared on track is not in a brilliant cocktail dress and in a white jumpsuit shortened. I do not like kobylistyh ladies with large breasts and massive thighs, but Amber figure for some reason I like it.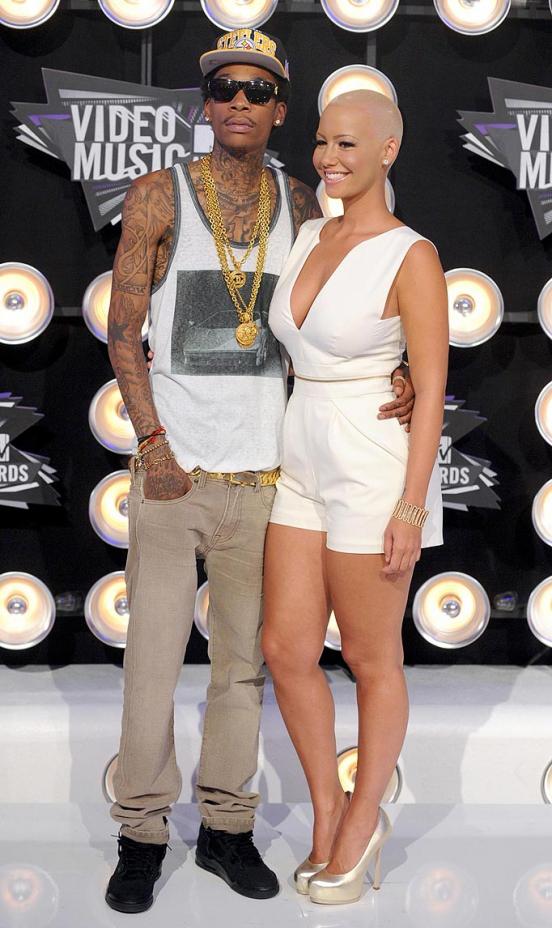 And here is the same Joe Calderone. Maybe Gaga will always go this way? So to me it is more like it))