A few days ago in Los Angeles, died down awards ceremony MTV Video Music Awards 2012. In spite of the fact that the event is organized by the youth television channel, "Moon man» MTV - a very prestigious award, and not only among novice artists, but also among experienced musicians . This time the triumphant show was a young British boy band One Direction (guys grabbed three awards, including "Best New Artist"), and the grand prize ceremony - "Best Video of the Year" - went to Rihanna for her music video " We found love ».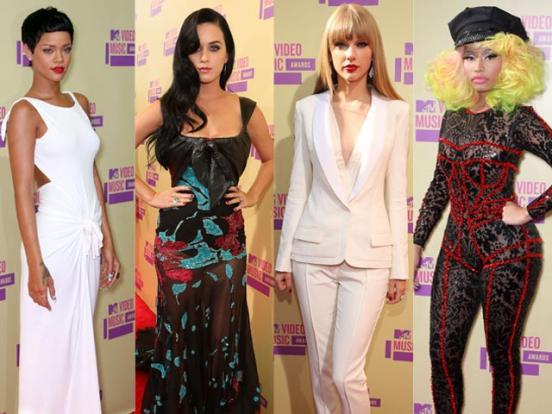 Rihanna appeared on the red carpet is not only a new dress from the fashion house Adam Selman, but with a new hairdo - now the singer has a stylish haircut for boys. Snow-white long dress with a cut on the back and uncomplicated nodes as a decoration looked very fresh and I personally inspired by the thought of the sunny beach and the surf. The whole image looks very relaxed and harmonious, and even seemingly aggressive red lipstick does not violate this harmony. The only negative attire - dress Rihanna bit fuller in the hips.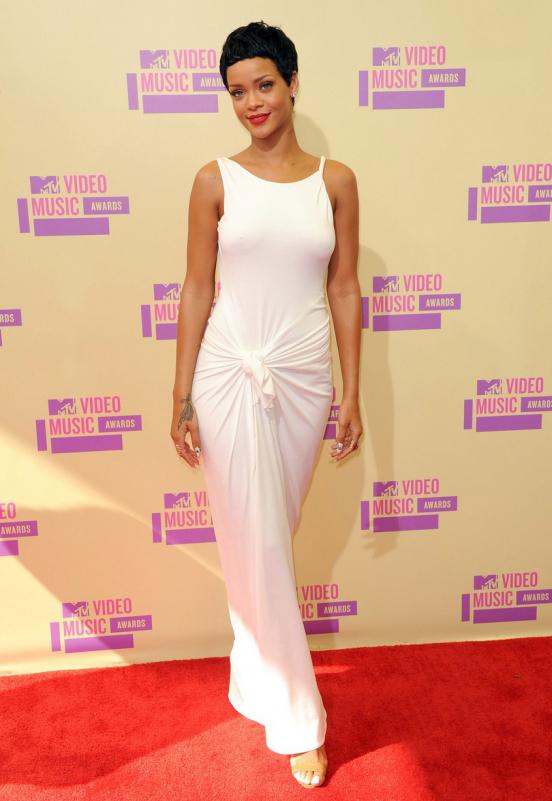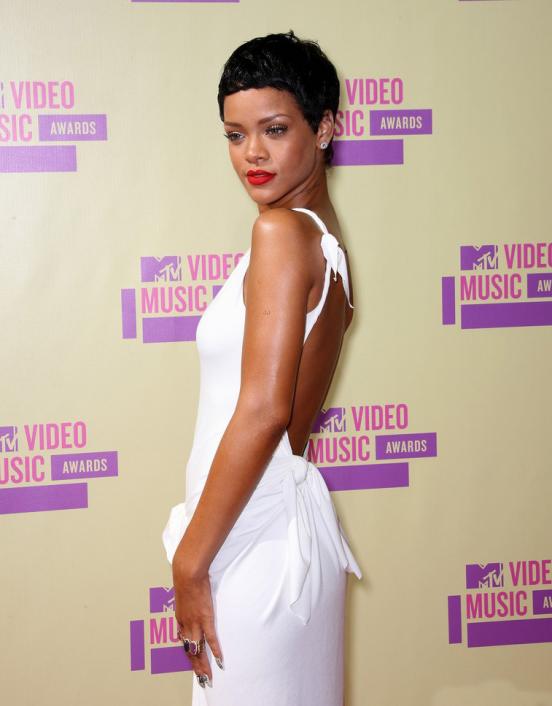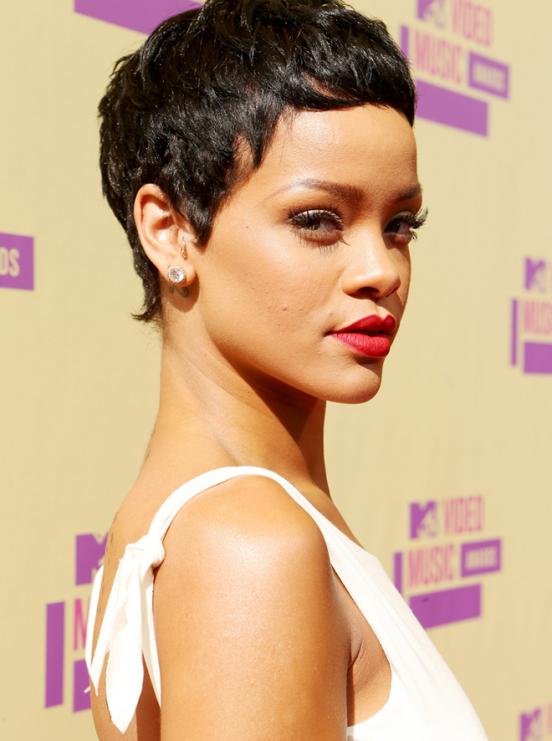 Despite the fact that Pink wore on the red carpet evening dress, she has remained true to his style and diluted glamorous outfit aggressive ornaments and accessories. Translucent gray dress, decorated with thousands of sequins, a distance resembles a snake skin and looks very nice. On his feet - low-key black (at least under the style of Pink) pumps, in the ears - big earrings, on the fingers - fancy ring, and on his head - the original decoration, which makes its way through the mop of hair comb with sharp spines. Here is such a mix of accessories resulted in a very interesting and vivid image.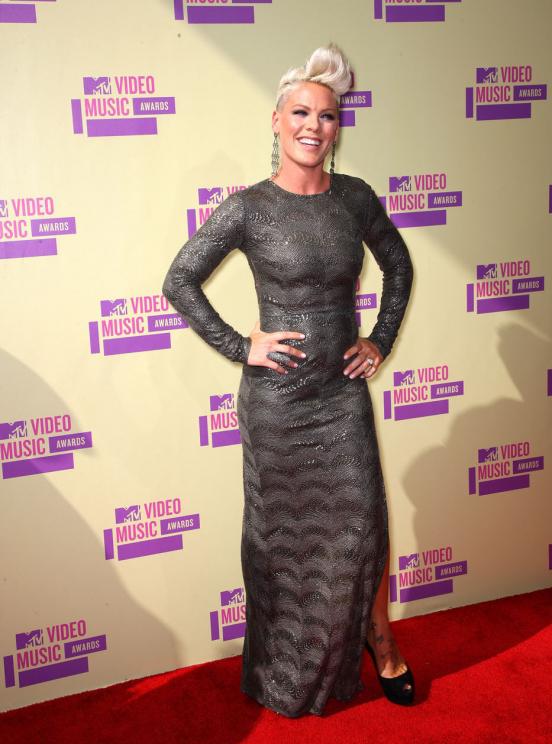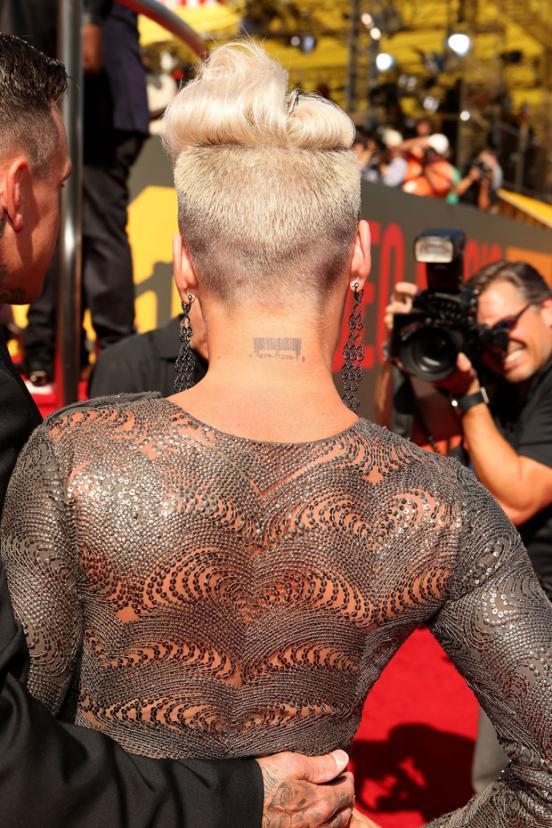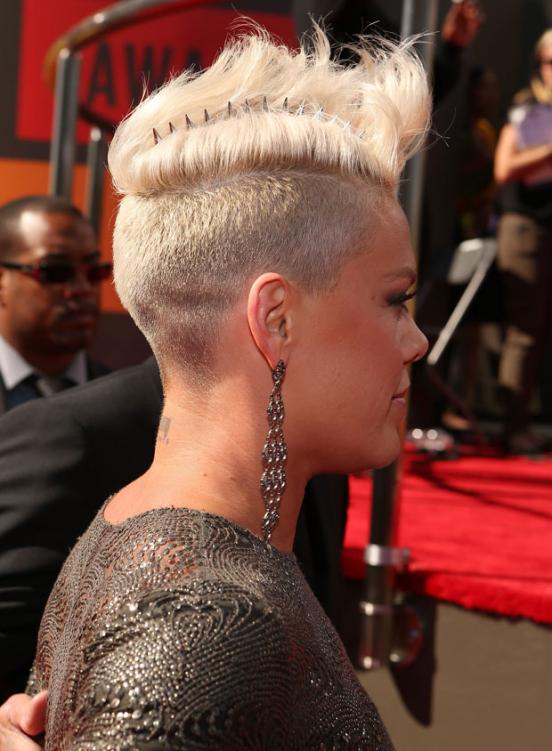 Against the background of brutal and sexy Rihanna, Pink glamorous actress Rashida Jones looked pretty unattractive, though try on a black leather dress, which is difficult to be inconspicuous. Red nail polish and earrings with large emerald diluted slightly lacking brightness outfit that would look without these accents boring. In general, the image turned out good, and it is suitable for both formal events and everyday life, but gentle Rashid this dress looks too heavy.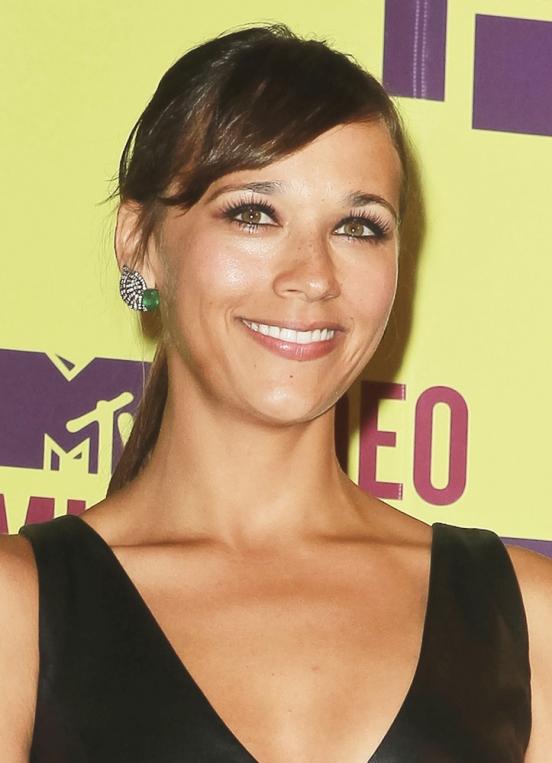 The image of Miley Cyrus was similar to the way Pink - identical hairstyle fitting dress on the floor, long large earrings. Pretty strange to see a woman 33 years old and a girl 19 years in the same way, but for me personally, more organic look yet Pink style that fits not only her music, but her character. Of course, it's very good that Miley is not in place, changing their image, looking for himself (because it is better to experiment in 20 than 50), but her hair (which is in the form of a placement) I do not like. But the dress looks just fine.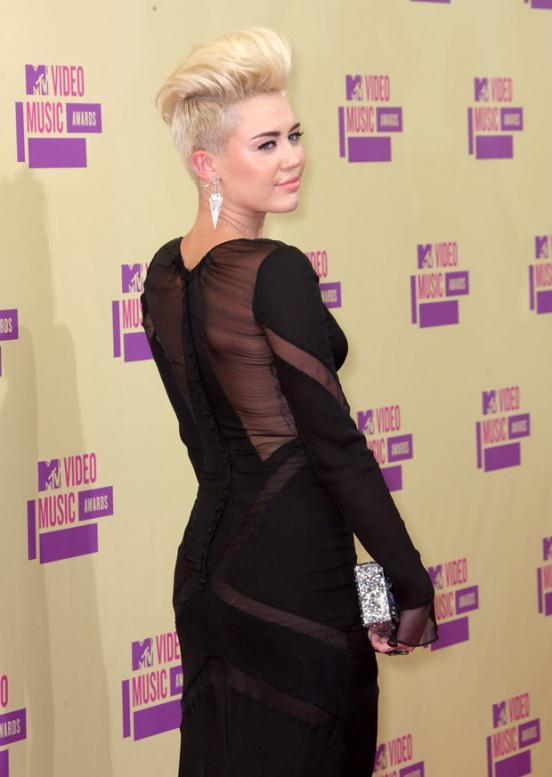 Pretty strange choice showed us Katy Perry by a dress from the collection of Elie Saab already in 2004. Strange in the sense that celebrities usually make the choice between vintage dresses (40-50-years x) or new-fangled dresses of the latest collections, Cathy has preferred way eight years ago, for which he received his share of attention. For me, this dress was a revelation, because it is difficult to imagine that this bold hypersexual dress was created by the same designer, who in recent years has been doing that sewed dresses of princesses. Nevertheless, Kathy this dress looks very nice, her style.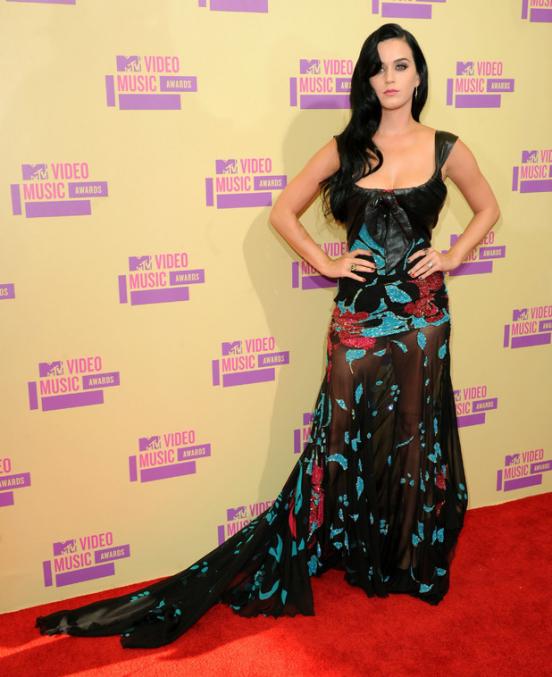 Red carpet MTV VMA 2012 has prepared us a lot of surprises. One of them was the release Keshy, which finally looked like a normal person - instead of the next stage costume singer chose for the event feminine dress made of sheer fabric, adorned with small black flowers. Of course, the outfit is not so hot, but the whole trick of the image is that Kesha wearing the usual dress that can try on any other woman. And the fact that it still looked good, the speech was not.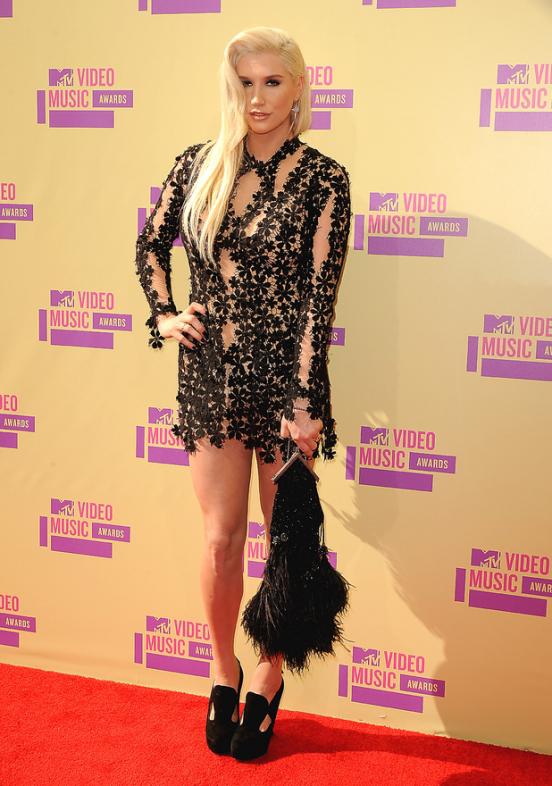 Zoe Saldana at Salvatore Ferragamo. I have mixed feelings about the bow of the actress - in my opinion, there is too much carelessness, which can be seen in a dress with a fringe, and her hair, which supposedly was made in haste. Zoya is very much a good image and I love it exits on the red carpet, but this is clearly not the best of them.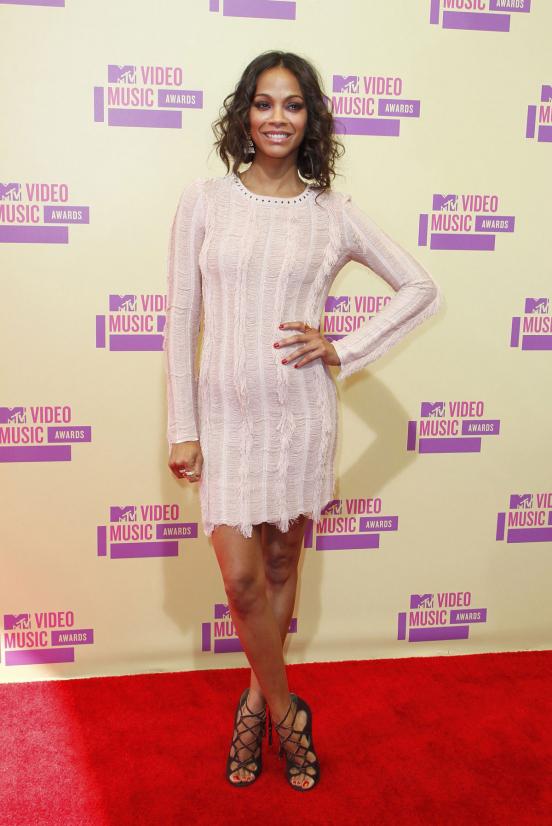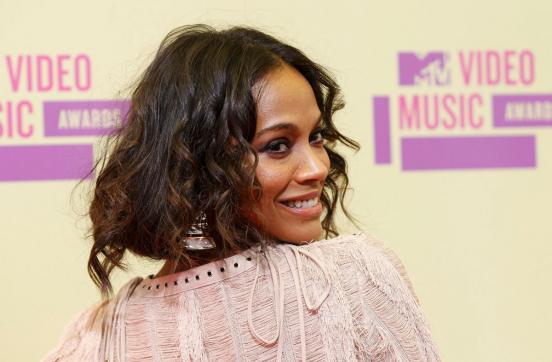 No one is blind, is it? Just dress Nikki Minaj is the number of the light, flickering lights and that you can not help losing vision. But the singer in his repertoire - she did not think twice and put on her favorite lace jumpsuit flavored payetochkami, BDSM cap, yellow wigs, etc. etc. Personally, I would be interested to see Nikki once in a pretty dress, without any clown lotions. Well, at least for once.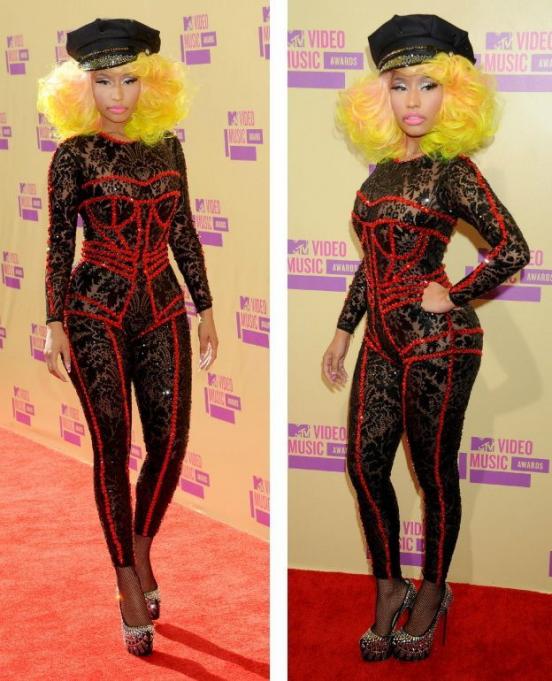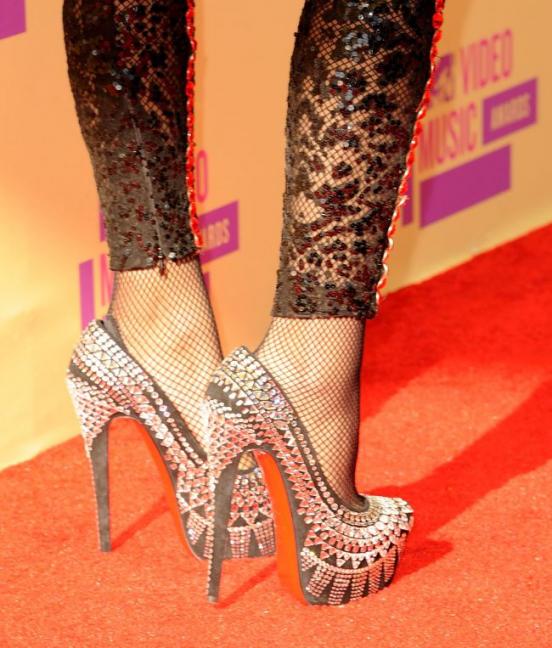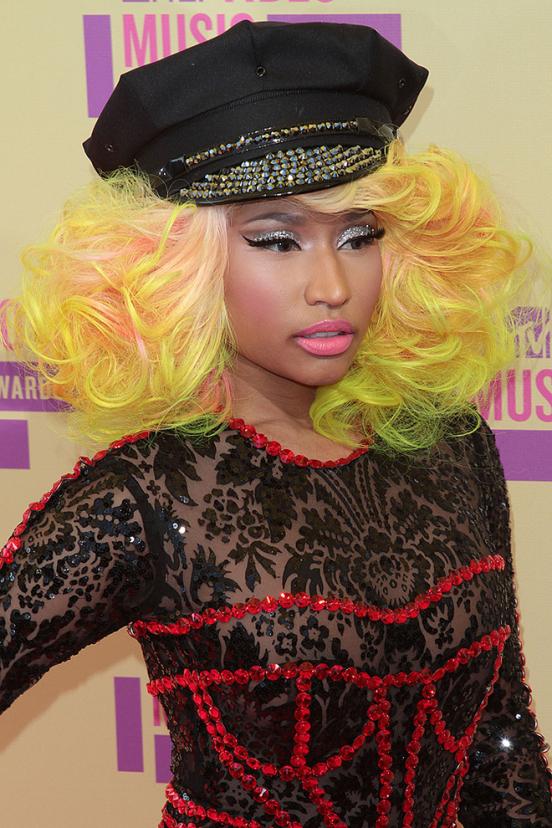 Alicia Keys in a dress Alexandre Vauthier. Not the best way. Interesting asymmetrical cut and gray dress looks good, but terrible fabric spoils the impression - it looks cheap and very much like the linings.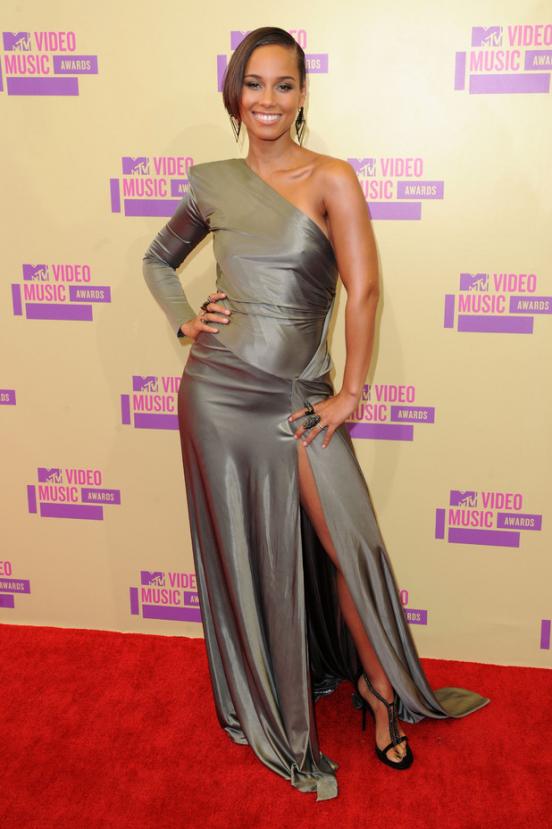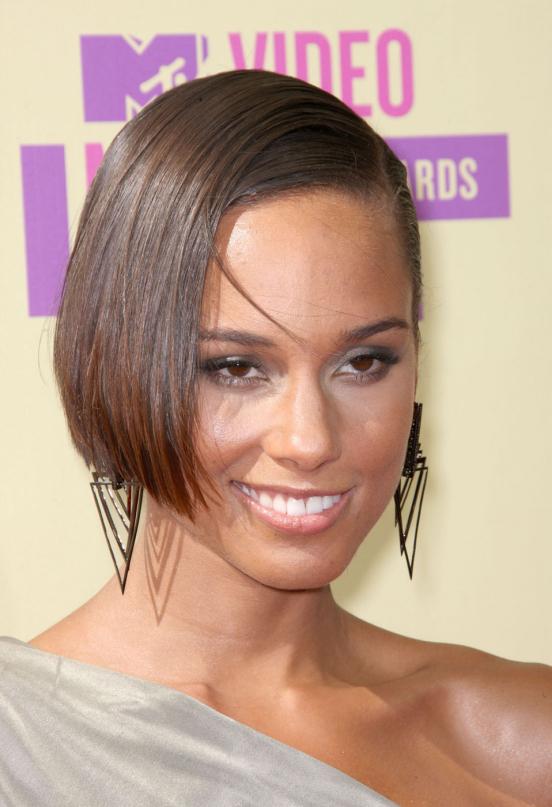 Amber Rose appeared before us in the form of future moms - at closed (surprisingly!) Lace dress hiding round tummy. Great choice of dress, looks very elegant and sophisticated, but I would prefer to lace pattern on the fabric was smaller, he would have looked much softer.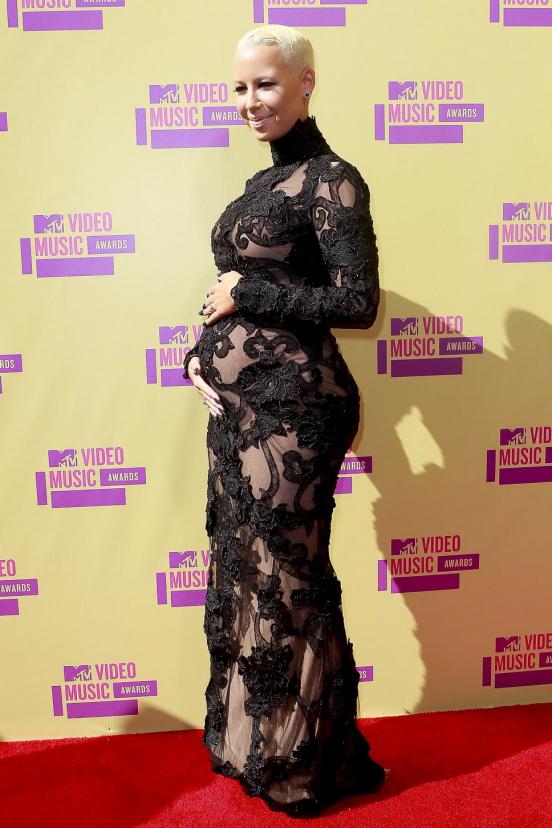 Demi Lovato posed on the red carpet with the award for "Best Video with a message" and looked very happy. On the singer was a nice cocktail dress with shimmering finish ... which unfortunately it did not go - it's too it her full.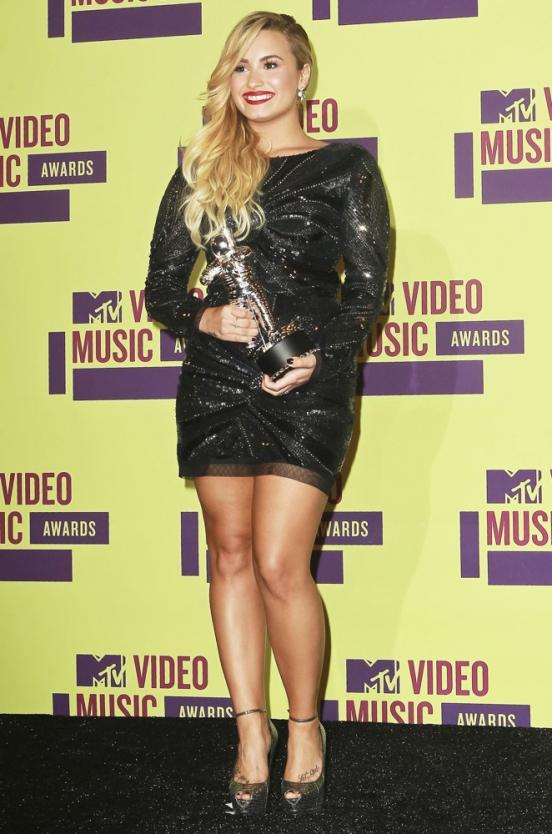 But you can admire Demi smile - a real beauty!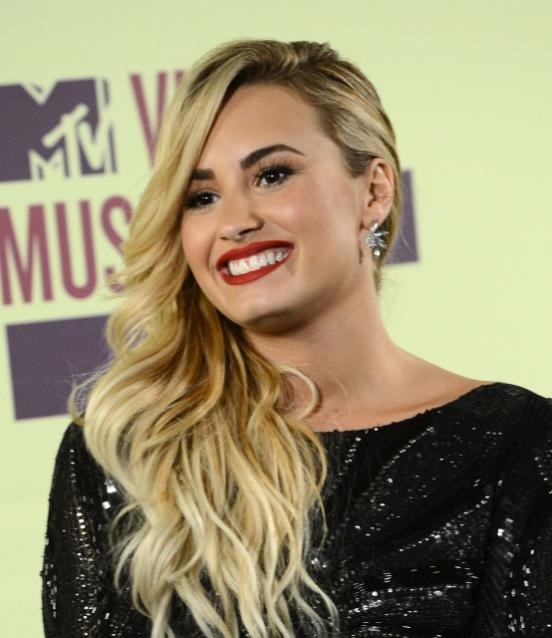 Very pleased with their choice of dress Emma Watson. The actress, who most often chooses the red carpet fairly mature way, this time dressed up in funny colored dress by Peter Pilotto. Cocktail attire consists of a bright stamp in the style of Suprematism and mini-skirt with a small ornament on the whole looks very fun and cheerful. Unusual to see Emma with candy pink lipstick on her lips, but she really goes and meets her young age.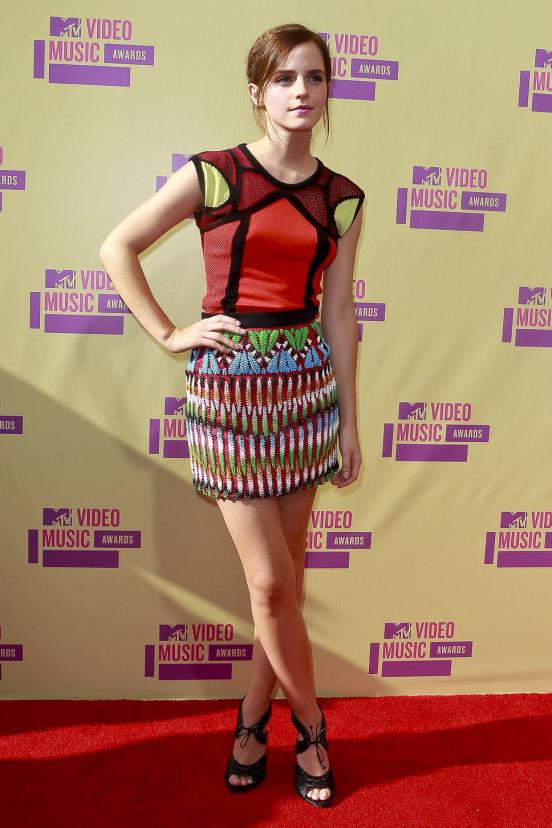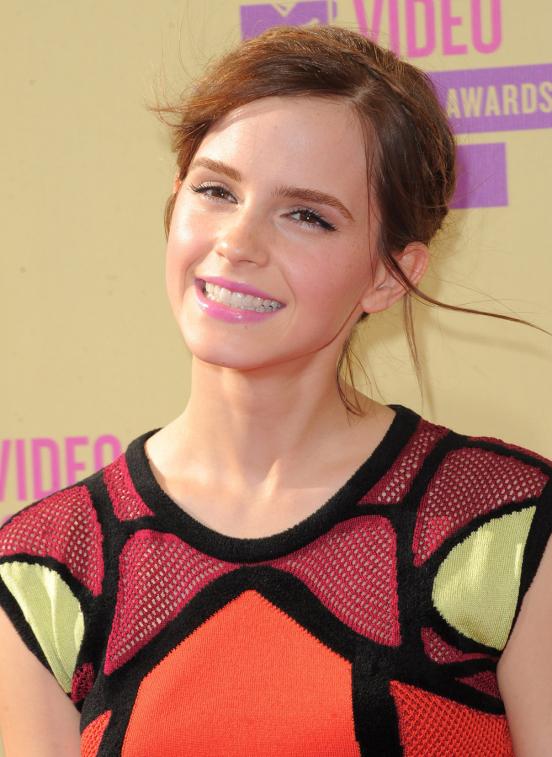 But Jessica Szohr, on the contrary, looks older than his years - actually 27 the actress, but her appearance draws on 35. But then it's not the age, and in her dress, in which a lot of things ponameshano, but it does not combine with each other. Top bustier, long skirt with slits, leopard scarf on her head wildly popular this season sneakers ... All mixed in Oblonskys.
The star of the series "The Vampire Diaries" Kat Graham is often impeccable on the red carpet, stylish images. This time, the actress opted for trouser suit burgundy, adding his leopard bustier and aggressive accessories with metal inserts. In my opinion, Kate slightly overdone makeup - in a suit with a maroon lips she really looks like a vampire.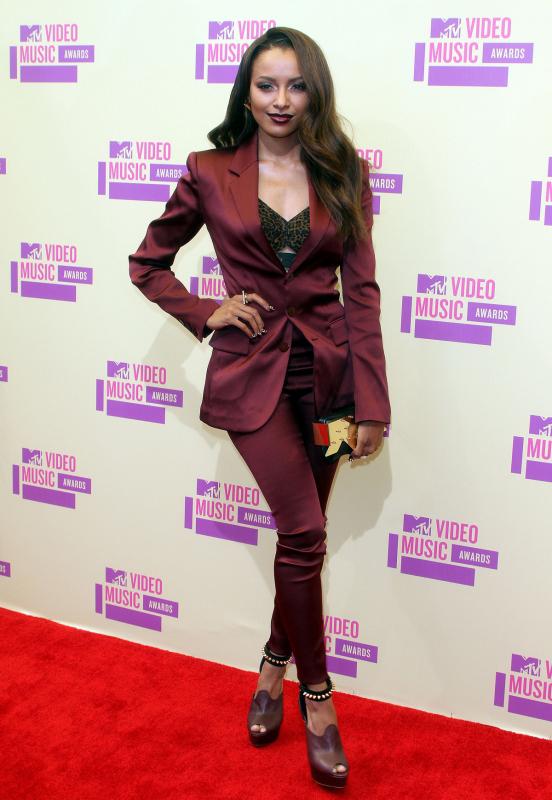 Despite the fact that overall Rita Ora by Emilio Pucci as if created for this fun and colorful events like MTV VMA, it also has drawbacks. Transparent insert on the chest looks matter, and a pattern of shiny stones (bar on the thighs) shortens the leg.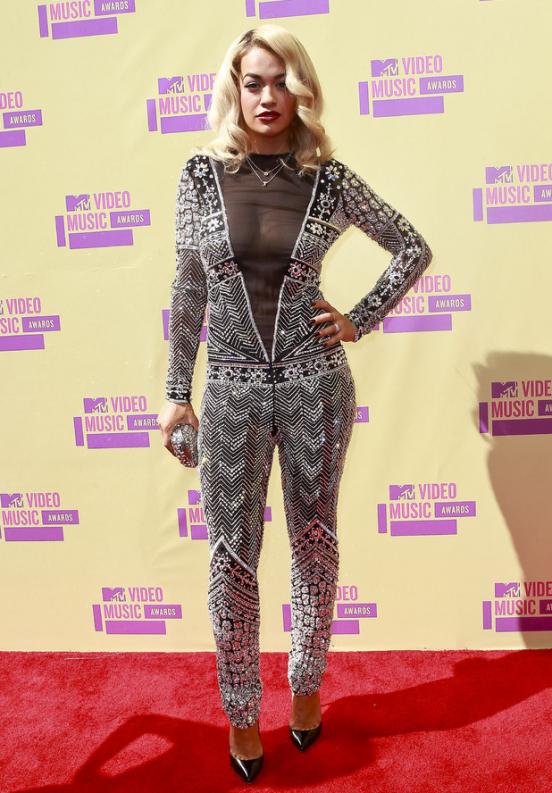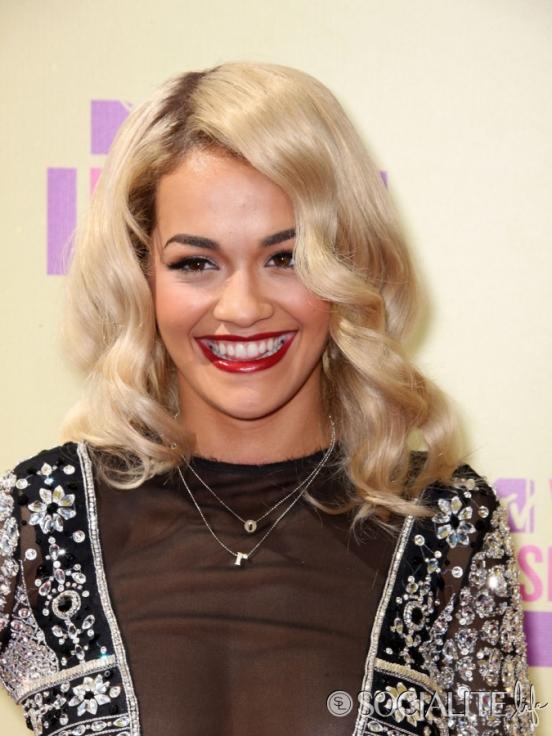 And last, but not the worst - Taylor Swift. Rather, the singer's outfit can be called the best - very well sitting on her snow-white pantsuit from J. Mendel. Golden woven sandals and a rich red lipstick adds elegant image of sexuality and a touch of glamor. I do not see any flaws, everything is just perfect!