Good question - what genre is played by David Bowie. I'm told that he's, like, glam rocker. What he invented glam rock. But here's another question - glam rock genre is it? I mean, if music genre?
I think the concept of glam rock is more about self-expression through style in clothing, appearance, rather than music. Well it is clear that the artist has to play rock, not jazz or disco, but that's it.
It is believed that the first glam rock album is The Man Who Sold the World by Bowie for the 70th year. Album is heavy, according to the criticism, which I dug in the western Vicki, there heavy blues-rock and psychedelic folk-rock. I would not listen to it and if it were not for Bowie.
Yeah, the first album of glam rock is heavy music, okay. Opens a list of other performers glam-rock. Tams see Roxy Music (Bryan Ferry). Elton John. Group Andy Warhol The Velvet Underground. Well, little in common between them. The Velvet Underground is monotone classic rock. Today, this group is better known because of the cover of the disc, rather than songs. That's the same banana, very original: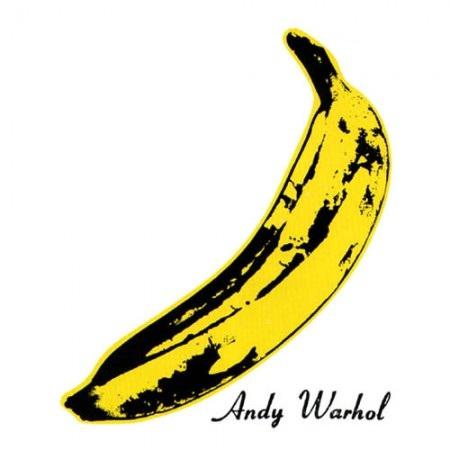 At Roxy Music were aggressive things, but the most famous songs (More Than This, Avalon) very soft, quiet, peaceful art pop-rock ballads. And Elton John, well, there's Elton John Elton John, what can I say.
But this post is actually not a glam rock. Fasting of David Bowie, whom I occasionally turn to replace Prince, from falsetto when ears get tired. I have prepared a ranking of 10 of my favorite songs from him.

10
China Girl ϟ
On the tenth place were problems. It is difficult to choose when a lot of songs from the category - like, but not so that ah. China Girl from this category. Best moment of the song - it's the end of it. No, not in the sense that I suffered last 3 minutes. But these Oh oh oh ohoo little china girl - this is it, this is ϟ.
In youtube version, unfortunately, the end somehow undercut. :-( Play better version of the original album is the 83rd year.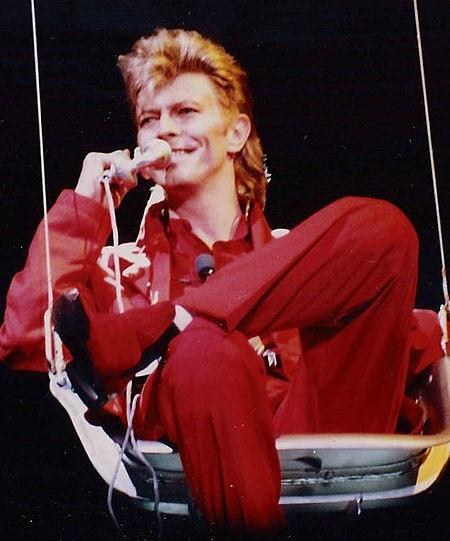 9
Absolute Beginners ϟ
Actually, the romantic ballad about "absolute" love.
I can offer a little bit,
With my little one can take
I'm starting everything from the absolute beginning,
And in absolute sanity.
With absolute beginning Bowie chose to start in shorts.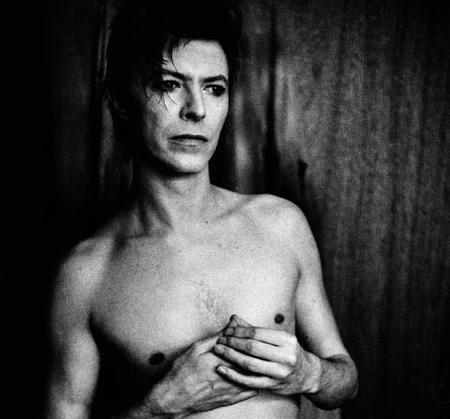 8
As The World Falls Down ϟ
This song is probably the most pop in my rating. Bowie it recorded in the 86th for his film Labyrinth, which incidentally starred Jennifer Connelly is quite small, you probably saw in Requiem for a Dream. Or blood diamonds. Or where a lot.
The song quickly fall in love with.

7
Loving the Alien ϟ
The belief in the incredible love of the unknown.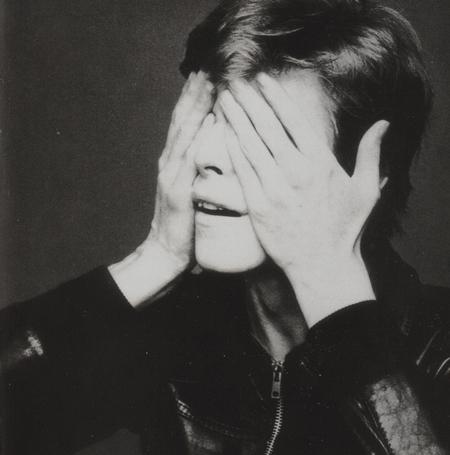 6
The Man Who Sold the World ϟ
Kurt Cobain very well covered the song on this Nirvana Unplugged concert. The concert, which was released a few months before his death, Cobain has become very popular. So much so that he Bowie admitted that he hates it when "after the concert fit children and say," How great is that you sing a song of Nirvana ". And I think, "Fuck you, zadrot young!».
Who knows? I'm not
I did not lose control
The whole world sold
I stand before you
Although this translation is very relative:
Who knows? not me
We never lost control
You're face to face
With the Man who Sold the World
In Nirvana the song get peace chtoli.
And Bowie mysterious. I puzzle over.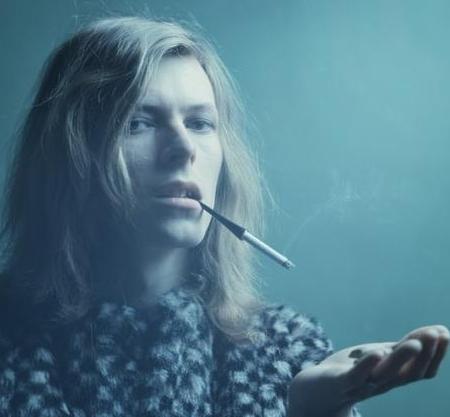 5
Life on Mars ϟ
In 1971, Bowie described the song as "a sensitive reaction of a young girl on the media».
In 1997, he added: "I think she understands that disappointed a reality ... and even though she resides in frustration from the real world, she was led to believe that somewhere there is a much better life, and she was sad that this beautiful life she no access ».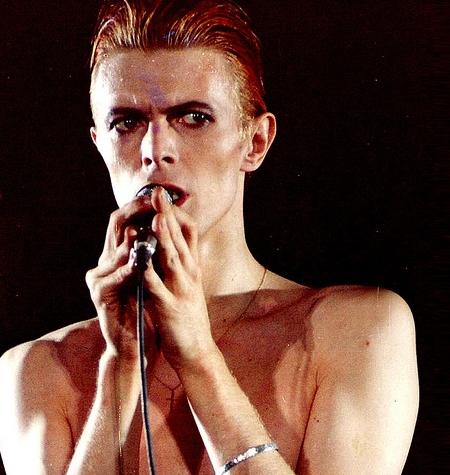 4
Space Oddity ϟ
Out song coincided with the first landing of men on the moon in July 1969. The BBC used this composition in the TV coverage of the landing.
The lyrics tells the story of how Major Tom (who even appears in Ashes to Ashes) flew in space and has not returned. I'm on some website read that one man's son was born just under Space Oddity. The very topic. Someone flies into space and back, and someone is born, why not.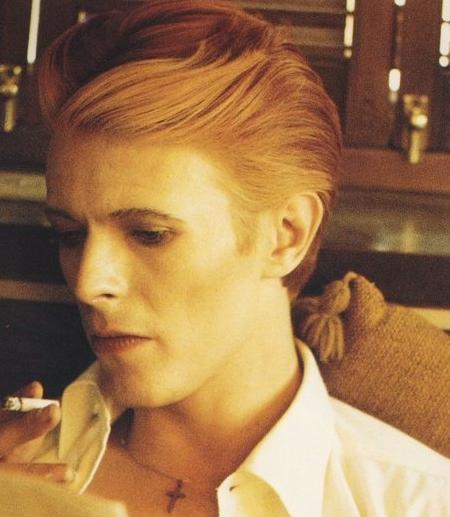 3
This is not America ϟ
The song you enjoy, I promise.
This is not America, sha la la la
a small piece in you
world smallest in me
die [this is not a miracle]
because it is not America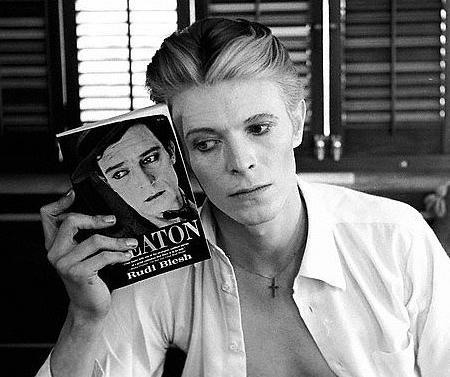 2
Ashes To Ashes ϟ
The song "Ashes to Ashes" again about a certain Major Tom. Only Space Oddity he was lost in space, an astronaut, and Ashes to Ashes Tom is a "drug addict, addicted to a drug paradise, reached the bottom." It is believed that Major Tom was the epitome of the type of David Bowie, who at the time was on drugs, but in reality - who knows? I'm not. His lyrics are sometimes very bad translation even with the dictionary, is to do it with caution.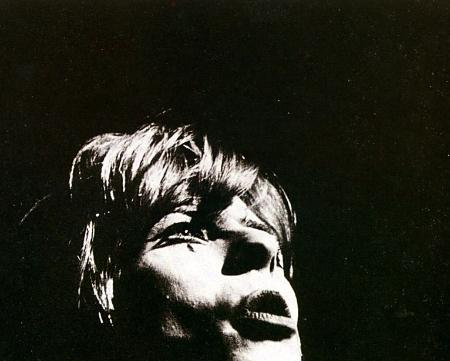 1
Aladdin Sane ϟ
The song is from the album Aladdin Sane ... Aladdin Sane, the cover of which depicts a ... Aladdin Sane. Track, incidentally, is not very well known. Painfully it experimental. As far as the album, it is after it became clear that Bowie is there not some ephemeral (as Maroon 5's any) and innovative powerful figure in the world of rock music.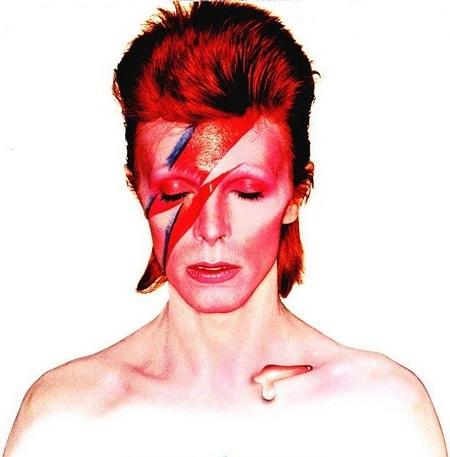 Subsequently, the album cover was most famous for this album. Until now, any defective Lady Gaga painted a la Seyne Aladin. Well, ordinary mortals imitators (for those in slippers - not less Bowie):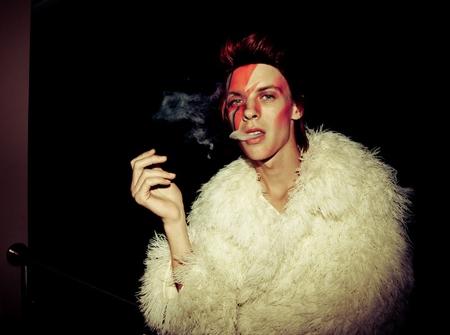 Bonus
It is believed that the brilliant actors ever born the same talented descendants. It seems to me, the son of Bowie - Duncan Jones - could be an exception. Duncan (who had 40, but the director is a little) in 2009 took a very, very good science fiction.
The film is called The Moon 2112.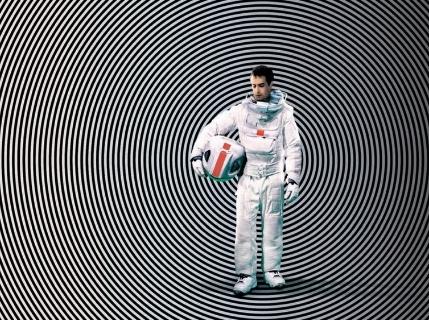 It would seem, well, what's wrong with that, with his father's money and connections to create another fantasy film? But no. Out of it all on a 5 million, is very small by Hollywood standards, all done in humble. On the screen, almost all the time, only one actor, and a moving rover actually toy magnitude - not even the radio-controlled, it is literally carried on a string, which is then erased on a computer. The lunar surface was placed on the table of 12 by 7 meters.
The film leaves behind, well, very pleasant aftertaste.
Just try not to fall asleep in the first 20 minutes, the bear.
And further. There is the logic that it was the son of Bowie director and took it fiction. In the folder that has always been craving for space and aliens, it was passed. A "source code" seen? Also from Duncan, but quite in Hollywood.