November 19, 2011
Eva and her ex-boyfriend Eduardo Cruz (Penelope's brother) arrived in Miami. Young, beautiful and in love they walk through the airport and in front of them as you can imagine camera, cameras, ... Paparazzi photographed their images that are 100 percent match (by today's standards). Usually around tattooed macho curl it is women in furs and high heels, Eve differs from them only in age (s 37, she is older Eduardo 10 years old) and their feed (she confident woman with good manners). Initially, the bow did not like me because of leggings that make way too open, but then I realized that I do not like everything. Leggings, jacket and boots on a huge platform not to my taste. Something about this is "kardashyanovskoe».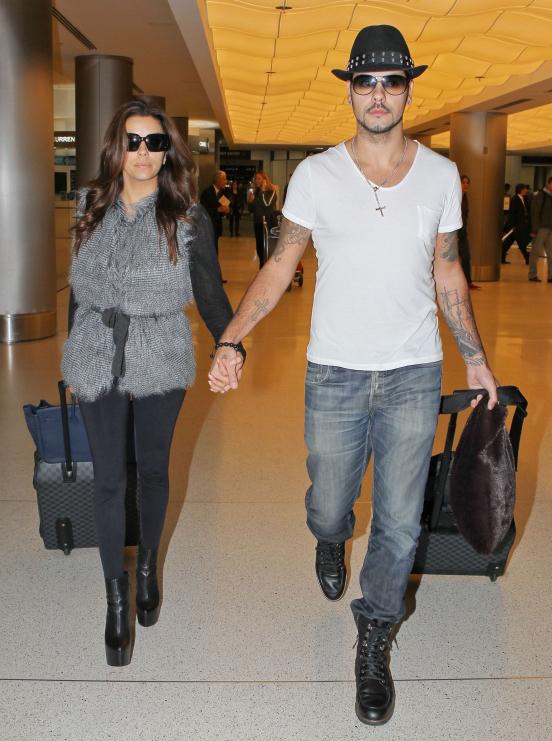 November 23, 2011
Eva crosses the street, talking on the phone with a simple, convenient, and I can even say autfite home. Sportswear + ugg color of melted milk perfectly in tune with each other, and then Eve so sweet and natural, that this way, despite its banality, I want to put a plus. Looks good!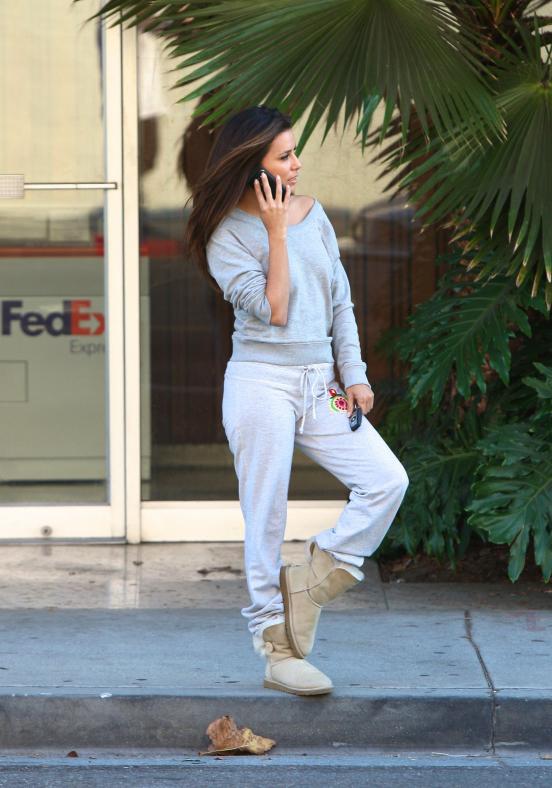 January 8, 2012
Everyone would go in this form in January ... Well I do not know. At the exit of the nail salon Eve demonstrated combination of business and beach style. I do not understand how you can combine them together, so I put together a bold minus. Cardigan in sex interesting, but in this long sarafan Longoria looks ridiculous, frankly figure is distorted, although Eva watches her body better than many stars together. Waist is not pronounced, but in this outfit, it becomes quite inconspicuous turns square silhouette.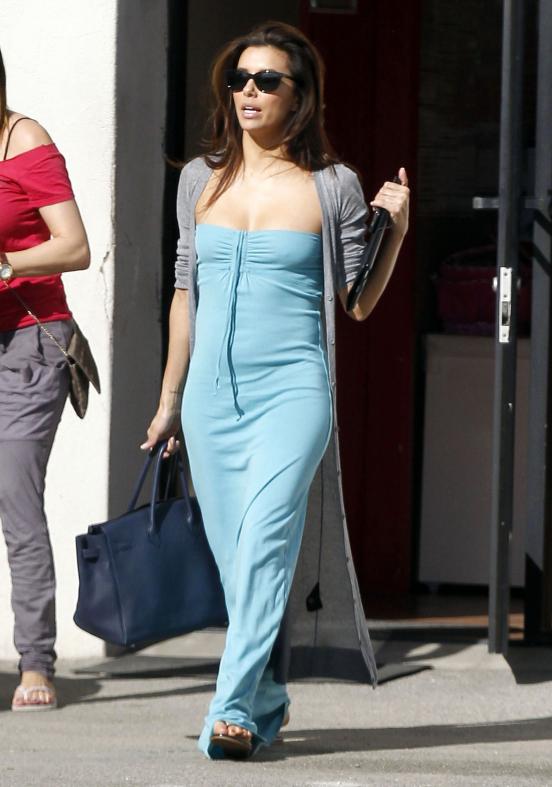 January 14, 2012
Eve comes out of the meat shop in West Hollywood (strange that no purchases). The white color of her very becoming, and the combination of dresses ugg thingies and I do not understand, but it smacks of ethnic music that I love, and perhaps live a bow looks more successful. Never saw girls dressed so because we ugg boots - winter is an option when there are so full of snow ...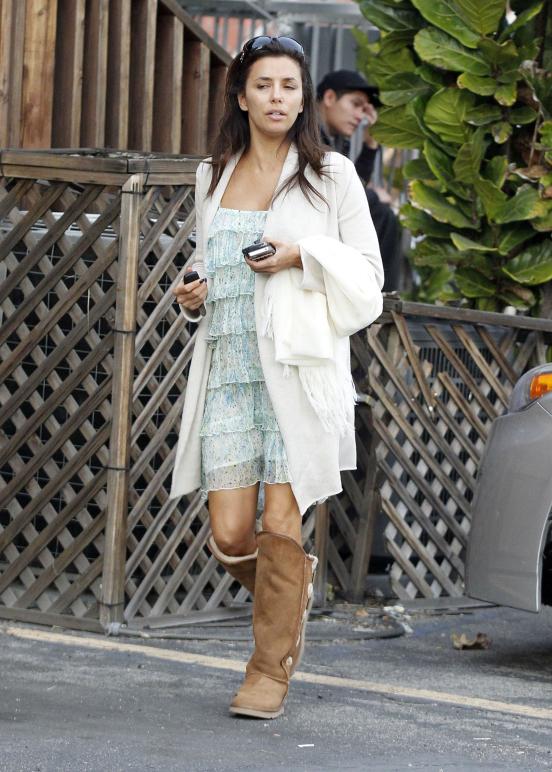 January 18, 2012
Eva and Eduardo doing shopping in Beverly Hills. Both are drab and unassembled. Baggy gray jacket with the word «love» and shoes are not quite like ...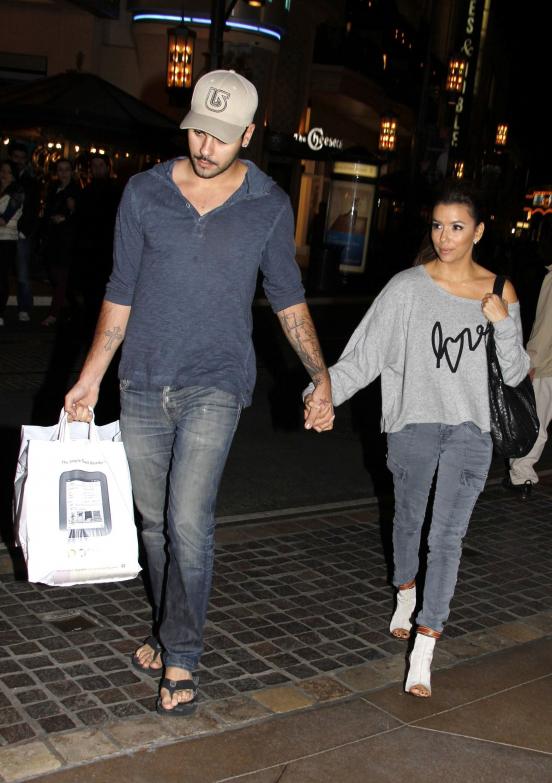 February 17, 2012
Eve in New York's John F. Kennedy Airport with a pad in his hand and a very crumpled image whose top separately from the bottom. Mind or will make, what she wore just such boots, and even wool socks under them, but does not look very. Fashionable (probably), but neither skolechko not combined with a coat and dress. Style coat is gorgeous, white color, too.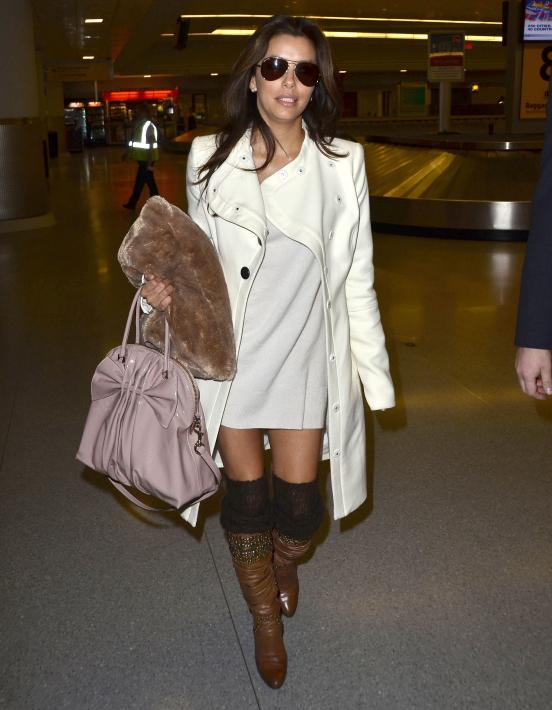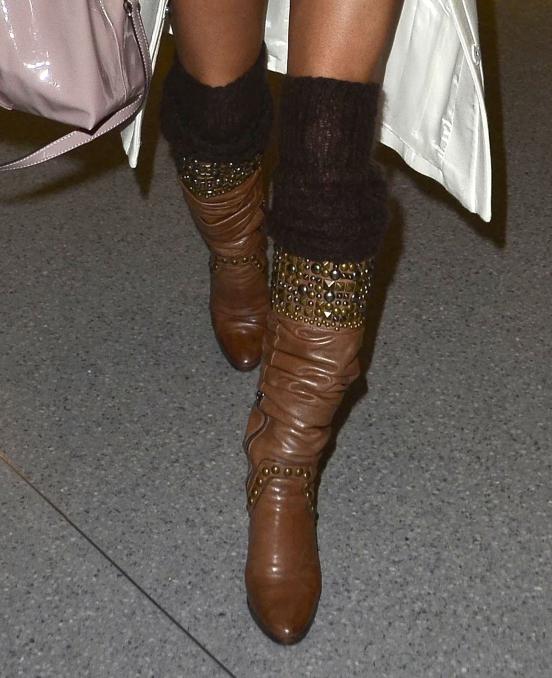 March 3, 2012
Eve sits in his car after visiting a hairdresser. Excellent image of a casual, but if pants have no pockets would be even better.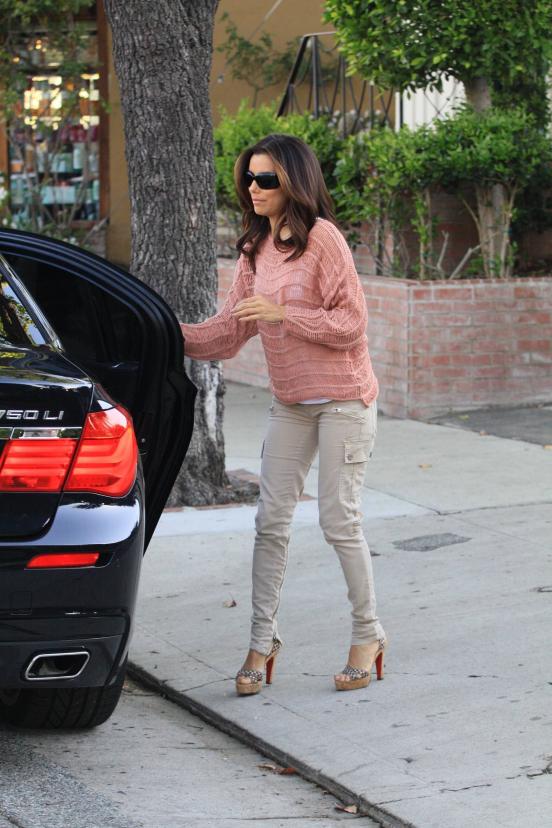 April 5, 2012
The ideal combination for everyday life, still think it is not in vain Eva is friends with Victoria Beckham, which has a lot to learn. Beckham notes in this dress, it is true Vicky likes scarves as much as they love Longoria. Eve here again «JFK Airport». Stylish, beautiful and well-groomed woman, wondering which of her actress? Not looking "Housewives", but perhaps for a couple of series Longoria look, maybe retract.