This post I would like to dedicate one of my favorite artists, creative way which proves how corny it sounds, that with hard work and patience, you can fulfill your dream.
In the continuation of the curious facts of the biography of Bruno Mars, which you might not have guessed, and the details of what he has prepared for us in the coming year.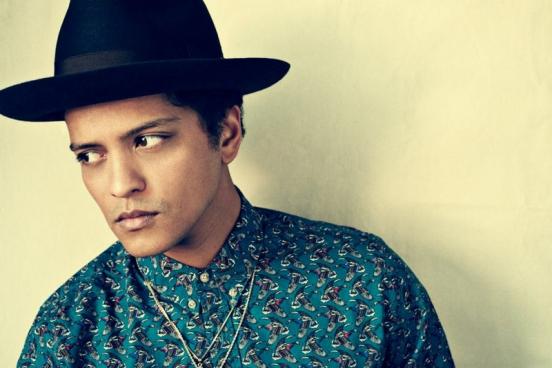 Bruno was born in Hawaii in a musical family. His father played the drums, and my mother sings and dances. All six children live music and constantly played with his parents on stage. Regarding the stage name - though Bruno was born born Peter Hernandez, the father of a child, and then the whole family started calling the boy Bruno because of the similarity with the legendary young robust fellow wrestler Bruno Sammartino. "Mars" was added already in adult life (just as a joke that Bruno - out of this world) and has no special significance.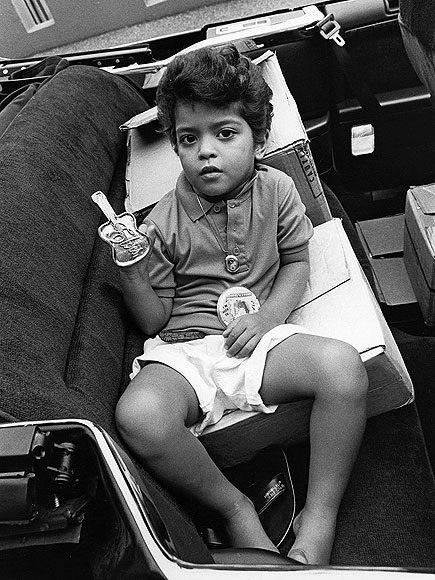 Uncle Bruno was a professional Elvis impersonator and nephew wanted to follow his example. Began performing at the age of 2 years to 4 years, Bruno became the youngest double of the king of rock 'n' roll in the world and has even appeared in a cameo role in the movie "Honeymoon in Vegas" with Sarah Jessica Parker and Nicolas Cage. Now Bruno says that few understood that in those moments did, but felt that the public loves it and enjoy it.
In adolescence Mars switched to Michael Jackson's creativity and also participated in various shows like his counterpart. However, the singer does not like to remember his last dance, and jokes that now it is limited to stepping on his feet with a guitar. We can say that the singer being modest, because in some moments of his speeches, he shows that his movements could give odds to Asher.
In addition to guitar, Bruno knows how to play keyboards and drums.
Living in a family in such exotic places as Hawaii, the singer felt the impact of a variety of musical styles from reggae and hip-hop, rock and R & B, to ethnic motives and do USSA 50s who listened to his father.
Of course, this experience greatly influenced the formation of Bruno, as an artist, and gave him some training.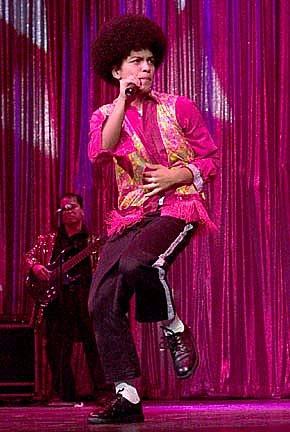 In recent years, the house Bruno sang as the opening act in the show magicians, and immediately after graduation he moved to Los Angeles, hoping to start a music career a larger scale than was possible in his native Waikiki. And it all started rather not bad - at the age of 18, he signed a contract with the legendary label Motown Records, with whom he had once worked, Michael Jackson, Stevie Wonder and Diana Ross. However, it soon Bruno were disappointed. Cinematic presentation that the main thing - to be seen and to sign a contract with the record company and then magically will do everything for you and you're hanging out at parties with Farrell Williams and Timbaland - does not correspond to reality. Because the contract did not leave anything. A year later, the label refused to cooperate with the undeniably talented young actor with a trained voice, which in addition he wrote the songs, just because at that time they were not so, what to do, and he was not ready yet.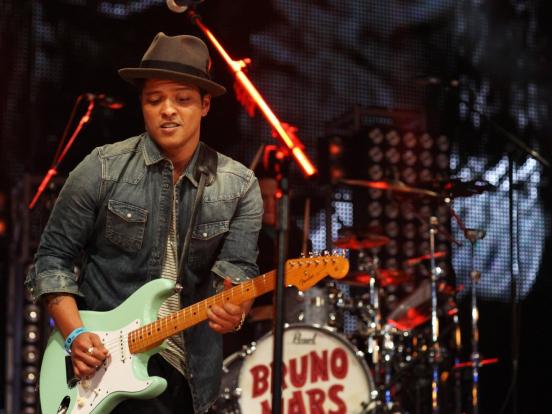 But Bruno did not want to go back to Hawaii with nothing, and fate was kind to him - because despite the fact that he had at that time turned out to be useless to him began to receive offers to buy his songs for other artists. Mars had never thought about it and did not consider the option to write songs for other people, but agreed, and it helped him pay the bills and stay to live in Los Angeles.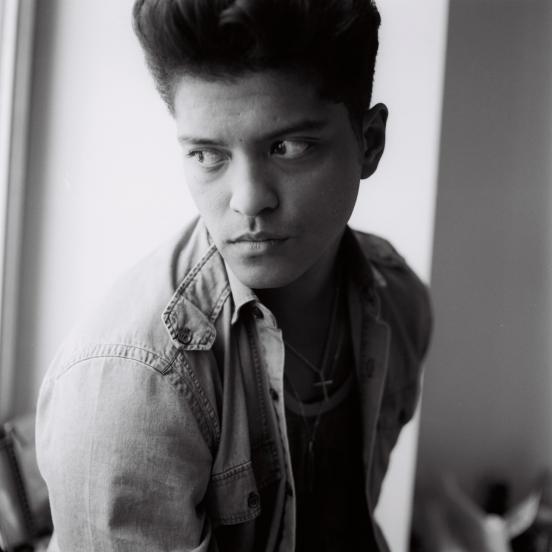 Around the same time, he met a musician with a similar history - Philip Lawrence, who worked in the past as an animator at Disney World. They are joined by sound-engineer Ari Levine, granted his studio - so formed production team The Smeezingtons. The boys begin to work with a variety of artists, writing and recording songs and gradually make a name for himself in the music world. In 2011 and 2012 they receive a nomination for a Grammy for "Producer of the year».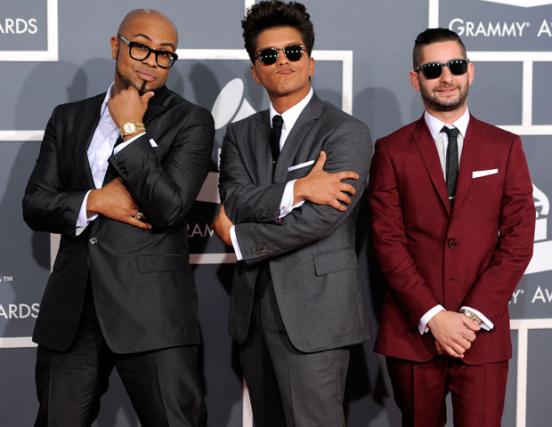 That's only part of the huge list of songs to write and produce a hand that Bruno Mars & Co. On the new album Christina Aguilera «Lotus» will also track from The Smeezingtons
Manager Bruno Mars label Atlantic / Elektra - Shaq Aaron Bailey met with the guys in 2006. According to him, personally, he was ready to sign Bruno as soon as I first heard it in the studio. But at that time the bosses of the label has not yet shared this opinion, therefore, Atlantic / Elektra began to cooperate with The Smeezingtons both authors and producers, and Bruno gained experience, learned the basics of the business and working with other musicians, trying to understand exactly how the actor himself wants to be. These years of self-knowledge and improvement, according to his manager, is the key to contributing to the further success of Bruno.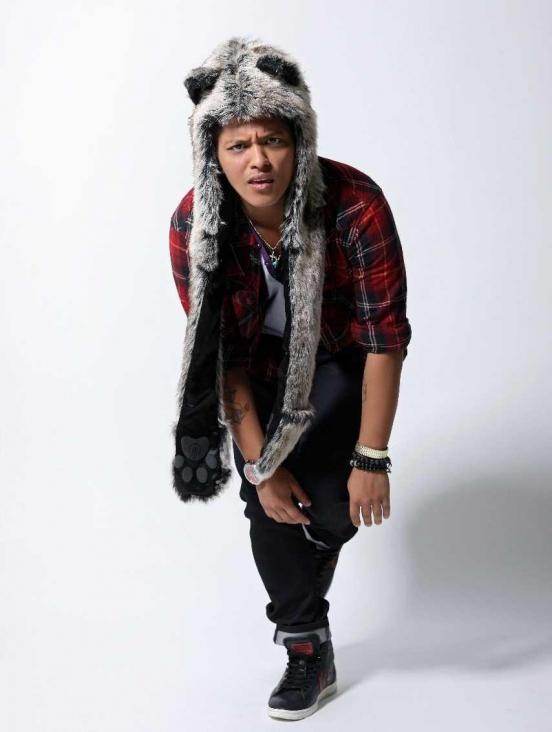 The right moment came in 2009, when The Smeezingtons wrote two songs -
«Nothin 'on you» and «Billionaire», originally designed for duets with rappers, and it was decided not to give them to other artists - brought the label of Bruno on the music market. So in the winter-spring of 2010 out of nowhere there was this strange man in a hat, which we heard on two tracks simultaneously holding top of the charts all over the world.
The debut album was not long in coming - forged while it is hot. «Doo-Wops & Hooligans» was released in October 2010. And, as we now know, was a huge success, has received positive reviews from critics and Bruno brought fame and a lot of nominations for the various awards, including seven Grammy nominations, of which Bruno took a statuette for Best Male Pop Vocal Performance for the song «Just the Way You Are».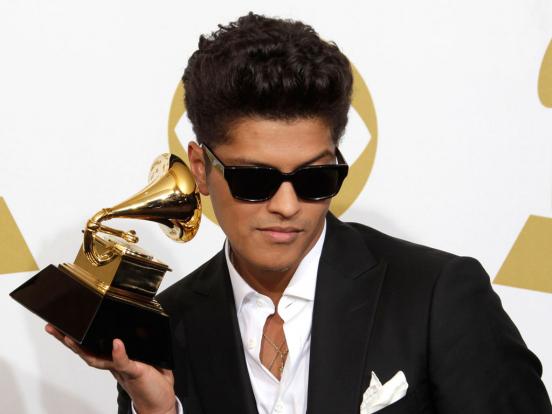 I see no reason to list here the songs on the album, so that you have heard hundreds of times on the radio and saw clips on music channels.
From the not so well-known to vote, for example, a duet with Damian Marley.
Immediately after the release of the album the singer has assembled a team of musicians - friends with whom previously played in Los Angeles-based bars, and went to the first world tour of his life. The elder brother Bruno plays drums and his friend, a co-author and partner Phillip Lawrence appears on backing vocals.
Not without incident. What happens in Vegas, there is not always - sometimes it gets in the news. So in September 2010, Bruno was arrested in the famous Hard Rock Hotel, after a member of staff called security, noting that a man may have used drugs in the bathroom stall. At itself the singer found 2.6 grams of cocaine and called the police. He did not deny anything, the officer said that it was a silly thing, and he had never used drugs. Since it was his first offense, and Bruno pleaded guilty, according to the law, he escaped prison, and if he fulfills all the requirements of the court, the incident could have been erased from his criminal history. Bruno received one year of probation, had to pay a fine of $ 2,000, undergo 200 hours of community service and to listen to 8:00 lectures about the dangers of drugs. The singer has fulfilled all the requirements, even exceed the required standards, and in January 2012 he was acquitted of all charges. We all make mistakes.
December 11th the world will hear the singer's second album - «Unorthodox Jukebox», whose name can be translated as unorthodox jukebox. According to Bruno, while working on this album he recorded what he wanted and how I wanted, in contrast to the debut - when he needed to hurry up and get excited about the album did not fail miserably.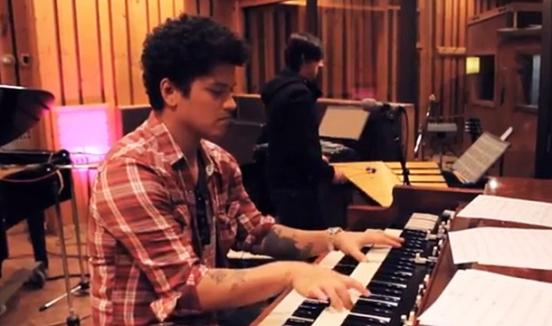 This album - that's me in the studio, and cochinyayu write what I want. The album represents my freedom. In the past, the presidents of major record companies looked me in the eye and said, "Your music - crap, you do not know who you are. You write the mixture all at once. It is impossible to sell. Choose one direction and come back "It was shocking to hear, because I never wanted to be a circus performer. I listen to music of different styles and I want to have the privilege to come to the studio and say, "Today I want to make a hip-hop album or a rock album or a soul album»
Only the label Elektra gave him a chance, Bruno permeated vision.
In order to brighten up the waiting period of the new album, Bruno opened the world cast their comedic talent, which the world does not know, but I guess, thanks to the constant demonstration of its sense of humor performer in various interviews.
A month ago, Mars appeared in the video for the website Funny or Die.
And on October 20, he followed in the footsteps of Mick Jagger and Justin Timberlake, was both host and musical guest of the show «Saturday Night Live». The issue became the highest rating since March this year, when a record beaten Lindsay Lohan.
At the moment, we can estimate the two singles from the new album - «Locked Out Of Heaven», which was recorded in the studio with Mark Ronson, where he once worked as Amy Winehouse and who for days in a row now listen Lady Gaga and Eva Longoria, and «Young girls ».
In the end, I would like to show just a few interesting covers of Bruno Mars.
Not the best quality, but a mix of «Smells like teen spirit», «Billie Jean» and «Seven Nation Army» deserves attention.
The little girl took Bruno for Justin Bieber and he decided it did not disappoint.
Bob Marley, Usher, Alicia Keys and The Police.
Dirty Diana
Bruno shook the old and sang two songs of Elvis at a charity concert for the Fund for Saving the rainforest in April this year at the famous Carnegie Hall in London.
«Unchained Melody» a duet with Sir Elton.
«Jail House Rock» c dance support from Channing Tatum and his wife.