Fresh and, in my opinion, very concretised selection of celebrities without makeup by US Weekly.
Less makeup - greater natural ...
Milla Jovovich
Left: October 9, 2012 Milla thoroughly prepared for Halloween, acquiring all the necessary market
Right: Jovovich at the premiere of the film "Resident Evil: Retribution»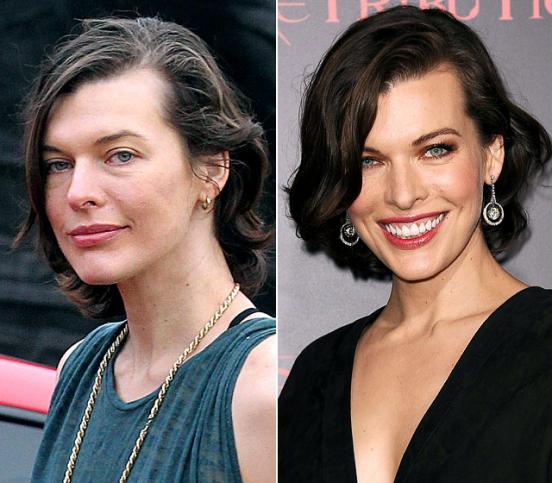 AnnaLynne McCord
Left: Photo of 4 May 2012 with the twitter of the actress who sings odes natural beauty
Right: AnnaLynne at the event «Somaly Mam Foundation» in New York on 17 October 2012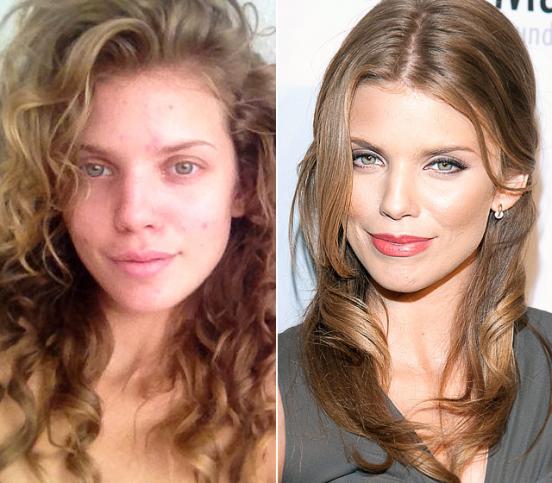 Sofia Vergara
Left: Sofia is engaged in shopping in New York on February 8, 2011
Right: Colombian charming at the 64th ceremony «Emmy» 23 September 2012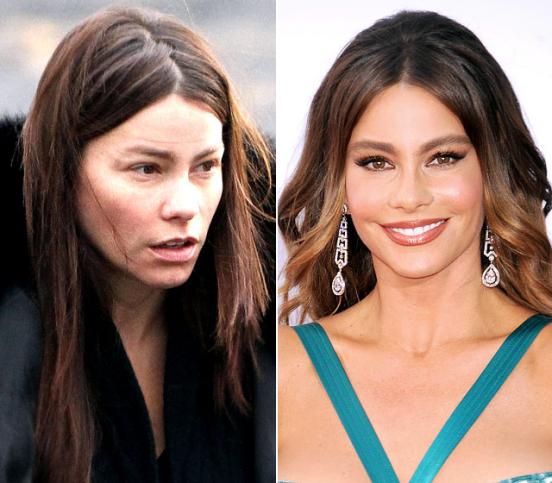 Goldie Hawn
Left: 66-year-old actress is following the construction of their new home in Los Angeles October 11, 2012
right: she's at a charity evening April 18, 2012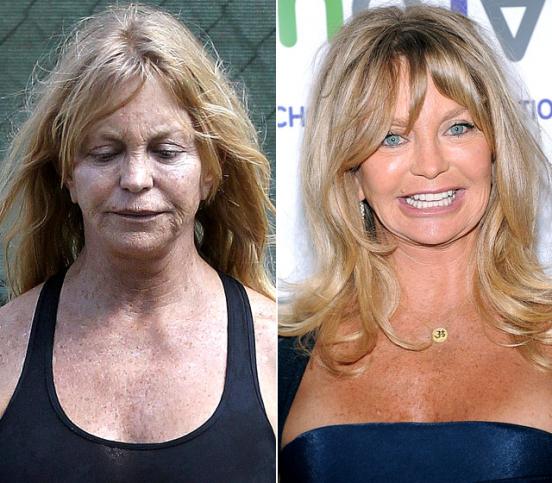 Katie Couric
Left: 55-year-old actress goes to lunch at the «Le Pain Quotidien» August 16, 2012
Right: Couric poses for photographers April 23, 2012 at «Matrix Awards»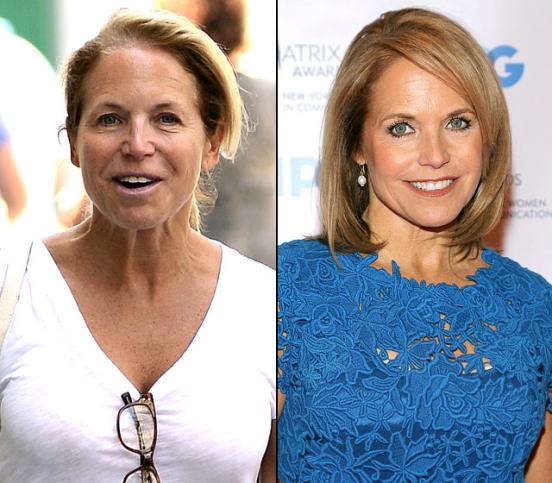 Jennifer Garner
Left: Jen in New York July 21, 2010
Right: August 6, 2012. Actress at the premiere of the picture "The Odd Life of Timothy Green»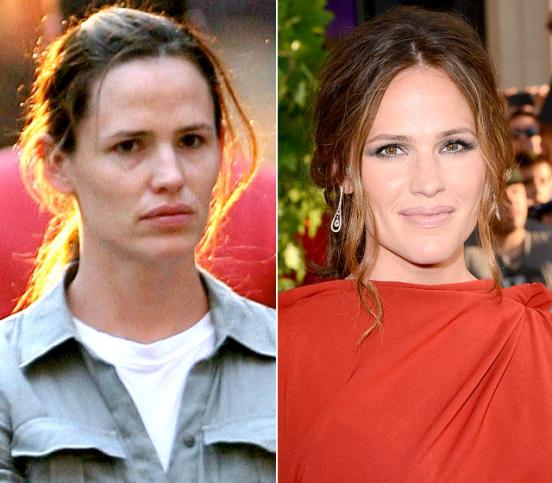 Maria Shriver
Left: former wife of Arnold Schwarzenegger for a morning walk in Santa Monica, March 15, 2011
Right: Maria in LA September 3, 2011
Rachel Bilson
Left: July 13, 2012. Rachel bought the products in one of the shops
Right: May 17, 2012 the actress visited «The CW's Upfront»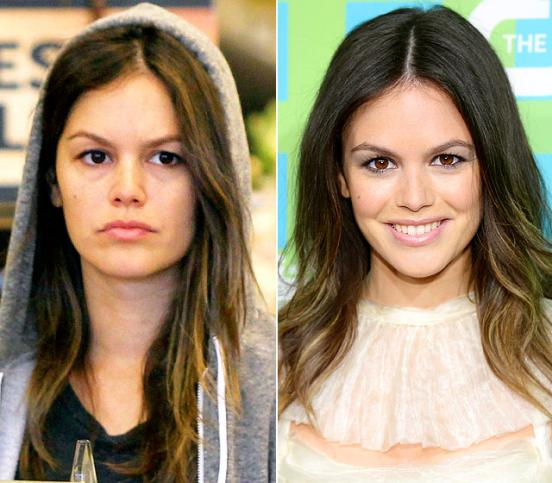 Gisele Bundchen
Left: the supermodel is taking part in the Open tennis tournament in New York August 28, 2006
Right: 6 years later, little has changed and Gisele is still in favor. In the photo the highest paid in the beauty of our time «AFI Life Achievement Awards»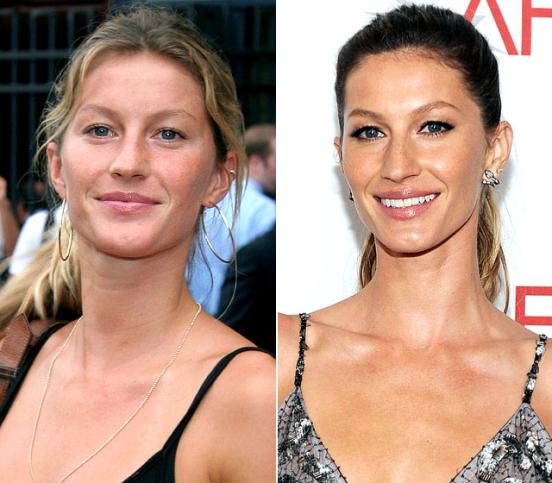 Kelly Clarkson
Left: the singer met with vociferous fans at the airport in Chicago June 16 this year
right: a little earlier, June 9, photographers have photographed her backstage «Summertime Capital FM»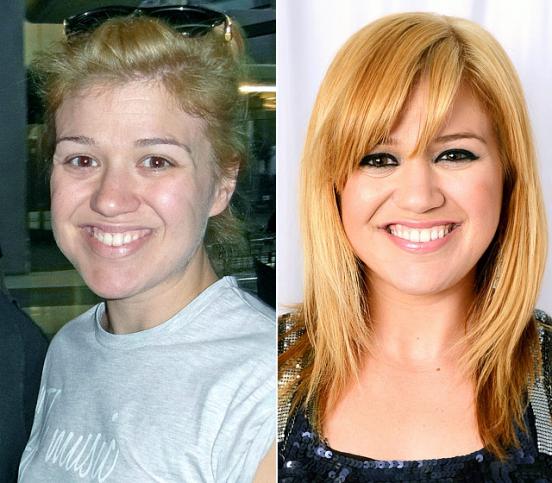 Kristen Stewart
Left: the idol of teenagers walking June 16, 2009
right: Kristen prettier tirelessly engaged in promotion of the film "Twilight. Saga. Breaking Dawn: Part 2 ". Here the actress in Japan (October 24, 2012)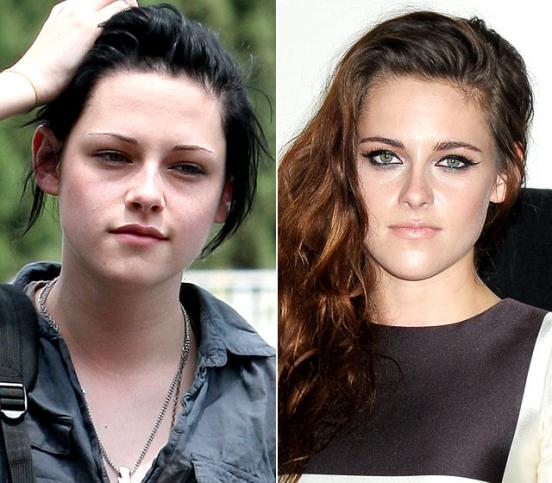 Nicole Richie
Left: Richie for daily chores in Los Angeles September 28, 2012
Right: Nicole at the party «Vogue» last month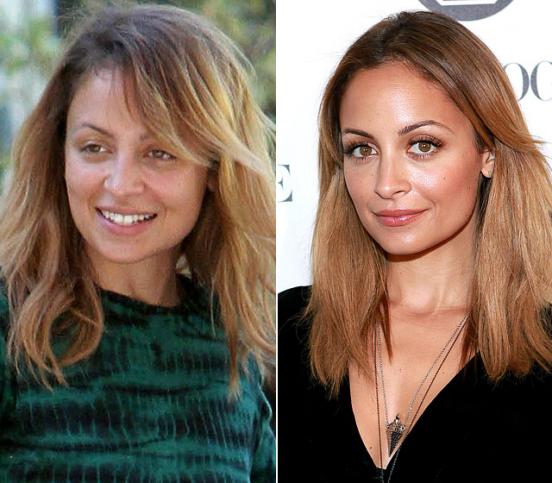 Olivia Wilde
Left: color blond Olivia appeared April 26, 2012 at the festival «Tribeca Film Festival»
Right: a brunette on October 8 in New York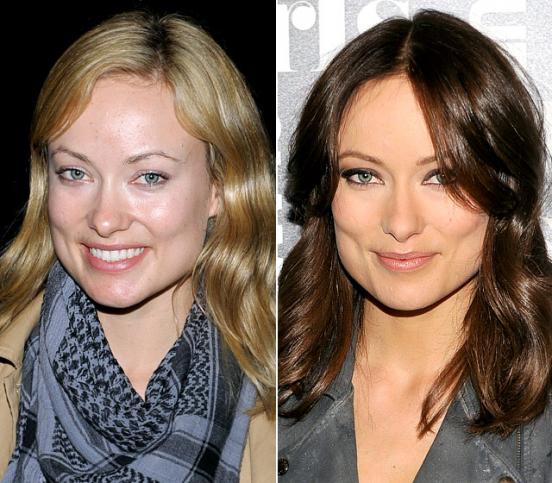 Heidi Klum
Left: German supermodel entire affaires August 1, 2012
Right: better things waiting for her on October 20, a charity event for the benefit of sick children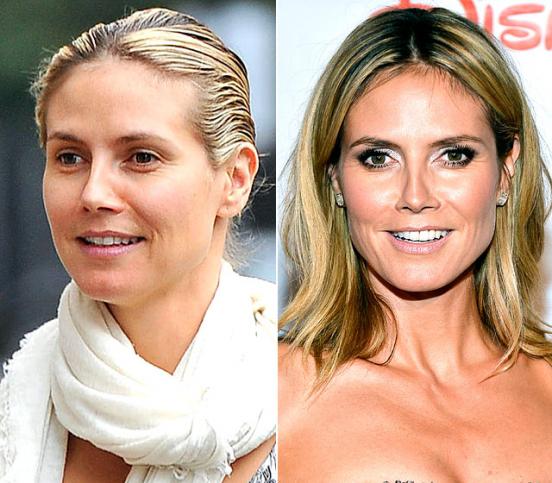 Julianne Moore
Left: the nature of the redhead actress strolled without makeup 12 October 2012
right: at the ceremony «Emmy» in September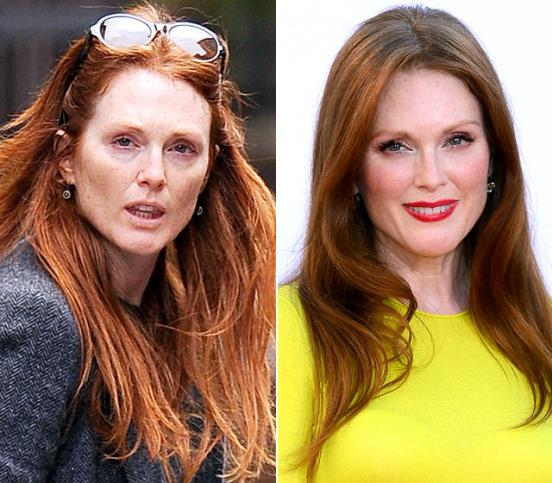 Ashley Greene
Left: Ashley leaving the gym (6 August 2012)
right: at the third annual «Veuve Clicquot Polo Classic» October 6, 2012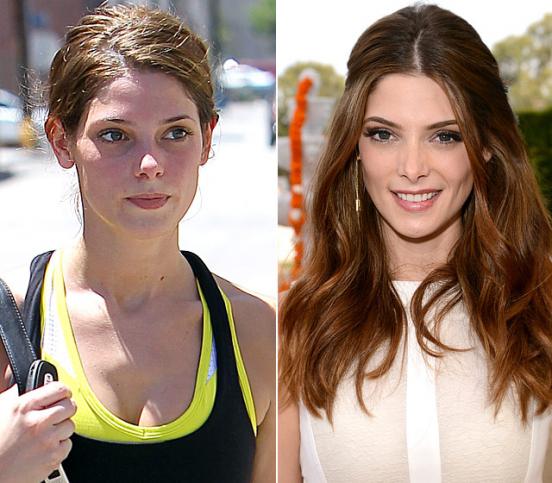 Amanda Seyfried
Left: blonde outing April 23
Right: a fabulous blonde «Hollywood Film Awards Gala» in October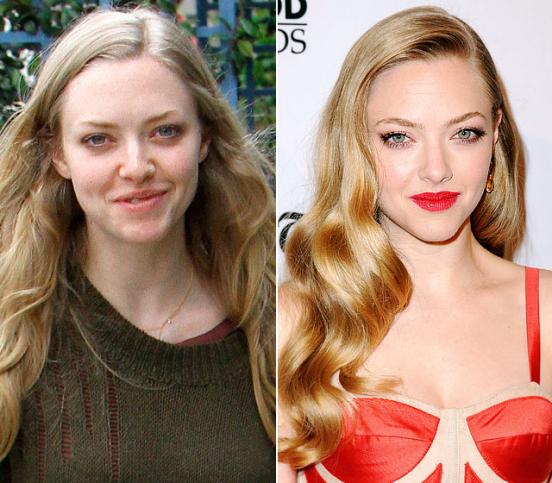 Reese Witherspoon
Left: 20 October 2012 cheerful actress has supported her son who dreams of becoming a football player, one very important match
Right: Pregnant Reese at the Cannes Film Festival in May this year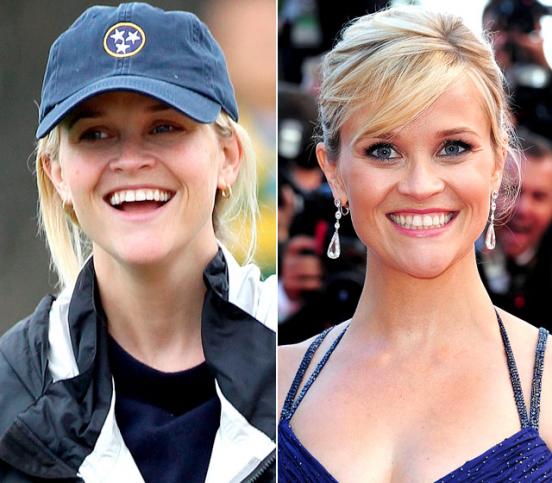 Kim Kardashian
Left: almost without makeup in a beauty salon ...
Right: with lots of makeup on «Angel Ball» 22 October 2012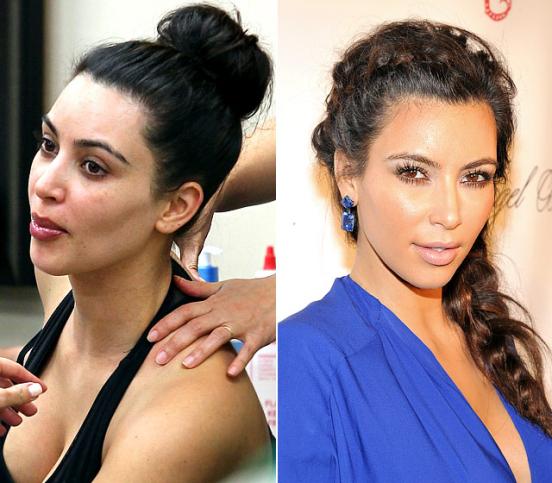 Snooky
Left: Snooki recently became a mother, so the house make it quite useless
right: but the publication of the same unnatural as before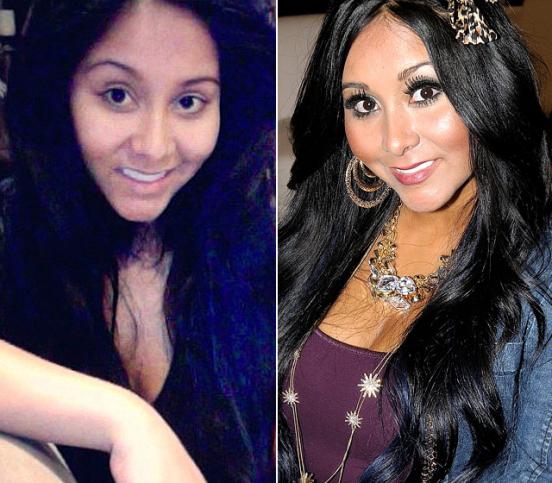 Janice Dickinson
Left: The former top model exports purchases from the supermarket «Bristol Farmes» October 11, 2012
Right: 57-year-old Janice at the premiere of the film "The new Spider-Man" at the end of June 2012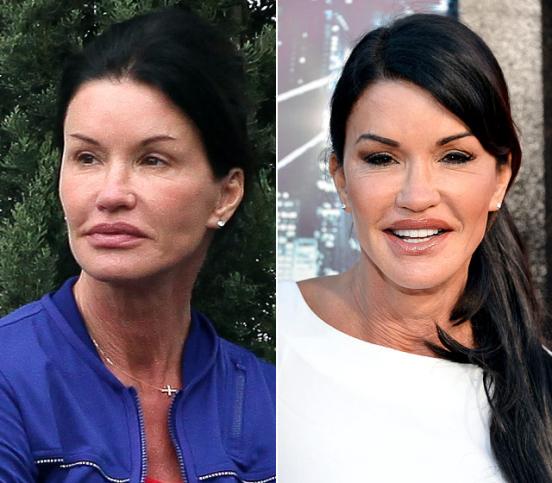 Jennifer Lawrence
Left: star of "The Hunger Games" with makeup ...
Right: ... and without it. Both pictures are made in March this year with a difference of two days.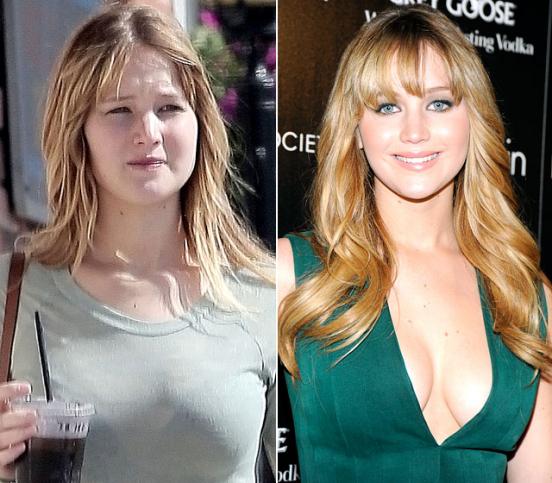 Courteney Cox
Left 31 March 2008. Courtney out of the restaurant
Right: June 28, 2011. Coke at a dinner party in Los Angeles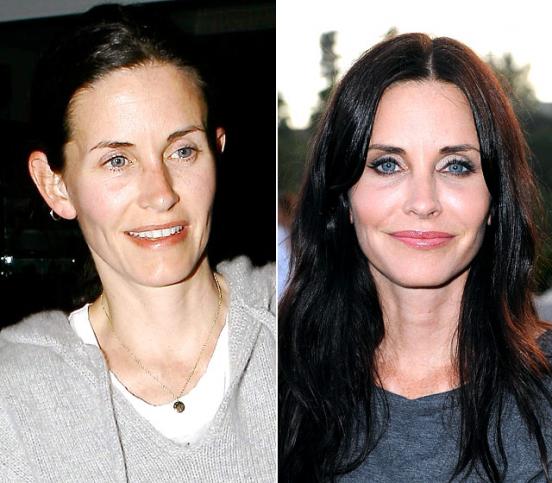 Tori Spelling
Left: Spelling just 39 years old, but she has 4 children and she and her husband are thinking about the fifth. All the children home, so the Tories had a hard time, especially since she gave birth to them one after the other for 5 years. In the photo it in 2010, for a walk.
Right: April 10, 2011. Pregnant actress on «GLAAD Media Awards» in LA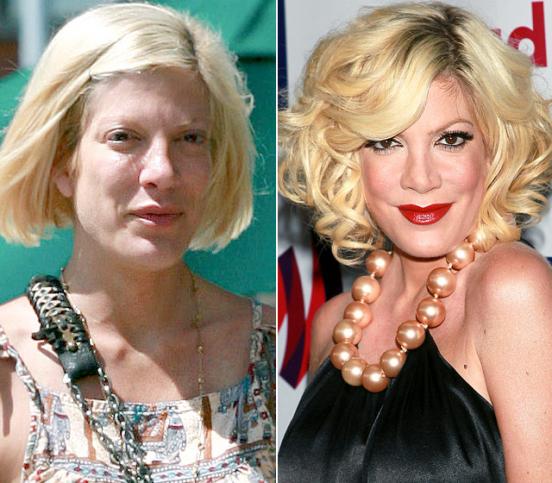 Naomi Watts
Left: Winter 2007
Right: fall 2011 premiere of film "George. Edgar »