Film critics continue to sum up the past year, and this time the verdict rendered Guild members costumers USA. A dinner on the occasion of the ceremony Costume Designers Guild Awards held at the Beverly Hilton, where the profit is not only the direct participants of the show, which included stylists, designers and costume designers, but also those whom they dress. The latter, by the way, were on the red carpet with a special glamor, as befits a Hollywood star.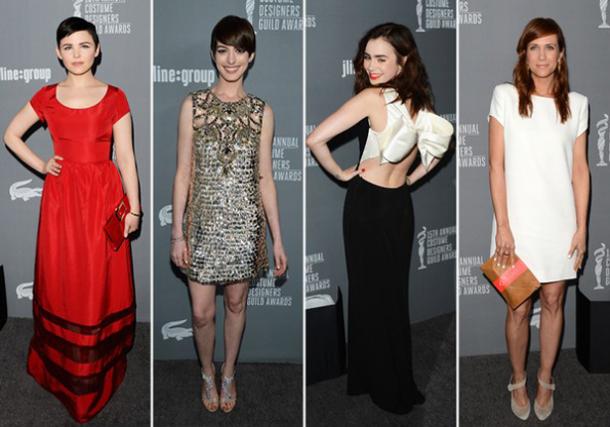 Star of TV series "Revenge" Ashley Madekwe walked the red carpet in the original ensemble from J. Mendel floralnym print saturated shades of pink and purple. I love these sets consisting of a truncated stamp and volume skirts, so I just could not help but appreciate this outfit appreciated. Doubt I have is a style stamp - trapezoid, I would prefer a straight silhouette, though I can not mention that this cut looks very interesting.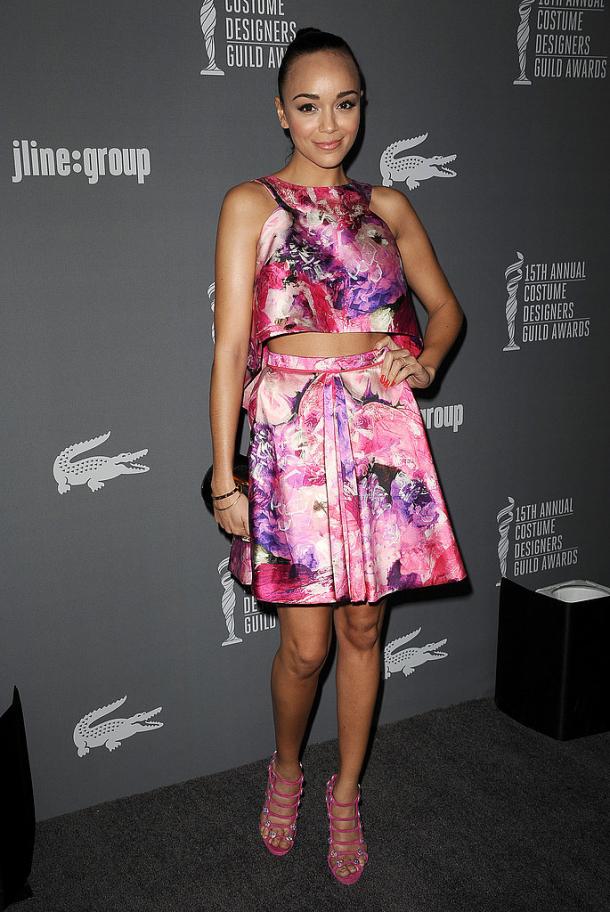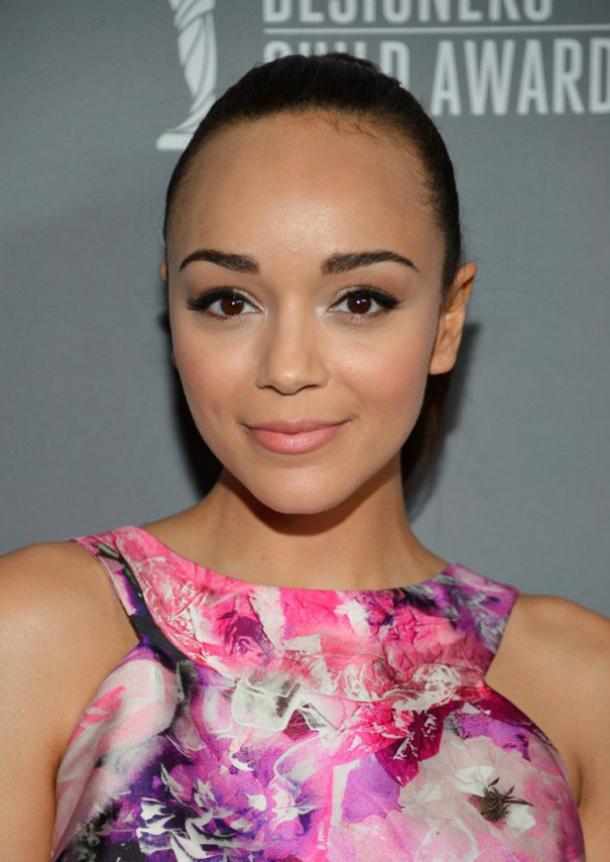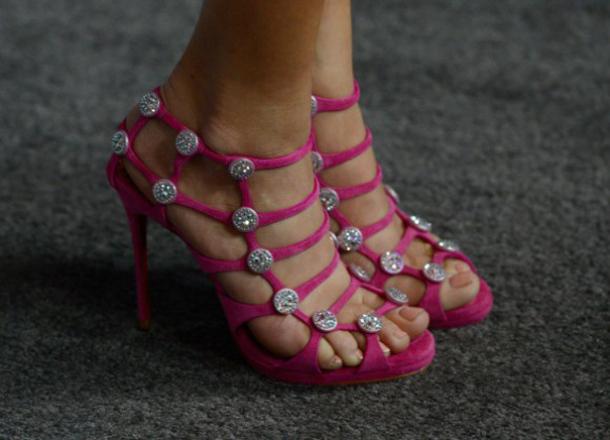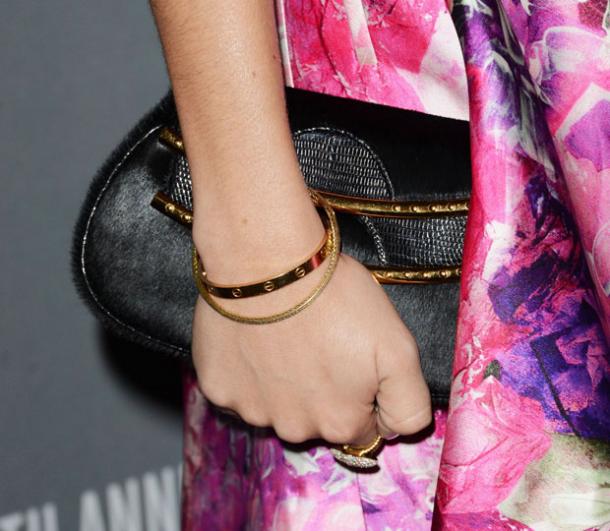 Kristen Wiig has chosen for the ceremony concise dress-case muted white, which she complemented suede shoes beige and brown clutch with bright coral stripe. I love the images built in accessories and this outfit is no exception.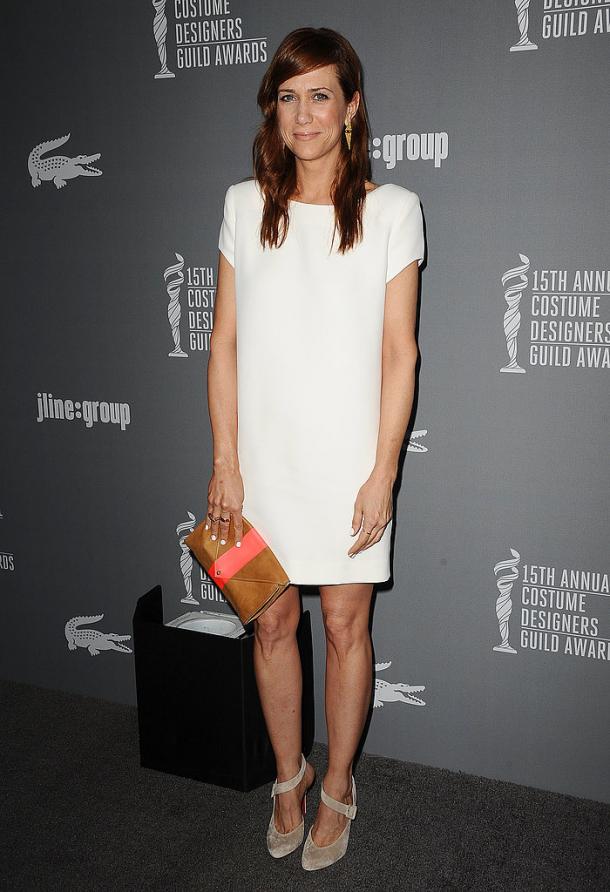 Ginnifer Goodwin rarely relies on simple, devoid of any risk of images, and for that I just love her style. This time, the actress had a red dress on the floor, consisting of a simple stamp futbolochnogo cut and volume skirt with an interesting element in the form of transparent inserts at the hem. I like this outfit, but most of all I like the fact that Ginnifer did not overload the image of accessories, jewelry and fancy make-up, because the red dress itself looks very actively. Nevertheless, should not have been so carefully draws the eyebrows - on closer inspection looks unnatural.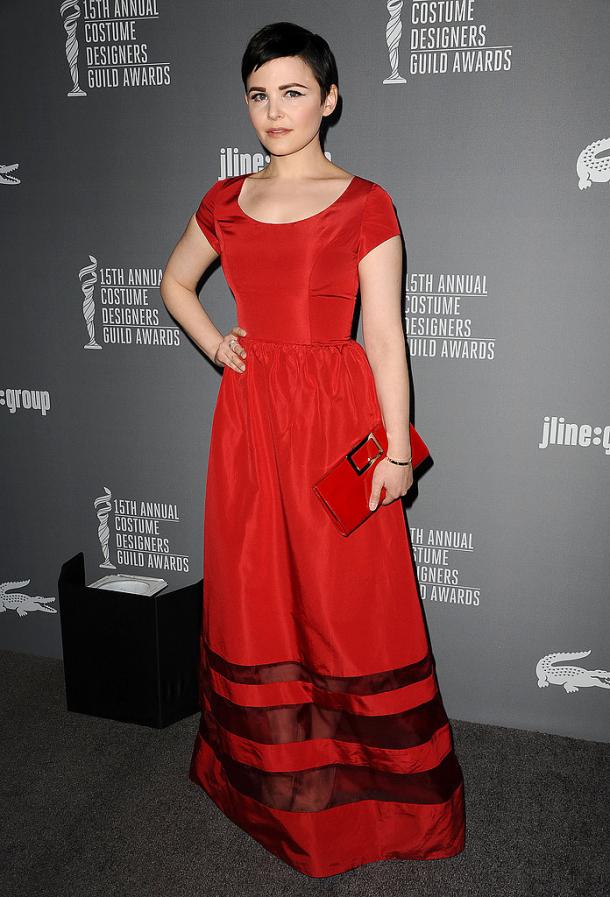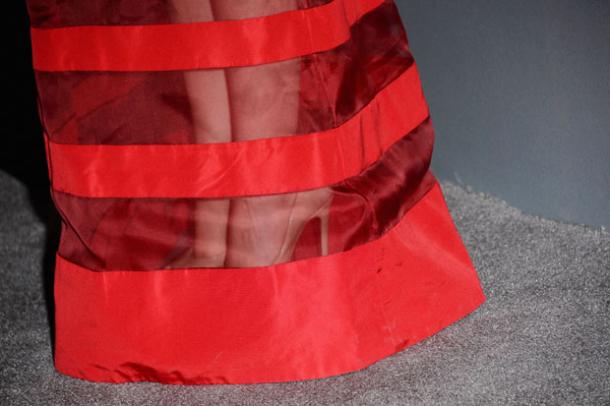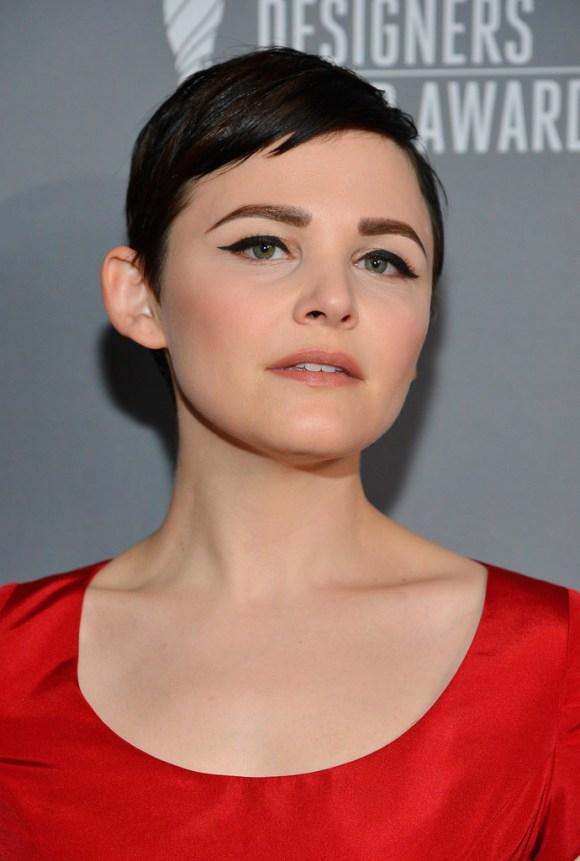 Lily Collins have not appeared on the red carpet, so it is not surprising that of its release, it has decided to present an idea. All the matter in a dress Paule Ka, the main element of which was a voluminous white bow on the back. The idea of ​​the dress is very interesting, but I would slightly reduce the size of the bow - it would not be visible in the front, and the view from the back would be a real surprise for the audience. Except for this little misunderstanding, the image of Lily's good and interesting.
Actress Maya Rudolph has chosen to surround the red carpet draped dress deliberately - to hide rounded tummy. Outfit did a fine job with their task, however it leaves much to be desired style - without this strange black piece of cloth dress would have looked much better and nicer.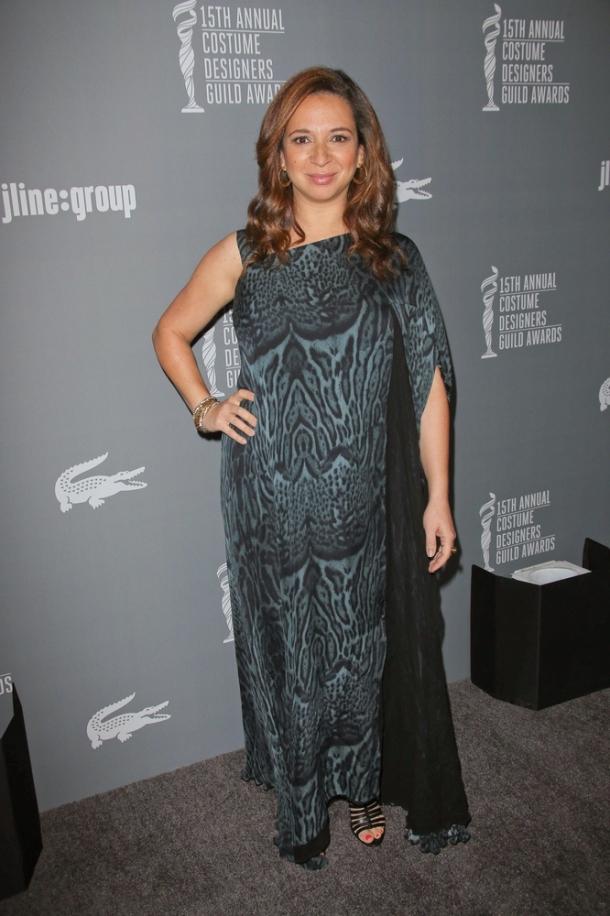 This year, no red carpet is complete without Anne Hathaway, which personally I am very happy because the style of this girl deserves only the highest grade. At CDG Awards Anne appeared in an exclusive Gucci dress with embellishment of a variety of golden sequins and crystals, with cuts on his chest and back. Theoretically, this outfit is simply obliged to be overloaded details, but in practice this did not happen - the simple style of cocktail length and did their job.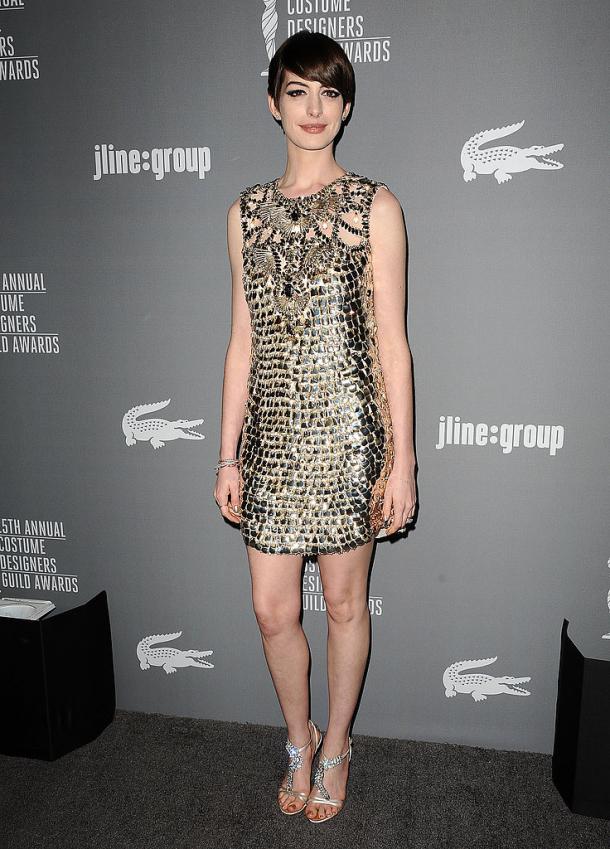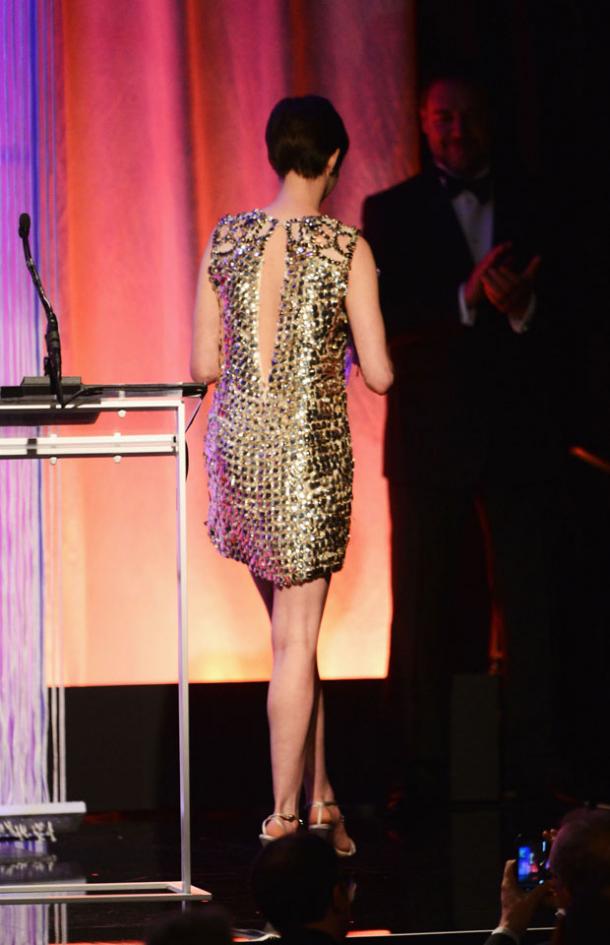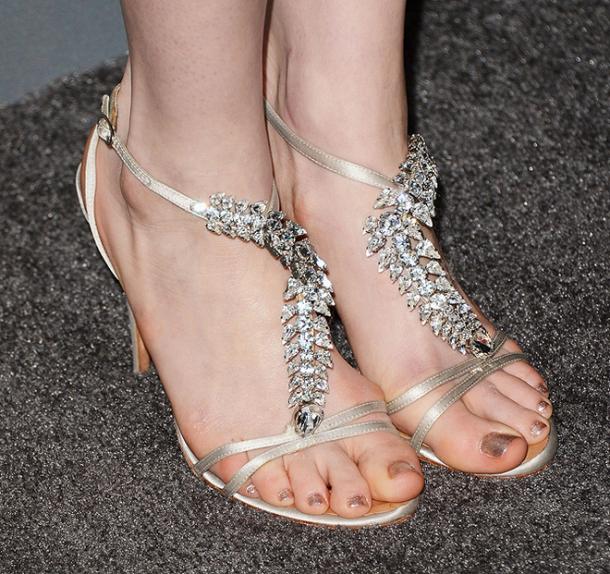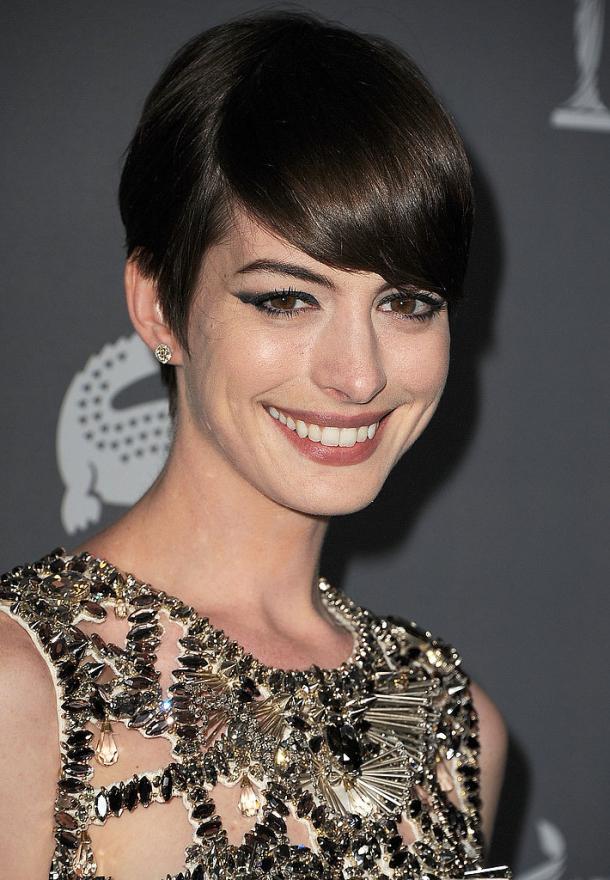 Amy Poehler image proves that even a classic article of clothing, like a little black dress can be interesting. The highlight of the dress is in the arms of the original cut, which gradually becomes a habit. Interesting outfits - interesting decoration. Large earrings with emerald-green stones wonderfully complement the image and add brightness to him.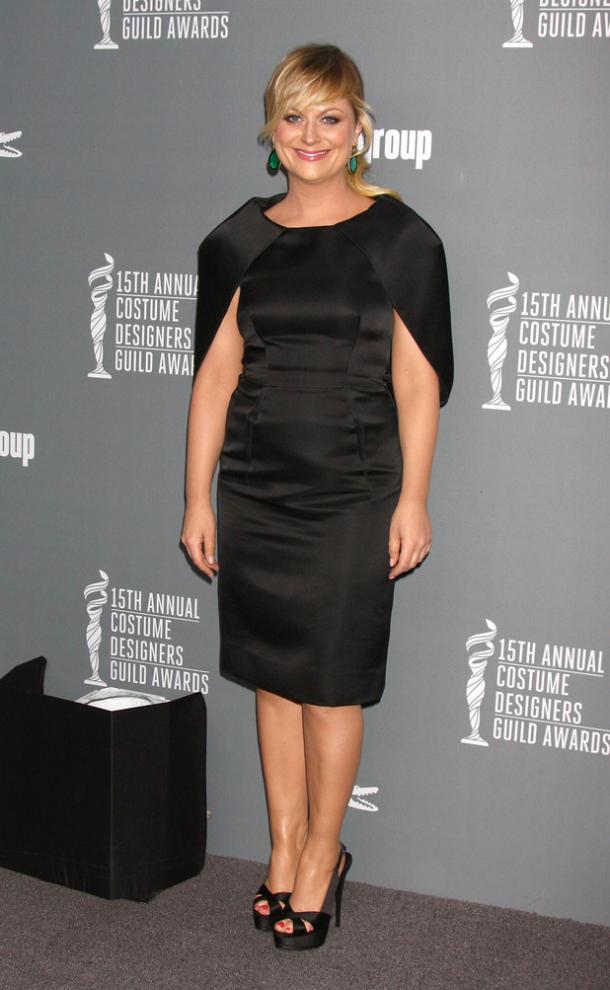 Famke Janssen has chosen to pass on the red carpet evening dress simple style and beautiful plum color. Lovely outfit, but, in my view, the figure Famke devoid of feminine curves and waist, this dress looks a not particularly impressive.
Kate Dili Monique Lhuillier. Nyudovoe dress with the decor of silver crystal ball ... blah blah ... Why of all varieties of designer creations, women still continue to choose trite nyudovye dresses? The dress is beautiful, no doubt, but terribly banal.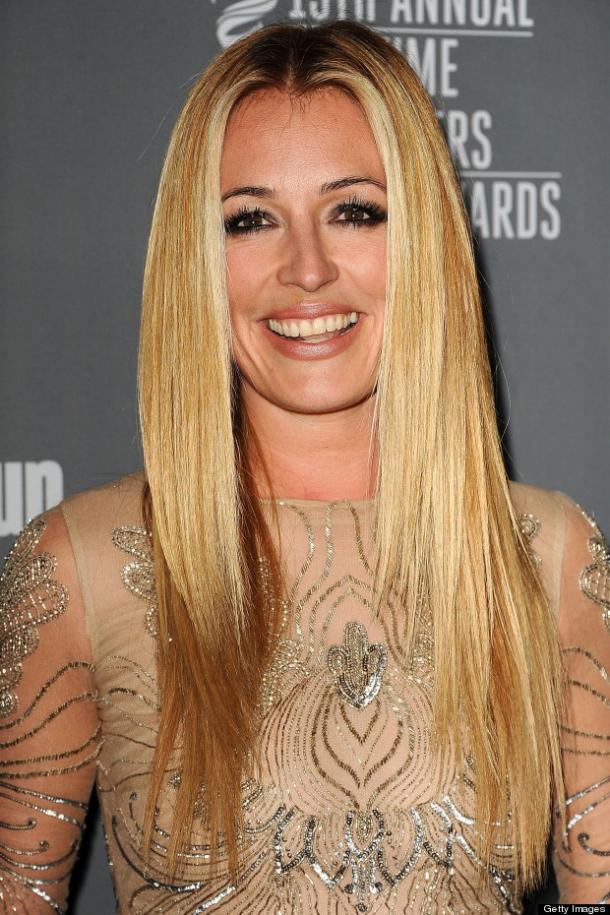 And the traditional top 5 last:
1 - Anne Hathaway in Gucci
2 - Ashley Madekwe in J. Mendel
3 - Kristen Wiig in the dress of an unknown designer
4 - Ginnifer Goodwin in Misha Nonoo
5 - Lily Collins in Paule Ka