The 28th awards ceremony Film Independent Spirit Awards has become a kind of dress rehearsal for the "Oscar", which will be held in Los Angeles tonight. The award was established in 1984 and, as the name implies, is focused primarily on the American independent cinema. Such films actively take off in America, but perhaps slightly fewer than in Europe, but despite this, are very fond of and proud of them. The main independent film of the year, no doubt, was the picture of director David O. Russell's "My boyfriend - crazy", which gathered a rich harvest of awards in the most prestigious nominations. And who has won the statuette in the form of a bird sitting on a pole, you can see under the cut.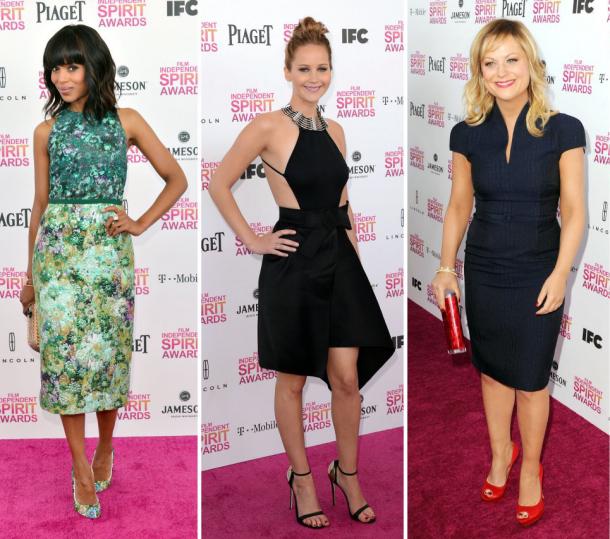 The winners in the major nominations:
Best film - "My boyfriend - crazy»
Best Director - David O. Russell ("My boyfriend - crazy»)
Best Actress - Jennifer Lawrence ("My boyfriend - crazy»)
Best Actor - John Hawkes ("Surrogates»)
Best Actress - Helen Hunt ("Surrogates»)
Best Supporting Actor - Matthew McConaughey ("Magic Mike»)
Best Foreign Language Film - "Love»
Best Cinematography - Ben Richardson ("Beasts of the Southern Wild»)
Red carpet:
Dress code Film Independent Spirit Awards is not very rigorous, unlike most other film awards, so this evening star ladies allowed themselves the most comfortable outfits. Amy Poehler, for example, dressed in a blue dress case, the fabric is simulated snakeskin. The choice is quite good, even considering the fact that the actress has provided her outfit bright red shoes and clutches, not faceless beige accessories.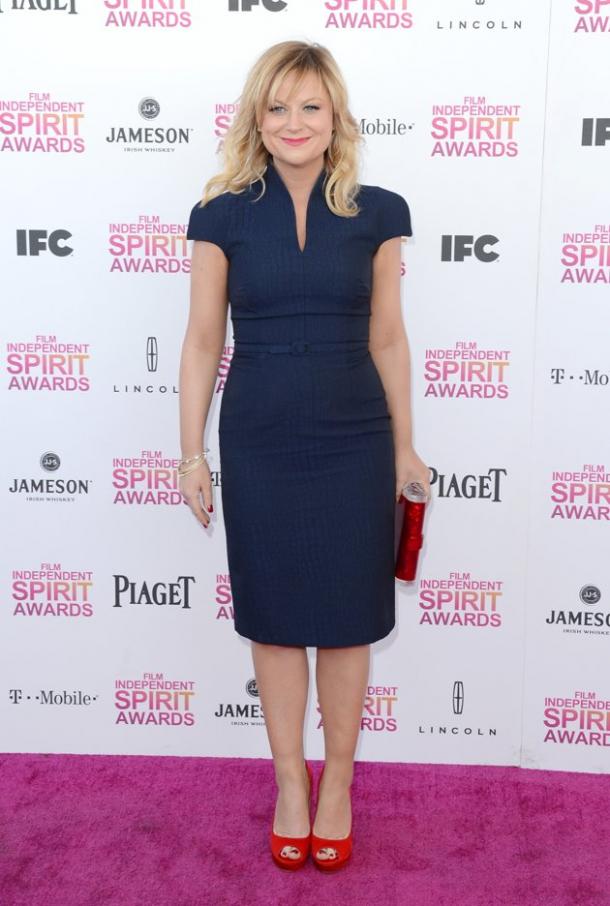 Brittany Snow appeared before the press photographers in a light cocktail dress by Naeem Khan. Someone reminded suit this outfit skater, I find it very nice. Delicate lace, muted beige and coral shades blend perfectly with the delicate appearance of Brittany. Style could choose a little more sexy, but a cut looks great on the figure of the actress.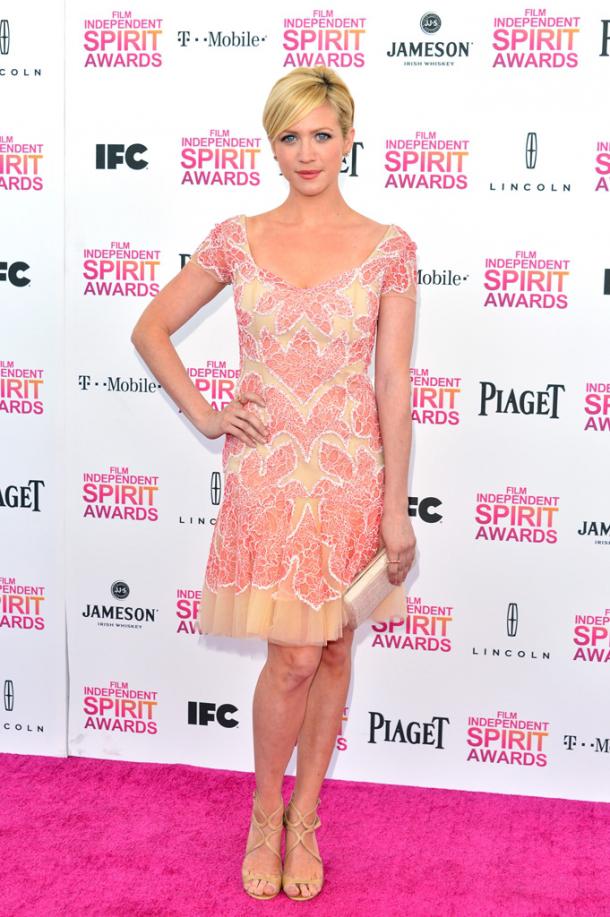 I really liked the outfit Rashida Jones - a fun, laid-back ensemble Prada, which perfectly captures the essence of the event. The skirt and top in retro-style, decorated with fancy embroidery in shades of blue and green, which goes well with the shoes in shades of green (that's the name of this unusual green tint).
His original flavor demonstrated on the red carpet and Mary Elizabeth Winstead. The actress was an unusual dress from last year's autumn collection Emilio Pucci with cutouts on the shoulders that are attached along sexuality. Coloring dress also looks very interesting (in fact in this whole Pucci) and it blends leather clutch beige-orange color, but the sandals wedges clearly knocked out of the picture. A more feminine and delicate sandals would look with the dress where organically.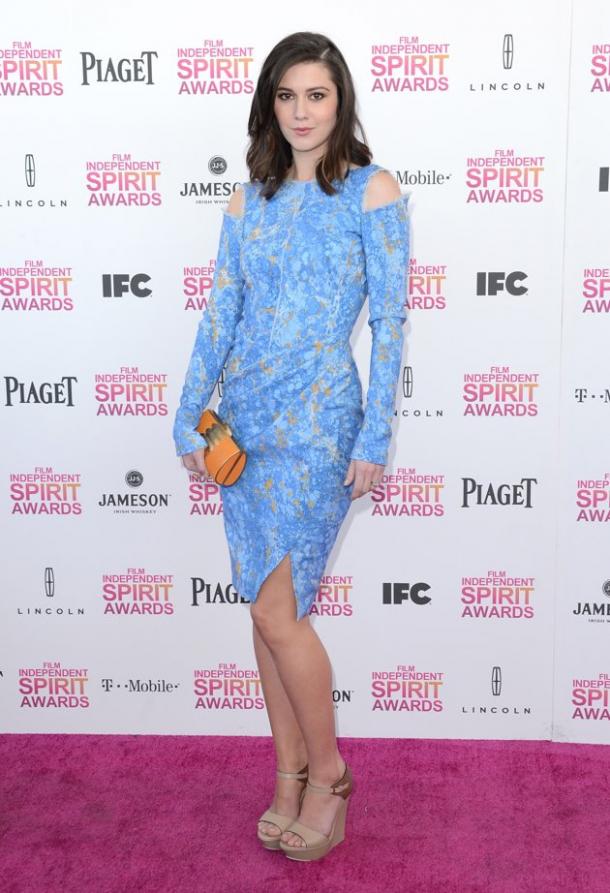 Helen Hunt attended the ceremony in the ensemble a la tuxedo (which, by the way, next spring-summer season will be very relevant). I like trouser ensembles, and this set with a white blouse is no exception, but the bright sexy shoes could bring the image to perfection. Alas, this did not happen.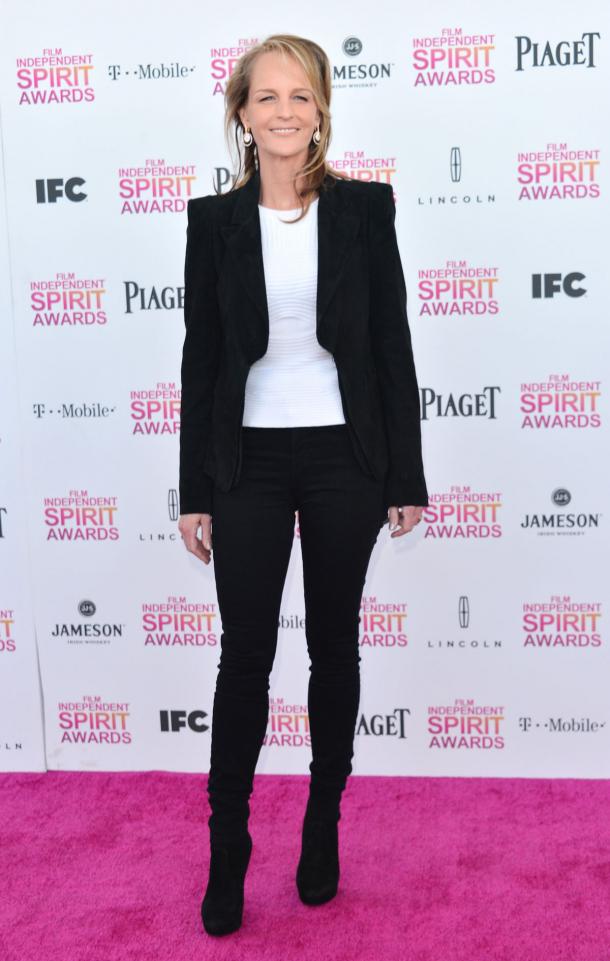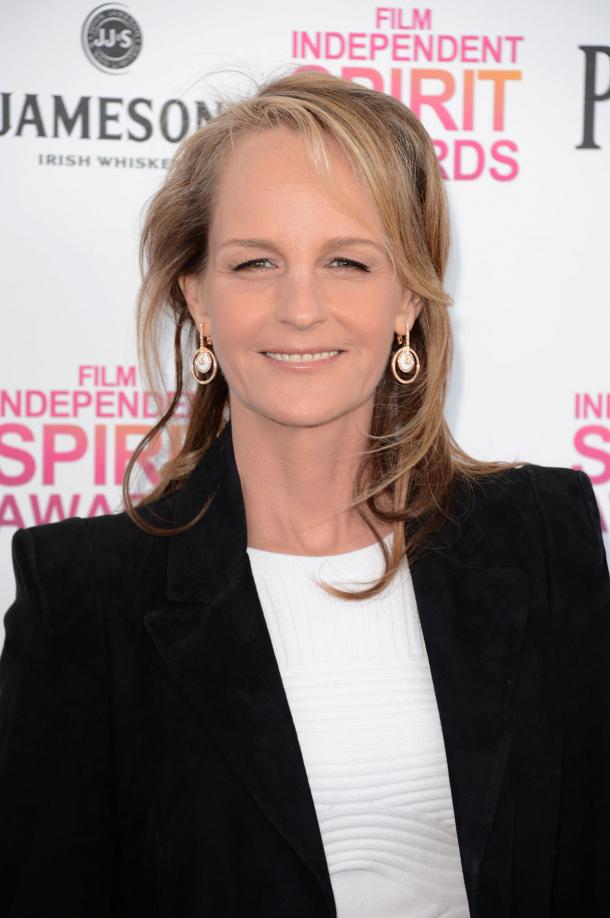 Easy flying dress is a great option for any event, and for the independent actions, as in our case, it is unusual to decorate prints, in the spirit of psychedelic cosmic ornament to dress the actress Leslie Bibb. In general, the image is quite good, but I can see Leslie dress pastel or muted shades - are very discreet shades to face the girls it tsvetotipa.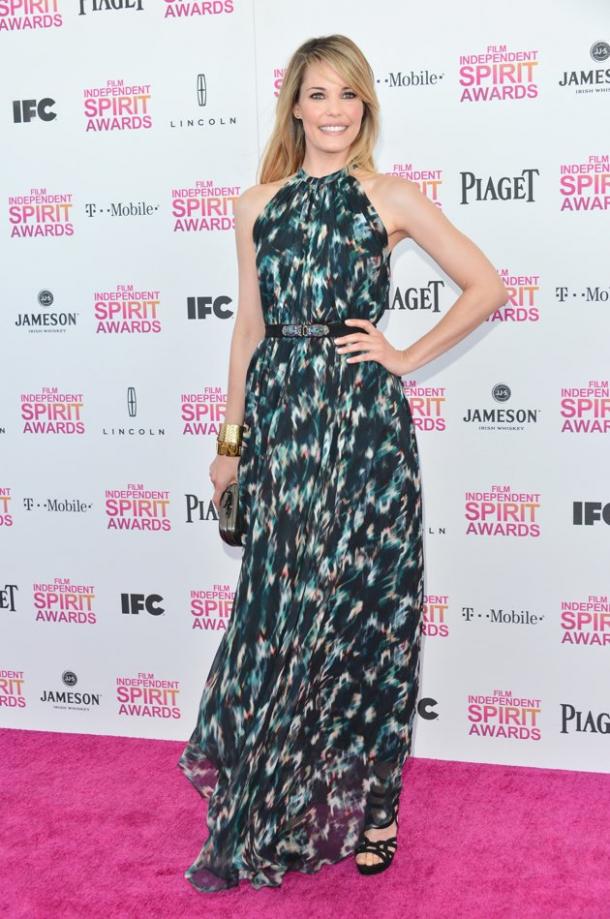 Newly "Miss Dior", despite the lucrative contract, opted for his triumphant passage of the red carpet creation of the fashion house Lanvin. And what can I say to that? This is one of the best images of Jennifer all season awards! Black satin dress with hypersexuality bodice and skirt asymmetric cut belted belt in the manner of Japanese obi and decorated with a large necklace of silver metal. Minimalist sandals with metal backs, delicate makeup and relaxed beam complete this beautiful image.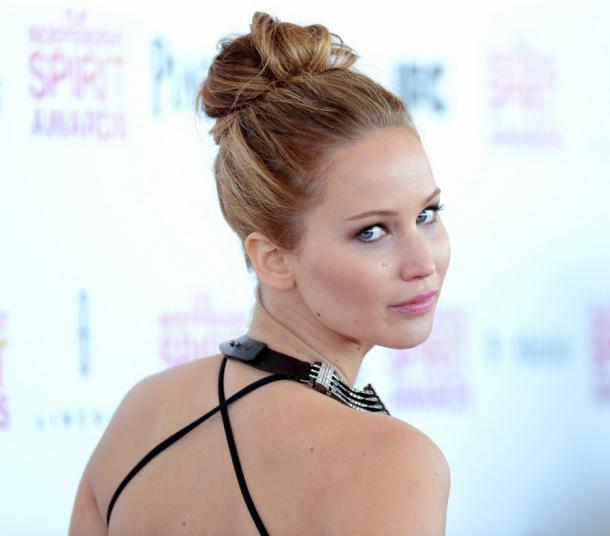 An excellent choice and we were pleased with Nina Dobrev, dressed in a suit from the spring collection of Michael Kors. Top decorated with large gold sequins in the manner of flower petals, the company has made an excellent summer white shorts and a golden belt at the waist create a feminine silhouette. Very nice and laid-back way.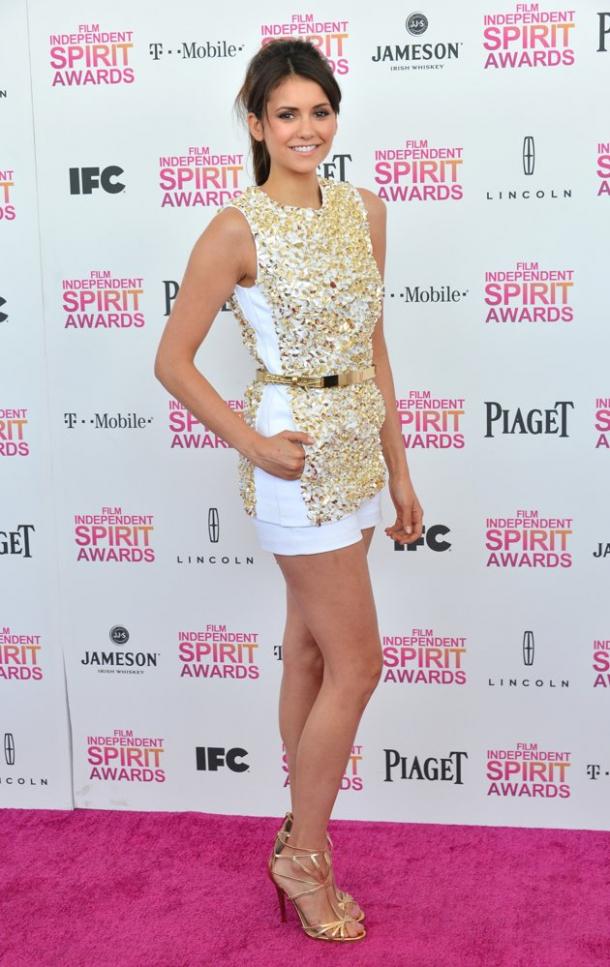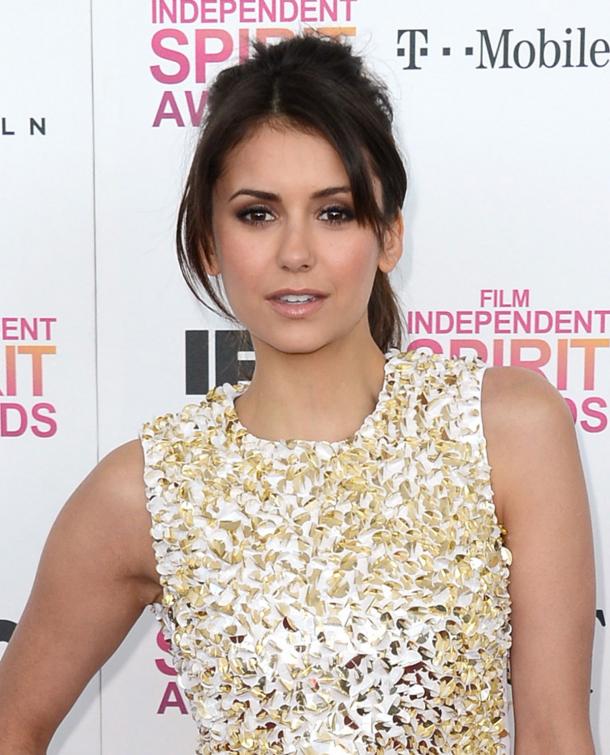 Top with exaggerated shoulder line and short pants classic style - that's the choice of Sofia Coppola at yesterday's event. But all would not be so interesting if not unusual used print - a large ornament on top duplicated on a smaller pants size. Agree, a great deal, which provides the status of Sofia stylish ladies.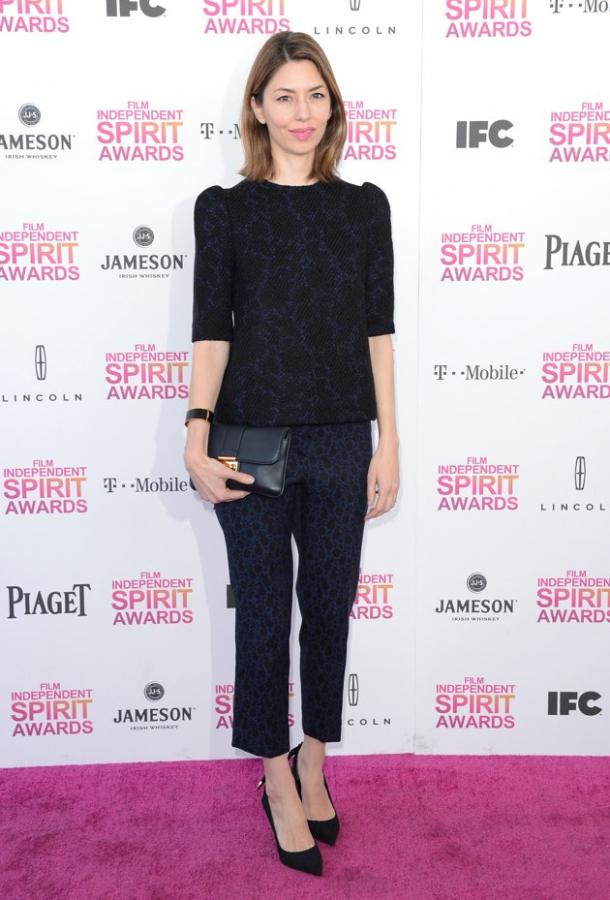 Superwoman Camilla Alves posed for photographers in a magic dress from Escada. This outfit is a miracle and looks perfect on her mistress. Delicate pink shades perfectly dark skin, cut on the chest emphasizes the seductive forms, and decorations on the collar solves the problem with the selection of jewelry. However, this board requires a perfect figure without a gram of excess weight ... but Camilla's simply not, despite the fact that she gave birth to her third child, only some two months ago.
Zoe Saldana in Dolce & Gabbana. Easy to dress in white and green stripes (another trend of the coming season) conjures up thoughts of summer vacation, the beach and cocktails. And that is why this outfit just can not cause negative emotions, and even taking into account the fact that it sits just fine, is his mistress and is ideally complemented by the necessary accessories.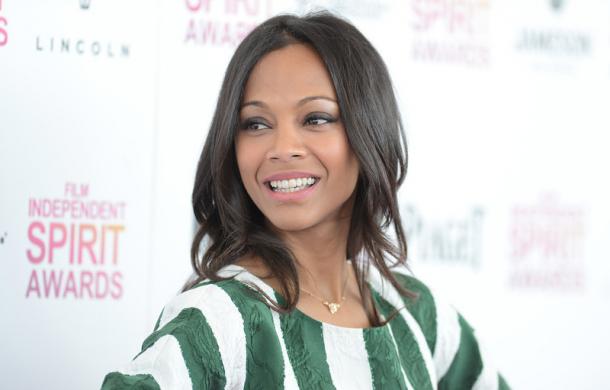 Dress with the unusual cut of the sleeves and an interesting skirt, which appeared at the ceremony Salma Hayek, makes me the most pleasant feeling, but the selection of accessories in addition to reduce to nothing all the amenities. I would never have to implement this gentle bandage dress black leather belt and shoes with skulls on the toes. But I do not Salma Hayek :)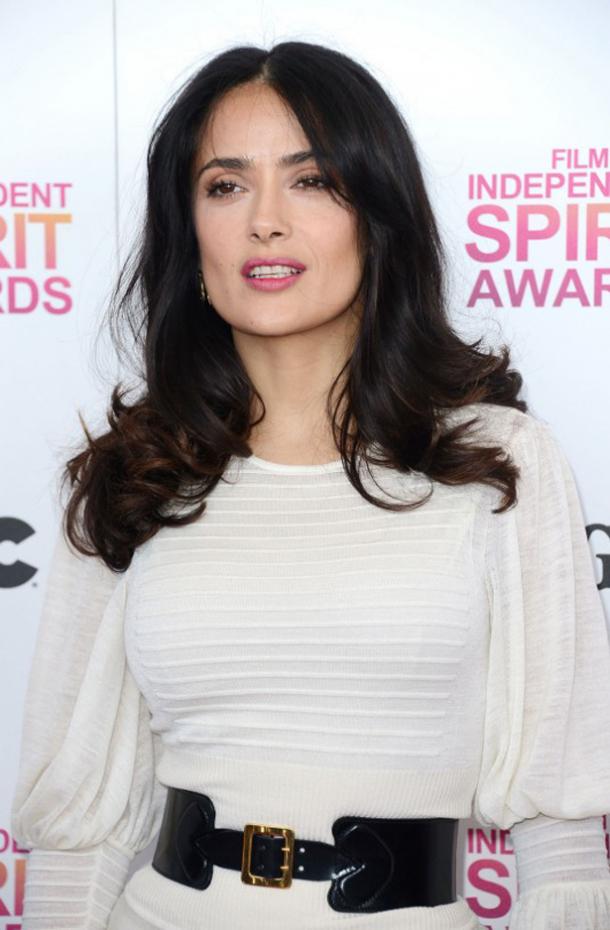 I am very glad to see Giambattista Valli Couture on the red carpet, because I'm crazy couture creations of the house, and if in this dress stands Kerry Washington, it automatically like it! But seriously, this dress is really great. Dress-holder with printed floralnym print different shades of green, purple and yellow fits perfectly into the concept of Independent Spirit Awards, and our heroine is very. Floral print on shoes may seem excessive in this manner, but I personally believe that it is perfectly continues the theme attire. Excellent choice!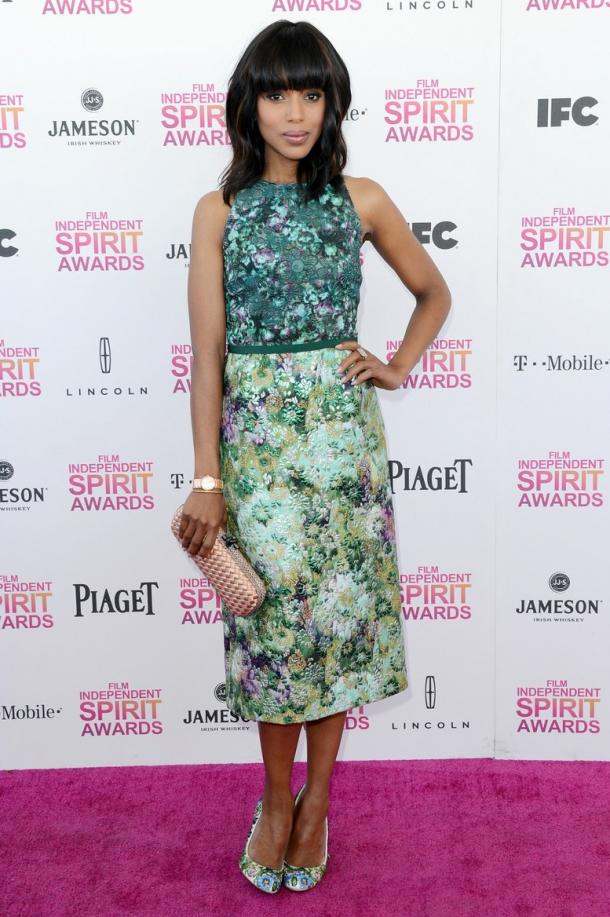 Sultry beauty Paula Patton at this time decided to try on the image of the gentle lady, appeared at a ceremony in lace ivory and pointy shoes with playful bows. I really like the dress color choices - white lace would look too bright on the field (because of its dark skin), and a light color with a touch of beige fits just right. Despite the presence of flaws (in this dress at Flooring absolutely no waist), the image as a whole is not bad.
And the top 5 best outfits Film Independent Spirit Awards 2013:
1 - Camilla Alves in Escada
2 - Kerry Washington Giambattista Valli Couture
3 - Jennifer Lawrence Lanvin
4 - Zoe Saldana in a Dolce & Gabbana
5 - Rashida Jones Prada
Whom do you choose?