But the victims of the Queen's mirror from the movie "The Brothers Grimm" less fortunate. To maintain the illusion of beauty and youth, she needs blood of young girls - just like the legendary Bloody Countess Erzsebet (Elizabeth) Bathory, which is now, however, tend to justify (but that's another story and another film - note, too, with beautiful pseudo-historical costumes) .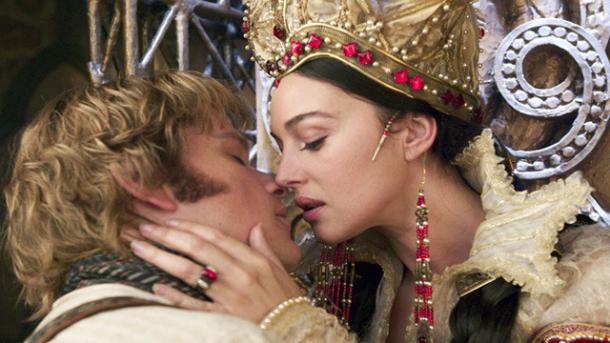 Mirror queen, like Red, appears to us in only one outfit, but what! ..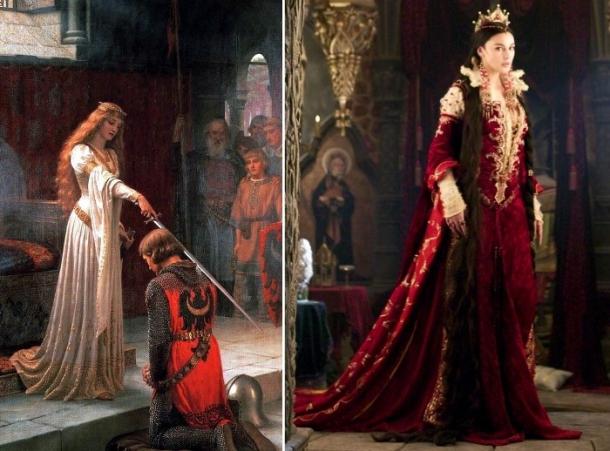 Its form-fitting dress with a fitted bodice and flowing skirt and sleeves are clearly reminiscent of medieval portraits of beauties brush Pre-Raphaelites. However, their dress, in turn, only vaguely resemble what was worn in, say, XII century. Then "Blio" were much more simple cut, and put the figure at the expense shnurovok on the sides, astringent in small folds.
But if you look from a distance, but still squinting ... then it seems, yes.
But the belt that is wrapped around the waist twice, closer to the real story - it was worn in a similar way.
Sleeve top is separated from the bodice - but this is reminiscent of the Renaissance.
It is believed that the first cut of steel sleeves in areas of maximum tension - at the shoulder and elbow - to give freedom to the hands, and only then decided that such cuts can decorate clothes and, because they were given the opportunity to demonstrate the finest linen fabric ...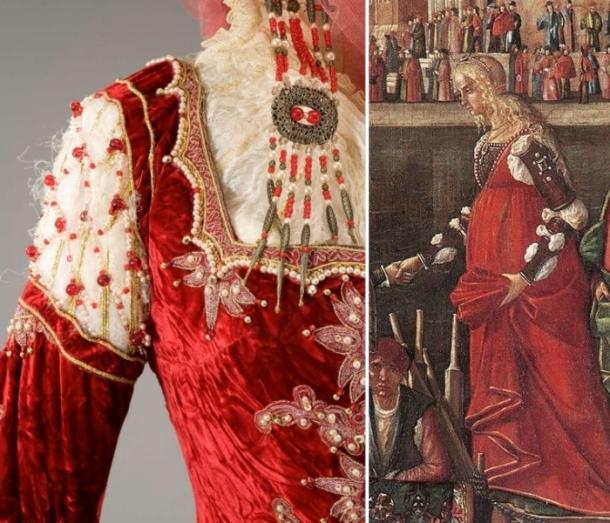 The lower part of the long braids hidden in cover - gold mesh-lined jewels. Almost like some young florentiyki five hundred years ago ...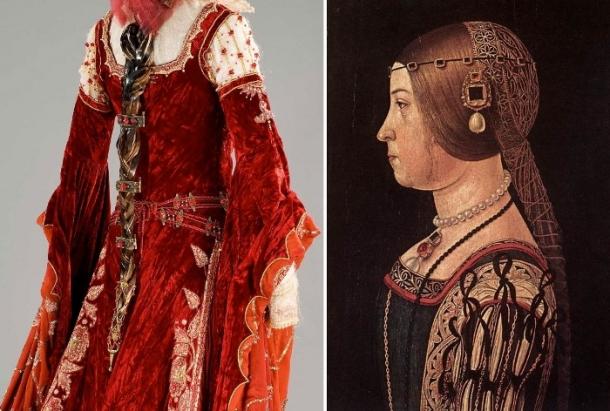 Ornamented with embroidery and pearls blood-red velvet dress also conjures up thoughts of the Renaissance, but the headpiece ...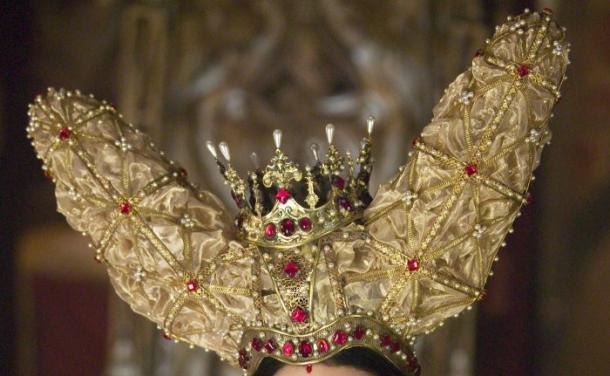 Oh, hello to you, the era of "High Gothic" and the lovely ladies of the Grand Duchy of Burgundy (as well as those who sought to imitate them)!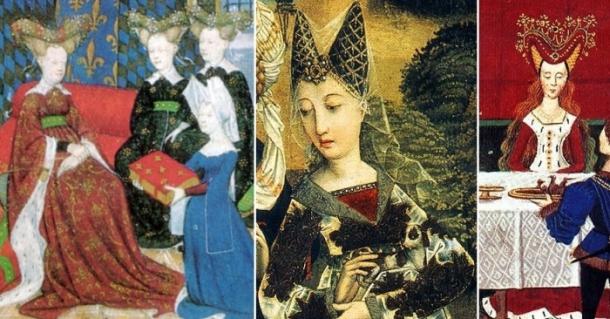 In short, pseudo-medieval and renaissance pseudo-merged to create this gorgeous dress. He immediately spot a lot more young girls than had the queen (just twelve! And fans - thousands of them!), And caused many imitations, but ...
But not to get lost among luxury fabrics and finishes, you need to have the luxury of just too inaccessible - bright beauty actress Monica Bellucci, which is considered one of the most beautiful women in the world.
Killer - and this story in a very literal sense - beauty.